Photography: Dmitriy Frantsev via Unsplash
Hone your balance, stamina, flexibility and endurance at top yoga studios in Singapore.
Breathe. Meditate. Relax. These are way easier to do if you find the right yoga place amidst the many gyms and studios out there! Zen-seeking warriors, have no fear: we've ommed our way to enlightenment. Here's your cheat sheet for navigating through all the yoga studios in Singapore.
Yoga in Singapore: Best yoga studios and classes
1. Jal Yoga
Yoga, pilates, and barre classes rolled into one studio? Sign us up. Jal Yoga offers a class for everyone. Whether it's about going further in your yoga journey or needing pain relief for your overall health, the team's got you covered. Classes vary in difficulty, so you can pick how advanced you want to go with your session. We're geared up to try infrared heat yoga, which involves infrared panels hung directly above you. That means no more risk of dehydration from overheating. Nice!
Jal Yoga, multiple locations including Katong and Upper Thomson
2. Sweatbox Yoga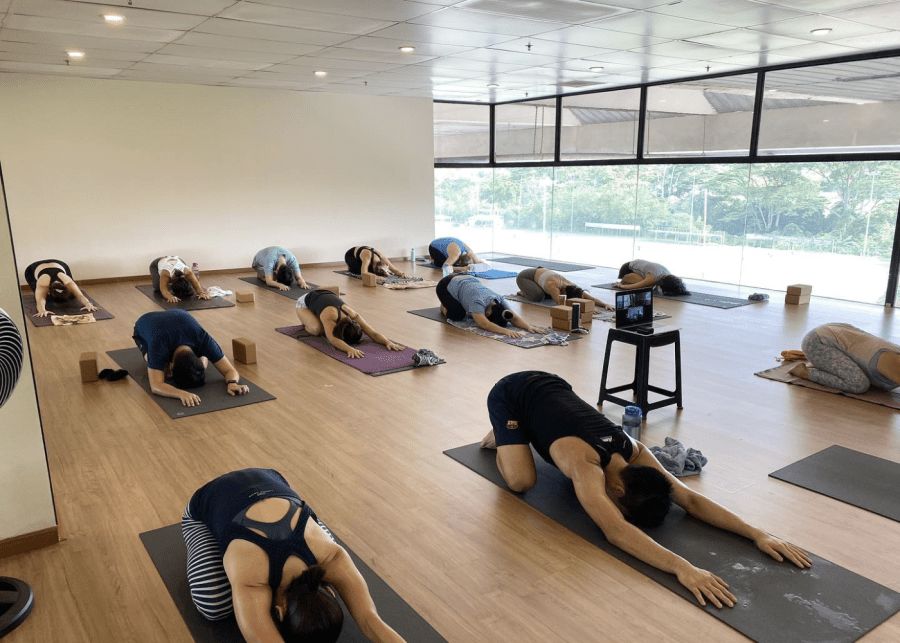 True to its name, Sweatbox Yoga specialises in hot yoga classes. Work up a sweat at one of its classes that are suitable for all levels and physical conditions. The instructors are friendly and are more than ready to help you out to make sure you don't injure yourself in a pose. It has a class called Inferno Hot Pilates – just the thought of the room is making us perspire a little. Of course, there are non-hot yoga sessions available as well as yoga for kids and pre-natal mums.
Sweatbox Yoga, multiple locations including Orchard and Turf Club
3. Hom Yoga
Nothing quite lifts the spirit like a cleansing session of hot yoga. And Hom Yoga's centralised locations are gold for busy bees. Just pop in for a sweat-dripping workout, made up of consistent flow movements and a structured series of postures. Class types include vinyasa flow, hot hatha, restorative yin and sessions for mums and bubs.
Hom Yoga, multiple locations including Orchard Central and River Valley
4. On Good Ground
Here's a homegrown name you'll love: On Good Ground is a yoga and barre studio that welcomes both beginners and experienced practitioners. Passionate about both workouts, the trio of co-founders offer classes such as yoga basics, vinyasa flow, yin yang and barre sessions for pre-natal women.
On Good Ground, 458B Joo Chiat Road, Singapore 427671
5. Freedom Yoga
Yoga is not only about breathing techniques and stretches. It's a lifestyle. And Freedom Yoga sure knows how to tap into this. Just enter this minimalistic studio and you'll know why. It's a chill, zen place to sweat it out before you cool down and make new yoga buddies in the cosy communal area. Leave feeling elevated, energised and ready to take on the world after you've taken on classes such as freedom flow, yoga therapeutics and power vinyasa. Basic sessions are available too if you're new to yoga and want to lay down a proper foundation.
Freedom Yoga, 25E Lorong Liput, Singapore 277736
6. OhmSantih Yoga
It doesn't get any more intimate than OhmSantih Yoga. With less than 12 students per class, you'll get more bang for your buck by attending personalised yoga sessions catered to your needs. Want to work on your poses or test your abilities at an advanced level? Breathe, drip, stretch and repeat with these folks. Courses include ashtanga yoga, prenatal yoga and meditation. Teacher training courses and workshops are also available, should you be bitten by the "om" bug.
OhmSantih Yoga, #02-01, 219 Jalan Kayu, Singapore 799442
7. Pure Yoga
Pure Yoga's studios are perfect for working professionals. Its central locations allow you to find a tranquil escape from work easily. Case in point? Most of its outlets feature spacious studios and changing areas, rainforest showers and complimentary toiletries. Plus, there are chill-out lounges with free Wi-Fi and charging ports, as well as nood food juice bars for superfood goodies. The range of classes is extensive, so you can take your pick from whatever you fancy or try a different workout every week.
Pure Yoga, multiple locations including Suntec City and Ngee Ann City
8. Yoga Mala
Located in the CBD, Yoga Mala is a haven for urbanites. If you're in need of some quiet time, you're welcome to drop in for a cosy class. Though it lacks the flashy facilities of large chain studios, the space is intimate and classes are kept small for personalised attention. To kick off a busy workday on the right note, book a morning class to get into a calm headspace.
Yoga Mala, 49A Circular Road, Singapore 049404
9. Platinum Yoga
Do you believe that yoga is for everyone? Well, the team at Platinum Yoga certainly does. This studio welcomes all ages and fitness levels, so you can bring your fam along. Select what suits you best among the five elements of yoga (space, air, fire, water and earth) and work wonders with your body.
Platinum Yoga, multiple locations including Ang Mo Kio and Marine Parade
10. Tirisula Yoga
This is the place to get serious about yoga. It is, after all, where aspiring gurus come to train. Here, experienced experts will help you improve your posture and flexibility, destress and relieve stiff muscles. Instructors emphasise proper breathing techniques so you'll learn how to control your energy flow.
Tirisula Yoga, multiple locations including Kovan and Paya Lebar
11. Yoga+
Explore possibilities beyond the yoga asanas and yoga mats at Yoga+. Basic classes include Restore, where you'll leave feeling relaxed, and Revitalise, a yin-yang practice with vinyasa and restorative stretches. If you come with experience, check out the Power sesh to build your upper body and core strength. We'll be nama-staying here for a while.
Yoga+, multiple locations including Pagoda Street and Somerset
12. TFX Fitness
On the search for inner peace? Perhaps you'll be one step closer through mind-body classes that help you relax, tone and strengthen your muscles, and improve your posture. Start with a low-intensity workout like breathing and meditation before you move on to a hot stretch for flexibility and balance. You'll be working your way up to the calorie-burning power yoga in no time!
TFX Fitness, multiple locations including Pacific Plaza and Funan
13. Yoga Movement
Here's one yoga studio that won't break the bank and includes everything you need. Yoga Movement offers starter classes at $49 for two, going up to $599 for a 30-class pack. Plus, the chic, welcoming environment and focused lessons are conducive for a fab workout. We'll be spending our weekends at the popular Monster Hot classes!
Yoga Movement, multiple locations including Orchard and Robertson Quay
14. Ziva Yoga
Ziva Yoga takes it back to the roots by focusing on a deeper and healthier you from within. Its class selection ranges from hatha and vinyasa (both available in hot) to figuring out how to balance yourself in inversions and arm balances. Most of them are beginner-friendly, so you don't have any excuse not to get started!
Ziva Yoga, 84A/86A Tanjong Pagar Road, Singapore 088507
15. Yoga Inc.
We love that Yoga Inc's yoga classes are perfect for newbies. Anyone can join in the basics session to understand yoga asanas. Other classes include flow (for strength, flexibility and stamina), hatha (an alignment-based class), core (to strengthen your core muscles) and hot stretch (gentle movements to relieve tense muscles in a slightly heated room).
Yoga Inc., multiple locations including Our Tampines Hub and Punggol
16. Core Collective
Here's a hangout for all you fitness and wellness professionals and enthusiasts. From personal training and group workouts to wellness services and kid-friendly programmes, there's something for everyone. To sweat it out, sign up for studio classes such as pilates reformer, HIIT, rhythm cycling and, of course, yoga.
Core Collective, Level 21 & 22, 79 Anson Road, Singapore 079906
17. Yoga Lab by Lab Studios
Ever been intimidated by a class full of chiselled, limber yogis? We know that feeling all too well. But rest assured you'll be made to feel nothing but comfortable here. The studio prides itself on being accessible to everyone. Newbies get a special rate too, two classes for $40. Talk about affordable. Psst: Yoga Lab also features YoBarre, a mix of yoga and barre for those who love both.
Yoga Lab, multiple locations including East Coast Road and Duxton Road
18. Shiva Yoga Studio
This studio guides you through all levels, with hot and regular yoga sessions. Classes are categorised based on beginner (from the yoga basics to deep stretch), intermediate (core werk to yoga wheel) and advanced (ashtanga to hatha 2) levels. That means you can easily pick what works best for you and be guided by the team of talented instructors.
Shiva Yoga Studio, #02-00, 146 Arab Street, Singapore 199830
19. The Yoga Mandala
We're fans of this calming, light-filled studio in a shophouse at Telok Ayer. With plenty of well-trained instructors, this is a super friendly studio no matter what fitness level you're at. Classes on the roster include power flow, vinyasa, strength and flexibility, core yoga and beginner core.
The Yoga Mandala, 134B Telok Ayer Street, Singapore 068600
Now, go forth and get your om on at these yoga studios in Singapore.