Photography: Singapore Repertory Theatre via Facebook
Theatre fans are in for a treat! Get a load of this line-up of online and offline plays, musicals, theatre shows in Singapore and more...
Way to go, Covid-19. You've created a void in the theatre scene, forcing many to cancel plays, shows and musicals in 2020. After a devastatingly long period of uncertainty, Singapore finally resumed indoor live performances and theatre shows. That's right, 2021 is the year you can finally catch a stage show with real people!
But first, safe management measures to note
Keep in mind that a maximum of two zones of 50 people are allowed for each performance. Groups of eight are to sit 1m apart. You'll have to scan your SafeEntry check-ins through the TraceTogether app or token. There should also be a distance of 3m between audiences and performances. It goes without saying that you should wear a mask at all times, too. And in case you're wondering, a maximum of 30 performers and crew are allowed on stage and backstage – including a maximum of 10 unmasked performers.
Let's get on to the theatre shows in Singapore, shall we?
1. The Curious Case of the Missing Peranakan Treasure
1 April – 30 June 2021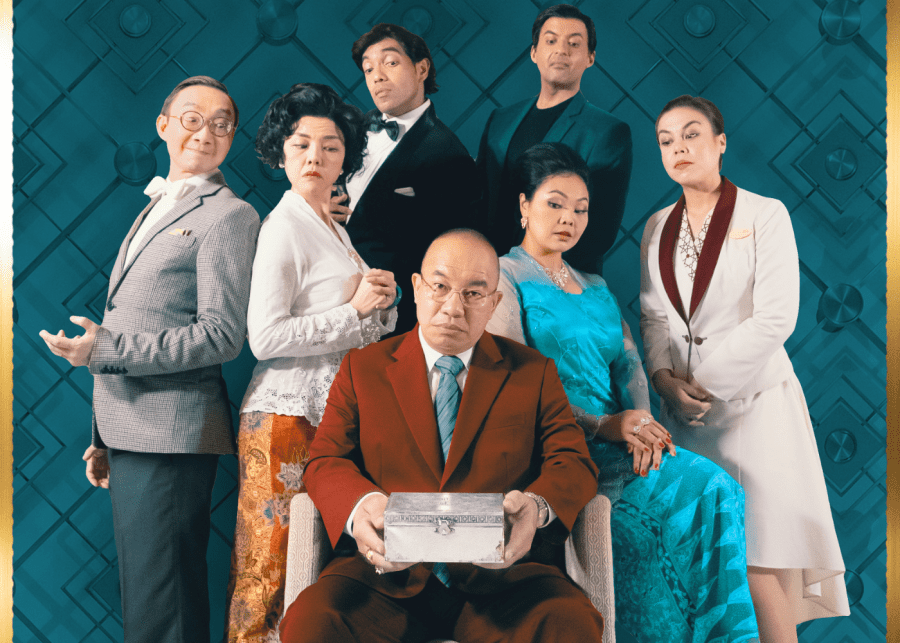 Who doesn't love a whodunnit tale? Double Confirm Productions, Sight Lines Entertainment and Raffles Hotel Singapore come together for a first-of-its-kind virtual interactive play. The plot: the crown jewel of the popular "Treasures of the Straits" exhibition at Raffles Hotel Singapore has gone missing. Tensions rise as all guests and staff are deemed suspects. The General Manager is given till midnight to solve the case internally. What will they uncover in this enthralling collision of history and mystery?
Written by playwright Jean Tay and directed by Hossan Leong, the play will be shown in an interactive virtual format. You'll get a first-hand experience of exploring the hotel's historic grounds and uncovering clues along the way. Watch it online or experience the play in the property itself by making use of the exclusive daycation and staycation packages. Solve the case and stand a chance to win e-vouchers from the Raffles Boutique or even a one-night stay at the hotel.
The Curious Case of the Missing Peranakan Treasure, Raffles Hotel Singapore, 1 Beach Road, Singapore 189673 or watch online 
2. Body of Knowledge (At Home)
2 – 4 April 2021
The theatre show explores the curiosities, fears, desires and hopes of Singaporean and Australian teenagers. Each teen will be connected to an adult audience member who is invited to answer their questions. Part performance and social experiment, the show evokes honest conversations between generations that can change perceptions along the way.
Body of Knowledge (At Home), 2 & 3 Apr: 3pm, 6pm; 4 Apr: 3pm (includes a post-presentation dialogue, no intermission), stream online 
3. Model Citizens
24 March – 4 April; 19 April – 2 May 2021
This critically acclaimed 2010 play is back with a new iteration. It follows the story of three women who are caught in a web of circumstantial events. A man stabs an MP at a "meet the people" session. But the play focuses on the women – the man's girlfriend (an Indonesian maid who wants to get married and become a Singapore citizen), the MP's wife (who copes with her husband's injury), and the maid's employer who's dealing with her own tragedy. The women may be strangers but they will need one another to survive… Look out for familiar faces from the original cast – Goh Guat Kian, Karen Tan and Siti Khalijah Zainal – who will be making a return.
Model Citizens, 24 March – 4 April (in theatre), Wed – Sat: 8pm, Sat & Sun: 3pm; 19 April – 2 May 2021 (video on demand); The Necessary Stage, Marine Parade Community Building, 278 Marine Parade Road, Singapore 449282
4. No Regrets, a Tribute to Edith Piaf
14 – 25 April 2021 
Sing'theatre is celebrating its 15th anniversary with No Regrets, A Tribute to Edith Piaf (one of the most celebrated French musicians of all time). Transport to Paris with a repertoire of 20 classic French and English songs including La vie en Rose, No Regrets and The Three Bells. Hosted and narrated by Hossan Leong, the revue also explores Piaf's life. "Edith Piaf is proof that anything is possible in life as long as you fight for it! Proof that you can make your dream come true." says Nathalie Ribette, founder of Sing'theatre and the director and producer of the show. The show stars Hossan Leong, Mina Ellen Kaye, Rebekah Sangeetha Dorai, and 18-year-old Maya Raisha's theatre debut.
No Regrets, a Tribute to Edith Piaf, Alliance Française Theatre, 1 Sarkies Road, Singapore 258130
5. A man waiting for the leaves to fall
22 – 31 March 2021
Get your dose of theatre shows in Singapore with this virtual play. Presented by The Aesthetic Project and supported by the National Arts Council, A man waiting for the leaves to fall doesn't involve dialogue or actors. Instead, it focuses on theatrical design to tell its story of the pivotal events in a man's life with themes like lost communication caused by modern society.
A man waiting for the leaves to fall, watch online
6. The Monster in the Mirror
26 March – 4 April 2021
This musical is both a hilarious and touching musical about loving yourself. 16-year-old Jane's got it hard. She's constantly bullied in school, her overbearing mum scolds her at home and she's troubled with self-critical voices in her head. Things take an interesting turn when she receives a magic mirror from a flamboyant Fairy God Delivery Beng. She comes face-to-face with a monster who's been living inside her head all her life.
The Monster in the Mirror, stream online
7. The Pitch
Watch online 
As the Covid-19 pandemic hits hard, three theatre companies work together to produce a show that highlights the current struggles of the local arts scene. We're not just stating facts, this is the synopsis of The Pitch. It's the first collab between local theatre companies Pangdemonium, SRT and Wild Rice. Talk about making the most out of a crappy situation, eh? Watch Ivan Heng, Gaurav Kripalani and Adrian Pang like you've never seen before in this satirical comedy.
The Pitch, stream online
8. The Sound Inside
From 13 March 2021
Singapore Repertory Theatre plays host to the Tony Award-nominated play The Sound Inside. Written by Adam Rapp, the plot follows Bella Baird, a professor at an Ivy League university. She values solitude and would rather be alone… until she faces a challenge that gets her acquainted with a mysterious student. Watch Serene Chen and Krish Natarajan take centre stage in this gripping mystery.
The Sound Inside, Monday – Saturday, 6pm and 9pm, KC Arts Centre, Singapore Repertory Theatre, 20 Merbau Road, Singapore 239035
There you have it, the upcoming theatre shows in Singapore that we're looking forward to in 2021. Stay tuned as we update the list with more! *aaand scene*
---
What you missed!
#Theatre
14 – 17 Jan
Lighting designer Lim Woan Wen, spatial designer Lim Wei Ling and sound artist Darren Ng come together with a poignant response to the closure of theatres during the unprecedented times in 2020. Created specifically for theatre lovers, the show is a tribute to the theatre with a play on light, sound and space.
#Theatre, various timings; Esplanade Theatre Stage, Esplanade – Theatres on The Bay, 1 Esplanade Drive, Singapore 038981
The More Further Adventures of Dick Lee
19 – 24 Jan 2021
Local maestro Dick Lee is back on stage with a storytelling performance that looks back at his decades-long experience in the industry. Sit back as he revisits his Cantopop stint in Hong Kong, shares untold stories and performs unreleased music from his private songbooks.
The More Further Adventures of Dick Lee, Tuesday – Sunday, 7pm-8.30pm; KC Arts Centre, Singapore Repertory Theatre, 20 Merbau Road, Singapore 239035
A line could be crossed and you would slowly cease to be
20 – 29 Jan
The complex play explores the effects of climate change through the creative mind of director Koh Wan Ching. He joins hands with playwright Andrew Sutherland to revisit this play that was originally performed in 2019 by Intercultural Theatre Institute students. All we can say is expect beautiful visuals that evoke conversation.
A line could be crossed and you would slowly cease to be; theatre studio: 20 – 23 Jan, 8pm; online: 23 – 29 Jan; Esplanade – Theatres on The Bay, 1 Esplanade Drive, Singapore 038981
Wan Belantara: Enjet-Enjet Semut
26 Jan – 4 Feb
King of The Jungle: As the Ants Go Marching In (translated in Malay) is inspired by Farid ud-Din Attar's poem Conference of the Birds and navigates between fables and well-known stories from the Malay Annals. An army of ants embark on a journey to pay tribute to their new king. It's celebration time in the jungle as the ants believe that they've played a part in selecting a king with a more peaceful nature.
Wan Belantara: Enjet-Enjet Semut; theatre studio: 26 – 27 Jan, 8pm; online: 29 Jan – 4 Feb;  Esplanade – Theatres on The Bay, 1 Esplanade Drive, Singapore 038981
Pandan
29 Jan – 8 Feb
Pandan explores the dilemmas one battles within as they wrestle with spiritual struggles, faith, societal pressures, online avatars and their own identity. Hazwan Norly (playwright) and Rizman Putra (director) from art collective Rupa co.lab come together for this thought-provoking play.
Pandan; theatre studio: 29 – 30 Jan, 8pm; online: 2 – 8 Feb; Esplanade – Theatres on The Bay, 1 Esplanade Drive, Singapore 038981