Photography: tabitha turner via Unsplash
These art jamming spots in Singapore will provide everything you need for an afternoon of therapeutic, freestyle painting.
Art isn't always high-brow, especially not at these judgment-free art jamming studios in Singapore. Anyone's welcome, no matter your skill level. You'll spend hours dipping paintbrushes, smearing blobs of paint on a canvas, and creating a masterpiece you'll be proud to call your own. Whether you love craft workshops or you're simply looking for a unique date idea, you're more than welcome to get downright artsy at these creative spaces.
Best art jamming studios in Singapore
1. Splat Paint House
The city's only splatter paint studio lets your imagination run free to create one-of-a-kind masterpieces. No rules or guidelines needed! Just express yourself (or release your stress) and make a glorious mess with a canvas and some paint. Whether you want to hang your painting on the wall or use the tables, it's all up to you. Psst: remember to show up in clothes you don't mind dirtying. Shoe covers, hair nets and gloves will be provided. Oh, and if you'd like to try something different, head to its sister studio Spin Paint House to spin those canvases at high speeds and create a cool piece of art.
Splat Paint House, 207A Upper Thomson Road, Singapore 574346
2. Motion Art Space
Want an art jamming experience with a twist? This new hotspot brings motion into the picture with pendulum and spin painting. Seriously, you don't need a background in art to create a beautiful piece. Just let gravity do the work! With prices starting from $69, the casual space is ideal for fun dates, family activities or group gatherings.
Motion Art Space, Level 2, 36A Arab Street, Singapore 199735
3. My Art Space
Our typically balmy weather is perfect for outdoor activities – yes, art jamming included. At My Art Space, splatter and swish to your heart's content amidst the lush greenery of Istana Park with a relaxing two-and-a-half-hour endeavour. It includes a canvas, unlimited acrylic paint, tool rental, free-flow coffee or tea and more. With multiple time slots each week, you can easily find a sesh that fits into your schedule. Now, that's one way to get closer to nature!
My Art Space, Istana Park, 31 Orchard Road, Singapore 238888
4. Arthaus Singapore
Carolyn Law, the founder of Arthaus, believes that painting helps the healing of the soul. With this in mind, the airy space provides a warm, comfortable environment where adults and kids can express your (hidden) talents in its fuss-free art jamming workshops. You can either paint with a group or work with a private art tutor for guidance.
Arthaus Singapore, 901A Bukit Timah Road Singapore, Singapore 589619
5. LionHeart Studio
Tap into your creativity and imagination with digital art jamming workshops. It's easy to do from the comfort of your couch, and the prices are pretty pocket-friendly. You can learn how to do landscape, portrait, illustration and still life artworks, with a review and feedback session after you're done painting. Grab a friend and embark on your art therapy journey!
LionHeart Studio, available online

6. Arteastiq
This popular hangout for budding artists provides you with everything you need for freestyle painting, including a 50x50cm canvas, brushes and acrylic paints. Each session runs for three hours and comes with a complimentary beverage and a takeaway canvas box. Arteastiq also hosts themed days: ladies get a discount on Wednesdays and everyone receives a free snack on Thursdays. Feeling uninspired? Check out the samples of great artworks to get your creative juices flowing.
Arteastiq, #04-14/15, Mandarin Gallery, 333A Orchard Road, Singapore 23889
7. Artefakts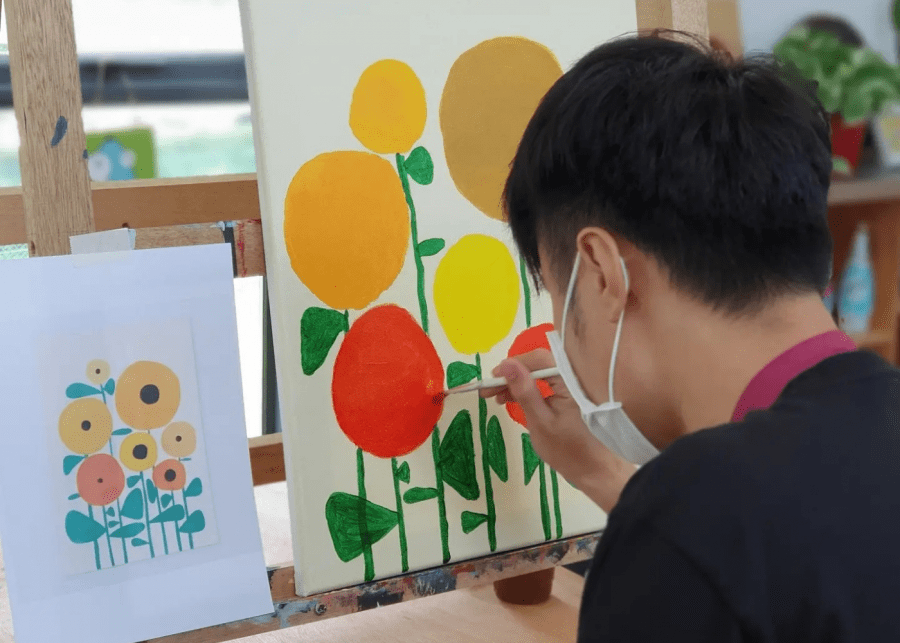 If you prefer a non-guided, open art jamming session that allows you to paint whatever you want, Artefakts is it. These friendly faces are here to help with tools, materials and basic techniques if you ever get stuck. Besides honing your painting skills, it's also a great way to make new friends over two-and-a-half hours of therapeutic art. Don't worry about packing: the studio provides canvases, acrylic paints, brushes and more. Other classes offered include ceramic tile painting, basic drawing and paper marbling.
Artefakts, #02-64, Block O, Goodman Arts Centre, 90 Goodman Road, Singapore 439053
8. Heartroom Gallery
Unleash your inner Georgia O'Keefe at this heartland 'hood art jamming studio, which has sessions on watercolour art, folk art painting, manga drawing and Chinese brush painting. Its art jamming programme ($38) gives you the freedom to book a session at any time of the day for 2.5 hours. You're welcome to grab a friend or family member, bring your own food and swing by to paint with acrylics on your choice of canvas size. It's also a great spot to meet like-minded individuals looking to express their creativity. Once you've bonded over art, food, wine and music, why not book an art jamming session for couples? Tres romantique!
Heartroom Gallery, #01-17, Blk 41 Cambridge Road, Singapore 210041
9. Boulevart
Take a trip down this Boulevart for a relaxing art jamming session and a good cuppa joe. No art equipment to call your own? Fret not. For $30 per (unguided) session, you'll be provided with all the painting tools you need, plus your choice of canvas to take home. If you'd like to get a little help from instructors, try the guided sesh at $60. Time to polish up your painting skills!
Boulevart, #B1-57, City Gate, 371 Beach Road, Singapore 199597
10. Liberty Art Jam by Artify Studio
A homely art space in Singapore, Liberty Art Jam by Artify Studio offers you guidance from instructors during your $38 workshop. Plus, you get a 40x50cm canvas, acrylic paints, brushes, palette knives, aprons, water buckets and even plastic carriers. If you're pretty confident in your abilities, go for the unguided 2.5-hour option to pop by anytime on weekdays for $25.
Liberty Art Jam by Artify Studio, #08-05, Textile Centre, 200 Jalan Sultan, Singapore 199018
11. Streaks 'n' Strokes
This one's a tad different. Looking to jam with the squad in your cosy home? With Streaks 'n' Strokes, you can get fabric paint to jazz up tees or tote bags and click on free online tutorials to get tips. Just get its DIY painting kits and pick either a white cotton t-shirt or plain tote, and go wild with creativity. Trust us, it's a great bonding activity and stress reliever.
Streaks 'n' Strokes, #03-25, 742 Pasir Ris Street 71, Singapore 510742
The next time you're feeling inspired (or need a break from the busyness of life), swing by these art jamming studios in Singapore!