Photography: Cottonbro via Pexels
Ready to unleash your inner Spider-Man? Pump up your fitness levels at these climbing gyms that rock.
Working out doesn't have to be a chore! So ditch the gym for a day and experience the thrill of rock climbing while building your strength and stamina. Or take on bouldering to scale short walls without a harness – don't worry, safety mats on the ground will cushion your fall. Wanna pretend you're a member of the SWAT team? Jump right into advanced classes and learn how to abseil or lead climb. But newbies intimidated by the dizzying heights can join a trial class to ease themselves in. No excuses! Strap on a harness and get fit the fun way with top spots for bouldering and rock climbing in Singapore.
Top rock climbing gyms in Singapore
1. Boruda Climbing
With huge windows for a ton of natural light and aesthetically pleasing walls, Boruda Climbing is a rock climbing gym like no other. Using the dan ranking system (a system used to indicate someone's experience levels), you can follow its colourful chart to pick your route. If you're looking for guided sessions, just book a Boruda Tensai at no extra cost. More than just a climbing gym in Singapore, Boruda values its community. Don't be surprised if the staff recognises you when you become a regular!
Boruda Climbing, #02-06/07, 991A Alexandra Road, Singapore 119969
2. B8A
If you feel intimidated by all the rock climbing gyms in Singapore, we recommend checking out B8A. The staff are incredibly friendly and accommodating, willing to help out newbies to create a safe space for climbing. The smooth walls and gentle angles make this gym one of the more appropriate gyms for kids to try their hand at climbing.
B8A, #03-06, Yo:Ha Commercial @ Tampines, 6 Tampines Street 92, Singapore 528893
3. Project Send
Designed for and by the community, Project Send is a people-first bouldering gym. It looks to support climbers as they journey to new goals. Aside from the usual climbing wall, there are other holistic trainings like callisthenics, yoga, and kettlebell programmes that you can attend. Work with coaches and track your performance to improve yourself based on customised targets. When you're done with your climb, pop over to Beta Cafe to fuel yourself up.
Project Send, #02-29, Esplanade Mall, 8 Raffles Avenue, Singapore 039802
4. Boulder+ Climbing
Bouldering is a whole different ballpark from rock climbing. You don't need any equipment since you don't climb as high up as you would with rock climbing. But that doesn't make bouldering any easier. Lucky for us newbies, Boulder+ has a great course to introduce you to the sport. This includes safety briefs, bouldering etiquette, an intro to the types of holds, and some fundamentals.
Boulder+ Climbing, multiple locations including Aperia Mall and The Chevrons
5. Z-Vertigo Bouldering Gym
A warm and cosy space, Z-Vertigo Bouldering Gym should be the go-to climbing gym for the westies. This is the place to put both your coordination and sense of balance to the test. Routes are reset weekly so there's always a refreshed route ready and waiting. The staff are also friendly and more than happy to share bouldering tips and tricks with you. Take note: the space is small and has a maximum capacity of 25 people. If you're planning to pay the gym a visit, you can view the live counter to double-check if there's room.
Z-Vertigo Boulder Gym, #B2-20B, Bukit Timah Shopping Centre, 70 Upper Bukit Timah Road, Singapore 588179
6. The Rock School
Passionate about climbing? So are these folks. If you'd like to maintain your fitness and mental strength, The Rock School is here for you. There are introductory classes for kids with friendly instructors, and even a Step Up! Climbing Club with weekly classes. It makes rock climbing fun and safe with great facilities and equipment including auto belays, towering walls and top rope climbing.
The Rock School, #02-81, Our Tampines Hub, 1 Tampines Walk, Singapore 528523
7. Boulder World
Step into the world of bouldering at this indoor gym – the largest of its kind in Singapore. Taking up more than 7,000 sq ft of floor space, Boulder World lets you tackle over 100 routes with difficulty levels that range from beginner to expert. Even if you've never tried it before, you can opt for the starter pack program to give it a go. This includes a day pass, shoe rental, and an instructor to guide you.
Boulder World, #01-205, SingPost Centre, 10 Eunos Road 8, Singapore 408600
8. Ground Up Climbing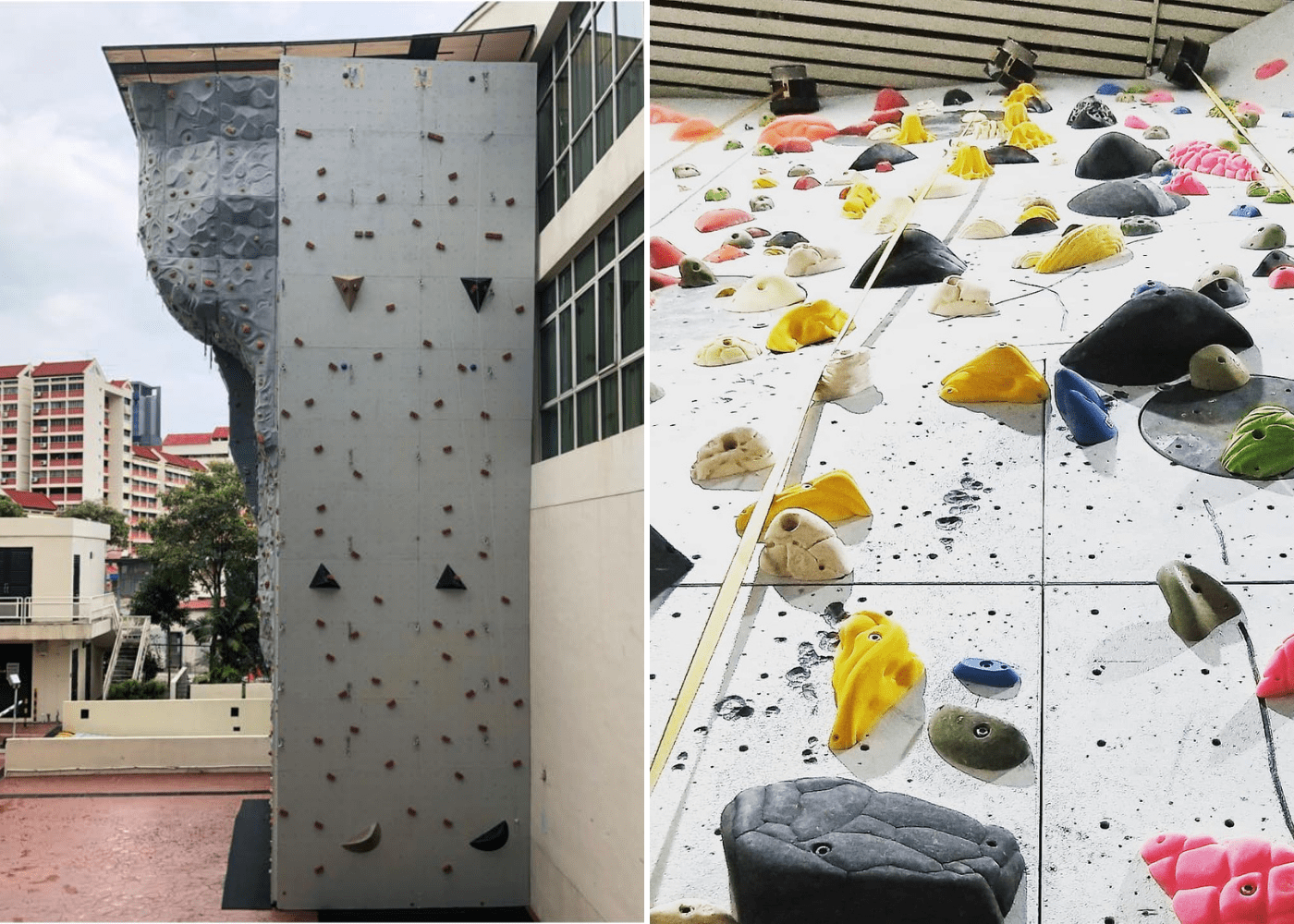 So you'd like to be part of the rock climbing gang? Join the fam at Ground Up and sign up for classes to challenge yourself. The indoor rock climbing facilities include top rope lanes and auto belay lanes. There's also a bouldering gym to push your physical limits. Alternatively, test your skills at the outdoor wall. First-timers can try the Fun Climb programme to be guided through high wall climbing and bouldering complete with safety briefings and equipment checks.
Ground Up Climbing, Level 2, 60 Tessensohn Road, Singapore 217664
9. Oyeyo Boulder Home
This cosy lil' boulder gym is fab for families and friends who prefer monkeying around after work. Kitted out with fun routes and obstacles, it's the perfect after-work and weekend hangout to keep you occupied with bouldering 'problems'. No matter your age or experience, everyone's welcome to take a shot at climbing their way to the top.
Oyeyo Boulder Home, 148 Mackenzie Road, Singapore 228724
10. Climb Central
If time is an issue and you want a quick, fuss-free climbing session, this gym will get you started in a jiffy. Even if you don't have the experience, simply sit in on a short safety briefing and you're good to go. Oh, and don't fret about not having a buddy to belay you, 'cos Climb Central offers dedicated auto-belay lines.
Climb Central, multiple locations including Kallang Wave Mall and Funan
11. Boulder Movement
This cool boulder gym with a location in the CBD is super convenient for us climbing enthusiasts who've gotta break out of the office. Expect user-friendly facilities that are well suited for anyone from beginners to pros. No matter your experience level, Boulder Movement has a gym suited for you. Plus, the walls get regularly refreshed, so you can navigate fresh new challenges each time you visit. New to the sport? Sign up for a beginner class to learn the fundamentals of bouldering and activate your inner Spidey mode.
Boulder Movement, multiple locations including Downtown Gallery and Tai Seng
12. Kinetics Climbing
At Kinetics Climbing, beginner and expert climbers alike are sure to find an appropriately challenging route. It holds regular classes on bouldering and climbing, as well as private coaching sessions and climbing kinetics for those who want to improve their technique. Want to bring the climbing fun to a party? Contact them for climbing wall construction. You can get a temporary wall built!
Kinetics Climbing, 511 Serangoon Road, Singapore 218153
13. Clip 'n Climb HomeTeamNS
Temporarily closed.
The first to bring the New Zealand-born Clip 'n Climb system to Singapore, this climbing theme park offers an easy way for casual climbers to get into the game. The kid-friendly gym features 19 exciting and wacky routes (think Tetris or Rubik's Cube designs) with difficulty levels suitable for all climbers. Plus, it has TruBlue automatic belays and a high-tech braking system that'll keep you safe going up and down the walls. Psst: Swing by on Friday or Saturday evenings for cosmic lighting and groovy hits to pump up your experience!
Clip 'n Climb HomeTeamNS, HomeTeamNS Tampines, #03-03, Our Tampines Hub, 1 Tampines Walk, Singapore 528523
So, which bouldering gym or rock climbing spots in Singapore will you tackle first?