Photography: Funan via Facebook
Funan has a state-of-the-art theatre, a fitness centre with a swimming pool and outdoor deck, an indoor cycling track and more within its mall.
From iconic malls along Orchard Road to the crown jewel at Changi Airport, Singapore has no shortage of malls (shopping is our favourite pastime, after all!). Funan used to be a mall mecca for the latest electronics and IT goods. But after a three-year makeover, it's transformed into an all-round experience complete with indoor cycling trails, a rooftop garden, a local theatre and a co-living space. Oh, and the mall just got more accessible thanks to the launch of its new Underground Pedestrian Link which leads directly from City Hall MRT Station to basement 2. Here are our top picks for restaurants, shops and more.
Funan mall guide: Food & drinks
1. Afuri
This ramen spot received much fanfare when it opened thanks to its interesting yuzu broth. A signature bowl of yuzu shio has an umami-packed reduction of local chicken, dry fish "niboshi-katsuobushi", dry kombu seaweed, vegetables, and yuzu for a hint of citrus. It's made with similar techniques from its original outlet at Mount Afuri in Kanagawa so you can expect something close to the real deal.
Afuri, #B1-29, Funan, 107 North Bridge Road, Singapore 179105
2. Godmama
Founder Christina Keilthy puts a contemporary spin on traditional heirloom Peranakan recipes from her godma and mother (mama), hence the name, Godmama. Bring your loved ones for a hearty meal of ngoh hiang, Nyonya fried wings, ayam buah keluak, ikan gerang assam, sayur lodeh and ikan masak nanas, just to name a few.
Godmama, #04-07, Funan, 107 North Bridge Road, Singapore 179097
3. Tiong Bahru Bakery Diner
This all-day dining iteration of the famous bakery offers breakfast and diner plates that highlight a cool fermentation process. The result? Gut-friendly dishes packed with rich umami flavours. The hot chicken salad and caramelised pumpkin dish is one of the best we've had – such a simple idea of slow-cooked chicken breast and Kabocha pumpkin confit backed with outstanding flavours thanks to the herb pomelo salad and magical wasabi dressing. Oh, and how can we forget the sourdough waffles made with a 158-year-old starter?
Tiong Bahru Bakery Diner, #04-22-25, Funan, 107 North Bridge Road, Singapore 179105
4. Nasty Cookie
If there's a cookie version of "freakshakes", this is it. Forget your diet for a hot minute and indulge in chunky, chewy goodness that are certified "thicc". Our faves – Biscoff cookie, Oh! Smores and red velvet crumble.
Nasty Cookie, #02-35, Funan Mall, 107 North Bridge Road, Singapore 179105
5. Noka by Tippling Club
You can always expect a great gastronomical experience at Noka. The progressive Japanese omakase restaurant turns heads with innovative ingredient-focused Japanese fare. Everything from sashimi to sushi to mains are products of the love and appreciation for Japanese produce and flavours. Be sure to pair your meal with Japanese whisky highballs and artisanal sake.
Noka by Tippling Club, #07-38, Funan, 109 North Bridge Road, Singapore 179097
Funan mall guide: Shop
6. Beyond the Vines
This local label wows us with its chic aesthetic (every outlet is IG-worthy) and lifestyle items, accessories and apparel for women, men and kids. The dumpling bag is quite the icon thanks to its practicality, range of muted colours and cool design.
Beyond the Vines, #02-08, Funan, 107 North Bridge Road, Singapore 179105
7. Brompton Junction
Funan holds many firsts including the Southeast Asia outpost for Brompton Junction's iconic folding bikes. Browse through the latest products and limited edition bikes. There's also a live demo area housed within the mall's cycling path.
Brompton Junction, #01-26 Funan Mall, 107 North Bridge Road, Singapore 179105
8. Grafunkt
Get lost in the fine interiors of Grafunkt's stunning curation. Helmed by Jefery Kurniadidjaja and Nathan Yong (who won Singapore President's Design Award for Designer of the Year in 2008), this furniture emporium offers modern designs that combine creativity, functionality and quality. Expect to see brands like Louis Poulsen, Tempo, New Tendency, Folks and Time&Style at the massive 13,500 sq ft showroom.
Grafunkt, #04-01 to 06, Funan, 107 North Bridge Road, Singapore 179105
9. Love, Bonito
This local label rose from humble beginnings as a side project in 2005. Today, the OG blogshop boasts five locations islandwide and collections of chic looks that are coveted by women of all styles. The household brand also collaborates with celebrated designers. The Funan outlet is its largest physical store and features a feminine and intuitive layout, as well as fun and 'phygital' touchpoints.
Love, Bonito, #02-09, Funan, 107 North Bridge Road, Singapore 179105
10. The Green Capsule
Green thumbs, adjourn to The Green Capsule for a flora and fauna wonderland. The shop offers indoor foliage plants, air-purifying plants, terrariums, succulents and cut pots. Got some time? Book one of its terrarium, airplant greenwall or succulent workshops for a fun day.
The Green Capsule, #04-11, Funan, 107 North Bridge Road, Singapore 179105
11. Chokmah
We're big fans of Chokmah's sustainable handcrafted lifestyle products. The local brand features lovely trays, coasters, organisers, pots and soap dishes made from eco-friendly jesmonite. Minimal machinery usage and a low carbon footprint are adopted as part of its no-waste production method. We can't ignore the colourful terrazzo and marble designs too. We want everything!
Chokmah, #02-K10, Funan, 107 North Bridge Road, Singapore 179105
12. The Green Collective
Enter a treasure trove of all things sustainable and green. After hosting various pop-ups around the city, The Green Collective finally has a permanent space at Funan. Pick up zero-waste essentials including cutlery kits, colourful face masks and divine handmade manuka soaps. While you're there, check out the range of sustainable fashion and accessories, too.
The Green Collective, #02-18, Funan, 107 North Bridge Road, Singapore 179105
Funan mall guide: Things to do
13. ABC Cooking Studio
Put your baking skills to the test at this cooking studio hailing from Japan. The massive space holds basic and master courses for cakes like lychee and raspberry mille crepe, Japanese cuisine such as handmade udon and donburi, and traditional Japanese sweets including nerikiri and kimishigure. Visit the website to book your preferred course and wow guests at your next party.
ABC Cooking Studio, #02-29, Funan, 107 North Bridge Road, Singapore 179105
14. TFX Fitness
When they say it's more than just a gym, they totally mean it. TFX Fitness' Funan outlet has a swimming pool with a relaxation deck, functional studios to switch up your workout from HIIT to functional training to spin, and a comprehensive range of fitness classes for small and large groups. They had us at the swimming pool!
TFX Fitness, #04-18, Funan, 107 North Bridge Road, Singapore 179105
15. Climb Central
It's hard not to miss the massive indoor climbing wall situated right smack in the middle of the mall. If you love an audience, test your endurance levels at the walls and boulder areas (which are updated with new obstacles so every visit is different). Newbies, fret not – the audience are mostly encouraging and will cheer you on.
Climb Central, #B2-19/21, Funan, 107 North Bridge Road, Singapore 179105
16. Wild Rice
Funan is home to one of the leading professional theatre companies in Singapore. Wild Rice typically offers productions that provide an open forum for the shared experience of theatre, as well as commemorate diversity and reflect on the issues of society. Come for shows with a local touch!
Wild Rice, #04-08, Funan, 107 North Bridge Road, Singapore 179105
17. Lyf Funan Singapore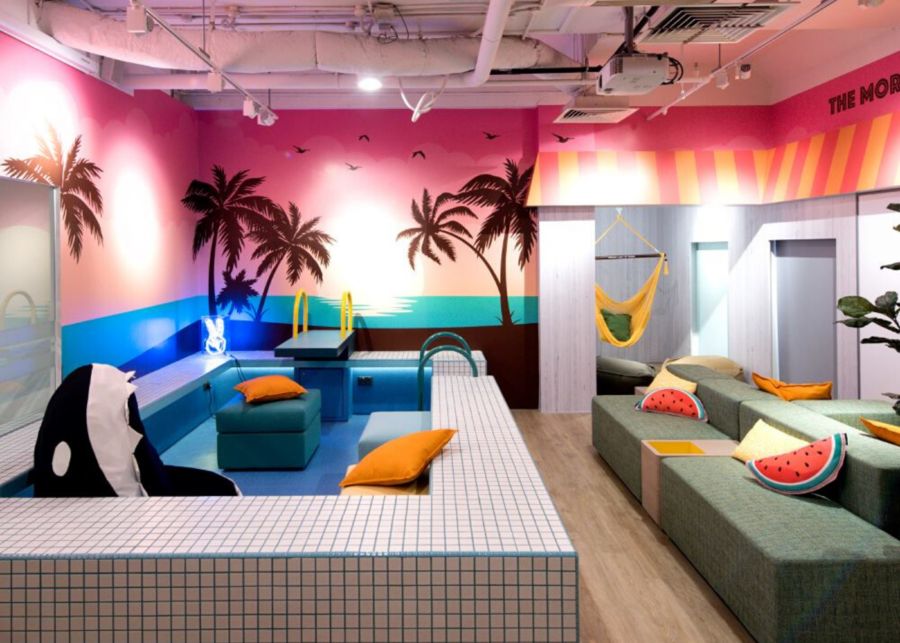 What really sets this co-living space apart from others is the playful energy across all common areas – there's a retro-styled laundromat, human-sized hamster wheel for a treadmill, a massive ball pit and IG-worthy interiors across the various lounges, game rooms and open kitchen. And it's all housed within a mall at the heart of Singapore. It doesn't get any better than this.
Lyf Funan Singapore, Level 4, Funan, 67 Hill Street, Singapore 179370
18. The Ark Futsal
Fancy a soccer match at the top of a mall? Make it happen at The Ark Futsal's football pitch on the seventh floor.
The Ark Futsal, #07-37, Funan, 109 North Bridge Road, Singapore 179097
19. Rooftop garden and urban farm
Operated by Edible Garden City, the Urban Farm on the seventh floor showcases indoor and soil-based farming, as well as vertical growing and aquaculture. It also provides a cool farm-to-table concept where farmers can work with chefs at Funan's restaurants to curate, harvest and supply pesticide-free produce.
Rooftop garden and urban farm, Level 7, Funan, 107 North Bridge Road, Singapore 179105; temporarily closed
Like it or not, Singapore's crushing it with our shopping malls and Funan Mall is no exception.