Photography: City Hot Pot via Facebook
Have a ball of a time with family and friends at these great steamboat restaurants in Singapore that offer superb broths with premium ingredients.
Hotpot, steamboat, mookata – whatever you call it, we just can't get enough of this piping hot delight that's perfect for a cold, rainy day. For the uninitiated, steamboat is a popular (and fun) cooking method in East Asian households where the cooking is done at the dinner table. A boiling pot of soup stock is placed in the centre with a variety of raw meat, seafood, vegetables, noodles and dumplings. It may be a Chinese New Year staple but most of us in Singapore like to have steamboat all year 'round. Just remember that dining rules have changed thanks to the pandemic. So expect to see restaurants doing a la carte buffets where all dishes come to you.
Best places for steamboat in Singapore
1. City Hot Pot
For those who are fussy with what goes into your hotpot, this spot is right up your alley. Even though everyone has their own pot for cooking, you're still seated as a group. And with the variety of choices, we reckon you'll be staying for hours. There are just too many soup bases to choose from, including the flavour-packed special fish soup, as well as freshly sliced shabu-shabu, wagyu beef rolls and a whole lot of seafood!
City Hot Pot, multiple locations including One Raffles Place and Guoco Tower
2. Coca Restaurant
This well-known stalwart has been around since 1957, so really, it must be doing something right. We particularly like the good ol' clear chicken broth (double boiled treasure) as a soup base but you can choose up to four with the quadruple pot. For maximum pleasure, dip your favourite cooked ingredients in Coca's fiery homemade chilli sauce. All three outlets are usually crowded so book ahead to avoid disappointment.
Coca Restaurant, multiple locations including Suntec City, Ngee Ann City and Kallang Leisure Park
3. Parkway Mini Steamboat
Located in bustling Tanjong Pagar, the steamboat restaurant has all-you-can-eat plates served right to your table. Select handmade noodles, pork balls and fish paste, meats, seafood and the like. There are usually three soup bases including mala, tom yum and mushroom. The variety of cooked food is great, too – look forward to bee hoon, chicken wings and even chilli crab.
Parkway Mini Steamboat, 11 Tanjong Katong Road, Singapore 437094
4. Nan Hwa Chong Fish Head Steamboat Corner
There's nothing like sipping on flavourful broth from a fish head steamboat. Book a table for snapper, pomfret, grouper fish boats boiled with ember charcoal for a depth of flavour. Get the Hojiak or Baojiak sets which come with a platter of signature tofu, fried shrimp roll, prawn paste chicken wings, pork belly and drinks.
Nan Hwa Chong Fish Head Steamboat Corner, 812 North Bridge Road, Singapore 198779
5. Little Sheep Hot Pot
Don't be alarmed by the peculiar name; this hot pot chain hailing from Mongolia has more than just lamb. It gained popularity by being one of the first hotpot restos to do without the classic dipping sauce. That's how you know the broth is flavourful! Meat lovers can chow down on tender lamb, mutton, beef and pork skewers dipped in various soup bases. The mala option isn't too spicy and has just the right kick, too. Going for mutton? It pairs well with the signature white soup packed with spices.
Little Sheep Hot Pot, #B1-13, Orchardgateway, 277 Orchard Road, Singapore 238858
6. San Laksa Steamboat
Love laksa and all its creamy, spicy goodness? This restaurant, which recently moved to a new spot at Kitchener Road, is one of the few places in the country that offers laksa as a steamboat base. The gravy isn't too thick so you won't feel jelak after piling on the ingredients. If you still want the good ol' chicken broth, the pot can hold two different kinds of soup, so order away.
San Laksa Steamboat, 147 Kitchener Road, Singapore 208524

7. Upin Hot Pot
Aside from the flavourful soup bases and unique dishes (patin fish slices and black truffle ham), Upin Hot Pot regularly holds promos that are too good to resist. If you'd rather stay in, Upin also brings the steamboat experience to your home, complete with the hot pot and all its trimmings. But if you're at one of the outlets and want a side of entertainment, you can enjoy live hand-pulled noodle and Sichuan opera-face changing performances (currently unavailable due to Covid restrictions).
Upin Hot Pot, multiple locations including Clarke Quay Central, Orchard Gateway and West Coast Plaza
8. Tsukada Nojo
At Tsukada Nojo, you can get your wonder protein fix in a hotpot with the super famous bijin nabe: a collagen-rich creation featuring organic chicken broth and fresh ingredients like shrimp, mushrooms and chicken meatballs. It's literally beauty in a pot. Hailing from Japan, this steamboat restaurant exclusively serves organic and free-range Jitokko chicken from the Miyazaki prefecture. Enjoy great savings with the set menus, and don't leave without trying Japanese side dishes like nikumaki onigiri (rice balls wrapped in pork) and chicken nanban.
Tsukada Nojo, multiple locations including Plaza Singapura and Chinatown Point
9. Xian De Lai
This one's a regular spot for ardent hotpot lovers in Singapore, don't be surprised to see queues during peak hours. Xian De Lai also offers Korean BBQ and chongqing grilled fish in five delish flavours. Spice lovers, you have to try the spicy chicken – it definitely packs a punch! Steamboat essentials include daily brewed soup bases as well as an array of handmade food and impressive side dishes.
Xian De Lai, 18 Liang Seah Street, Singapore 189039
10. Haidilao
Be warned: it's usually a long wait to dine at this Sichuan-based steamboat restaurant (mostly over an hour) ever since it blew up. Don't worry about waiting in line though. Believe it or not, you can get a manicure and help yourself to free fruits and popcorn while waiting. Oh, and you can always make a reservation at one of the many outlets. Another highlight? Chefs showing off their skills as they knead hand-pulled homemade noodles right at your table (currently unavailable due to Covid restrictions). If you can handle the heat, choose the fiery Sichuan soup base.
Haidilao, multiple locations including Clarke Quay, Plaza Singapura and Vivocity
11. New Udon Mookata
What makes mookata so awesome (and different) is that you get the best of both worlds – a barbeque steamboat where you grill meat on a metal skillet in the middle. The metal skillet has grooves on it that lead into the "soup moat". The juices you get from grilling the meat flow into the soup, giving it that extra flavour. Oh, and did we mention it's open 24/7? Perfect for a cheeky late-night supper!
New Udon Mookata, #01-66E, Golden Mile Complex, 5001 Beach Road, Singapore 199588
12. Cheese Story Mookata Buffet
If you like a serving of gooey melted cheese with your mookata spread (think seafood-style cheese fondue), Cheese Story has enough refills to go around the group. If you're a seafood lover, go ahead and pile on the flower crabs, clams, scallops, mussels, prawns, crayfish and salmon. There's also a mix of marinated pork, chicken and beef. End your meal with a scoop of ice cream 'cause there's always room for dessert.
Cheese Story Mookata Buffet, #02-01, Golden Mile Complex, 5001 Beach Road, Singapore 199588
13. Imperial Treasure Steamboat Restaurant
Imperial Treasure is the kind of swanky place you'd choose if you need to impress the in-laws. Signature dishes include the four treasure ball platter: a combination of prawn, cuttlefish, pork and canton specially prepared by the chef. Plus, the Imperial drunken chicken soup that's prepared with Shaoxing rice wine, ginseng, wild yam, wolfberries and red dates. The satay, seaweed and kelp, and century egg and parsley soup bases are a cut above the usual Szechuan, pork bone and chicken soup flavours.
Imperial Treasure Steamboat Restaurant, multiple locations including Ion Orchard and Great World
14. Beauty in the Pot
This hotpot by Paradise group offers a perfect mix of beauty and the beast of some sort. Indulge in a pot of beauty collagen soup packed with nutrients and a nourishing spicy soup with a choice of three levels of Szechuan spices to put your mala tolerance to the test. Robust soup bases aside, premium and homemade ingredients like melt-in-your-mouth fish tofu and fried beancurd skin are some highlights.
Beauty in the Pot, multiple locations including The Centrepoint, VivoCity and Kinex
15. Guo Fu Hotpot Steamboat
Ready to explore beyond the usual soup bases? Guo Fu Hotpot in Chinatown has 10 bases for you to try – interesting flavours like elderly tonic soup and curry beef soup definitely pique interest. Each person on the table gets a pot so don't hold back on your choices. And did we mention there's free-flow of xiao long bao? Now, that's what we call a bang for your buck.
Guo Fu Hotpot Steamboat, #01-31/32/33, Cross Street Exchange, 20 Cross Street, Singapore 048422
16. Pot Yummy Yummy
Hotpot for one? This is a haven for introverts – or if you're picky about what goes inside the pot. You get a mini hotpot or grill to yourself with a variety of soup base choices. The ingredients were placed on a conveyor belt before Covid but they come straight to you now. All you gotta do is wait patiently and then plonk 'em in the pot. The set lunch and dinner deals are definitely a bang for your buck, too.
Pot Yummy Yummy, #01-01, 80 Telok Ayer Street, Singapore 048466
17. Whampoa Keng Fishhead Steamboat
From hawker stall to full-fledged restaurant, this dining spot (and household name to many locals) has come a long way since setting up shop in 1990. The main star of the steamboat is fresh sliced fish with bits of cabbage and seaweed, but don't forget to order side dishes like prawn paste chicken wings, braised pig trotter and prawn rolls.
Whampoa Keng Fishhead Steamboat, 556 Balestier Road, Singapore 329872
18. Shang Pin Hot Pot
Go for the mala soup base and pick your level of spiciness (mild, standard and spicy). It's an all-you-can-eat steamboat buffet concept so select what you like – from pork balls to dumplings. There are also plenty of vegetarian selections, seafood and cooked food.
Shang Pin Hot Pot, multiple locations including Marina Square and Parkway Parade
19. Crystal Jade La Mian Xiao Long Bao
Currently unavailable.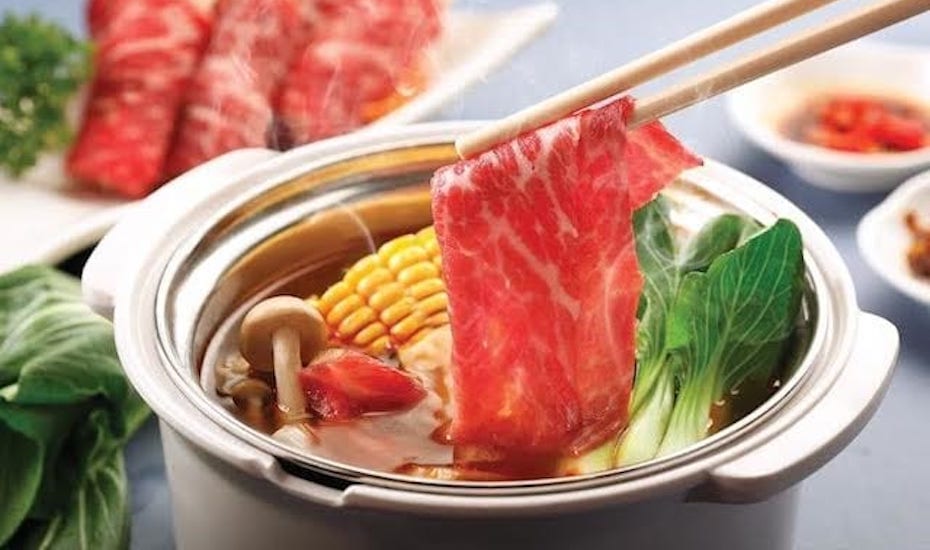 Few places do traditional Chinese fare better than Crystal Jade. It's been a family favourite for the longest time and better yet, you can order a round or two of dim sum to accompany your soupy main at this outlet. Choose from six different soup bases (pork bone, tomato, curry, miso, superior and spicy mala) before helping yourself to whatever ingredients you like.
Crystal Jade Steamboat Kitchen, Holland Village, 241 Holland Avenue, Singapore 278976
Brace yourselves, you're in for a massive feast at the best steamboat restaurants in Singapore.