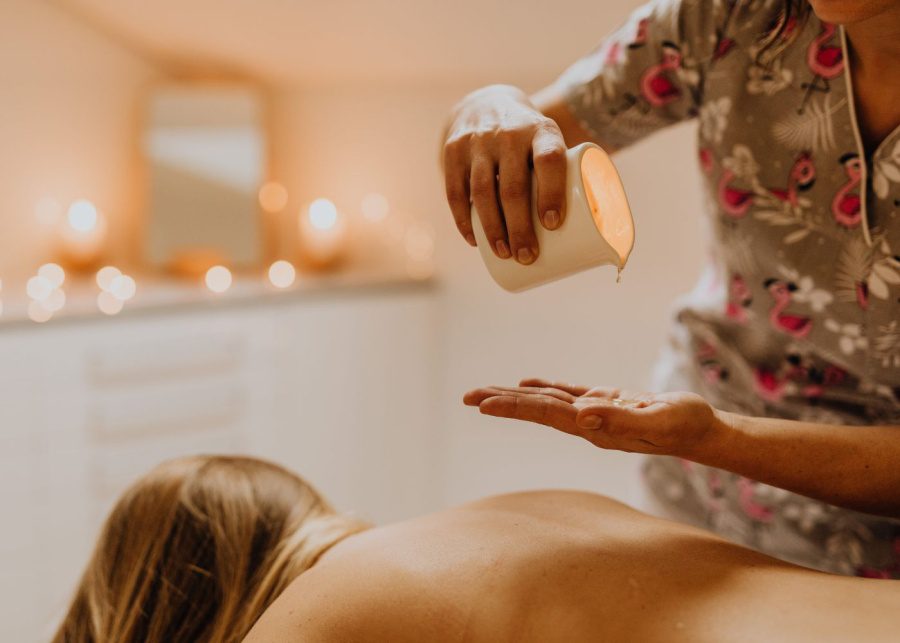 Photography: Karolina Grabowska via Pexels
In need of R&R? Check into these utterly blissful spas in Singapore for the ultimate head-to-toe pampering session.
Hey there, workaholic. You look like you need a little R&R. It's no secret that a soothing facial or heavenly massage will do wonders for your mind, body and soul. So go on, live a little and indulge in a day of personal pampering with our luxe guide to the best spas in Singapore. You deserve it!
Best spas in Singapore
1. Ikeda Spa
The Japanese know a thing or two about quality and pleasingly, you can experience it all at Ikeda Spa. As the first authentic Japanese spa in Singapore since 2009, this luxurious space covers 3,000 square feet of tranquillity and total serenity. We suggest immersing yourself in the Hinoki onsen bath, an onsen-style dip pool that promises to melt away stress, anxiety, aches and pain, as well as promote detoxification.
Fun fact: relaxing in a Hinokiburo (Japanese cypress wood tub) was once a luxury reserved for royalty! Now, you can immerse yourself in this healing ritual with Ikeda Spa's authentic recreation of the traditional onsen experience. This onsen in Singapore is complete with real hinoki wood imported directly from Japan — the first and only spa in Singapore that uses this! Plus, you're also able to choose one of the five onsen bath salts (extracted from famous onsens around Japan) to customise your relaxing bath. Expect to feel like you're chilling in an authentic onsen in Japan without flying out!
Perk alert! First time at Ikeda Spa? Enjoy a free Hinoki Onsen Bath (worth S$90+) with any 90-minutes treatment booked. Book this limited spa promotion online or call 6469 8080. T&Cs apply.
Ikeda Spa, 787 Bukit Timah Road (beside 6th Avenue station), Singapore 269762
2. La Source Spa
Feeling stressed and tense from your week? Enjoy quick relaxation and recharge body and spirit at La Source Spa. Located in the heart of Orchard Road, this luxurious spa is renowned for offering a holistic approach to beauty and wellness, with a range of award-winning services for your face, body and hair needs.
We especially love its signature aroma indulgence massage ($108 for 30 minutes, $158 for 60 minutes and $218 for 90 minutes). The highly-skilled and experienced therapists combine expert techniques with pure essential oils to transport you into a state of deep relaxation. The nourishing oils soothe and pamper the skin as the skilled masseuses work their magic to gently but thoroughly knead away knots and tightness from your muscles, leaving you feeling blissfully relaxed and recharged!
La Source Spa, #02-17/18, Voco Orchard Singapore, Singapore 238883
3. The Thai Spa
Who needs to travel all the way to Thailand when you can enjoy an authentic Thai massage right here? Head to The Thai Spa for a rejuvenating Thai massage and therapy by experienced masseurs. All done in a swanky yet cosy setting. Apart from a solid Thai massage, this place also offers other services. Think hot stone therapy, candle massage, deep tissue massage and four-hand massage. If you really want to treat yourself, add a foot spa, rose honey and milk bath or facial to your spa day. And ladies, you don't have to worry about using a common shower – all therapy rooms come with a private shower. Oh, and did we mention it's strategically located in town areas? Major love!
The Thai Spa, multiple locations including Suntec City, Raffles City Shopping Centre and Plaza Singapura
4. Chi, The Spa, Shangri-La Singapore
Located within the lush gardens of Shangri-La Singapore, this spa is a haven of tranquillity and rejuvenation. Its array of signature treatments includes the renowned Asian blend massage. With the caring touch of intuitive and skilled therapists, it uses Asian techniques like Thai pressure point massage to restore balance and soothe tensions in your body.
If you're in the mood for a pampering facial, the signature facials are a must-try. Go for the classic deep cleansing facial that uses skincare formulated with naturally-occurring vitamins, mineral salts and oxygenating elements of selected fruits, plants and flowers to give you a radiant glow.
Need more rejuvenation? Book a two-and-a-half hour treatment with the 'Singaporean Wellness Escape', which includes a relaxing massage and a health-boosting meal served at the poolside restaurant.
Chi, The Spa, Level 1 Garden Wing, Shangri-La Singapore, 22 Orange Grove Road, Singapore 258350
5. Oasia Spa
For a pampering session tucked away from the city's hustle and bustle, head to Oasia Spa at Oasia Resort Sentosa. This award-winning spa offers specialised facial and grooming treatments, as well as full-body massages that combine traditional Thai, Indian and Japanese massage techniques. Plus, it's one of the first spas in Southeast Asia to use organic products from renowned Japanese skin care brand, Kotoshina. Our standout pick is the full-body Oasia signature massage, where you'll get to choose from three massage oils specially curated by aromatherapists from Japan – each boasting health benefits for different skin types.
Beyond traditional spa services, immerse yourself in wellness workshops led by spa therapists. You'll get to glean precious self-care tips, or create your own body balms and scrubs using natural and organic ingredients. We hear lipstick crafting workshops are also in store next year! Need a pick-me-up sesh amid your tight schedule? Even the busiest of bees would want to make time for Oasia Spa's half-day retreats. Expect an invigorating experience, complete with relaxing body massages, personalised body scrub classes, and a nutritious three-course meal to top it off.
Oasia Spa, #01-03, Oasia Resort Sentosa, Palawan Ridge, 23 Beach View Road, Singapore 098679
6. Pablo Blau Salt Rooms
This chic space in Raffles City is Singapore's first luxury spa that offers these treatments in environments replicated after Europe's salt mines and caves. We're talking actual rooms with walls and floors covered in salt. We've heard that if you struggle with skin conditions like sinus, acne, inflammation, or psoriasis, you'll find relief with its salt room therapies. Choose from detoxifying facials, bacial body treatments, and age-defying eyes and neck treatments that'll re-energise and rejuvenate you.
Pablo Blau Salt Rooms, #02-26A, Raffles City Shopping Centre, 252 North Bridge Road, Singapore 179103
7. Yunomori Onsen and Spa
It's the best of Japanese onsen and Thai massage at Yunomori Onsen and Spa. If a massage isn't on your agenda, just pay an entry fee to enjoy the facilities. Put your phone away and take a dip in the mineral-rich, warm waters of various onsen baths. Move between a bubble bath, jet bath, silk bath and cold bath (if you dare), and soak in those minerals. Be sure to take a break at the lounge if things get too hazy. End your sesh with Japanese-inspired food and snacks at Yunomori Cafe. You'll leave feeling brand new.
Yunomori Onsen and Spa, #02-17/18, Kallang Wave Mall, 1 Stadium Place, Singapore 397628
8. G.Spa
This 24-hour spa in Singapore might just change your idea of the perfect staycay. Yes, stay all day (and night) at this nature-inspired retreat just outside Geylang. All spa packages come with hot and cold pools, steam rooms and sauna facilities. Feeling peckish after your pampering sesh? Fuel up with unlimited servings from the ala carte buffet. With a wide selection of signature foot reflexology, body scrubs, facials, body wraps and massages, you'll wish you had more hours in a day.
G.Spa Singapore, #02-02, 102 Guillemard Road, Singapore 399719
9. Nimble / Knead
Spa day in a shipping container? Yes, Nimble / Knead makes it possible at its quaint Tiong Bahru spot. Work out those knots in your body with massages from around the globe. It's got everything from traditional Thai massage to modern Japanese Shiatsu. Not to mention prenatal to a much-needed back-shoulder-neck massage. Wanna extend your session? Top up for the body massage, body scrub and body mask combo to feel absolutely rejuvenated.
Nimble / Knead, #01-28, 66 Eng Watt Street, Singapore 160066
10. Passage New York
When you're tired after a long day at work and you need some after-hours pampering, drop by this luxe spa in the CBD. Passage New York also boasts a fashion atelier selling stylish apparel, bags and accessories. But let's get back to the pampering. Treat your skin to Gold Gravity Therapy. It uses non-invasive lifting capabilities to tighten sagging skin and contour your face.
Passage New York, Level 15, RB Capital Building, 22 Malacca Street, Singapore 048980
11. Elements Wellness Group
At Elements Wellness, services range from facials and massages to TCM wellness treatments. You can even have onsen bath therapy sessions in a handcrafted Koyamaki wood tub, and chiropractic consultations. Bliss out with the extensive list of face and body treatments using TCM wellness methods. And don't forget to check out the private jacuzzi room, too. Five-star facilities, customised high-tech treatments and a roster of attentive therapists are highlights you'll find at Spa Infinity. Our recommendations include the customised treatment facial and sports massage.
Elements Wellness, multiple locations including The Centrepoint, Ion Orchard and 313@Somerset
12. Serena Spa at Singapore Marriott Tang Plaza
For times when we're beyond exhausted and in dire need of rejuvenation, we troop to Serena Spa. Despite its busy, central location, the space is incredibly serene. You'll hardly believe Orchard's bustling shopping streets are mere storeys below you. If you're looking for a spa treatment with effects that last, you're in good hands because the menu includes healing Ayurvedic treatments. Our thoughts on the martial arts-inspired Marma massage? Besides being utterly pampered, we felt calmer and more relaxed for a whole week.
Serena Spa, Singapore Marriott Tang Plaza, 320 Orchard Road, Singapore 238865
13. Four Seasons Spa
At this spa, you'll be forgiven for feeling like you're in a faraway resort. The calming cocoon is quietly located on tree-lined Orchard Boulevard. And it offers a whole gamut of relaxing treatments. Choose between sensory journeys, massages, body treatments, facials, and add on enhancements for a fulfilling spa experience.
Four Seasons Spa, Four Seasons Hotel, 190 Orchard Boulevard, Singapore 248646
14. The Fullerton Spa
Opulence is the word that comes to mind when we think of The Fullerton Spa. Besides being located in a beautiful national monument, its range of treatments and products are by the renowned ESPA. For a rejuvenating time, try the Asian heritage signature. This means indulging in a stress-relieving scalp and deep muscle massage. No matter if you're enjoying express treatments or the ultimate hero treatment, you'll leave knot-free and glowing with buttery soft skin.
The Fullerton Spa, The Fullerton Hotel Singapore, Fullerton Square, Singapore 049178
15. Adeva Spa
This rooftop spa hideaway is tucked away in Paragon. You'll find various treatments to suit your needs, including face spa rituals from Greece to traditional Chinese therapy. It even comes with designated men and women hydrotherapy zones and relaxation lounges. This means you get to rest before and after your spa session.
Adeva Spa, #06-22/23/24, Paragon Shopping Centre, 290 Orchard Road, Singapore 238859
16. Spa Esprit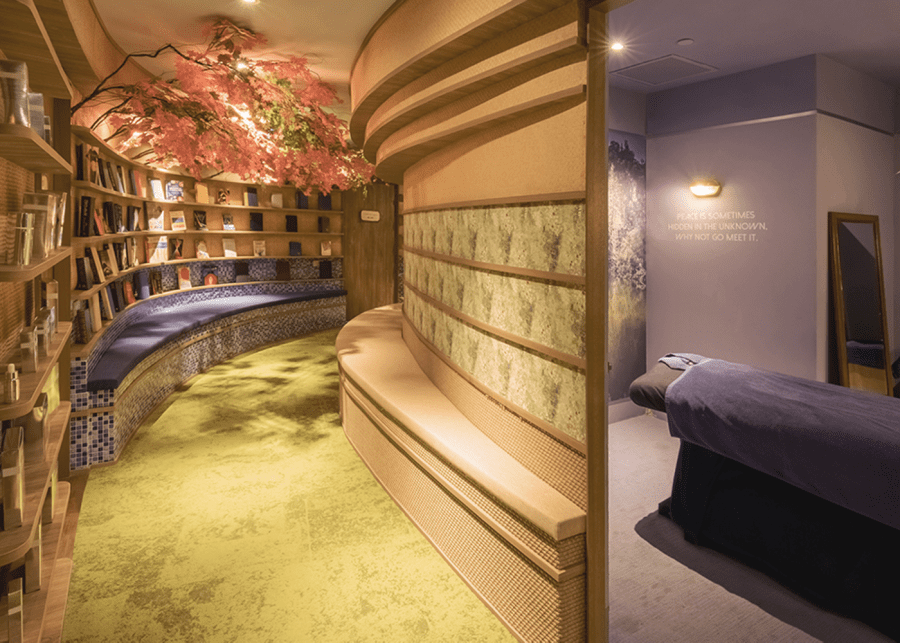 We're long-time fans of Spa Esprit and for good reason. These treatments are the most original we've ever seen (complete with punny names)! Think massages like the Classic Scentsational, Star White Star Bright facial, and even energy healing. Plus, you can even take home your own personal blend of body products. Check out our review of the maskne-busting Mask Avenger facial for a peek at what to expect.
Spa Esprit, multiple locations including Wheelock Place, Great World City and Raffles City
17. Auriga Spa
Every so often, it feels good to splash out and treat yourself to an indulgent spa day. Auriga at Capella Singapore is the spa to visit. This swish joint pulls out all the stops in the name of pampering. For example, it uses only natural and organic products from Biologique Recherche. The facilities are nothing less than stunning. Think herbal steam rooms, a vitality pool, an ice fountain and male and female spa areas. Swoon! Signature massage and spa treatments include experiences based on the cycles of the moon.
Auriga Spa, Capella Singapore, 1 The Knolls, Sentosa, Singapore 098297
18. Aramsa Spa
We're dedicated to our regular pampering seshes at swanky city spas. But nothing beats the lush ambience of a garden spa. Located within Bishan–Ang Mo Kio Park, Aramsa Spa features 17 serene treatment rooms. Each come with its own garden courtyard and outdoor shower or bath. Stepping into the space is like being transported into a hidden oasis! Oh, and feel free to bring your other half for couple time or your girlfriends for a luxurious hen's night. Other facilities within the spa include eyelash services, a yoga studio and restaurants perfect for chilling.
Aramsa Spa, Bishan-Ang Mo Kio Park, 1384 Ang Mo Kio Avenue 1, Singapore 569932
19. Willow Stream Spa
Clean amenities, relaxation lounges, whirlpools, and steam rooms. Does it get any better than this? Willow Stream Spa is where its at for signature experiences, day spa packages, and even treatments for men. For the ultimate pampering sesh, don't forget to take advantage of the selection of plunge pools and private jacuzzis. We insist.
Willow Stream Spa, Level 6, Fairmont Singapore, 80 Bras Basah Road, Singapore 189560
20. My Cozy Room Boutique Spa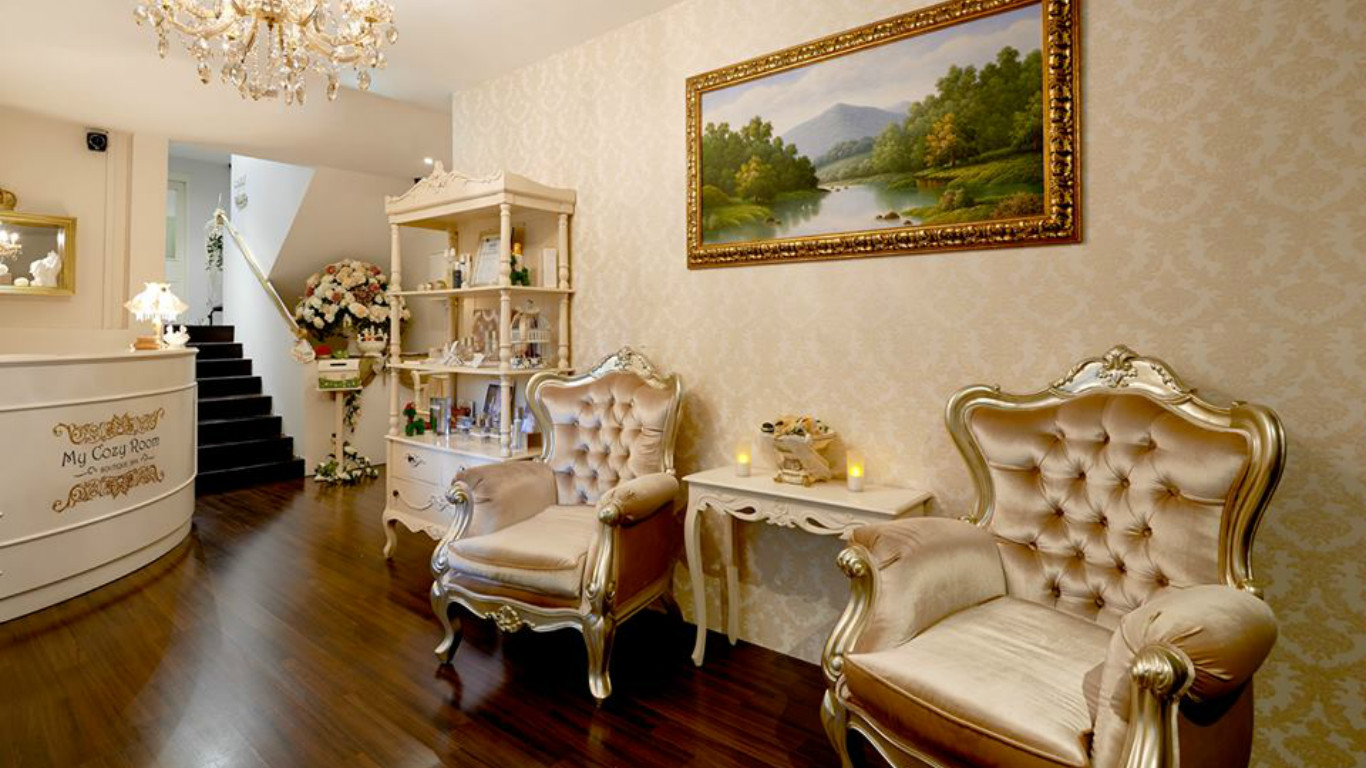 Victorian furnishings and feminine decor. It's little wonder that My Cozy Room Boutique Spa's clientele mostly consists of women, with brides making up a large fraction. Expect nothing less than impeccable service here. A quick look at glowing reviews should convince you of the same. Heads up: choosing a single treatment will be a tough one. The spa menu is packed with pampering treatments, including anti-aging and body treatments.
My Cozy Room Boutique Spa, multiple locations including Cairnhill Road and Devonshire Road
21. Away Spa
We're obsessed with the rainforest design and setting of this spa at W Singapore – Sentosa Cove. Put your feet up in the decompression area, and sweat out those nasty toxins in the sauna and steam rooms. Not sure which massage to pick? You've got to try the Inner Glow treatments that relieve stress and promote tissue regeneration. The experience culminates within the spa's private garden, where you can savour sips and nibbles as you ease back into the real world.
Away Spa, W Singapore – Sentosa Cove, 21 Ocean Way, Singapore 098374
22. Banyan Tree Spa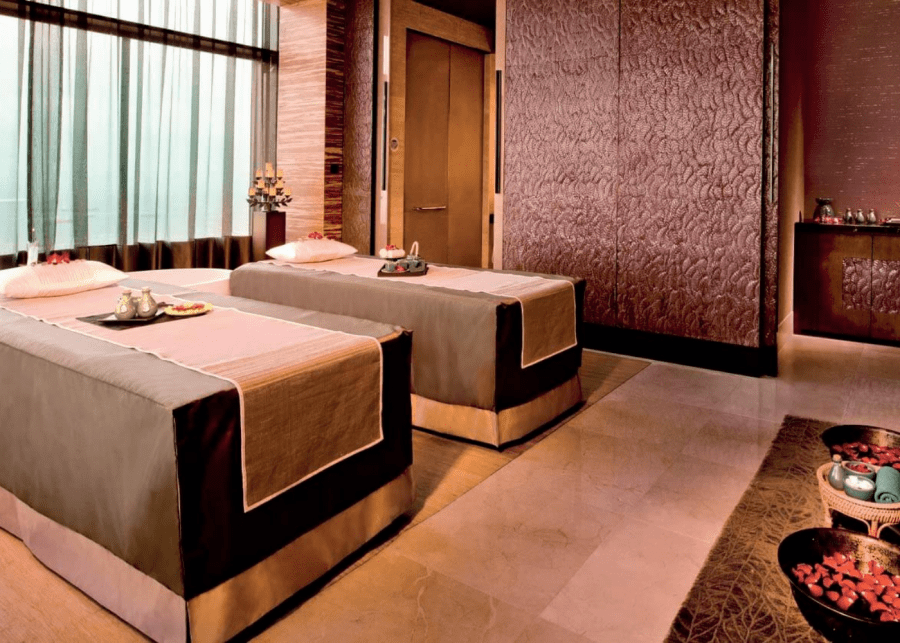 Fans of the renowned Banyan Tree brand will tell you these folks certainly know a thing or two about wellness. The swanky Banyan Tree Spa at Marina Bay Sands is the company's homecoming and its very first spa in Singapore – making it very special indeed. Be treated to a sensual and spiritual Asian-inspired experience with truly world-class treatments like Royal Banyan or Thai traditions.
Banyan Tree Spa, Level 55, Tower 1, Marina Bay Sands Hotel, 10 Bayfront Avenue, Singapore 018956
23. Purovel Spa & Sport at Swissotel Merchant Court
Swiss brand Purovel Spa & Sport is a global name, with locations scattered across the world. Indulge in Swiss-made bath products with ingredients from an Alpine garden. Treatments range from contemporary therapies to massages meant to awaken and energise.
Purovel Spa & Sport, Swissotel Merchant Court, 20 Merchant Road, Singapore 058281
24. St. Gregory Spa
Meet the patron saint of relaxation and rejuvenation: St. Gregory. Its convenient location in hotels across the island gives you no excuse not to indulge in a little me-time. On the menu, you'll find a range of traditional healing treatments such as Ayurveda, traditional Chinese medicine, Javanese, Thai, and Burmese therapy to bring you to the ultimate state of bliss.
St. Gregory Spa, multiple locations including Pan Pacific Singapore and Park Royal Collection Pickering
25. Sofitel Spa
For exquisite facilities and divine treatments, the beautiful Sentosa haven of Sofitel Spa is hard to beat. The outdoor spa garden features a stunning swimming pool, a float pool with cascading waterfall, a mineral-rich mud pool and, for the ultimate zen experience, a calming meditative labyrinth. There's even a private ladies-only area for a pampering sesh with the girlfriends. We also love the unique spa menu. Our top picks include the 105-minute (totally indulgent yet completely necessary) Wellness treatment, the signature (and award-winning) Sentosa Massage, and the Asian Cocoon Dream.
Sofitel Spa, 30 Artillery Avenue, Sentosa, Singapore 099957
26. Kenko Wellness Spa
With more than 20 years in the industry and six outlets islandwide, Kenko Wellness Spa needs little introduction. Choose from more than 10 types of massages that will iron out all the tension and kinks in your body to provide a much-needed relief. For a deep pressure therapeutic release, try the Kenko signature body massage, with prices starting from $95 for a 40-minute session. The centre also offers lymph detoxifying massage that will unblock lymphatic vessels and body meridian points, as well as beauty backline treatments to achieve that definition and shine.
Kenko Wellness Spa, multiple outlets including Marina Square, Paragon and Vivocity
27. Damai Spa
Temporarily closed
With a name like that, peace and serenity are what you'll get at Grand Hyatt Singapore's Damai Spa. Here, it's all about promoting the healing therapies of Chinese, Malay, Indian and European cultures with treatments ranging from herbal remedies to Ayurveda. Better yet, Damai Spa also ranks high on the romance factor with an exclusive couple's suite featuring an indoor stone tub overlooking a private outdoor water terrace and an open skylight. Perfect for lovebirds seeking a little alone time.
Damai Spa, Grand Hyatt Singapore, 10 Scotts Road, Singapore 228211
28. Remede Spa
Temporarily closed.
Head-to-toe pampering? Remede Spa, the state-of-the-art spa at St. Regis, is an expert in that. Quite literally. Facials and body treatments aside, it also houses the award-winning Pedi:Mani:Cure Studio by renowned pedicurist Bastien Gonzalez. That's where you can indulge in Bastien's Duo, a synchronised four-hand massage treatment that's as decadent as it sounds. Psst: check out our honest review of the signature hammam ritual!
Remede Spa, The St. Regis Singapore, 29 Tanglin Road, Singapore 247911
Get ready to leave your worries aside and find your zen at the best spas in Singapore!