Chutney Tandoor House is one of the new restaurants in Hong Kong in May 2022
If you're on the hunt for the best new restaurants in Hong Kong in 2022, then this is the right place to be!
We're all about food here at Honeycombers, and we bet foodies like you are too! From the healthiest breakfasts to the best brunches and the fanciest afternoon teas, we know all the latest hubbub in the Hong Kong F&B scene. As the city reopens and the F&B scene springs back to life, let's tuck into the May 2022 edition of the best new restaurants in Hong Kong.
New restaurants in Hong Kong – May 2022
Kin Food Halls
You may have heard about Kin, an up-and-coming app that aims to revolutionise the food delivery scene in Hong Kong by providing curated dishes, made and delivered using more sustainable methods. Founded by Matt Reid, Jonathan Yeoh, and Malcolm Wood of Maximal Concepts, Kin's first brick-and-mortar location – Kin Food Halls – is opening in Quarry Bay this month. Spanning across 18,000 square-feet, the food hall is a casual space with 300 seats, a pizza counter, an 18-tap bar offering a range of alcoholic beverages, as well as over 200 recipes created by nearly 50 culinary experts in town. Highlights include the Kin-exclusive Spicy Tomato and Watermelon Salad by Chef Richard Ekkebus and Sukiyaki Burger from Honbo Deli; Lobster Bisque Laksa by Chef Eddy Leung; Furai-o-Fish Sando from one-Michelin-starred Yardbird; and more.
We love the seamless combination of food and technology here, as you can use the Kin app not only to order your dish, but to learn about the stories behind each recipe. Moreover, the app uses proprietary AI to create customised 'food playlists' similar to music apps' recommendations, enabling you to discover plates that suit your taste and mood. So, those who always have difficulty choosing what to eat for your next meal need not to worry – Kin has got your back!
Kin Food Halls, 2/F, Devon House, Taikoo Place, 979 King's Road, Quarry Bay, Hong Kong, p. 5660 6740
Sawadee Chef
Add a bit of spice to your life with the Thai-Sichuanese cuisine at Sawadee Chef! This contemporary Thai restaurant in Olympic is helmed by Chef Ronald Shao, who has had 40 years of experience in various styles of Chinese cuisine. Inspired by the element of spice in Sichuanese cuisine, Chef Shao uses Chinese cooking techniques and flavours to innovate upon traditional Thai dishes. Signatures include the Spicy Minced Pork Belly with Perilla Leaf; Sliced Fish in Thai Spicy and Sour Soup; Claypot Rice with Assorted Fish and Mushroom; and more. We enjoyed the Thai barbecue at Sawadee Chef as well, especially the grilled whole squid.
Sawadee Chef, Shop G21-G23, G25-G27, G/F, Olympian City 2, 18 Hoi Ting Road, Tai Kok Tsui, Hong Kong, p. 2881 8803
Dondonya x Torikai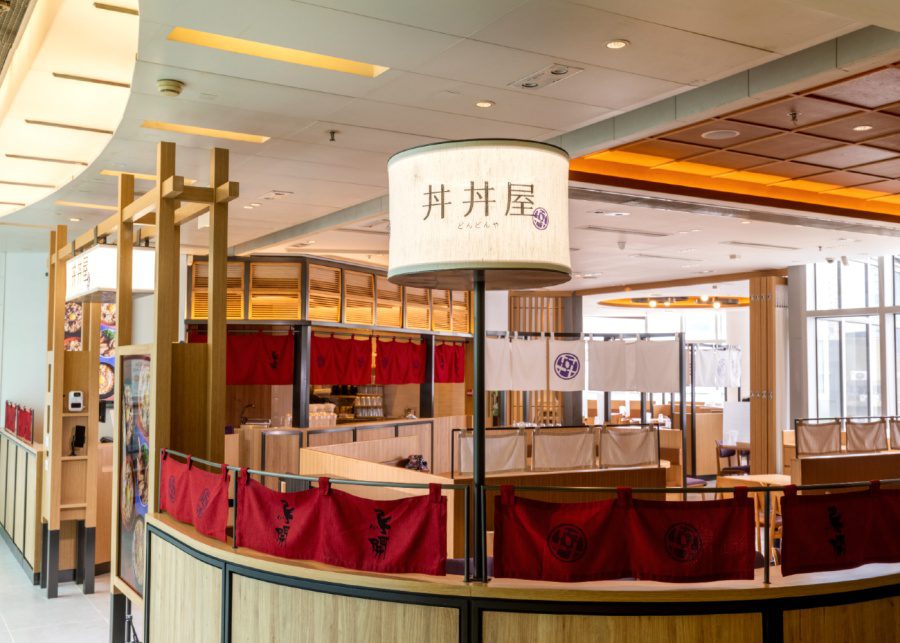 We might not be able to travel to Japan just yet, but you can now satisfy your cravings for Japanese donburi (rice bowls) at Dondonya x Torikai's first concept store in Kwun Tong. The two don specialty restaurant chains from Japan are joining hands to introduce a variety of popular dishes from Nagoya, and are presenting their "Torikai Donburi" series exclusively to celebrate the store's grand opening. You'll find the award-winning Nagoya Cochin Oyakodon (egg and chicken rice bowl); Cheese Oyakodon; Beef Sukiyaki Oyakodon; Oyakodon with Spicy Miso; and Tebasaki Don (chicken wings rice bowl). Furthermore, Torikai Value Sets are available, as well as authentic Nagoya kishimen with tempura, along with other new items.
Dondonya x Torikai, Shop L6-3B, Level 6, apm, Millennium City 5, 418 Kwun Tong Road, Kwun Tong, Hong Kong, p. 2351 6283
Chutney Tandoor House
Love Indian food? Don't miss out on Chutney Tandoor House, a new Indian restaurant in the heart of Central. Using spices, ingredients, and recipes from all across India, Chutney Tandoor House serves contemporary British-Indian fare in vibrant interiors that are reminiscent of elegant colonial-style architecture. In addition to delicious starters such as Raj Kachori (chaat from North India) and Chicken 65, Chutney Tandoor House serves spectacular tandoor dishes featuring fine cuts of meat and the freshest seafood, all crafted in the restaurant's tailor-made tandoor ovens. Highlights on the menu include Tandoori Sea Bass; Sikandari Raan (Spanish lamb shoulder); Achari Beef Short Ribs with US prime beef; Chutney Butter Chicken; Malabar Fish Curry; among others. Furthermore, those who wish to get bevved up can check out Chutney's whisky and gin trolley, or go for cocktails like the Kerala Sunset and Hera Pheri.
Chutney Tandoor House, 4/F, Carfield Commercial Building, 77 Wyndham Street, Central, Hong Kong, p. 2330 0027
Jaja
Rejoice, veggies! New restaurant Jaja is here with plant-based delights, whimsical décor, playful vibes, along with panoramic harbour views to match. Located within Hong Kong Arts Centre, Jaja (pronounced as "haha" in Spanish) is a new restaurant that'll remind you of a candy house and a fantastical garden with its light blue and pink dining areas, glossy tiles, plus walls decorated with floral curtains and neon-light mirrors. Offered at this wonderland is an extensive range of vegetarian dishes influenced by both the East and West. Signatures include Soup-er Wontons; Living Maki Platter; Smoky Corn Ribs with Vegan BBQ Mayo; a whopping 1-Metre Red Curry Pizza; and the colourful "Shake It Off" milkshake series – all perfect for the 'gram!
Jaja, 6/F, Hong Kong Arts Centre, 2 Harbour Road, Wan Chai, Hong Kong, p. 2877 3999
Next Shikaku
In the mood for something warm and hearty? Next Shikaku, an oyster soup ramen brand hailing from Osaka, Japan, will have you covered. This brand's first overseas branch is now opened in Central, offering three types of ramen: koeru (oyster broth ramen), ikasu (oyster clear broth ramen), and asobu (oyster broth dipping ramen). Each soup base is made with a large amount of Japanese oysters, and all other ingredients are also delivered directly from Japan. Other popular items at Next Shikaku include fried oysters served with house-made tartar sauce; slow-cooked chashu; and cherry wood-smoked egg.
Next Shikaku, G/F, 11 Gough Street, Central, Hong Kong, p. 6353 3110
ADD+
Visiting the M+? Be sure to drop by ADD+ as well for a quick bite and casual all-day dining. This new restaurant covers a sprawling 10,000 square-feet, featuring a main dining hall, a bar, two separate dining rooms, and a grab-and-go area. Dine in to take in magnificent views of the Art Park and the city's skyline, or picnic outside and enjoy the sunshine! The menu at ADD+ features innovative pan-global fare, including signatures such as Stir-Fried Spaghetti with Barbecue Pork in Goose Oil (only 50 servings are available daily!); Hong Kong Dim Sum Box; Stir-Fried Rice Rolls, Beef, and Satay Sauce in Hot Pot; the ADD+ Hainanese Chicken; and the ADD+ Club Sandwich. For those looking to take away, the Egg Waffle 2 Gusti, paired with the refreshing Iced Peach Tea and Thai Martini would be your best bet.
ADD+, Unit A, B1, M+, West Kowloon Cultural District, 38 Museum Drive, Kowloon, Hong Kong, p. 2656 4108
Koi
Tseung Kwan O's neighbourhood favourite, Teppanyaki Mihara, is opening its sister restaurant, Koi, right next door at The Parkside. Overseeing both restaurants is Master Chef Terufumi Mihara, who specialises in "wa modern" Japanese fusion cuisine. A contemporary Japanese bistro, Koi is the ideal spot to wind down after work with its classic yakitori, rolls, soups, and sandwiches. Make sure to try Koi's signatures, such as Chef Mihara's own creation – Spicy Tuna on Crispy Saffron Rice Cracker; Miyazaki A5 Wagyu Beef and Uni Roll; Grilled Salmon Belly and Leek with Ponzu Sauce; Creamy Mentaiko Carbonara Udon with Mushroom and Hot Spring Egg; among others.
Koi, 18 Tong Chun Street, Tseung Kwan O, Hong Kong, p. 3618 8211
Ramato
Transport yourself to Southern Italy at Ramato, the latest neighbourhood hotspot for rustic and relaxed Italian dining. Led by Chef Antimo, the new restaurant serves authentic Italian cuisine with flavours inspired by the chef's childhood. Some of his favourite plates include Bruschetta and Sauteed Clams, in addition to must-try pasta dishes such as Dry Spaghetti with Ramato Tomato Sauce, as well as Homemade Fettuccine with king prawns, zucchini, and mint. Moreover, highlights on the mains and desserts menu include the 1.5kg Baked Sea Bass; grilled M5 Australian Wagyu Ribeye; the classic Tramisu; Limoncello Baba; and Sicilian Cannolo. Don't forget to try out Ramato's beverage programme too, as it's designed by the esteemed mixologist, Mario Calderone, from Duddell's Hong Kong.
Ramato, G/F, 208 Hollywood Road, Sheung Wan, Hong Kong, p. 2549 0208
Trattoria Piccolo
Here's some more Italian fare, but this time, it's not just pizza and pasta! Previously Piccolo Pizzeria on Davis Street, the eatery is reopening this month with a new name, a new location, and a new menu. Now renamed as Trattoria Piccolo and situated on Cadogan Street, the restaurant specialises in cichetti – Venetian-style small bites – with an emphasis on seafood and cured meats. Its menu changes daily, with many ingredients freshly sourced from K Town's Smithfield Wet Market. Must-have dishes include Octopus Carpaccio with Sea Asparagus; Vitello Tonnato (slow-cooked veal loin with house-made tuna sauce and capers); Veal Milanese; Baked Yellow Chicken in Terracotta Pot (which requires booking two days in advance); and more. Wash them down with Trattoria's Piccolo selection of premium wines, artisanal spirits, and spritzes.
Trattoria Piccolo, Shop B, G/F, 41 Cadogen Street, Kennedy Town, Hong Kong, p. 2824 3000
Shake Shack opens in Tung Chung
The iconic Shake Shack is opening its seventh branch in Hong Kong at Citygate Outlets this month. To celebrate the occasion, you'll be able to have an exclusive taster of the limited-time Avocado Bacon menu at Citygate Shack from 9 to 15 May, before it becomes available at all branches on the 16th. Using fresh avocado, applewood-smoked bacon, and other quality ingredients, the Avocado Bacon Burger and Avocado Bacon Chicken will have you hooked. What's more, the Citygate Shack will offer a branch-exclusive concrete – the Tung Chung Pop Trail. The vanilla frozen custard is blended with salted caramel sauce, peanut butter, the local Shan Shau Jok peanut brittle, and topped with caramel popcorn.
Shake Shack Citygate, Unit G20, G/F, Citygate Outlets, 20 Tat Tung Road, Tung Chung, Hong Kong, p. 2987 1728
New restaurants in Hong Kong – April 2022
Chubby Papa's Deli
Looking for something quick but filling? The mouth-watering sandwiches at Chubby Papa's Deli will be your perfect breakfast or lunch. Made with generous amounts of ingredients and freshly baked brioche bread, Chubby Papa's serves a variety of classic, American-style sandwiches. One of the most popular items is The Hero, which is a hoagie roll served with salami, ham, mortadella, coppa, provolone, American cheese, and more. You can also go for the Philly Cheese Steaks, which offers a choice between four different cheeses; Reuben; BLT; among others.
Chubby Papa's Deli, G/F, Shop 29, Hoi Tao Building, 7-11 Belcher's Street, Kennedy Town, Hong Kong, p. 6995 8931
Mustard Bar & Grill
If you're in search of a new spot to hang out at with your four-legged pals, be sure to visit Mustard Bar & Grill. This steakhouse bar and grill concept in Tin Hau has two dog-friendly outdoor terraces, offering ample space for you to relax with your pets and friends. Although the restaurant has yet to announce its official opening date, you can book ahead while looking forward to its shisha, food, and cocktail offerings.
Mustard Bar & Grill, 3/F, Golden Wheel Plaza, 68-70 Electric Road, Tin Hau, Hong Kong, p. 3462 2700
Bar Bleu
Name a more iconic duo than seafood and champagne – we'll wait. As warm spells begin to hit Hong Kong during springtime, there's no better way to cool yourself down than enjoying a glass of bubbly (or two) and some fresh seafood at Bar Bleu. Begin the feast with the restaurant's signature oyster, cucumber, and watermelon, which consist of a refreshing cucumber vinaigrette and watermelon granita, balancing out the brine and creaminess of the French oysters. Another highlight is the heirloom tomato salad, topped with smoked eel and fresh strawberries. As for the mains, options include Norwegian salmon with gremolata; black cod with cauliflower; grilled octopus with nduja and ratte potato; and more.
Bar Bleu, G/F, 9 Staunton Street, Central, Hong Kong, p. 5980 6107
Mosu
Pets, picnickers, and museum-goers, get ready to make way for Mosu Hong Kong, as West Kowloon is about to get even more popular with the arrival of this prestigious fine dining restaurant. Founded by Chef Sung Anh from South Korea, Mosu Seoul has two Michelin stars under its belt, as well as being recognised as No. 27 in Asia's 50 Best Restaurants 2022. At its sister restaurant in Hong Kong, you can expect equally sophisticated and innovative dishes on its tasting menu, made using local seasonal produce. Signatures from the flagship will also be featured here, including the abalone taco, which consists of abalone from Jeju, a taco shell made with tofu skin, and dressed with lime and shiso; acorn noodles topped with truffle and parmesan cheese; and more.
Mosu, 3/F, M+ Tower, West Kowloon Cultural District, 38 Museum Drive, Kowloon, Hong Kong, p. 2398 0291
New restaurants in Hong Kong – March 2022
Maison Meiji
Love exploring revitalised heritage buildings in Hong Kong? Drop by the Green Building on Mallory Street in Wan Chai, as its first floor has been newly transformed into Maison Meiji, a stunning, new space which offers three unique Meiji-era-inspired experiences. Firstly, you can enjoy superb fusion cuisine in The Bistro's main and private dining rooms. In addition to casual Japanese café fare, like Japanese Omelette Rice and Hamburgs, you'll also find more refined dishes, such as the Poêlé-cooked fish and other fine French-Japanese cuisine.
For those looking to drink, visit the Coffee & Tea Room to sip on a selection of Japanese tea or hand drip coffee. Make the most of the tranquil Japanese tea house setting by partaking in a traditional tea ceremony, which comes with complimentary Japanese wagashi sweets. Want a bit of booze instead? Head over to Kuromaru, a chic cocktail and music lounge inside Maison Meiji. Take your pick between its expansive selection of handcrafted shochu and awamori cocktails; then, feel free to sit back and enjoy your tipple while grooving to some relaxing vinyl music.
Maison Meiji, 1/F, 7 Mallory Street, Wan Chai, Hong Kong, p. 6181 9801, 灣仔茂蘿街7號1樓
Sour Dough
Passion has always been one of our go-to places for cakes and salads, so boy are we glad when we heard that its founder, Gérard Dubois, is launching his new venture in Hong Kong this month! The new artisan deli is called Sour Dough and, as you may guess from the name, it aims to showcase the rich flavours of sourdough breads and pastries. The fact that all of the baked goods at Sour Dough are made from starters (rye, white, and dark rye) that have been tended to for over 30 years just shows how much thought and preparation the Chef has put in. We can't wait to try the signature Sour Dough Croissant, the Raspberry Rhubarb Mille Feuille with Tahitian vanilla cream, and a Caramelised Baby Pear Feuilletine Basket. If you're craving something savoury, Sour Dough also offers a rotating range of vibrant, vegetable-centric salads, as well as vegan soups and hearty sandwiches.
Sour Dough, Shops 2-3, G/F, Keen Hung Commercial Building, 80 Queen's Road East, Wan Chai, Hong Kong, 灣仔皇后大道東80號堅雄商業大廈地下2-3號舖
Clarence
Renowned international chef Olivier Elzer is launching his new concept, Clarence, in the heart of Central this spring. Paying tribute to classic French recipes and produce, Elzer and his protégé Simon So are putting their own spin on contemporary French cuisine. You can expect lighter dishes, which are crafted by charcoal grilling, steaming, teppan, and other methods. The restaurant is divided into four areas. In the Main Dining Room, you can enjoy shared plates, specialty meats, and seasonal specials. Or, try the unique Yakifrenchy menu, which features yakitori-style skewers such as Challans Duck Confit, Frogs Legs Pastis, Snails Burgundy, and Ratatouille and Confit Potato Ratte.
If you prefer something less heavy on the stomach, the fresh catches served at the Raw and Wine Bar will be perfect for you. To complement Clarence's specially curated wine flights and champagnes, go for the Smoked Trout made in a custom Traeger smoker, served with avocado wasabi and garlic oil; Arctic Char Gravlax enriched with Bottarga Muggine (a traditional dried mullet roe); and Black Prawns marinated with lime and tonka bean. Last but not least, don't miss out on the exclusive experiences in the Sommelier Room and The Lounge, with fine wines, dedicated food pairing menus, and a premium selection of cigars for you to enjoy.
Clarence, 25/F, H Code, 45 Pottinger Street, Central, Hong Kong, p. 3568 1397, 中環砵典乍街45號 H Code 25樓
dean&david
The best healthy food shouldn't only make you feel great – they should also taste great, too. And this is exactly what you'll find at dean&david, a healthy food brand hailing from Germany. Its first outpost in the Asia Pacific has landed in the 852 this month, offering freshly made-to-order and additive-free items – all delivered to your doorstep. From plant-based bowls and salads, to meaty curries and sandwiches, to sweet treats, simply place your order via foodpanda to enjoy your guilt-free meal on the go. In addition to the popular vegan and vegetarian menus (yes, there's a good range here – even desserts!), all-time favourites at dean&david include the Big Easy Beef Salad, Salmon Avocado Bowl, amongst others.
In search of healthy eats? Here are our fave healthy meal delivery services.
dean&david, 128 Second Street, Sai Ying Pun, Hong Kong, 西營盤第二街128號
Embla
Previously the Executive Chef of the well loved Frantzén's Kitchen, Chef Jim Löfdahl is continuing the legacy by opening Embla in the same location. Renovated with a new, elegant design, this contemporary Nordic fine dining restaurant offers seasonal menus inspired by the freshest ingredients. On its spring lunch menu, you'll find exquisite dishes such as the yellowtail 'gravlax' with beer-poached brown crab, smoked avocado, and horseradish; lamb neck '72H' with charred eggplant, semi dried tomatoes, goat cheese, and pumpkin seed vinaigrette; and parsnip crème caramel with rum raisins, fermented cherry sorbet, and coffee granita. Also, be sure to check out the curated selection of wines, spirits, cocktails at Embla.
Embla, 11 Upper Station Street, Sheung Wan, Hong Kong, p. 2559 8508, 上環差館上街11號
New restaurants in Hong Kong – February 2022
Testina
Here's one of the new restaurant openings we're most looking forward to this month: Testina, a modern trattoria bringing an authentic taste of Milan, right to your doorstep in Hong Kong. Founded in collaboration with Trippa Milano – a restaurant recognised by the Michelin Guide Italia – Testina features a refined menu based on classic recipes passed down the generations. Led by Executive Chef Marco Xodo, the restaurant offers delicacies such as the Fried Tripe, a crispy antipasto; the luscious Homemade Pappardelle with Lamb Ragù, which contains succulent lamb shoulder with reduced red and port wines; and more. Pair these dishes with the selection of Italian wines at Testina, some of which are unique biodynamic wines produced from organically farmed grapes.
Testina, 3/F, 8 Lyndhurst Terrace, Central, Hong Kong, p. 2798 0668, 中環擺花街8號3樓
Rollie
Good news for sushi lovers! Rollie is the next best place to have lunch in Central. Drawing inspiration from West Coast-style Japanese food, this American Japanese eatery serves a variety of open-style temaki sushi (hand rolls) in a fun and casual atmosphere. Groove along to the hip hop tracks in the background while tucking into the classic Dragon Roll and Rainbow Roll. Or, you can go for the signature wil.i.roll and Ex-Scallop-Ur, featuring spicy tuna and avocado, or garlic butter-seared scallops. In addition to the temaki, you'll need to try the flagship dish, Uni Fans, which is a cup filled to the brim with sea urchin, fatty tuna, salmon roe, and rice.
Rollie, Shop B, G/F, Merlin Building, 32 Cochrane Street, Central, Hong Kong, p. 2845 9244, 中環閣麟街32號美輪樓地下B號舖
Yaichi Kura
If you miss travelling to Japan like we do, you need to visit the newly opened Yaichi Kura in K Town. A one-stop destination with two restaurants, one bakery, and a Japanese specialty store, Yaichi Kura is named after Japan's country code, 81. And as the name suggests, you can find all things Japanese to eat, shop, and play there. The multi-concept space is divided into four zones: Toge by Jyungin, an upscale izakaya; Eclipse by Luna Café & Bar, which offers all-day dining; Painduce, a bakery from Osaka; and the physical store of Go81.com, a Japanese specialty shop. So, whether you'd like to sample some exquisite robatayaki, or relax and catch up with a friend over coffee and baked goods, you know where to go!
Yaichi Kura, 1/F, Imperial Kennedy, 84 Belcher's Street, Kennedy Town, Hong Kong, p. 9634 1831, 堅尼地城卑路乍街84號 Imperial Kennedy 商場1樓八一蔵
Mora
Yet another famous chef is launching a new project this month – and we ain't complaining! Give it up for Vicky Lau, one of the top chefs in Hong Kong, as she unveils her new restaurant, Mora. An intimate 28-seater on Upper Lascar Row, Mora is a modern Chinese restaurant that is heavily inspired by 'texture'. The menu also pays tribute to the soybean. Subtle in taste but versatile in usage, soybeans have been an important ingredient in Asian culinary culture. As Chef Vicky explores the rich potential of this ingredient, you can enjoy a variety of soy-based dishes, crafted with French and Chinese cooking techniques.
Mora, 40 Upper Lascar Row, Sheung Wan, Hong Kong, p. 9583 8590, 上環摩羅上街40號摩
The Baker & The Bottleman
Have you spotted the beautiful blue storefront on Lee Tung Avenue? (Even if you haven't, the long queues outside will lead you there.) It's The Baker & The Bottleman, the latest project by the acclaimed British chef, Simon Rogan. Serving sweet and savoury treats by day, and a casual glass of wine by night, the two-storey bakery-and-bar draws in the crowds with its hearty, artisanal pastries, locally sourced coffee, and its range of natural, organic, and biodynamic wines. In addition to its commitment to sustainability, we love the quality of the products at The Baker & The Bottleman. From the classic coronation chicken sandwich, to the decadent Triple Valrhona Chocolate Cookie, to the refreshing Vanguardist CVR 2019 Riesling offered at the bar upstairs, both the bakery and the bottleman will not let you down.
The Baker & The Bottleman, Shop G14-15, G/F, F15A, 1/F, Lee Tung Avenue, 200 Queen's Road East, Wan Chai, Hong Kong, p. 2386 8933, 灣仔皇后大道東200號利東街地下G14-15號舖
Orka
Looking for more options for lunch in Central? Try Orka, a new restaurant that focuses on all things wellness. Even better, the restaurant offers an array of options for vegans and non-vegans, too! Meaning 'energy' in Swedish, 'Orka' provides sustainable, affordable, and health-focused dishes, using superfoods and other wholesome ingredients. On the a la carte menu, highlights include Beet This Soup, a vegan broth made with beet, lime, coconut, pumpkin seed, and galangal; Bimbambap ZEN, a hearty rice dish topped with assorted vegetables, kimchi, and either a light beef tartare or soy-marinated jackfruit; and more. If you're in the area for lunch (we see you, office ladies and gentlemen!), you can opt for the Quickie Menu or the three-course Executive Set Lunch. Wash it down with Orka's signature teas, or try the popular Maca'XP French Press coffee for a pick-me-up.
Orka, 36 Wyndham Street, Central, Hong Kong, p. 3489 1217, 中環雲咸街36號地舖
Grand Majestic Sichuan
If you're a fan of Buenos Aires Polo Club, you might just love Grand Majestic Sichuan, too. Sure, the former is an Argentinian steakhouse while the latter serves Sichuanese cuisine, but both are extravagant, dramatic, and, well, pretty majestic. That said, Grand Majestic Sichuan is certainly taking it up a notch with its fiery delicacies, with highlights such as the Chongqing Laziji ('firecracker chicken') and Shui Zhu Yu (red snapper in a broth with dried chillies) to turn up the heat. But, in addition to pleasantly numbingly hot dishes, the menu also features dishes like Chen Pi Niu Rou (beef tenderloin with aged tangerine peel), which showcase other flavour profiles enabled by Sichuan food, such as tingling, garlicky, smokey, and more. Enjoy the full spectrum of Sichuan cuisine at Grand Majestic Sichuan.
Grand Majestic Sichuan, Shop 301, Alexandra House, 18 Chater Road, Central, Hong Kong, p. 2151 1299, 中環遮打道16-18號歷山大廈3樓301號舖
Tori-Za Ten
In search of a new restaurant in Hong Kong with funky and Instagrammable interiors? Head to Tori-Za Ten, a yoshuku-inspired restaurant with designs reminiscent of a 1950s ice-cream parlour and Japanese pop art. The menu takes an innovative approach, combining rotisserie cuisine with pizza – talk about the ultimate comfort food! Expect juicy roasted chicken in Huli Huli sauce and wagyu beef pizza; and the 7 Cheesin – a pizza with seven types of cheese on top – will definitely get you saying cheese! Finish off with a milkshake, made with real ice-cream, for a truly satisfying experience.
Tori-Za Ten, G/F, 66 Electric road, Tin Hau, Hong Kong, p. 2336 1768, 天后電氣道66號地舖烤烤屋
XUÂN Gateway opens in Tsim Sha Tsui
Following its Wan Chai debut in mid-2020, Vietnamese restaurant XUÂN is opening its second location in Tsim Sha Tsui. The dining experience is elevated with ocean-facing views and bright, airy interiors, and there are new dishes for you to try, as well. Go for the wok-fried glass noodles with soft shell crab; the XUÂN Prawn Noodles; or the Com Ga Hoi An Chicken Rice, which features hand-pulled three yellow chicken and fried Hokkaido egg. Alternatively, you can stick to the classics, such as XUÂN's Signature Beef Pho; Banh Khot, which are mini savoury pancakes made with sea urchin, quail egg, coconut milk, and scallion oil; and Bun Uni, a hearty bowl of rice vermicelli in a homemade 12-hour fish broth and topped with sea urchin, Vietnamese sausage, cherry tomatoes, and more.
XUÂN Gateway, Shop 2307A, 2/F, Gateway Arcade, Harbour City, 5 Canton Road, Tsim Sha Tsui, Hong Kong, p. 3702 3399, 尖沙咀廣東道5號海港城港威商場2樓2307A號舖
Butahage opens in Taikoo
Following Butahage's epic Hong Kong debut in July 2021, the restaurant opened its second branch in the city this month. If you're craving a hearty Japanese rice bowl, head to Butahage in Taikoo to try its signature butadon (pork rice bowls). One of the most popular items on the menu is the Obihiro Meibutsu Seared Cheese Premium Rare Pork Loin Don, which features quality Kamikomi pork glazed with Butahage's special sauce and topped with triple cheese. Also, make sure to look out for the promotional donburi and monthly specials!
Butahage, Shop G3, Kornhill Plaza (North), 1 Kornhill Road, Taikoo, Hong Kong, p. 2815 2223, 太古康山道1號康怡廣場北座地下G3號舖豚丼のぶたはげ
New restaurants in Hong Kong – January 2022
Ship Kee
Well suited for any time of the day, Ship Kee's menu presents classic Chinese dishes, many of which have become harder and harder to find in the 852. Each is carefully prepared with techniques that honour the dish's heritage. Enjoy the diced lobster with Sichuan dried chilli, braised sea cucumber with pomelo skin in abalone sauce, salted-baked chicken, and more Cantonese classics. For barbecue roasts, fill your table with honey glazed char siu and the unmissable roasted goose. Dim sum is available from 11am to 4pm, with both sweet and savoury bites.
Ship Kee, G/F, Pao Yip Building, 7 Ship Street, Wan Chai, Hong Kong, p. 2893 9688
Woo Cheong Tea House
Following the closure of British gastropub, The Pawn, Woo Cheong Tea House takes its place, presenting high-end Cantonese cuisine. Split between two levels, the first floor serves premium teas, signature tea-infused cocktails, and superb dim sum, whilst the second floor offers a plush luxury dining experience. The restaurant serves an innovative take on traditional dishes – don't miss out on their tea-smoked chicken, crisp char siu, beancurd sheet rolls, and the barbequed pork puffs. And no Cantonese meal is complete without tea; the menu includes 20 types of premium brews, including the rare agarwood tea (it's caffeine-free).
Woo Cheong Tea House, 1-2/F, 62 Johnston Road, Wan Chai, Hong Kong, p. 2866 3444
1111 ONES Restaurant & Lounge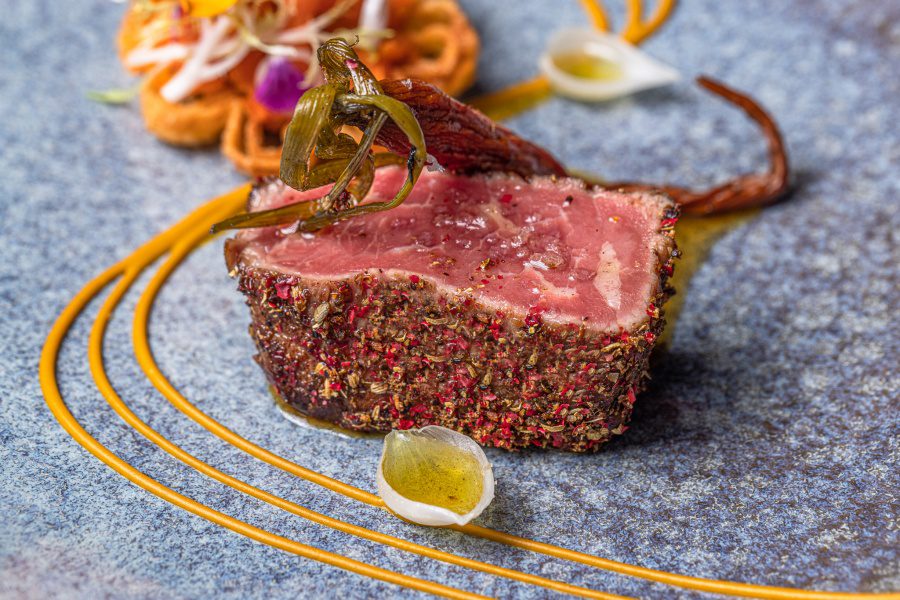 This fine-dining restaurant takes putting art on a plate seriously – the dishes and the interior are inspired by landscape photographs taken by award-winning photographer Kelvin Yuen. Both the six-course and eight-course menu include unique creations where local Cantonese and Hong Kong classics are paired with an international twist. Start off with some croquettes and the signature soup, consommé, and continue the feast with the king crab, Black Angus beef, and soft shell lobster. You'll be more surprised and more satisfied with every dish that comes your way!
1111 ONES Restaurant & Lounge, 11/F, 18 On Lan Street, Central, Hong Kong, p. 2910 1128
Graceland
Comfort food from the southern states of the US just hits different! Graceland's kitchen is helmed by Tennessee native Jake Johnson and you can expect dishes like country fried steak, Mississippi catfish, and hot Nashville chicken sandwich, amongst other staples. Groove to the American throwback soundtrack and enjoy happy hour deals on weekdays from 4-7pm with drinks and snacks starting from just $30!
Graceland, Lisa House, Shop B, G/F, 12-14A Yim Po Fong Street, Mong Kok, Hong Kong, p. 6112 9448
CCC
Short for "coffee", "cocktails", and "canapes", CCC is a Japanese-Western fusion cafe and restaurant that transforms into a bar at night. The two-storey restaurant has an open bar, a semi-outdoor dining area, and two private dining rooms. For breakfast, you can count on CCC's edamame avocado salad on toast, egg's Benedict, or the overnight oats to start the day right. Other favourites include their avocado tuna tartare, slow-cooked saikyo yaki salmon, and herbed crusted lamb rack. Also, CCC's drinks list features unconventional combos like the sake kasu latte (you read that right!) and uji matcha red bean milk.
CCC, G/F & 1/F, 15-16 Queen Victoria Street, Central, Hong Kong, p. 2808 1858
Heimat
Translating to "homeland" in German, Heimat is the first restaurant venture helmed by Chef Peter Find (formerly at the Ritz Carlton). The dishes pays homage to the chef's heritage and present modern versions of traditional German cuisine. The menu draws inspiration from Berlin to Bavaria and beyond, and guests can either choose from a-la-carte dishes or a six-course tasting menu with the option of adding a wine pairing.
Heimat, 8/F, LKF Tower, 33 Wyndham Street, Central, Hong Kong
Dough Bros opens in North Point
One of Hong Kong's favourite pizza joints is expanding with one more location on the Island. The seventh branch will feature an exciting new flavour, the Texas Hot, piled with smoked Texas sausage, tomato, and mozzarella (with an extra spicy kick from chilli flakes and jalapeños).
Dough Bros, Shop 5, G/F, Victor Court, 18 Wang On Road, North Point, Hong Kong, p. 2711 1886
New restaurants in Hong Kong – December 2021
Bifteck
Love your steaks? Be sure to visit Bifteck, a new steakhouse in Wan Chai that uses a French-Japanese fusion style to present the finest cuts from around the world. Led by Executive Chef Ken Kwok, the restaurant aims to reinvent the typical steakhouse concept in Hong Kong. Beef lovers can pre-order the deluxe Japanese A5 Snow-aged Wagyu Beef, which only has a limited daily supply. Other dishes worth trying include the USDA WBI Prime Rib Eye, which is marinated with rosemary and green chili, and served with roasted Japanese turnip, capers, and shallot salsa; Greek Yogurt-marinated Milk-fed Veal Chop from France, served with tempura vegetables; Grilled Whole Boston Lobster with herbs and fennel butter; and more. There is also a range of soups, desserts, and a three-course set lunch on offer at Bifteck.
Bifteck, 23/F, QRE Plaza, 202 Queen's Road East, Wan Chai, Hong Kong, p. 2246 8805
Majo
A newcomer to the Soho neighbourhood is Majo, a Spanish bodega that specialises in tapas and paellas. This rustic restaurant and bar is the perfect place to go for a casual lunch and happy hour, especially with its al fresco dining area which welcomes pets to join, too. You can feast on an array of tapas at Majo, with options such as grilled crystal bread topped with oxheart heirloom tomatoes; sea bass ceviche with mango leche de tigre; Valencia-style codfish croquette with squid ink aioli; and many more. There are also hearty mains and desserts on offer, as well as the signature paellas. Freshly cooked to order, highlights on the paella menu include the Paella Valenciana, Paella de Pato, and more. Pair your meal with Spanish sherries, vermouths, cocktails, and sangrias on tap.
Majo, G/F, 22 Staunton Street, Soho, Central, p. 2529 3001
Little Napoli
Inspired by the recipes back in his hometown of Naples, Chef Gavino Pilo is opening Little Napoli, an authentic Neapolitan pizzeria in Happy Valley. All the pizzas here are handcrafted using the finest Italian ingredients. There are several different types of pizzas available, such as the Classic Pizza with its pillowy crust and a doughy centre; Rustica, which is topped with house-made porchetta, bell pepper, baked potato, and more; and the Vesuviana, which is made with Italian fennel sausage, turnip green, Agerola mozzarella, Pecorino Romano, and chilli flakes. In addition, Little Napoli offers snacks and sandwiches, too – ideal for those on the go.
Little Napoli, 8 King Kwong Street, Happy Valley, Hong Kong, p. 6882 1823
Jom
Do you know what 'jom' means? It translates to 'come, let's go!' in Malay. Inspired by the classic flavours and recipes used in Singapore's hawker markets, Jom's founder Jordan Lee is calling out to the foodies amongst you to head to his restaurant and have a taste of the most authentic cuisine Singapore has to offer. The menu at Jom features a variety of small plates for sharing, meat and seafood mains, noodles, and desserts. You'll find local favourites and lunch sets, such as the Chilli Crab, Nasi Lemak, Hainanese Chicken Rice, Laksa, and more. These are all accompanied by house-made sauces and signature sambals.
Jom, 7 Tai Wong Street East, Wan Chai, Hong Kong, p. 6426 3084
Maka Hiki
Looking for a new restaurant and bar where you can chill out with your friends and family? Head to Maka Hiki, a tiki chic bar and grill nestled in the quaint neighbourhood of Tai Hang. Inspired by islands and beaches, Maka Hiki is an urban oasis that features tropical hues and patterns, a lush outdoor terrace, and laid back vibes. Signature dishes include the Hawaiian-style Tuna Poke, Grilled Mahi Mahi, and a 48-hour Slow-cooked Beef Rib, served with a tamarind jaew BBQ sauce. The all-day dining menu is complemented by a variety of rums, cocktails, and punch bowls. Sip on the Tik Tok Tiki, Dum Dum Give Me Rum Rum, or the Maka Hiki Punch as you relax.
Maka Hiki, 2/F, Little Tai Hang, The Corner House, 98 Tung Lo Wan Road, Tai Hang, Hong Kong, p. 2155 1777
Grill Manten-boshi
Grill Manten-boshi, an established omelette rice (or omurice) restaurant in Tokyo, Japan, is making its debut in Hong Kong! Founded by Yoshinao Kubota in 1978, the omelette rice made by the restaurant is well loved for its soft, silky eggs and toppings of fresh prawns, scallops, and green beans. The omurice is served with a variety of garnishes, as well as three different sauces, including tomato sauce, Japanese yakiniku sauce, and curry sauce. Aside from its signature dishes, the Hong Kong branch offers location-exclusive items, such as the Eel Omelette Rice, Steak-Teppanyaki, and Lobster Roll. Last but not least, don't forget to order some fluffy souffle pancakes to complete your experience at Grill Manten-boshi!
Grill Manten-boshi, Shop OT301-301A, 3/F, Ocean Terminal, Harbour City, Tsim Sha Tsui, Hong Kong, p. 3751 5345
Astra
Whether you're in search of a new restaurant for lunch, happy hour, or dinner, Astra will have you covered. This Chilean grill restaurant makes use of the Basque asado grilling technique, smoking the meat and seafood with oak charcoal and vine shoots. Inspired by the produce and flavours of the Patagonia region in Chile, signature items at Astra include the Rubia Gallega "Chuleta" 400g Rib-eye; a whopping 1kg Argentinian 21-day Wet-aged T-bone; Spring Lamb Shoulder; and the Iberian Pork Shoulder "Secreto" – all perfect for sharing. Moreover, Astra features classic Chilean dishes, a three-course set menu during lunch, and tapas to go along with free-flow drinks after work.
Astra, Shop 2, G/F, The Centrium, 60 Wyndham Street, Central, Hong Kong, p. 2668 2348
Otetsu
If you're a fan of teppanyaki and luxurious dining experiences, look no further – Otetsu should be your next destination. This Japanese-western fusion teppanyaki restaurant in Causeway Bay offers a variety of six-course sets and an a la carte menu, using premium ingredients and the freshest catch. You can expect king crab, geoduck clam, giant abalone, lobster, A5 Wagyu, and more. The experienced Chef Simon will also be launching seasonal menus throughout the year, so stay tuned!
Otetsu, 13/F, L'Hart, 487-489 Lockhart Road, Causeway Bay, Hong Kong, p. 5703 1162
Plume
What better way to enjoy the cool weather than to chill out at a rooftop bar? Located right above the Michelin two-starred restaurant Écriture, Plume is the sister wine bar, sitting at the top of H Queen's. Stylish, laid-back, yet equally refined, the bar is a more casual alternative to Écriture, and is perfect for post-work aperitifs and nightcaps. As a wine bar, Plume, of course, has an extensive wine list; Old World wines are more prominent, with curated selections from Bordeaux and Burgundy. In addition, it offers a variety of French bar bites to accompany your wine and a collection of premier cigars. Dig into Homemade French Toast, Beef Tartare, Caviar Tart, fresh oysters, and more while taking in the stunning city view.
Plume, Rooftop (R/F), H Queen's, 80 Queen's Road Central, Central, Hong Kong, p. 5200 1683
Little Bao returns
Little Bao has returned to Soho! After some rebranding, the popular American-Chinese restaurant is launching new food and beverage menus while also offering its good ol' classics. Aside from the iconic lamb tartare, you'll also find skirt steak beef tataki, mixed seafood ceviche, and crab bao. As for the drinks, go for the new Bao Cha! Hey Bao! And Pocari Paloma cocktails, or take your pick among Little Bao's rotating beer and cider selection.
Little Bao, 1-3 Shin Hing Street, Central, Hong Kong, p. 6794 8414
Hutong moves to H Zentre
The prestigious Northern Chinese restaurant, Hutong, is taking over the penthouse of the new H Zentre in Tsim Sha Tsui. The design in its new digs takes inspiration from old Peking's courtyard houses and alleys, featuring beautifully handcrafted wooden panels and doors, red silk lanterns, and even a wishing tree. In addition, Hutong has also updated its menu with a bigger selection of contemporary dim sum – make sure to give them a try alongside the restaurant's classic 'Red Lantern' crispy soft shell crab and Flaming Peking Duck. Cool down from the spice with new, seasonal cocktails at the Apothecary Bar; our favourite is the Fortune Teller, an Instagrammable concoction made with chamomile-infused gin, tea, elderflower liqueur, and apple. Don't forget to check out the views of the city on Hutong's outdoor terrace!
Hutong, 18/F, H Zentre, 15 Middle Road, Tsim Sha Tsui, Hong Kong, p. 3428 8342
Main St. Deli reopens
Main St. Deli at The Langham, Hong Kong, is finally reopening! This New York-style eatery is loved for the cook-to-order burger menu, all-day breakfast items, and the assortment of Reuben and American deli sandwiches. Signatures include the 12-inch supersize Monster Burger and creamy American shakes. Furthermore, to celebrate its reopening, Main St. Deli is offering special deals every day of the week until 14 December 2021. With Ultimate Wings Night on Wednesdays, All-Day Happy Hour on Thursdays, Funday with Family on Sundays, and more, you won't want to miss out!
Find more information about Main St. Deli's daily specials.
Main St. Deli, Lower Lobby Level, The Langham, Hong Kong, Peking Road, Tsim Sha Tsui, Hong Kong, p. 2132 7898
Te Quiero Mucho returns with a new look and menu
Going loco for tacos? Head to Te Quiero Mucho, as the Mexican taqueria is back with a new look and menu! The three-storey restaurant now features a spiral staircase, connecting two fully stocked bars, large tables, banquets, and dance floors – all under one roof. In addition, TQM is presenting nine new, elevated tacos, including Lengua (beef tongue); Baja-style Pescado (fish); and an array of vegetarian options, such as zucchini and grilled cactus (we love this!). Another new feature is TQM's weekend-exclusive ceviche special. Last but not least, don't forget to check out the drinks menu, featuring the Classic Margarita, Mucho Grande (for sharing), the signature Otro Negroni made with mezcal, and more.
Te Quiero Mucho, 286 Queen's Road Central, Central, Hong Kong, p. 3423 3290
Veda reopens with a new look and menu
Calling all vegetarians, vegans, and veggie lovers! The long-awaited green champion, Veda, is finally returning this month. You'll be able to enjoy the restaurant's new offerings in the newly renovated two-storey space, or on the dog-friendly terrace. One of these new features is the weekend Champagne Brunch, which consists of six sharing plates, an all-you-can-eat live dosa bar, a dessert platter, and two hours of free-flow alcoholic beverages (starring the Perrier-Jouët champagne, of course). Next is the all-new pastry and bar counter, stocked with baked goods by day and cocktails by night. You can sip on The Sazerac, Lorenz Attractor, and other concoctions along with your dog during Puppy Hour (from 3 to 7pm every day) on the al fresco terrace, as your pooch tucks into its exclusive Puptail Negrowli and healthy Buddy Bites Treats.
Veda, 2 Arbuthnot Road, Central, Hong Kong, p. 3755 3067
The Salted Pig opens in MegaBox
Residents in Kowloon Bay are in luck, as The Salted Pig has opened in your neighbourhood. You'll find the restaurant's classic comfort food items here, including the well loved Snacks Platter, Pulled Pork Cheesy Nachos, Spaghetti Meatballs, and Crispy Pork Knuckle. In addition to these signature dishes, the new branch is also offering a location-exclusive Grill Menu, as well as veggie-friendly options made with plant-based ingredients, such as Omnipork and Impossible Meat. Also, look out for this restaurant's beautiful mural by artist Stern Rockwell, in addition to the two big screens for live sports, and daily happy hour deals.
The Salted Pig, Unit 12, 11/F, MegaBox, 38 Wan Chiu Road, Kowloon Bay, Hong Kong, p. 2770 2702
New restaurants in Hong Kong – November 2021
Kacho Fugetsu
This contemporary urban izakaya and cocktail lounge is named after the Japanese philosophy of personal discovery through the appreciation of both the beauty and imperfection of nature. The restaurant's signature dishes include matsuba crab roll, abalone isoyaki with caviar, and Japanese pot rice with foie gras and eel. The cocktail lounge two-floors down features art commissioned by the local community (#lovelocal). Aside from well-known liquor brands, you can also find hidden gems from niche producers and an exotic cocktail menu.
Kacho Fugetsu, 23 & 25 Floor, Cubus, 1 Hoi Ping Road, Causeway Bay, Hong Kong, p. 2872 8968
KOKORO Tokyo Mazesoba
While ramen, udon, and tsukemen joints are common in Hong Kong, mazesoba – Japanese-style mixed noodle without any soup base – can be harder to find. KOKORO first opened in Tokyo in 2013 and won the Best Mazesoba Award in Japan in just one year (so you know you're in for some good stuff). There are a total of nine flavors of Mazesoba to choose from at KOKORO; don't forget to try the Hong Kong-exclusive yuzu salted mazesoba, with slow-cooked Japanese chicken drizzled with fresh yuzu juice.
KOKORO Tokyo Mazesoba, Shop 1C G/F, 68 Hennessy Road, Wan Chai, Hong Kong, p. 3751 6966
Sakeh
With a Japanese monster-themed decor, the new yakitori spot in town will have you dining like you're in Spirited Away! Help yourself to the Chochin (known as "the lantern" given its shape), a Japanese delicacy, an immature egg yolk attached to fallopian tubes and chicken feet tendons. Don't forget to strike the gong when you buy a round of sake to get everyone in the house into celebration mode!
Sakeh, 5-9 Observatory Court, Tsim Sha Tsui, Hong Kong, p. 3709 9251
Brooklyn Yakuza
With an "East meets West" concept, this buzzing, late-night izakaya offers non-traditional, family-style tasting platters of food, paying homage to traditional Asian dinner gatherings. From classic raw dishes like beef tartare with Australian Wagyu to Brooklyn Fried Chicken, and Black Cod in bean sprout risotto with edamame, the menu is full of refreshing fusion spins. Don't forget to stop by the Oyabun – a Japanese-American Manhattan-inspired cocktail lounge bar, pumping out hip-hop tunes with monthly DJ nights.
Brooklyn Yakuza, 29 Wyndham Street, 29 Lan Kwai Fong, Central, Hong Kong, p. 2866 1034
Percy's
The new Soho hangout on Shelley Street features creative seafood staples and cocktails, as well as lots of good vibes. Chef Reardon's seasonal menu is divided into hot and cold small plates, large plates, and selections from the raw bar, with dishes championing local fishers and growers. Get shucked with Percy's oysters paired with champagne! Other must-tries include the dry aged tuna steak, lobster bao, and the interesting scallop egg waffle. Percy's also offers a fine selection of whisky, sake, a curated pick of non-mainstream wines, and bottled and tap beer.
Percy's, G/F, 18-18A Shelley Street, Central, Hong Kong, p. 2898 2699
Dark Leaf Cafe & Lounge
Pasta is the ultimate comfort food and at Dark Leaf, you can try aromatic seafood delights such as lobster, tiger prawn, black cod, and scallops. For the steak lovers, the M4 Australian wagyu ribeye with truffle fries won't disappoint! This bar slash resto will have you coming back for its tea-based cocktails – sip on the signature Lapsang Souchong, Camomile, or Earl Grey for a soothing kick. End the night with a shisha sesh (over 80 flavours to choose from) and you'll forget it's just Monday night (whoops!).
Dark Leaf Cafe & Lounge, 8/F, 726 Nathan Road, Mong Kok, Hong Kong, p. 9016 0223
Little Bedu
One of Hong Kong's all-time favourite Middle Eastern eateries is launching a takeaway-only concept, Little BEDU. The oasis (just a stone's throw away from BEDU) is a reflection of Bedouin values and offers a calming respite from a busy day. Grab 'n' go eaters can choose from fresh cut salads and hearty rice bowls, topped with BEDU's signature dips and vibrantly spiced proteins. The signature meals are named after Middle Eastern cities and countries – take a tour of the different styles of cuisines!
Little BEDU, Shop 2, G/F 49-51a Gough Street, Central, Hong Kong
Bacchus
Bacchus bridges the gap between the culinary cultures of the East and West, and fosters a welcoming environment for wine education in Hong Kong (afterall, the restaurant is named after the Greek God of wine). The alfresco wine garden and the intimate wine lounge is the perfect place to gather round for a deeper appreciation of Bacchus' rare wine collection. French chefs Laurent and Mickael have added a Hong Kong twist to dishes that have been part of their culinary journey. Signatures include the Opera of Duck Foie Gras and the Japanese Sea Urchin and Black Angus Beef Sirloin Rolls. Round out the night with Bacchus' delectable French pastry selections.
Bacchus, 3/F, Hollywood Centre, 233 Hollywood Road, Sheung Wan, Hong Kong, p. 3750 5200
Savvy
After almost two years of planning and preparation, Savvy is opening at Gateway Arcade at East Tsim Sha Tsui. The prime location is bound to bring in loads of guests so book your tables early! The spacious and sleek restaurant is divided into three areas; cocktail lounge (which is a noodle bar by day), tea lounge for afternoon sessions, and a dining area for a full feast. Savvy's menu features exciting dishes from around the world and the restaurant's chefs hail from Thailand, India, and Indonesia. So expect a range of South Asian and Southeast Asian cuisines (with very Instagrammable presentations!).
Savvy, GW 3209A, Level 3, Gateway Arcade, Harbour City, Tsim Sha Tsui, Hong Kong, p. 2113 6188
Gassan
Named after Mount Gassan, the highest of Japan's three sacred mountains of Dewa Sanzan, the new eatery at H Queen's Central is focused around a fishing village theme. Gassan's dimly-lit main open dining area resembles a calm, quiet outdoor park, with the atmosphere enhanced with projections of scenery and serene background music. From sakizuke amuse bouche pickles, suimono soup, and tsukuri sashimi to yakimono grill, one simply cannot fall short of options here. Dining at Gassan is an experience for all your senses!
Gassan, 19/F, H Queen's, 80 Queens's Road Central, Hong Kong, p. 3499 1427
Carbon
Inspired by the chemical element from which life originated, Carbon is the latest lifestyle platform at H Code. The 26th floor will be open for dining and drinks and the rooftop will offer shisha and wellness classes. The restaurant and lounge is helmed by Executive Chef Mike Boyle, and the flexitarian menu focuses on sustainability and healthy eating (and drinking). Dishes that'll have you coming back for more include the black truffle pappardelle, grilled garden platter, and Porterhouse steak. We also love the low-sugar mocktails and detox smoothies for when you want something refreshing to sip on.
Carbon officially opens to the public in early December. Stay tuned on their Instagram for updates.
Carbon, 26/F, H-Code, 45 Pottinger Street, Central, Hong Kong, p. 6166 8585
New vendors at BaseHall
From Italian-inspired comfort food at MAMMA's, to health-conscious treats at nüte, and caffeine and cocktails from local coffeehouse, CREW, BaseHall welcomes three new local culinary talents. Over in Central for lunch? Indulge in MAMMA's platefuls of pasta and then pick up a healthy bar at nüte and a cuppa at CREW before you head back to the office. (See what we did there?)
BaseHall, Jardine House, Shops 9A, 9B and 9C LG/F, 1 Connaught Place, Central, Hong Kong
New restaurants in Hong Kong – October 2021
Liu's Chong Qing Hot Pot
Do you like hot pot? We do! As the weather begins to cool, head to Liu's Chong Qing Hot Pot in Kowloon Tong for hearty broths and platters this season. While there are a variety of hot pot soup bases available on the menu, Liu's signature Yi Shou Mala Spicy Soup is the must-try. Even if you're not very good with spicy food, fret not – you can choose your own spice levels for this soup base, so feel free to go as mild (or crazy spicy!) as you wish.
In addition, this global chain is offering a new lunch set menu, as well as some Hong Kong-exclusive items, such as the one-person noodle pot sets and Liu's Trio Beef Platter. Need to cool down from the heat? Take your pick from Liu's range of tea, juice, fresh fruit soda, bubble tea, beer, and more. Oh, and don't miss out on the shaved ice, too!
Liu's Chong Qing Hot Pot, Units UG-37 & 38, Level UG, Festival Walk, 80 Tat Chee Avenue, Kowloon Tong, Hong Kong, p. 2628 9891
Ikigai Concepts
Meaning 'reason for being' in Japanese, ikigai is the idea of celebrating the little things in life. Inspired by this philosophy, Ikigai Concept aims to deliver an all-rounded experience of Japanese culture, especially in dining and lifestyle. There are five zones in the restaurant's 12,000-square-feet space, including an omakase (chef's choice) area for seasonal seafood; a cosy kushiyaki (meat skewers) grill for scrumptious skewers; the washoku (Japanese cuisine) area for classic dishes; an interactive teppanyaki bar (iron plate grill); and a sake tasting lounge and bar for the imbibers. We particularly like that Ikigai Concept offers a curated selection of sake – it even has a vending machine for it!
Ikigai Concepts, Shop 211, Nina Mall II, Tsuen Wan West, Hong Kong, p. 2618 2812
Sicilian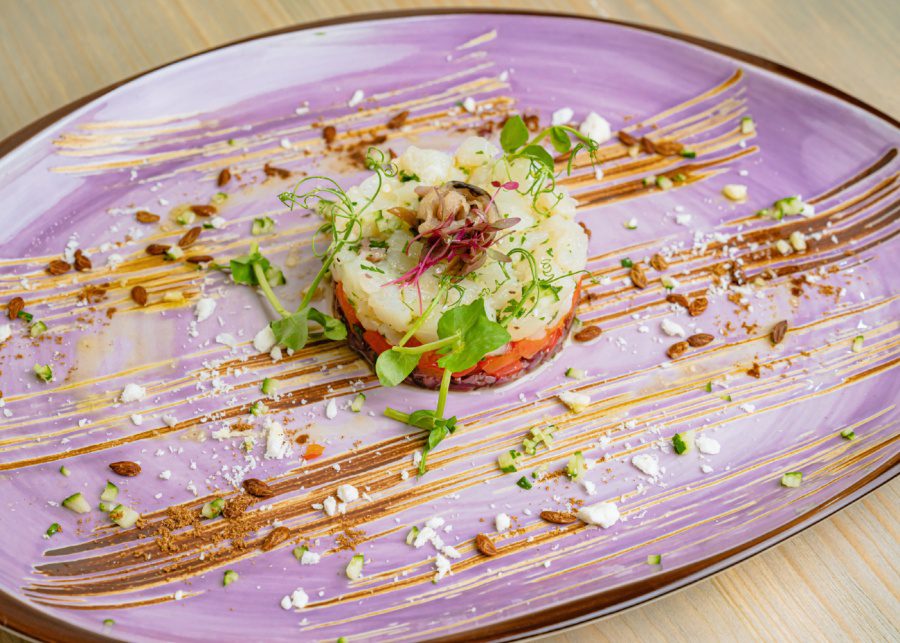 Italian comfort food all day every day? Hit us up! Located right by the Central–Mid-Levels escalator, Sicilian is easy to spot with its white-stone façade and extended open-air doors. Not only does this restaurant exude a casual, family-oriented atmosphere, but it also offers a full view of your pasta being made at its live pasta bar station. Some of the signatures include the mezze maniche marsala masala lamb (stewed lamb with red curry and marsala wine), maccheroni alla norma (eggless pasta with eggplant, tomato, ricotta cheese, and olives), and Cannolo Siciliano (a homemade wafer stuffed with sheep ricotta). Be sure to try Sicilian's homemade bread, fresh seafood dishes, and cocktails, too.
Sicilian, G/F, Shama Place, 30 Hollywood Road, Central, Hong Kong, p. 9627 9486
70s Food Dining by Vintage House
In search of somewhere to eat in Tsim Sha Tsui? Head to 70s Food Dining by Vintage House, the new food hall in town. Founded by Michael Chan, 70s Food Dining offers delicious and affordable dishes, created using authentic recipes from countries around the world, such as Malaysia, Singapore, Thailand, China, and the US. The two-storey community eatery has six stalls (so far) on the ground floor, plus an Italian-Japanese fusion restaurant – Earth – on the floor above. Expect rich and aromatic curries, numbingly spicy broths, Wenchang chicken, wet-fried Pad Thai, burgers, and even vegan cart noodles!
70s Food Dining by Vintage House, G/F & 1/F, 46 Granville Road, Tsim Sha Tsui, Hong Kong, p. 2866 0111
Decree by T
Another newcomer to the Tsim Sha Tsui neighbourhood is Decree by T, an omakase restaurant. Going beyond the traditional kaiseki (multi-course fine dining), Decree by T creates its menus based on seasonal ingredients and uses different cooking methods from around the world. There are three omakase sets on offer at the moment, each containing 14, 17, or 21 dishes. Signature dishes for autumn include ingredients such as hairy crab, white truffle, sea urchin, and more, which are all freshly shipped to the restaurant everyday. With limited seats at the bar and private room, you can enjoy a truly exclusive gastronomic experience at Decree by T.
Decree by T, Shop B, G/F, XI Hotel, 7-9 Minden Avenue, Tsim Sha Tsui, Hong Kong, p. 6821 6212
Ppalli Ppalli
And here we have yet another addition to the hip neighbourhood of Sham Shui Po! Have a taste of Korean-Italian fusion cuisine at Ppalli Ppalli, a stylish restaurant (which resembles a spaceship!) on Tai Nan Street. One of the highlights here is the Ssam Bouquet, which features slow-cooked pork belly served with Korean perilla leaves, lettuce, and Korean hot sauce. Or, you can try the Yukhoe Toast, which is Korean-style raw beef tartare served with pears, mullet roe, British horseradish, and cucumber; it's then seasoned with Korean chilli sauce, honey, sesame oil, and sesame seeds for a well balanced and flavourful dish. Grab a Korean craft beer, cocktail, or makgeolli (rice wine) to pair.
Ppalli Ppalli, 230 Tai Nan Street, Sham Shui Po, Hong Kong, p. 2982 8219
Chuan
More spicy food incoming! Showcasing the essence of traditional Sichuan cuisine, Chuan prepares its dishes using a wide range of ingredients. You'll be able to sample different kinds of chillies and spices, including round chilli, Habanero chilli, cumin, and red peppercorn, which are all delivered directly from Sichuan to Hong Kong. Highlights in the menu include the Sautéed Diced Chicken with Spicy Red Chilli, Sichuan-style Stewed Fish, Spicy Sichuan Soup Pot, amongst others. Moreover, Chuan is presenting an innovative variety of Sichuan-style dim sum. Must-try items include the Steamed Rice Rolls with Beef and Meat Floss in Sichuan Spicy Sauce, Spotted Grouper with Sichuan Pepper and Chives, and Steamed Shanghainese Dumplings in Spicy Soup.
Chuan, Shop 1102, 11/F, Times Square, 1 Matheson Street, Causeway Bay, Hong Kong, p. 2838 8313
Gomes' Gastropub
The latest venture of Monu and Alex Gomes, a father-and-son duo, Gomes' Gastropub is a new hotspot in Soho. Offering a range of tapas, canapés, bar snacks, and handcrafted cocktails, this restaurant is a snazzy hangout perfect for casual dining and late-night drinking. To celebrate its opening, Gomes' is serving all-day happy hours, as well as different deals every day of the week. These include all-you-can-eat fried chicken and beer on Mondays; free-flow Baijiu spirit drinks on Wednesdays to cure your mid-week blues; two-for-one on all house cocktails, spirits, wines on Thursday's ladies' night, and more.
Gomes Gastropub, G/F, 58-62 Caine Road, Mid-Levels, Central, Hong Kong, p. 3797 3331
Casamigos
A new Spanish bar and restaurant in town, Casamigos offers – you guessed it – a variety of cocktails and sangria, many of which include the popular Casamigos Tequila. For instance, the refreshing Casa Fever cocktail is made with Casamigos Tequila, Grand Marnier, blood orange juice, and fresh lime juice. You can add a twist to your house-made sangria with an extra splash of tequila, too. As for the food, signature dishes include Casamigos' seafood paella (a must-have in Spanish restos), croquettes, stuffed piquillo squid, and Iberico presa with orange ginger glaze.
Casamigos, 3/F, L H'art, 487-489 Lockhart Road, Causeway Bay, Hong Kong, p. 2448 3888
Metropolitain reopens
One of Sai Ying Pun's best loved brasserie is back – and better than ever! Metropolitain has undergone a renovation to give a more spacious, lively, yet elegant atmosphere. The bar seats at the front of the restaurant are our favourite spot to watch the world go by as we sip on our post-work vino. Aside from the classic dishes, Metropolitain has also added new hits onto its menu. These include the Pavé de Thon a la Plancha (seared tuna with crushed potatoes and salsa sauce); Cote de Porc, cooked on the grill and served with mashed potatoes, watercress salad, and truffle sauce; Rustici Pasta with lobster; and both savoury and sweet waffles.
Metropolitain, G/F, Aspen Court, 46 High Street, Sai Ying Pun, Hong Kong, p. 6271 6102
Yung Kee reopens
One of the most prestigious Cantonese restaurants in the city, Yung Kee has a rich history and a legacy that is well recognised by Hongkongers. It has recently undergone a major renovation to feature vintage and artistic interiors inspired by the restaurant's humble beginnings as a dai pai dong, and famous Hong Kong films like In the Mood for Love. The second floor is a grand dining hall that displays Yung Kee's iconic 'Dragon and Phoenix Stage' and various artefacts. Apart from preserving the restaurant's history through its interior design, Yung Kee is also staying true to its Cantonese culinary traditions with the Signature Charcoal Roasted Goose, Smoked Premium Pork Belly with Pine Nut, and other classic dishes. That said, you can try some revamped traditional recipes, too, such as the Sea Cucumber Stuffed with Diced Garoupa, Salted Fish, and Minced Pork, as well as the Crispy Toast with Mixed Shrimps and Lobster Tail.
Yung Kee, 32-40 Wellington Street, Central, Hong Kong, p. 2522 1624
New restaurants in Hong Kong – September 2021
The Pearl
Combining a meal with a shisha sesh at an outdoor terrace sounds about right! The Pearl is an Italian-Japanese fusion restaurant that doubles as an art gallery. The art pieces featured at The Pearl are by Rolland Cheung, the founder of Agape Design Limited. His unique resin paintings are influenced by the classical Baroque style. Start your evening with one of The Pearl's signature cocktails inspired by Dutch painter Rembrandt, and then head to the dining room for a feast; don't miss the Linguine with Hokksido Uni, Angel hair with sous-vide isoyaki abalone, or Braised Blue Mussels with leek in jiaoku soup. And then exhale the good stuff at the outdoor terrace in the heart of Tsim Sha Tsui.
The Pearl, 4/F, Attitude on Granville, 20 Granville Road, Tsim Sha Tsui, Hong Kong, p. 6274 1916
Giacomo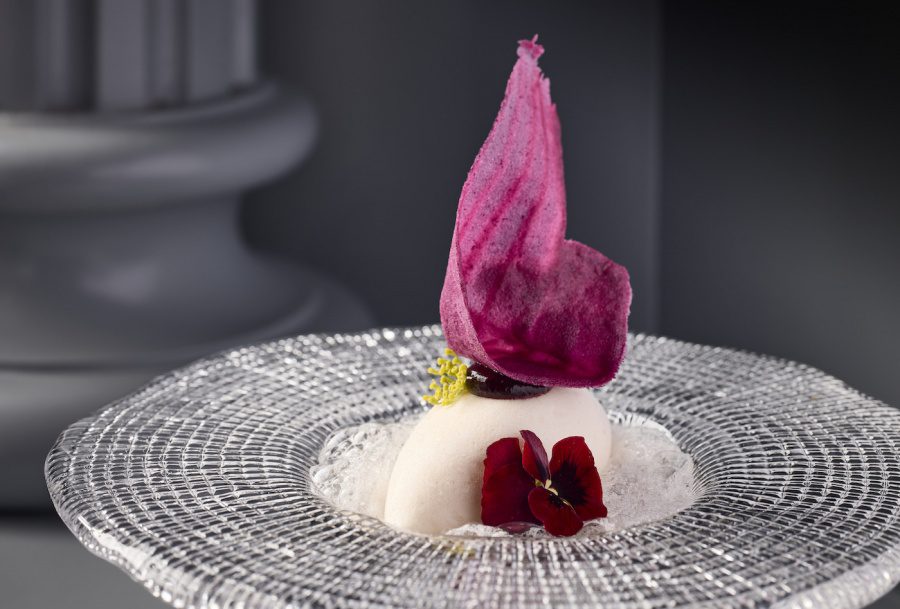 Michelin-star trained chef Keith Yam brings classic southern Italian flavours to Causeway Bay in this fine dining restaurant. Signature dishes include Marinated Red Prawn Gambero Rosso in Champagne tomato sauce with Oscietra caviar, Red Prawn Spaghetti Chitarra with artisanal hand-made, square-shaped egg pasta, and Brittany Blue Lobster Sardinian Gnocchi. The gourmet dessert specialities, Peach Sorbet and Chocolate Hazelnut, are a sweet tooth's dream come true. If you'd rather opt for set menus, the lunch set comes in two, three, and four courses, with a rotating menu consisting of six courses. Each of the sets comes with opulent wine pairings.
Giacomo, Crowne Plaza Hong Kong Causeway Bay, G/F, 8 Leighton Road, Causeway Bay, Hong Kong, p. 3980 3008 (note that they're closed on Tuesdays)
1908BC
Typically (if not in most cases) BC stands for Before Christ but the restaurant cheekily plays with words here. 1908 is the year the first Chinese restaurant opened in Piccadilly, London, where BC stands for British-Chinese, the fusion cuisine the restaurant delivers in spades. The menu is a concise collection of old and new recipes, including creations from founder Suzanna Ho's mother. More than just a remake of some traditional British Chinese dishes, 1908BC makes a point of elevating these classics. Don't miss out on their Chip Shop Curry; golden fried fries dunked in a curry that combines Chinese, British AND Indian flavours. Another staple is the Crispy Aromatic Shredded Duck, an unconventional spin on the traditional Peking duck.
1908BC, 5/F, The Pemberton, 22-26 Bonham Strand, Sheung Wan, Hong Kong, p. 2116 4668
Nami Izakaya
From traditional red and dark brown wood tones, to hand-painted murals designed by local Hong Kong artists, Nami Izakaya teleports you to the Edo period in Japan. Go for dinner and be greeted with drumbeats and complimentary sake daily from 8 pm to 9 pm a wide variety of over 50 snack options, which are all made with seasonal fresh ingredients and prepared with traditional Japanese culinary techniques. Must-try dishes include the Wagyu beef don with Japanese egg yolk, Nami roll, and the sashimi platter, and of course the house sake!
Nami Izakaya, 1/F, Soundwill Plaza 2 – Midtown, 1-29 Tang Lung Street, Causeway Bay, Hong Kong, p. 2383 4038
Carbs
The latest venture from the founder of DPT Group is going to be the next pizza hub in town! Carbs serves square-shaped pizzas that are great for sharing and you never have to deal with just one flavour. Grab a slice of Spicy Pepperoni, The Last Call, The Supreme Square, or any of the other four deep dish pizzas. Pizza aside, Carbs will also serve a selection of pasta staples, like the Spicy Vodka Fusilli and creamy good'ol Mac and Cheese. Finish your meal with some dessert, created in collaboration with sister company Cookie Department, including a Brownie Filled Chocolate Chip Cookie Ice-Cream Sandwich and a Tiramisu Pudding.
Carbs, Shop 3, G/F, H Code, 45 Pottinger Street, Central, Hong Kong, p. 2886 2801
Boy n Burger
A fast food chain but better! With sustainability being a forefront in sourcing ingredients, Boy n Burger serves juicy, lip-smacking burgers at affordable prices to be enjoyed by just about everyone. A contemporary take on the American diner, Boy n Burger boasts a real feeling of fun and family inspired by the classic Californian diner and 50's drive-in culture. We personally recommend their chicken popcorn and coleslaw (so addictively good!), we promise you that you won't be battling a food coma on your way out!
Boy n Burger, G/F Shop 3, 208 Johnston Road, Wan Chai, Hong Kong, p. 3686 0928
G Room Bar and Lounge
Merging fine dining, music, and art and technology, G Room is the latest addition to the culinary scene at K11 Musea. The dishes present elevated Mediterranean cuisine with a Southeast Asian twist. Fill your tables (and tum) with the Whole Lobster Paella, G Room Seafood Platter, Abalone Shisho Sea Urchin Pasta, and more while getting lost in the live music and 360ᐤ LED screens that set the scene, or should we say set different scenes! One can't forget their cocktails, go for either the Sangria Jar or the Wasagin (yes, it's gin infused with wasabi).
G Room Bar and Lounge, Shop 504, 5/F, K11 Musea, Tsim Sha Tsui, Hong Kong, p. 2332 6662
Yokai
Watch out, yokais (meaning demons in Japanese) are out and about at Central! Global Link brings the renowned spirits from the Yokai Picture Book by renowned Japanese manga artist, Shigeru Mizuki. The Central-based restaurant features charcoal-grilled chicken skewers and fine and rare sakes. And what's yakitori without its distinguished sauce? Yokai has wrapped its prized sauce around pork juices and a soft-boiled egg to make its signature Premium Pork Roll with Egg. Aside from yakitori, Yokai's menu also brims with Hong Kong-favourites like Japanese Scallops, Sirloin Steak, Oyster and more.
Yokai, 23/F, H Queen's, 80 Queen's Road Central, Hong Kong, p. 2368 8331
Estro
Hailing from the Southern Italian town of Napoli, Chef Antimo Maria Merone leads his team at Estro, a new fine dining restaurant in the heart of Central. Inspired by the salotto – a lounge where people sit and relax – and designed by Andre Fu, Estro is the chef's tribute to his Neapolitan roots. Dishes are ingredient-driven and creative reinterpretations of traditional recipes. The dinner menu features courses such as tomato homage, langoustine, pigeon, and more.
Estro, Level 2, 1 Duddell Street, Central, Hong Kong
Route99
TKO residents are in luck! A new pet-friendly restaurant and cafe, Route99, has just opened in Papillons Square. Inspired by New York-style diners in the 50s and 60s, this eatery offers a range of American cuisine. The signature is the Classic US Burger served with Route99 fries; the fries are topped with cheese and bacon bits, and you can order extra cheese in your burger, too! The sirloin steak, ribs, and milkshakes are worth a try as well. But the most outstanding feature of Route99 has got to be its pet food menu and in-house pet grooming services. As you dig into your meal, your pets will be lovingly pampered and you can keep an eye on the process through the windows inside the restaurant. Nobody gets left out at Route99!
Route99, Shop 19, G/F, Papillons Square, 21 Tong Chun Street, Tseung Kwan O, Hong Kong, p. 5187 6655
Fireside
Revel in epicurean feasts at Fireside, a new smokehouse at H Code. From butchery and smoking, to ageing, grilling, and plating, you'll be able to witness the entire process of your food being prepared in the open kitchen and butcher room. Take your pick from an array of rare and speciality meats, fresh seafood, and seasonal vegetables. Don't miss out on signatures such as Confit Duck with Fire Cooked Rice, Hokkigai, and Ora King Salmon. Opt to sit indoors across beautifully flaming embers, or enjoy the breeze in the al fresco dining area on the balcony at Fireside.
Fireside, 5/F, H Code, 45 Pottinger Street, Central, Hong Kong, p. 6610 8689
Holy Bake pops up in Tsim Sha Tsui
Are you a fan of Holy Bake's signature Devil's Chocolate scones? We are! Created by three young women from Hong Kong in April this year, Holy Bake is finally opening its first physical pop-up in TST's Harbour City. From 1 September till 30 November 2021, this creative scones shop will be releasing a series of limited-edition flavours, including the pop-up-exclusive Lava Sesame Glutinous Rice Ball flavour. With a whole sesame tong yuen inside the scone and an oozy molten filling, this scone is truly one of a kind. We also love Holy Bake's Lava Matcha scone and Earl Grey Tea scone. Don't miss out on its innovative Ginger Vinegar scone either (a surprising combo to be sure, but a welcome one!) – complete with small chunks of ginger and and the iconic aroma of Hong Kong's Pat Chun sweetened vinegar.
Holy Bake, Kiosk K, Level 3, Ocean Terminal, Harbour City, Tsim Sha Tsui, Hong Kong, p. 9187 9001
The Continental reopens at The Upper House
With its refined interiors and an enhanced garden terrace, The Continental returns this month, presenting a new bar and a refreshed menu curated by Executive Chef Graham Long. From business lunches and weekend brunches, to dinners, drinks, and small bites, this modern French restaurant aims to deliver a relaxed atmosphere and exquisite cuisine. Be sure to try the pan-fried white bream, merguez sausage flatbread with cashew hummus, charred onions, and chilli jam, as well as the Australian lamb loin with smoked aubergine.
The Continental, Unit 406, L4, Pacific Place, 88 Queensway, Admiralty, Hong Kong, p. 2704 5211
Frank's Italian American reopens
Hongkongers' favourite Italian American social club is back and better than ever! Following its summer renovation, Frank's is now offering new food and cocktail menus. Let your hair down as you bask in Frank's casual vibes and great selection of hip-hop music in the lounge. In addition to Frank's classic items, be sure to try the new pasta dishes, including Lasagna Fritta, Mafaldine Bolognese, and Urchin Caramelle Pasta. To take your experience up a notch, try the luxurious Caviar Service, and don't miss out on seasonal plates like Crudo and Baked Oysters.
Frank's Italian American, G/F & 1/F, Harilela House, 79 Wyndham Street, Central, Hong Kong, p. 2320 0858
Thai Basil reopens in Pacific Place
Originally on the LG level of Pacific Place, Thai Basil has relocated to the first floor of the same mall and is now making its comeback with a brand new look. Delight in superb Northern Thai cuisine surrounded by wooden decor, lush greenery, and vibrant interiors. The menu has also been upgraded, featuring new dishes such as the grilled eggplant salad, tom yum clam soup, wok-fried Thai-marinated pork knuckle with herbs, and more.
Thai Basil, Unit 112, L1, Pacific Place, 88 Queensway, Admiralty, Hong Kong, p. 2537 4682
New restaurants in Hong Kong – August 2021
Jyungin
Hailing from Hokkaido, Japan, Jyungin is an izakaya that just opened its first overseas branch in Hong Kong this month. Prepare to be whisked away to The Land of the Rising Sun with signature recipes from the Hokkaido flagship. Specifically, Jyungin is known for the deer meat patty, a dish made with 70-percent Ezo venison (a Hokkaido specialty) and 30-percent well-marbled beef; miso-stewed Kuroge Wagyu offal, which consists of trims from Japan-bred cattle that are cooked in three types of miso; braised abalone with sake, and more. Be sure to check out Jyungin's excellent food and sake pairings, or opt for the sake flight.
Jyungin, G/F, 33 Man Ying Street, Ferry Point, Jordan, Hong Kong, p. 2816 1278, 佐敦文英街33號地舖淳吟居酒屋
Major and Minor Cafe & Restaurant
It's all about harmony at Major and Minor Cafe & Restaurant in Wan Chai. From fusion plates like the mapo tofu mac 'n' cheese, to the Instagram-worthy butterfly pea spaghetti and rainbow lattes, this cosy eatery has a great range of innovative dishes and beverages. Moreover, there's even an electric piano for you to strut yo' stuff. Or, feel free to prop yourself up on one of the bar chairs by the window and watch the world go by.
Major and Minor Cafe & Restaurant, G/F, Kew Green Hotel Wanchai Hong Kong, 41-49 Hennessy Road, Wan Chai, Hong Kong, 灣仔軒尼詩道41-49號香港灣仔睿景酒店地舖
RadicalChic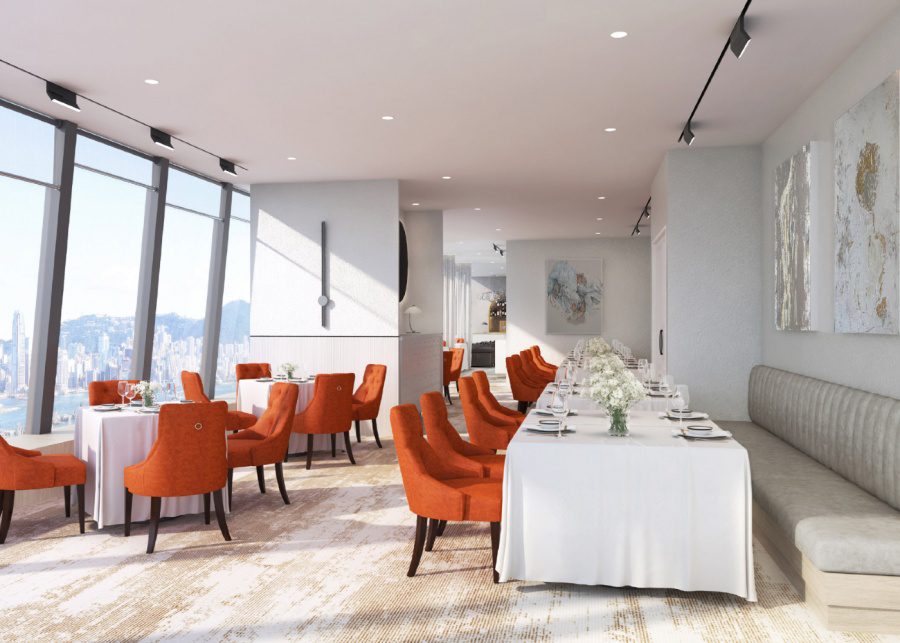 Helmed by Executive Chef Andrea Tarini, RadialChic is a fine-dining restaurant perched on the 101th floor of the ICC. With a focus on using seasonal ingredients, this restaurant aims to elevate Italian cuisine in the 852 (literally). In addition to the a la carte menu, you can also try the carefully curated ten-course degustation menu, too.
RadicalChic, Shop B1, Level 101, International Commerce Centre, 1 Austin Road, Tsim Sha Tsui, Hong Kong, p. 3188 5028, 尖沙咀柯士甸道1號環球貿易廣場(ICC)101樓B1號舖
Moxie
Get hyped for Moxie, a new restaurant that's about to launch in Alexandra House Landmark. Head Chef Michael Smith will be offering casual dining fare all day, featuring environmentally conscious dishes that are designed to showcase the ingredients. With a veggie-centric menu and several plates using sustainably-sourced seafood, you can eat more healthily and conscientiously at Moxie.
Moxie, Shop 203, 2/F, Alexandra House, Landmark, 18 Chater Road, Central, Hong Kong
Sushi Mamoru
Translating to 'protect' in Japanese, Mamoru represents Chef Hirofumi Chiba's commitment to preserving the customs of traditional sushi. At this omakase restaurant, guests will be able to have a taste of rare and seasonal ingredients, prepared in both traditional and adaptive ways. Relish the subtle tastes and textures of each dish featured in the Takumi Omakase, or go for the lunchtime-exclusive Kiwami Omakase (short menu). If you're seeking a new restaurant that provides a refined culinary experience, Sushi Mamoru is a good bet.
Sushi Mamoru, Shop 2, G/F, 32 Oi Kwan Road, Wan Chai,Hong Kong, p. 2133 5700, 灣仔愛群道32號愛群商業大廈地下2號舖すし衛
King's Arms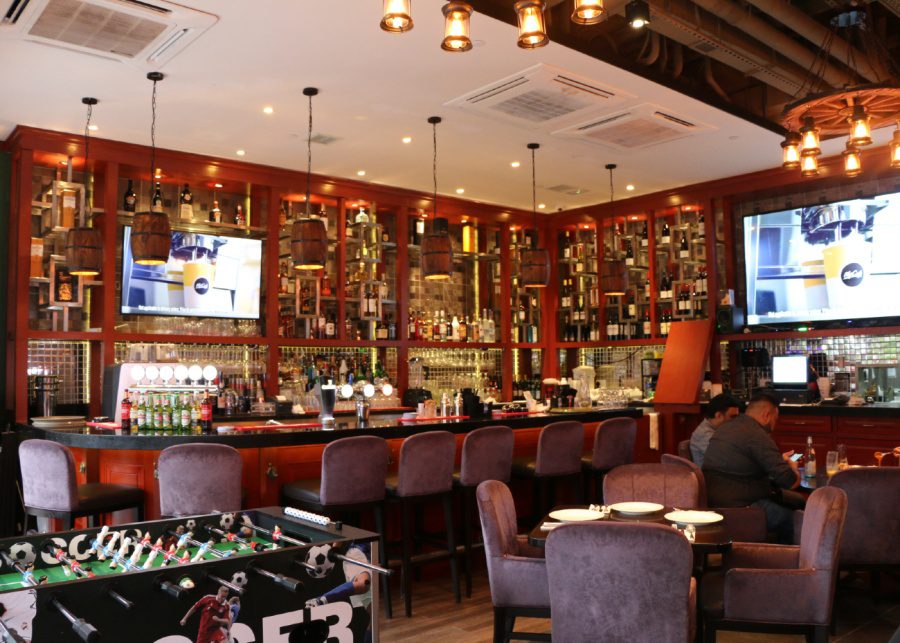 Are you a fan of fish and chips? We've heard there are some delicious ones over in Tung Chung. Enjoy some classic British gastropub affair at King's Arms, the new sports bar in the area. You can dig into hearty dishes such as the all-day breakfast, bangers and mash, various British-Indian curries, or the signature shepherd's pie. Then, wash those down with the pub's some 60-or-so selection of draught and bottled beers. Also, drop by King's Arms if you're in search of happy hour deals, as they run all day from Mondays to Thursdays, as well as between noon and 8pm from Fridays to Sundays.
King's Arms, Shop S, G/F, Seaview Crescent, 8 Tung Chung Waterfront Road, Tung Chung, Hong Kong, p. 2960 1977, 東涌東涌海濱路8號海堤灣畔地下S號舖
Arca Society
Have you checked in at the Arca yet? This new hotel in Wong Chuk Hang is home to Arca Society, a modern fusion restaurant with a whopping space of over 2,000 square feet, including a lush outdoor terrace. Lounge and relax while devouring the Yulan Chicken, which is infused with lemongrass and magnolia petal wine. Or, try the Arca Cheeky Signature Burger, which is made with beef cheeks cooked with red wine sauce and brie. Wrap up your meal with the Arca Dark Chocolate Cigar, a delectable combo of white truffle, cream cheese, and crunchy chocolate.
Arca Society, 3/F, the Arca, 43 Heung Yip Road, Wong Chuk Hang, Hong Kong, p. 3701 6030, 黃竹坑香葉道43號雅格酒店3樓
Katsuo Udon opens in Eaton HK, Jordan
Eaton Food Hall has always been a go-to spot for affordable and quality food in the Jordan area. And now, Katsuo Udon, a popular udon joint in Hong Kong, has opened its doors in the Hall as well. Not only are the udon noodles freshly handmade daily, but you can also savour the branch-exclusive Hojicha Udon here.
Katsuo Udon, Shop 8, LG/F, Eaton Food Hall, Eaton Hong Kong, 380 Nathan Road, Jordan, Hong Kong, p. 3675 2979, 佐敦彌敦道380號香港逸東酒店LG樓Eaton Food Hall 8號舖鰹烏冬
TamJai SamGor opens in Lan Kwai Fong, Central
Those of you who frequent Lan Kwai Fong (we see you!) would've spotted the red-and-black TamJai SamGor on Wellington Street. In true LKF style, this new flagship store offers grilled skewers, such as the spicy sliced beef roll skewers and the vegetarian portobello mushroom skewers. Follow them up with rice noodles in the branch-exclusive SaSa soup, which is a broth based on Malaysian laksa with seafood flavours. While there are various toppings to choose from for your mixian, we'd recommend the three store-exclusive items, including lobster balls and mini cuttlefish. Don't forget to pair these with unique beers made by TamJai SamGor in collaboration with Young Master Brewery.
TamJai SamGor, G/F, Hong Kong House, 15-19 Wellington Street, Central, Hong Kong, p. 2712 9738, 中環威靈頓街15-19號香港工商大廈地舖譚仔三哥米線
Hansik Goo moves to Central
If you loved Hansik Goo's ginseng risotto and fried chicken, you'll be pleased to know that this Korean fine dining restaurant is making a comeback this month at its new location inside The Wellington. In addition to creating new unique dishes, the restaurant is also launching a new beverage list, as well as sool (Korean alcohol) pairing menus, curated by Kim Kyung Moon, the first Korean Master Sommelier in the world.
Hansik Goo, 1/F, The Wellington, 198 Wellington Street, Central, Hong Kong, p. 2798 8768, 中環威靈頓街198號The Wellington 1樓