Throw a strike at these bowling alleys! (Photography: Marc Mueller via Unsplash)
Don't worry, we've all hit the gutter (thankfully, not in a literal sense). Spare some time and hit these bowling alleys in Hong Kong for a fun time out.
Summer is here! For those much awaiting this sunny season, we know you'll be gearing up on sunscreen and hitting the beach, or partying it up on a junk boat in your best bikinis and trunks. Summer is also most prone to rainy weather, but there's plenty to do indoors. Get competitive and aim for them pins at these bowling alleys in Hong Kong.
The best bowling alleys in Hong Kong
1. Thunderbowl
Sometimes you may get thrown off with how far away some bowling alleys can be, but Thunderbowl is located right in the vicinity of Kowloon City district – Hung Hom, to be exact. There are 22 lanes in total, with special VIP rooms with two lit lanes (literally) to add an oomph to your game. You can either choose to bowl for an hour or pay per game.
Thunder Bowl, Shop 2, B1/F, Screen World Site 8, Whampoa Garden, Hung Hom, Hong Kong, p. 2122 9822
2. South China Athletic Association (SCAA)
How did I not know that Causeway Bay has a bowling alley, you may ask? This one's a wee bit further from Lee Garden, but you can recognise it by the open space that's fenced around. You will need a membership to play, and there are a handful of 60 lanes up your alley! Tip: visit SCAA for bowling on a weekday, as the prices go up on the weekend.
While you're in the neighbourhood, check out these cafes in Causeway Bay, or settle in for a meal at the best restaurants in Causeway Bay. Don't know where else to go? Take a look at our handy neighbourhood guide of Causeway Bay.
South China Athletic Assocation (SCAA), 88 Caroline Hill Road, Causeway Bay, Hong Kong, p. 2890 8528
3. Belair Bowling Centre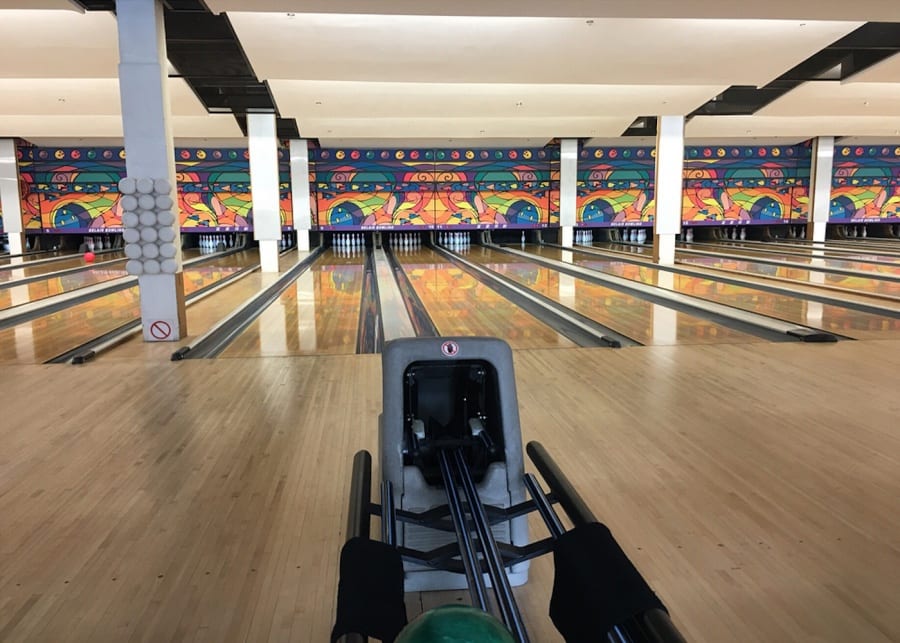 It almost feels like bowling alleys inside shopping malls are a vanishing trend, but here to give us old-school vibes is Belair Bowling Centre, located in – you guessed it – Belair Garden Shopping Arcade (perhaps you only guessed it if you live in/near Sha Tin). This under-the-radar bowling alley has 22 lanes in total and offers a discount for students – just be sure to bring along your student card.
Belair Bowling Centre, Shop 4, 2/F, Belair Gardens Shopping Arcade 1, 52 Tai Chung Kiu Road, Sha Tin, Hong Kong, p. 2649 9022
4. Tikitiki Bowling Bar
This snazzy bowling bar is worth going all the way to Sai Kung, because there's nothing like pairing some nibbles and drinks with a funky bowling experience. Heighten your entertainment experience with cocktails on the lanes, delicious food, DJ, live band, magic shows, clown acts, and dance shows. Head over during off-peak hours – Wednesdays to Fridays from 12 to 4pm – for the best deals. Note that Tikitiki is closed on Mondays and Tuesdays.
Tikitiki Bowling Bar, 4/F, Centro, 1A Chui Tong Road, Sai Kung, Hong Kong, p. 2657 8488
5. Dragon Bowling
This bowling alley not only has multiple branches across Hong Kong, but also around the globe. Loved by amateurs and professionals alike, Dragon Bowling holds events, training, and tournaments. There are roughly 30 lanes in each of Dragon's locations, and they all have snack kiosks and shops for you to purchase bowling balls. The Tsuen Wan branch, called U.S. Dacos Bowling Centre, has 32 lanes and some billiards tables for some in-between fun, too.
Dragon Bowling has locations across Hong Kong.
Did you know?
Bowling is believed to have originated in ancient Egypt. A British archaeologist uncovered wall paintings with pins and balls in tombs. They are thought to date back all the way to 5200 BC! Meanwhile, modern-day bowling alleys are thought to have made their debut in around 1840 in New York City.