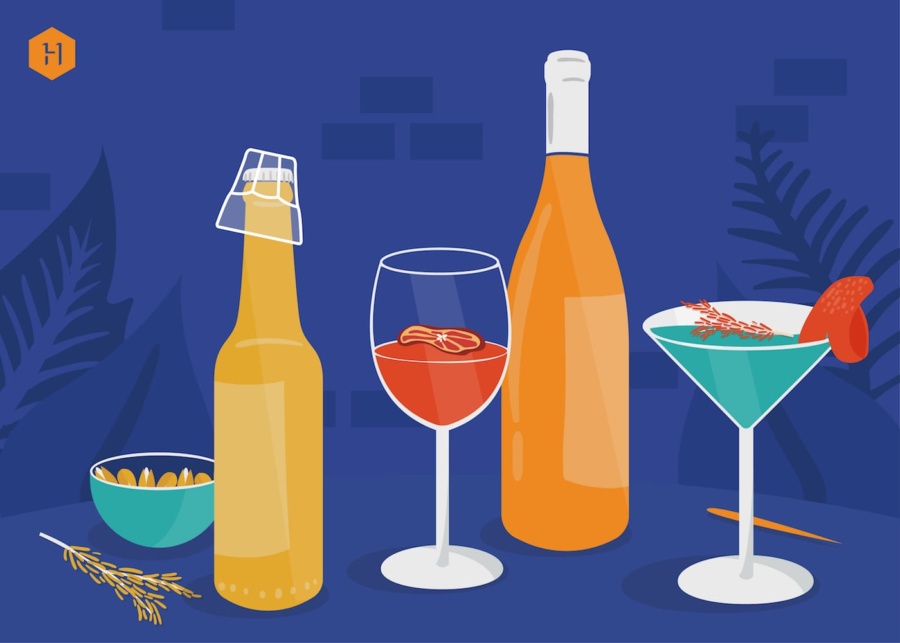 Illustration: Julia Azron
Looking for a cheap night out with loads of delicious drinks and indulgent finger food? These are the 20 best happy hours in Hong Kong that you need to know about.
Planning on a fun night out to catch up with your friends, or just looking for a post-work treat? While the city's long-awaited reopening signifies the return of karaoke bars, live music venues, and stand-up shows, nothing beats some good happy hour deals in Hong Kong. So, grab your gang and a tipple (or two) – it's prime time for celebration!
Looking for the best happy hours in Hong Kong? We got you!
1. Zoku and The Terrace, The Hari Hong Kong
Enjoy great prices on wines and spirits at Zoku and The Terrace during their Tipple Time deal. Running from 3 to 7pm from Sunday to Thursday, The Terrace is not only a cosy al fresco dining space to catch up with friends and co-workers, but also an urban oasis for sunset views. Sip on a glass of wine or Aperol Spritz for just $58, or take it up a notch with a sangria or spirit for $68. You may want to add a creative cocktail, too, because why not?
Zoku, 2/F, The Hari Hong Kong, 330 Lockhart Road, Wan Chai, Hong Kong, p. 2129 0338
2. The Pontiac
Nothing beats The Pontiac when it comes to having a lit time and enjoying the best deal in Central. Its Ponty Hour runs daily from 3 to 7pm, during which you can enjoy a glass of wine for $40, and a range of super fun cocktails, including both classic and unique creations, for just $50. Don't be fooled by its friendly rates – this bar never compromises on the quality of its drinks. Plus, the fact that the staff is amazing and the vibe is a refreshing change from the usual HK hang makes us love it even more.
Read our full review of The Pontiac.
The Pontiac, 13 Old Bailey Street, SoHo, Hong Kong, p. 2521 3855
3. Ask for Alonzo
If you're looking for a refreshing cocktail after work, then you're going to want to head for Ask for Alonzo. Between the Alonzo Hour of 3 and 8pm everyday, its vodka lemonade, along with a selection of their house wines are prosecco, are reduced to just $38. Other equally affordable options include the Classic Negroni, Campari Spritz, and more.
Ask for Alonzo has several branches across Hong Kong Island.
4. Cruise, Hyatt Centric Victoria Harbour
Speaking of rooftop bars in Hong Kong, you can't miss out on Cruise in Hyatt Centric Victoria Harbour. We're big fans of its outdoor terrace (who can say no to its views?), as well as its Sunset Sessions offer. Going from between 12 and 5.45pm everyday, you can grab a cocktail for $78, as well as wines and prosecco for $68.
Cruise, 23/F, West Tower, Hyatt Centric Victoria Harbour, North Point Estate Lane, North Point, Hong Kong, p. 3896 9898
5. Candour
Welcome the season of spring and the return of Candour by trying the bar's revamped menu, which features new happy hour cocktails and seasonal specials. Named 'The Warm-Up', the happy hour at this hip hop lounge goes from Wednesday to Saturday, from 3 to 6pm. Each cocktail on this menu costs $78, with the most popular pick being the Sweet Life – a tangy concoction of Arquitecto Blanco tequila and strawberry shrub, along with fresh juices from bell pepper, pineapple, and lime. While you're there, be sure to try Candour's two new cocktails – Green Light and Coast to Coast – as well, for a refreshing start to spring.
Candour, 65 Peel Street, Central, Hong Kong, p. 2362 8100
6. The Continental
Forget about day drinking – morning drinking is what we're talking about at The Continental. Its happy hour deal starts from 11am and lasts pretty much all day until 6pm, ensuring that you have plenty of time to get boozed up – with change left in your pockets, too. Spirits go from $58 here, while beers, house wines, and selected cocktails go from $68. With a tropical garden terrace, The Continental is one of our favourite places to enjoy a leisurely happy hour in Hong Kong.
The Continental, Unit 406, L4, Pacific Place, 88 Queensway, Admiralty, Hong Kong, p. 2704 5211
7. Armoury Terrace
Head to the Armoury Terrace in Tai Kwun and score drinks from just $50 between 3 and 6pm. Whether you're looking for wine, beer, or a fancy cocktail, this social hub is the place to be.
Armoury Terrace, Shop 02-G/F, Armoury Building, Tai Kwun, 10 Hollywood Road, Central, Hong Kong, p. 2703 9111
8. Hemingways
In Discovery Bay and looking for some of the best happy hours in Hong Kong? You can't beat the price at Hemingways, complete with ocean views. Pull up a seat and indulge in drinks from just $35. The best part is that Hemingways offers special deals, such as Bubbly Sundays – from $45 for a glass of prosecco – and also $45 for a Cosmopolitan on Tuesdays. It's definitely the place to be when you're in need of a quick tipple.
Hemingways, Shop G09, D'Deck, DB Plaza, Hong Kong, p. 2987 8804
9. Frites
Looking for that regular stopover for post-work drinks? Well, look no further – the happy hour is available at Frites from 3 to 8pm on weekdays. You can pair your steaks with half-priced bottled beer, draught beer, champagne, wine, and spirits.
Frites has multiple locations in Hong Kong.
10. James Suckling Wine Central
Wine lovers, this one's for you! From noon till 6pm between Thursdays and Sundays, drop by James Suckling Wine Central try out ten hand-selected wines on its happy hour menu, all for $60 per glass. The wines vary daily, so you can be sure to enjoy something new every time you visit. Feel free to pair the wines with a snack or two, as well.
James Suckling Wine Central, 2/F, 22 Staunton Street, Central, Hong Kong, p. 2539 7999
11. Boticario Bar & Grill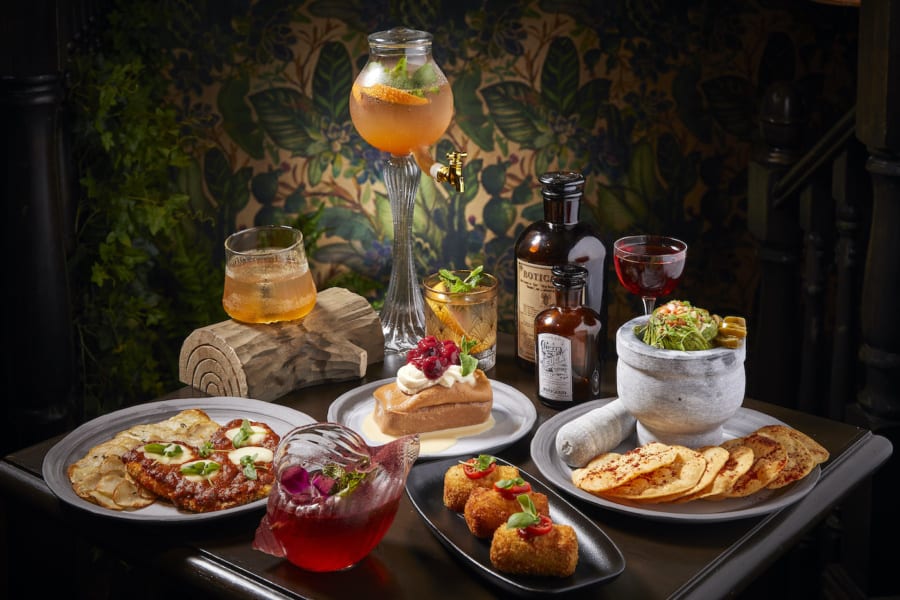 Let the vibrant waterfront hangout Boticario Bar & Grill cure your work stress. From 12 to 6pm everyday, you can enjoy a buy-one-get-one-free deal with drinks going from $68. Inspired by the concept of healing (hence Healing Hours), Boticario's cocktails come in picture-perfect glass containers, such as the rose pink Shell to Pay and deep red Brave Bullfighter. Make sure to check out Boticario's spacious balcony for soothing sea breezes, too.
Boticario Bar & Grill, Shop G5 & UG 15, Tsim Sha Tsui Centre, 66 Mody Road, Tsim Sha Tsui East, Hong Kong, p. 2765 0800
12. Foxglove
A classy and contemporary-chic tavern tucked behind an umbrella shop, Foxglove is one of our firm favourites in Hong Kong. Winner of Best Bar in Hong Kong in our 2021 Love Local Awards, the bar's retro vibes are often paired with live music, dim sum, and fine happy hour discounts. You can get red wine, white wine, craft beer, vodka, and gin for $60, and cocktails for $80. Happy hour goes from 12 to 6pm on weekdays.
Foxglove, 2/F, Printing House, 6 Duddell Street, Central, Hong Kong, p.2116 8949
13. Emmer Pizzeria & Café
A slightly upscale pizza joint, Emmer's happy hour comes with ridiculously affordable quality wine, spirits, and cocktails, priced from just $41. Drop by any day from 4pm (until 8pm from 21 April onwards) to pair your pizza with the best reds on the menu. We love to chill in the al fresco dining area during the evening when the Pacific Place terrace lights up.
Emmer Pizzeria & Café, Shop 407, Level 4, Pacific Place, 88 Queensway, Admiralty, Hong Kong, p. 2780 1110
14. Pazta
Enjoy your choice of signature cocktail, house wine, or beer with a free snack at $50 during Pazta's happy hour. From cold cuts to chicken liver pate, to dry-cured ham, a variety of Italian sides are freshly served to accompany your beverage. What do we love most about Pazta? Its Aperitivo Tuesday Treat comes with a complimentary antipasti buffet from 6 to 9pm when you order a drink – let's hope this deal makes a comeback when the dining restrictions relax…
Pazta, Shop 03-G08, G/F, Barrack Block, Tai Kwun, 10 Hollywood Road, Central, Hong Kong, p. 2626 1186
15. Divino Wine Bar & Restaurant
There's a reason why Divino Wine Bar & Restaurant has been loved for so many years. In addition to its 21-pages-long wine menu, it also offers an array of cocktails, spirits, and craft beers. Take advantage of its weekend Aperitivo Hour which offers an hour of free-flow at $168.
Divino Wine Bar & Restaurant, 73 Wyndham Road, Central, Hong Kong, p. 2167 8883

16. Amalfitana Central
Every weekday between 3 and 6pm, head to Amalfitana Central for the Happy Boozter Hour! Drinks cost only $28 from 3 to 4pm, then it goes up by $10 every hour until 6pm. During this period, you can enjoy wines, prosecco, bottled beers, Aperol Spritz, and more.
Amalfitana Central, Shops D & E, G/F, Yu Yuet Lai Building, 43-55 Wyndham Street, Central, Hong Kong, p. 2688 2001
17. Monsoon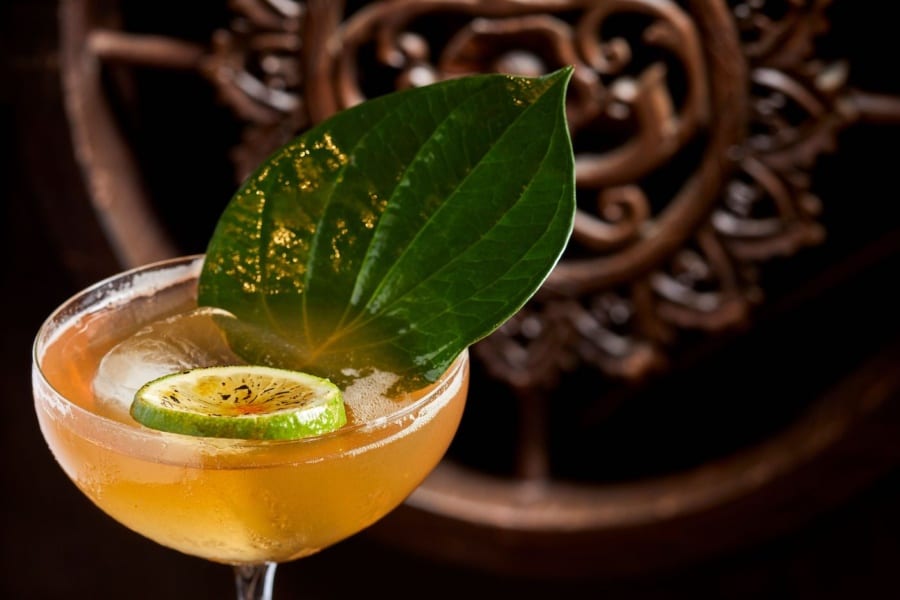 We've fallen head over heels for Monsoon's refreshing drinks and delicious snacks. Priced at $168, its daily 90-minute free-flow package is a great addition to your meal. The menu features over 18 types of beverages, ranging from wines to spirits, and juices to cocktails. If you happen to be at Monsoon between 3 and 5.30pm for happy hour, try its high tea set ($248 for two) and pair your rice paper rolls, cakes, seafood, and more with some booze.
Monsoon, Shop 1045, 1/F, Elements, 1 Austin Road West, Tsim Sha Tsui, Hong Kong, p. 2511 0100
18. Ichu
Nothing like unwinding with a beautiful al fresco setting in the heart of Central. Ichu is well known for its Peruvian delicacies, and of course, you cannot miss its happy hour deal: La Hora Sagrada. Take your pick between house wines, prosecco, and draft beer for just $50, or add another $10 for cocktails. Just head over any weekday from 3 to 6pm.
Ichu, 3/F, H Queen's, 80 Queen's Road Central, Central, p. 2477 7717
19. The Dispensary
Here's yet another gem nestled inside the quaint quarters of Tai Kwun. Sandwiched between Statement and The Chinese Library, The Dispensary's Prison Break Hour starts at 4pm everyday. Enjoy a glass of prosecco or classic cocktails at just $50 a glass while looking on to the Parade Ground.
The Dispensary, Block 01, Tai Kwun, Police Headquarters, 10 Hollywood Road, Central, Hong Kong, p. 2848 3000
20. Funky Monkey
One of the best known tiki bars in Hong Kong, Funky Monkey is a fun and exotic getaway ideal for clocking off and some crazy good times after sundown. While there are different offers for each of Funky Monkey's three branches, the happy hour deal remains the same – buy one, get one free. Until 21 April, Funky Monkey Jordan's all-day happy hour goes from 2 to 6pm everyday.
If it's your first time at the Funky Monkey, we'd recommend the Flaming Monkey, which is a variation of the Zombie, a popular tiki cocktail. This rum-based bev is pretty damn strong, plus it has a fire performance (!) to go with it – perfect for the 'gram!
Funky Monkey has several locations in Hong Kong.
21. The Optimist
Friendly service? Check. Beautiful interiors? Check. Great drinks? Check! The Optimist is a wonderful spot for an after-work tipple, serving The Optimistic Hour between 3 and 7.30pm, every day of the week. Grab a selection of wines, cocktails, and beers from just $48, and wash your drink down with some of its signature Padron Peppers – yum.
The Optimist, G-2/F, 239 Hennessy Road, Wan Chai, Hong Kong, p. 2433 3324
Cornerstone (offer currently unavailable)
Negroni fans! Cornerstone is serving the classic cocktail (made with Applewood gin nonetheless) with a side of fancied up cheese on toast from 2.30 to 6.30pm daily. Go in for happy hour at just $68, and stay for dinner at Shane Osborn's second restaurant in HK.
Cornerstone, 49 Hollywood Road, Central, Hong Kong, p. 6809 9771
Le Petit Saigon (offer currently unavailable)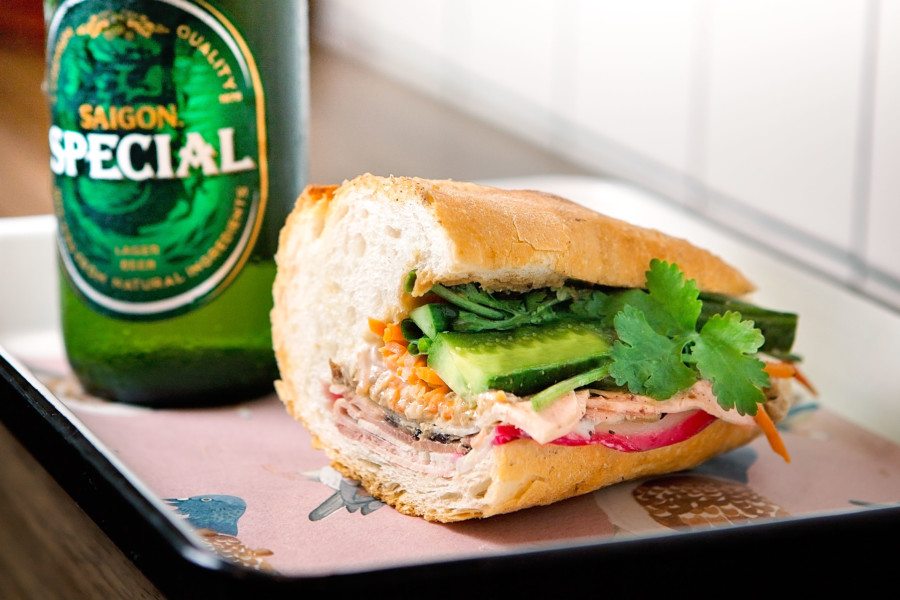 We think Le Petit Saigon is one of the best happy hours in Hong Kong for those who like a little nibble with their beer… From 5 to 8pm on weekdays at Le Petit Saigon, chow down on half a Banh Mi Thit and sip on an ice-cold Saigon Special Beer for just $58. Think eating is cheating? Grab the beer for just $28. Hang out with your work besties and add some Vietnamese flavour to your life.
Read more about Le Petit Saigon.
Le Petit Saigon, 16 Wing Fung Street, Wan Chai, Hong Kong, p. 2455 2499
208 Duecento Otto (temporarily closed)
From 3 to 7pm at everyone's favourite Sheung Wan bar, join L'Aperitivo Italiano and indulge in after-work snacks and drinks, including complimentary antipasti. 208 Duecento Otto's happy hour deals includes Peroni ($58), prosecco ($68), Aperol Spritz ($78) and champagne ($88). Drink up at one of the best happy hours in the city!
Of course, 208 Duecento Otto also makes it to our list of best Italian restaurants in Hong Kong.
208 Duecento Otto, 208 Hollywood Road, Sheung Wan, Hong Kong, p 2549 0208
PIIN Wine Restaurant (temporarily closed)
From Monday to Saturday 12pm to 7pm, enjoy French Hour at PIIN Wine Restaurant in Central. Sample unlimited white and red Burgundy wines for two hours at $350, and cure any lingering work stress in the process.
PIIN Wine Restaurant, 2/F, H Code, 45 Pottinger Street, Central, Hong Kong, p. 2832 7123
Gradini Ristorante e Bar Italiano (temporarily closed)
Looking for the best happy hours? Gradini wants you to sparkle during happy hour, so they offer Prosecco-Tio between 5 and 9pm every day. For $78, enjoy drinks from the bubbly collection and complimentary sample plates of cheese and cold cuts. Bellisimo!
Gradini Ristorante e Bar Italiano, Lobby Level, The Pottinger Hong Kong, 74 Queen's Road Central, Central, Hong Kong, p. 2308 3088
Americano (temporarily closed)
This new restaurant in town is offering amazing American-Italian cuisine – and some awesome happy hour deals, too. Running all the way from noon till 7pm, this lengthy happy hour gives you the best reason for cheeky day-time drinking (hey, don't judge!) Taking at least $10 off the regular price (and a bottle of champagne costs $100 less during happy hour), you won't have to worry about breaking your wallet. And whether you're hoping to enjoy wine by the glass or by the bottle, or looking for classic cocktails and spirits, Americano's extensive menu will have you covered.
Americano, Shop A, G/F, Kam Hei Mansion, 33 Staunton Street, Central, Hong Kong, p. 2628 6186
Chi Chi Cham (permanently closed)
We think this is definitely one of the best happy hours in Hong Kong! The Happy Hour at Chi Chi Cham runs from 3 to 10pm on Monday to Saturday, starting at just $40 for bottled beer, wine, and bubbles. It's also a great spot to indulge in some nibbles from the izakaya menu (we love the Japanese sweet potato.)
Chi Chi Cham, 53 Peel Street, SoHo, Central, Hong Kong, p. 2386 9718
Poem (permanently closed)
Add some tropical island vibes to your day with the happy hour package at Poem, choose from beers, wines, spirits, and classic cocktails all at $68. We also love their reasonably priced bar snacks. Available from 5 to 7pm, Monday to Thursday.
Poem, 5/F, LKF Tower, 33 Wyndham Street, Central, Hong Kong, p. 2810 6166
Second Draft (permanently closed)
Enjoy 20% off all tapped beer from Monday to Friday before 8pm at Second Draft. Made by renowned local and foreign breweries like Young Master, Yardley Brothers, and Cigar City, their craft beer goes well with their mind-blowing fusion dishes, such as Tai Hang Fries ($78), Jer Jer Buffalo Wings ($138), and White Bait Cerritos ($78). This gastropub is a must-visit place if you are exploring the Tai Hang neighbourhood.
Second Draft, G/F, 98 Tung Lo Wan Road, Tai Hang, Hong Kong, p. 2656 0232
Bizou (permanently closed)
At American Brasserie Bizou in Pacific Place, guests can enjoy two-for-one cocktails, wines and beers between 4 and 7pm. Guests are also treated to complimentary canapes that include a variety of cheeses, charcuterie and other tasty morsels created in the kitchen. We suggest trying the Casablanca cocktail which has refreshing jasmine tea and passion fruit mixed in vodka.
Read our full review of Bizou.
Bizou, Shop 132, L1, Pacific Place, 88 Queensway, Admiralty, Hong Kong, p. 2871 0775