Our mission is to inspire humans to live better lives.
"Inspire"
We want to spark that desire in you to do or feel something special, creative and interesting. We want to be that reason you walk the long way home, look up, look down, try that new dish, hike, walk or catch the sunrise.
"Humans"
We are for all humans no matter the colour, size, age or race. We celebrate diversity. We don't endorse discrimination in any form. We're a team from all walks in life, and that's the way we like it.
"Live Better"
It means measuring what matters most to you and finding the gaps.
"Lives"
We all only have one, so let's make it count.
Our Values
Teamwork
Nothing works unless there is teamwork. We work together, collaboratively as a team, to achieve our goals.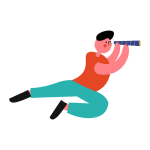 Integrity
We want to do things that make our kids proud. We are honest and have strong moral principles.
Love Local
We celebrate local designers, creators, producers and businesses. We want to use our powers to lift them up.
Impact
We make a real difference. We take special pride in what we do and only write about things we believe in.
Fun
We are playful, we have good humour and we enjoy having a sense of fun at work. We'll be honest: we love our jobs.
About Us
Hello, fellow people of the 852! Want to know all about Honeycombers Hong Kong and what makes us tick more than Typhoon Day? You've come to the right place!
Honeycombers is a digital lifestyle platform and a video content and events production house. Our HQ is in sunny Singapore where the business was founded by Chris Edwards in 2008. Yes, we've been around for over a decade (looking better than ever) and have expanded to Hong Kong and Bali. Got kids? Our sister website, HoneyKids has your back.
We'll be honest: we love our jobs. We only write about things we believe in, and we're constantly working to bring you the raddest happenings around town (even if it means frequent hangovers). We don't endorse discrimination in any form; we're a team of different colours and sizes, and that's the way we like it.
Yes, we do have advertising on the site, but the difference between editorial and advertorial content will always be made clear. And like we said, we don't write about things we wouldn't endorse ourselves, and that includes our work for clients.
We're real people just like you – we're locals and expats, working mums, fresh grads, but the one thing we have in common is we love Hong Kong, and we love sharing it with you.
BTW, we'd love to hear from you. Say hello! DM us on Instagram or Facebook, or shoot us an email at [email protected].
Oh, and we're hiring! Join our team as an SEO and Digital Media Intern today.
Honeycombers 為網上生活資訊平台,並提供影片製作、活動籌辦和內容營銷策略服務。2008年,Chris Edwards 在新加坡成立公司總部,十多年來逐漸將版圖拓展至香港和峇里島,同時成立 Honeykids 平台,為大家提供豐富的合家歡資訊。
想知道 Honeycombers 是一間怎麼樣的公司?以下為你一一解答!
我們熱愛香港,永遠如實寫出感想,並孜孜不倦地探索城中熱話(即使嚴重宿醉也會繼續工作!)另外,我們提倡平等共融,因此公司團隊包含不同人種、身材和性別。
你可能會在 Honeycombers 網站上看到廣告,但我們一定會清楚標示那些是廣告內容,以便大家分辨。誠實是我們的宗旨,正如在上方提到,我們永遠如實寫出感想,不管它是否客戶的付費內容。
Honeycombers 大家庭裏有本地人、外籍人士、職場媽媽和應屆畢業生,但我們跟各位無異,都是愛着維港的香港人。
最後,歡迎大家與我們聯繫:請於 Instagram 和 Facebook 關注我們,或電郵至 [email protected]。謝謝!
Who We Are
Chris Edwards, Founder / 創辦人
Our fun and ballsy leader is the queen bee. She traded Sydney for Singapore eight years ago and started The Honeycombers because there was no publication she felt 'spoke to her'. Honeycombers was born out of her desire to connect expats with the abundant fab local culture. She now has Singapore firmly 'in the palm of her hands' according to the Australian Financial Review, (yes that's true!) And if it wasn't for Chris, none of us would be doing this kick-ass job!
我們的蜂后是個很「好玩」的女強人,八年前從悉尼移居到新加坡,因當時市面上沒有一份刊物能夠吸引她,所以便創辦了The Honeycombers。成立Honeycombers的原意為團結居於新加坡的外籍人士,共同欣賞及了解當地文化。根據《澳大利亞財經評論》,Chris已「牢牢掌握」新加坡市場。沒有她,我們也不能享受這麼一份有趣的工作!
Elaine Wong, Editor / 黃恩臨, 編輯
Elaine had spent her past decade hopping between Hong Kong and the UK, the two places she calls home. After graduating from Oxford, Elaine has (for now) settled back in the 852. If she's not out chilling in the newest bars and cafés, she's most likely home listening to music, watching crime documentaries, or feeding the neighbourhood cat.
恩臨過去十年來一直在香港與英國兩個「家」之間遊走,直到從牛津大學畢業後才暫時回到了香港。除了探索本地最潮的酒吧和咖啡館外,她最愛窩在家裡聽音樂、看犯罪紀錄片和餵飼鄰居的貓貓。
Min Ji Park, SEO & Digital Media Intern
Min Ji Park was born in Korea, raised in Hong Kong, and went to university in New York City. She still considers Hong Kong her home and has settled back in after years away. When she's not out taking photos, she's trying to find the best cocktails and pasta in town.
Min Ji 出生於韓國,在香港長大,後來在紐約就讀大學。視香港為家的 Min Ji,最終於出國數年後決定回港發展。若她不是在街上拍照的話,她很有可能是在尋找香港最高質的意大利麵和雞尾酒。