Our story
How can we inspire, empower and engage our readers?
That's what we ask ourselves each day. That's why we exist.
We want to excite you to try new things, explore, taste, hop on an adventure, let your hair down (or cut it off), get that tattoo or four-hand massage, or rescue a four-legged friend – and get the very best out of the place you call home.
The year was 2008
Honeycombers was founded by Chris Edwards, an Aussie who found herself surrounded by young expats calling Singapore boring (have you ever heard of 'Sing-a-bore'?). But she knew it was far from that. The city is filled with awesome events, vintage stores, pop-ups, hidden bars and undiscovered trails – you just need to know where to look.
That's when Honeycombers was born. Pregnant and working from her kitchen table, Chris wrote (most of) Honeycombers' first articles by herself, with her husband doing the editing work. She created a newsletter and a Facebook page, and emailed everyone with the hottest events and things to do each week.
Fast-forward and Honeycombers is now a team of more than 30 people, bringing Chris' vision to life each day in Singapore, Hong Kong, Bali and Australia.
Lifestyle with soul: What's that?
Chris's vision for Honeycombers is to create a lifestyle platform with meaning. We value local stories, making an impact, collaborative teamwork, doing it all with integrity and having fun. You'll see us covering topics that others steer away from – be it sexual pleasure, social issues, mental health, the entrepreneurial struggle, sustainability or female empowerment. We want to inspire you to live a life that's intentional, meaningful and fulfilling (and yes, that includes your work and sex lives!).
We love our jobs
Sure, we enjoy our weekends. But when it comes to the 9 to 5, we take pride in what we do and we only write about things we believe in. Just like our food, we don't endorse discrimination in any form. Part of our role is to spotlight the underrepresented voices in our community.
Yes, we do have advertising
The reality is, we need to get paid for all this glorious work we do, so we have advertisers on the site. But the difference between editorial and advertorial content will always be made clear. We don't write about things we wouldn't endorse ourselves.
We support conscious start-ups
Being a female founder and solo entrepreneur, Chris has a special place in her heart (and diary) for other founders. That's why, in 2022, she created conscious business community Launchpad, where she provides mentoring and facilitates masterclasses and authentic connection (and some fun IRL events, too!). If you're a founder looking to level up your business game, come and join the party.
Our Values
Teamwork
Nothing works unless there is teamwork. We work together, collaboratively as a team, to achieve our goals.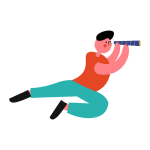 Integrity
We want to do things that make our kids proud. We are honest and have strong moral principles.
Love Local
We celebrate local designers, creators, producers and businesses. We want to use our powers to lift them up.
Impact
We make a real difference. We take special pride in what we do and only write about things we believe in.
Fun
We are playful, we have good humour and we enjoy having a sense of fun at work. We'll be honest: we love our jobs.
Doing good
We believe businesses should be heart-led and have a mission that is bigger than just profits. At Honeycombers, we strive to have a positive impact on people, the planet, as well as the profit line. If these values are in line with yours, check out the podcast hosted by our founder – Good Business with Chris Edwards – where she discusses and interviews business leaders with good business practices.
We do our bit by supporting…
Mental well-being
We work hard at being a great company to work for. We empower our employees and we provide flexibility, including a work from anywhere policy and a 4.5-day work week (yes, Friday afternoons are not a great time to catch us!). We want our team to feel valued, empowered and love their workplace.
Sustainability
Our climate is in crisis and we believe we need to reduce, reuse and recycle. We use our platform to educate and shine the spotlight on sustainability products and practices, along with leaders and change-makers who inspire and educate. We have an internal Green Team and work with green partners to help find ways we can make an impact when it comes to sustainability, including running our Sustainability Awards to highlight businesses that are champions in this important area.
Charity
We proudly support local charities. Our current chosen charities are Zero Waste SG and Daughters of Tomorrow. Zero Waste SG focuses on engaging the public and corporates on the 3Rs (Reduce, Reuse and Recycle) in areas of food waste, plastic disposables, household recycling and organisational waste. Daughters of Tomorrow empowers women from underprivileged families in Singapore by helping them attain livelihood opportunities. We also support local Balinese charities like Sungai Watch, Solemen and Bali Pet Crusaders.
Inclusivity
We are proudly diverse and inclusive. We champion and welcome all peoples for equal employment opportunities regardless of race, religion, sexual orientation, gender identity, age, marital status or disability. We are proud to create a safe space for anyone who feels excluded by the 'norms' of society.
Say hello!
Whether you're a reader with a hot tip, an advertiser looking for the best media platform in Asia (okay, we might be slightly biased), or you're looking to join the coolest media team in the world – reach out, we'd love to hear from you.