Can't decide? Mix and match for a breakfast banquet! (Photography: Urban Bakery via Facebook)
Start your day eating a healthy acai bowl or a crispy croissant with our guide on where to eat breakfast in Hong Kong.
Lovers of eggs, waffles, and freshly baked breads, we have scoured the city high and low for the best cafes in Hong Kong to drink coffee and indulge yourself (including dog-friendly cafes). Whether you're looking to fuel up post-workout, or just want some alone time with your perfectly cooked eggs Benedict, here are 27 places where you'd want to eat breakfast in Hong Kong.
Where to eat breakfast in Hong Kong
1. Apt. Coffee
As their name Apt (acronym of 'a personal tailor') suggests, this coffee shop tailors customers' dining experiences. To make your own energising brekky toast, you can choose your favourite bread, spread, and toppings. A combination we like is lemon cream cheese spread with poached egg and smoked salmon sourdough. If you want more fibre for a healthy morning, make your own salad bowl packed with sweet potato, corn, quinoa, and more. By the way, their banana pancakes with earl grey ice-cream will give you enough calories to fuel your day.
Apt. Coffee has branches in Wan Chai and Central.
2. Noc Coffee Co.
We are madly in love with Noc! These guys do amazing coffee, even with soy milk, and you will want to accompany that with some of their gorgeous avocado toast, which doesn't skimp on the good stuff. Most branches of Noc are open from 8am and serve some of the tastiest breakfasts in Hong Kong.
Noc Coffee Co. has multiple locations across Hong Kong.
3. Urban Bakery
Although we highly recommend you to try the Ball Law Cowssant with French butter, or Langoustine Croissandwich with curry emulsion from Urban Bakery, feel free to get other items if you don't fancy croissants. Mix and match a variety of salads, such as Thai noodle salad, or the barramundi, avocado, and beetroot salad. You can also get hot food like chicken fillet, grilled sausages, and scrambled eggs.
Urban Bakery has multiple locations across Hong Kong.
4. Oldish
Have a filling British breakfast at the vintage cafe-restaurant, Oldish. Other than the classy All Day Breakfast with sausages and croissant, their Four Cheese Beef Burger is another icon. The UFO-like parmesan cheese chip in it is super crispy and the wagyu is full of juice. The poached eggs are never over-cooked, and when you eat them with smoked salmon and toast, your morning cannot be better. Also, don't miss the freshly made hash browns and fries.
Oldish, G/F, 53 Tung Street, Sheung Wan, Hong Kong, p. 2697 3313
5. The Coffee Academics
Smoked salmon rosti? Check. Buttermilk pancakes? Check. The Academics Breakfast? Check. Although you could opt for simple coffees like flat white or bulletproof, we recommend their ice drip, cold brew, or pour-over coffee if you are a coffee maniac. Plus, the design of the restaurants utilise natural sunlight, allowing you to 'photosynthesise' in the morning.
The Coffee Academics has multiple locations across Hong Kong.
6. Schragels
Serving authentic New York-style bagels since 2014, Schragels has been the neighbourhood favourite for a while now. Each bagel is hand-crafted with love, using a recipe passed down from generations ago. The bagels are also freshly baked to order, and can be delivered across the city along with their dips and spreads. So whether you want to drop by for a quick SchVegan Bagel, or grab a set (of six or 12 bagels) to share with your colleagues, you know where to go.
Schragels, 37 Graham Street, Central, Hong Kong, p. 9730 6727
7. Habitū
We've been loyal customers of Habitū for years. Other than their calming environment and delectable food, we love their special coffees that you can't find anywhere else in Hong Kong. Just to name a few of our favourite breakfast items, the Lobster Eggs Benedict, Go Green All-day Breakfast, and Rose Strawberry Crepe are all delicious. Have their signature Caffe Acai Rosa or Caffe Brulee and you'll feel energised for the entire day.
Habitū has multiple locations across Hong Kong.
8. Oolaa
When it comes to breakfast in Hong Kong, Oolaa is the real deal. This place is a firm favourite for families, pals, couples, or just anyone who loves a solid brekkie. Oolaa's poached egg game is top-tier, with options from the classic benedict to smashed eggs to Californian styles. And the toppings? You've got smoked salmon, ham, bacon, spinach, avocado – the works! Whether you're into healthy brunch bowls, can't resist an eggs benny, have a sweet tooth for pancakes, or are up for a breakfast burger, Oolaa has you covered.
Oolaa has multiple locations across Hong Kong.
9. Veda
Open from 8.30am every day, Veda is the perfect plant-based spot to grab something delicious for that morning fuel. Offering various toasts and loaves, they also serve a selection of juices and smoothies. The best thing? All breakfast items come with a hot drink or the freshly squeezed juice of the day. This deal will simply make your day.
Read our full review of Veda.
Veda, 2 Arbuthnot Road, Central, Hong Kong, p. 3755 3067
10. Fineprint
Dotted across the Island, Fineprint is a top spot to get some tasty breakfast. Opening at 6am, this cafe is a great location for a pre-work fix or a long weekend catch up. The avocado and salmon toast with harissa is damn good, and this crew makes some of the best coffee in town – hands down.
Find out why they're on our list of best cafés in Hong Kong.
Fineprint has multiple locations across Hong Kong Island.
11. Catch
One of our favourite places to have breakfast in Hong Kong, Catch is all about large portions of wonderful breakfast food. We love the Dirty Eggs that feature fried eggs, paprika potatoes, avocado, and chipotle mayo, and you can't go passed the Big Bad Ben, complete with poached eggs, bacon, avocado, chorizo, and hash browns. The food at Catch is all made with love, and can even be delivered straight to your doorstep.
Catch has branches in Quarry Bay and Sai Ying Pun.
12. Elephant Grounds
With various locations across the city, Elephant Grounds makes it easy for you to grab breakfast treats that will have you full and happy in no time. All totally Instagram-worthy, the menu slightly differs per location, but try the spinach mushroom omelette, the heavenly peanut butter toast with caramelised bananas, or keep it healthy with an acai bowl. Don't forget to try one of their coffees or matcha lattes, too!
Elephant Grounds has multiple locations across Hong Kong.
13. Feather & Bone
Serving breakfast from as early as 7am, making it a great option for a business breakfast, Feather & Bone has a selection of delicious breakfast items. If you are in a hurry, go for the Bacon & Egg Breakfast Bap. You can also get your millennial fix with the Spicy Crab Crumpet. Wash it all down with a cup of their own branded FAB Coffee, and you'll be good to go.
Feather & Bone has multiple locations across Hong Kong.
14. Supabowl
If you are looking for a healthy morning fix, then Supabowl in Wan Chai will be your go-to spot. Creating acai bowls that are made to order with your favourite goodies, such as bee pollen, cacao nibs, nuts, and berries, Supabowl is all about balancing delicious flavours with healthy ingredients, and the bowls look amazing too.
Read our full review of Supabowl.
Supabowl has locations in Central and Wan Chai.
15. Nood Food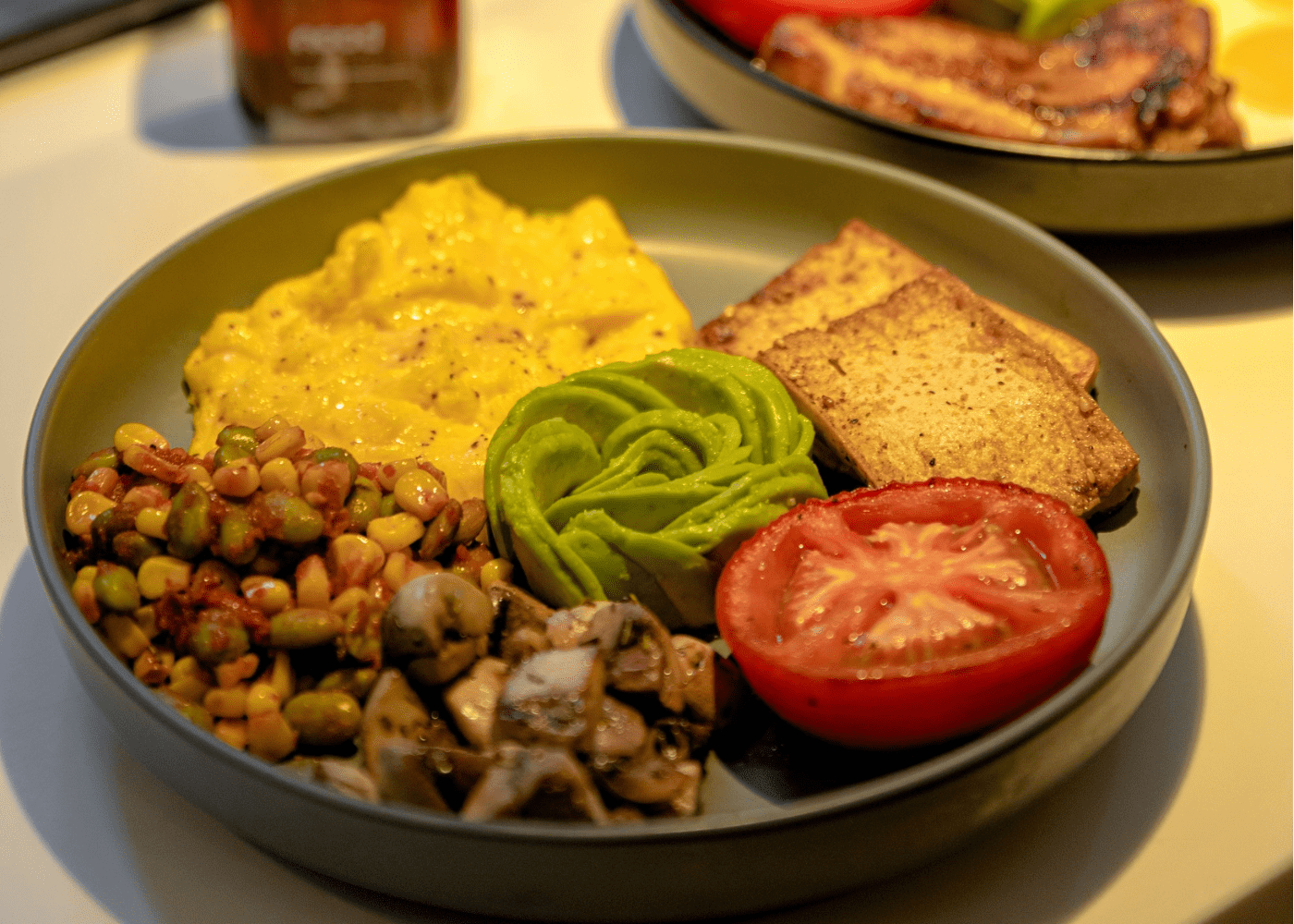 Another healthy breakfast option in Hong Kong, Nood Food is the perfect stop-off post-gym and pre-work. We love their probiotic coconut yoghurt and selection of smoothies and juices, plus they also offer a selection of hot options and coffee to takeaway or eat in.
Nood Food has multiple locations across Hong Kong.
16. Ninetys
For those of you lucky enough to be able to sit down and revel in hearty breakfasts (i.e. not running late to the office), Ninetys is a good shout. Opening at 8am, Ninetys isn't only ideal for lazy mornings, but it also has a great variety of scrumptious breakfast items for the early risers amongst you. While each branch has different menus, Ninetys' Aussie-style toasts and burgers are the must-haves.
Ninetys has branches across Hong Kong.
17. Bakehouse
Hands up if you liked baked goods! Bakehouse is all about creating steaming hot pastries and delicious goodies straight from the oven. We can't get enough of their gorgeous tarts and Danish pastries that are filled with fresh fruit – a brilliant breakfast in Hong Kong for those who don't have much time on their hands.
Bakehouse has multiple locations across Hong Kong.
18. Classified
When it comes to Hong Kong's breakfast scene, Classified needs no introduction. It's been a staple in the local dining scene for years, and it continues to serve up some of the most solid breakfasts in town. From its irresistible egg white frittata with asparagus, spinach, mushrooms, and sourdough, to its fluffy buttermilk pancakes topped with caramelised bananas and maple syrup, Classified knows how to satisfy your morning cravings. Its inviting shopfronts and al fresco dining opportunities make for the perfect spot to people-watch while enjoying your first cuppa of the day. For us, the Repulse Bay branch holds a special place, as it offers stunning beach views that elevate the breakfast experience.
Classified has multiple locations across Hong Kong.
19. The Cupping Room
The Cupping Room does a really good breakfast, and we are particularly partial to their house home-cured salmon and egg dishes. Avocado toast fans will love what they're offering, and we hear the French toast is spot on. Now with numerous branches across the city, you'll be able to find the ideal Cupping Room breakfast no matter which area you're in.
The Cupping Room has multiple locations across Hong Kong.
20. R&R Bagels
Kickstart your morning with R&R's artisanal bagel breakfast sandwiches, which are only available until noon on weekdays. Choose from fillings like Gardener's Breakfast, smashed avocado with egg, amongst others; they're then sandwiched between two R&R bagels, with flavours such as sesame, cinnamon and raisin, onion, and more.
R&R Bagels, 28 Li Yuen Street West, Central, Hong Kong, p. 2178 5168
21. Blend & Grind
R&R may serve Blend & Grind coffee (and vice versa), but you might as well pop by the actual store to enjoy the vibe. Starting as a smoothie concept store back in 2017, the brand quickly became one of the staples in the Island community, especially with its added specialty coffee and brunch menus. Its Mid-Levels branch opens bright and early at 7am, and you can even WhatsApp the team to prep your order in advance if you're in a rush – perfect for those always on the grind (pun intended).
Blend & Grind has several locations across Hong Kong.
22. Mansons Lot
Mansons Lot has lots more to offer beyond their popular Australian coffee. Available until 11.30am on weekdays, the Brekky set is well worth waking up early for. Along with a fresh coffee or tea of your choice, you can choose between the Big Brekky (veggie option available) or a lighter choice of artisan toast or croissant with eggs, cheese, and ham or bacon. Extra sides are on offer, too.
Mansons Lot, G/F, Yen May Building, 15 Swatow Street, Wan Chai, Hong Kong, p. 2362 1899
23. Mr Wolf
Whether you want your brekkie savoury or sweet, Mr Wolf has you covered. From the smoked streaky bacon sarnie, to the detox smoothie to the pancakes, the choice is yours. There's also an extensive selection of coffee, tea, juices, and other beverages to match.
Mr Wolf, 5/F, Crawford House, 70 Queen's Road, Central, Hong Kong, p. 2526 0838
23. Baked
Oh My God – how can we forget about Baked when it comes to almighty breakfasts? Those in the know would have tried the Oh My God (and went OMG because of how delicious it was), which consists of portobello mushrooms sautéed in mozzarella, cream, and black truffle pate, served with a poached egg and rocket on the signature sourdough. Baked's breads and pastries are also super popular, such as the cinnamon bun and the cruffin – don't miss out!
Baked, 8 Queen's Road East, Wan Chai, Hong Kong, p. 2618 3080
25. Coffee by Zion
Sitting right across the street from Sai Ying Pun MTR Station is Coffee by Zion. This small cafe has been drawing in pretty big crowds, not only for its convenient location, but also for its quality food, coffee, and service. Offering premium coffee and brunch items from 8am, those looking for something more filling can try The All America, or the Acai Super Bowl for a healthier choice.
Coffee by Zion, Shop 1, G/F, 83 First Street, Sai Ying Pun, Hong Kong, p. 9404 7721
26. Cafe Sausalito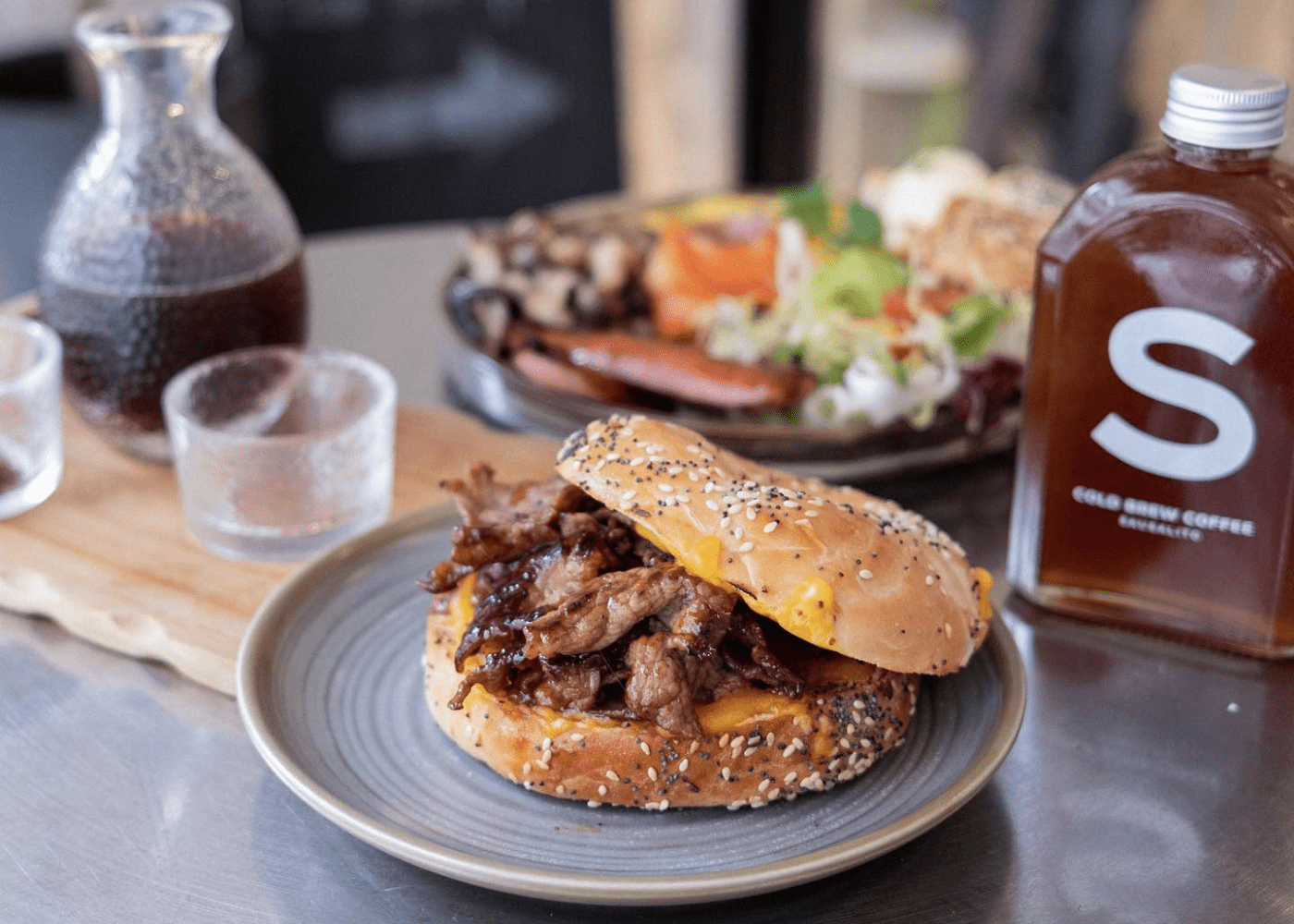 There's a good chance you can skip the queue at this popular cafe in SSP if you go early in the morning (they open at 9am – thank us later). Get your caffeine fix with Cafe Sausalito's range of single origin coffees, and don't forget to try its signature breakfast and brunch items, too. These include the Golden Gate Breakfast, Mushroom Lava Toast, and Phillycheese Steak Bagel, the latter two dishes complete with beautiful, melting cheese – now this is what we call a breakfast for champions.
Find out more about the best restaurants in Sham Shui Po while you're at it.
Cafe Sausalito, G/F, 201 Tai Nan Street, Sham Shui Po, Hong Kong, p. 3689 3292
27. Green Waffle Diner
Get ready for a taste of Canada at Green Waffle Diner, where breakfast dreams come true. This all-Canadian eatery offers a mouthwatering array of dishes, from the irresistible skillet to the famous waffles with various flavours and toppings. Whether you like your brekkie sweet or savoury, Green Waffle Diner has you covered. Delight in the perfect mix of flavours, and don't worry if you have dietary restrictions – the restaurant offers gluten-free and vegetarian options as well.
Green Waffle Diner, G/F, 43 Lyndhurst Terrace, Central, Hong Kong, p. 2887 9991