Set your hearts aflame at Hue Dining
Looking at date night (or lunch) ideas for Valentine's Day? We have you covered! Check out these Valentine's Day menus in Hong Kong.
Valentine's Day is right around the corner. You might want to surprise your significant other by planning the perfect date night in Hong Kong, or buying them experience gifts and romantic presents that scream "I'm head over heels in love with you!" But what if they are not a big fan of gifts? Well, no one can turn down a nice meal. So, plan ahead with these Valentine's Day menus in Hong Kong.
Looking for more romantic restaurants they can't resist? Check out our Instagram post for ideas (and tag your crush, so that they can take a hint)! 😉
Valentine's Day menus and treats in Hong Kong 2023
1. Hue Dining
A romantic meal with panoramic views of the Harbour to match – a Valentine's Day celebration in Hong Kong can't get much better than that! So, head to Hue Dining for its special set dinner menu on 14 February. The modern Australian restaurant is offering a three-course (from $1,080 per person) and four-course menu (from $1,160 per person), with an array of starters to choose from. Then, you can take your pick between four mains, such as the onion-crusted "Limestone Coast" Wagyu flank steak served with ox cheek bon bon, mustard potatoes, and red wine sauce; Atlantic wild sea bass with Hokkaido scallop, butternut squash, and fish roe beurre blanc; and the vegetarian potato gnocchi with Maitake mushroom, pine nuts, and aged parmesan truffle foam. Finish off with a choice of dessert such as dark chocolate profiteroles, pavlova, or a cheese selection.
Hue Dining, 1/F, Hong Kong Museum of Art, 10 Salisbury Road, Tsim Sha Tsui, p. 3500 5888
2. Cultivate
This Valentine's Day, go the whimsical route with a tasting menu at Cultivate. The Valentine's Day Dinner ($2,488) will take your breath away right from the beginning with delightful Canapes of Venison Tartare, Ratatouille, and Hamachi. Also on the menu are Rhubarb featuring Amaebi, Osmanthus, and Rainbow Beet; Korean Strawberry with Bluefin Akami Noodles, Strawberry Gazpacho, and Sichuan Peppercorns; the Tournedos Rossini main dish consisting of M7 Wagyu Tenderloin with Winter Black Truffles and Heart-Shaped Duck-Fat Potatoes; and a Strawberry Picnic for dessert. Let your tastebuds experience this playful menu on 2023 Valentine's Day in Hong Kong!
Cultivate, G/F, 29 Elgin Street, Central, Hong Kong, p. 5303 1230
3. room 3
If you still haven't checked out this new Japanaese gastrobar that's only opened a month ago, 2023 Valentine's Day may just be your perfect chance to do so. To commemorate the romantic season, room 3 is joining hands with Hendrick's to launch two gin-based creative cocktails as part of their "Let the Loving Be-Gin" campaign, which runs from 1 to 15 February. Those who prefer a fruity drink can go for Berry Sour ($130), a ruby-red concoction made with Hendrick's gin, mixed-berry syrup, and a splash of lemon juice. Alternatively, you can try Touch the Bee ($130), a tall drink consisting of Hendrick's, limoncello, and homemade sparkling chamomile tea.
Feeling peckish? You're in safe hands at room 3, as it specialises in yakitori and Japanese bites. Crowd favourites include the skewers with Minced Chicken with Japanese Egg, and Okinawa Pork with Tiger Prawn, amongst others. You can choose two types of selected yakitori to pair with your cocktail (from $188), or enjoy a full-on feast at Kappou Mu, the neighbouring restaurant. Psst – room 3 guests can enjoy 10% off there during the Valentine's Day promotion period!
room 3, Shop UG01-03, UG/F, H Zentre, 15 Middle Road, Tsim Sha Tsui, Hong Kong, p. 6361 8505
4. Vista
It's in the name, Honeys: views, views, views! Vista, a new restaurant that's only just opened in late 2022, is the perfect place to be this Valentine's Day. Boasting panoramic views of Victoria Harbour, a romantic atmosphere, and exquisite Italian cuisine, Vista is offering a four-course Valentine's Day menu (from $1,388 per person) from 11 to 14 February. The meal begins with either a veal tartare or a beetroot carpaccio. Next up is the Gnochetti Sardi, followed by the decadent main course of roasted black cod fillet with pearl barley, red prawns, and caviar. Finally, you'll be served the dark chocolate mousse with cherry jelly, pistachio crumble, and rose compote. Oh, and what's a celebratory occasion without some booze? You can add on a bottle of Veuve Cliquot Champagne, or a selected white or red wine ($788) to elevate your experience.
Vista, 29-30/F, One Peking Road, Tsim Sha Tsui, Hong Kong, p. 2778 3255
5. Zuma
One of our fave brunch places in town, Zuma is presenting a Valentine's Day Tasting Menu ($1,580 per person) for you lovebirds to celebrate on 14 February. You'll get to try Japanese delicacies such as Lobster Tempura with Ponzu and Wasabi Sauce; A4 Wagyu Miyazaki Sirloin with Tahoon Sauce and Fresh Wasabi; Seared Sushi Toro with Caviar and Wafu Sauce; Japanese Wagyu Tataki with Black Truffle; Gillardeau Oyster with Caviar; and more. Make sure to leave room for dessert – the Raspberry Fondant, Almond Biscuit, Rose and Lychee Sorbet – as it's available only for 2023 Valentine's Day! Complement this with a Lychee Rose Petal Martini ($140) to end the evening on an extra sweet note.
Zuma, Level 5 & 6, Landmark Atrium, 15 Queen's Road Central, Central, Hong Kong, p. 3657 6388
6. Flint, JW Marriott Hotel Hong Kong
Treat your loved one to an indulgent six-course dinner at Flint for 2023 Valentine's Day. Crafted with the finest seasonal ingredients, the one-night-only menu (from $1,388 per person) begins with the Slow-cooked Abalone with Oscietra Caviar and Kombu Jelly; the hearty Saffron Lobster Broth with Scallop Tortellini; and other dishes. For the main course, you can opt between the Carpetbag U.S. Beef Tenderloin and Oyster with Potato Gratin; and the Patagonian Toothfish and Red King Prawn with Gnocchi. To finish, enjoy the "Venus" dessert, a delicate treat consisting of chocolate sponge, dark chocolate crémeux, raspberry lychee coulis, and raspberry sorbet. Wanna take your date up a notch? Surprise your partner with a romantic gift ($1,420 each) prepared by JW Marriott. The three sets include a bouquet of fresh roses, a bottle of Champagne or wine, and more.
Flint, 5/F, JW Marriott Hotel Hong Kong, Pacific Place, 88 Queensway, Admiralty, Hong Kong, p. 2810 8366
7. Hansik Goo
Treat your significant other to a Michelin-starred meal at Hansik Goo this Valentine's Day! On the most romantic day of the year, Hansik Goo will present a five-course lunch menu ($1,288) and a seven-course dinner menu ($1,688) for your eating pleasure. Featuring a plethora of Korean delights, the menu consists of the signature Samgye Risotto and Korean Barbecue Duo. The menu also features exclusive dishes like the Fish and Doenjang Béarnaise Sauce topped with Caviar, as well as a special dessert. To finish the meal with a romantic touch, diners can take home a red rose and a card with a photo of the night.
Hansik Goo, 1/F, The Wellington, 198 Wellington Street, Central, Hong Kong, p. 2798 8768
8. The Astor, Eaton HK
The Astor at Eaton HK is introducing a new "Exotic España Italia" Buffet as well as exclusive Valentine's Day dishes. The new buffet stars Spanish and Italian cuisine with over 200 dishes to sample. For the most romantic day of the year, you and your partner can whet your appetites with Salmon Wellington; Beef Burgundy; Heart-Shaped Pizza; Red Heart Strawberry Mousse Cake; and more. Plus, The Astor will make it a night to remember with a polaroid camera to capture the moment.
The Astor, B1, Eaton HK, 380 Nathan Road, Jordan, Hong Kong, p. 2710 1901
9. CulinArt 1862
Want a romantic activity before you dig into your meal? CulinArt 1862 is presenting a five-course Valentine's Day dinner set menu ($2,588 for two) with an edible rose workshop prior. The workshop will not only be a delightful experience for you and your partner to share, it also provides some beautiful decor for your meal. The menu features Diver Scallop Carpaccio; Quail Crepinette; Boston Lobster Ravioli; Broiled Fillet of Black Cod; and Grilled Wagyu Striploin amongst others. To kick up the romance yet another notch, CulinArt 1862 will provide fresh roses for the table and a box of handmade chocolates.
CulinArt 1862, 1/F, Chinachem Leighton Plaza, 29 Leighton Road, Causeway Bay, Hong Kong, p. 2884 2603
10. Associazione Chianti
Bask in the romance and splendour of Tuscany at Associazione Chianti this Valentine's Day. Enjoy the San Valentino in Toscana menu ($788) while bathed in candlelight and the company of your loved one. The meal starts with Carne Cruda and Pecorino Al Fieno before moving on to the Pappardelle. This is followed by the star of the night – Controfiletto Con l'Osso – a 450g bone-in striploin served with a selection of sides such as Patata and Broccolini. End the night on a sweet note with the Torta Di Mele, a delicious Tuscan apple cake.
Associazione Chianti, 15 Ship Street, Wan Chai, Hong Kong, p. 3619 3360
11. Alibi – Wine Dine Be Social, Cordis, Hong Kong
Indulge in a five-course Valentine's Day Set Dinner ($699) at Alibi – Wine Dine Be Social for a romantic night with your special someone. The meal begins with Freshly Shucked Oysters with Oscetra Caviar and Purple Oxalis. Next, you have the Lobster Bisque with Cognac; Fresh Black Truffle and Forest Mushroom Orzo Pasta; Wagyu Beef Top Sirloin; and Rose Vanilla Mixed Berry Pavlova. Fancy a drink to elevate the occasion? Add on a glass of Rosé or Brut and say cheers to the night.
Alibi – Wine Dine Be Social, L5, Cordis, Hong Kong, 555 Shanghai Street, Mong Kok, Hong Kong, p. 3552 3231
And for those of you who are having dessert first…
12. The Cakery
Themed with the romantic colours of red and pink, The Cakery's 2023 Valentine's Day cake offerings include the deluxe Sweetheart Cake ($328) and the lighter Strawberry Rose Mille Feuille ($228). The former is a heart-shaped, dairy-free vanilla sponge cake; whereas the latter showcases intricate layers of vegan feuilletage. Both contain strawberry rose jam and are topped with velvety whipped ganache, making them the perfectly indulgent treat for your loved one. In addition to cake, The Cakery is also releasing a special chocolate box ($238) this year. The set includes chocolates in three different flavours: Love You So Matcha, Pistachio Lover, and Raspberry Kisses. Beautifully packaged with elegant designs of silver gingko leaves, these chocolates are great for gifting and sharing.
The Cakery's Valentine's Day collection is available from 26 January to 19 February.
The Cakery has multiple locations in Hong Kong.
13. Kiyoka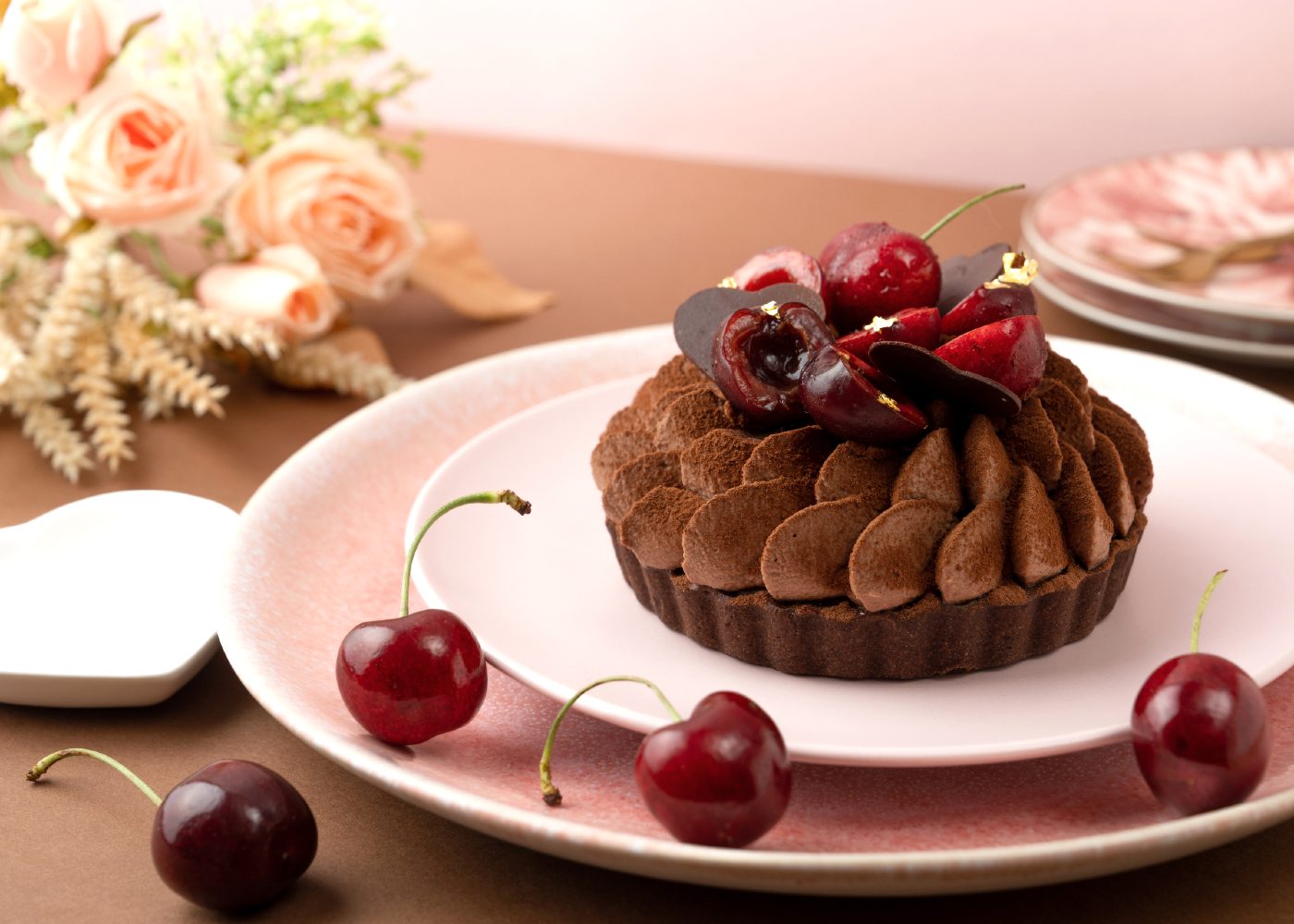 Helmed by Kyoto-born pastry chef Asuka Matsubara, Kiyoka is an elegant cake shop specialising in French patisserie inspired by Japanese style and aesthetics. Available from 8 till 28 February are its Valentine's Day specials, with the highlight being the Dark Cherry Chocolate Lava Tart (from $390). A creative take on the classic chocolate lava tart, Kiyoka's rendition is made with in-season premium dark cherries, 67% Belgian dark chocolate, dark chocolate ganache, and Cointreau chocolate whipped cream.
Pre-order online for in-store collection or visit the kiosk directly at Landmark. Note that orders must be placed at least three days prior to pick-up.
Kiyoka, CIAK – In The Kitchen, Shop 327-333, 3/F, Landmark Atrium, 15 Queen's Road Central, Central, Hong Kong, p. 5502 0228
14. Komune and Veda, Ovolo Hotels
Wondering where to take your vegetarian lover for Valentine's Day? Komune and Veda, both our go-to vegetarian restaurants in Hong Kong, have you covered with its special Stages of Love dessert ($98), available between 13 and 19 February. Inspired by the notion of love and how opposites attract, the treat features a vanilla slice, dark chocolate ice cream, caramelised almonds, raspberries, tart rhubarb, and shards of wafer-thin pastry – all harmonised by a swirl of sweet cherry jam, and altogether offering a perfect balance of sweet and sour, smooth and crisp, as well as fruity and chocolatey. The best bit? All guests will be welcomed with a glass of Champagne and a polaroid!
Komune, Ovolo Southside, 64 Wong Chuk Hang Road, Wong Chuk Hang, Hong Kong, p. 3460 8157
Veda, Ovolo Central, 2 Arbuthnot Road, Central, Hong Kong, p. 3755 3067
15. Chilli Fagara
Chilli Fagara is the place to go if you're looking to literally spice up your romance this Valentine's Day. End your fiery meals with a sweet, delicate treat that's available from 6 to 14 February. The irresistible "Dream Date" dessert ($88) is designed for two lovers and features a heart-shaped red date and coconut milk layered pudding. We can't get over how cute it looks!
Read our review of Chilli Fagara and our interview with Chilli Fagara's Chef Chan.
Chilli Fagara, 7 Old Bailey Street, Central, Hong Kong, p. 2796 6866