Toast your love on Valentine's Day at Pirata!
Looking at date night (or lunch) ideas for Valentine's Day? We have you covered! Check out these Valentine's Day menus in Hong Kong.
Valentine's Day is right around the corner. You might want to surprise your significant other by planning the perfect date night in Hong Kong, or buying them experience gifts and romantic presents that scream "I'm head over heels in love with you!" But what if they are not a big fan of gifts? Well, no one can turn down a nice meal. So, check out these Valentine's Day menus in Hong Kong and plan ahead.
Valentine's Day menus and treats in Hong Kong 2022
1. Pirata
Pirata's sky-high views of the city and hearty Italian recipes make for the perfect Valentine's date spot. The special brunch on 12 and 13 February ($398 per person) includes a selection of signature antipasti to share, such as Pirata's signature MMM, Fritto Misto and Truffle Caesar Salad. Mains feature fan favourite Butcher's Cut and King Prawns Spaghetti, while extra-indulgent dishes of Sicilian Red Prawns Risotto and Black Angus Fillet with Foie Gras sauce and winter black truffle are available exclusively on the 'Love Me Tender' menu ($590) for 14 February. To finish, sweethearts can get their fix through an intimate sharing of the restaurant's iconic dessert – Il Grande Tiramisu. Vegetarian options are also available upon request.
Check out some of our other favourite spots for brunch.
Pirata, 30/F, 29, 239 Hennessy Road, Wan Chai, Hong Kong, p. 2887 0270
2. Fireside
Turn up the heat this Valentine's Day with an indulgent flame-forged feast at Fireside. The seven-course Valentine's Day set menu ($1,988 per person) features a selection of prime meats and seafood, grilled over an open fire. Highlights include the Mediterranean sea cucumber with Arbequina olive oil and Oscietra caviar; charred Brittany red mullet with yuzu ponzu and garlic parsley oil; Blackmore strip loin with chanterelles and potato cream; and strawberry sorbet with Casa Cacao smoked chocolate cream and whipped cream.
Fireside, 5/F, H Code, The Steps, 45 Pottinger Street, Central, Hong Kong, p. 6610 8689
3. Club @28, Crowne Plaza Hong Kong Causeway Bay
In search of a romantic rendezvous for Valentine's Day? The rooftop bar-restaurant Club @28 will not let you down. Sitting at the top of Crowne Plaza Hong Kong Causeway Bay, and right next to the hotel pool, Club @28 offers gorgeous views of the city's skyline, with international delicacies to match. From 12 to 14 February, you can try the exclusive Valentine's Day menus at Club @28. For lunch is the four-course menu ($1,188 for two), whereas dinner features five courses ($2,088 for two). Both meals include a gourmet entrée of Pan-fried Foie Gras with Martini Sauce; a hearty Chicken and Mushroom Consommé; a choice of mains between an Irish Organic Salmon with Scallop, or US Prime Angus Beef Tenderloin; and a scrumptious Fondant au Chocolat to finish.
Club @28, Crowne Plaza Hong Kong Causeway Bay, 28/F, 8 Leighton Road, Causeway Bay, Hong Kong, p. 3980 3300
4. Tokio Joe
An all-time favourite at LKF, Tokio Joe is offering a Valentine's Weekend Brunch ($580 per person) on 12 and 13 February, plus an indulgent eight-course Valentine's Day menu from 12 to 15 February ($2,400 for two). The spotlight is on the buri – Japanese yellowtail – for the special brunch, and you can stuff yourselves with an unlimited supply of appetisers, followed by a choice of mains. Oh, and what is brunch without some free-flow? Opt for a free-flow package ($328 per person) to enjoy sake, wine, and beer with your meal.
As for the Valentine's Day set menu, you'll find enticing dishes such as the Appetiser Trio, featuring Shirako tempura, crab leg, and fresh Japanese oyster with ponzu sauce; spicy toro tartare; wagyu beef rolls served with spring onions and garlic chips in a butter sauce; and more. And here's a bonus: guests dining in at Tokio Joe on 13 and 14 February will receive a complimentary natural skincare gift from Evolcare (while supplies last). So, get booking!
Tokio Joe, 16 Lan Kwai Fong, Central, Hong Kong, p. 2525 1889
5. Fratelli
Everyday is Valentine's Day at Fratelli! Tuck into the restaurant's special Salmon Carpaccio ($150), made with fresh salmon, dill, capers, micro mix, and more; or, carnivores can go for the pancetta-wrapped beef striploin ($249), served with broccolini, new potatoes, and mustard cream sauce. The artisan pasta bar also offers classic pastas and Italian-style desserts. So, tuck in and enjoy the laidback seaside setting at Fratelli.
Fratelli, Shop 112B, 1/F, The Pulse, 28 Beach Road, Repulse Bay, Hong Kong, p. 2887 0082
6. La Rambla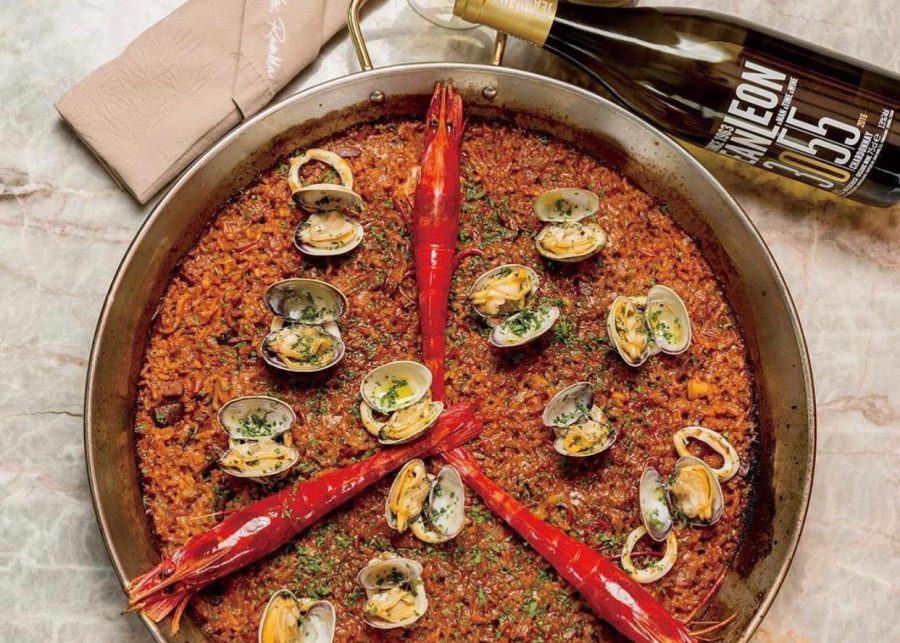 La Rambla is offering a Valentine's Day sharing menu designed for lovers ($2,400 for two). The menu starts with a classic aphrodisiac to set the mood: Duo Gillardeau French Oyster with Veuve Clicquot Rosé Strawberry Mimosa. This is followed by a selection of three tapas, such as Coppa Joselito Plater with Pa Amb Tamaquet, Alaskan King Crab Avocado Roll with Ikura Roe & Bisque Sauce, and Japanese Hokkaido Scallop Tartare with Kristal Caviar & Transparent Gazpacho. The mains are a play on La Rambla's land and sea offerings, featuring two dishes: Suquet de Peix with XL Carabineros, Lobster, Wild-caught Golden Redfish & Japanese Clams in Suquet Sauce, and Spanish 60-days Dry Aged Beef Tenderloin with Foie Gras and French Winter Black Truffle. Finally, the dessert is La Rambla's signature churros, but made in the shape of hearts, served with passion fruit sorbet and chocolate foam.
La Rambla, Shop 3071-73, Level 3, IFC Mall, Central, Hong Kong, p. 2661 1161
7. Cucina, Marco Polo Hongkong Hotel
From 12 to 14 February, Cucina at Marco Polo Hongkong Hotel will present a Valentine's Day Italian three-course set menu, 'That's Amore!' Feast (from $698 per person), for lunch and early dinner. The meal begins with a duck liver terrine, with heart-shaped raspberry gelatin, pain d'epices, and mango sauce. For mains, you can choose between a risotto with Mediterranean red prawn carpaccio, Oscietra caviar, and citrus oil; baked fillet of Tasmanian salmon with beetroot purée and seared Hokkaido scallop; and roasted wagyu beef tenderloin, spinach timbale, cherry sauce, and black truffle. Finally, wrap up with a lychee sorbet, almond and rose espuma, and lychee pearls. In addition to a glass of Henriot Brut Rosé Champagne N.V. included in the meal, you can add $360 for wine pairings, too.
Cucina, Level 6, Marco Polo Hongkong Hotel, Harbour City, Tsim Sha Tsui, Hong Kong, p. 2113 0808
8. Ciak – All Day Italian
Down for a cosy date with your crush? Visit Ciak – All Day Italian for some quality comfort food, served in a homely and vibrant setting. The Valentine's Day menu (from $338 per person) begins with a choice between the fresh burrata cheese with cherry tomato and 24 months parma ham, or porcini mushroom soup. For the mains, you can opt between the homemade fettucine with Boston lobster, Sardinian bottarga, and tomato sauce; pan-fried black cod with bell pepper puree and broccolini; or charcoal grilled M5 sirloin with roasted potato, French bean, and black truffle sauce. Finally comes the raspberry financier and strawberry mascarpone cream biscuit with yoghurt ice-cream for the ultimate satisfaction.
Ciak – All Day Italian, Shop 265, 2/F, Cityplaza Two, Taikoo Shing, Hong Kong, p. 2116 5128
9. Roganic
Prefer to spend Valentine's Day in the safety and comfort of your own home? Enjoy an intimate date with your loved one while sampling Roganic's Valentine's Day Set to Go ($2,000 per set for two), available for pick-up from the restaurant from 3:30 to 6pm on 13 and 14 February. Although this menu is for takeaway, the quality of the food will not be compromised. You'll get to sample the popular soda bread with whipped brown butter; uni custard with caviar; beef short rib, truffle creamed potato, king oyster mushroom, and black garlic; as well as other signature dishes. In addition to the six courses, a Valentine's treat is also included – get ready for a sweet surprise!
Roganic, Unit 08, UG/F, Sino Plaza, 255 Gloucester Road, Causeway Bay, Hong Kong, p. 2817 8383
And for those who are having dessert first…
10. The Peninsula Boutique, The Peninsula Hong Kong
Wondering how to express your love this Valentine's Day? The Peninsula Boutique's Valentine's Day Collection offers an array of treats and goodies that'll satisfy any lover. The personalised, heart-shaped Be My Valentine Chocolate Gift Box ($520) is ideal for those with a sweet tooth. To elevate the gift, you can add on a cuddly teddy bear, an Affectionate Bear Key Ring, a stunning bouquet, or even a pair of crystal champagne flutes. Valentine's Day in Hong Kong has never been so sweet!
The Peninsula Boutique & Café, The Peninsula Arcade, Salisbury Road, Tsim Sha Tsui, Hong Kong, p. 2696 6969
11. Nina Patisserie, Nina Hotel Tsuen Wan West
Say it with cake! The pastry team at Nina Patisserie has crafted an elegant, pink heart-shaped raspberry rose and lychee mousse cake in three different sizes (from $45). If you purchase the Chocolate Gift Box or the Macaron Gift Box, you can enjoy a 20% discount on the cake, too.
Need more cake? Check out our round-up to find the sweetest cakes in Hong Kong.
Nina Patisserie, G/F, Nina Hotel Tsuen Wan West, 8 Yeung Uk Road, Tsuen Wan, Hong Kong, p. 5330 5315
12. Chilli Fagara
Chilli Fagara is the place to go if you're looking to literally spice up your romance this Valentine's Day. End your fiery meals with a sweet, delicate treat that's available from 7 to 14 February. The irresistible Sweetheart Parcels in Osmanthus Soup ($98) features heart-shaped rice dumplings, naturally tinted with beetroot colouring. We can't get over how cute it looks!
Read our review of Chilli Fagara and check out our interview with Chilli Fagara's Chef Chan.
Chilli Fagara, 7 Old Bailey Street, Central, Hong Kong, p. 2796 6866
13. The Place Cake Shop, Cordis, Hong Kong
As Cordis, Hong Kong launches its new The Place Cake Shop, what better time to check out its festive treats than this Valentine's Day? Crafted by Pastry Chef Roy Ma and his team, the limited-edition Rose Strawberry Vanilla Mousse Cake will be perfect for lovebirds this season. Available to order from 7 to 28 February, the special cake comes in half pound ($198) or one pound ($388). It is made of a creamy vanilla mousse cake, filled with fresh strawberries and strawberry jelly, and decorated with edible rose petals and a delicate white chocolate rose.
The Place Cake Shop, Level L, Cordis, Hong Kong, Mong Kok, Hong Kong, p. 3552 3200
14. Sugarfina
Too shy to write an actual love letter? Let Sugarfina do it for you! Inspired by love letters, Sugarfina has released the Valentine's Day Candy Collection, which includes the new Love Letter Tasting Collection ($318), Perfect Match Candy Bento Box ($198), five Valentine's Day candy cubes ($88) for personalising your box, and more. We love the concept of The Love Letter Tasting Collection: simply send it to your lover for them to find 16 love letters that open to reveal a note and corresponding sweets from Sugarfina's limited-edition collection. Flavours include Chocolate Covered Cookie Dough; Winter Berry Sparkle Pops; Sugar Lips; Long-Stem Roses; Pink Diamonds; and many more.
Sugarfina has several locations across Hong Kong.
15. The Cakery
Themed with the romantic colours, red and pink, you can choose from three gorgeous petit cakes that fit different dietary needs. Mon Petit Mille Feuille is a decadent vegan lychee and raspberry mille feuille, while Mon Petit Rouge is a stunning heart-shaped chocolate cake topped with gold foil, and Mon Petit Rose is a heart-shaped, egg-free strawberry cake topped with silver foil. The sweet tooth in us can't get enough!
Read our review of The Cakery.
The Cakery has multiple locations in Hong Kong.
16. BONUS: Bake your treats at Harry's Kitchen
Baking studio Harry's Kitchen is whipping up Valentine's Day special treats that you can bake yourself. Throughout February, 'You BAKE Me Happy!' classes will be taught by expert five-star hotel confectionary chefs. The recipes focus on lower sugar levels, but this will still be a sweet surprise for your beau. Book a class to bake treats ranging from sponge cakes, marshmallows, macarons, and more – all themed in heart shapes, reds, and pinks, of course! Baking classes are also family-friendly – children over the age of three can register.
Looking to get busy in the kitchen? Read our round-up of baking classes in Hong Kong.
Harry's Kitchen, Unit B245A, K11 Musea, 18 Salisbury Road, Tsim Sha Tsui, Hong Kong, p. 5645 1365