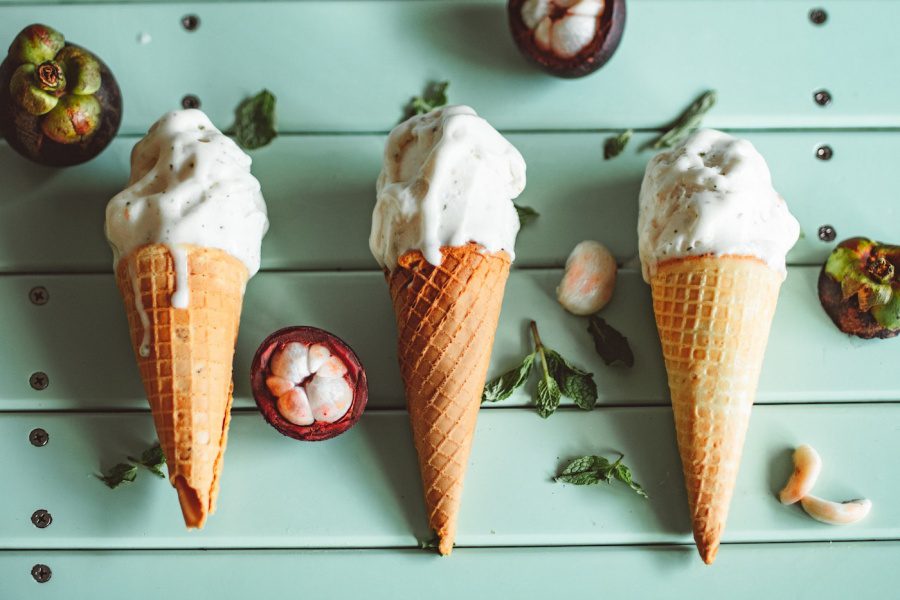 We all scream ice-cream! (Photography: @roman-odintsov via Pexels)
This town is packed with super duper scoopers, and any true ice cream addict has to add these best Hong Kong ice cream shops to their lick list
Okay, let's stop talking about eating healthy for once. Because whether it's scrumptious street food, or delectable treats from our favourite cake shops, nothing can replace ice cream when it comes to wrapping up a good meal. So, we've hit the streets to test out the parlours around town, before giving you our picks for the best Hong Kong ice cream shops. Whatever the season, here's where you should go for some sweet sorbet and gorgeous gelato. You're welcome!
Hong Kong ice-cream shops that get a thumbs up from us
1. Venchi
Founded in 1878, Silviano Venchi started making chocolates in his shop in Cuneo, Italy, at the age of 16! This world-famous chocolaterie is also one of the go-to spots for a creamy scoop (or two) of gelato. With more than 90 recipes, Venchi gelato is your daily sweet treat, celebrating traditional Italian flavours. Go big or go home with a scoop in cone covered in their seasonal sprinkles – just divine!
Venchi has multiple locations in Hong Kong.
2. Messina
Whether you're looking for a leisurely afternoon guilty pleasure, a sweet way (literally!) to start a date, or the after-dinner scoop to end the night, one cannot resist the silky texture of Messina's gelato! Open daily from 3-11pm, Messina is your sweet spot when the dessert stomach is calling. Picking from the 36 different flavours can be tough, which is why you'll be drawn to go back time to time to check new flavours! Here's a lil scoop: pistachio praline and salted caramel and white chocolate, easily fit everyone's palette. Vegan sorbets are also available, as well as exclusive Hong Kong flavours like egg tart and milk tea.
Messina, 37-43 Pottinger Street, Central, Hong Kong
3. Holly Brown
How about an ice-cream bowl that you can eat?! The biscuit cone comes shaped like a bowl, filled with creamy goodness (very photogenic too). The chocoholics will love the Oh Fudge topped with brownie bits and fudge sauce. For the Instagrammers, the Holly Starlet is a beautiful blue with sprinkles on top. For those going all out for their cheat day, try their Crazy Shakes (or share with a friend!) – it's a milkshake topped with doughnuts, gelato, sprinkles, and MORE!
Holly Brown has multiple locations in Hong Kong.
4. Happy Cow
Dairy-free ice-cream doesn't mean missing out on the fun and taste, and Happy Cow is proof! Taste popular flavours like the Golden Pillow Durian, the classic vanilla, or unconventional ginger ice-cream! Happy Cow serves a healthier alternative with less sugar, less cholesterol, and no eggs – plus it's made in Hong Kong!
Shop Happy Cow at supermarkets in Hong Kong.
5. Owl's Choux & Gelato
While Owl's Choux & Gelato has been listed on the Michelin Guide for several years in a row, its products are surprisingly affordable and, of course, absolutely delicious. This Hong Kong ice cream and coffee shop is renowned for their range of gelato, chouquettes and gelato choux. You'll be able to find classic flavours like red velvet, and unique combinations like popcorn and rocks. If you'd like to get hands-on, you can even design their own desserts at Owl's.
Owl's Choux & Gelato, Shop H, 32 Mody Road, Tsim Sha Tsui, Hong Kong, p. 2889 8227, 尖沙咀麼地道32號H舖
6. I Cremeria
The decor at this stylish joint is more fashion boutique than simple scoop shop. Combining the best Japanese flavours with an Italian flair, the dessert parlour has become Insta-famous for its use of premium ingredients and playful presentation. You'll find fresh fruit parfaits where the ice cream is served within a Japanese melon, colourful creations utilising traditional Uji matcha, and an endless selection of treats using seasonal ingredients.
I Cremeria has branches across Hong Kong.
7. Elephant Grounds
Nothing beats the unique ice cream flavours available at Elephant Grounds – think Thai iced tea, earl grey cookie (pleaseee make a comeback), and many others. Thanks to its creativity, this homegrown brand now has numerous branches across Hong Kong. While our favourite used to be the Red Velvet Oreo Smash Ice Cream Sandwich, Elephant Grounds simply releases way too many new and amazing flavours for us to pick now. So make sure you pop by from time to time to have a taste of its latest offerings!
Elephant Grounds has various branches across Hong Kong.
8. Dood Bottega Gelateria
If you're looking to #SupportLocal, look no further than Dood Bottega Gelateria. This Hong Kong ice cream shop first opened in 2018 in Wan Chai, before moving to K11 Musea in 2020. The founder, Jackson, is a self-proclaimed maniac for all things gelato, and always ensures that his gelato is second to none. Using fruits, nuts, chocolates, and other fresh ingredients, Dood Bottega's gelato is created in-house and has 14 different flavours. While there are seasonal menus, the pistachio gelato is its signature, with its generous amounts of premium Sicilian nuts in the mix. Can't pick a favourite? Opt for the Tasting Petti, which offers four mini cups for you to try a series of flavours.
Dood Bottega Gelateria, Unit 23, B201, K11 Musea, 18 Salisbury Road, Tsim Sha Tsui, Hong Kong, p. 9699 6624, 尖沙咀梳士巴利道18號K11 Musea地庫二層B201區23號店
9. Gelat Etc
Gelat Etc has been one of the neighbourhood favourites in Sai Ying Pun for a while. While this shop releases new and time-limited menus on the regular, it's always a hit and no miss. Creamy and intense, yet never artificial, Gelat Etc's ice cream is the perfect summer cooler. Just make sure to grab the seats indoors, or else you'd have to sit outside on the bench – although that shouldn't be too bad with some scrumptious scoops in hand!
Gelat Etc, 1 Sai Yuen Lane, Shop 2, G/F, Artisan House, Sai Ying Pun, Hong Kong, p. 6681 4343, 西環西營盤西源里1號瑧蓺地下2號舖
10. Gelato-Go
Founded by an Italian team in the US, Gelato-Go now has branches around the world—and there's one at your doorstep. Not only is Gelato-Go's ice cream made fresh everyday, the shop also uses imported quality ingredients, like Italian pistachios and Valrhona chocolate. More importantly, the brand uses milk that doesn't contain artificial hormones or antibiotics, so that we can enjoy healthier and more natural products. Good news for those who are lactose intolerant: Gelato-Go has a refreshing range of sorbet too!
Gelato-Go, G/F, The Nate, 176 Nathan Road, Tsim Sha Tsui, p. 2383 9118, 尖沙咀彌敦道176號The Nate地舖
11. Via Tokyo
Of course we have Via Tokyo on the list. Serving traditional Japanese soft serves, desserts, and coffee, Via Tokyo has been many Hongkongers' go-to for quality ice cream. Other than the signature Uji matcha and Hokkaido milk soft serve ice creams, the brand also offers seasonal menus, as well as roll cakes, cheesecakes, pastries, and more.
Via Tokyo has various locations in Hong Kong.
12. ISEE iSEE
Find fruit and milk-based ice pops that are made from quality and natural ingredients at ISEE iSEE. No two individual ice pops are the same, as the brand only make small batches that are sourced from seasonal fresh fruits. We also think it's amazing that there are no added preservatives or colouring in these sweet treats, making them a star on our best Hong Kong ice cream list!
ISEE iSEE, Shop MC04, Avenue of Stars, Tsim Sha Tsui Promenade, Tsim Sha Tsui, Hong Kong, 尖沙嘴海旁海濱花園星光大道MC04號舖
13. Smile Yogurt
Yes, we know it's not technically ice cream… But Smile Yogurt offers some of the best show-stopping desserts in Hong Kong. This frozen yogurt swirl concoction is served in a range of flavours from green tea, mango, strawberry, chocolate and loads more. Get your camera and your spoons ready!
Smile Yogurt has branches across Hong Kong.
Lab Made (CLOSED)
Lab Made serves freshly made ice-cream using liquid nitrogen. It uses a rapid freezing procedure to eliminate chemicals and additives from ice crystals that form during production, making the texture smoother and the taste much creamier. The variety of flavours are mostly influenced by foods that founder, Ronnie Cheng, grew up with and many of us locals can identify with too, like Purple Rice (which will remind you of tong shui) and the Sea Salt Milk Caramel Crunch, which is just super indulgent.
Read all about the vegan options at Lab Made.
Lab Made, 6 Brown Street, Tai Hang, Causeway Bay, Hong Kong, p. 9355 4476, 大坑布朗街6號地下
Oddies (CLOSED)
Oddies has gained a reputation as the spot for any ice cream connoisseur, especially if you're craving the classic HK-style egg waffle and soft serve combination. Just like how its interiors are filled with accent pop-art pieces, the homemade ice-creams are also given an artisanal touch. Fresh new batches are only made when the previous one runs out, and each and every flavour is homemade, giving all scoops flavour and character. But you've got to bookmark this spot for The Mob which features black sesame mocha eggettes, apple yuzu jelly, homemade matcha ice cream, and awesome wafer chunks making it the trendiest ice cream in town.
Oddies, 45 Gough Street, Central, Hong Kong, p. 2750 2111, 中環歌賦街45號地舖
Emack & Bolio's (CLOSED)
There are a number of reasons for our Emack & Bolio's obsession. Funky cones? Check. Countless flavours? Check. Quirky edible toppings? Check. Our fix was the Triple-scoop Fruit Loops Cone with a scoop of deep purple cow and space cake. We got ours dipped in chocolate, and covered in rainbow sprinkles. This Hong Kong ice-cream store definitely speaks for itself. Every corner of this parlour is Instagram-worthy, so make sure you pop by in your cutest outfit just in case you might want to snap that #OOTD, honey!
Emack & Bolio's has multiple locations across Hong Kong.