We can't pick which dish we'd dig into first! (Photography: FUMI via Facebook)
From beautifully crafted sushi to izakaya comfort food, these Japanese restaurants in Hong Kong will transport you to the streets of Shibuya
The city is a culinary heaven with all sorts of international cuisine, from Italian restaurants to halal restaurants. It's no surprise that one of Hong Kongers' favourites is Japanese cuisine, even some of the signature Hong Kong snacks are imported from Japan! If you're on the lookout for a good warm bowl of ramen – from authentic to fusion – or Tokyo-inspired sashimi platters, then these Japanese restaurants in Hong Kong are the best spots to get a taste of Nippon.
Japanese restaurants in Hong Kong that we love
1. FUMI
This modern Japanese eatery, located in the buzzy district of Lan Kwai Fong, offers affordable fine dining and an array of classic favourites. We definitely think their week dinner menu is a steal – for $398, enjoy a five-course meal starting with steamed duck breast and ending with Hokkaido milk pudding. For weekend visitors, don't miss their Hokkaido King Crab Brunch to taste the signature dishes at FUMI, worth every buck!
FUMI, 32 D'Aguilar Street, Central, Hong Kong, p. 23283302
2. Tokio Joe
Running for over two decades in Hong Kong, Tokio Joe is an all-time favourite spot for fresh bites of sushi, sashimi, and more! The laid-back ambiance of the restaurant matches the comfort food they bring to the table. Joe's signature lunch set features some of the resto's favourites; tuna salad, shrimp tempura, kelp-grilled sea bass, and A5 saga beef inaniwa udon. Don't forget to try their Insta-worthy cocktails and sakes!
Tokio Joe, G/F, 16 Lan Kwai Fong, Central, Hong Kong, p. 2525 1889
3. Crown Super Deluxe
Combinging the luxury of a Kobe teppanyaki with a dash of Rocky Aoki's American dream is Crown Super Deluxe. The best way to experience this lavish teppanyaki affair is to choose from the omakase menus – each one named Crown, Super, and Deluxe (and that's where the resto gets its name!). The a-la-carte teppanyaki features US prime sirloin, Australian Wagyu, and A5 Kagoshima Wagyu (which are included in the omakase). And trust Crown Super Deluxe to deliver the best of Japanese and American whisky!
Crown Super Deluxe, M/F, LKF Tower, 33 Wyndham Street, Central, Hong Kong, p. 2111 8434
4. Tonkichi
When it comes to Japanese fried cutlets, Tonikichi never disappoints. From fried oysters to Kobe beef and prawns, Tonkichi makes delectable cutlets with the finest ingredients. Their set comes with Japanese rice, sides, miso soup as well as unlimited cabbage. Enjoy some fresh sashimi to switch up the flavour and you will walk away with a satisfied belly.
Tonkichi has several locations in Hong Kong
5. Wagyumafia
Wagyumafia presents arguably the best yakiniku experience in the world. While a lot of people are used to the gentle staff at Japanese restaurants, Wagyumafia channels mafia-boss attitude with their wild customer service. As they serve you your Wagyu-sando or Wagyu Gyoza, expect your server to yell at you with a scary look. Of course, the staff are just acting wild, but they will surely entertain all your requests to give you the best experience.
Wagyumafia, 32 Oi Kwan Road, Morrison Hill, Wan Chai, Hong Kong, p. 2608 0677
6. Zuma
World-famous contemporary izakaya Zuma cannot be excluded from this list. From the finest Japanese sake to the freshest sashimi and juiciest skewers, an array of luxurious food is served at Zuma. Located in the heart of central, Zuma has a beautiful terrace where you can indulge in post-work tipples with your friends and colleagues.
Zuma, Level 5 & 6, Landmark, 15 Queen's Road Central, Hong Kong, p. 3657 6388
7. Coco Ichibanya
If you love Japanese-style curry, Coco Ichibanya is the place to be. Established in 1978 in Japan, Coco Ichibanya has always been loved for their heart-warming dishes like Pork Cutlet Curry Rice, beef stew omelet rice, baked prawn curry rice and assorted vegetables curry rice. We love the fact that you can adjust the spiciness as well as the amount of rice. The soup that comes with the combo is very delicious as well.
Coco Ichibanya has several locations in Hong Kong
8. Ronin
There's a certain level of Japanese restaurants in Hong Kong that come at a higher price. In our findings, this is one of the only ones worth the extra expense. For years, they've maintained their cool status while serving up some amazing plates. We trust them with whatever is on the daily menu and whichever of their many alcohols they recommend to pair. Basically, we trust them to be the very best.
Ronin, 8 On Wo Lane, G/F, Sheung Wan, Hong Kong, p. 2547 5263, 上環安和里8號
9. Sen-ryo
A chain sushi restaurant in Hong Kong, Sen-ryo serves premium sushi at an affordable price. Hokkaido Bafun uni, premium fatty tuna, jumbo scallop… Dig into all the luxurious seafood served with delicious Japanese sushi rice. Other than standard sushi, we also love Senryo's grilled yuzu-kosho sushi and sashimi platter. Creative dishes like seared wagyu with sakura shrimp roll as well as foie gras wagyu sushi are available too!
Sen-ryo has several locations in Hong Kong

10. Uogashi Sushi
This hidden gem off Tai Ping Shan gives you a good sushi/sashimi set with a wide range of price points. The sushi chef is the mama san you want serving up your dinner. This place compares to the level of sushi seen at the aforementioned high cost joints but comes at valuable prices.
Uogashi Sushi, 32 Tai Ping Shan St, Sheung Wan, Hong Kong, p. 2896 6336, 上環太平山街32號地下A號舖
11. Shiro
With locations in Pacific Place and Quarry Bay, Shiro makes picture-perfect sushi with an array of fusion ingredients. Serving contemporary Japanese cuisine like the crystal collection, Shiro utilises caviar, yuzu and many other delicacies to create a unique flavour and sensation. What's more, Shiro has a cute children's menu to keep the small ones entertained.
Shiro has locations in Admiralty and Quarry Bay
12. Rakuen
Arguably the best from the EN group, Rakuen has some insanely delicious Okinawa snacks alongside a varied menu of Japanese fare. Think Jewel Leaves with the perfect layers of water, the always-loved sea grapes, and taco rice! The taco rice had us back many times. The daily sashimi set is always a fresh option to pair with many other snacks on the menu.
Check out where to eat when you're actually there with our guide to Okinawa.
Rakuen, 12/F, 28 Tung Lung Street, Causeway Bay, Hong Kong, p. 3580 8858, 銅鑼灣登龍街28號永光中心12樓
13. To Autumn
If you're in Tuen Mun, you need to head over to To Autumn and enjoy some really authentic Japanese izakaya fare. Run by a Japanese F&B owner, the interior design will have you salivating before you tuck into delightful eel pot rice, skewers and oysters delivered daily from Hiroshima–so good! Between the design references to Hong Kong movie Flirting Scholar by Steven Chow and the banging food, it's easy to understand why this is one of our favourite Japanese restaurants in Hong Kong.
Learn more about To Autumn and why we love it.
To Autumn, Shop 26-27, G/F, Hong King Garden, 38 Tsing Sin Street, Tuen Mun, Hong Kong, p. 2362 6883, 屯門青善街38號康景花園地下26-27號舖
14. Zagin Soba
【拉麵 - 湯切り 】日本拉麵店開放式的廚房總會讓人目不暇給特別是師傅甩麵的技術!為了不讓煮麵的開水混雜到湯裡所以將多餘的水份瀝乾以免將開水煮混到湯裡也是一門學問!來品嚐一下你會知道座銀Soba的師傅對每一個步驟都非常執著!跑馬地座銀Soba店地址: 跑馬地景光街13A地鋪電話:2818 0322

Posted by Zagin Soba 座銀 on Saturday, May 26, 2018
Zagin officially has cult status in Hong Kong. Starting years ago in Happy Valley and now with a Gough Street location, the wonderfully strange chicken base soup ramen is love at first bite and haunts you weekly thereafter. Pricier than most ramen spots but once you try it, you'll understand.
Zagin Soba, Happy Valley, 13A King Kwong Street, Happy Valley, Hong Kong, p. 2818 0322, 跑馬地景光街13號A
15. Fukuro
The sparkling Izakaya concept from Black Sheep is one of the hardest tables to get in Hong Kong. We cannot stress this enough: the Yaki Udon with Snow Crab & Crab Miso is a must-have. The cools vibes and cocktails put this place on the coveted list of restaurants to dine for hours amongst good company.
Read our full review on all the good food on Fukuro.
Fukuro, 1-5 Elgin Street, SoHo, Central, Hong Kong, 中環蘇豪伊利近街1-5號
16. Yardbird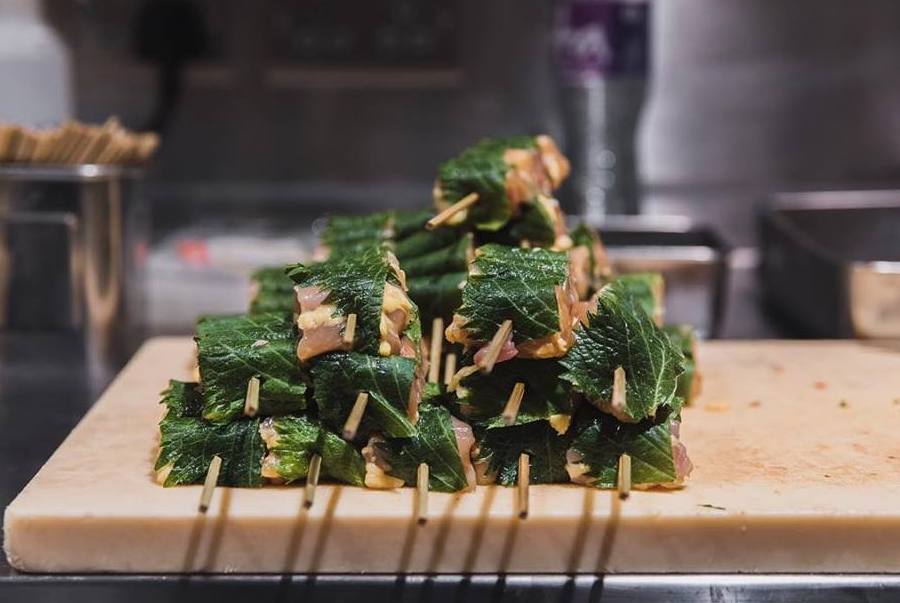 One of the shining stars of Hong Kong, no Japanese restaurant list is complete without this famed yakitori spot. For years, this spot was on everybody's go-to list and for good reason. From the signature dishes to new twist on yakitori classics, it's a solid place to drink with friends over an endless dinner.
Yardbird, 154-158 Wing Lok Street, Sheung Wan, Hong Kong, p. 2547 9273, 上環永樂街154-158號
Tiger Room (NOW CLOSED)
Buzz Concepts has unleashed the newest concept from the Tiger Curry group – a hip Izakaya on Gough Street. The menu has all the solid selections there, from the skewer options of land, and the fresh-from-the-sea situations, to the hefty plates of curry, udon, and more. Eyes on the lunch sets here for those working in the area. Cheers to a another chill spot on Gough!
Read exactly why we love Tiger Room.
Tiger Room, 24 Gough Street, Central, Hong Kong, p. 2110 1163, 上環歌賦街24號地舖
Ozawa (NOW CLOSED)
We aren't supposed to tell you about this one but it one of the best lunch deals in SoHo. Right on Graham behind G.O.D., this old mainstay offers a set lunch – 3 choices for $115. Quality options, good fish, you can't do wrong with this one for lunch.
Ozawa, Shop C, G/F, 49 Graham Street, Soho, Central, Hong Kong, p. 2526 4828, 中環蘇豪嘉咸街49號地下C號舖