Get a slice of the authentic 852 in the buzzing street food scene
Fish balls, egg tarts, roast goose and pork buns are all on this list of our 20 favourite Hong Kong street food dishes to try in Hong Kong.
Hong Kong has some of the best food in the world. Period. From exquisite dim sum to Cantonese desserts and local Hong Kong snacks, we can't get enough of the deliciousness available in the city. And any foodies in the city should keep an eye out for these local faves. Here's our list of the top Cantonese street food in Hong Kong.
Where to eat the tastiest street food in Hong Kong
1. Cheong fun
When it comes to street food in Hong Kong, this is the perfect dish for beginners. You can find cheong fun at many street food vendors, and they are especially popular as a breakfast treat. The rice noodle rolls are a savoury snack, that are doused in sweet sauce, peanut sauce, soy sauce, and chilli sauce before being covered with sesame seeds. Steamed and served hot on the street, they are soft, chewy, and easy to eat and share with your friends – just be sure to claim your share!
Hop Yik Tai, G/F, 121 Kweilin Street, Sham Shui Po, Hong Kong, p. 2720 0239, 深水埗桂林街121號地舖合益泰小食
2. Egg tarts
These custard tarts, also known as dan tat, allegedly found their way to Hong Kong through Macau back in the 1940s. An iconic sweet treat that's available at dim sum restaurants and bakeries, egg tarts consist of an outer layer of pastry and an egg custard filling. Though they vary from place to place, the most common type of egg tart has a flaky puff pastry crust, and they are best eaten fresh out of the oven.
With an egg tart practically in every shop window, we thought we'd give you a bit of help on where to find the best egg tarts in Hong Kong. Thank us later! 😉
Tai Cheong Bakery (泰昌餅家) has multiple branches across Hong Kong.
3. Tea eggs
Boiled in herbal tea or Chinese herbal medicine, tea eggs are one of the most popular street food items in the city. These dark brown marbled eggs make a satisfying snack during freezing winter months as they're boiling hot and incredibly filling. Its savouriness resembles the taste of herbs and soy sauce. Sold by street food vendors and herbal tea shops around the city, you've got to try this street food in Hong Kong!
Read more about the different types of eggs cuisine in Hong Kong.
Kung Wo Tong (恭和堂) has several branches across Hong Kong.
4. Mango pomelo sago
While not technically street food, sago or tapioca desserts originate from Southeast Asia and are favourites in Hong Kong, and the chilled, creamy, soup-like sago cream with mango is especially popular. Mango pomelo sago originated in 1984, and was the creation of Wong Wing-chee, the Head Chef of Lei Garden at the time. Since then, this dessert has been adapted by restaurants and dessert shops across the city, even garnering much popularity in Taiwan, Singapore, and other regions.
Kai Kai Dessert, G/F, 29 Ning Po Street, Jordan, Hong Kong, p. 2384 3862, 佐敦寧波街29號地舖佳佳甜品
5. Siu mai
Siu mai is a savoury dim sum snack traditionally made from ground pork, Chinese black mushroom, and pastry. However, you can find on the street a modern evolution of the popular yum cha delight, which are typically made from flour dough or ground fish meat. Splash some soy sauce or chilli sauce liberally over the top and eat away. If you're a true fan of siu mai, make sure you join the online siu mai community group – yes, there's one!
Looking for more tasty dim sum? Check out our ultimate dim sum guide.
Kam Wah, Shop 1, G/F, Campion Court, Cheung Wah Street, Sham Shui Po, Hong Kong, p. 6711 6062, 深水埗昌華街20號金華閣地下1號舖金華美食
6. Typhoon shelter crab
This style of crab takes its name from Hong Kong's historic typhoon shelters, which used to be where fishing boats would seek refuge during typhoons. The cuisine came about in the 1940s, when fishermen from various countries, such as Thailand, Malaysia, Vietnam, and the Philippines, congregated at the shelters, and a mixture of their cooking cultures created what is now known as "typhoon shelter cooking". The dishes are characterised by their strong flavours and spiciness, using ingredients such as garlic, hot peppers, and lemongrass.
Greenland Spicy Crab, Shop A, 1/F, Astoria Building, 24-38 Ashley Road, Tsim Sha Tsui, Hong Kong, p. 2628 9888, 尖沙咀亞士厘道24-38號天星大廈1樓A號舖翠林辣蟹舫
7. Bubble tea
Though bubble tea may have originated in Taiwan, it has become a staple street drink for locals, and you can find many school students in the late afternoon, or office workers during their lunch break, purchasing the classic milk tea with black tapioca pearls. There are plenty of flavours to choose from including taro, sweet potato, green tea and more.
Whether you need a refreshing drink in the day or evening, there's no wrong time to have bubble tea, but with so many stores, which is the best? We feel you, it's a bubble tea showdown! Here's our guide to the best bubble tea in Hong Kong.
TenRen's Tea (天仁茗茶) has various branches across Hong Kong.
8. Pantyhose milk tea
What's so special about tea with milk? The English have been drinking it for centuries, and as a former British colony, Hong Kong has adopted the tradition but with a twist. Instead of regular milk, evaporated milk is used, which gives the tea its creaminess. A cloth sack that resembles pantyhose is then used to filter the tea leaves to make it extra smooth, so the term "pantyhose milk tea" came about to describe the Hong Kong-style drink. This tea, which comes hot or iced, is available at almost any low- to mid-range restaurant or dai pai dong (open-air food stall).
Not a fan of milk? Have just the tea – and excellent ones at that – at these Hong Kong tea houses.
Lan Fong Yuen, 2 Gage Street, Central, Hong Kong, p. 2544 3895, 中環結志街2號蘭芳園
9. Imitation shark fin soup
This soup is a shark-friendly and more affordable alternative to eating traditional shark fin soup. Typically eaten with red vinegar, imitation shark fin soup is a great option for those who want to escape the winter months with something hot and filling. Contrary to its appearance, this savoury broth is not heavy on the stomach, and it often contains a good range of ingredients, like vermicelli, mushrooms, ginger, shrimp, and ginger root.
Tung Tat Food Shop (通達食店) has locations in Mong Kok and Yau Ma Tei.
10. Roast goose
The taste of the oils running out of the skin of a roasted goose might be the highlight of your trip to Hong Kong. The popular dish – consumed by locals regularly for lunch or dinner – is created by roasting a goose at high temperatures in a charcoal furnace. If you want to try this delicacy, head to the internationally famous Yung Kee Restaurant. Its roast goose is cooked perfectly with crispy skin and juicy meat. To achieve consistency and utmost excellence in their famous dish, the restaurant is choosey about their geese and only uses birds of a specific weight (three pounds).
Yung Kee Restaurant, 32-40 Wellington Street, Central, Hong Kong, p. 2522 1624, 中環威靈頓街32-40號鏞記酒家
11. Curry fishballs
When a Hong Kong native goes overseas and gets homesick, these are what they think about. While neither fishballs nor curry originated in Hong Kong, the combination is a specialty in the city. Sliding each one off a wooden skewer, you will find that they are chewy, often fried on the outside and doesn't really taste like fish… But trust us, they're delish and the curry sauce – if well made – is the cherry on top.
Lam Cheong Kee: Lam Gor, Shop 108A, 1/F, New East Ocean Centre, 9 Science Museum Road, Tsim Sha Tsui, Hong Kong, p. 3622 1997, 尖沙咀科學館道9號新東海商業中心1樓108A號舖林昌記·藍哥
12. Cart noodles
The word "cart" explains these noodles' original sale method – out of a push cart and hawked for cheap to immigrants in the 1950s. These days, the way it works is that the customer "builds" their own soup noodles by selecting the type of noodles and the toppings they want to include. There might be anywhere from 20 to 30 toppings to choose from, including beef brisket, fried tofu, pig intestines, fish balls, vegetables, and more. The price goes up by the number of toppings – three toppings is about standard.
Man Kee Cart Noodle, G/F, 121 Fuk Wing Street, Sham Shui Po, Hong Kong, p. 9059 5104, 深水埗福榮街121號地舖文記車仔麵
13. Hong Kong-style French toast
The city took the Western breakfast favourite of French toast and added more grease and sugar to create a snack so low in nutrition and high in calories that it might be the Hong Kong version of an American doughnut. To make Hong Kong-style French toast, peanut butter or other sweet fillings are spread between two slices of bread. The sandwich is then dipped in an egg batter and deep-fried in a vat of oil. Golden and crisp toast emerges, which is then served with butter and syrup. While this snack is available at many cha chaan teng cafes and restaurants, we recommend heading to Shui Kee Coffee in the Sheung Wan Cooked Food Centre. Believe us – it's well worth the find!
If you like French toast Hong Kong-style, be sure to check out all the other ways local Hong Kongers start their day. Find out more about traditional breakfasts in Hong Kong.
Shui Kee Coffee, Shop 17, Cooked Food Centre, 2/F, Sheung Wan Municipal Services Building and Civic Centre, 345 Queen's Road Central, Sheung Wan, Hong Kong, 上環皇后大道中345號上環市政大廈2樓熟食中心17號舖瑞記咖啡
14. Boat congee
Plain congee, the ultimate comfort food for Hongkongers, is hardly different from watered-down rice (thus often prepared for people who are unwell), but many order it with added ingredients, ranging from pig's skin to fish belly. Boat congee, consisting of peanuts, fish, and other seafood, was created by Hong Kong fishermen and sold in fishing villages, often converting their small boats into floating restaurants. Other dishes are ordered to go along with congee for breakfast, especially deep-fried dough sticks, which are specifically for complementing congee. Most Chinese restaurants serve congee around breakfast time, but some small eateries that specialise in it serve it all day, such as Mui Kee Congee.
Mui Kee Congee, Shop 11-12, Cooked Food Centre, 3/F, Fa Yuen Street Municipal Services Building, 123A Fa Yuen Street, Mong Kok, Hong Kong, p. 2789 0198, 旺角花園街123A號花園街市政大廈3樓熟食中心11-12號舖妹記生滾粥品
15. Roast pork bun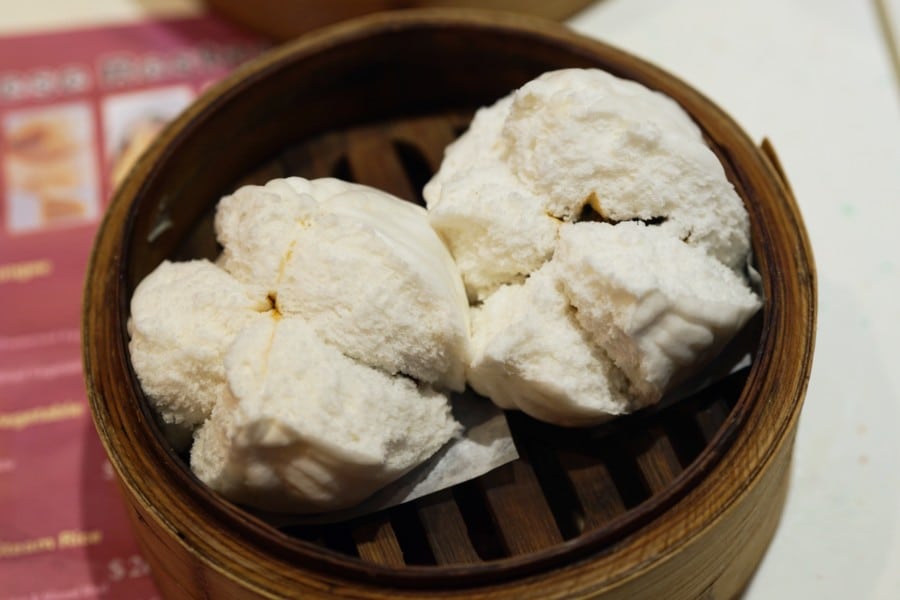 Steamed cha siu bao, the perennial favourite of locals and foreigners alike, can be found any dim sum restaurant in town, making it one of most popular street foods in Hong Kong. Since the city is known for its roasted items, having roasted pork with sweet barbecue sauce inside a fluffy white bun has got to be one of the most typical of Hong Kong foods, so you definitely won't want to go home without having tried it. Just remember to remove the square sheet of paper on the bottom of the bun before digging in!
Lin Heung Kui, 2-3/F, 46-50 Des Voeux Road West, Sheung Wan, Hong Kong, p. 2156 9328, 上環德輔道西46-50號2-3樓蓮香居
16. Egg waffle
If you've never tried egg waffles in Hong Kong, you've missed out the essence of the local street food scene. An egg waffle is just like a regular waffle, but portioned into many balls instead of grids. Crunchy on the outside and soft on the inside, egg waffles come in a variety of flavours, ranging from savoury like salted seaweed and pork floss, to sweet like mocha and purple yam. Fancy some cool toppings? Ask for a drizzle of chocolate or condensed milk.
Mammy Pancake has multiple branches in Hong Kong.
17. Beef entrails with radish
Containing a range of beef parts such as tripe, pancreas, intestine, spleen and lungs, the ingredients in this Cantonese street food are all simmered for hours before being served. With tender brisket and juicy tendons, the variation in texture will blow your mind. If this feels a little too adventurous for you, have the diced radish for some refreshing fibres.
Shui Kee, 2 Gutzlaff Street, Central, Hong Kong, p. 2541 9769, 中環吉士笠街2號牌檔水記
18. Roasted chestnuts
During winter in Hong Kong there's always the unmistakable aroma of roasted chestnuts in the air. First the vendor puts sand in a huge wok, and then heats the sand to a high temperature until it turns black from accumulated soot. Chestnuts are then buried in the hot sand and occasionally turned with a spatula. A comfort food for many Hongkongers during childhood, roasted chestnuts are now increasingly rare in Hong Kong. So, make sure you try them before it's too late!
Street stalls selling roasted chestnuts can be found outside various MTR stations across Hong Kong during winter, such as Exit G1 of Kowloon Tong Station.
19. Stinky tofu
Don't judge a food by its smell! Stinky tofu may smell foul (some people even compare its odour to that of rotten garbage), but trust us when we say it's delicious. In fact, stinky tofu was immensely popular after it was accidentally discovered by scholar Wang Zhihe; it was even elevated to become an imperial delicacy, fit for the Qing royalty. In Hong Kong, stinky tofu is typically served with hoisin sauce, but it can also be accompanied by chilli sauce, soy sauce, and other condiments.
Delicious Food, Shop 10, G/F, 30-32 Nullah Road, Prince Edward, Hong Kong, p. 2142 7468, 太子水渠道30-32號A美星樓地下10號舖美味食店
20. Orange Cuttlefish
Also known as soy-braised cuttlefish, this street food is hard to miss with its fluorescent orange shade. Why is it orange? According to Dr Siu Yan-ho, a professor that specialises in the study of food and culture of Hong Kong, soy-braised street food items are dyed orange to increase its visual appeal and to mask its freshness (or rather, the lack thereof). That said, the food colouring doesn't affect the flavour of the cuttlefish itself, so the essence of soy-braised street food still lies in its master stock (the broth used for marinating). Also, don't forget the sweet sauce and mustard, and make sure to enjoy it cold.
Fat Boy, Shop G1, G/F, Workingport Commercial Building, 3 Hau Fook Street, Tsim Sha Tsui, Hong Kong, p. 6255 3872, 尖沙咀厚福街3號華博商業大厦G1地舖第三代肥仔小食店