Cheong Fun are steam rice noodle rolls that are easy to share and eat
Fish balls, egg tarts, roast goose and pork buns all make it to our list of fifteen favourite Hong Kong street food dishes to try in Hong Kong
Hong Kong has some of the best food in the world. Period. From the best dim sum to Cantonese desserts and local Hong Kong snacks, we can't get enough of the deliciousness available in the city. And any foodies in the city should keep an eye out for these local faves. Here's our list of the top Cantonese street food in Hong Kong.
Where to eat the tastiest street food in Hong Kong
1. Cheong Fun
When it comes to street food in Hong Kong, this is the perfect dish for beginners. You can find Cheong Fun at many street food vendors, and they are especially popular as a breakfast treat. The rice noodle rolls are a savoury snack, that are doused in sweet sauce, peanut sauce, soy sauce and chili sauce before being covered with sesame seeds. Cheong Fun is steamed and served hot on the street. They are soft, chewy and easy to eat and share with your friends, just be sure to claim your share!
Tung Tat Food Shop, G/F, 172 Fa Yuen Street, Mong Kok, Kowloon, Hong Kong, p. 2392 3043, 旺角花園街172號地下
2. Egg tarts
These custard tarts, also known as dan tat, are thought to have found their way to Hong Kong through Macau back in the 1940s. An iconic sweet treat, egg tarts consist of an outer layer of pastry and an egg custard filling and are available at dim sum restaurants and bakeries. Though they vary from place to place, the most common type of the dessert has a flaky puff pastry crust, and they are best eaten fresh out of the oven.
With an egg tart practically in every shop window, we thought we'd give you a bit of help on where to find the best egg tarts in Hong Kong.
Tai Cheong Bakery, 35 Lyndhurst Terrace, Central, Hong Kong, p. 8300 8301,中環擺花街35號地下
3. Tea Eggs
Tea eggs are eggs boiled in herbal tea or Chinese herbal medicine and they are one of the most popular street food snacks in the city. The dark brown marbled eggs are a great snack during freezing winter months and are incredibly filling. The savoury flavour resembles a soy sauce herb taste and is popular among street food vendors and herbal tea shops all around the city. You've got to try this street food in Hong Kong!
Read more about the different types of Hong Kong eggs cuisine.
Ten Ren Tea, Shop No. 4, G / F, 18-24 Fa Yuen Street, Mong Kok, Kowloon, Hong Kong, p. 2602 6098, 旺角花園街18-24號地下4號舖
4. Mango and pomelo sago
While not technically street food, sago or tapioca desserts originate from Southeast Asia and are favourites in Hong Kong, and the chilled, creamy, soup-like sago cream with mango is especially popular. Several years ago, the chef at Island Shangri-La's Chinese restaurant Shang Palace created the brilliant sago cream with mango juice and pomelo pieces (Chinese grapefruit), which has since been copied by restaurants throughout the city. Hui Lau Shan, a Hong Kong dessert haven with many locations, serves a version of this and other sago desserts and is a great place to stop for a snack while navigating the city.
Hui Lau Shan, 2/F, Shun Tak Centre, 168-200 Connaught Road, Central, Hong Kong, p. 25171138, 上環干諾道中168-200號信德中心2樓202號舖
5. Shu Mai
Shu Mai are a savoury dim sum snack traditionally made from ground pork, Chinese black mushroom and pastry. However, you can find on the street a modern evolution of the popular Yum Cha delight, which are typically made from flour dough or ground fish meat. Splash some soy sauce or chili sauce liberally over the top and eat away.  Shu Mai are the ultimate in quintessential street food in Hong Kong.
Looking for more tasty dim sum? Check out ultimate dim sum guide.
Tung Tat Food Shop, G/F, 172 Fa Yuen Street, Mong Kok, Kowloon, Hong Kong, p. 2392 3043, 旺角花園街172號地下
6. Typhoon-shelter crab
This style of crab takes its name from Hong Kong's historic typhoon shelters, which used to serve as shelters for fishing boats during typhoons. The cuisine came about in the 1940s, when fishermen from various countries, such as Thailand, Malaysia, Vietnam and the Philippines, congregated at the shelters, and a mixture of their cooking cultures created what is now known as "typhoon shelter cooking". The dishes are characterised by their strong flavours and spiciness, using ingredients such as garlic, hot peppers and lemongrass. Best enjoyed in groups so that you can sample more selections from the menu, Hee Kee is especially known for its typhoon-shelter crab.
Hee Kee Fried Crab Expert, Shop 1-4, G/F, 379 Jaffe Road, Wan Chai, Hong Kong p. 2893 7565, 香港灣仔謝斐道379-389號地下1-4舖
7. Bubble Tea
Though bubble tea may have originated in Taiwan, it has become a staple street drink for locals, and you can find many school students in the late afternoon, or office workers during their lunch break, purchasing the classic milk tea with black tapioca pearls. There are plenty of flavours to choose from including taro, sweet potato, green tea and more.
Whether you need a refreshing drink in the day or evening, there's no wrong time to have bubble tea, but with so many stores, which is the best? We feel you, it's a bubble tea showdown! Here's our guide to the best bubble tea in Hong Kong.
Ten Ren Tea, Shop No. 4, G/F, 18-24 Fa Yuen Street, Mong Kok, Kowloon, Hong Kong, p. 2602 6098, 旺角花園街18-24號地下4號舖
8. Pantyhose milk tea
What's so special about tea with milk? The English have been drinking it for centuries, and as a former British colony, Hong Kong has adopted the tradition but with added twists. Instead of regular milk, evaporated milk is used, which gives the tea its creaminess.
A cloth sack that resembles pantyhose is used to filter the tea leaves to make it extra smooth, so the term "pantyhose milk tea" came about to describe the Hong Kong-style drink. This tea, which comes hot or iced, is available at almost any low- to mid-range restaurant or dai pai dong (open-air food stall). One renowned dai pai dong, Lan Fong Yuen, is famous for its smooth milk tea.
Have you tried the tea at these Hong Kong tea houses?
Lan Fong Yuen, 2 Gage Street, Central, Hong Kong, p. 2544 3895, 中環結志街2號
9. Faux Shark Fin Soup
This soup is a shark-friendly, more affordable, alternative to eating traditional Shark Fin Soup. It is typically eaten with red vinegar, and is a great option for those who want to escape the winter months with something hot and filling. Contrary to its appearance, the savoury soup is not heavy but incredibly light, and often contains a range of ingredients like mushrooms, ginger, shrimp and ginger root.
Tung Tat Food Shop, G/F, 172 Fa Yuen Street, Mong Kok, Kowloon, Hong Kong, p. 2392 3043, 旺角花園街172號地下
10. Roast goose
The taste of the oils running out of the skin of a roasted goose might be the highlight of your trip to Hong Kong. The popular dish – consumed by locals regularly for lunch or dinner – is created by roasting a goose at high temperatures in a charcoal furnace. For the best of the best, Yung Kee Restaurant is legendary on an international level for its roast goose, cooked perfectly with crispy skin and juicy meat. To achieve consistency and utmost excellence in their famous dish, the restaurant is choosey about their geese and only uses birds of a specific weight (three pounds).
Yung Kee, 32-40 Wellington Street, Central, Hong Kong, p. 2522 1624, 中環威靈頓街32-40號
11. Curry fish balls
When a Hong Kong native goes overseas and gets homesick, these are what they think about. Curry fish balls are sold from carts on the street and are one of the most popular street food snacks in the region. While neither fish balls nor curry originated in Hong Kong, the combination is a specialty in the city. Sliding each one off a wooden skewer, you will find that they are rubbery, often fried on the outside and hardly have any real fish taste. Around the streets corners of Causeway Bay, you'll spot Brother Ja, the perfect spot to try them out. Definitely the most iconic street food in Hong Kong.
Brother Ja, Shop B, G/F, Jardine's Bazaar, Causeway Bay, Hong Kong, 銅鑼灣渣甸街30號B鋪地下
12. Cart noodles
The word "cart" explains these noodles' original sale method – out of a push cart and hawked for cheap to poor immigrants in the 1950s. These days, the way it works is that the customer "builds" their own soup noodles by selecting the type of noodles and the toppings they want to include. There might be anywhere from 20 to 30 toppings to choose from, including beef brisket, fried tofu, pig intestines, fish balls and vegetables. The price goes up by the number of toppings – three toppings is about standard. We like to slurp it up at Man Kee Cart Noodle.
Man Kee Cart Noodle, G/F, 121 Fuk Wing Street, Sham Shui Po, Hong Kong, p. 9059 5104, 深水埗福榮街121號地下
13. Hong Kong-style French toast
The city took the Western breakfast favourite of French toast and added more grease and sugar to create a snack so low in nutrition and high in calories that it might be the Hong Kong version of an American donut. To make Hong Kong-style French toast, peanut butter or other sweet fillings are spread between two slices of bread. The sandwich is then dipped in an egg batter and deep-fried in a vat of oil. Golden and crisp toast emerges, which is then served with butter and syrup. This afternoon snack is available in many cafes, such as China Cafe.
If you like French toast Hong Kong style, be sure to check out all the other ways local Hong Kongers start their day. Find out more about traditional breakfasts in Hong Kong.
China Cafe, G/F. 1077A Canton Road, Mong Kok, Hong Kong, p. 2392 7825, 旺角廣東道1077A號地舖
14. Boat congee
Plain congee, the city's comfort food, is hardly different from watered-down rice and is often prepared for people who are unwell, but many order it with added ingredients ranging from pig's skin to fish belly to frog meat. "Boat" congee, consisting of peanuts, fish meat and other seafood, was created by Hong Kong fishermen and sold in fishing villages, often converting their small boats into floating restaurants. Other dishes are ordered to go along with congee for breakfast, especially deep-fried dough sticks, which are specifically for complementing congee. Most Chinese restaurants serve congee around breakfast time, but some small eateries that specialise in it serve it all day, such as Mui Kee Congee.
Mui Kee Congee, Shop 11-12, 4/F, Fa Yuen Street Market, Hong Kong, p. 2789 1098, 旺角花園街市政大廈4樓熟食中心11-12舖
15. Roast pork bun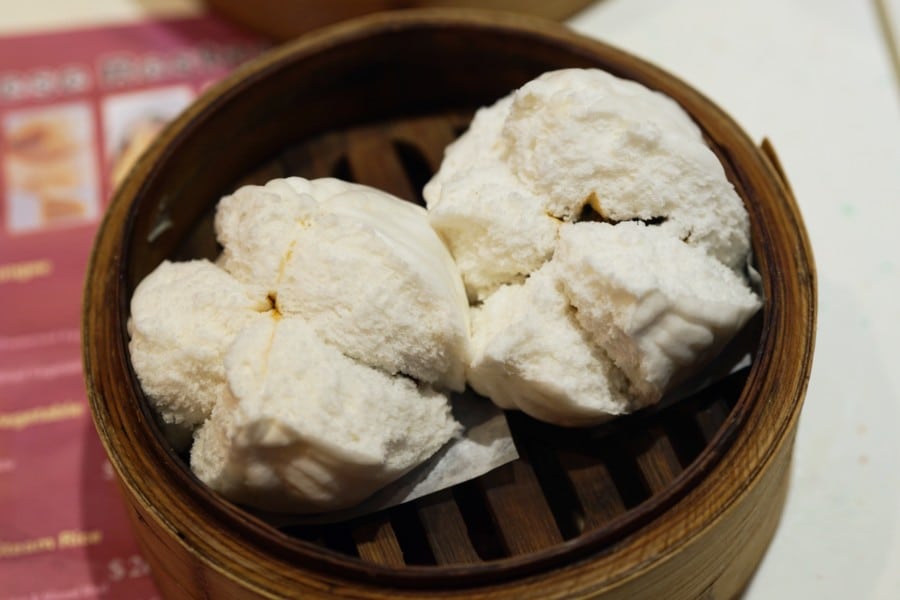 Steamed cha siu bao, the perennial favourite of locals and foreigners alike, can be found at any restaurant serving dim sum, making it one of our most often eaten street foods in Hong Kong. The city is known for its roasted items, and the roasted pork with sweet barbecue sauce inside a fluffy white bun is one of the most typical of Hong Kong foods, and you definitely will not want to go home without having tried it. Just remember to remove the square of paper on the bottom! Try them at One Dim Sum.
One Dim Sum, Shop 1-2, G/F, 15 Playing Field Road, Mong Kok, Hong Kong, p. 2789 2280, 太子運動場道15號京華大廈地舖1-2號
16. Egg Waffle
If you have never tried egg waffles in Hong Kong, you've missed out the essence of the local food scene. An egg waffle is just like a regular waffle but portioned into many balls instead of grids. Crunchy on the outside and soft on the inside, egg waffles come in a variety of flavours, ranging from savoury like salted seaweed and pork floss to sweet like mocha and purple yam. Fancy some cool toppings? Ask for a drizzle of chocolate or condensed milk.
Mammy Pancake has several branches in Hong Kong
17. Beef Entrails with Radish
Containing a range of beef parts such as tripe, pancreas, intestine, spleen and lungs, the ingredients in this Cantonese street food are all simmered for hours before being served. Tender brisket, chewy tripe, juicy tendons… the variation in texture will surely blow your mind. If this feels too heavy for you, have the diced radish for some refreshing fibres.
太安樓牛雜, Lai Wan Building, 1 Tai Hong Street, Sai Wan Ho, Hong Kong