Moonzen Brewery aims to celebrate Chinese culture, craftsmanship and community (Photography: Moonzen Brewery via Facebook)
Are you a beer connoisseur? Here are our pick on the best Hong Kong craft beers for lager and ale lovers.
Want to eat like a local? The city is renowned for its delicious Hong Kong-style breakfasts, local street food and traditional Cantonese desserts. But did you know that you can also find an array of well-made Hong Kong craft beers too? We've sourced our favourites in town, so it's time to sit back and relax.
Where to get the tastiest Hong Kong craft beers
Moonzen Brewery
Meaning door gods in Chinese, Moonzen Brewery is a brand inspired by the rich tapestry of Chinese folklore and its influence on Hong Kong culture. Serving a core range of local craft beers, as well as different seasonal and provincial, Moonzen Brewery is most known for a special Chinese mythology embedded in each and every bottle and a distinct flavour for their Hong Kong craft beers using time-honoured brewing techniques. They even have special brewery tours where you can see where the magic happens and get involved in some tasting.
Moonzen Brewery, 2A New East Sun Building, 18 Shing Yip Street, Kwun Tong, Hong Kong, p. 3709 2829, 觀塘成業街18號新怡生工業大廈
Black Kite Brewery
Established by Hong Kong-born brothers David and Daniel Gallie, Black Kite was named after the bird that is often being an appearance amongst the city's skyscrapers. The team is dedicated to use fresh ingredients from across the globe to product a wide range of classic Hong Kong craft beers, as well as seasonal specials.
Black Kite Brewery, 11B Derrick Industrial Building, 49 Wong Chuk Hang Road, Wong Chuk Hang, Hong Kong, 黃竹坑黃竹坑道49號得力工業大廈11B
Hong Kong Beer Co.
First established in 1995 as South China Brewing Company, Hong Kong Beer Co. was acquired in 2013 by two founders of Singapore's award-winning Brewerkz Restaurant & Microbrewery -Devin Otto Kimble and Daniel Flores. Hoping to elevate Hong Kong's craft beer culture with their enthusiasm for quality, innovation and brewing tradition, Hong Kong Beer Co. sources top quality malts, hops and yeasts from around the world to create the tastiest beers.
Hong Kong Beer Co., Unit 5A, G/F Wah Shing Centre, 5 Fung Yip Street, Chai Wan, Hong Kong, p. 2580 2360, 香港柴灣 豐業街5號華盛中心地下5A
Young Master Brewery
Opening its doors in 2013, Young Master Brewery is the largest and most awarded craft brewery in Hong Kong. Find classic and unique beers at Young Masters from pale ales to beer that is inspired by Hong Kong flavours like salted limes. The brewery makes a core range of beers year round as well as limited releases – so be on the lookout! 
Young Master Brewery, G/F, Sungib Industrial Centre, 53 Wong Chuk Hang Road, Hong Kong, p. 2783 8907, 香港仔黃竹坑道53號英基工業中心地下
Mak's Beer
This Hong Kong craft beer brewer brews their cold ones in Tsuen Wan using a number of locally-grown ingredients including goji berries, date, mint and dried longan. Mak's Beer believes that craft beer should be brewed by natural ingredients so that each drink retains a fragrant taste and aroma, and we couldn't agree more.
Mak's Beer, 12C, Jing Ho Industrial Building, 78-84 Wang Lung Street, Tsuen Wan, Hong Kong, p. 6174 7740, 荃灣橫龍街78-94號正好工業大廈12C
Yardley Brothers Beer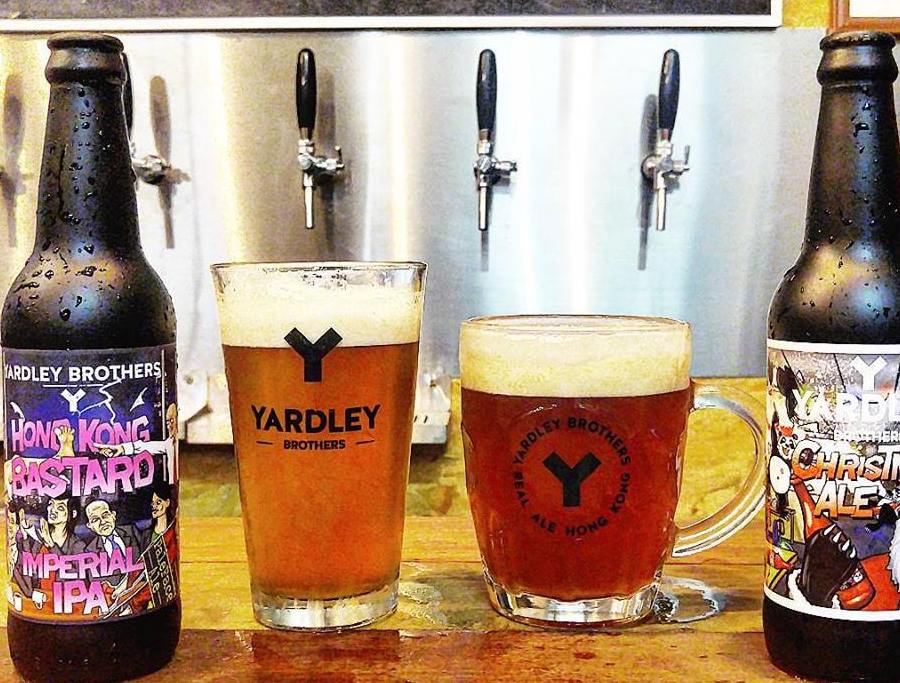 Yardley Brothers Beer began with two UK brothers, Luke and Duncan, who were both passionate about craft beer, brewing their beer in the living room of their Lamma Island home. Currently the local craft beer brewer sells a number of unique named beers including Hong Kong Bastard Imperial IPA, Lamma Island IPA and !Quit Your Job! Saison. Find them on the weekend in their Lamma Island stand for a taste-test.
Yardley Brothers Beer, Unit 10, 5/F, Wah Tat Industrial Center Block A, 8 Wah Sing Street, Kwai Hing, Hong Kong, p. 9543 4963, 葵涌華星街8號華達工業中心A座5樓10室
Kowloon Bay Brewery
Established by friends Mike and Ging who share a love for craft beer, Kowloon Bay Brewery brews their beers in Tsuen Wan using quality pure and raw ingredients. The brewery offers core craft beers and seasonal craft beers, and was the first beer producer in Asia to offer a Gluten Free IPA.
Kowloon Bay Brewery, Unit 12, 10/F, Block B, Hi-Tech Industrial Building, 491-501 Castle Peak Road, Tsuen Wan, Hong Kong, p. 2559 8218, 荃灣青山公路491-501號嘉力工業中心B座10樓12室
Gweilo Beer
Founded in 2014 by two British friends – Emily and Jo, Gweilo Beer is Hong Kong brewed, and offers a range of unique pale ales and IPAs. It's playful brand name derives from the Cantonese word for ghost or white foreigner. Gweilo beers are sampled from a selection of malts from all over the world including Europe, North America and the South Pacific, and currently sells over 150 beers!
Gweilo Beer, Unit 1713, Wah Wai Industrial Centre, 38-44 Au Pui Wan Street, Fo Tan, Hong Kong, 新界沙田火炭坳背灣街38-44號華衛工貿中心1713號