Louise prepares its selection of a la carte dishes and dessert pastries fresh in the kitchen. (Photography: Louise via Facebook)
We're the first ones to admit we're hard to please, but who wouldn't get behind all the amazing French restaurants in Hong Kong?
Whether you are looking for tasty Italian restaurants, Hong Kong-style street food, or the best Japanese cuisine, there's always something to suit every palate in Hong Kong. And thanks to the ever-expanding French expat community, foodies who are looking for a French fix can choose from countless locations to enjoy excellent French delicacies for breakfast, lunch, dinner and dessert. So here's our guide to the best French restaurants in Hong Kong.
1. Louise
One of the most exciting restaurants in Hong Kong for 2019, Louise took over the location where Aberdeen Street Social used to sit inside PMQ. Step inside the dreamy interiors designed by Andre Fu, and get ready for hearty cuisine with a touch of modernity, thanks to Chef Julien Royer of Odette fame. Must-tries include the homemade Louise pâté en croûte and the roasted Hong Kong yellow chicken.
Read our full review of Louise.
Louise, G/F, JPC, PMQ, 35 Aberdeen Street Central, Hong Kong, p. 2866 0300, 中環鴨巴甸街35號元創方JPC地舖
2. Café Claudel
Set inside the historic art precinct of Tai Kwun in Central, Café Claudel transports you to a 1930s Parisian cafe. Take a seat indoors, or enjoy the courtyard setting as you sample a selection of classic French cafe fare with a contemporary twist. The truffle croque monsieur is the order of the day here, and we also love the cod fillet. Finish it off with Dame Blanche, and you'll be well and truly stuffed!
Café Claudel, Shop 1, G08, Tai Kwun, 10 Hollywood Road, Central, Hong Kong, p. 2411 1310, 中環荷李活道10號大館營房大樓地下G08-1號舖
3. La Petite Maison (LPM)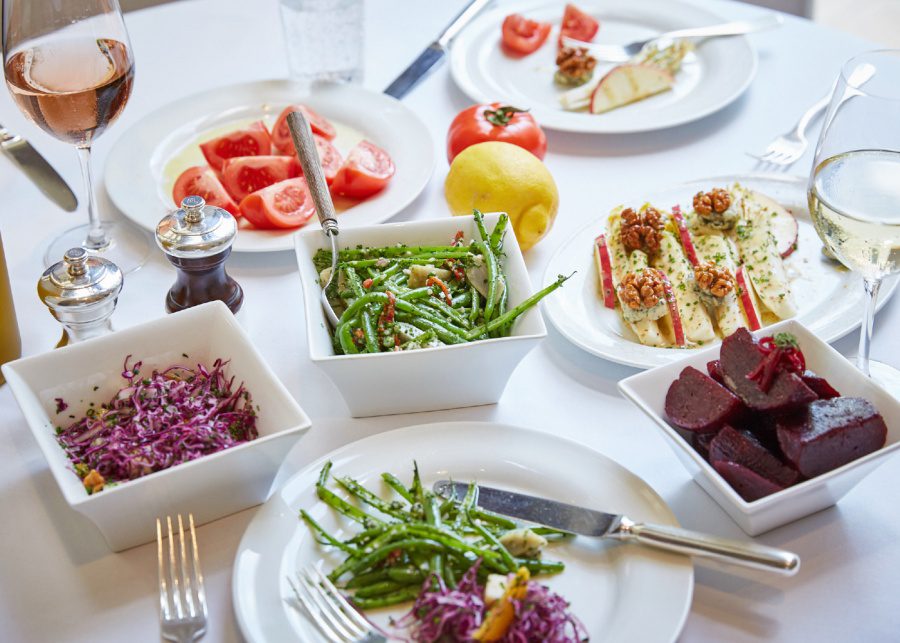 Sitting pretty in H Queen's, La Petite Maison is home to French Mediterranean and Niçoise cuisine. Originating in London, this well-loved restaurants also has outposts in Miami, Dubai and Abu Dhabi, and the Hong Kong location is just as delightful. Enjoy a selection of wonderfully fresh French salads (think green beans, tuna and beetroot) before moving on to the larger plates that highlight wonderful seafood and a range of steaks. Of course, the sweet offerings are just divine, making this one of our fave French restaurants in Hong Kong.
La Petite Maison, Shop 1, 1/F, H Queen's, 23-29 Stanley Street, Central, Hong Kong, p. 2887 1113, 中環士丹利街23-29號H Queen's 1樓1號舖
4. Le Pan
When we think of French cuisine, we often think of exceptional fine dining accompanied by stellar service and white linen table cloths, and that's exactly what you get when you visit Le Pan. Serving the finest French food with a contemporary twist, this is one not to be missed for special occasions.
Read our full review of Le Pan.
Le Pan, G/F, Goldin Financial Global Centre, 17 Kai Cheung Road, Kowloon Bay, Hong Kong, p.3188 2355, 九龍灣啓祥道17號高銀金融國際中心地下
5. Pastis Bistro Francais
Named after the anise-flavoured spirit, Pastis is a popular little bistro on Wyndham Street that is a great location to hang out at and watch the world go by. Over an affordably priced set lunch or a la carte dinner, the friendly staff will make sure you're well looked after as you dig into classic casual dishes, such as boeuf bourguignon, croque Monsieur/Madame, and cordon bleu. Don't miss out on the ever-changing selection of French cheeses and wash it all down with a glass – or bottle – of delicious French wine.
Pastis Bistro Francais, G/F, 65 Wyndham Street, Central, Hong Kong, p.2537 5702, 中環雲咸街65號地下
6. Gaddi's
Located inside The Peninsula, Gaddi's is a French fine dining restaurant loved by both locals and expats in Hong Kong, thanks to its elegant dining room that features some of the hotel's most prized collectibles. With a kitchen led by Xavier Boyer, the menu at Gaddi's follows a less-is-more approach, allowing the flavours to speak for themselves. You'll get to sample the seasonal French produce such as lobster, duck, and seafood prepared in innovative ways. Gaddi's is, without a doubt, one of the finest French restaurants in Hong Kong.
Gaddi's, 1/F, The Peninsula Hong Kong, 22 Salisbury Road, Tsim Sha Tsui, Hong Kong, p. 2696 6763, 尖沙咀梳士巴利道22號香港半島酒店1樓
7. Metropolitain
Metropolitain is an always-busy French restaurant modelled on the metro stations of Paris. The most difficult part of your time at the restaurant – staffed by some of the best hospitality experts in Hong Kong – will be deciding what to choose off the large and tasty menu. Indulge in classics such as sole meunière or duck leg confit, or choose from one of the daily specials. We always have to order a side of truffle mashed potato when we visit, as it is the creamiest and most delicate we've found. Don't miss out on the delicious weekend brunches too.
Metropolitain, G/F, 46 High Street, Sai Ying Pun, Hong Kong, p. 6271 6102, 西環西營盤高街46號地下
8. Belon
Thanks to its gorgeous teak wood exterior, you won't miss Belon as you walk down Elgin Street in SoHo. The neo-Parisian bistro is helmed by Chef Daniel Calvert who creates cuisine rooted in France with high-quality local produce. Guests can enjoy dishes such as Brittany turbot, pigeon pithivier, and oyster tartare as they sample delicious cocktails from the bar.
Belon, G/F, 41 Elgin Street, Central, Hong Kong, p. 2152 2872, 中環蘇豪伊利近街41號地舖
9. Maison Es
A quirky, vintage-inspired restaurant in the Star Street Precinct in Wan Chai, Maison Es transports guests to another place, as they dine in a stunning garden-themed interior. Choose from foie gras, duck breast, or a selection of seafood dishes as you relax with friends or family in the laidback surroundings, with French music playing overhead.
Maison Es, G/F, 1A Star Street (entrance at Electric Street), Wan Chai, Hong Kong, p. 2521 8011, 灣仔星街1A號地舖 (入口位於電氣街)
10. La Cremerie
Look, La Cremerie is not a French restaurant, we know, but we'd still eat any meal at this cute cheese store in Wan Chai. Chat with the cheese master and sample unique cheeses that come directly from various regions throughout France. The LQV Group, the mastermind behind La Cremerie, even runs small tastings with wine and nibbles, so that's pretty much dinner, right?!
Find out why we're obsessed with La Cremerie.
La Cremerie, 4 Swatow Street, Wan Chai, Hong Kong, p. 2614 0944, 灣仔汕頭街4號
Rech by Alain Ducasse (closed)
Thanks to its 1 Michelin star, Rech by Alain Ducasse is one of the most delightful French restaurants in Hong Kong. Located inside InterContinental, Hong Kong, the restaurant specialises in wonderful seafood, cooked to perfection. Enjoy the Coastal Tour de France to try a sampling from the menu, or order off the menu to pick and choose your favourite dishes. We recommend the Royal Platter, a mix of shrimp, langoustine, periwinkles and more, perfect for sharing with a glass of champagne.
Rech by Alain Ducasse, Lobby Level, InterContinental Hong Kong, 18 Salisbury Road, Tsim Sha Tsui, Hong Kong
ON Dining Kitchen & Lounge (closed)
Looking for French food made with absolute heart and soul? ON Dining Kitchen & Lounge, helmed by Chef Philippe Orrico, is where you need to head to, pronto! Offering a selection of dishes crafted with only the finest produce of the season, the wonderful food is paired perfectly with a fabulous wine (and cheese!) selection, and staff who are just phenomenal. Plus, they make some of the best negronis in Hong Kong, and you can enjoy them on their outdoor terrace #BonusPoints.
Read our full review of ON Dining Kitchen & Lounge and understand why we think it's one of the best French restaurants in Hong Kong.
ON Dining Kitchen & Lounge, 29/F, 18 On Lan Street, Central, Hong Kong, p. 2174 8100, 中環安蘭街18號28-29樓
Cocotte (closed)
Cocotte is Parisian-inspired bistro in the heart of NoHo that is known for its warm atmosphere and friendly service. The intimate space features eclectic interior design and delivers a menu that changes with the seasons, presenting a contemporary take on many French classics. Don't miss the steak tartare, which is a favourite of many a French expat in Hong Kong, and the warm apple tarte tartin – the perfect dessert cure for any ailment.
Cocotte, G/F, 9 Shin Hing Street, Central, Hong Kong, p. 2568 8867, 中環善慶街9號地舖
La Table de Patrick (closed)
When it comes to authentic French restaurants in Hong Kong, La Table de Patrick comes out on top. Here, Chef Patrick Goubier mans the tiny open kitchen, coming into the equally intimate dining room to check on his guests throughout their meals like an old friend. Creating 'Cuisine Bourgeoise', the restaurant blends traditional, comfort food with modern flavours to create familiar yet refined dishes. Chef Patrick is happy to accommodate any dietary requests, meaning this is the perfect spot for those with gluten, sugar or dairy intolerance.
La Table de Patrick, 6/F Cheung Hing Commercial Building, 37-43 Cochrane Street, Central, Hong Kong, p. 2541 1401, 中環閣麟街37-43號祥興商業大廈6樓
A.O.C. Eat & Drink (closed)
We can't get enough of this restaurant that is hidden away in Wan Chai. From the classic French tunes that set the mood to the French street food that is made with so much love that you can taste it, A.O.C. Eat & Drink is one of the best French restaurants in Hong Kong – period!
Read our full review of A.O.C. Eat & Drink.
A.O.C. Eat & Drink, G/F, 15 McGregor Street, Wan Chai, Hong Kong, p. 2479 6833, 灣仔麥加力歌街15號地下
La Cantoche (closed)
Hidden away down an alleyway in Sheung Wan, La Cantoche is a super relaxed venue that serves up French food with a twist. Inside the restaurant, guests can play foosball or watch movies that are projected onto the wall as they enjoy treats such as goat cheese spring rolls, cordon bleu and a range of decadent desserts. Not only is the food at La Cantoche delicious, but prices are friendly too, and we love the various specials that come out of the kitchen on a monthly basis. When it comes to French restaurants in Hong Kong, you can't beat La Cantoche.
La Cantoche, G/F, 5 Wa Lane, Sheung Wan, Hong Kong, p. 2426 0880, 上環華里5號地下