Chinese Citrus Mousse Choux Puff with Pink Grapefruit Sorbet at Date by Tate
If you're on the hunt for the best new restaurants in Hong Kong in 2021, then this is the right place to be
We're all about food here at Honeycombers, and we bet foodies like you are too! From the best weekend brunches to the fanciest afternoon teas and the juiciest steaks, we know all the latest food news in the Hong Kong F&B scenes. Now, let's tuck into the January 2021 edition of the best new restaurants in Hong Kong. P.S. Don't miss all the best restaurant openings in Hong Kong from 2020 too!
New restaurants in Hong Kong – January
1. Date by Tate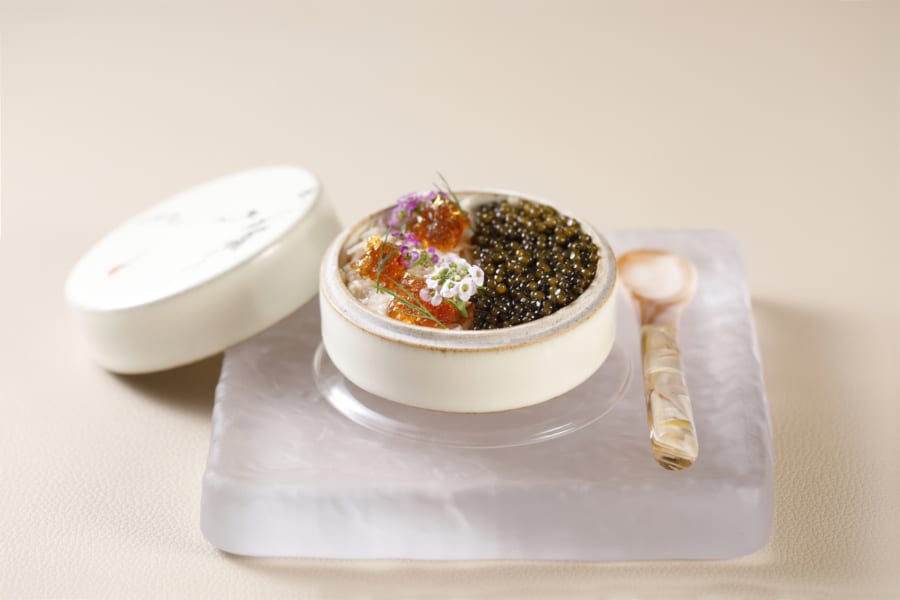 Not exactly a new restaurant, but Date by Tate is one of the latest gourmet lifestyle stores that all foodies have to check out. Refined French Chinese restaurant Tate Dining Room recently launched its physical retail shop, offering an array of beautiful gift boxes, take-away meals and homeware. Savour renowned pastry chef Vicky Lau's creation, ranging from Chinese Almond Financier to Ode to Shan Shui earl grey mousse cake. Elegant home accessories like scented candles, silverware and bamboo ware are also available.
Date by Tate, 210 Hollywood Road, Sheung Wan, Hong Kong, p. 6730 2494
2. Ask for Alonzo – Happy Valley
Our to-go restaurant in Tai Hang and Quarry Bay, Ask for Alonzo has opened its third branch in Happy Valley. Serving the brand's all-time classics like pasta, negronis and house music, Ask for Alonzo is not only a great neighbourhood eatery to dig into delicious Carbonara and Italian Frittata but also snappers and risotto. Don't miss out on their signature cocktails and negronis during happy hours.
Ask for Alonzo, Shop 19, G/F Hang Fung Mansion, 17-19 Wong Nai Chung Road, Happy Valley, Hong Kong, p. 2891 2236
3. Shiro
One of our fave restaurants in Pacific Place, Shiro recently re-opened its Admiralty location, presenting a refined menu and uplifted environment. Part of the new menu, the crystal sushi collection is curated with iridescent jelly and seasonal delights, featuring luxurious ingredients like caviar, scallop and rose. Another delectable addition to the new menu is Seared Wagyu Beef Woven Sushi with Fried Sakura Ebi— strips of woven wagyu beef topped with crispy sakura ebi, fusing the tenderness of the premium meat with the aromatic sticky rice at the bottom.
Shiro, Shop 123, Level 1, Pacific Place, 88 Queensway, Admiralty, Hong Kong, p. 2117 9481
4. Ita Meshi
Looking for a Japanese Italian fusion restaurant in Tin Hau? Ita Meshi is the place to be. This neighbourhood gastropub serves an array of creative yoshoku cuisine, ranging from Lobster Mac n' Cheese to Green Tea Soy Sauce Hanger Beef Tagliata, and Watermelon Burrata to Uni Crab Roe Risotto. To savour all the Japanese umami, make sure to try their addictive Matchamisu and Matcha Yuzu Blancmange.
Ita Meshi, G/F, Lau Li Street, Tin Hau, Hong Kong, p. 2336 1176
5. Venchi
The 140-years-old legendary chocolatier Venchi is opening its twelfth Hong Kong store in apm Kwun Tong. Loved for their refined ingredients and traditional craftsmanship, the new store offers the first Venchi lounge in town, a spacious seating area for guests to enjoy exclusive gelato desserts. Only available at the apm store, the dessert menu includes mouth-watering items like 360 Chocoviar and Tiramisu Please. All four desserts are loaded with luxurious toppings such as Piedmont hazelnut and chocoviar grains, offering a dynamic sensation as you savour Venchi's gelato.
Venchi, Shop C-16, apm, 418 Kwun Tong Road, Kwun Tong, p. 2117 8935
6. Masa Hong Kong
Enjoy refined omakase at Lai Sun Dining's latest Japanese restaurant Masa Hong Kong. Guests will indulge in a minimalistic omakase experience at the warm wooden counter, gazing at the old Supreme Court Building while the chef freshly crafts your customised sushi.
Masa Hong Kong, 5/F, CCB Tower, 3 Connaught Road Central, Central, Hong Kong, p. 2131 1303 (Opening date to be announced soon)
7. Chickpea
Featured in our 2020 new restaurant guide, the popular grab-n-go vendor Chickpea is opening its second branch in Wan Chai soon. Hummus bowls, pita pockets, salads, rice bowls… Dig into an array of healthy, middle-eastern inspired dishes loved by both meat-eaters and vegetarians. If you are looking for a quick lunch fix near Wan Chai, order from Chickpea online and your food will be ready by the time you arrive.
Chickpea, Wan Chai, Hong Kong (more details to be announced soon)
8. J.A.M. (Joint Asian Market)
A 200sq-m casual eatery, J.A.M. presents a unique food experience with its dynamic Asian culinary fare and groceries. The market features four Asian gastronomic concepts: Korean home deli at Mamalee Market, Vietnamese classic at Moi Moi, contemporary dim sum at Sifu, and Singaporean favourites at Uncle Quek. Whether you plan to stop by for a quick meal, take-away set or grocery shopping, J.A.M. has got an array of heart-warming food to fuel your day.
J.A.M., Nexxus Building, 77 Des Voeux Road Central, Central, Hong Kong (more details to be announced soon)
9. Lucciola
An Italian ristorante and bar inside the latest hotel The Hari Hong Kong, Lucciola serves beloved Italian classics inside a modern environment. Other than the two-course ($198) and three-course ($98) lunch menus, a la carte items featuring an array of jet-fresh Italian delicacies are available. Start the meal with a refreshing La Burrata Pugliese, then dig into the 24-hour-braised Piedmontese Veal Shank with Risotto. Don't forget to try the timeless Italian dessert Tiramisu enriched with silky mascarpone and egg yolk.
Lucciola, The Hari Hong Kong, 330 Lockhart Road, Wan Chai, Hong Kong, p. 2129 0333