The drool-worthy signature dishes at Kacho Fugetsu
If you're on the hunt for the best new restaurants in Hong Kong in 2021, then this is the right place to be.
We're all about food here at Honeycombers, and we bet foodies like you are too! From the healthiest breakfasts to the best brunches and the fanciest afternoon teas, we know all the latest hubbub in the Hong Kong F&B scene. Now, let's tuck into the November 2021 edition of the best new restaurants in Hong Kong. P.S. For those who are new to town, don't miss all the best restaurant openings in Hong Kong from 2020 too!
New restaurants in Hong Kong – November 2021
Kacho Fugetsu
This contemporary urban izakaya and cocktail lounge is named after the Japanese philosophy of personal discovery through the appreciation of both the beauty and imperfection of nature. The restaurant's signature dishes include matsuba crab roll, abalone isoyaki with caviar, and Japanese pot rice with foie gras and eel. The cocktail lounge two-floors down features art commissioned by the local community (#lovelocal). Aside from well-known liquor brands, you can also find hidden gems from niche producers and an exotic cocktail menu.
Kacho Fugetsu, 23 & 25 Floor, Cubus, 1 Hoi Ping Road, Causeway Bay, Hong Kong, p. 2872 8968
KOKORO Tokyo Mazesoba
While ramen, udon, and tsukemen joints are common in Hong Kong, mazesoba – Japanese-style mixed noodle without any soup base – can be harder to find. KOKORO first opened in Tokyo in 2013 and won the Best Mazesoba Award in Japan in just one year (so you know you're in for some good stuff). There are a total of nine flavors of Mazesoba to choose from at KOKORO; don't forget to try the Hong Kong-exclusive yuzu salted mazesoba, with slow-cooked Japanese chicken drizzled with fresh yuzu juice.
KOKORO Tokyo Mazesoba, Shop 1C G/F, 68 Hennessy Road, Wan Chai, Hong Kong, p. 3751 6966
Sakeh
With a Japanese monster-themed decor, the new yakitori spot in town will have you dining like you're in Spirited Away! Help yourself to the Chochin (known as "the lantern" given its shape), a Japanese delicacy, an immature egg yolk attached to fallopian tubes and chicken feet tendons. Don't forget to strike the gong when you buy a round of sake to get everyone in the house into celebration mode!
Sakeh, 5-9 Observatory Court, Tsim Sha Tsui, Hong Kong, p. 3709 9251
Brooklyn Yakuza
With an "East meets West" concept, this buzzing, late-night izakaya offers non-traditional, family-style tasting platters of food, paying homage to traditional Asian dinner gatherings. From classic raw dishes like beef tartare with Australian Wagyu to Brooklyn Fried Chicken, and Black Cod in bean sprout risotto with edamame, the menu is full of refreshing fusion spins. Don't forget to stop by the Oyabun – a Japanese-American Manhattan-inspired cocktail lounge bar, pumping out hip-hop tunes with monthly DJ nights.
Brooklyn Yakuza, 29 Wyndham Street, 29 Lan Kwai Fong, Central, Hong Kong, p. 2866 1034
Percy's
The new Soho hangout on Shelley Street features creative seafood staples and cocktails, as well as lots of good vibes. Chef Reardon's seasonal menu is divided into hot and cold small plates, large plates, and selections from the raw bar, with dishes championing local fishers and growers. Get shucked with Percy's oysters paired with champagne! Other must-tries include the dry aged tuna steak, lobster bao, and the interesting scallop egg waffle. Percy's also offers a fine selection of whisky, sake, a curated pick of non-mainstream wines, and bottled and tap beer.
Percy's, G/F, 18-18A Shelley Street, Central, Hong Kong, p. 2898 2699
Dark Leaf Cafe & Lounge
Pasta is the ultimate comfort food and at Dark Leaf, you can try aromatic seafood delights such as lobster, tiger prawn, black cod, and scallops. For the steak lovers, the M4 Australian wagyu ribeye with truffle fries won't disappoint! This bar slash resto will have you coming back for its tea-based cocktails – sip on the signature Lapsang Souchong, Camomile, or Earl Grey for a soothing kick. End the night with a shisha sesh (over 80 flavours to choose from) and you'll forget it's just Monday night (whoops!).
Dark Leaf Cafe & Lounge, 8/F, 726 Nathan Road, Mong Kok, Hong Kong, p. 9016 0223
Little Bedu
One of Hong Kong's all-time favourite Middle Eastern eateries is launching a takeaway-only concept, Little BEDU. The oasis (just a stone's throw away from BEDU) is a reflection of Bedouin values and offers a calming respite from a busy day. Grab 'n' go eaters can choose from fresh cut salads and hearty rice bowls, topped with BEDU's signature dips and vibrantly spiced proteins. The signature meals are named after Middle Eastern cities and countries – take a tour of the different styles of cuisines!
Little BEDU, Shop 2, G/F 49-51a Gough Street, Central, Hong Kong
New vendors at BaseHall
From Italian-inspired comfort food at MAMMA's, to health-conscious treats at nüte, and caffeine and cocktails from local coffeehouse, CREW, BaseHall welcomes three new local culinary talents. Over in Central for lunch? Indulge in MAMMA's platefuls of pasta and then pick up a healthy bar at nüte and a cuppa at CREW before you head back to the office. (See what we did there?)
BaseHall, Jardine House, Shops 9A, 9B and 9C LG/F, 1 Connaught Place, Central, Hong Kong
New restaurants in Hong Kong – October 2021
Liu's Chong Qing Hot Pot
Do you like hot pot? We do! As the weather begins to cool, head to Liu's Chong Qing Hot Pot in Kowloon Tong for hearty broths and platters this season. While there are a variety of hot pot soup bases available on the menu, Liu's signature Yi Shou Mala Spicy Soup is the must-try. Even if you're not very good with spicy food, fret not – you can choose your own spice levels for this soup base, so feel free to go as mild (or crazy spicy!) as you wish.
In addition, this global chain is offering a new lunch set menu, as well as some Hong Kong-exclusive items, such as the one-person noodle pot sets and Liu's Trio Beef Platter. Need to cool down from the heat? Take your pick from Liu's range of tea, juice, fresh fruit soda, bubble tea, beer, and more. Oh, and don't miss out on the shaved ice, too!
Liu's Chong Qing Hot Pot, Units UG-37 & 38, Level UG, Festival Walk, 80 Tat Chee Avenue, Kowloon Tong, Hong Kong, p. 2628 9891
Ikigai Concepts
Meaning 'reason for being' in Japanese, ikigai is the idea of celebrating the little things in life. Inspired by this philosophy, Ikigai Concept aims to deliver an all-rounded experience of Japanese culture, especially in dining and lifestyle. There are five zones in the restaurant's 12,000-square-feet space, including an omakase (chef's choice) area for seasonal seafood; a cosy kushiyaki (meat skewers) grill for scrumptious skewers; the washoku (Japanese cuisine) area for classic dishes; an interactive teppanyaki bar (iron plate grill); and a sake tasting lounge and bar for the imbibers. We particularly like that Ikigai Concept offers a curated selection of sake – it even has a vending machine for it!
Ikigai Concepts, Shop 211, Nina Mall II, Tsuen Wan West, Hong Kong, p. 2618 2812
Sicilian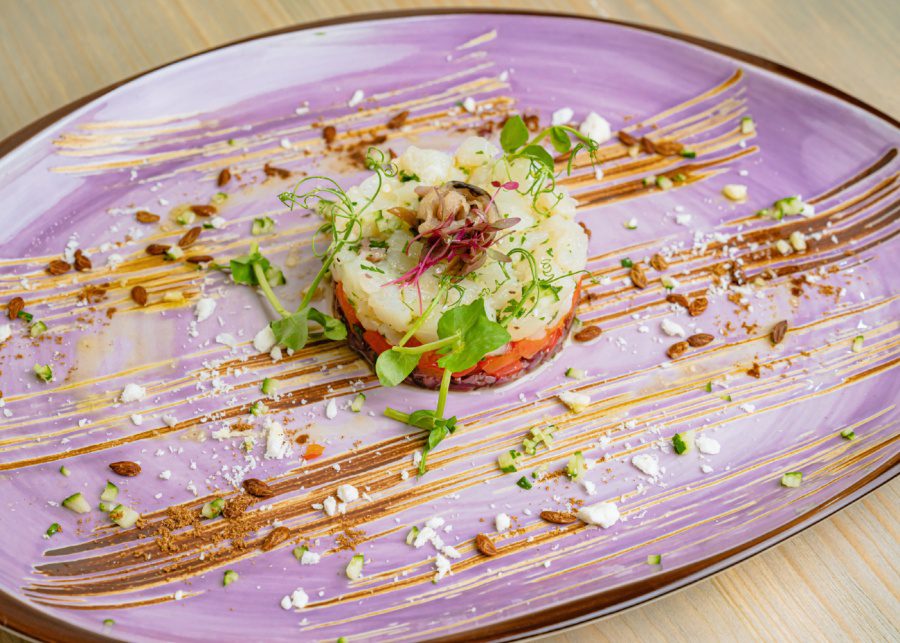 Italian comfort food all day every day? Hit us up! Located right by the Central–Mid-Levels escalator, Sicilian is easy to spot with its white-stone façade and extended open-air doors. Not only does this restaurant exude a casual, family-oriented atmosphere, but it also offers a full view of your pasta being made at its live pasta bar station. Some of the signatures include the mezze maniche marsala masala lamb (stewed lamb with red curry and marsala wine), maccheroni alla norma (eggless pasta with eggplant, tomato, ricotta cheese, and olives), and Cannolo Siciliano (a homemade wafer stuffed with sheep ricotta). Be sure to try Sicilian's homemade bread, fresh seafood dishes, and cocktails, too.
Sicilian, G/F, Shama Place, 30 Hollywood Road, Central, Hong Kong, p. 9627 9486
70s Food Dining by Vintage House
In search of somewhere to eat in Tsim Sha Tsui? Head to 70s Food Dining by Vintage House, the new food hall in town. Founded by Michael Chan, 70s Food Dining offers delicious and affordable dishes, created using authentic recipes from countries around the world, such as Malaysia, Singapore, Thailand, China, and the US. The two-storey community eatery has six stalls (so far) on the ground floor, plus an Italian-Japanese fusion restaurant – Earth – on the floor above. Expect rich and aromatic curries, numbingly spicy broths, Wenchang chicken, wet-fried Pad Thai, burgers, and even vegan cart noodles!
70s Food Dining by Vintage House, G/F & 1/F, 46 Granville Road, Tsim Sha Tsui, Hong Kong, p. 2866 0111
Decree by T
Another newcomer to the Tsim Sha Tsui neighbourhood is Decree by T, an omakase restaurant. Going beyond the traditional kaiseki (multi-course fine dining), Decree by T creates its menus based on seasonal ingredients and uses different cooking methods from around the world. There are three omakase sets on offer at the moment, each containing 14, 17, or 21 dishes. Signature dishes for autumn include ingredients such as hairy crab, white truffle, sea urchin, and more, which are all freshly shipped to the restaurant everyday. With limited seats at the bar and private room, you can enjoy a truly exclusive gastronomic experience at Decree by T.
Decree by T, Shop B, G/F, XI Hotel, 7-9 Minden Avenue, Tsim Sha Tsui, Hong Kong, p. 6821 6212
Ppalli Ppalli
And here we have yet another addition to the hip neighbourhood of Sham Shui Po! Have a taste of Korean-Italian fusion cuisine at Ppalli Ppalli, a stylish restaurant (which resembles a spaceship!) on Tai Nan Street. One of the highlights here is the Ssam Bouquet, which features slow-cooked pork belly served with Korean perilla leaves, lettuce, and Korean hot sauce. Or, you can try the Yukhoe Toast, which is Korean-style raw beef tartare served with pears, mullet roe, British horseradish, and cucumber; it's then seasoned with Korean chilli sauce, honey, sesame oil, and sesame seeds for a well balanced and flavourful dish. Grab a Korean craft beer, cocktail, or makgeolli (rice wine) to pair.
Ppalli Ppalli, 230 Tai Nan Street, Sham Shui Po, Hong Kong, p. 2982 8219
Chuan
More spicy food incoming! Showcasing the essence of traditional Sichuan cuisine, Chuan prepares its dishes using a wide range of ingredients. You'll be able to sample different kinds of chillies and spices, including round chilli, Habanero chilli, cumin, and red peppercorn, which are all delivered directly from Sichuan to Hong Kong. Highlights in the menu include the Sautéed Diced Chicken with Spicy Red Chilli, Sichuan-style Stewed Fish, Spicy Sichuan Soup Pot, amongst others. Moreover, Chuan is presenting an innovative variety of Sichuan-style dim sum. Must-try items include the Steamed Rice Rolls with Beef and Meat Floss in Sichuan Spicy Sauce, Spotted Grouper with Sichuan Pepper and Chives, and Steamed Shanghainese Dumplings in Spicy Soup.
Chuan, Shop 1102, 11/F, Times Square, 1 Matheson Street, Causeway Bay, Hong Kong, p. 2838 8313
Gomes' Gastropub
The latest venture of Monu and Alex Gomes, a father-and-son duo, Gomes' Gastropub is a new hotspot in Soho. Offering a range of tapas, canapés, bar snacks, and handcrafted cocktails, this restaurant is a snazzy hangout perfect for casual dining and late-night drinking. To celebrate its opening, Gomes' is serving all-day happy hours, as well as different deals every day of the week. These include all-you-can-eat fried chicken and beer on Mondays; free-flow Baijiu spirit drinks on Wednesdays to cure your mid-week blues; two-for-one on all house cocktails, spirits, wines on Thursday's ladies' night, and more.
Gomes Gastropub, G/F, 58-62 Caine Road, Mid-Levels, Central, Hong Kong, p. 3797 3331
Casamigos
A new Spanish bar and restaurant in town, Casamigos offers – you guessed it – a variety of cocktails and sangria, many of which include the popular Casamigos Tequila. For instance, the refreshing Casa Fever cocktail is made with Casamigos Tequila, Grand Marnier, blood orange juice, and fresh lime juice. You can add a twist to your house-made sangria with an extra splash of tequila, too. As for the food, signature dishes include Casamigos' seafood paella (a must-have in Spanish restos), croquettes, stuffed piquillo squid, and Iberico presa with orange ginger glaze.
Casamigos, 3/F, L H'art, 487-489 Lockhart Road, Causeway Bay, Hong Kong, p. 2448 3888
Metropolitain reopens
One of Sai Ying Pun's best loved brasserie is back – and better than ever! Metropolitain has undergone a renovation to give a more spacious, lively, yet elegant atmosphere. The bar seats at the front of the restaurant are our favourite spot to watch the world go by as we sip on our post-work vino. Aside from the classic dishes, Metropolitain has also added new hits onto its menu. These include the Pavé de Thon a la Plancha (seared tuna with crushed potatoes and salsa sauce); Cote de Porc, cooked on the grill and served with mashed potatoes, watercress salad, and truffle sauce; Rustici Pasta with lobster; and both savoury and sweet waffles.
Metropolitain, G/F, Aspen Court, 46 High Street, Sai Ying Pun, Hong Kong, p. 6271 6102
Yung Kee reopens
One of the most prestigious Cantonese restaurants in the city, Yung Kee has a rich history and a legacy that is well recognised by Hongkongers. It has recently undergone a major renovation to feature vintage and artistic interiors inspired by the restaurant's humble beginnings as a dai pai dong, and famous Hong Kong films like In the Mood for Love. The second floor is a grand dining hall that displays Yung Kee's iconic 'Dragon and Phoenix Stage' and various artefacts. Apart from preserving the restaurant's history through its interior design, Yung Kee is also staying true to its Cantonese culinary traditions with the Signature Charcoal Roasted Goose, Smoked Premium Pork Belly with Pine Nut, and other classic dishes. That said, you can try some revamped traditional recipes, too, such as the Sea Cucumber Stuffed with Diced Garoupa, Salted Fish, and Minced Pork, as well as the Crispy Toast with Mixed Shrimps and Lobster Tail.
Yung Kee, 32-40 Wellington Street, Central, Hong Kong, p. 2522 1624
New restaurants in Hong Kong – September 2021
The Pearl
Combining a meal with a shisha sesh at an outdoor terrace sounds about right! The Pearl is an Italian-Japanese fusion restaurant that doubles as an art gallery. The art pieces featured at The Pearl are by Rolland Cheung, the founder of Agape Design Limited. His unique resin paintings are influenced by the classical Baroque style. Start your evening with one of The Pearl's signature cocktails inspired by Dutch painter Rembrandt, and then head to the dining room for a feast; don't miss the Linguine with Hokksido Uni, Angel hair with sous-vide isoyaki abalone, or Braised Blue Mussels with leek in jiaoku soup. And then exhale the good stuff at the outdoor terrace in the heart of Tsim Sha Tsui.
The Pearl, 4/F, Attitude on Granville, 20 Granville Road, Tsim Sha Tsui, Hong Kong, p. 6274 1916
Giacomo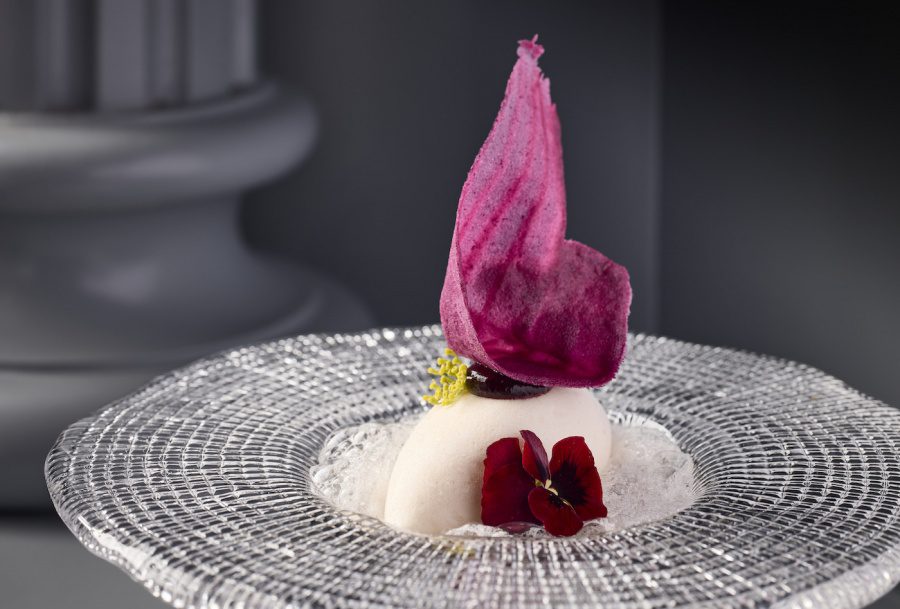 Michelin-star trained chef Keith Yam brings classic southern Italian flavours to Causeway Bay in this fine dining restaurant. Signature dishes include Marinated Red Prawn Gambero Rosso in Champagne tomato sauce with Oscietra caviar, Red Prawn Spaghetti Chitarra with artisanal hand-made, square-shaped egg pasta, and Brittany Blue Lobster Sardinian Gnocchi. The gourmet dessert specialities, Peach Sorbet and Chocolate Hazelnut, are a sweet tooth's dream come true. If you'd rather opt for set menus, the lunch set comes in two, three, and four courses, with a rotating menu consisting of six courses. Each of the sets comes with opulent wine pairings.
Giacomo, Crowne Plaza Hong Kong Causeway Bay, G/F, 8 Leighton Road, Causeway Bay, Hong Kong, p. 3980 3008 (note that they're closed on Tuesdays)
1908BC
Typically (if not in most cases) BC stands for Before Christ but the restaurant cheekily plays with words here. 1908 is the year the first Chinese restaurant opened in Piccadilly, London, where BC stands for British-Chinese, the fusion cuisine the restaurant delivers in spades. The menu is a concise collection of old and new recipes, including creations from founder Suzanna Ho's mother. More than just a remake of some traditional British Chinese dishes, 1908BC makes a point of elevating these classics. Don't miss out on their Chip Shop Curry; golden fried fries dunked in a curry that combines Chinese, British AND Indian flavours. Another staple is the Crispy Aromatic Shredded Duck, an unconventional spin on the traditional Peking duck.
1908BC, 5/F, The Pemberton, 22-26 Bonham Strand, Sheung Wan, Hong Kong, p. 2116 4668
Nami Izakaya
From traditional red and dark brown wood tones, to hand-painted murals designed by local Hong Kong artists, Nami Izakaya teleports you to the Edo period in Japan. Go for dinner and be greeted with drumbeats and complimentary sake daily from 8 pm to 9 pm a wide variety of over 50 snack options, which are all made with seasonal fresh ingredients and prepared with traditional Japanese culinary techniques. Must-try dishes include the Wagyu beef don with Japanese egg yolk, Nami roll, and the sashimi platter, and of course the house sake!
Nami Izakaya, 1/F, Soundwill Plaza 2 – Midtown, 1-29 Tang Lung Street, Causeway Bay, Hong Kong, p. 2383 4038
Carbs
The latest venture from the founder of DPT Group is going to be the next pizza hub in town! Carbs serves square-shaped pizzas that are great for sharing and you never have to deal with just one flavour. Grab a slice of Spicy Pepperoni, The Last Call, The Supreme Square, or any of the other four deep dish pizzas. Pizza aside, Carbs will also serve a selection of pasta staples, like the Spicy Vodka Fusilli and creamy good'ol Mac and Cheese. Finish your meal with some dessert, created in collaboration with sister company Cookie Department, including a Brownie Filled Chocolate Chip Cookie Ice-Cream Sandwich and a Tiramisu Pudding.
Carbs, Shop 3, G/F, H Code, 45 Pottinger Street, Central, Hong Kong, p. 2886 2801
Boy n Burger
A fast food chain but better! With sustainability being a forefront in sourcing ingredients, Boy n Burger serves juicy, lip-smacking burgers at affordable prices to be enjoyed by just about everyone. A contemporary take on the American diner, Boy n Burger boasts a real feeling of fun and family inspired by the classic Californian diner and 50's drive-in culture. We personally recommend their chicken popcorn and coleslaw (so addictively good!), we promise you that you won't be battling a food coma on your way out!
Boy n Burger, G/F Shop 3, 208 Johnston Road, Wan Chai, Hong Kong, p. 3686 0928
G Room Bar and Lounge
Merging fine dining, music, and art and technology, G Room is the latest addition to the culinary scene at K11 Musea. The dishes present elevated Mediterranean cuisine with a Southeast Asian twist. Fill your tables (and tum) with the Whole Lobster Paella, G Room Seafood Platter, Abalone Shisho Sea Urchin Pasta, and more while getting lost in the live music and 360ᐤ LED screens that set the scene, or should we say set different scenes! One can't forget their cocktails, go for either the Sangria Jar or the Wasagin (yes, it's gin infused with wasabi).
G Room Bar and Lounge, Shop 504, 5/F, K11 Musea, Tsim Sha Tsui, Hong Kong, p. 2332 6662
Yokai
Watch out, yokais (meaning demons in Japanese) are out and about at Central! Global Link brings the renowned spirits from the Yokai Picture Book by renowned Japanese manga artist, Shigeru Mizuki. The Central-based restaurant features charcoal-grilled chicken skewers and fine and rare sakes. And what's yakitori without its distinguished sauce? Yokai has wrapped its prized sauce around pork juices and a soft-boiled egg to make its signature Premium Pork Roll with Egg. Aside from yakitori, Yokai's menu also brims with Hong Kong-favourites like Japanese Scallops, Sirloin Steak, Oyster and more.
Yokai, 23/F, H Queen's, 80 Queen's Road Central, Hong Kong, p. 2368 8331
Estro
Hailing from the Southern Italian town of Napoli, Chef Antimo Maria Merone leads his team at Estro, a new fine dining restaurant in the heart of Central. Inspired by the salotto – a lounge where people sit and relax – and designed by Andre Fu, Estro is the chef's tribute to his Neapolitan roots. Dishes are ingredient-driven and creative reinterpretations of traditional recipes. The dinner menu features courses such as tomato homage, langoustine, pigeon, and more.
Estro, Level 2, 1 Duddell Street, Central, Hong Kong
Route99
TKO residents are in luck! A new pet-friendly restaurant and cafe, Route99, has just opened in Papillons Square. Inspired by New York-style diners in the 50s and 60s, this eatery offers a range of American cuisine. The signature is the Classic US Burger served with Route99 fries; the fries are topped with cheese and bacon bits, and you can order extra cheese in your burger, too! The sirloin steak, ribs, and milkshakes are worth a try as well. But the most outstanding feature of Route99 has got to be its pet food menu and in-house pet grooming services. As you dig into your meal, your pets will be lovingly pampered and you can keep an eye on the process through the windows inside the restaurant. Nobody gets left out at Route99!
Route99, Shop 19, G/F, Papillons Square, 21 Tong Chun Street, Tseung Kwan O, Hong Kong, p. 5187 6655
Fireside
Revel in epicurean feasts at Fireside, a new smokehouse at H Code. From butchery and smoking, to ageing, grilling, and plating, you'll be able to witness the entire process of your food being prepared in the open kitchen and butcher room. Take your pick from an array of rare and speciality meats, fresh seafood, and seasonal vegetables. Don't miss out on signatures such as Confit Duck with Fire Cooked Rice, Hokkigai, and Ora King Salmon. Opt to sit indoors across beautifully flaming embers, or enjoy the breeze in the al fresco dining area on the balcony at Fireside.
Fireside, 5/F, H Code, 45 Pottinger Street, Central, Hong Kong, p. 6610 8689
Holy Bake pops up in Tsim Sha Tsui
Are you a fan of Holy Bake's signature Devil's Chocolate scones? We are! Created by three young women from Hong Kong in April this year, Holy Bake is finally opening its first physical pop-up in TST's Harbour City. From 1 September till 30 November 2021, this creative scones shop will be releasing a series of limited-edition flavours, including the pop-up-exclusive Lava Sesame Glutinous Rice Ball flavour. With a whole sesame tong yuen inside the scone and an oozy molten filling, this scone is truly one of a kind. We also love Holy Bake's Lava Matcha scone and Earl Grey Tea scone. Don't miss out on its innovative Ginger Vinegar scone either (a surprising combo to be sure, but a welcome one!) – complete with small chunks of ginger and and the iconic aroma of Hong Kong's Pat Chun sweetened vinegar.
Holy Bake, Kiosk K, Level 3, Ocean Terminal, Harbour City, Tsim Sha Tsui, Hong Kong, p. 9187 9001
The Continental reopens at The Upper House
With its refined interiors and an enhanced garden terrace, The Continental returns this month, presenting a new bar and a refreshed menu curated by Executive Chef Graham Long. From business lunches and weekend brunches, to dinners, drinks, and small bites, this modern French restaurant aims to deliver a relaxed atmosphere and exquisite cuisine. Be sure to try the pan-fried white bream, merguez sausage flatbread with cashew hummus, charred onions, and chilli jam, as well as the Australian lamb loin with smoked aubergine.
The Continental, Unit 406, L4, Pacific Place, 88 Queensway, Admiralty, Hong Kong, p. 2704 5211
Frank's Italian American reopens
Hongkongers' favourite Italian American social club is back and better than ever! Following its summer renovation, Frank's is now offering new food and cocktail menus. Let your hair down as you bask in Frank's casual vibes and great selection of hip-hop music in the lounge. In addition to Frank's classic items, be sure to try the new pasta dishes, including Lasagna Fritta, Mafaldine Bolognese, and Urchin Caramelle Pasta. To take your experience up a notch, try the luxurious Caviar Service, and don't miss out on seasonal plates like Crudo and Baked Oysters.
Frank's Italian American, G/F & 1/F, Harilela House, 79 Wyndham Street, Central, Hong Kong, p. 2320 0858
Thai Basil reopens in Pacific Place
Originally on the LG level of Pacific Place, Thai Basil has relocated to the first floor of the same mall and is now making its comeback with a brand new look. Delight in superb Northern Thai cuisine surrounded by wooden decor, lush greenery, and vibrant interiors. The menu has also been upgraded, featuring new dishes such as the grilled eggplant salad, tom yum clam soup, wok-fried Thai-marinated pork knuckle with herbs, and more.
Thai Basil, Unit 112, L1, Pacific Place, 88 Queensway, Admiralty, Hong Kong, p. 2537 4682
New restaurants in Hong Kong – August 2021
Jyungin
Hailing from Hokkaido, Japan, Jyungin is an izakaya that just opened its first overseas branch in Hong Kong this month. Prepare to be whisked away to The Land of the Rising Sun with signature recipes from the Hokkaido flagship. Specifically, Jyungin is known for the deer meat patty, a dish made with 70-percent Ezo venison (a Hokkaido specialty) and 30-percent well-marbled beef; miso-stewed Kuroge Wagyu offal, which consists of trims from Japan-bred cattle that are cooked in three types of miso; braised abalone with sake, and more. Be sure to check out Jyungin's excellent food and sake pairings, or opt for the sake flight.
Jyungin, G/F, 33 Man Ying Street, Ferry Point, Jordan, Hong Kong, p. 2816 1278, 佐敦文英街33號地舖淳吟居酒屋
Major and Minor Cafe & Restaurant
It's all about harmony at Major and Minor Cafe & Restaurant in Wan Chai. From fusion plates like the mapo tofu mac 'n' cheese, to the Instagram-worthy butterfly pea spaghetti and rainbow lattes, this cosy eatery has a great range of innovative dishes and beverages. Moreover, there's even an electric piano for you to strut yo' stuff. Or, feel free to prop yourself up on one of the bar chairs by the window and watch the world go by.
Major and Minor Cafe & Restaurant, G/F, Kew Green Hotel Wanchai Hong Kong, 41-49 Hennessy Road, Wan Chai, Hong Kong, 灣仔軒尼詩道41-49號香港灣仔睿景酒店地舖
RadicalChic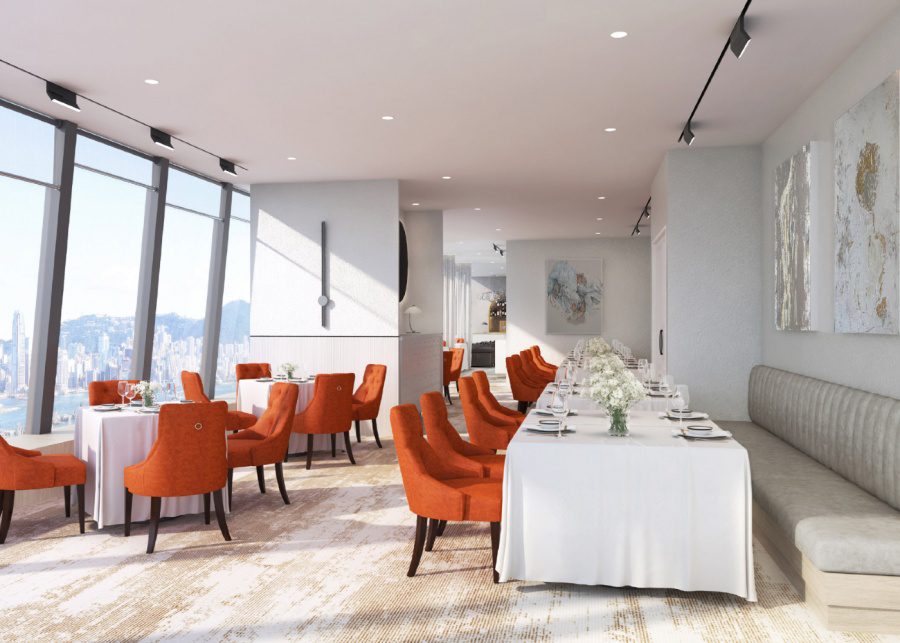 Helmed by Executive Chef Andrea Tarini, RadialChic is a fine-dining restaurant perched on the 101th floor of the ICC. With a focus on using seasonal ingredients, this restaurant aims to elevate Italian cuisine in the 852 (literally). In addition to the a la carte menu, you can also try the carefully curated ten-course degustation menu, too.
RadicalChic, Shop B1, Level 101, International Commerce Centre, 1 Austin Road, Tsim Sha Tsui, Hong Kong, p. 3188 5028, 尖沙咀柯士甸道1號環球貿易廣場(ICC)101樓B1號舖
Moxie
Get hyped for Moxie, a new restaurant that's about to launch in Alexandra House Landmark. Head Chef Michael Smith will be offering casual dining fare all day, featuring environmentally conscious dishes that are designed to showcase the ingredients. With a veggie-centric menu and several plates using sustainably-sourced seafood, you can eat more healthily and conscientiously at Moxie.
Moxie, Shop 203, 2/F, Alexandra House, Landmark, 18 Chater Road, Central, Hong Kong
Sushi Mamoru
Translating to 'protect' in Japanese, Mamoru represents Chef Hirofumi Chiba's commitment to preserving the customs of traditional sushi. At this omakase restaurant, guests will be able to have a taste of rare and seasonal ingredients, prepared in both traditional and adaptive ways. Relish the subtle tastes and textures of each dish featured in the Takumi Omakase, or go for the lunchtime-exclusive Kiwami Omakase (short menu). If you're seeking a new restaurant that provides a refined culinary experience, Sushi Mamoru is a good bet.
Sushi Mamoru, Shop 2, G/F, 32 Oi Kwan Road, Wan Chai,Hong Kong, p. 2133 5700, 灣仔愛群道32號愛群商業大廈地下2號舖すし衛
King's Arms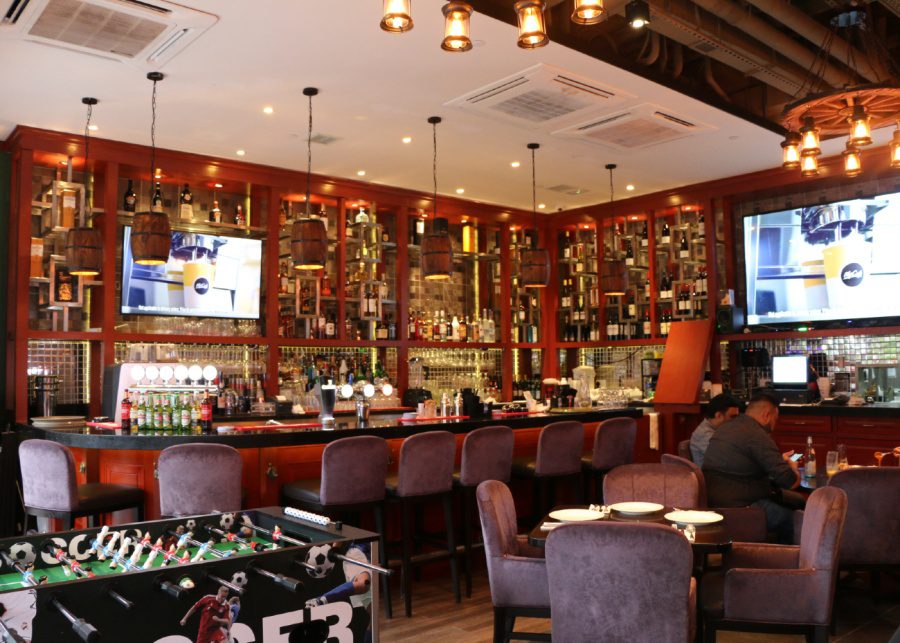 Are you a fan of fish and chips? We've heard there are some delicious ones over in Tung Chung. Enjoy some classic British gastropub affair at King's Arms, the new sports bar in the area. You can dig into hearty dishes such as the all-day breakfast, bangers and mash, various British-Indian curries, or the signature shepherd's pie. Then, wash those down with the pub's some 60-or-so selection of draught and bottled beers. Also, drop by King's Arms if you're in search of happy hour deals, as they run all day from Mondays to Thursdays, as well as between noon and 8pm from Fridays to Sundays.
King's Arms, Shop S, G/F, Seaview Crescent, 8 Tung Chung Waterfront Road, Tung Chung, Hong Kong, p. 2960 1977, 東涌東涌海濱路8號海堤灣畔地下S號舖
Arca Society
Have you checked in at the Arca yet? This new hotel in Wong Chuk Hang is home to Arca Society, a modern fusion restaurant with a whopping space of over 2,000 square feet, including a lush outdoor terrace. Lounge and relax while devouring the Yulan Chicken, which is infused with lemongrass and magnolia petal wine. Or, try the Arca Cheeky Signature Burger, which is made with beef cheeks cooked with red wine sauce and brie. Wrap up your meal with the Arca Dark Chocolate Cigar, a delectable combo of white truffle, cream cheese, and crunchy chocolate.
Arca Society, 3/F, the Arca, 43 Heung Yip Road, Wong Chuk Hang, Hong Kong, p. 3701 6030, 黃竹坑香葉道43號雅格酒店3樓
Katsuo Udon opens in Eaton HK, Jordan
Eaton Food Hall has always been a go-to spot for affordable and quality food in the Jordan area. And now, Katsuo Udon, a popular udon joint in Hong Kong, has opened its doors in the Hall as well. Not only are the udon noodles freshly handmade daily, but you can also savour the branch-exclusive Hojicha Udon here.
Katsuo Udon, Shop 8, LG/F, Eaton Food Hall, Eaton Hong Kong, 380 Nathan Road, Jordan, Hong Kong, p. 3675 2979, 佐敦彌敦道380號香港逸東酒店LG樓Eaton Food Hall 8號舖鰹烏冬
TamJai SamGor opens in Lan Kwai Fong, Central
Those of you who frequent Lan Kwai Fong (we see you!) would've spotted the red-and-black TamJai SamGor on Wellington Street. In true LKF style, this new flagship store offers grilled skewers, such as the spicy sliced beef roll skewers and the vegetarian portobello mushroom skewers. Follow them up with rice noodles in the branch-exclusive SaSa soup, which is a broth based on Malaysian laksa with seafood flavours. While there are various toppings to choose from for your mixian, we'd recommend the three store-exclusive items, including lobster balls and mini cuttlefish. Don't forget to pair these with unique beers made by TamJai SamGor in collaboration with Young Master Brewery.
TamJai SamGor, G/F, Hong Kong House, 15-19 Wellington Street, Central, Hong Kong, p. 2712 9738, 中環威靈頓街15-19號香港工商大廈地舖譚仔三哥米線
Hansik Goo moves to Central
If you loved Hansik Goo's ginseng risotto and fried chicken, you'll be pleased to know that this Korean fine dining restaurant is making a comeback this month at its new location inside The Wellington. In addition to creating new unique dishes, the restaurant is also launching a new beverage list, as well as sool (Korean alcohol) pairing menus, curated by Kim Kyung Moon, the first Korean Master Sommelier in the world.
Hansik Goo, 1/F, The Wellington, 198 Wellington Street, Central, Hong Kong, p. 2798 8768, 中環威靈頓街198號The Wellington 1樓
New restaurants in Hong Kong – July 2021
Censu
Censu's name is play on words. 扇子 (pronounced sensu) is the Japanese word for folding fan yet the name also alludes to a celebration of the senses, not only in terms of taste, touch, sound, smell and sight, but in terms of lifestyle: the team's fashion, music, design and, of course, culinary senses are at the core of Censu's values. The menu is inspired by Chef Shun's father's nostalgic izakaya cooking, and showcases exceptional plates like Squid White Kimuchi, Unigiri, and Zucchini Flower Tempura. Pair your luxurious plates with highballs, fruity fine wines, or a curated selection of premium sake.
Censu, 28-30 Gough Street, Central, Hong Kong, p. 2997 7009
Bentori
Here comes the best hidden Yakitori resto in town! Yakitori is a Japanese type of skewered pork or chicken. Its preparation involves skewering the meat with kushi, a type of skewer typically made of steel, bamboo, or similar materials. Bentori offers wide ranges of skewers and savoury sake cocktails.
Bentori, 10 Tit Hong Lane, Central, Hong Kong
Bengal Brothers
Bringing in a taste of lip-smacking Indian street food, Bengal Brothers promises a burst of flavour, quality, and nutrition in a format that is quick, convenient, and affordable. The signature dish here is the kati roll – chargrilled juicy meat and vegetables wrapped in a flaky paratha flatbread, drizzled with tangy chutney, and topped with crunchy fresh salad. Bengal Brothers also pays homage to other street-side Indian delicacies, lassis included!
Bengal Brothers, 6 Johnston Road, Wan Chai, Hong Kong
Momoz
Hong Kong may have its fair share of momo joints but this particular eatery uniquely muddles traditional Nepalase flavours with an international fusion. With over 10 different flavours to choose from and multiple vegetarian options, Momoz also offers rolls in a contemporary style by integrating innovative elements inspired by different cuisines. We absolutely love their Jain momos that are exclusive to the TST branch, and of course you can never go wrong with the classic lamb momos paired with garlic chutney. The eateries also host an impressive range of locally curated drinks, both alcoholic and non-alcoholic.
Momoz has locations in Lan Kwai Fong and Tsim Sha Tsui.
Pazzi Isshokenmei
In every detail, from its name to its inventive dishes, Pazzi Isshokenmei bridges two worlds: the expressive, wild West and the traditional, disciplined East. Pazzi is the Italian phrase for mad, while Isshokenmei is a Japanese word that means to do something very hard and is laden with history and tradition in Japan. The dishes thoughtfully mingle classics from both ends; the Tokyo Burrata pairs juicy Japanese peach and tomato with a light, creamy Italian burrata, and Miso Crab Tagliolini is an opulent Japanese-inspired pasta. The real showstopper, though, is the Tanoshii Cake that's a medley of premium Japanese ingredients from Hokkaido, including sea-fresh uni, toro, and caviar.
Pazzi Isshokenmei, 2/F H Queen's, 80 Queen's Road Central, Central, Hong Kong, p. 2555 0666
Musubi Hiro
An izakaya-inspired gastropub that pays homage to Japan's tokusatsu culture, Musubi Hiro serves up a storm of epic yet down-to-earth menu of made-to-order musubi creationsand re-imagined izakaya snacks along with a curated selection of sake and craft beer. Musubi Hiro is the city's ultimate destination for delicious food at affordable prices. Mural art sets the scene inside and outside the restaurant, all done by the emerging local talents from the Hong Kong Design Institute. Combine all of that with some Japanese hip-hop and you're transported to a Japanese cultural hub!
Musubi Hiro, G/F, 37 Cochrane Street, Central, Hong Kong, p. 5597 6911
Midway Beef Dogs
An entire restaurant dedicated to hotdogs? Now that's new! Midway Beef Dogs brings classic Chicago-style, all-beef hot dogs to Hong Kong. Launching with a single style, the all-beef dog is tucked in a freshly-baked traditional poppy seed bun with classic condiments but a slight twist with a dash of celery salt. Add your fave soda for the true hot-dog experience!
Midway Beef Dogs, Belowground, 1B/F, Landmark Atrium, 15 Queen's Road Central, Central, Hong Kong
Margo
By enhancing the natural flavors of high-quality ingredients, Margo offers contemporary European cuisine with German influences from Chef Mario's native origins. Though the menu is locally inspired, the dishes bring novel flavour profiles from various regions of Europe. These include the 12-month aged organic Tilapia, and Berlin's currywurst served with a curry ketchup sauce. This intimate brasserie-style modern dining concept also has a whimsical speakeasy cocktail bar, Kyle & Bain, Hong Kong's very first specialty American Martini Bar.
Margo, Shop 6, 9 Queens Road, Central, Hong Kong, p. 2130 7731
Meat The Sea
Meat the Sea is an all-new premium deli with a versatile range of European products with an open-kitchen that educates patrons on how the food is prepared. The seafood is sustainably sourced with no overfishing in their supply chain. The signature dishes include the Creuses Oyster Holland, MTS Salad Dutch Shrimps, Smoked Salmon, Foie Gras Curls, and the Hummus, Couscous, Sun-Dried Tomato and Smoked Trout Dill. Although they mainly specialise in meat and seafood products, Meat The Sea also offers a variety of delicious 100% vegan, lactose-free, and egg-free nibbles to make sure that no one is left behind because of their dietary restrictions.
Meat The Sea, 108 Hollywood Road, G/F, Shop D, Sheung Wan, Hong Kong, p. 6845 7395
Funky Monkey opens in Tung Chung
Believed to epitomise good luck, Funky Monkey is also named after the Chinese zodiac year of the monkey in honour of when their 1st branch opened for business in 2016. Like the name suggests, it's full of funky murals, music, and tiki-themed cocktails. Different branches of Funky Monkey serve different signature dishes; Tung Chung serves the amazing Himalayan Thali Set, the Momo Platter is the signature dish of the Tsim Sha Tsui branch, and the Jordan branch's signature dish is Sekuwa – a grilled pork or chicken meat mixed with traditional Nepalese natural herbs and spices with other ingredients. Don't miss the crazy deals at happy hour, we're talking buy-one-get-one-free drinks! Plus, for the new Tung Chung branch, there's two-hour free flow for just $198 for Gents' Night!
Funky Monkey has locations across Hong Kong.
La Rotisserie opens in Causeway Bay
The traditional French rotisserie continues to expand on the Island side with the largest location opening in Causeway Bay, which will also be the first to offer breakfast pastries (croissants!). Adjacent to the main kitchen area is La Sandwicherie – a sub counter where delectable sandwiches can be customised and assembled upon order. Plus, the salad bar we all know and love is bringing in some coleslaw, quinoa, and a corn and avocado salad.
La Rotisserie, Shop G12, G/F, Lee Garden One, 33 Hysan Avenue, Causeway Bay, Hong Kong, p. 9791 9043
Asaya Kitchen reopens at Rosewood
Asaya Kitchen is back with a revamped menu offering Mediterranean pescatarian dishes that focus on seasonal ingredients sourced from local farmers, fisheries, and food artisans. Plates are infused with raw, sprouted, pickled, and fermented organic ingredients in the à la carte lunch menu, while the dinner menu takes on a more detailed and elevated dining approach. New show-stealers on the menu include the King Crab with roasted beets and dill in a buckwheat tart and the Spanish Octopus paired with charred, smoky eggplant, Juniper salt, and preserved lemon.
Asaya Kitchen, 6/F Rosewood Hong Kong Victoria Dockside, 18 Salisbury Road, Tsim Sha Tsui, Hong Kong, p. 3891 8732
California Pizza Kitchen opens in Tuen Mun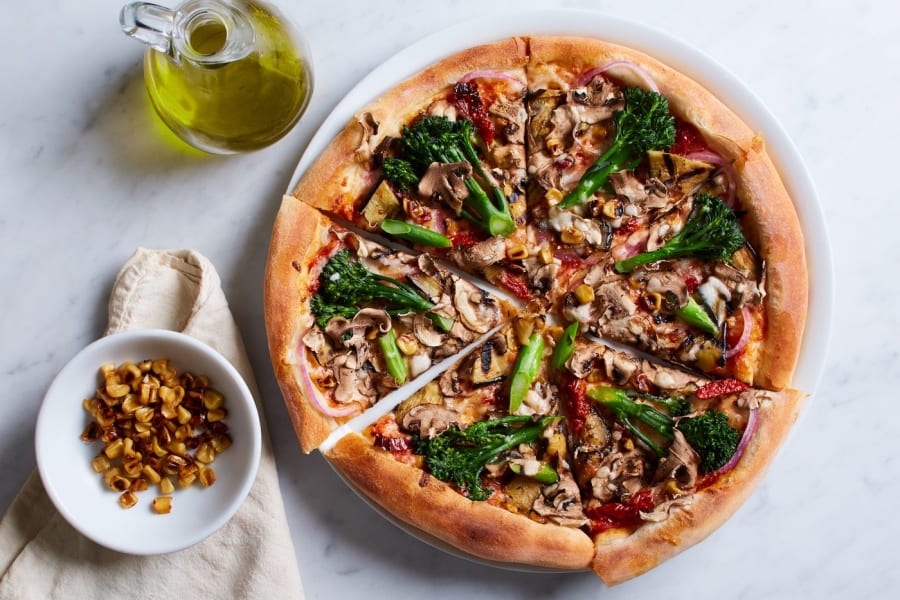 Originally from Beverly Hills, California Pizza Kitchen oozes Cali-culture and vibes with its hand-tossed pizzas, variety of pasta, salads, and appetisers. Start off with some Mexican Street Corn or Avocado Club Egg Rolls, before going full-on on their exotic choice of pizzas (yes, we can't stop going on about them!) Also, we're all green with smiles because there are four veggie pizza options to choose from. The Original BBQ Chicken ($130) is the most popular and iconic item created with the brand since 1985, so you know this one's not to be missed!
California Pizza Kitchen, Shop 3218, 3/F, Phase 1, Tuen Mun Town Plaza, Tuen Mun, Hong Kong, p. 3169 7298
Twist and Buckle opens in Eaton
Hong Kong's first-ever authentic churrería will open a second location inside Eaton HK's buzzing Food Hall in Jordan. To celebrate the occasion, a new, limited edition Ube Churro will be available only at the new locay. Also new are Dulce De Leche Filled Churros, filled with classic South American dulce de leche. If you want the true authentic churro experience, you gotta go for the classic! And did we mention how affordable the prices are?
Twist and Buckle, Eaton HK, 380 Nathan Road, Level B1, Shop 2, Jordan, Hong Kong
Basehall announces three new outlets
Building on its mission to support culinary talent in the city, BaseHall has introduced Francis as its newest outlet, to indulge in the same style of palate-pleasing dishes. Diners will be able to enjoy a full taste of Francis with a three course set menu that's exclusive to BaseHall, which comes with the Jerusalem bagel. Also, BaseHall Bar is revamping with a new wine bar concept, under the aptly named WineHouse by BaseHall Bar. Diners can indulge in a premium selection of wine – by the glass starting at $35 to $100 – ranging from traditional vintages to a unique selection from Japan. Third, Grub 1842 introduces revolving pop-up cuisine to BaseHall with a gourmet take on Mac & Cheese. To top it all off, those with more of a sweet tooth will delight in the Dark Chocolate & Peanut Butter Cannoli by Holy Cannoli.
Basehall, Jardine House, Shops 9A, 9B and 9C LG/F, 1 Connaught Pl, Central, Hong Kong
Classified dons a new seasonal menu
With a focus on elevating already acclaimed, time-honoured dishes while adding a few new international elements to the mix, Classified is here with a new seasonal menu to tantalise your taste buds. New lean and vegan options are available as well as South East Asian eats from both the Breakfast and All Day Dining offerings at all locations. You can jumpstart your day with a healthy chia pudding or granola yoghurt bowl. Come back again for lunch and enjoy some spicy Thai beef salad, Vietnamese beef pho, or the beer-battered fish and chips.
Classified has multiple locations around Hong Kong.
New restaurants in Hong Kong – June 2021
Grain
Three cheers to Grain, the craft beer bar and restaurant that's just opened in K Town. A former flour store (hence the name Grain), the site has been transformed into a chic and spacious diner that also houses a brewery: Gweilo's Brewlab. This on-site brewery offers six core beers at the moment, including the Gweilo Lager, Pale Ale, Citrus Crusher, and various IPAs. The 24 taps at the bar also feature a rotating selection of beers by Gweilo and other breweries, as well as tap-served cocktails. Don't forget to pair your beers with some gastropub grub, such as the popular GFC (Gweilo Fried Chicken), Carbonara Pizza, and the slow-cooked ox cheek served with stout beer pie and mashed potato. And don't miss out on the weekend brunch and roast menus too.
Grain, G/F, Shop 1, New Fortune House, 3-5 New Praya, Kennedy Town, Hong Kong, p. 3500 5870
The Peninsula Boutique & Café
One of Hong Kong's most iconic hotels, The Peninsula, is opening the Peninsula Boutique & Café this month. In a cosy setting with around 25 seats, you can expect exclusive services and a luxurious gourmet experience. The Hotel's Afternoon Indulgence tea set is offered at the site, featuring its famous scones, and complete with tea or Deutz Champagne. Fresh coffee with latte art and a range of wines, soft drinks and juices are also available. For those who prefer something light, opt for the Café's selection of finger sandwiches and artisan patisserie. In the mood to wind down? Relax with a book from the Assouline Bookstore section in the elegant Boutique. You'll also be surrounded by specialty gifts and premium hampers, so don't forget to pick something up for yourself and your loved ones.
The Peninsula Boutique & Café, The Peninsula Arcade, Salisbury Road, Tsim Sha Tsui, Hong Kong, p. 2696 6969
The Big Things Kitchen
Looking for big and brilliant bentos for your lunch break in Central? Grab and go from The Big Things Kitchen, a newcomer at the heart of the city. Inspired by washoku, a Japanese philosophy about the harmony of food, this eatery offers a variety of comfort foods and fusion bowls. The Big Kitchen also centres its concept around the number five, which signifies balance—spot the five-compartment bento box, and motifs around the store. One of the must-try items is the Badass Bento, with its slow-cooked Australian wagyu on a bed of sushi rice, then topped with salmon roe, edamame and dashi tamago. Alternatively, go for the soba noodles or salads, and wash them down with some refreshing, cold-brewed teas.
The Big Things Kitchen, Shop 7, LG/F, Jardine House, 1 Connaught Place, Central, Hong Kong
Whey
The group behind two Michelin-starred Ying Jee Club, ZS Hospitality is venturing into the world of sustainable cuisine with Whey. Using fresh, seasonal, and locally sourced ingredients, Singaporean chef Barry Quek aims to create sustainable delicacies that fuse European and Asian flavours. While every course in the tasting menu is unmissable, one of the highlights include the Pork Rib Bak Kut Teh, which uses pork ribs from New Territories, pork heart, and fermented cabbage, seasoned with homemade pepper jus and black garlic jam. Durian lovers should definitely try the dessert, which is an ice-cream made with premium mao shan wang durian, and topped with some indulgent Cristal Caviar.
Whey, UG/F, The Wellington, 198 Wellington Street, Central, Hong Kong
Crust Italian
Celebrating the food culture and essence of the Campania region, Crust Italian will satisfy Hongkongers who miss the vibes and flavours of Southern Italy. With a pasticceria (pastry and coffee shop) and restaurant area, you'll be able to try authentic Neapolitan street food and rare culinary gems, like Giri di Pasta and Pizza Frito. Aside from flaky pastries, scrumptious lunches, aperitivo and more, you can look forward to the caffe sospeso (suspended coffee), which is meant to be drunk at the bar standing up, like a true Napolitano.
Crust Italian, The Woo Cheong Pawn Shop, G/F, 60A–66 Johnston Road, Wan Chai, Hong Kong
Graham St Food Hall
Prepare to be spoilt for choice at the Graham St Food Hall! This pet-friendly dining venue has five different vendors, including the Food Hall-exclusive Hambāgā, which sells Japanese-style hamburg steak donburi bowls. Also, there's Smoke & Barrels with its satisfying meats and sandwiches. Those who fancy some cheesy pizzas and scrumptious wings can order from Motown Pizza & Wings. For something sweet, head to La Viña, which features its signature Basque burnt cheesecake and baked goods. Finally, we have Casa Cacao with artisanal chocolates and other treats. In June, this Food Hall is offering daily offers like all-you-can-eat wings and buy-one-get-one deals. Keep an eye out for pop-ups, as well as weekly community events, such as trivia nights, flea markets and pet adoption days.
Graham St Food Hall, Shop 3, 23 Graham Street, Central, Hong Kong, p. 9612 0988
Americano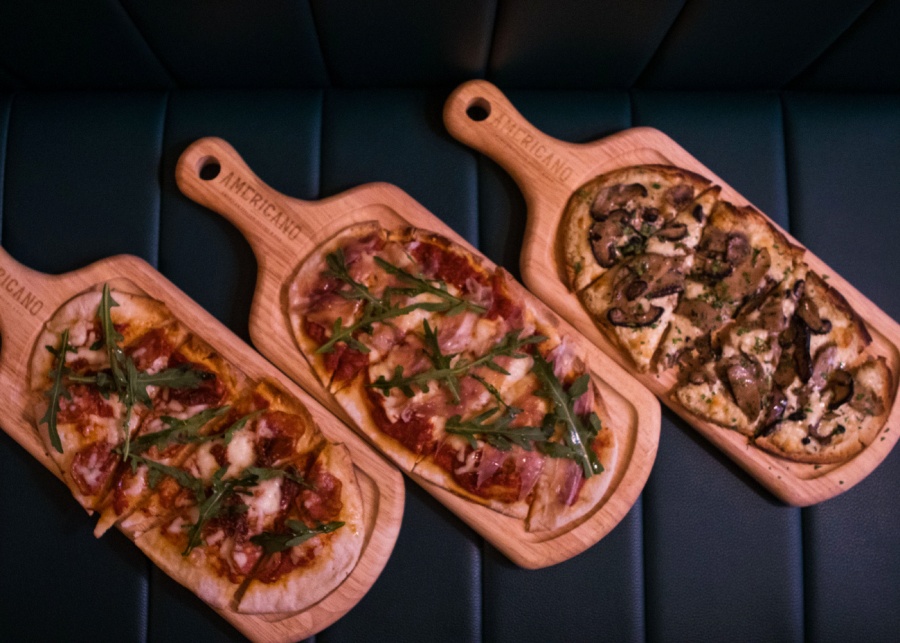 Newly opened in Soho is Americano, a casual bar and restaurant that offers a variety of Italian-American bites, and plenty of good vibes. Apart from hearty pizzas and scrumptious burgers, there are seasonal pastas, such as the Classic Black Truffle Mezze Maniche Carbonara. For something to cool you down this summer, try the Avocado Gazpacho, or sip on a refreshing tipple from the bar.
Americano, Shop A, G/F, Kam Hei Mansion, 33 Staunton Street, Central, Hong Kong, p. 2628 6186
Boticario
Here's yet another spectacular bar and grill to add to the vibrant TST East waterfront. Boticario is going to take your breath away not only with its stunning views, but also its uniquely crafted elixirs and comfort foods. Inspired by South America's farmacias in the 1920s, Boticario has its concept set on 'cures for the modern age' – sounds perfect for us busy bees in The 852. Don't be surprised to bump into one of us from the Honeycombers at Boticario, as we lounge around with a striking cocktail in hand!
Boticario, Shop G5 & UG 15, Tsim Sha Tsui Centre, 66 Mody Road, Tsim Sha Tsui East, Hong Kong, p. 2765 0800
Pablo
Fans of Mexican cuisine are in luck, because Pablo is here to sort you out. By taking its name from the famous Pablo Picasso, the restaurant hopes to inherit the artist's creative spirit and flair. Aiming to reimagine Mexican food by adding an Asian twist, the flavours in the fusion plates and bevs at Pablo will be a pleasant surprise. You'll find tacos al pastor (pork tacos), yellow ceviche with hamachi, and other dishes with unexpected makeovers. Moreover, there's a good range of vegetarian options and innovative cocktails.
Pablo, G80-85, Tsim Sha Tsui Centre, 66 Mody Road, Tsim Sha Tsui East, Hong Kong
La Vache! opens in Admiralty
La Vache!'s third location is opening in Pacific Place, bringing its crowd favourite steak-frites to the heart of Admiralty. The classic menu remains to be the richly marbled 10oz USDA Prime ribeye, served with unlimited crispy frites, an organic salad, and the steakhouse's secret sauce.
La Vache!, LG/F, Pacific Place, Admiralty, Hong Kong
Dang Wen Li by Dominique Ansel opens in Central
Rejoice, white collars! You're now able to kickstart your morning with delicious French pastries from Dang Wen Li by Dominique Ansel. The esteemed bakery is opening its flagship store at H Queen's, offering the area fresh viennoiseries, baked goods, desserts, and more. Aside from the brand's all-new Croissant Toast, this new shop at H Queen's will also be offering branch-exclusive items, including Frozen S'mores (omg yum!!) and the Satay Beef Peanut Waffle. So make sure to pop by and grab some buttery loaves!
Dang Wen Li by Dominique Ansel, Shop 2, G/F, H Queen's, 80 Queen's Road Central, Central, Hong Kong, p. 3482 7735
Feather & Bone opens in Causeway Bay
Famed butcher and deli Feather & Bone is on a roll with its 11th store now opening at Lee Garden Two. With a Butcher's Counter, grocer, dining area, and the first ever in-house FAB bakery, this new branch will be the one-stop destination for all your meaty and foodie needs. Bonus: there are exclusive opening offers for the whole of June, so don't miss out!
Feather & Bone, Shop LG11-22, LG/F, Lee Garden Two, 28 Yun Ping Road, Causeway Bay, Hong Kong, p. 3529 1228
Pici opens in Kennedy Town
Those out and about in Kennedy Town would've seen the queues at Pici's brand new sixth location. Besides freshly hand-crafted pasta, Pici in K-Town has some exclusive offerings. The new signature is Ravioli Codfish, which features Atlantic codfish wrapped in spinach dough and topped with capers, olives, and potato mousse.
Read our review on Pici.
Pici, G/F, 45-55 Cadogan Street, Kennedy Town, Hong Kong, p. 2699 1033
Café Bohème opens in Tseung Kwan O
Your favourite cafe in West Kowloon is opening a new branch in June. That's right, Café Bohème is heading to Tseung Kwan O, giving the neighbourhood a slice of its downtown vibes and delicious cuisine. We're expecting business as usual with Café Bohème's fresh pasta and pizza, plus its variety of salads, savouries, and desserts.
Café Bohème, Tseung Kwan O, Hong Kong
Tokio Joe is back!
This LKF hotspot has returned with brand new interiors and menus. Now focusing on omakase and injecting it with a bit of fun, Tokio Joe is going against the formality of the Japanese tradition. Using fresh seafood to produce unique flavour combinations, one of the must-try items in the new menu is Joe's Appetizer Trio of griller oyster, spicy salmon tempura, and white fish with yuzu ponzu. Another is the LKF Roll with sea urchin, salmon roe, steamed lobster and the scrumptious chu-toro tuna. Aside from the signature Spicy Toro Tartare and various other items on the à la carte menu, there are hot dishes too, like Joe's New Zealand Lamb Fumi and the Grilled Sea Bass. Inspired by Japanese gaming dens from the 1950s and 60s, get ready to get down and take some shots like a gangsta at Tokio Joe.
Tokio Joe, 16 Lan Kwai Fong, Central, Hong Kong, p. 2525 1889
---
New restaurants in Hong Kong – May 2021
Casa Cucina & Bar
Enjoy the best of both worlds at Casa (meaning home in Italian), a cafe by day and a cocktail destination by night standing three-storeys high. The interiors are designed to represent a home, each floor welcoming guests with different settings, while the comforting dishes that are ideal for sharing, include a house-made fresh pasta selection and a variety of seafood. Pair your dishes with either a Bloody Mary Martini or the Green Mile for a balanced diet (if you know what we mean).
Casa Cucina and Bar, Shops 8 & 9, 158A Connaught Road West, Sai Ying Pun, Hong Kong, p. 2887 9666
The House of Orient Dim Sum Teahouse
Sample a taste of Hong Kong's colonial era, and handcrafted dimsum at House of Orient, an East-meets-West culinary concept. The fusion style is vivid in every dish and drink, be it the aromatic tea, cross-culture dimsum, or scrumptious small bites. Don't miss out on the unique black pepper beef pastry, Phoenix Eye dumplings, and the thousand-layer custard cake. Aside from its lunchtime experience, House of Orient also offers an afternoon tea service, carving out a time for guests to relax over brews and nibbles, which again hone the bygone colonial era.
The House of Orient Dim Sum Teahouse, 2/F, Entertainment Building, 30 Queen's Road, Central, Hong Kong
Aqua Kyoto
Statement in Tai Kwun is bringing London's hottest Japanese joint to the 852. Aqua Kyoto offers deliciously unique signature dishes and the head Chef worked meticulously with London's branch (via video calls) to bring to life Aqua Kyoto's eclectic style of cooking. On weekends, don't miss the incredible Kanpai Brunch which includes yakitori skewers, tempura, Japanese sandos and much more.
Aqua Kyoto, Police Headquarters Block 01, Tai Kwun, 10 Hollywood Road, Central, Hong Kong, p. 2848 3000
Eat Fuh
Hailing from the land down under, Eat Fuh is stepping foot outside Australia for the first time, and excitingly for us, they've picked Hong Kong. When it comes to pho, there are rarely vegetarian options as the broth is almost always meat-based, but Eat Fuh considerately offers an all veggie pho (that's not overpriced!) served with tofu, cabbage, mushrooms and garnish. It will be like immersing yourself into a Saigon street corner, plummeting your bottom onto a little street vendor's stool and diving nose first into the bowl. Except you'll be in Sai Ying Pun.
Eat Fuh, G/F, 345A Queen Road West, Sai Ying Pun, Hong Kong
Moon Lok Chiu Chow
Chiu Chow cuisine has a 60-year heritage in Hong Kong and this new dining hot spot offers three grand set-menus, with eight courses each for lunch and dinner. Set Happiness, Set of Joy, and Set of Delight all deliver precisely curated seafood staples with delicacies such as the sea cucumber, salted egg yolk, and snow fungus sweet soup. A la carte options are also available and signature dishes include pig's lung soup with almond juice, Chiu Chow deep-fried taro chip, and hand-shredded chicken with sesame sauce. The sharing menus make this restaurant ideal for meal gatherings with family.
Moon Lok Chiu Chow has multiple locations in Hong Kong
Studio City by Cali-Mex
You're probably living under an avocado if you haven't come across or dined at Cali Mex in Hong Kong. Studio City is the eatery's new, revamped, and high-end elevation of classic Mexican bites we know and love – grab your utensils and dig into the Nachos Grande, Queso Fundido, and the Studio City exclusive Pescado a la Talla. The cocktail lounge features one of Hong Kong's largest range of tequilas and mezcals (brace your livers!), so head over for after-work drinks, a dinner date, or a rambunctious evening with friends.
Studio City by Cali-Mex, Fashion Walk, Shop C, Ground Floor, 50-56 Paterson Street, Causeway Bay, Hong Kong, p. 6050 9332
Carat
This new Indian & Mediterranean restaurant is a must-try in terms of its food, ambience, and charming staff. Situated in the heart of Tsim Sha Tsui, the 2,000 square feet space has a total of nearly 300 seats, making it the largest Indian and Mediterranean restaurant in Hong Kong. The expansive dishes on the menu may make it hard for you to pick, but we absolutely loved the Mediterranean dips tasting platter, roasted spiced chicken in Mediterranean Style, and the tandoori fruit chaat. The outdoor seating area is set-up much like an oasis with rattan armchairs, bright cushions, and umbrellas creating a makeshift roof. This is a resto you'll defo want to head back to for more.
Carat, 4/F., Winfield Commercial Building, 6-8 Prat Ave, Tsim Sha Tsui, Hong Kong, p. 2391 3929
Roji
Hidden gems are the best gems, Roji is a contemporary izakaya befittingly named after roji ura, meaning alleyway hideout in Japanese. Bring the land of the rising sun to your table with The Seafood Box, loaded with snow crab meat and ikura along with mushrooms, garden cress, and shiso, hot off the stove giant claims, and share a fun and innovative plate of Torotaku. Don't leave your dessert stomach hanging – the warm brownie served with semi-melted marshmallows, white chocolate, and homemade Hojicha ice cream is so homely like something your momma would bake you when you were young.
Roji, G/F, 20A D'Aguilar Street, Central, Hong Kong
Giovanni Pina
This century-old Italian bakery has stepped out of its borders for the first time and has picked the locality in the heart of Hong Kong, K11 Musea. The al fresco dining boasts a luxurious yet casual experience right by the dazzling golden ball. Every bite of their Italian pastries shows precision to technique, taste, and quality. We could not get enough of the Cannoncini Crema, and the decadent Sacher all' Italiana. Other stand-alone dishes include the Liguria braised seafood and the lobster risotto. End your Italian delight with some caffe Milani, or the refreshing and creamy gelato.
Giovanni Pina has locations in Tsim Sha Tsui and Tsuen Wan.
La Rotisserie opens in Central
The resto that serves French chicken paired with plenty of vegetarian salad options is opening doors in Central's SoHo district. The casual 15-seat bistro includes an outdoor space for alfresco drinks, but the affordable menu remains the same. For their grand opening, head over before 2nd May to enjoy 20% off selected menu items.
La Rotisserie, G/F, 4 Staunton Street, Central, Hong Kong, p. 5628 4370
---
New restaurants in Hong Kong – April 2021
DPD Deluxe
Conveniently located near Fortress Hill MTR, DPD Deluxe offers fresh feasts that are met with delicate decor. Curated by two teams of star-studded chefs serving both Western and Chinese cuisine, the menu boasts a variety of international dishes – including spaghetti aglio-e-olio with Hokkaido scallop, Omnipork luncheon meat with quinoa in pumpkin sauce, and sweet and sour pork with bell pepper and spicy sauce, amongst others that cannot be missed.
DPD Deluxe, Shop 10B-13, G/F, AIA Tower, 183 Electric Road, North Point, Hong Kong, p. 2827 8328
Salisterra
Crowning the top floor of The Upper House, Salisterra will open in mid-April 2021. Formed by the Latin words salis for salt and terra for Earth, Salisterra will capture the richness of the Mediterranean with the warmth and familiarity of a neighbourhood bistro. Focusing on fresh, vibrant flavours, the menu will draw inspiration from the coastal cuisines of France and Italy, where good food and wine are about bringing people together.
Find out more about Salisterra here.
Bread Pantry
Following the success of Bakehouse and Bread Elements, veteran pastry chef and master baker Grégoire Michaud brings his beloved baked goods closer to home with the launch of Bread Pantry. His new range of artisan breads will be available in supermarkets, food halls, and retailers soon. Shoppers can look forward to Michaud's signature sourdough breads – crafted over 36 hours through a natural fermentation process – in various home-friendly iterations. Bread Pantry's loaves are meticulously baked in stone-bed ovens in true time-honoured tradition and delivered fresh daily.
Find out more about Bread Pantry here.
Wagyu Yakiniku Ichiro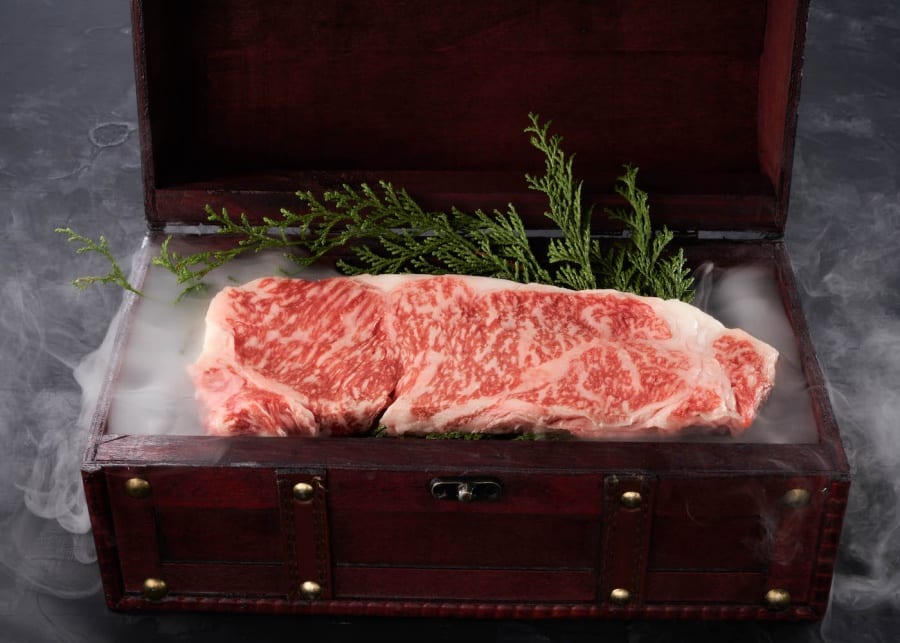 A true Japanese dining experience is arriving in the heart of Jordan complete with unique Shinkansen bullet train service to table grills. The minimalist resto is set to open doors early April, offering unlimited Wagyu beef, a premium selection of seafood, and free-flowing 'help yourself' options (for up to two hours) of finely selected sake, salad, and dessert. Completing the menu are rice, soup and ramen comfort food favourites.
Wagyu Yakiniku Ichiro, 3/F, Pak Shing Building, 31-37 Jordan Road, Jordan, Hong Kong, p. 2736 8218
J.A.M.
To commemorate its grand opening, J.A.M. (Joint Asian Market) presents a new afternoon tea menu with a sweet Asian twist that consists of an eclectic mix of cuisines from South East Asian countries. From 2 – 8 pm daily, you can enjoy the afternoon tea menu offering upscaled street food. Think satay skewers, dumplings, bánh mì, Korean fried chicken, and Phở, all undeniable stable dish favourites.
J.A.M., Lobby, Nexxus Building, 41 Connaught Road, Central, Hong Kong, p. 2808 1086
Le Fromage by Ma
Le Fromage by Ma is bringing healthy, cruelty-free, and non-dairy indulgence to K11 MUSEA. Promising to be Hong Kong's only and finest vegan cheeze establishment, they offer over 20 varieties of vegan cheese, crafted using the finest (and healthiest) ingredients. A pleasant surprise for vegans and non-vegans alike.
Le Fromage, Unit 21 of B201, K11 MUSEA, Victoria Dockside, 18 Salisbury Road, Tsim Sha Tsui, Hong Kong, p. 6019 5889
Katsumoto Hong Kong
Our beloved Japanese eatery to grab the tastiest sandos is opening doors in a brand new locay this April, and we can't quite contain the excitement. Adding to the wide array of cuisine in Elgin Street, Katsumoto attracts patrons with its delish weekend brunch sets, signature cheeseburger rolls, and the delicate tuna tartar. We can't wait to see what the new sando bar has to offer!
Find out more about Katsumoto
Pala
Since its opening at the tail end of 2020 (yes, they braved Covid!), Pala has become a vegan-friendly Roman-style neighbourhood eatery for authentic pizza alla pala and freshly baked panini sandwiches. Each month, Pala's chef will curate a set lunch menu that delivers on flavour and variety for an attractive price. Patrons can opt for either a two-course or three-course meal that can both be paired with drinks. Pala brings Rome to Hong Kong with its courtyard garden offering guests an al fresco dining experience too.
Pala, 7 Amoy Street, Wan Chai, Hong Kong, p. 6979 1332
Les Papilles
Les Papilles, which means taste buds in French, is a cosy bistro that specialises in French cuisine. They're welcoming spring with a new Spring Tasting Menu ($698 per person) with traditional dishes from the south of France. The chef takes a French spin on hummus by adding French tahini, and one of the main courses includes layers of African abalone. Also worth trying is the French Aveyron lamb rack with creamy polenta, Ratatouille, and rosemary jus. If these tickle your fancy, say merci at this classy French restaurant.
Les Papilles, G/F, 44 Tang Lung Street, Causeway Bay, Hong Kong, p. 3114 2389
Marks & Spencer expands Plant Kitchen offerings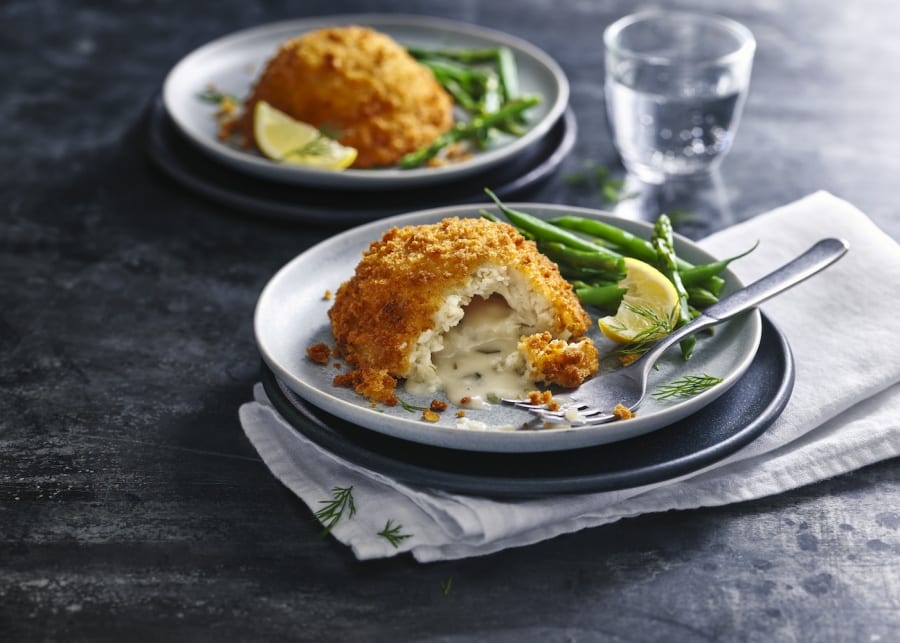 We're likely to find British retailer Marks & Spencer in most corners in Hong Kong, so accessing their new plant-based products should be super simple. New vegan versions of some of its best-known products, such as melt-in-the-middle fishcakes, meatballs, and chicken tenders have just launched. As for the non-dairy scene, we have Plant Kitchen mature-style cheddar cheese which comes either sliced, grated, or in a block. Make space and stock up!
Marks & Spencer has multiple locations in Hong Kong
---
New restaurants in Hong Kong – March 2021
Sugar Rush
We sure love all-day breakfasts, so there's no doubt we will love all-day desserts. Valentine's Day may have passed but it's still completely reasonable to devour sweets and confectionaries with no need for an occasion. K11 Art Mall brings 18 days of sweet rewards in their Sugar Rush pop-up that runs until March 11. Whether you are a chocoholic, a cake fanatic or an all-round dessert maniac, K11 Art Mall's Sugar Rush has got you covered.
Sugar Rush, 1/F & 2/F Corridor, K11 Art Mall, Hanoi Road, Tsim Sha Tsui, Hong Kong, p. 3118 8070
Between pop-up
Following the success of the Tai Kwun opening, Between is launching a limited time pop-up at HAUS in Central to charge up patrons throughout the day. The Kagoshima Wagyu Katsu Sando and the light and healthy Avocado Toast with Japanese Egg alongside a hand-drip coffee or beetroot soy has got to be the best way to get prepped for the day. The Between barista team will be onsite to educate guests about coffee beans and brewing.
Between, HAUS, Shop 38 & 40, G/F, 48 Queen's Road Central, Central, Hong Kong, p. 2877 8711
Big Birdy
This second branch dishes up a menu of fresh, delicious free-range flame grilled Portuguese style chicken with housemade Peri Peri sauces, a bountiful selection of chef-crafted superfood sides, made-to-order sandwiches, and a full-range beverage menu of curated cocktails and specialty beers. Perpetuating the hangout vibes, Big Birdy also puts on a banging weekday happy hour from 3 to 8pm with drinks starting from HK$40. Take-away, delivery and catering are also available.
Big Birdy, G/F, 9B, Ship Street, Wan Chai, Hong Kong, p. 3401 1022
Feather & Bone shop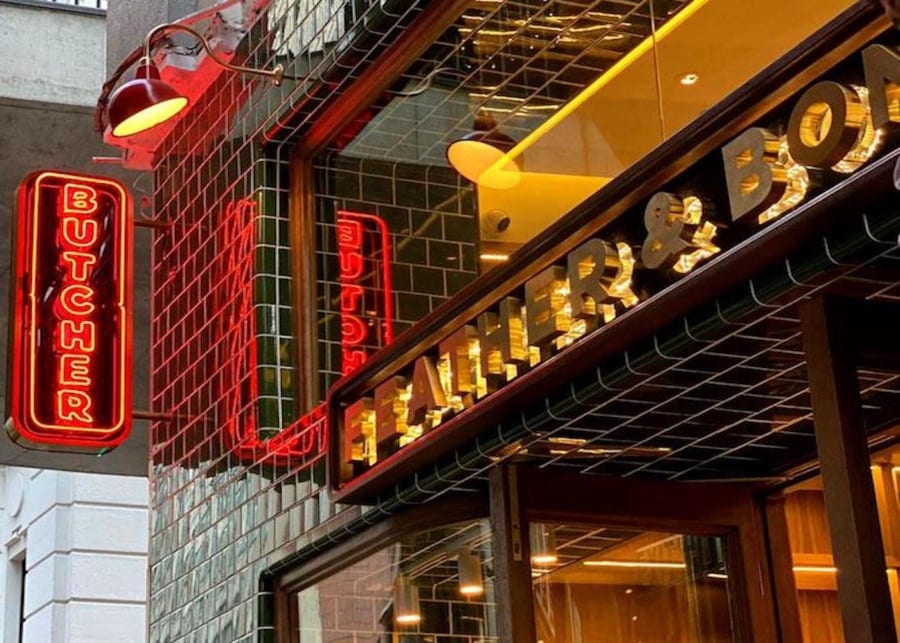 What starts in Central, stays in Central. Feather & Bone has opened a new shop, its new locay is set on Hollywood Road near its Mid Levels eatery. New location but same old luscious meat in this iconic green facade using vintage tiles inspired by archetypal British butcher shops from the 1930s. To commemorate the new opening, the shop is offering 10% off any whole beef slabs purchased to-go.
Feather & Bone, 20 Hollywood Road, Central, Hong Kong, p. 2325 8570
Gardini Ristorante E Bar Italiano
The Lovelocks Afternoon Tea at The Pottinger is a collaboration with British jewellery brand Annoushka, this luxurious romantic tea set is to run until 23 April 3.00 – 5.30 pm daily. The culinary team at Gradini translates its savouries to match with the jeweler's contemporary designs. Sweets include an enticing selection of dainty desserts such as lemon madeleines with gold chocolate, honey jelly with gold leaf, and rose panna cotta with gold leaf, to be paired with freshly brewed illy coffee, a selection of premium whole-leaf teas, or in-house cocktails.
Gardini Ristorante E Bar Italiano, Lobby Level, 74 Queen's Road Central, Central, Hong Kong, p. 2308 3088
Fish Bar
The tantalising menu serves up a fine selection of daily fresh catch and sustainable seafood sourced from the world. Get a glimpse of the chefs in action at the open kitchen whilst indulging in a scrumptious seafood feast. The signature dishes include chillies seafood tower, crab and lobster cake, mussels and fries, and grilled spinach octopus. The restaurant has alfresco dining and is located adjacent to the swimming pool, offering a refreshing and tranquil dining experience.
Fish Bar, Pacific Place, 88 Queensway, Admiralty, Hong Kong, p. 2810 8366
Royal Caviar Club
Renowned worldwide as a pioneering brand in fine food products, Royal Caviar Club offers exclusive access to the world of fine things and rare pleasure – from premium caviar and champagne to luxury accessories. Royal Caviar Club is launching its first ever pop-up store, at Lane Crawford in Pacific Place until 7th March 2021. We are definitely curious to know how the Aurum 23.75K Edible Gold Flakes Gift Set tastes (yes, edible gold!).
Royal Caviar Club, One Pacific Place, Level, 88 Queensway, Admiralty, Hong Kong, p. 9447 8565
The Place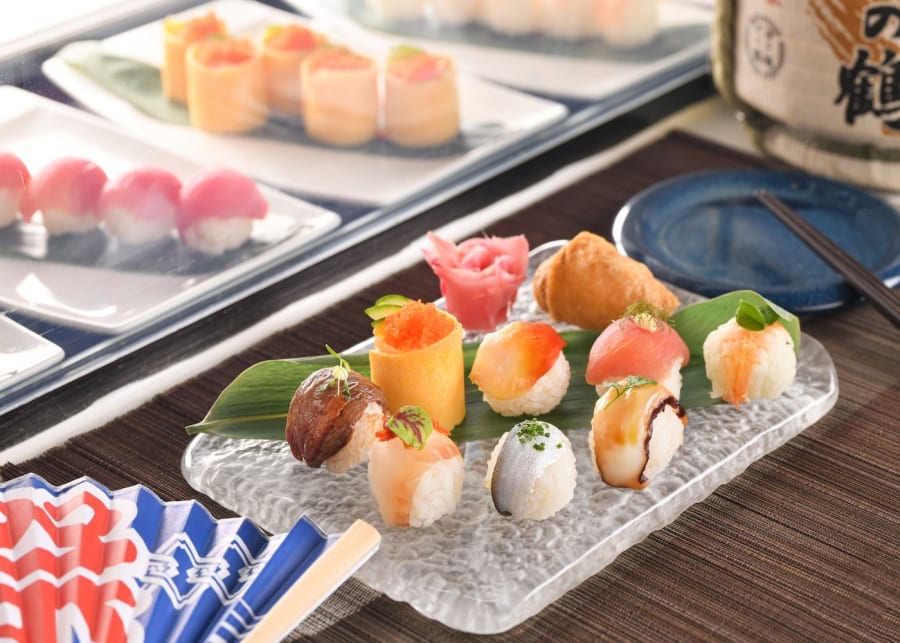 The Place at The Cordis introduces an authentic selection of Japanese and Korean teatime delicacies, live cooking stations, and strawberry desserts, available every Saturday, Sunday and Public Holidays from 3:15 pm to 5:30 pm. The tea-set is all-rounded with Takoyaki octopus ball, cheese corn dog, kimchi fried chicken, and strawberry basque cheesecake, to name a few. Each guest will enjoy a complimentary glass of special drink with a choice of strawberry sparkling wine, strawberry chocolate milk or Korean honey yuzu tea, plus the free-flow chilled orange juice, fruit tea, coffee or tea.
The Place, Level L, Cordis, Hong Kong, 555 Shanghai Street, Mong Kok, Hong Kong, p. 3552 3028
The Last Resort
The Last Resort is the latest establishment in the growing portfolio of Black Sheep Restaurants. The nostalgic vibes on this bar matches with those you may have seen in movies – you know the one pub everyone in the suburb goes to for a pint. The reasonable prices and the cosy ambience is set to make you feel at-home after a long day at work. A variety of beers on tap and wallet-friendly wines ($40 per glass) round out the short but sweet selection of dive bar staples (including some fried chicken).
The Last Resort, 52b Peel Street, Central, Hong Kong, p. 2442 2440
208 Duecento Otto
The first restaurant opened by JIA Group, 208 Duecento Otto celebrates 10 years of serving authentic and flavourful Italian cuisine. 208 was the first restaurant to introduce Neapolitan pizza to the local market, and they're changing the game for Italian cuisine with their revamped menu. Along with that, they're introducing a new concept, The House of Aperitivo which specialises in vermouth, fortified wines that have been flavoured with various herbs and botanicals.
208 Duecento Otto, 208 Hollywood Road, Central, Hong Kong, p. 2549 0208
Cultivate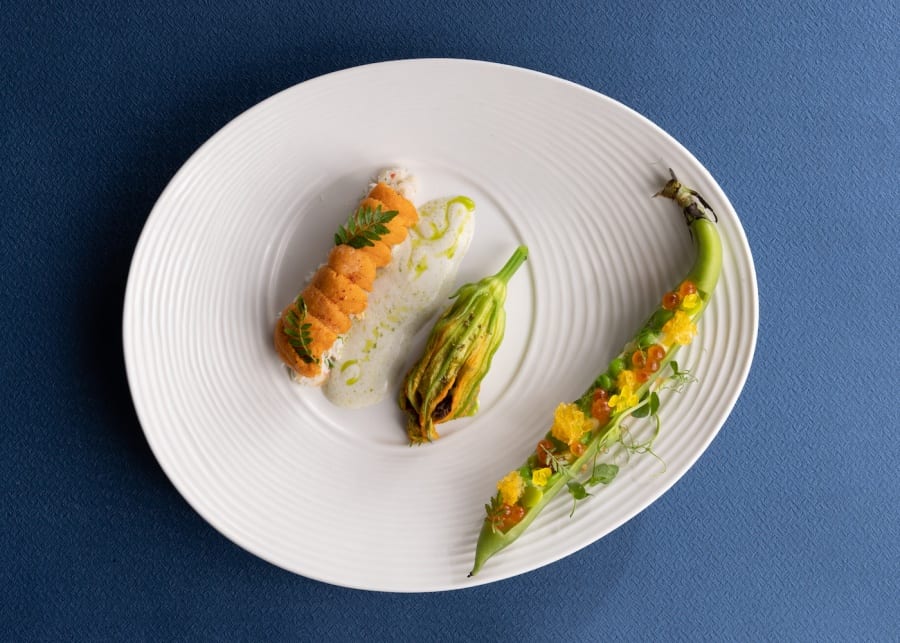 The first restaurant venture helmed by Chef Leonard Cheung, is set to redefine Hong Kong's perception of fine casual dining when it opens its doors this March. The forward-thinking chef and his talented kitchen team will showcase beautiful and complex creations on a constantly evolving 8-course tasting menu where a third of the menu will change every three weeks. Rather than just leaning towards premium proteins, the restaurant will elevate humble and seasonal ingredients with advanced cooking techniques and unconventional flavor combinations.
Cultivate, G/F, 29 Elgin Street, Soho, Hong Kong
District8
After setting their first location the Elements, District Eight opens in the bustling new town of Tseung Kwan O, positioned right by the promenade offering views of the river. Offering French classics like escargots, the new eatery serves weekend brunch, lunch, and dinner. Be sure to try their finest selection of wine and freshly made pastries for a true Parisian experience.
District8, Shop 10, Greenwich Village, Waterfront Promenade, G/F, Alto Residences, 29 Tong Yin Street, Tseung Kwan O, Hong Kong, p. 3500 5860
7-Eleven – new OmniEats products
Our favourite convenience store has taken a new and exciting leap towards providing vegetarian options. They have teamed up with Green Monday to launch a range of plant-based meals, including ready meals to go and classic dim sum dishes in over 700 stores, as well as over 30 items plant-based snacks and other items in 150 stores.
This range includes two exclusive OmniEat's ready meals that are only available in 7-Eleven namely OmniPork Strip Spaghetti in Black Pepper Sauce and OmniPork Strip Rice Vermicelli with Sesame in Teriyaki Sauce. They are also launching two new OmniEat's dim sum products, OmniEat Siu Mai and OmniEat Crystal Dumplings, simultaneously with Green Common.
7-Eleven locations across Hong Kong
---
New restaurants in Hong Kong – February 2021
TMK – Rap & Rolls
The newest addition to the temaki-style sushi roll resto, Rap & Rolls is TMK's spin-off with a fresh new locay in Moon Street, Wan Chai. The lunch sets cost $148 per person for two courses, with an addition of just $20 for an extra dish. The Rap & Rolls Hamachi served with jalapeño and crispy quinoa is hands-down a must-try. The TMK Bowls have thoughtfully curated vegetarian and vegan options to fit your liking and preference.
TMK Rap & Rolls, 17A Moon Street, Wan Chai, Hong Kong, p. 2662 2269
Zoku
The Hari's newest addition, Zoku takes a contemporary spin on traditional Japanese cuisine, refreshing patrons with every bite. It is open every day for lunch; lunch sets start from $298 per person. The set includes one main course, miso soup, vegetable tempura, pickles, and mochi ice cream, with either coffee or tea on the side.  We also recommend trying dishes off the a-la-carte menu, namely the kushiyaki, Wagyu steak, and mochi cake with coconut sorbet.
Check our restaurant review on Zoku for more deets.
Zoku, 330 Lockhart Road, Wan Chai, Hong Kong, p. 2129 0388
Dough Bros
No doubt that pizza is "a people food", what we mean by that is how it's the go-to party food, perfect for intimate gatherings. We all know and love Dough Bros' sourdough pizzas (made to order) and heavenly doughnuts, and they're opening their fourth branch at a prime location in Wan Chai. The pizzas come alongside their signature garlic and herb dip. Also, delivery is available from FoodPanda and Deliveroo for your convenience.
Dough Bros, 25 Queen's Road East, Wan Chai, Hong Kong
The Alp
Lounge Hakuba launches its subsidiary culinary line and cafe The Alp, a cosy woodlodge-style cafe serving Japanese-Western fusion bites, light meals, and artisanal coffee. The Alp aims to bring the vibes of a lodge cafe in the alpine area of Japan to Hong Kong and is a great place to get some work done (the seats are just so comfy!). Lunch sets are only served during weekdays and they include the main course, the appetizer of the day, and a dessert. Vegetarian options are available – the smashed avo sourdough, portobello Sando, and zucchini fries sure offer a hip twist.
The Alp, Shop 302, 3/F, Tower 535, 535 Jaffe Road, Causeway Bay, Hong Kong, p. 2111 1707
Cabana Breeze Bar & Grill
Tiki lounges just get their decor (and drinks) right! Cabana Breeze is Tung Chung's pet-friendly Tiki-inspired bar and alfresco all-day dining. The menu offers an array of Italian dishes, savoury seafood bites, and of course, their signature cocktails. Some cocktails are inspired by Hong Kong itself, Dark & Stormy Lantau is infused with homemade ginger beer, and Homekong Sling is as buzzy as the city.
Cabana Breeze, Shop G12-15, T Bay, 9 Yi Tung Road Tung Chung, Lantau Island, Hong Kong, p. 2777 8980
Teppanyaki Mihara
This prestigious yet affordable Japanese gastronomy with a contemporary global twist debuts at The Parkside in Tseung Kwan O. The elegant new grill is named after its accomplished chef Terufumi Mihara. The premium menu offers four seasonal specialties; Miyazaki A4 Wagyu beef sirloin, jet-fresh seafood including tuna, and Hokkaido scallop and oysters along with Canadian lobster and South African abalone. The restaurant's lunch set includes a choice of 8 main courses. The bar has a jaw-dropping variety of 100 rare sakes, wines, shochu, and spirits.
Teppanyaki Mihara, Shop G06, The Parkside, 18 Tong Chun Street, Tseung Kwan O, New Territories, Hong Kong, p. 3618 8212
Izakaya by K
Stellar Michelin-style Japanese dining is migrating to Tseung Kwan O with the opening of Izakaya by K at The Parkside, opening alongside sister-restaurant Teppanyaki Mihara. Signature specialties on the menu include Wagyu beef pot rice, with top-grade Miyazaki filet with a twist of Madeira sauce. As well as, Chef Yusuke's reimagined traditional izakaya cuisine including fatty tuna tartare with avocado paste and marinated egg yolk, topped with caviar. There are semi-private seatings divided within the restaurant, for some added privacy and cosiness, whilst indulging in a feast.
Izakaya by K, Shop G07, The Parkside, 18 Tong Chun Street, Tseung Kwan O, New Territories, Hong Kong, p. 3618 8211
Aussie Grill by Outback™
Dynamic international fast-casual restaurant brand Aussie Grill by Outback™ opens a flagship at Entertainment Building in the heart of Central. Aussie Grill by Outback™ sets a new quality benchmark for convenient "fast" food with a tantalising menu of top-quality specialties all made freshly to order, from signature burgers, steaks, and snacks to salads and desserts. Meals are served with a side dish choice of the brand's trademark handcrafted kettle chips, fries, roasted veggies, or salad. In all honesty, it's hard to pinpoint which dish is the crowd-pleaser, they all are!
Aussie Grill by Outback, G/F & 1/F, Entertainment Building, 30 Queen's Road Central, Central, Hong Kong, p. 2399 0309
The Aubrey
Maximal Concepts and Mandarin Oriental Hong Kong have announced an exciting new collaborative venture; The Aubrey is an eccentric Japanese Izakaya on the hotel's 25th floor. The space will encompass three distinctive bar experiences where guests will be taken on a journey of Japanese craft cocktails, whiskies, and cuisine curated on the foundation of exceptional and sustainable ingredients.
The Aubrey, 5 Connaught Road, Central, Hong Kong, p. 2825 4001
Rollin
Rollin, a Korean food and lifestyle brand, is launching its first outlet – in the basement of Landmark's new retail urban wear concept Belowground. Rollin offers delicious savoury rice rolls and roll cakes served in stylish sneaker boxes. Its gourmet rolls range from Asian to Western flavours, including Korean fishcake and tofu roll, Mortadella sandwich, or a truffle beef rice roll. Rollin's roll and roll cakes start from HKD40 each and are available for takeaway from Belowground.
Rollin, 15 Queen's Road Central, Landmark, Central, Hong Kong, p. 2500 0555
Park Aura
"Park Aura · Tin Hau", the new landmark for feasting, opened in Tin Hau Food Square. Park Aura introduces both local and international dishes to the Food Loft – a spot with multinational choices of fine restaurants, turning Tin Hau Food Square into a more desirable place for food hunting. Covering two floors, there are a variety of 14 outlets to choose from, and a number of eateries are offering Chinese New Year specials, be it gift sets or specialty menus.
Park Aura, 54 Electric Road, Tin Hau, Hong Kong, p. 5218 1491
---
New restaurants in Hong Kong – January 2021
Date by Tate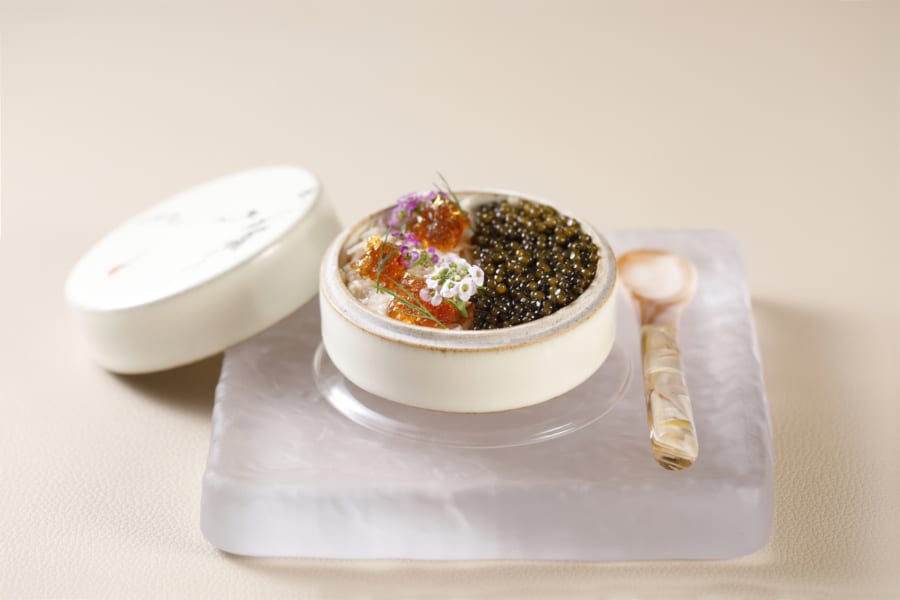 Not exactly a new restaurant, but Date by Tate is one of the latest gourmet lifestyle stores that all foodies have to check out. Refined French Chinese restaurant Tate Dining Room recently launched its physical retail shop, offering an array of beautiful gift boxes, take-away meals and homeware. Savour renowned pastry chef Vicky Lau's creation, ranging from Chinese Almond Financier to Ode to Shan Shui earl grey mousse cake. Elegant home accessories like scented candles, silverware and bamboo ware are also available.
Date by Tate, 210 Hollywood Road, Sheung Wan, Hong Kong, p. 6730 2494
Ask for Alonzo – Happy Valley
Our to-go restaurant in Tai Hang and Quarry Bay, Ask for Alonzo has opened its third branch in Happy Valley. Serving the brand's all-time classics like pasta, negronis and house music, Ask for Alonzo is not only a great neighbourhood eatery to dig into delicious Carbonara and Italian Frittata but also snappers and risotto. Don't miss out on their signature cocktails and negronis during happy hours.
Ask for Alonzo, Shop 19, G/F Hang Fung Mansion, 17-19 Wong Nai Chung Road, Happy Valley, Hong Kong, p. 2891 2236
Shiro
One of our fave restaurants in Pacific Place, Shiro recently re-opened its Admiralty location, presenting a refined menu and uplifted environment. Part of the new menu, the crystal sushi collection is curated with iridescent jelly and seasonal delights, featuring luxurious ingredients like caviar, scallop and rose. Another delectable addition to the new menu is Seared Wagyu Beef Woven Sushi with Fried Sakura Ebi— strips of woven wagyu beef topped with crispy sakura ebi, fusing the tenderness of the premium meat with the aromatic sticky rice at the bottom.
Shiro, Shop 123, Level 1, Pacific Place, 88 Queensway, Admiralty, Hong Kong, p. 2117 9481
Ita Meshi
Looking for a Japanese Italian fusion restaurant in Tin Hau? Ita Meshi is the place to be. This neighbourhood gastropub serves an array of creative yoshoku cuisine, ranging from Lobster Mac n' Cheese to Green Tea Soy Sauce Hanger Beef Tagliata, and Watermelon Burrata to Uni Crab Roe Risotto. To savour all the Japanese umami, make sure to try their addictive Matchamisu and Matcha Yuzu Blancmange.
Ita Meshi, G/F, Lau Li Street, Tin Hau, Hong Kong, p. 2336 1176
Venchi
The 140-years-old legendary chocolatier Venchi is opening its twelfth Hong Kong store in apm Kwun Tong. Loved for their refined ingredients and traditional craftsmanship, the new store offers the first Venchi lounge in town, a spacious seating area for guests to enjoy exclusive gelato desserts. Only available at the apm store, the dessert menu includes mouth-watering items like 360 Chocoviar and Tiramisu Please. All four desserts are loaded with luxurious toppings such as Piedmont hazelnut and chocoviar grains, offering a dynamic sensation as you savour Venchi's gelato.
Venchi, Shop C-16, apm, 418 Kwun Tong Road, Kwun Tong, p. 2117 8935
Masa Hong Kong
Enjoy refined omakase at Lai Sun Dining's latest Japanese restaurant Masa Hong Kong. Guests will indulge in a minimalistic omakase experience at the warm wooden counter, gazing at the old Supreme Court Building while the chef freshly crafts your customised sushi.
Masa Hong Kong, 5/F, CCB Tower, 3 Connaught Road Central, Central, Hong Kong, p. 2131 1303 (Opening date to be announced soon)
Chickpea
Featured in our 2020 new restaurant guide, the popular grab-n-go vendor Chickpea is opening its second branch in Wan Chai soon. Hummus bowls, pita pockets, salads, rice bowls… Dig into an array of healthy, middle-eastern inspired dishes loved by both meat-eaters and vegetarians. If you are looking for a quick lunch fix near Wan Chai, order from Chickpea online and your food will be ready by the time you arrive.
Chickpea, Wan Chai, Hong Kong (more details to be announced soon)
J.A.M. (Joint Asian Market)
A 200sq-m casual eatery, J.A.M. presents a unique food experience with its dynamic Asian culinary fare and groceries. The market features four Asian gastronomic concepts: Korean home deli at Mamalee Market, Vietnamese classic at Moi Moi, contemporary dim sum at Sifu, and Singaporean favourites at Uncle Quek. Whether you plan to stop by for a quick meal, take-away set or grocery shopping, J.A.M. has got an array of heart-warming food to fuel your day.
J.A.M., Nexxus Building, 77 Des Voeux Road Central, Central, Hong Kong (more details to be announced soon)
Lucciola
An Italian ristorante and bar inside the latest hotel The Hari Hong Kong, Lucciola serves beloved Italian classics inside a modern environment. Other than the two-course ($228) and three-course ($318) lunch menus, a la carte items featuring an array of jet-fresh Italian delicacies are available. Start the meal with a refreshing La Burrata Pugliese, then dig into the 24-hour-braised Piedmontese Veal Shank with Risotto. Don't forget to try the timeless Italian dessert Tiramisu enriched with silky mascarpone and egg yolk.
Lucciola, The Hari Hong Kong, 330 Lockhart Road, Wan Chai, Hong Kong, p. 2129 0333