Looking to save yourself some cash but still live your best life? Our guide to sweet deals in Hong Kong will have you living your best life in no time.
There's nothing like finding yourself a bargain! From affordable massages to cheap eats and budget electronics, why spend more when you don't have to? If you're on the lookout for the best deals in Hong Kong you're in the right place, as every month we hit you with our top picks. Now go out and enjoy all these September deals ASAP!
SEPTEMBER EDITION: Sweet deals in Hong Kong
1. Red Lobster – $1 Steak Promotion
Wait – just $1 for a juicy piece of steak?! That's right, from September 6 to October 3 (for dine-in on weekdays only), you can add a seven-ounce sirloin steak to your meal when you purchase a whole live lobster at Red Lobster. Your Maine lobster can be steamed, cooked in traditional Cantonese methods (such as in the unique Typhoon Shelter-style) or in retro western ways, such as Thermidor, Mornay, or Fra Diavolo. Complement this luxurious dish with Cheddar Bay biscuits, USDA grade beef steak, and two other delectable sides for the ultimate feast.
Red Lobster, 8 Cleveland Street, Causeway Bay, Hong Kong, p. 2261 2996
2. Sheraton Hong Kong Tung Chung Hotel – Mermaid Fitness Staycation
Under the sea, under the sea… Ever wondered what's it like to be a mermaid? You can now give it a go at Sheraton Hong Kong Tung Chung Hotel with the Mermaid Fitness Staycation available for the whole of September. As part of the hotel's wellness programme, professional mermaid dance fitness instructors will be in the outdoor pool to guide you through this elegant aquatic sport. Begin with the dolphin kick, swish your new tail, flip stylishly – all the while working the core muscles of your abdomen, legs, and hips. Priced from $1,700, this staycation package includes one night in the deluxe room, $500 worth of dining credits in Yue, buffet breakfast for two in Café Lantau, and a 45-minute mermaid dance class for one (plus $400 per extra participant). Oh, don't forget to sign up for underwater photography too for snazzy Instagram pics!
Sheraton Hong Kong Tung Chung Hotel, 9 Yi Tung Road, Tung Chung, Hong Kong, p. 2535 0035
3. Alfresco Lane – Summer Delights
Relaxing on TST East's Alfresco Lane may be the perfect way to say goodbye to summer. From now until 31 October, you can enjoy the breeze and views of the Victoria Harbour with a free welcome drink in hand. Simply order a la carte with the code 'AlfrescoLane' at any of the eight participating restaurants after 5pm from Sunday to Thursday. These eateries include the new Pablo Modern Mexican Cocina, Namo Avant Thai, SP Flower & Tea Room, and more. Aside from the welcome drink, there are additional happy hour discounts, such as a two-for-one deal at Boticario Bar & Grill. It's time to drink and be merry!
Alfresco Lane, 66 & 68 Mody Road, Tsim Sha Tsui East, Hong Kong, p. 2721 5489
4. Eaton HK – Sake Dinner & Staycation
Eaton HK is putting the spotlight on sake this September. In collaboration with Seafood Loves Sake, the one Michelin-starred Yat Tung Heen in Eaton HK is presenting a sake dinner menu, featuring eight exquisite courses paired with four sakes (from $980). Expect dishes such as the signature appetiser trio, Tiger Prawns Two Ways, South African abalone, and more. Specially hosted Sake Dinners (from $1,180) will take place on 9 and 30 September, with three more exclusive sakes and a kikkake-shi on hand to guide you through. Take advantage of the Sake Staycation package ($2,188) to enjoy a stay at the Eaton HK, plus a dinner for two at Yat Tung Heen, breakfast for two at The Astor, and more. The first 60 packages will include two bottles of sake and a pair of sake cups, too!
Eaton HK, 380 Nathan Road, Jordan, Hong Kong, p. 2710 1828
AUGUST EDITION: Sweet deals in Hong Kong
1. Harbour City and Times Square – 100% Spending Rebates
From 1 August to 30 September, customers can enjoy 100% rebate on same-day spending across a maximum of three outlets when shopping at Times Square or Harbour City. If you spend either $2,000 or $5,000 at selected retailers, your same-day purchases will bring you vouchers equal o the same amount! Plus, if you're a DBS Visa Cardholder, you can redeem coupons worth an additional $3,000!
Harbour City, 3-27 Canton Road, Tsim Sha Tsui, Hong Kong, p. 2118 8666
Times Square, 1 Matheson Street, Causeway Bay, Hong Kong, p. 2118 8900
2. Cassio – All-you-can-eat pinchos
From 5pm to 10pm every Wednesday and Thursday, Cassio treats its guests with all-you-can-eat pinchos for just $298 per person. The Pinch Me! Pinchos menu consists of a changing selection of 15 light bites plucked straight from the Spanish coast, featuring traditional Basque and Catalan delights such as Cod Brandade, Prawn Croqueta, and Chistorra, as well as moreish classics like Iberico charcuterie, Beef Tartare, and Spanish Omelette. So grab your amigos and amigas and head to Cassio!
Cassio, 2/F, LKF Tower, 33 Wyndham Street, Central, Hong Kong, p. 3792 0129
3. Cuisine Cuisine – mooncakes up to 27% off with extra 10% off consumption voucher rewards
Mooncake vouchers at the Michelin-recommended Chinese restaurant Cuisine Cuisine's are now for sale with an early-bird discount up to 27% off till 7 August. You can redeem a further 10% discount if you choose ePayment systems like Alipay HK, Wechat Pay HK, and Octopus. Signature flavours include White Lotus Seed Purée with Double Yolks and Egg Custard Mini Mooncakes. Check out their gift sets for more flavours and literally sweet deals!
Cuisine Cuisine has locations in Central and Tsim Sha Tsui.
4. Shatin Centre・Shatin Plaza – Summer Shopping Rewards Explosion
Head over to Shatin Centre・Shatin Plaza and Trend Plaza this summer for sweet rewards on same-day shopping sprees. With a minimum of $880 spent using electronic payments (each receipt must be at least amount to $100), shoppers can redeem a merchant gift/cash voucher set worth over $400 – almost half of what you spent! The ePayment options include credit cards, Octopus, EPS, AliPay, WeChat Pay, debit cards, Google Pay, and Apple Pay.
Find out more about this deal on our calendar.
Shatin Centre・Shatin Plaza, 2–16 Wang Pok Street (Shatin Centre) / 21–27 Sha Tin Centre Street (Shatin Plaza), Sha Tin, Hong Kong, p. 2606 3700
5. Kakure – Second anniversary dining offers
This summer, Kakure celebrates its two-year anniversary by giving back to its guests. For every dinner course you order, the second one is priced 50% off! Go in a group of four and the second set ordered is 50% off – what a steal!
Kakure, M 20-24, M/F, Prince's Building, 10 Chater Road, Central, Hong Kong, p. 2522 9990
6. JW Marriott Hotel Hong Kong – Ginseng-Themed Wellness Staycation
Priced from $3,080 per night, the JW Double Happiness Summer Staycation offers a whole load of rejuvenation activities and treatments. Designed for groups, the promotion includes a stay with designated connecting rooms accommodating up to four and a late check-out at 2pm. The promotion also includes a hearty breakfast, a $1,200 dining credit, and a complimentary bottle of red wine. Enjoy a complimentary Sulwhasoo Ginseng Skincare Trial Kit that comes with a voucher for a 45-minute Korean No. 1 Ginseng Facial Therapy at Sulwhasoo.
JW Marriott Hotel Hong Kong, Pacific Place, 88 Queensway, Hong Kong, p. 2841 3727
7. Fav: – Summer deals
Fav seamlessly brings shoppers together with their favourite products, from fashion and fitness to beauty and wellness. This new online retailer caters to our every need, be it a new skincare product, a weighted blanket, or manuka honey! We're sure you all know and love brands like DORMU, Luüna Naturals, and Dr. Botanicals. Shop these amazing brands and many more with an exclusive discount for Honeycombers readers' to enjoy their summer sale!
Use code HONEYCOMBERS15 for 15% off on all purchases.
Find out more on Fav.
JULY EDITION: Sweet deals in Hong Kong
1. Hotel Icon – The Third Malaysian Durian Festival
Love it or hate it, the durian is in season right now – and what better than to catch this fruit in the height of its glory by heading to Hotel Icon's Malaysian Durian Festival? Running its third Durian Festival this year, Hotel Icon is offering a Durian Brunch Buffet (from $780/adult) at Silverbox Ballroom and the All About Durian Afternoon Tea (from $398/person) at The Market. The Buffet is available for four days only in July (16, 23, 24, and 27), featuring hot durian dishes and durian desserts, along with traditional Malaysian and international cuisines.
Aside from regular buffet offerings like seafood and sashimi, look out for the highlights, which include the Malaysian Durian Platter, the Crunchy Baked Boston Lobster Stuffed with Durian, and the Double-Boiled Durian Soup. Some of these items are also available in the Afternoon Tea, and you can even order a takeaway set (from $598 for two) from the Hotel's e-shop to enjoy the durian galore in the comfort of your own home.
Hotel Icon, 17 Science Museum Road, Tsim Sha Tsui East, Hong Kong, p. 3400 1000
2. Harry's Kitchen – 20 percent off July's STEAM x Baking Summer Classes
At K11 Musea, the baking studio Harry's Kitchen is launching a series of multilingual summer classes (from $1,868 for four sessions) for kids this summer. Adding an A for Art in the traditional STEM concept, the STEAM x Baking workshops aim to spark creativity and independent thinking through easy, step-by-step methodology. The classes are hosted by pastry chefs trained at five-star hotels, and not only will they teach the basic baking and cooking skills, but also the interesting science behind them. Prepare to be surprised by the ocean-themed mini doughnuts, cookies, cupcakes, cakes, macarons, and more – all crafted by your budding little chefs. And BTW, there's currently a 20 percent discount, so get signing up!
Harry's Kitchen, B245A, K11 Musea, 18 Salisbury Road, Tsim Sha Tsui East, Hong Kong, p. 5645 1365
3. Kowloon Shangri-La, Hong Kong x Sulwhasoo – Summer First Care Afternoon Tea
The coveted Korean skincare brand, Sulwhasoo, is collaborating with Kowloon Shangri-La to launch the Summer First Care Afternoon Tea (from $638 for two) at the Hotel's Lobby Lounge. Inspired by Sulwhasoo's signature products, the First Care Activating Serum and Concentrated Ginseng Rescue Ampoule, this tea set uses premier oriental ingredients, such as ginseng, lily bulb, goji berries, and ginger. With eight savoury bites and desserts displayed in a floral, golden birdcage, the set makes an Insta-worthy afternoon treat this season. What's more, every guest will be given a complimentary Sulwhasoo skincare kit (valued at $450), plus a $100 cash coupon.
Lobby Lounge, Kowloon Shangri-La, Hong Kong, 64 Mody Road, Tsim Sha Tsui East, Hong Kong, p. 2733 8988
4. JW Marriott Hotel Hong Kong – JW Double Happiness Summer Staycation
Can't travel? No biggie. Simply satisfy your wanderlust with a JW Double Happiness Summer Staycation (from $3,080/night) at the luxurious JW Marriott Hotel. As a family- and besties-oriented package, you'll get to stay comfortably in a pair of connecting rooms, which accommodate a maximum of four persons. Apart from the Breakfast Buffet, dining credits, and fancy hotel facilities, prepare to be spoiled by deluxe skincare experiences offered by Swiss luxury skincare brand Valmont. Not only will you receive a trial kit and a gift set redemption voucher (valued over $2,300 altogether), but you can also enjoy a hand treatment service too.
JW Marriott Hotel Hong Kong, Pacific Place, 88 Queensway, Admiralty, Hong Kong, p. 2810 8366
5. The Astor, Eaton HK – Ice & Fire Afternoon Tea and Destination Foodcation Buffet
Brace yourself for desserts galore at The Astor! Its new Ice & Fire Afternoon Tea (from $148/person) allows you to create your own sundae at the Ice Cream Station with Mövenpick and Häagen-Dazs ice cream, plus a range of toppings like Oreo crumble, honey boba, mixed fruit, and more. Moreover, the made-to-order hot desserts include fluffy soufflé pancakes, waffles, apple tatin, and banana marshmallow pudding. The Astor is also launching the Destination Foodcation Buffet (from $308/adult). Spotlighting Southeast Asian cuisines, you'll get to dig into Singaporean Chilli Crab, Malaysian Prawn Sambal, Vietnamese Pork Chop, Thai Mango Sticky Rice, among other items.
The Astor, Level B1, Eaton HK, 380 Nathan Road, Jordan, Hong Kong, p. 2710 1901
6. Cordis, Hong Kong x Lush – Zesty Summer Staycation
Cordis, Hong Kong is continuing its partnership with Lush, releasing the Zesty Summer staycation package (from $1,198 for two). This includes premium accommodation, a bath product from Lush, a vegan afternoon tea set at Alibi, breakfast buffet at The Place, and more. And of course, you're welcome to make use of the Hotel facilities as well, like the rooftop pool, fitness centre, and the Kids' Zone.
Cordis, Hong Kong, 555 Shanghai Street, Mong Kok, Hong Kong, p. 3552 3388
7. Gold Coast Hotel x Peppa Pig Summer Staycation
Calling all Peppa Pig fans! Take a break with the Peppa Pig Summer Staycation (from $1,680/night) at Gold Coast Hotel this season. With Summer Fun outdoor booths, games, the Peppa Pig Hula Skirt Design Workshop, and plenty of other family-friendly activities, your little ones will surely have a blast. Aside from a complimentary Peppa Pig travel bag, you can gain more perks if you purchase a two-night (or above) package. These include a Peppa Pig storybook, dining credits, and access to the Seashell Soap-Making Workshop.
Hong Kong Gold Coast Hotel, 1 Castle Peak Road, Hong Kong, p. 2452 8888
JUNE EDITION: Sweet deals in Hong Kong
1. Chilli Fagara exclusive Father's Day vouchers
From 18-20 June, all fathers who dine at Chilli Fagara with their families will receive a lucky HK$88 dining voucher* which can be used upon their next visit. For those spice-loving dads looking to celebrate the occasion as a lazy Sunday in the comfort of their homes, the enticing Sichuan delights are also available on Deliveroo.
Read more about Father's Day dining around town.
Chilli Fagara, 7 Old Bailey Street, Central, Hong Kong, p. 2796 6866
2. Cordis Hong Kong – Ready, Set, Goal staycation package
In celebration of the grand return of the International Soccer Tournament Season this summer, Cordis presents a new staycation package Ready, Set, Goal! providing official soccer live broadcast in stylish guest rooms such as Premier League, UEFA Champions League, UEFA Europa League, UEFA Euro 2020 and more for all football fans. Priced from HK$988 per room, the staycation package includes a party platter with a spread of sumptuous snacks, and guests can enjoy a refreshing breakfast buffet the next day at The Place, and special 30% off discount at hotel's restaurants and bars during the stay.
Cordis Hong Kong, 555 Shanghai Street, Mong Kok, Hong Kong, p. 3552 3388
3. The Daily Tot – rum masterclasses
The Prince of Havana, Luca Andrei from Pernod Ricard, will take you back to the streets of Cuba with sips of the finests rums. This raw spirit is a spirit with real character – a free spirit you might say. Head over to The Daily Tot's masterclass ($500 pax) on 26 June from 3-6pm for a relaxing Sunday afternoon with rum and nibbles. Alternatively, you can also head to the The Hive in Central on 17 June from 7-9pm for a rum-tasting and cocktail-making sesh ($350 pax) hosted by co-founder of The Daily Tot, Tiana Ludhani.
For the rum masterclass, email [email protected]
For the rum tasting at The Hive, you can book tickets here.
The Daily Tot, Shop E, LG/F, Felicity Building, 58 Hollywood Road, Central, Hong Kong, p. 2366 6836
4. SHOPPING+ deals at Citygate Outlets
From 31 May to 17 June, visitors can log onto the SHOPPING+ online platform to browse and purchase e-vouchers from 23 renowned international brands encompassing all things from fashion, beauty, children's wear and more, as well as 11 popular eateries offering global fare. During the promotional period, CLUB CG members can purchase e-vouchers on the SHOPPING+ online platform three days prior to the official launch. Time for a shopping spree!
Citygate Outlets, Citygate Outlets, 20 Tat Tung Road, Tung Chung, Hong Kong
5. Beauty Mart at Ocean Terminal
From 21 May to 20 June, Harbour City hosts Beauty Mart, Hong Kong's first beauty-themed local market, bringing together quality lifestyle and beauty products. Support more than 10 small home-grown brands, with the majority of them selling healthy food and handmade accessories, and specially created exclusive products inspired by three popular beauty elements, which are rose, tea, and vegan. Customers can redeem one HK$50 Cash Voucher of a designated brand at Beauty Mart upon same-day spending HK$1,000 or more via designated electronic payment in any Beauty/Personal Care Outlets of Harbour City!
Read more on Beauty Mart here.
Ocean Terminal, Harbour City, Canton Road, Tsim Sha Tsui, Hong Kong
6. Olympian City presents the Joyful Adventure
To generate positive energy and share happiness with the public, Olympian City presents the Joyful Adventure happiness creation project. It is now inviting children aged 5-12 to join the Joyful Adventure Kids' Advisory Board and bring in their expertise in creating happiness. The Joyful Adventure Kids' Advisory Board will work in two teams, each team will have eight quotas. The first 100 applicants may receive a HK$50 eslite bookstore coupon. This is definitely a fun way to bring your kids for a day out.
Olympian City, 18 Hoi Ting Road, Mong Kok, Hong Kong, p. 2397 3636
MAY EDITION: Sweet deals in Hong Kong
1. Kowloon Shangri-La X SABON – Blissful Green Afternoon Tea
Until 30 June 2021, Lobby Lounge at Kowloon Shangri-La is inviting guests to rejuvenate after their busy routine with teas-and-fruits-infused afternoon tea treats ($598 for two). The menu showcases the key scents of the new matcha green tea limited edition from Sabon, including matcha, jasmine, raspberry and mandarin. For nibbles, sample freshly baked British scones, slow-cooked salmon rillettes with caviar and matcha pancakes, and a seasonal fruit platter for a refreshing end to the tea set.
Kowloon Shangri-La, Lobby Level, Kowloon Shangri-La, 64 Mody Road, Tsim Sha Tsui East, Kowloon, Hong Kong, p. 2733 8909
2. Popular Power Up Campaign by Hysan
Download the Lee Garden app to enjoy great rewards when shopping in the Lee Gardens Area (that includes Lee Garden One-Six, Hysan Place, Lee Theatre Plaza, and Leighton Centre). A number of merchants are selling e-vouchers with up to 30% off on beauty brands and restaurants, with some even offering buy-one-get-one-free surprises! There's more – selected products at T Galleria have up to 70% off. If you're looking for a shopping's spree, now's the time at Lee Gardens Group.
Read more on Lee Gardens.
3. Bayfare Social – Tapas Happy Hour
Bayfare Social at Rosewood is introducing an array of Spanish tapas with two hours free-flow of selected wines or beer and priced at $350. Traditional Spanish tapas on offer include marinated olives, patatas bravas, fried Angus beef & pork meatballs, and Gildas. Head over to Rosewood from 4-7 pm any day of the week for a guaranteed full tum at the resto's cool interior or sun-soaked outdoor terrace.
Bayfare Social, 5/F Rosewood Hong Kong, Victoria Dockside, 18 Salisbury Road, Tsim Sha Tsui, Hong Kong, p. 3891 8732
4. Celebrate the Dragon Boat Festival at Hotel Alexandra
Festive occasions call for traditional and tantalising menus. Hotel Alexandra presents the delectable and intricately crafted Alexandra Supreme Zongzi, a rice dumpling crafted with fresh, staple ingredients. Priced at $388 per gift box set, the rice dumpling is best served steaming hot and accompanied by a fresh brew of tea. The collection period starts from 20 May and ends on 14 June, early bird discount of 15% can be enjoyed for those making their purchase before 3 June.
Hotel Alexandra, 32 City Garden Road, North Point, Hong Kong, p. 3893 2888
5. H•COINS X AME Stadium Family Fun E-Battle Rope Hong Kong Tournament
Get physical and competitive at the various Henderson malls across Hong Kong to compete head-to-head with other families. Here's how to play: family teams can transform into superheroes and take turns defeating monsters within a designated time with the E-Battle Rope. The faster your movements, the faster your opponents die; however, if the players stop moving, their points will be deducted. To enroll, you must download the H•COINS mobile app and register as a member (all participants get a gift bag). The grand prize stands at a staggering $600,000, what are you waiting for?!
Find out more about the H•COINS X AME Stadium tournament.
APRIL EDITION: Sweet deals in Hong Kong
1. Ngong Ping Eggs-plore
From April 2-11, Ngong Ping 360 will transform the Ngong Ping Village into an Easter Egg Hunt playground: Eggs-plore 360 Egg Hunt Mission. Until March 31, you can enjoy 90% off on purchases of child's cable car tickets plus a complementary Egg Hunt Kit to be redeemed at the Ngong Ping Village. Kids who can find all the Easter eggs are eligible to enter the Egg Hunt Lucky Draw with fab prizes. Sounds like a fun-packed and egg-cellent Easter break!
Get tickets to Ngong Ping here
2. Buy 1 Get 1 Free at Habitu
Do you use ZA Bank? If yes, you're going to like what you're about to hear. For all ZA users, you can enjoy an extra cup of Classico Caffe at Habitu, and who would say no to extra (and free) coffee? You can head any one of Habtiu's outlets in Hong Kong, just don't forget to bring your ZA credit card along 😉
Habitu has multiple locations in Hong Kong
3. Magnificent Mozart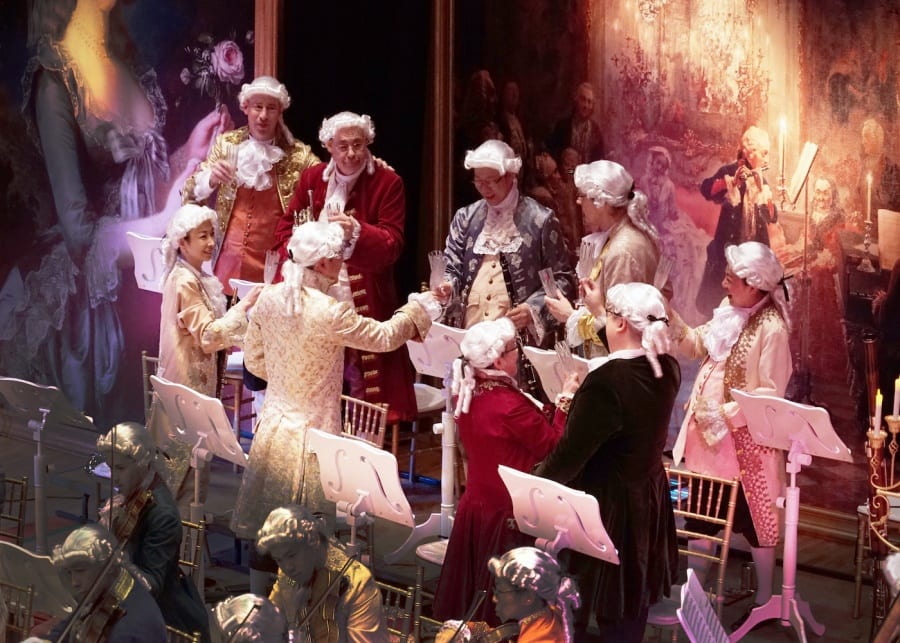 We know Mozart's famous musical pieces, but how much do we know about his life? This is your chance to watch his life in the form of a play at Hong Kong City Hall Concert Hall on 2nd and 3rd April. The sumptuous eighteenth-century costumes, life-sized 18th century paintings, and gorgeous golden candelabras will make you feel like you've entered a different era completely. The play explores Mozart's rise from a child prodigy to a world-renowned composer.
You can buy tickets to the play here
4. Chocolatey Staycations at Eaton HK
Until 25 April, guests are invited to celebrate their sweet tooth with a Chocolatey Staycation at Eaton HK* (rooms from $880+). For the duration of the promotion, a bottle of prosecco and three slabs of chocolate can be found in each room, each flavoured to represent a unique aspect of Eaton HK. The deal also comes with a decadent breakfast for two at The Astor.
You can make your bookings here
5. Disneyland Magic Access
With the uncertainty of Covid, we need to grab our chance to go to theme parks while we can, right? A single entry for Disneyland costs $479, whereas a multiple entry (Magic Access) for a year costs just $1,278 for adults and $915 for children (plus an additional 15% discount for Hong Kong residents valid until 30 April 2021). Go say hello to Mickey and Minnie and enter the magical world of Disney on the regular!.
You can buy park tickets here.
MARCH EDITION: Sweet deals in Hong Kong
1. Kerry Hotel: The yoga breakfast club
Kerry Hotel has partnered up with yoga instructors to cater its guests to a healthy body and soul. The Lobby Lounge will be hosting weekend sessions of one-hour soul nourishing yoga with Tavia & Karina, followed by a nutrient-dense breakfast set at its airy outdoor lawn with a stunning Victoria Harbour Backdrop. Yoga mats, towels, and sanitisers will be provided. Tickets range from $400-$1,750.  
Kerry Hotel, 38 Hung Luen Road, Kowloon, Hong Kong, p. 2252 5888
2. Island Shangri-La: Spring afternoon tea
Available throughout March and April, the Spring Afternoon Tea takes inspirations from fresh seasonal ingredients – heirloom cherry tomato, green asparagus, sakura tea, green apple, yuzu – to offer guests a refreshing yet exquisite twist to its afternoon tea tradition. Priced at $558 for two guests to enjoy, the set is available throughout March and April 2021. Take away options are also available. 
And why not pop into Lobster Bar while you're there? 
Island Shangri-La, Supreme Court Road, Central, Hong Kong, p. 2877 3838
3. Harbour City: Delicious Every Day
A total of 11 new restaurants have made their debut in Harbour City, delivering a wide variety of cuisine. And with dining hours extended, the mall has launched the "Delicious Every Day" rewards scheme. Diners at Harbour City can redeem up to HK$100 Dining Coupon upon same-day single spending of HK$500 and up to HK$200 Shopping and Dining Coupons upon spending of HK$1,000. 
Harbour City, 3 – 27 Canton Road, Tsim Sha Tsui, Kowloon, Hong Kong, p. 2118 8666
4. Pret A Manger: HK$100 for 10 coffees
Till the end of March, you can sign up for  the Pret Coffee Card, and enjoy 10 cups of coffee for just $100 – yes, it does sound too good to be true so don't miss out. You can redeem your coffees until the end of April. The cards' registration comes on a first-come-first-served basis and you can have a max of 2 cards per person (uh, 20 cups?!). Coffee cards are available in all Pret locations except Central MTR Petit, Causeway Bay MTR Petit, and Airport shops. 
Pret A Manger has locations across Hong Kong 
5. Artemis & Apollo: Feast of Persephone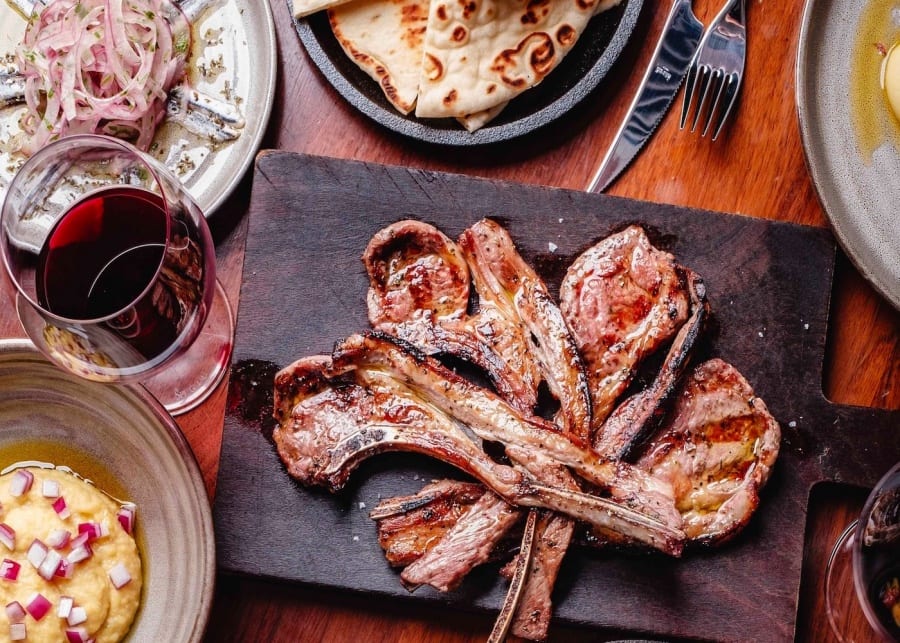 Inspired by the goddess of spring growth in Greek mythology, the 'Feast of Persephone' is an ode to the seasonal harvest bearing the promise of renewal and a fresh start. Crowning Persephone's table are roasted lamb chops sliced thin through the bone and quick-grilled, served with a cooling tzatziki, which you can pair with Greek wine or ouzo. The seasonal menu is available on Monday and Tuesday evenings for dinner throughout March and is priced at $288 per person.  
Artemis & Apollo, GF, 9-11 Moon St, Wan Chai, Hong Kong, p. 2818 8681
6. Urban Chillez Nail Bar celebrates women and friendship
Life isn't perfect – but your nails can be. Grab a friend and head to this trendy nail bar to enjoy buy one get one 50% off for your bestie upon booking. They offer vegan ranges of polish and soft gel, as well as cruelty-free, vegan, and organic scrub to pamper your hands. Why not go for the "Luxurious Indulgence" ($480 for 100 minutes) to show extra love to yourself? You can add on a nail art set starting from $120.  
Urban Chillez Nail Bar, 2A, E. Tat Factory Building, 4 Heung Yip Road, Wong Chuk Hang, Hong Kong, p. 5597 4277
7. The DiVino Group Celebrates Women with Mimosa's All Weekend
DiVino, DiVino Patio & Spasso will be treating women with complimentary mimosa's all weekend in celebration of International Women's Day (March 6-8), upon arrival between 3 – 10pm. Book your tables soon for your sweet sweet gathering with the gals this coming weekend. 
DiVino, 73 Wyndham Street, Central, Hong Kong, p. 2167 8883
DiVino Patio,Shop 11, 1st Floor,, BRIM28, Causeway Bay Centre, No 28 Harbour Road, Wan Chai, Hong Kong, p. 2877 3552
Spasso, G5-8, 12-17, Empire Centre, 68 Mody Road, Tsim Sha Tsui East, Hong Kong, p. 2730 8027
JANUARY EDITION: Sweet deals in Hong Kong
1. The Hari: Staycation from $1450 with $700 dining credit
A luxury design hotel that just opened in December, The Hari is offering an amazing opening deal until 31 March. The Welcome to The Hari package (from $1450) is inclusive of $700 dining credit and late check-out until 3pm. Dig into indulgent pastas and desserts at their Italian restaurant Lucciola and soak in the great interior design details and artworks that can be found in every space.
The Hari, 330 Lockhart Road, Wan Chai, Hong Kong, p. 2129 0388
2. Gyuseki: 50% off sashimi and wagyu yakiniku
A restaurant famous for their luxurious Japanese seafood and meats, Gyuseki is offering 50% off for all a la carte sashimi and wagyu yakiniku until 16 January. Other than dishes like Ito Wagyu A4 ($268) and Otoro ($108), their roast meat platters with premium ingredients like Hanamidori chicken and Kumamoto pork are also popular. This is a good offer for those on the hunt for great Japanese restaurants in Hong Kong.
Gyuseki, 51 Fok Lo Tsuen Road, Kowloon City, Hong Kong, p. 2716 2728
3. Four Seasons Hotel: Staycation from $2030
When it comes to the best staycations in Hong Kong, you cannot miss out on Four Seasons Hotel. Available until 31 January, the festive staycation package allows guests to enjoy a night stay with a four-course festive dinner and complimentary breakfast from $2030. Room types inclusive of the package are deluxe peak view, deluxe harbour view, harbour view suite and grand harbour view suite. Bonus: Four Seasons hotel is super family-friendly!
Four Seasons Hotel, 8 Finance Street, Central, Hong Kong, p. 3196 8888
4. Enjoy all the deals these new restaurants bring in January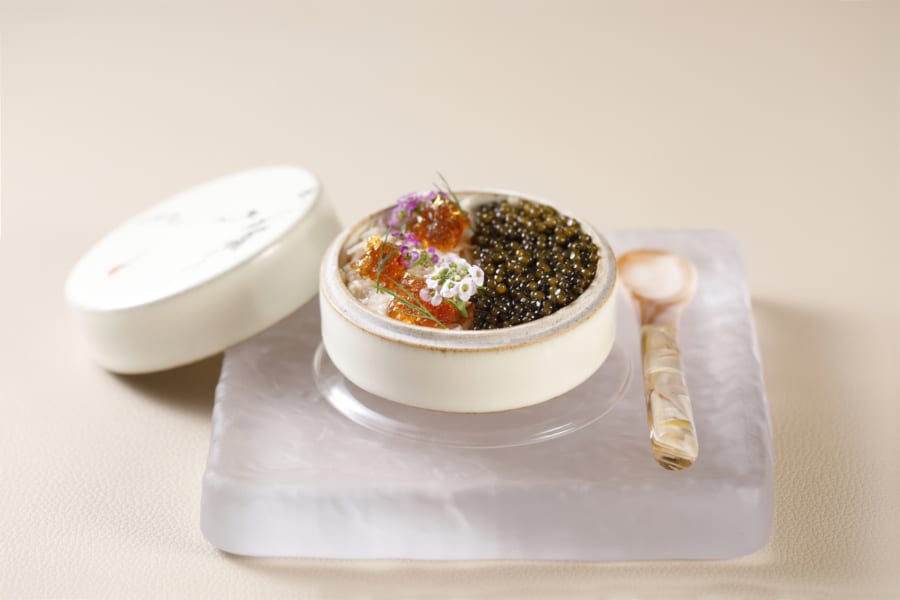 We're so lucky to have many good new restaurants opening in January 2021. Whether you are up for some cool opening deals, crazy happy hours, or free-flow weekend brunches, these restaurants have got your soul and tummy well taken care of.
5. Digital Pop Up Asia
An online shopping site that supports local entrepreneurs, Digital Pop Up Asia has exclusive deals on loads of great products. Handcrafted chocolates from Conspiracy Chocolate, natural skincare products from Aromonix, women's clothes from Belle & Bloom… the selection is endless and they will be shipped to your door fast.
Shop from Digital Pop Up Asia online
6. Beef & Liberty
Leaves instead of beef at Beef & Liberty? Yes, Beef & Liberty in LKF is going vegetarian this January, offering an array of vegetarian options like Mac n' Cheese Bite and, Charred Spice Cauliflower. There is a big selection of veggie burgers starting from just $99, including the Shrumami which features a homemade quinoa patty, vegan ginger mayonnaise, mushroom pate, oyster mushroom tempura, and rocket leaves – yum! Most of the menu options are also vegan with some burgers using impossible meat, so if you're planning on doing veganuary, this is the place to hit.
Beef & Liberty, 3/F California Tower, 30-32 D'Aguilar Street, Central, Hong Kong, p. 2450 5778