Looking to save yourself some cash but still live your best life? Our guide to sweet deals in Hong Kong will have you living your best life in no time.
There's nothing like finding yourself a bargain! From affordable massages to cheap eats and budget electronics, why spend more when you don't have to? If you're on the lookout for sweet deals in Hong Kong you're in the right place, as every month we hit you with our top picks. Now go out and enjoy all these January deals ASAP!
JANUARY EDITION: Sweet deals in Hong Kong
1. The Hari: Staycation from $1450 with $700 dining credit
A luxury design hotel that just opened in December, The Hari is offering an amazing opening deal until 31 March. The Welcome to The Hari package (from $1450) is inclusive of $700 dining credit and late check-out until 3pm. Dig into indulgent pastas and desserts at their Italian restaurant Lucciola and soak in the great interior design details and artworks that can be found in every space.
The Hari, 330 Lockhart Road, Wan Chai, Hong Kong, p. 2129 0388
2. Gyuseki: 50% off sashimi and wagyu yakiniku
A restaurant famous for their luxurious Japanese seafood and meats, Gyuseki is offering 50% off for all a la carte sashimi and wagyu yakiniku until 16 January. Other than dishes like Ito Wagyu A4 ($268) and Otoro ($108), their roast meat platters with premium ingredients like Hanamidori chicken and Kumamoto pork are also popular. This is a good offer for those on the hunt for great Japanese restaurants in Hong Kong.
Gyuseki, 51 Fok Lo Tsuen Road, Kowloon City, Hong Kong, p. 2716 2728
3. Four Seasons Hotel: Staycation from $2030
When it comes to the best staycations in Hong Kong, you cannot miss out on Four Seasons Hotel. Available until 31 January, the festive staycation package allows guests to enjoy a night stay with a four-course festive dinner and complimentary breakfast from $2030. Room types inclusive of the package are deluxe peak view, deluxe harbour view, harbour view suite and grand harbour view suite. Bonus: Four Seasons hotel is super family-friendly!
Four Seasons Hotel, 8 Finance Street, Central, Hong Kong, p. 3196 8888
4. Enjoy all the deals these new restaurants bring in January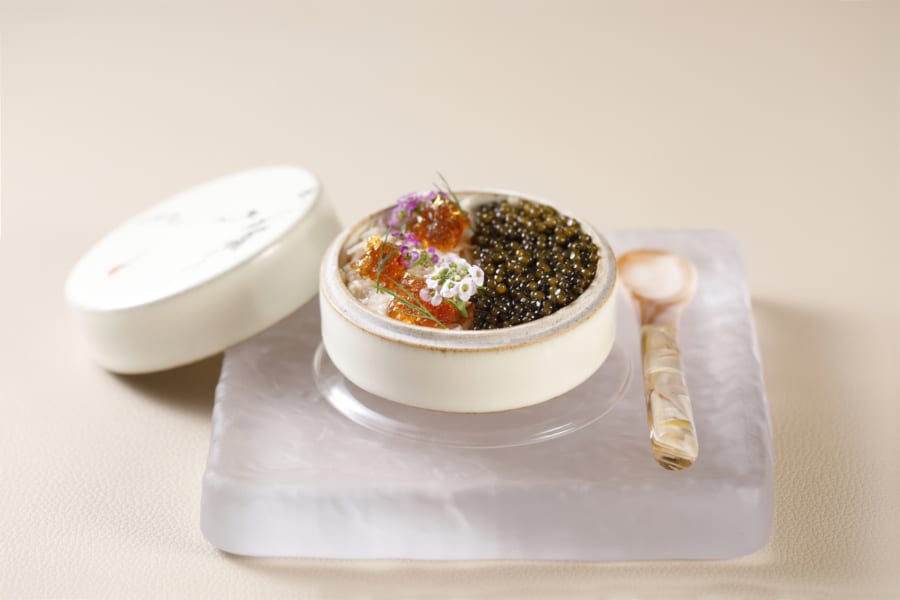 We're so lucky to have many good new restaurants opening in January 2021. Whether you are up for some cool opening deals, crazy happy hours, or free-flow weekend brunches, these restaurants have got your soul and tummy well taken care of.
5. Digital Pop Up Asia
An online shopping site that supports local entrepreneurs, Digital Pop Up Asia has exclusive deals on loads of great products. Handcrafted chocolates from Conspiracy Chocolate, natural skincare products from Aromonix, women's clothes from Belle & Bloom… the selection is endless and they will be shipped to your door fast.
Shop from Digital Pop Up Asia online
6. Beef & Liberty
Leaves instead of beef at Beef & Liberty? Yes, Beef & Liberty in LKF is going vegetarian this January, offering an array of vegetarian options like Mac n' Cheese Bite and, Charred Spice Cauliflower. There is a big selection of veggie burgers starting from just $99, including the Shrumami which features a homemade quinoa patty, vegan ginger mayonnaise, mushroom pate, oyster mushroom tempura, and rocket leaves – yum! Most of the menu options are also vegan with some burgers using impossible meat, so if you're planning on doing veganuary, this is the place to hit.
Beef & Liberty, 3/F California Tower, 30-32 D'Aguilar Street, Central, Hong Kong, p. 2450 5778
DECEMBER EDITION: Sweet deals in Hong Kong
1. The Peninsula Hong Kong: Our Birthday – Your Birthday Celebration
For those born in December, make sure to check out The Peninsula's birthday promotion. Available until 20th December, guests who stay at the hotel on their birthday date, a day before or after can enjoy an array of benefits. At $2,330 per night at a Deluxe Room (which normally costs $4580 or above), the package includes late checkout at 2pm, welcome birthday amenities and exclusive limousine service on Rolls-Royce or MPV at an extra fee (from $328). Elevate your birthday celebration at The Peninsula by touring the city on a Helicopter.
The Peninsula has one of the best high teas and dinner buffets in Hong Kong.
The Peninsula Hong Kong, Salisbury Road, Tsim Sha Tsui, Kowloon, Hong Kong, p. 2920 2888
2. ifc mall shopping rewards
With over two-hundred premier brands like Lane Crawford and Apple Store, ifc mall is here to provide generous shopping rewards for everyone. Shoppers spending over $3,000 are presented with e-Gift vouchers from $100 to $80,000 depending on the spending. Only on weekends and holidays, shoppers spending over $5,000 will receive a bonus of conditional e-Gift vouchers, valued from $400 to $2,400 with respective spending. For those who are Citi credit card holders, extra rewards up to $2,650 will be given.
ifc mall, 8 Finance Street, Central, Hong Kong, p. 2295 3308
3. The Upper House: Winter staycation from $3,900
Available until 30 December, The House is Aglow room package (from $3,900) includes a $500 gift card, daily breakfast and three-course dinner for two at Café Gray Deluxe. Be immersed in the festivity by exploring all the amazing Christmas markets and workshops around Pacific Place. For every room booked under The House is Aglow package, The Upper House will donate $60 to ImpactHK. This is a great opportunity to farewell Café Gray Deluxe before it closes at the end of 2020.
We are also a fan of the brunch at The Upper House's Café Gray Deluxe.
The Upper House, Pacific Place, 88 Queensway, Hong Kong, p. 2918 1838
4. Omsa freebie
Treat your loved ones with festive beauty and wellness bundles from Omsa. Available in December, all orders over $500 will receive a complimentary Rose Quartz crystal heart (worth $100) and free shipping. What's more, the products come with thoughtfully created gift notes and cards, making them one of the best wellness gifts in Hong Kong. Not sure what gifts to buy from Omsa? We think items like Amber Candle and Abundance Crystal Kit are great ones to begin with.
Take a look at our beginner's guide to crystals too.
Shope Omsa online
5. Noise Origin
Looking to support your fave local bands and musicians through purchasing their merchandise? Check out the newly launched Noise Origin, an online shop where customers can select unique designs created by local artists, ranging from T-shirts to kids apparel and hoodies to masks. Around 40% of the net profit will go directly to the artist for every purchase. This is absolutely a great way to support your fave musicians while shopping for trendy goods.
Shop Noise Origin online
NOVEMBER EDITION: Sweet deals in Hong Kong
1. Mandarin Oriental Hong Kong: afternoon tea with $2000 complimentary voucher
In collaboration with luxury jeweller K.S. Sze & Sons, Mandarin Oriental Hong Kong introduces a limited-edition afternoon tea, demonstrating the jewellery brand's delicate craftsmanship and the hotel's culinary eminence. The set features a variety of intricate specialities such as Galaxy Opera Cake, Foie Gras Mousse and Venus Milk Ganache. Guests who order this afternoon tea ($888 per set) will receive a $2000 complimentary cash voucher for any purchase at K.S. Sze & Sons within November.
Clipper Lounge, Mandarin Oriental Hong Kong, 5 Connaught Road Central, Hong Kong, p. 2825 4007
2. The Peak: Free Peak Tram ticket, cash coupons & picnic
Until 15 December, if your HKID card name contains all four letters (P, E, A and K), you are eligible for a free Peak Tram Return Sky Pass; if your name contains only one of the four letters, you can still get the same pass at 50% off the usual price. Receive $180 cash coupons for shopping and dining upon any Peak Tram ticket purchase. Bonus: picnic at The Peak ($510) and enjoy 2 return tickets plus Bubba Gump picnic meals.
Secure your tickets at The Peak's official site.
3. Hong Kong Greeters & The Lion Rock Press: exciting outdoor Quests
Bespoke tour company Hong Kong Greeters collaborates with iconic gift brand The Lion Rock Press, launching a series of self-guided quest events. Hong Kong Heist In Central ($350) is the first quest, where participants have to crack codes at famous landmarks and "catch the thief". The quest starts and ends at Central MTR station, with routes carefully designed to allow families to move at their own pace.
Check out the event's official site to learn more details.
4. The Mira Hong Kong: Mermaid Dance Staycation from $1288
Did somebody say mermaid dance lessons? Check into your designer guest room at The Mira Hong Kong, and join a mermaid dance class at the infinity pool before digging into a filling breakfast at the Mira Club Lounge with this sweet deal. This avant-garde experience is available until 23 December, starting from $1288 per night for two guests on selected days. Individual mermaid dance classes for two people are also available at $960.
The Mira Hong Kong, Mira Place, 118-130 Nathan Road, Tsim Sha Tsui, Hong Kong, p. 2368 1111
5. Hong Kong Tourism Board: Free tour programmes for locals
After the government announcement of exempting local tours from social distancing restrictions, the HKTB launched the Free Tour Programme, where 1000 local residents are eligible for a free local tour. By spending a minimum of $800 at brick-and-mortar dining and retail outlets, citizens can sign up for their preferred tours at travel agencies bringing their machine-printed receipts. A total of 10,000 seats are available for the first stage of the programme.
For more information, visit Hong Kong Tourism Board's official website.
6. Tango Argentinian Steak House: 10th-anniversary celebration menu
Take a trip down the memory lane as Tango Argentinian Steak House celebrates its 10th anniversary with two special menus to thank its loyal customers. Featuring the most popular dishes, the four-course menu ($588) and Argentinian wine pairing ($300) enable guests to enjoy the best Rib Eye Steak, Black Truffle Chicken Breast and Artisan Cheese all at once.
See why they make our guide to the best steakhouses in Hong kong too.
Tango Argentinian Steak House, 1/F, Wyndham Street, Central, Hong Kong, p. 2525 5808
7. Man Ho at JW Marriott: 8-course wine pairing journey
Celebrate Man Ho Chinese Restaurant's 1st anniversary and its reopening with exquisite wines and a special menu. At $1580 per person, enjoy steamed abalone with sake, deep-fried lobster with Taittinger, as well as other specialities picked by the culinary team. Abstaining from alcohol? No worries. The alternative non-alcoholic pairing features Denmark sparkling teas and alcohol-free French wines, adding a subtle twist to the gastronomic dining experience.
Man Ho Chinese Restaurant, JW Marriott Hotel Hong Kong, Pacific Place, 88 Queensway, Hong Kong, p. 2810 8366