Happy International Women's Day! May you be proud of yourself and the women around you everyday 🧡
Everyday is International Women's Day when these Hong Kong women are out there slayin'! Read on and you might just find yourself a new girl crush. ;)
Guys, we love you, but let's be real: no matter our gender, we should celebrate International Women's Day, not least because of the fact that we all came out of a vagina. At Honeycombers, we've had the amazing opportunity to meet and introduce to you young female talents like Anisha Thai and Phoebe Chan; wonderful working mums like Sarah Keates, Corinna Chamberlain, and Daisy Chow; and members of the respectable, older generation – shout out to Chilli Fagara's Chef Chan! – all of whom have been making the world go round since day one. But, there are still many more ladies out there who deserve to be recognised for their work. So, to honour International Women's Day 2022, we're listing more Hong Kong women who, we think, should get on your radar. #BreakTheBias
International Women's Day: Inspirational Hong Kong women
1. Siobhan Haughey, Olympic swimmer
Remember when the whole of Hong Kong went crazy, cheering for our Olympic athletes last summer? (If you need a refresher, here are some hilarious memes that emerged back then.) Those pre-fifth-wave days may be over (sigh), but the star of the Olympics never stopped shining. Sioban Haughey, who won two silver medals during the Tokyo 2020 Summer Olympics, went on to break more records in the latter half of 2021. After setting a new Asian record in the International Swimming League, she broke the world record at the Short Course Worlds Championships, which had been set by Sarah Sjöström in 2017. And while Siobhan's achievements are truly astounding, it's also her dedication, her excellent sports(wo)manship, and her persistent efforts to better herself that makes us admire her so much.
See who else is on our list of top female athletes in Hong Kong.
Follow Siobhan Haughey on Facebook and Instagram.
2. Claudia Chanhoi, artist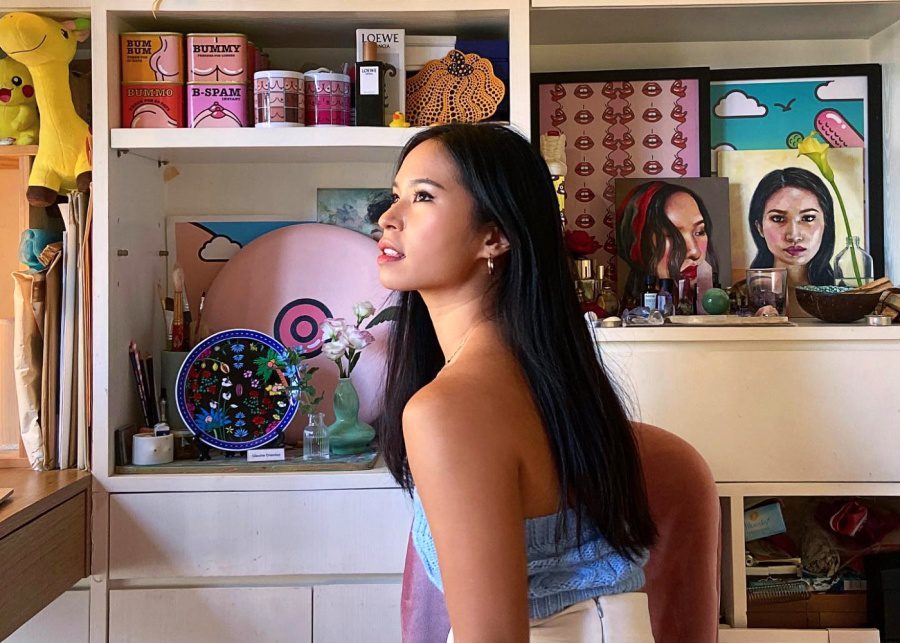 Humorous, controversial, but also kind of cute – such is the art by Claudia Chanhoi. Inspired by her own experience in the modern dating scene as a heterosexual woman, Claudia explores the topics of gender and sexuality using art. While this gets her into trouble with Instagram's community guidelines, she continues to push the boundaries and isn't afraid to speak up – and we love her for it! This is why Claudia isn't just one of our favourite NFT artists, but also a Hong Kong woman we very much look up to.
Find out more about Claudia Chanhoi.
3. Yip Wing-sie, Music Director Emeritus of Hong Kong Sinfonietta
Whether it's the hilarious ladies from Bitches in Stitches, or an elegant opera singer like Vivian Yau owning the floor, we just love it when women take over the stage. And nothing beats witnessing the charisma of Yip Wing-sie on the podium. Renowned as one of the most influential figures in the classical music scene in Asia, this Hong Kong conductor has won numerous global awards and led various orchestras over the past several decades. She is a pioneer in terms of bringing classical music to the masses (we adore her series of McDull concerts and recordings!) and she has always shown a lot of dedication to music education and the performing arts. Plus, the fact that Wing-sie won a battle against breast cancer back in 2016 just makes us admire her even more.
Find out more about Yip Wing-sie.
4. Hannah Reidy, CEO of Mind HK
Leading the conversation about mental health in Hong Kong is Dr Hannah Reidy. As part of the team that officially launched Mind HK in 2017, Hannah is the CEO of the mental health charity, and she has been working with her team to improve awareness and understanding of mental health in Hong Kong. We can't stress enough how important educating the public and removing the stigma around mental health is; we're glad that there are experts such as Hannah in Hong Kong who are so willing to help!
Connect with Hannah Reidy on LinkedIn and find out more about Mind HK.
5. Sarah Garner, founder of Retykle
So many clothes, so little space – and way too much waste! Luckily, Sarah Garner and Retykle have come to our rescue. Retykle is a sustainable fashion concept that allows parents to recycle their children's clothes by selling, donating, or swapping them with other kids' apparel on the platform. This all started in 2016 when Sarah left the corporate luxury fashion industry and started her own business, fuelled by her passion to make a positive impact on the environment and community. Thank you, Sarah, for contributing to the planet (while also making second-hand shopping for kids that much easier)!
Curious about her secrets to success? Read our full interview with Sarah Garner.
Connect with Sarah Garner on LinkedIn and find out more about Retykle.
6. Sonalie Figueiras, founder of the Green Queen
If you're looking for health food stores in Hong Kong, the best vegan and vegetarian restaurants in Central, or pretty much anything about food tech and the environment, Green Queen is the place for you. Yep, even we are giving them a pass! Founded by eco-activist Sonalie Figueiras in 2011, Green Queen has been numerously awarded for its social and environmental impact on Hong Kong and beyond. Shout out to Sonalie and her team's commitment to advocating for greener, safer, and healthier choices for the public and for the planet.
Want to find out more about her journey? Read our full interview with Sonalie Figueiras.
Connect with Sonalie Figueiras on LinkedIn and explore Green Queen.
7. Mel Zhou, co-founder of Boy n Burger
Macky D's is so out of style, people, because not only is fast food affordable nowadays, but it's also becoming more sustainable and environmentally conscious, thanks to the efforts of food entrepreneurs like Mel Zhou. She's one of the masterminds behind Boy n Burger, one of our latest favourite burger joints in town. Between the buns, you'll find premium, 20-day grass and grain-fed UK prime beef; fresh, locally sourced vegetables; as well as fish and dairy items provided by local artisans and suppliers. Yet, a burger from Boy n Burger only goes from HK$28! We'd probably never find out how Mel does her magic, but she's doing it alright – because when the burgers are delicious, affordable, and actually made of quality ingredients, what more would you want?
Boy n Burger, G/F, Shop 3, 208 Johnston Road, Wan Chai, Hong Kong, p. 3686 0928
8. May Chow, chef and owner of Little Bao and Happy Paradise
Foodies in Hong Kong would be no stranger to May Chow. Having achieved award-winning success with both of her restaurants – Little Bao and Happy Paradise – May has been considered one of the most respected culinary figures in Hong Kong. She's also appeared in quite a few popular TV shows, including Anthony Bourdain's Parts Unknown, MasterChef Asia, Top Chef, and more. In addition, she's an outspoken supporter for LGBTQ+ rights, diversity, and female empowerment. Talented and dynamic, May is one of the Hong Kong women that deserve to be on your radar.
Follow May Chow on Instagram and support her restaurants, Little Bao and Happy Paradise.
9. Abby Cadman, owner and director of Relish and Gingers
Being an entrepreneur isn't easy, never mind being one during the social unrest and pandemic in Hong Kong. This is the journey of Abby Cadman, now owner and director of Relish and Gingers. These are two of the only female-run catering companies in Hong Kong, with the former being taken over by Abby when the owner decided to sell it in 2019. After taking the leap of faith to pick up the company during the social unrest, Abby continued to navigate herself through the unprecedented environment and eventually acquired Gingers, as well, in 2021 – despite being right in the middle of a global pandemic! With such bravery and resilience, Abby is certainly a promising entrepreneur and an inspirational woman in Hong Kong.
Connect with Abby Cadman on LinkedIn and support her businesses, Relish and Gingers.
10. Rachel Carrasco, serial entrepreneur
After spending years in the luxury and lifestyle industry, Rachel Carrasco founded her own marketing company, Rache, in Singapore. In addition to transforming Rache into an advocacy platform for female empowerment and mental health, Rachel launched two F&B products during the height of the pandemic: Rio, a ready-to-drink canned cocktail, in the Philippines; and Baken, a luxury bacon snack, in Singapore, Hong Kong, Manila, Taiwan, and Australia. We look forward to seeing what Rachel comes up with next!
Connect with Rachel Carrasco on Instagram and LinkedIn.
11. Nicole Denholder, founder and CEO of Next Chapter
#WomenSupportingWomen is what Next Chapter is all about. Based in Hong Kong, this rewards-based crowdfunding platform is open to female entrepreneurs across Asia. It was set up by Nicole Denholder, an Australian who lives in Hong Kong. After settling in Hong Kong and eventually leaving her job in finance and consulting, Nicole came up with Next Chapter. We admire her passion for female entrepreneurship and empowerment, as well as her determination to change the way funding systems work for women.
Connect with Nicole Denholder on LinkedIn and find out more about Next Chapter.
12. Inès Gafsi, co-founder of Female Entrepreneurs Worldwide; country chair of Inspiring Girls Hong Kong
Last but not least is Inès Gafsi, best known for being the co-founder of Female Entrepreneurs Worldwide (FEW) alongside Anna Wong. This platform has over 20,000 members throughout Asia, offering them a wide range of opportunities to learn, network, and market their own businesses. With a highly engaged community of strong-minded businesswomen, FEW has been uniting and empowering women in Hong Kong and beyond. In addition to her work at FEW, Inès is also the chairperson for Inspiring Girls Hong Kong, a charity that strives to raise the aspirations of girls (aged 10-18) and provide them with an encouraging environment in Hong Kong. The team organises programmes, talks, and other educational events to connect the children with female role models. When it comes to inspirational women in Hong Kong, Inès is definitely one of our top picks.
Read our introduction to Inspiring Girls Hong Kong.
Connect with Inès Gafsi on Instagram and LinkedIn.
Psst – did you know that Sarah Garner, Sonalie Figueiras, and Nicole Denholder are all members of Launchpad? Launchpad is a comprehensive digital networking platform (with IRL benefits, too) that encourages connection, business support, and community. It is designed to make the entrepreneurial journey not only easier, and more successful, but also a whole lot more fun. The platform offers almost daily activities for members to connect, along with regular masterclasses, member networking roulette, small-business mentoring and media profiles on Honeycombers. Interested to know more? Explore our official website!