Itching for a vacay, but short on leave? There are loads of places that are super close, meaning you can get your holiday fix over the weekend with these short trips from Hong Kong.
While we love Hong Kong staycations, camping in Hong Kong and exploring the islands around Hong Kong, sometimes, you just want to get away somewhere quickly to make the most of a weekend or a public holiday. Luckily, we've found 12 great short trips from Hong Kong to feed your wanderlust, and best of all, each is under five hours away! Now go forth, and explore the world.
12 short trips from Hong Kong
#1 Macau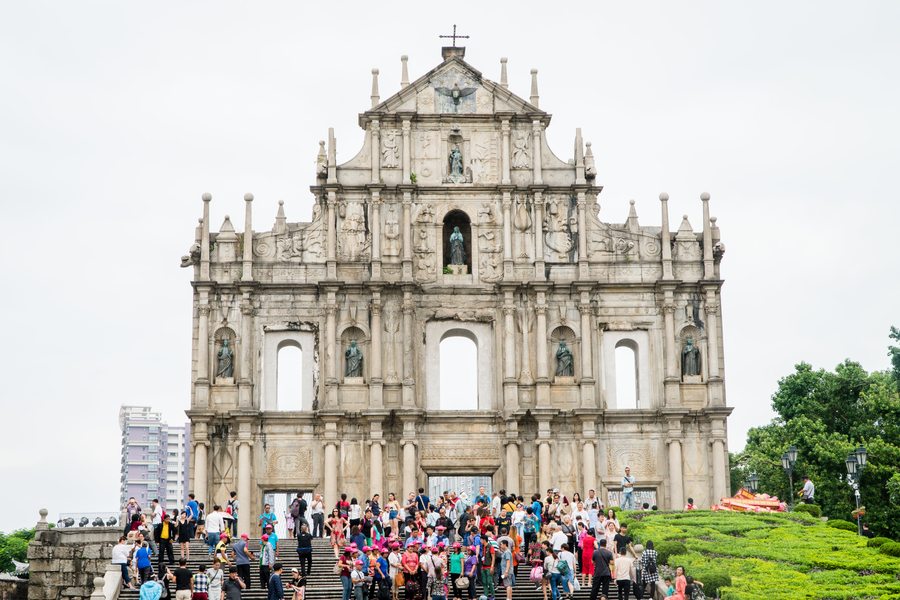 Just a short one-hour ferry ride from Hong Kong, Macau is one of the easiest (and cheapest) places to get to from Hong Kong. Check in at one of the MANY huge resorts there and spend your time lounging by a pool drinking cocktails or splashing your cash at the casinos.
If that's not your scene, then explore the alternative side to the S.A.R, and discover cool cafes, beautiful heritage buildings, cultural sites and loads and loads of great restaurants.
Read more about things to do in Macau.
Learn about our where to stay in Macau. (These are our fave tried and tested hotels!)
Check out these vegetarian restaurants in Macau.
Enjoy these family-friendly hotels in Macau.
Bungy Jump with AJ Hackett Macau Tower.
Explore these art galleries in Macau.
Or, enjoy a cuppa at the our favourite cafes in Macau.
#2 China
Wonderful China is literally right on our doorstep, making it a definite must-visit on our list of short trips from Hong Kong. Whether you want to jump on a train to Shenzhen and enjoy a weekend of shopping, saunas and great food, or if you want to fly to Shanghai (2.5 hours) and party the night away, there are so many fascinating regions of this huge country to explore.
Don't miss out on visiting the pandas and the wonderful architecture of Chengdu (2.5 hours) or why not take the whole family to the tropical island of Sanya? Known as the Chinese Hawaii, it's worlds away from what you might expect, and has plenty of stunning beaches, resorts and great restaurants, plus it's just 1.5 hours away from Hong Kong!
Why not stay at one of these top 5 resorts in China?
Or enjoy a weekend at Four Seasons Hotel Shenzhen.
Our guide to things to do in Shenzhen will help you have a great time.
#3 Taiwan
Less than two hours from Hong Kong by plane, Taipei, the capital of Taiwan, is the gateway to a land full of nature, exceptional design, great food, and some of the loveliest people in the world. If you're staying in Taipei, there's plenty to see and do, from exploring the Shilin Night Markets to wandering through creative centres like Songshan Cultural and Creative Park to scaling Taipei 101 or visiting the stunning Presidential Palace.
If you want to go further into the country, then consider heading to Taichung for a spot of hiking or visit the Eternal Spring Shrine waterfall inside Taroko National Park.
#4 The Philippines
Don't let what people tell you fool, Manila is an absolute dream for travellers, especially lovers of design, food and good coffee, and best of all, it's just a short two-hour flight from Hong Kong. The city has some stunning cultural landmarks that can't be missed, including Intramuros and Quiapo Church, which houses a statue of Jesus that is said to be miraculous.
If you want to escape to a tropical beach location, then you can be in Cebu in just three hours, and living the highlife in one of the many resorts. Enjoy the surf and sun, or explore the region by boat, and be back at your desk by Monday morning.
#5 South Korea
When it comes to short trips from Hong Kong, you really can't beat the wonderful pace of life and culture in South Korea. It takes around three hours to get to most destinations from Hong Kong, including Seoul, Busan and Jeju, and wherever you visit is sure to be vastly different from the next.
In Seoul, watch the changing of the guard at the colourful Gyeongbukgong Palace or stroll through historic Insadong for souvenirs before spending the night partying in Gangnam at a super club until the wee small hours. Busan has those chill beach vibes, making it a great summer getaway. Time it right, and you may make it to the Busan International Film Festival, where giant film screens are placed right on the beach for everyone to see.
And who could forget Jeju, the romantic island at the bottom of Korea famed as much as a honeymoon destination as for its delicious oranges. A picturesque spot with luscious greenery around every turn, explore the scenery on horseback or see if you can spot the Haenyeo (female pearl divers) who are famed for their strength and independent spirit. P.S. G-Dragon from Big Bang owns an amazing cafe in Jeju, Cafe Aewol Monsant, that's a cool place to drop in for a coffee and that has great views.
Here are 5 festivals in South Korea that you won't want to miss.
#6 Vietnam
Ah, Vietnam. The coffee! The banh mi! The people! Whether you want to hit up Ho Chi Minh (2 hours 40 minutes from Hong Kong) and explore Saigon Notre-Dame Basilica and Ben Thanh Market, or if you're heading to Da Nang (2 hours from Hong Kong) to visit the Marble Mountains and explore the caves and shrines, you're sure to fall in love with Vietnam thanks to its colour and culture.
Find out why we love Fusion Resorts Phu Quoc
Heading to Ho Chi Minh? Check in at Windsor Plaza Hotel Saigon.
Discover how to do Vietnam with families.

#7 Cambodia
Around 2.5 hours from Hong Kong by plane, Cambodia is an absolute dream. Explore Siem Reap and visit the sacred temples of Angkor Wat, or travel to the nation's capital of Phnom Penh and take a trip to the Royal Palace or the Tuol Sleng Genocide Museum, either way, you'll see inside a beautiful country with a long a tumultuous history.
Heading to Cambodia? Why not stay at The Balé, Phnom Penh?
Find Siem Reap inspiration with this Cambodia photo essay.
#8 Thailand
Two words… Thai food. A list of short trips from Hong Kong would not be complete without wonderful Thailand! Explore the capital of Bangkok and discover the markets and vibrant street life, or hit the beaches of Phuket and Koh Samui and live your best sun-kissed life. Hua Hin is the perfect spot for a family vacation, especially if you're a golf fan, while up north, culture and history buffs won't want to miss Chiang Mai.
We love to stay at Avani Hua Hin Resort & Villas.
And check out these things to do in Hua Hin while you're there.
Como Point Yamu is our go-to haven in Phuket.
Or book in for an amazing group holiday at Inspiring Villas.
#9 Singapore
We love Singapore! And it's not just because that's where Honeycombers HQ has its home. It's a vibrant place with a mixture of cultures that make it a great place to eat, shop and explore. From the busy streets of Little India to the wonderful colours of Arab Street and the temples and nightlife of Chinatown, we never get bored in Singapore.
Find out what to do in Singapore.
Check out these bars in Tanjong Pagar.
Eat at the best vegetarian restaurants in Singapore.
Check in at Sofitel Singapore City Centre for a luxe getaway.
Stay at Oakwood Premier OUE Singapore.
Or jump on the ferry and enjoy a stay at Radisson Golf & Convention Centre Batam.
#10 Japan
Slightly further away (but totally worth it!), Japan is a country with huge regional differences and so much to explore. Closest to Hong Kong (2 hours 45 minutes), Okinawa is a small island renowned for its wonderful seafood, scuba diving and village lifestyle.
Fukuoka (3 hours 20 minutes from Hong Kong) is a port city in the southern part of Japan that is often overlooked, but which is one of the most magical parts of the country. Spend time exploring the large Russian district, explore fashion from the large group of local designers and visit the wonderful Fukuoka Art Museum that houses both ancient and contemporary works.
And then of course, there's Tokyo, the never-sleeping capital city that can be reached in just a four-hour flight from Hong Kong. Fall in love with Shibuya, shop til you drop in Harajuku and get fancy in Ginza–the world is your oyster in Tokyo, and there's no better place to party.
Take a look at Mel Cox's guide to climbing Mount Fuji.
Indulge at our fave vegetarian restaurants in Tokyo.
Explore with our guide to Okinawa.
Check into the Hyatt Regency Seragaki Island Okinawa for a relaxing getaway.
#11 Bali
Around five hours by plane (four and a half when the wind is in your favour), Bali is never a bad idea. There's something for everyone here, whether you want to chill in Uluwatu and spend your days sipping drinks at beach clubs or if you want to head to action-packed (and affordable) Kuta for some backpacker-style good times. Nature and wellness fans will want to check out Ubud and everything going on there, while Seminyak is THE spot for shopping, cafes and fancy cocktail bars. We love the diversity of Bali, and if you need the latest lowdown, be sure to check out sister site Honeycombers Bali for the most up-to-date cool places to hit.
Explore our guide to Uluwatu.
Jump into Bali's best beaches.
Find out why The Cove is perfect for families.
While away your days at Manarai Beach House.
See why we fell in love with Villa Issi in Seminyak.
Discover Canggu beach club: La Brisa
#12 Short Cruises
So you've always dreamed of doing a cruise, but never got around to it. Well now there's no excuses! Dream Cruises have an amazing array of cruises from Hong Kong to suit every whim and fancy. We tried the 2-night weekend escape for ourselves and had the best time living our VIP life by staying at their luxe ship-within-a-ship concept: The Palace. When you book in for The Palace, you get added extras like your own pool deck, sauna and gym; dining at the Palace Restaurant; a larger selection of all-inclusive food and drink options; and priority boarding and disembarking.
If you want to go a little further, you can try the five-night options to Vietnam, The Philippines, or Okinawa, all of which offer loads of on board fun like waterparks, theatres, VR experiences, ropes courses and more. Plus they have special programmes for the kids so they can learn and be inspired at sea.
Read all about why we loved our World Dream experience.