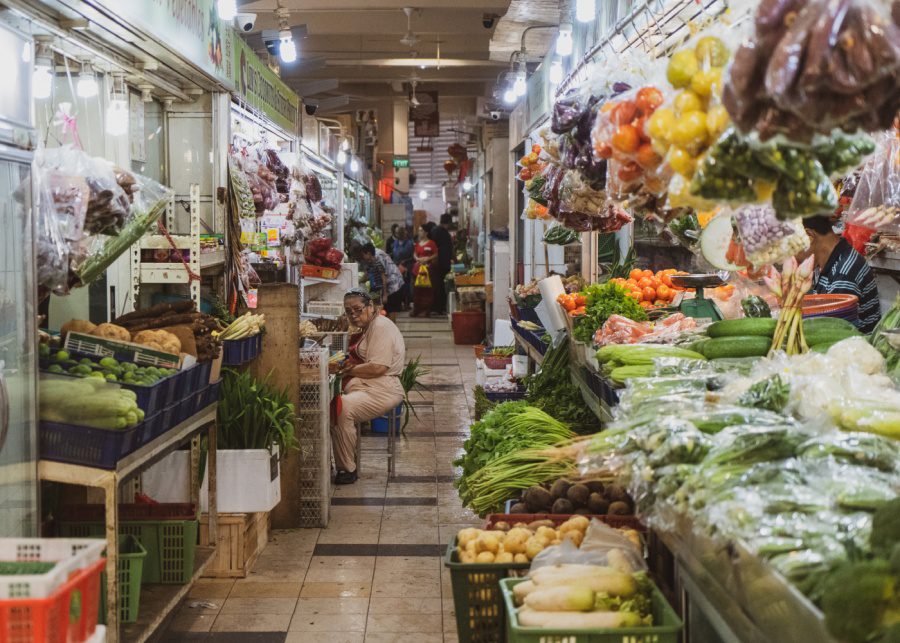 Photography: Dhiman Sengupta via Flickr
It's hardcore grocery shopping time! Best to hit the wet markets to stock up on fresh produce and local treats in Singapore.
Grocery shopping isn't limited to massive air-conditioned supermarkets in the malls of Singapore. Our first choice? Wet markets! We love our neighbourhood ones. On the outside, these pungent and produce-laden emporiums may be a bit daunting if you don't know where to go and what to look for. But suck it up, put on some anti-slip shoes and prepare to haggle at these spots. This is where you'll find the good stuff…
The best wet markets in Singapore
1. Admiralty Wet Market
Those living in the north should be familiar with this wet market, which stocks fresh, affordable groceries such as fresh shrimp, meat, and fruits. There's a vegetarian stall that sells organic products like kimchi, vegan noodles, tofu, and monkey head mushrooms. Head to the nearby Kampung Admiralty Hawker Centre when you're done shopping and refuel on local and international cuisines. We're pretty fond of the red bean ice dessert and fried you tiao!
Admiralty Wet Market, 678A Woodlands Avenue 6, Singapore 731678
2. Tekka Centre
With the selection of fresh vegetables, good butchers and a mad collection of spices, Tekka Centre is a gem and definitely one of the cooler wet markets around. One of our favourite stalls is Chia's Vegetable Supply – you'll know them from the jazz tunes they blast at the store. Chia's always has an abundance of seasonal and imported vegetables like fennel, vine-ripened tomatoes, and arugula. Head to Joe's Butchery for good quality meats like an angus steak for dinner or a serving of lamb ribs.
Tekka Centre, 665 Buffalo Road, Singapore 210665
3. Chinatown Wet Market
This is a large and bustling arena full of fresh produce and quality dried goods in the basement of the Chinatown Complex. It's wallet-friendly, particularly if you show some love to smaller stallholders who will often throw in extra vegetable pieces for regular customers. Most of the fresh produce is imported from Malaysia or supplied from farms near Kranji, so it's all sustainable. The market is also known for live seafood including cockles, lobsters, crabs, tiger prawns, and more exotic meat varieties like eels and frogs.
Chinatown Wet Market, Chinatown Complex, 335 Smith Street, Singapore 050335
4. Geylang Serai Market
One of Singapore's biggest and busiest wet markets, the Geylang Serai Market has undergone quite a few changes (it looks like a traditional kampong house, with sloping ceilings and ornate motifs), yet it remains a pillar of heritage in the Joo Chiat precinct. Head over early for fresh produce, halal supplies, a wide array of spices (for all those lemak dishes!). Pick up a trusty cup of teh halia (ginger tea) with some kueh before you browse through stalls displaying traditional Malay fashion.
Geylang Serai Market, 1 Geylang Serai, Singapore 402001
5. Empress Road Market
A favourite with expats, Empress Market has a good mix of local and international produce. You'll find products like jalapenos, nectarines and even black chicken (good for its health properties). Plus, get your meat de-boned, chopped, or minced… whichever way you like from the local butcher.
Empress Road Market, 7 Empress Road, Singapore 260007
6. Jurong Fishery Port
Put on the wellies for this one – and bring along your passport/ID (seriously). Our advice: go between 2am and 4am to get in on all the action and pick up the freshest seafood in Singapore. Sort of like the Tsukiji Market in Japan, you can procure local and imported seafood with no middleman in between. This also means you're getting next to near wholesale prices. Song Fish Dealer stocks uncommon types of fish like black cod and Spanish mackerel if you're looking for something fancy. It also has a delivery service if you really can't face waking up that early.
Jurong Fishery Port, Fishery Port Road, Singapore 619742
7. Tiong Bahru Wet Market
Tiong Bahru may be popular for hip eateries and old school architecture, but the wet market is the heart of this gentrified enclave. It's clean and open – a good one to bring the kids along for an adventure. Shop for tofu, organic vegetables (you have to be quick – they get snapped up fast!), Aussie and New Zealand beef, and fresh blooms and house plants.
Tiong Bahru Wet Market, 30 Seng Poh Road, Singapore 168898
8. 50A Marine Terrace Market
Another go-to market for the Easties? 50A Marine Terrace Market. Just a short walk from Parkway Parade, this grocery haven is where you can stock up on fresh meat, vegetables, beautiful flowers, and even air plants! After that, grab a cold dessert or local breakfast to start your day. Our faves? Locally roasted coffee, quail eggs, handmade fish balls and fresh noodles for under a dollar a bag. We particularly love hitting up the curry paste stall, where the auntie expertly drops freshly minced turmeric, lemongrass and chilli into a bag for you to cheat your way through dinner.
50A Marine Terrace Market, 50A Marine Terrace, Singapore 441050
Get a slice of local life by visiting the best wet markets in Singapore!