Photography: The Great Room
Whether you're a freelancer or a startup, these cool co-working spaces in Singapore will get you fired up and inspired.
Working from home in comfy PJs sounds like the ideal office situation, but it can also spell trouble when you're trying to stay motivated and feel connected to a professional community. Resist the temptation to camp out at your local hipster cafe, and check into some of the well-equipped, more constructive digs we've checked out for our guide to cool co-working spaces in Singapore. Goodbye procrastination and hello productivity…
Best co-working spaces in Singapore
1. The Great Room
Most of us can only dream of an office as cosy as home. Good news for hot deskers: your wish is granted, thanks to Asia's first hospitality-inspired co-working space. The space boasts chic Mad Men-inspired interiors with its rich, tan colour palette, sumptuous leather sofas, sleek timbre desks and brass-finished shelves. You'll be cared for in here: complimentary brekkies (with freshly brewed Papa Palheta coffee – available all week) and 10-minute massages are available on Mondays. And if you're working late, a turndown cart makes its rounds to reward hard workers with warm cookies. Expect tons of office events like salon sessions over cocktails, masterclasses, wellness workshops and the likes.
The Great Room, various locations including One George Street, Centennial Tower and Ngee Ann City
2. MultiCo
Be part of the sharing economy by snagging a work desk through MultiCo. This platform matches office workers, salespeople and entrepreneurs with under-utlised tables at various venues including restaurants, cafes, alfresco bistros, hotels and flexible co-working spaces. Why work from home when you can change up your workspace as you please? Plus, this remote working membership comes with a ton of perks! MultiCo's 'Clever Credit System' gives you 'credits' to the value of your membership fee, each month. For every additional dollar you spend at a MultiCo venue, you receive 10 'points' through the MultiCo app.
Hop aboard to book a new space for working, meeting customers, or brainstorming with colleagues. You won't have to worry about buying a drink to get a table or having your meetings cut short because you need to vacate the table. Fun fact: Google has approved MultiCo as a staff perk, enabling them to work from their desired spaces across Singapore. As MultiCo's founder says, "Venue partners benefit from members' patronage while our members get full value, plus other perks from their membership." Psst: get $50 free when you sign up with the code 'HCXMULTICO' until the end of May 2021!
3. Genius Central
Genius Central is a spacious cafe along Amoy Street, but there's more than meets the eye here! You'll see people hard at work with their laptops out, or deep in business discussions over a cup of joe. This is a community designed to be a hub for entrepreneurs and digital nomads to meet and exchange ideas. Expect dedicated private dining, meeting and flexible event spaces to suit your needs.
Genius Central, #01-01, 7-13 Amoy Street, Far East Square, Singapore 049949
4. workbuddy
Too many coworking spaces, you can't decide? We look to the workbuddy pass to get access to more than 25 spaces in Singapore. Whether you want to work near your kids' school one day and your gym the next, this pass has got you covered with a flexible monthly membership with no lock-in contract. (Try a trial for free and check out the Lite plan with five passes a month or the Unlimited plan for more options!)
5. Found8
This homegrown venture prides itself in being more than your run-of-the-mill co-working space. Sure they have a few workspaces around town (the newest location in an Amoy Street shophouse is now open!) but it's the innovation-centric ecosystem that makes them stand out. Apart from putting together a stellar office space in prime locations, it's also a launchpad of sorts that really wants you to grow. Signing up with them gives you more than just a desk or unlimited coffee. You get access to a network of potential clients, mentors and collaborators. You can make connections with strategic advisors, coaches and they even introduce you to a pool of investors and partners <insert oohs and aaaahs>.
Found8, various locations including Amoy Street, High Street Centre and Tanjong Pagar
6. Just Co
Not content with being just a gorgeous co-working space, Just Co takes the competition up a notch with its entertainment factor. Meeting rooms and a well-stocked pantry aside, the breezy space is also home to a ping pong table and an arcade room for you to blow off steam after a long day of work. Also, bonus points for its central location amongst bars, gyms, fab restos and MRT stations.
Just Co, various locations including Marina Square, Raffles Quay, Robinson Road and MacDonald House
7. Paperwork
Leave it to the National Design Centre to house a fabulous and collaborative space for design-preneurs. Being a young designer with an eponymous label or a start-up is hard work, but Paperwork tries to make things better with a space that's high on design and co-creation. We reckon it's the perfect environment to cook up your next collaborative adventure!
Paperwork, #03-01, National Design Centre, 111 Middle Road, Singapore 188969
8. WeWork
Imagine an office with cubicles, tight spaces and everyone at their individual desks. Now throw away that image and check out the co-working spaces of WeWork. The international company opened their 200th location at Beach Centre and such a visual treat it is. Littered with plants all around, cushy leather sofas, lots of natural light and pastel colours, WeWork Beach Centre looks more like your dream house rather than a stuffy office space. And don't get us started on the beautiful Robinson Road branch. All that gorgeous midcentury modern furniture makes the interior addict in us ultra happy. And those patterned, happy-hued carpets, curvy staircase, contemporary artworks and the much-appreciated phone booths add to the appeal.
WeWork, various locations including Beach Centre and Robinson Road
9. Mox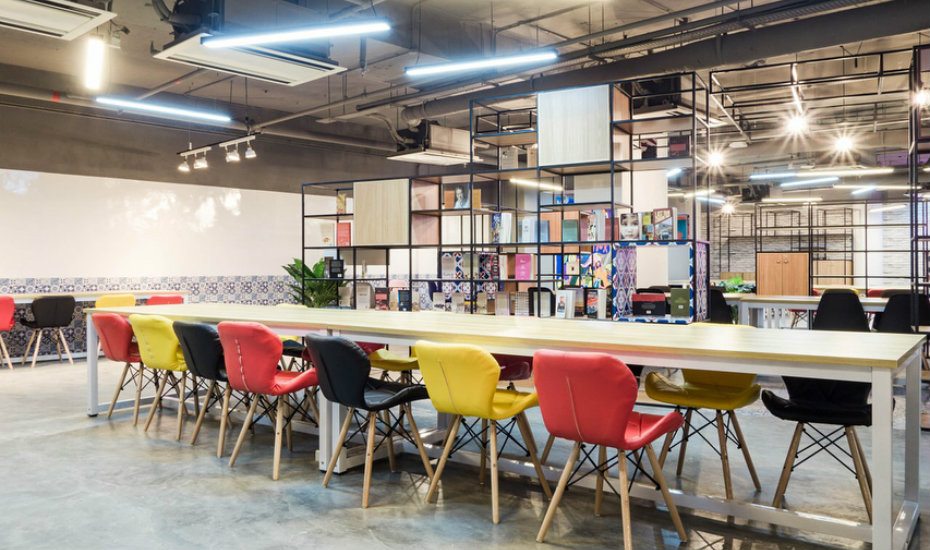 Creatives assemble here, at this new hotspot in the East. Mox, from the word moxie – and is the only working space in the list to have facilities such like 3D printers, laser cutters and specialised working stations equipped with design software, and more for creatives and makers. Located in Katong Point, the three-storey facility has a retail space, workshop rooms and a co-working space that can accommodate up to 200 people.
Mox, Katong Point, 451 Joo Chiat Road, Singapore 427664
10. Distrii
We've got smart homes and you know we were psyched to hear about Distrii's smart office. Roomy desks (900 workstations), food (at Hans im Gluck) and competitive prices aside, the seven-storey Distrii takes things to a whole new level by introducing a handsome helping of technology to co-working spaces. At the heart of it is the inhouse Distrii mobile app – a cloud-based system for integrated business solutions. Yup, that single app is the key to the office, your locker, a video conference and meeting room booking tool, task and internal admin manager all rolled into one. Plus, you can also make use of a special member-only platform with over 15k people built to make meaningful connections, encourage collaboration and share resources.
Distrii, 9 Raffles Place, Republic Plaza, Singapore 048619
11. The Working Capitol
Housed in a historic Art Deco-style building along Keong Saik Road, The Working Capitol is a beautifully appointed space – complete with calming, minimalist decor and oodles of natural light. The amenities are nothing short of stellar, with an in-house café, screening rooms, private phone booths, and even a beer garden for after-hours fun. Depending on your working needs, rates start from $150 for a Workspot. Also, great news for fans of the space: it's just opened a brand new location in the heart of the CBD. The Robinson Road outlet is spread across eleven floors and looks set to be as conducive a space as its original location. Its custom-designed areas fit all sorts of working needs, including quiet focus, recharging and collaboration. It's also made to feel like a home away from home, with showers, a 20-metre lap pool, a gym as well as a cafe, restaurant and bar.
The Working Capitol, 1 Keong Saik Road, Singapore 089109

12. Club Coco Nut
Working parents, say aye! This multi-purpose space located inside Tanglin Mall might just be the place where you can get down to business…literally! Working mums and dads can bring their kids down to Club Coco Nut and enrol them in edutainment classes. Think art exploration, sensory workshops, multi-sports, karate, yoga, Mandarin and more. While your tots are busy playing x learning, get work done at the co-working space in the vicinity. Its charged by the hour for a kid-free zone where you can be your most productive self and even meet/collab with like-minded parents.
Club Coco Nut, #03-21, Tanglin Mall, 163 Tanglin Road, Singapore 247933
13. ClubCo
ClubCo truly is a hidden gem just waiting to be discovered. Tucked away cosily on Cross Street, it ticks all the boxes. The modern concept space is kitted out with contemporary furniture, offers value-for-money membership packages and is open to anyone, from freelancers to consultants to the occasional office worker. With the aim to meet each member's needs, ClubCo features office amenities that include high-speed Wi-Fi, smart TVs, a private phone booth, and co-working spaces available as both open-table concepts and private meeting rooms of various sizes. Plus, it boasts a convenient location at The Quadrant right beside Raffles Place MRT, with a rooftop space where you can relax and unwind.
ClubCo, #04-00, The Quadrant, 19 Cecil Street, Singapore 049704
14. The Co
It's easy to see why The Co is so popular – its two locations boast major swank factor. Expect a winning workspace with breakout spaces, meeting rooms, and even private offices for larger enterprises, plus greenery, abundance of natural light and chic interiors.
The Co, 99 Duxton Road, Singapore 089543
15. Spaces
Vibrant spaces, prime locations and an engaged community, Spaces has it all. So what sets them apart from the rest of the lot? Spaces is rather flexible with their plans, so you can tailor make contracts to suit your need. And what if inspo hits you at odd hours? You can head to your desk at Spaces any time of the day, it's open 24 x 7. Perfect for people who work remotely with businesses on the other side of the globe. Take that time difference!
Spaces, various locations including Clarke Quay, Robinson and City Hall
16. Trehaus
Hands up if you're a working parent struggling to get the job done. Singapore's first family-friendly co-working space is a godsend for harried mums and dads. The swish set-up includes child-minding and learning facilities alongside varied work areas for different levels of privacy. Everything you need is here for a fruitful day of work: private offices here for meetings and client calls, a sunny deck for socialising with like-minded parents, and a kitchenette with drinks and snacks. As for the little ones, there's plenty to do, with painting and sensory play amongst the many activities provided.
Trehaus, #07-21 to #07-33, 109 North Bridge Road, Singapore 179097
17. Smart Space
With two studios under its wing, Smart Space is no minor player amongst co-working spaces here. Its Clementi location at Enclave Hostel is geared towards entrepreneurial students and young start-ups (yup, you can even slog overnight here). But it's its sprawling 8000-square feet Bras Basah locale that's best suited for the CBD bees, with meeting rooms, showers, kitchens and even a table tennis area. Rates are reasonable, at $30 a day and up to $600 a month.
Smart Space,#03-32/36, 261 Waterloo Street, Singapore 180261
18. The Hive
The Hive Singapore is the latest addition to its lineup of Asia locales (which includes Bangkok and Hong Kong) with more in the works. This spells good news for frequent jetsetters; members are entitled to Hive Passports, which allows you access to all of its other locations. Bonus if you're a budding entrepreneur: the space regularly hosts networking events, ranging from informal drinks to specialised meet-ups. There's also a new MakerHive for the creative lot that combines workshops with special equipments and workspaces in a sprawling 7000sq ft space housed within the Hive Lander.
The Hive, various locations including New Bridge Road and Lavender
Next stop, world domination? Check out these co-working spaces on our sister site in Hong Kong!