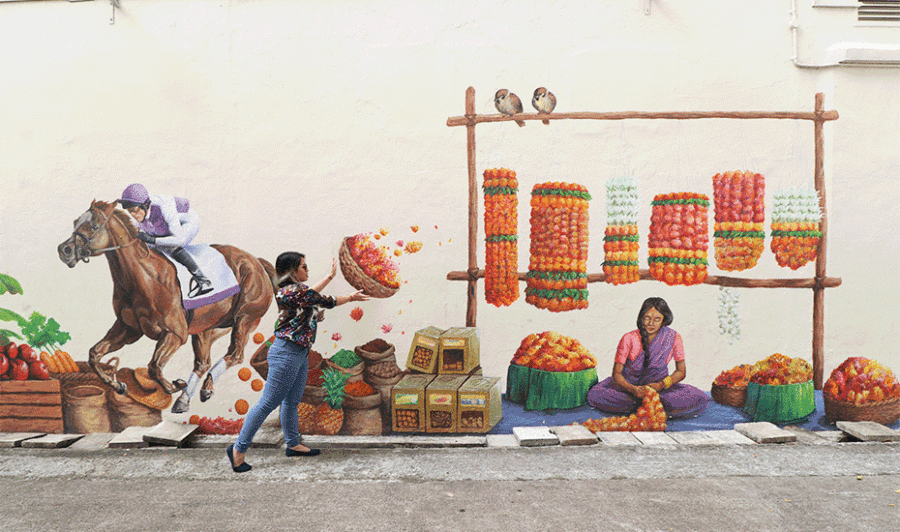 More street art fun!
We scoured the city for the most impressive street art, graffiti and places in Singapore. So get your cameras ready and snap one up for the 'gram...
Always looking for the coolest places to snap one up for Instagram? Say no more. As much as we love checking out hipster cafes and restaurants with unique interiors, and liking gorgeous tiles fresh off the feed, we can't resist taking Instagram-worthy snaps at various locations in Singapore. (Hello, Katong and Joo Chiat, Bras Basah-Bugis and Sentosa!). And if you prefer an artsy backdrop for your #OOTDs (shout out to the artists who have been making waves with their impressive works of art), immerse yourself in the outdoor beauty of murals, street art and Instagram-worthy spots that will have you raking all the likes.
Oh, and check out our video for some picture-perfect inspo…
Little India
Now, here's a neighbourhood with walls doused in vibrant hues. For a slice of India, head down to Little India. Get cultured at the buzzing enclave filled with plenty of spice shops, flower vendors, sari boutiques, cool cafes, boutique hotels, and of course — the 24-hour Mustafa Centre (check out our survival guide of this mega shopping destination). Don't miss out on a stroll down the streets and in the back alleys where the walls are canvases for beautiful murals by local artists. Here are some we couldn't resist posing for!
Try not to gallop past this one! Known as A Ride Through Race Course Road, this long mural (a continual of the 20 metres long mural above, to be exact!) was painted by local visual artist Jaxton Su with the help of teachers, students as well as migrant workers, to evoke a sense of nostalgia on how the road got its name. The area was once known for horse racing, and activities such as garland making were found around the former racecourse.
Location: 74 Race Course Road
You have to keep your eyes peeled for this one! Once you've spotted the large climbing Jasmine flowers, you're halfway there. Follow the wall and you'll be led to a bend which shows a squatting man tending to the plant. The gate even makes a great addition to the painted hanging hard hats and vests on the left. Painted by Nadiah Alsagoff as part of Artwalk Little India 2017, the mural pays homage to migrant workers and their sacrifices.
Location: 27 Chander Road
Right next to Little India Station (Exit E) at Kerbau Road is this colourful piece by artist Eunice Lim as part of Artwalk Little India 2017. Also based on the street name(FYI, 'kerbau' means 'buffalo' in Malay), the mural features buffalos in bright, popping colours as well as traditional Indian patterns. It also references the significance of cattle in Hinduism.
Location: 67 Kerbau Road
Don't forget to look up! It'll take you a while to soak in this massive mural which juxtaposes modern vehicles and the old-school way of transporting tiffins. Painted by graffiti writer and street artist Jaba for Artwalk Little India 2018, it goes to show how well Little India incorporates the old and the new. Head's up: Mustafa Centre is around the corner if you're looking to tackle your shopping list.
Location: Baboo Lane, 212 Serangoon Road
I got Nickelodeon's The Wild Thornberry's vibes when we stumbled upon this slightly hidden located within a narrow road by Serangoon Road, overlooking a carpark. A wacky mix of elements that showcases Little India, it's a fun addition amongst the life-like murals found around the colourful district.
Location: 1 Hindoo Road 
Featuring iconic Tamil film star Rajinikanth, this massive portrait is found along Hindoo Road. Local street artist Zero created the mural as part of Artwalk Little India 2017 to pay tribute to the Indian community in the area, and the actor himself who was a 'working class hero' from a humble background.
Location: 11 Hindoo Road
Considered as one of Little India's most iconic murals, this intricate work of art was created by American street artist Elmac known for utilising contour lines similar to ripples to produce life-like human faces. Tucked in an alleyway cluttered with stationary bicycles, chairs and plants, you can find it next to Broadcast HQ which is no longer in operation. Its signage still stands.
Location: 107/109 Rowell Road
Spottiswoode Park Road
A walk away from Everton Road is the peaceful Spottiswoode Park Road, which is lined with gorgeous shophouses, including No.66. This one's painted in porcelain blue and brown, and is considered the oldest shophouse facade mural in the city. But we're not here for architecture; it's the hidden art we're looking for!
You've probably seen these childlike characters dressed in rabbit costumes around Bangkok. Known as Mardi, this signature character belongs to Thai artists Patcharapol Tangruen, better known as Alex Face. Looks like this wall behind Art Porter's has been blessed by the influential graffiti artist during his time in Singapore. Showcasing the characters in traditional clothes, it's hard to resist snapping these babies up for the 'gram.
Location: 64 Spottiswoode Park Road
Right next to Alex Face's beautiful work of art is this luohan fish — we just had to.
Location: 64 Spottiswoode Park Road
We don't think we could ever get enough of Yip Yew Chong's old Singapore murals. Here in Spottiswoode Park Road, you can find the artist's Provision Shop mural painted in his signature style. It's one that'll give you flashbacks. Be sure to mind the busy road when capturing this beauty.
Location: 1 Spottiswoode Park Road
Singapore Wall Crawl by Honeycombers

WALL CRAWL! We scoured the city for the best street art, graffiti and Instagram-worthy places in Singapore. Shout out to Yip Yew Chong, Ceno2, The Fishtank by RippleRoot, and all the rad artists who have been making waves with their impressive works of art and blessing us with killer Instagram posts! Need more photo inspo? Check out our video…https://goo.gl/pHqdCa

Posted by Honeycombers on Tuesday, December 19, 2017
Tiong Bahru
This hip neighbourhood has got 'em all: from some of the island's best cafes and restaurants to bookstores and yoga studios. So there's no surprise we found a couple of cool wall arts tucked within its alleys, including a wall sticker of a goat by Tiong Bahru Market and a slew of heritage murals by painter Yip Yew Chong, including 'Pasar and the Fortune Teller' (pictured above; Blk 73, Eng Watt Street), 'Bird Singing Corner' (Blk 71, Seng Poh Lane) and 'Home' (Blk 74, Tiong Poh Road/Eu Chin Street).
Haji Lane
The narrow streets of Haji Lane are no stranger to the camera. Besides a great mix of hole-in-the-wall boutiques, and hipster cafes and bars, it also boasts an eclectic array of sky-high street art at every corner — just check out the one above featuring space cadets (along Beach Road), as well as the ever-popular one next to A.R.C. Coffee by painter Yip Yew Chong (29 Sultan Gate), The Singapura Club bar by graffiti artist Ceno2 (36 Haji Lane), and of course, the Piedra Negra mural (241 Beach Road).
Sultan Arts Village
Nestled along the quaint Malay enclave of Kampong Glam, specifically between Aliwal Arts Centre and the Malay Heritage Centre, is the Sultan Arts Village where you'll find fascinating street art and graffiti by both local and international artists. Explore graffiti shop, The Black Book, as well as its practice walls for new sprays and tags. We also recommend walking down and checking out the wall behind the Aliwal Arts Centre every now and then to find jaw-dropping wall art that's ever-changing!
Location: Sultan Arts Village, 71 Sultan Gate, Singapore 198496
222 + 51
If you're an art junkie, then you'd be familiar with the Bras Basah-Bugis district. Surrounded by art schools, studios and stores, it's no wonder this is a hotspot amongst the artsy fartsy. Head down to 222 Queen Street and 51 Waterloo Street, an arts centre offering an eclectic medley of lifestyle spaces for art, music, dance and fitness. Snap away at the graffiti-filled wall by the 222 Queens Street building or step into the entrance of 51 Waterloo Street to find a corridor of walls with doors capturing scenes from Singapore's past by mural painters Yip Yew Chong and Yuen Kum Cheong.
Location: 222 + 51, 51 Waterloo Street/222 Queen Street, Singapore 188550
Amoy Street Food Centre
If you're a frequent visitor of Telok Ayer, you'll know that the 'hood is a lover's paradise. Satisfy your hawker craves at Amoy Street Food Centre where you can get anything from international fare like pasta dishes and chalupas, as well local delights like fish soup and Maggi Goreng. But look beyond the food! Plastered around this hawker centre are a couple of fantastic murals, from dragons to Samsui women, designed and painted by students from the Anglo-Chinese School.
Location: Amoy Street Food Centre, 7 Maxwell Road, Singapore 069111
Tanjong Pagar
Any fan of Ripple Root can spot the dream team's design from a mile away. Tucked behind the building that houses Kilo Lounge and the Yoga Movement — at 31 Hong Kong Street and 21 Tanjong Pagar Street, to be exact — are playful paintings of a sepoy (guard), pagar (gate), singa (lion), stamp, and even a nutmeg plant, a nod to the building's heritage, a former nutmeg plantation.
Location: 21 Tanjong Pagar Street, Singapore 088444
Keong Saik
Commissioned by The Working Capitol, Ripple Root turned boring white walls at Keong Saik Street into playful backdrops filled with their own take on floral motifs of the traditional Peranakan tiles located around the area. According to the duo, the project was "to inject lively fun into classical Keong Saik Street heritage." And boy, did they manage to do just that!
Location: The Working Capitol Building (next to LOLOKU), 1 Keong Saik Rd, 089109
Duxton Hill
Footsteps away from the main CBD drag is this bustling enclave filled with the best spots that will satisfy every imaginable post-work cravings from smooth sake, juicy burgers, fresh seafood, Mexican bites, toasty coffee, and even lovely books. Down the road, by indoor cycling studio, CruCycle, are the bright, colourful dots, similar to those found in a game of Twister.
Location: Next to CruCycle, 68 Duxton Rd, Singapore 089527
Everton Park
A walk away from the Duxton is this quaint neighbourhood that exudes an authentic suburban-hipster charm, thanks to the plethora of indie cafes, restaurants and stores amidst the old-school HDB setting. Down Everton Road is Yip Yew Chong's very first public mural that showcases the rich Peranakan culture of the Blair Plain Conservation Area, as well as a sentimental personification of the artist's younger days, back when he was living in the neighbourhood.
Location: 40 Everton Road, Singapore 089393
Singapore River
Besides checking out world-class restaurants, hip watering holes, cool guesthouses and iconic attractions around the iconic Singapore River, take a stroll down the tunnel underneath Coleman Bridge, between Riverwalk and Central, where the art by Social Creatives takes you on a journey through Singapore's history.
Location: Eu Tong Sen St, Coleman Bridge, Singapore River
Jalan Besar
Another Singapore-themed wall art by Social Creatives, this jazzy mural showcases Singapore's transition into the modern city it is today. Located amongst residential blocks in front of Jalan Besar Community Club, it's hard to miss this wide, brightly coloured mural.
Location: Blk 805 French Road, Singapore 200809
All photography: Darissa Lee and Hazirah Rahim for Honeycombers
Video: Hazirah Rahim for Honeycombers
Like this story? Here's more we think you'll enjoy:
Unique Instagram-worthy spots in Singapore
Hacks to make your Instagram stories great again
Instagrammable themed-cafes and restaurants in Singapore
Why Joo Chiat and Katong are full of Insta-worthy spots