Have a very merry Christmas in Singapore this year.
We've got the lowdown on the perfect way to spend Christmas in Singapore, from festive treats to gift guides to dazzling events.
December is here! We've been scouring the island, collecting all the intel on how to have the best Christmas in Singapore. Think festive fun, shopping sprees, party outfits and feasts galore. Behold, our nifty one-stop guide to the Yuletide season: count down to Christmas in 3, 2, 1…
The ultimate guide to Christmas 2023 in Singapore
1. Head to Christmas events for festive feels
With the end of the year just around the corner, we're gleefully ticking off the days to December 25. Start the countdown early with beautiful advent calendars! Next, get into the holiday spirit at charming Christmas markets for one-of-a-kind gifts to satisfy all your retail therapy needs. Or watch as the entire city glows with dazzling lights. For more lighthearted cheer, experience snow in Singapore or stroll by delightful Christmas events around town to get in the bubbly mood. Psst: don't forget those meet and greets with Santa in Singapore!
2. Get into the holiday mood with Christmas decor
What's the festive season without a lush Christmas tree in Singapore? Big or small, fresh or faux, there are plenty of nurseries around the city for you to pick out the perfect one to fit your space and budget. Now that you've got the main attraction settled, spruce up your home with seasonal decor. Think twinkly lights, shiny baubles, boughs of holly and all that jazz. Just 'cos we're celebrating in the tropics doesn't mean we can't make merry in style!
3. Wine and dine with feasts galore
If you're planning a grown-up Christmas party with friends and family in Singapore, you'll need all the takeaway help you can get. It's food delivery services to the rescue! Whether it's a small get-together or a full-blown rager, you can easily cheat at Xmas with glorious hampers of ham, beef roasts and turkey. Save space for dessert though – this year's log cakes and Christmas desserts are a dream. (Sugar rush ahead!)
So you want to glaze your own ham or roast a turkey the traditional way? We get you, which is why we're sharing our little black book of the best butchers in Singapore for all your protein needs. And if you need a bottle of vino (or liquor) to go with that feast, get your boozy fix delivered. We even found hangover cures that actually work; you can thank us later!
Those who prefer to avoid wasting time on cooking and clean-up duties, leave the mess behind and just head out. Restaurants and hotels around town have magnificently rolled out all the epic festive menus and Christmas cocktails, so just pick a place (preferably with free-flow booze) and dress for the occasion.
4. Shimmy into your perfect party look
Want to serve up festive glamour? From skincare and hair prep to mani-pedis and makeup, we've got all the beauty tips, Christmas nail inspiration and organic faves to help you look your best for parties and get-togethers. Once you're all glammed up, throw on an elegant cocktail dress or rent a sophisticated outfit. Slip on some sparkling shoes, throw your essentials into a glossy clutch, and off you go!
For a more sustainable Christmas, look to vintage shops, circular fashion brands and eco-friendly fashion labels for your stylish get-up.
5. 'Tis the season to be Santa
We're talking about giving out presents! With Christmas deals going on left, right and centre, it's peak shopping season right now. But before you get overwhelmed by all the stores and their stylish selections, scroll through our curated gift guide (including beauty goodies!) and our round-up of luxe hampers for all your budget needs.
Once you've loaded up on presents, wrap them up pretty with gift boxes, then get an adorable greeting card or two to send your season's greetings. Oh, and don't forget to sleigh the holiday season with our money-saving tips. Because who says you have to empty your pockets during the gift-giving frenzy?
6. Spread the joy and give back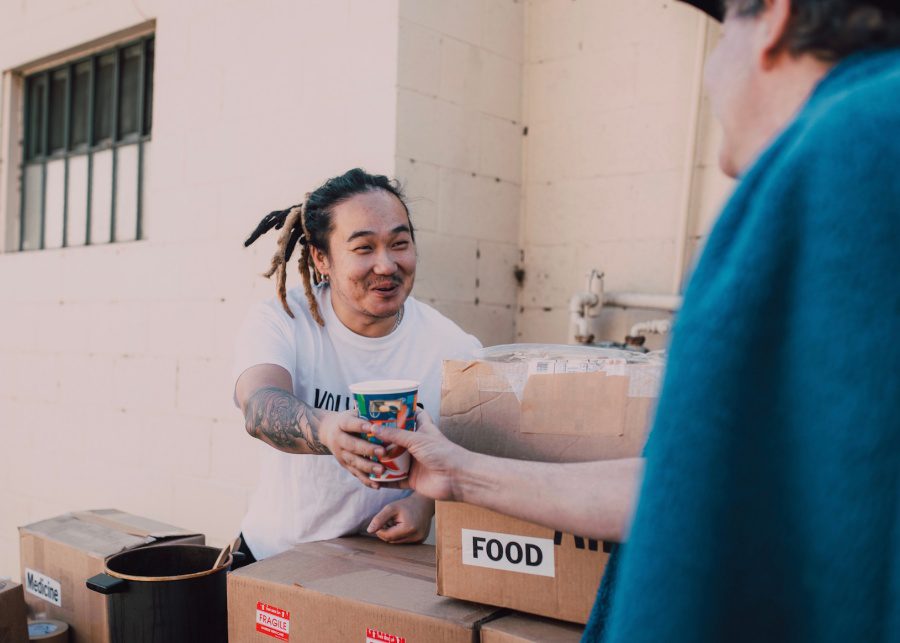 Behind all the feasting and gift-buying, Christmas in Singapore is really about the spirit of giving. Check out our list of gifts that give back to spread good karma and lend a helping hand to charities.
If you'd like to do something for your local community, have a look at volunteering opportunities where you can pitch in for a good cause. Those taking the last few weeks of the year to declutter and reset can check out local charities to donate pre-loved clothes and household goods.
7. Jolly jingles to set the mood
Resistance is futile, folks. Embrace the groovy tunes, immerse yourself in holly jolly Christmas traditions, and start dancing around the tree with our jolly Christmas playlist on full blast (Mariah Carey, we're lookin' at you). While you're at it, throw on your ugliest Xmas sweater. You know you want to.
8. Immerse yourself in the Christmas mood
Once you've got the vibes down pat, put on a classic festive flick and snuggle up with a mug of mulled wine (or eggnog) for an evening of warm fuzzies. To enjoy a little entertainment, gather your loved ones for a round of Christmas games – it'll be a night to remember! Wanna get the kids involved too? Try baking Christmas cookies together or settling down for an afternoon of festive crafts with DIY fun.
That's all you need to have a magical Christmas in Singapore!