Photography: Walking On Sunshine
Looking for Singapore's most talented hair stylists to chop off your tresses, tame your frizz or give you new highlights? Consider this list your mane lifesaver.
Here's the thing about hair stylists: searching for one who can tame our unruly hair and transform it into something out of a shampoo commercial is akin to finding…well, The One. In other words? No easy feat. Always one to make the best out of a hairy situation (pun intended), we bring you our top picks of hair salons in Singapore for haircuts, blowouts, colouring, and the full works.
Walking On Sunshine
Walking On Sunshine is an IG-worthy garden-themed salon (and cafe!) tucked away at Orchard Central. Aesthetically-pleasing interior aside, it boasts a team of professional international hair stylists and stellar customer service – garnering over 3,000 satisfactory reviews on Google, Facebook and more! Upgrade your tresses with a simple cut and wash, take it to the next level with a Korean perm, or transform your look with a fab new colour. Wanna give your hair a little TLC? Amazing hair and scalp treatments are available too! Psst: You can also look forward to relaxing massages when you get your hair washed. Plus, you'll be treated to complementary salads and fresh juices while the experts work on your hair.
Perks: Use the code "honeycombers" for a $100 discount voucher, which you can apply to hair and scalp treatments (except add-on services) for first time customer only.
Walking on Sunshine, #03-07, Orchard Central, 181 Orchard Road, Singapore 238896
Art-Noise
Calling all West siders: If you're looking for a top-notch Japanese hair salon without venturing into the city, this one's for you. Tucked away in a Holland Village shophouse, Art-Noise focuses on original treatments that use non-damaging chemicals –perfect for those who frequently perm or straighten their tresses. The award-winning salon is also known for their head spas: relaxing head massages complete with their in-house nourishing shampoos and treatments –bliss!
Art-Noise, 38A Lorong Mambong, Singapore 277694
Yann Beyrie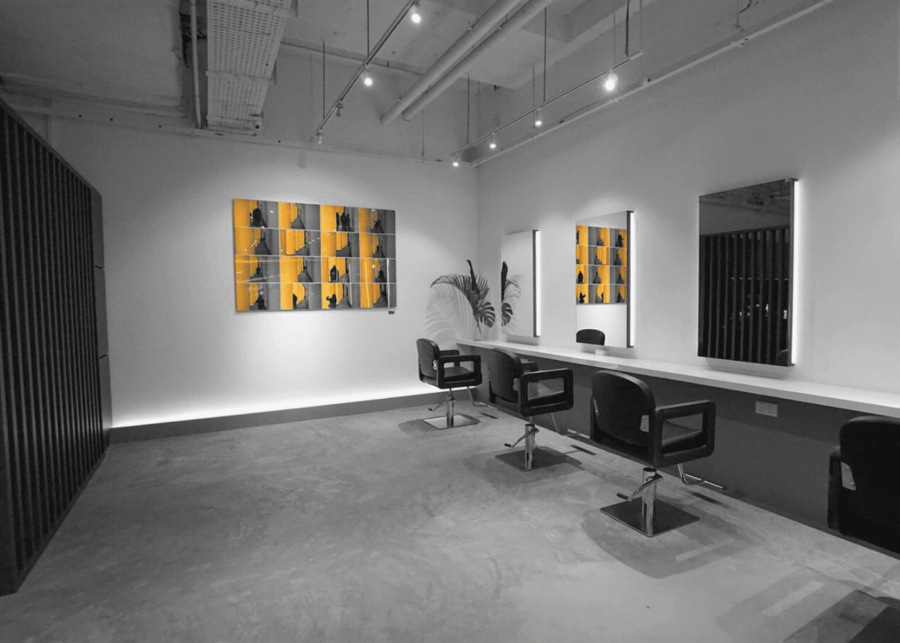 This French hair salon located right in the heart of Orchard Road is giving us major high fashion vibes. Wanna look like those models from an editorial spread? This is your place. Yann Beyrie focuses on giving you the best quality – in the form of edgy haircuts and the trendiest colour treatments (We hear that they do a sweet balayage and perm!) by a team of international stylists. Trivia: Director of the salon, Yann has worked with celebrities such as Vidal Sassoon, Justin Timberlake, Jean-Paul Gaultier and Vivienne Westwood.
Perks: Flash this article to receive 20% off on all hair services. Offer is valid until 31 December 2020. For first time visits only.
Yann Beyrie, Isetan Wisma Atria #03-01D, 435 Orchard Road Singapore 238877
UrbanHair
Helmed by hair extraordinaire Eugene Ong, UrbanHair is an institution, and rightfully so. Service here is renowned for being top-notch, with smiling and meticulous staff going above and beyond for all your hair needs. We love that products used here are from Aveda: a natural and eco-friendly organic haircare brand we swear by for toxin-free, glossy locks. Each treatment will begin with your inhaling and exhaling Aveda's calm oil, followed by a hot towel massage. How's that for pampering?
UrbanHair, Tangs Orchard, 310 Orchard Road, Singapore 238864
Covo
With a centrally located outlet on Keong Saik Road and another on East Coast Road, Covo is hands down, one of our go-to hair salons. Equipped with a team of experienced Japanese hairstylists, this cosy salon space is one place where you know your hair will be in good hands. Besides a slew of treatments for every type of hair – everything from basic haircuts to colour treatments, digital perms, and rebonding – Covo also offers their signature Kerasilk Keratin Treatment. Having treated ourselves to this signature treatment, we can attest that it certainly lives up to its name: our tresses never looked better or felt silkier.
Covo, 43 Keong Saik Road, Singapore 089147 and 87 East Coast Road, Singapore 428789
Aube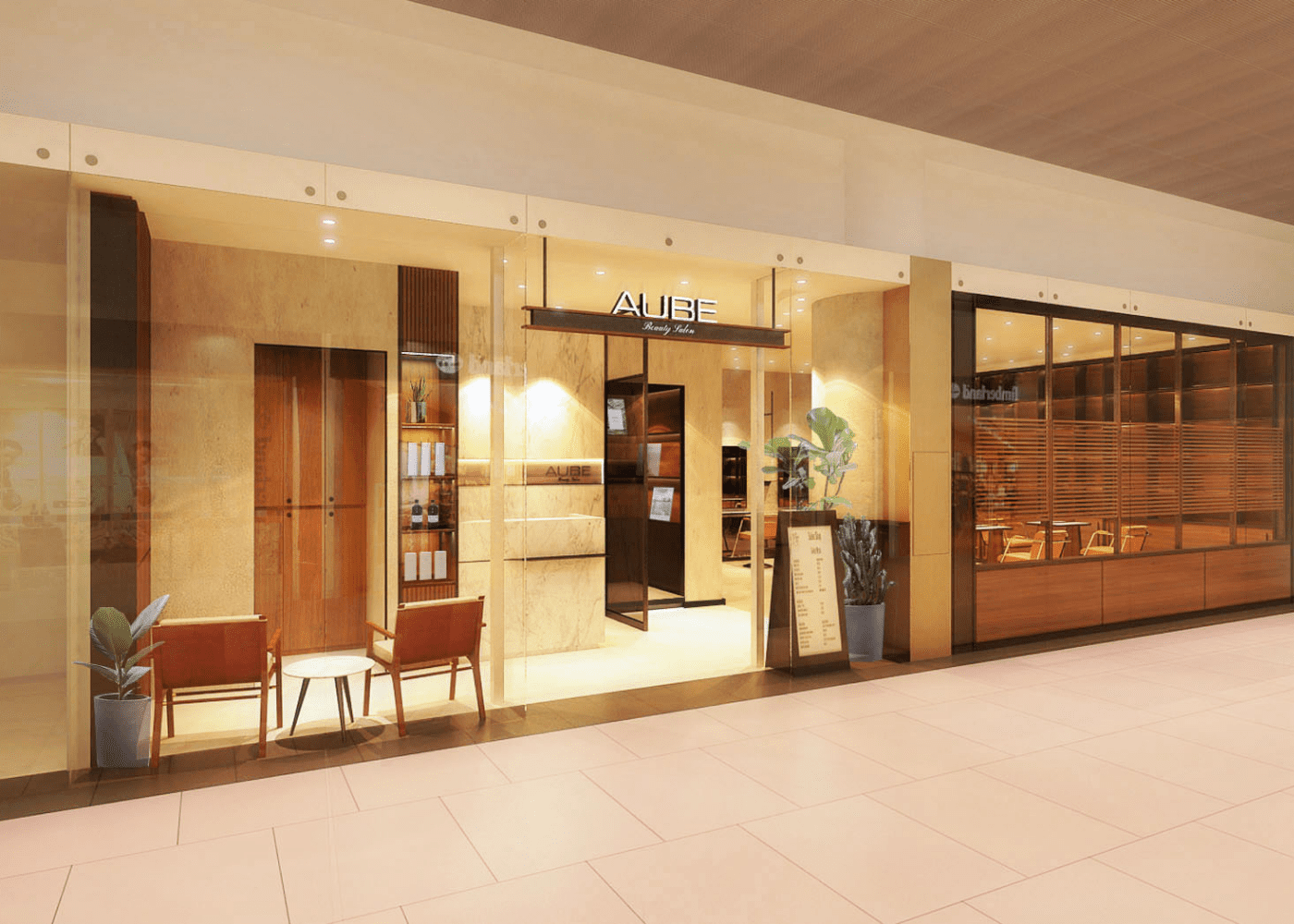 Love Japanese hairstyles or looking to resolve some of your hair woes? Head to Aube where skilled stylists work on your locks with top quality Japanese products. As the biggest hair salon group from Japan, with outposts around the world, its gorgeous outlets across Singapore bring the quality and expertise of its Tokyo boutique to our shores. In particular, the Tokyo Inkarami Treatment is known to be a hair-saver for its impressive track record of restoring smoothness and shine to dull, dry or over-coloured tresses. Plus, enjoy luxurious organic head spas or even indulge in a pedicure as you recline on the specially designed shampoo stations.
Perks: For first-time customers at the Marina Square branch, enjoy 15% off on the menu on weekends and public holidays, and 20% off on weekdays.
Aube, B1-13/14 Marina Square, 6 Raffles Boulevard, Singapore 039594
Michaela
No one does hospitality the way the Japanese do. At Japanese salon Michaela, service is the biggest draw: stylists are incredibly polite and will go out of their way to ensure you're well taken care of. Popular amongst the Japanese crowd here, the salon is helmed by talented hairstylists who deliver flawless results no matter the cut or treatment. We test-drove the haircut and premium head spa by salon manager Koji (pictured above) and left feeling rejuvenated with lighter, bouncier tresses. Head over here for the full review.
Michaela, Riverside Point, #02-24/25, 30 Merchant Road, Singapore 058282
FDP Hair Salon
Angeline Tan of FDP Hair Salon is a magician with colour. Her specialty is an all-over blonde and killer balayage, but her clients have walked out of her salon with glorious hair in all the colours of the rainbow. She's also big on hair health, and there's a full suite of miracle treatments, including bond multiplier Olaplex, to get your hair in tip-top shape. Every visit starts with an in-depth consultation, so make sure to set aside time to chat.
FDP Prestige Hair Care, #B1-06 Kembangan Plaza, 18 Jalan Masjid, Singapore 418944
The Big Blow
Say hello to The Big Blow: a mobile hair styling, nails, and makeup service. Got a fancy party to attend? Give these fairy godmothers a call and they'll transform you in the comfort of your home. And if you're out and about, drop by their swanky new salon at Cluny Court for their signature quickie Perfect Blowout ($45) which uses premium Moroccanoil products – it's wash, condition, blow, and go in under an hour!
The Big Blow, Cluny Court, #02-21, 501 Bukit Timah Road, Singapore 259760
Trimmings
Ladies, take note: Trimmings is a must-visit if you've even been a victim of brassy, over-bleached hair. These guys are experts in handling Caucasian hair with care and the utmost precision, which means no chance of dodgy highlights – the joy! Trimmings' cosy and welcoming vibe is another factor that keeps us coming back. Be sure to ask for Alvin at the Robertson Quay outlet: he's called the master of colour for a reason.
Trimmings, 75B Loewen Road, Singapore 248852; Tudor Court 123 Tanglin Road Singapore 24720
Chez Vous
Having been around for two decades, veteran salon Chez Vous is one of the frontrunners in the local beauty industry, thanks to its roster of beauty directors who have at least 12 years of experience under their belts. The salon boasts a slew of hair treatments; some of its top ones include the Amplified Keratin Treatment and Ikebana Hair Colour Series: a salon signature that combines balayage and ombre dyeing techniques. What we love most about Chez Vous? They have a team of stylists who specialise in treating and colouring Caucasian hair – no more brassy highlights! Psst… check out their latest concept Chez Vous Hideaway for an intimate hair salon and spa hybrid experience.
Chez Vous, Ngee Ann City, #05-05, 391 Orchard Road, Singapore 238872
Expat Hair Studio
Helmed by a team of internationally trained mane tamers well-versed with the kinks and curls of Caucasian hair, Expat Hair Studio has quickly become a household name amongst the expat community. Treatments here range from keratin treatments and restyles to balayage and ombre colouring techniques. One thing that keeps 'em coming back? Olaplex: A magical formula which protects the hair after many rounds of bleaching.
Expat Hair Studio, 422 Joo Chiat Road, Singapore 427642
Picasso Hair Studio
Tucked away in the hip Haji Lane 'hood is Picasso Hair Studio, which prides itself on "artistic hairstyling". Its tagline ain't just another gimmick – aside from the salon's art studio-inspired premises (think mirrors instead of canvases on easels and a giant paint-splattered mural at its forefront), clients with perm or colouring work done leave with genuine masterpieces. Take a quick look through the colour gallery; gorgeous ombre colouring in pastels and striking rainbow colours are artfully done, while perms are smooth, frizz-free and guaranteed to suit your face shape.
Picasso Hair Studio, 662 North Bridge Road, Singapore 188798; 40B Boat Quay Singapore 049829
Salon Vim
Salon Vim prides itself as a trendsetter in hair care, which explains why it's a long-time favourite among local tastemakers and social media stars. Salon Vim's expertise lies in hair colouring treatments like ombre, balayage, and dip dyes – no style is too difficult or too out-there for its pros. Another plus point? Salon Vim's attention to detail: they use only top-notch L'Oreal Professional products. New to its gamut of services is Hair Contouring, which promises to sculpt your facial features using artfully positioned highlights.
Salon Vim, various locations including 313 Orchard and Wisma Atria.
Extreme Lengths Singapore
The first of its kind to be set up here in Singers, Extreme Lengths caters to afro and ethnic hair. Backed by an expert team of weavers, braiders, colourists, relaxers and stylists, the salon does go to huge lengths to offer only the best for its clientele. Its staff are annually trained in a top Afro salon in London to keep updated with the latest trends and products. One-on-one consultations are highly recommended (not to mention free), particularly for new clients who are new to natural hair and looking for the best tips and tricks in haircare in Singapore's humid climate.
Extreme Lengths, by appointment only; drop an email or visit the website for more details.
Kim Robinson
Helmed by the one-and-only Mr. Robinson (trusted hairstylist to Hong Kong's rich and famous), this chic salon is luxury hair care at its finest. First of all: there's the swish surroundings, which will make you feel like you're cocooned in a plush, ultra-exclusive spa. The service is stellar too – polite, attentive staff who take pains to make your visit as indulgent as possible. Needless to say, Kim Robinson's menu of treatments is the star attraction. A definite can't-miss is the Soften & Re-texture hair spa treatment, which promises to repair follicle damage and frizz in just 20 minutes.
Kim Robinson, Ngee Ann City, 391 Orchard Road, #02-12, Singapore 238872
neXt
Another celebrity favourite is neXt. With over two decades in the industry, this salon is renowned for its stellar cuts and colouring services. A visit to its sleek and sexy space is a total treat (think whitewashed walls, plush leather sofas, and gleaming mirrors) – only made better with Next's dream team of stylists who are experts in handling both Asian and Caucasian hair types.
Next, 271A Holland Avenue Holland Village Singapore 278991
Zinc Korean Hair Salon
You'd be forgiven for mistaking Zinc Korean Hair Salon for a swanky bar – the salon's sophisticated premises boast a chic terracotta palette accentuated by brass and gold accents, and subdued lighting. Run by an all-Korean team of experienced stylists, Zinc offers a slew of treatments including the famed, natural-looking and long-lasting perms that promise volume and minimal upkeep for months.
Zinc Korean Hair Salon, Millenia Walk, #02-48/49, 9 Raffles Boulevard, Singapore 039596
The Parlour
Jesse Timm opened her own salon here in Singapore following the sheer demand for her services during a stint at Fox. She's famous among expats as the best stylist and colourist for Caucasian hair, and is well worth the waitlist. As an American-trained hairdresser, Jesse ships all of her products from the US via her Stateside license, which means that she gets access to the best products first. This includes the mysterious and wonderful Olaplex treatment, which seriously helps your hair stay strong and healthy when bleach is involved. If you are a nervous blonde hesitant about taking on a dramatic new style, or in need of a corrective style, then you're Jesse's girl.
The Parlour, 33 Lowland Rd, 00-H, Singapore, 547429
Toni & Guy
An internationally recognised brand with over 400 salons worldwide, Toni & Guy gets our thumbs up for its top-notch hair products (L'Oréal, Redken, and Kérastase) and expertise in treating all hair types. Its outlet in Holland Village is especially popular with Singapore's expat crowd for its fab blowouts and highlight treatments.
Toni & Guy, 3 outlets at East Coast, The Star Vista and Mandarin Gallery.
Blow + Bar
Beautiful blowouts, manis and bubbly to boot? Blow + Bar sure knows the way to a girl's heart. Treat your tresses to signature blowout services like the Moroccan Ultimate Blowout or Kerastasé Luxury blowout while you sip on champers and get your nails done at the same time – can we say bliss? Blow + Bar's CBD outlet also offer quickie wash-and-blow services to get girls-on-the-go primped and pampered in 30 minutes flat.
Blow + Bar, two locations at Robertson Quay and Joo Chiat.
Leekaja Hair Salon
Leekaja's opening in Singapore has been a long time coming, as it has over 200 outlets worldwide including in the United States, China, Australia and Malaysia. Helmed by Korean beauty veteran Madam Leekaja, the salon is a beauty haven. It's housed by professional hairstylists all over the world that is committed to satisfying your hairstyling and hair care needs. This award-winning salon offers services such as hair treatments, hair spa, hair colouring, hair perming, haircut and nail services. We personally had a magic setting perm done there and loved it. For newbies, that's when the crown of your hair is straightened, and the ends permed with large hot rods. The result? Perfectly tousled, loose ringlets around your face.
Leekaja, #03-13, Mandarin Gallery, 333A Orchard Road, Singapore 238867, +65 8133 0818
Number 76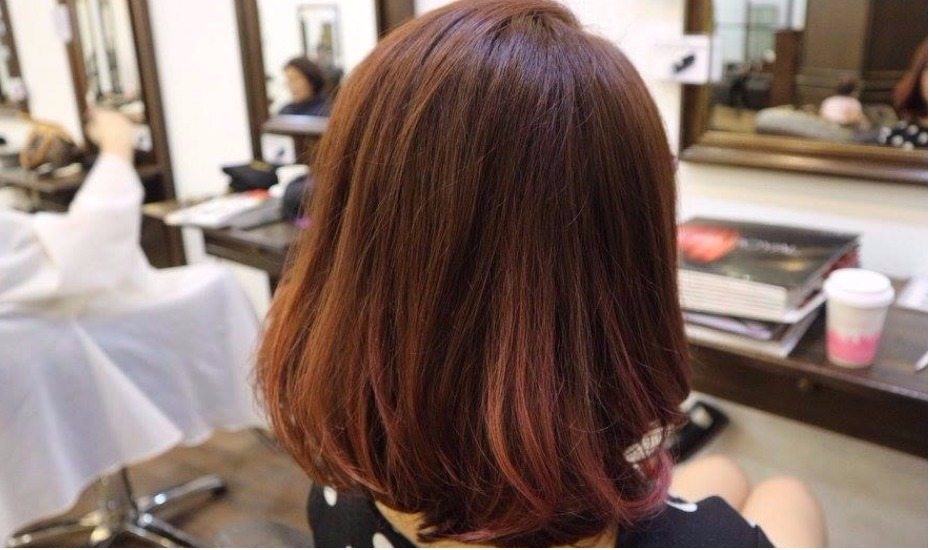 Number 76 is a fast-rising star and it's easy to see why. Started in Tokyo back in 2001, Number 76 at Orchard Gateway boasts a breezy decor (think high ceilings and a spacious layout). If you're thinking of faking long luscious locks, this is the place to be – extensions range from $9 per piece for medium lengths to $11 for longer ones. And if you have tired hair, the salon also offers a spectrum of treatments to smooth out kinks, repair damaged ends and rejuvenate your scalp.
Number 76, #02-23, Orchard Gateway, 277, Orchard Road, Singapore 238858
TIGI
Cult UK label, TIGI, has taken Singapore by storm, which includes its famed hair colouring services. Founded in the '80s, TIGI is defined by its fresh, bold, and edgy hair trends that were apparent in experimental London. Proving that the not-your-typical-clean-cut-hair trends are not dying anytime soon, TIGI has decided to open a minimalist-edgy, 1,600-square foot salon at the heart of Singapore's shopping district – Orchard Gateway. Need further proof of its show-stopping work? Take a look at this six-shade unicorn hair.
TIGI, #B1-02, Orchard Gateway, 277 Orchard Road, Singapore 238858
The Comb
Picasso Hair Studio aside, this is the place to be for perm enthusiasts. Curl options range from S, C and J (for newbies, this refers to how the curl falls) with prices kept seriously affordable – it'll only set you back $168 for a digital perm for all hair lengths. As someone who perms her hair twice a year, you can take my word for it. Stylists take the time to analyse your hair before doing anything drastic, and will respect your wishes should you wish to keep your hair length (so important).
The Comb, 13 Lorong Telok Singapore 049026
Ecoorganics
Great hair doesn't have to come at the price of your hair or scalp health. At EcoOrganics, all of the products used are free of carcinogen, allergen and toxic chemicals – take the solution used for rebonding treatments. It's ammonia-free, and is 93% organic. Founders Eric and Crystal created Ecoorganics after personally experiencing contact dermatitis and respiratory problems in a chemical hair salon. No matter your choice of treatment, there's an organic replacement for it here, with services running the gamut from full head colouring to perms.
Ecoorganics, 1 Thomson Ridge, Singapore 574633
Rossano Ferretti salon
We have the hair Gods to thank for Rossano Ferretti's arrival in Singapore. The celeb hairstylist recently opened his first Southeast Asian salon at the magnificent Fullerton Hotel. In case you don't know who he is, his enviable portfolio includes 20 salons in the world's most glamorous capitals, with clients like Kate Middleton and Angelina Jolie. He's famous for "The Method": an "invisible cutting technique" which involves working with the natural fall of your hair, without damaging the hair cuticle, cortex or pigments. Haircuts aside, you can also expect bespoke hair colouring services which complement your skin tone and hair health, with the balayage technique used for a more natural finish.
Rossano Ferretti salon, #01-04 Fullerton Hotel Singapore, Fullerton Square, Singapore 049178
Karva
Karva is a salon before its time – its catered to women only, so hijab-wearing women can too get their hair done in privacy. Services offered include soft rebonding, cold and digital perms as well as hair and scalp treatments. But more than hair, the salon also offers manicures and pedicures using wudhu-friendly (wudhu refers to the act of water cleansing before prayers) breathable nail polishes. Best of all, it's socially-conscious too – the salon opened its academy at halfway house Pertapis Centre for Women & Girls to allow its residents to pick up beauty training.
Karva, Locations in 73A Bussorah Street, East Village, Northpoint City and JCube.