Photography: Daiga Ellaby via Unsplash
Who can say no to the perfect mani-pedi? Give your nails some TLC with our pick of the best nail salons in Singapore.
Need to keep your nails looking divine as part of your never-ending beauty regime? We know we do! That's why we're bringing you our pick of the best nail salons in Singapore, which have – you know it – nailed it when it comes to manicures, pedicures, gelish, nail art, acrylics and more. Now, if you'll excuse us, that perfect pedi is waiting for us.
The best nail salons in Singapore
Best entertainment: The Nail Artistry
Sit back and relax while you get your nails done in this swanky salon. Decked with plush seats and a huge TV, as well as light bites such as bread, cakes and coffees, you can enjoy a pampering sesh like no other while getting manicures, pedicures and spa treatments.
The Nail Artistry, multiple locations including Serangoon Gardens Estate, 2 Maju Avenue, Singapore 556680 and 27 East Coast Road, Singapore 428749
Best premium services: Nail County
If you're an ardent follower of K-beauty, try the services at Nail County and you'll never go back to your usual nail parlour. With top-of-the-line facilities and quality products, your nails are treated like royalty here. Though it's on the pricier side, you leave with a fresh set of healthy nails. Oh, and the designs? Plenty to choose from!
Nail County, #02-20, Millenia Walk, 9 Raffles Boulevard, Singapore 039596
Best convenient service: Urban Company
A mani-pedi sesh with Urban Company is a tad different from the rest. Why? 'Cos you can have your nails done in the comfort of your home. That's right, this home service platform brings premium manicure and pedicure services to your doorstep. All you need to do is select a service of your choice on the app or website, pick your nail colours and schedule a date. You can even book one within two hours! Highly skilled nail artists (with at least eight years of experience) will bring all sanitised tools, products and equipment needed. Just pick your fave comfy couch and relax. Psst: Add on nail art, a French mani finish or an extended massage for the ultimate treat yo'self experience.
Urban Company, book online.
Best nail technique: Home Nails
Centrally located and beautiful to boot, Home Nails prides itself on providing premium services at affordable prices – amen to that! Its team of nail technicians boasts at least four years of experience under their belts, so rest assured you'll definitely be in good hands. The best part? The sky's the limit – whether it's gel extension, 3D nail art, gelish or bridal, trust these guys to make your dream designs happen!
Home Nails, #01-17, 2 Handy Road, Singapore 229236 (near Dhoby Ghaut MRT station)
Best feel-good manicure: The Nail Social
Where else can you get a pretty mani-pedi for a good cause? Besides offering a full range of nail services and foot massages that use only organic, fair-trade, and cruelty-free products, this lifestyle concept salon is also committed to giving back to the local community. It offers vocational training and employment opportunities to underprivileged women in Singapore and houses a retail corner where customers can shop for fair-trade accessories.
The Nail Social, multiple locations including Bugis and Chinatown.
Best hygiene standards: Auum – The Honest Nail Spa
We were so impressed with Auum, we just had to include it on our list. Aside from top-notch hygiene SOPs (tools are disinfected and cured under UV light), this nail spa only carries 3- and 5-free polishes (meaning there are no nasties), plus other vegan-friendly products. It's not called The Honest Nail Spa for nothing. The therapists are skilled and accredited, and they recommend only the services that your nails need.
Auum – The Honest Nail Spa, 30 Allanbroke Road, Singapore 099983
Best inclusive services: Bellus de Charme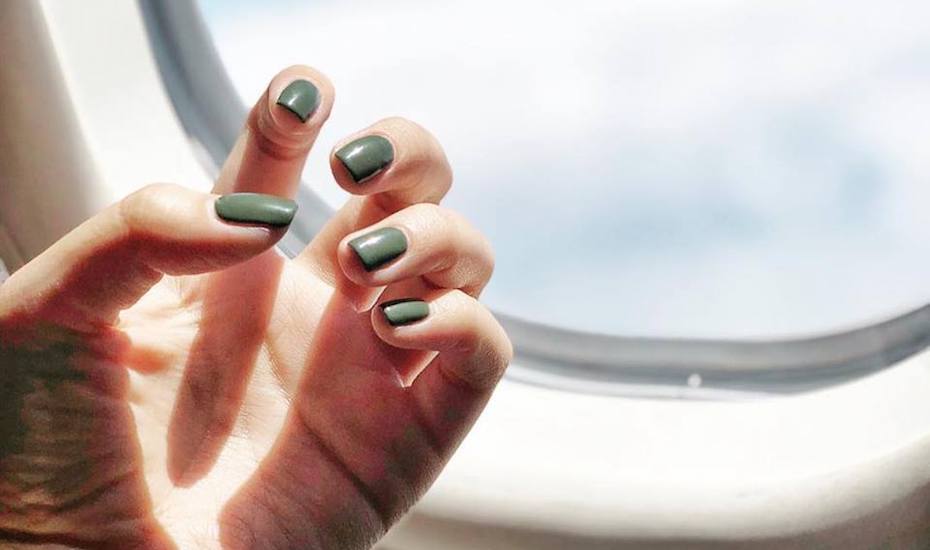 Muslim friends, you don't have to miss out on all the pampering. At Bellus de Charme, the prayer-friendly ORLY (a halal-certified breathable nail polish) is available, so Muslimahs can do their wudhu, a pre-prayer water cleansing ritual, with ease.
Bellus de Charme, #04-105, Far East Plaza, 14 Scotts Road, Singapore 228213
Best nail art: The Nail Artelier
Nestled among indie designers and eateries around the eclectic Haji Lane area, art takes centre stage in the nail services here. Unlike other nail salons, there are no fixed designs, so the nail artists work to make your specific design a dream come true. Do book ahead, 'cause this place is always packed with bright, young things – another testament to the popularity of its gorgeous nail art.
The Nail Artelier, 666 North Bridge Road, Singapore 188800
Best healing therapies: Remède Spa
Drop everything, mani-pedi fans. Award-winning Remède Spa at the prestigious St. Regis is home to Pedi:Mani:Cure Studio by Bastien Gonzalez, a showcase of nail treatments by the French podiatrist. Renowned for his glam approach to treatments and waterless pedicures, celebs worldwide (including Naomi Campbell) are cited to be big fans. Top on the menu Bastien's Duo: A four-hand treatment involving two therapists who'll restore a healthy shine to your nails and leave you feeling refreshed with a massage. We also recommend Bastien's Pedicure, with buffing to return natural shine, a gentle treatment to remove skin irregularities and dryness, as well as a rubdown for calves and feet.
Remède Spa, The St. Regis Singapore, 29 Tanglin Road, Singapore 247911
Best quick fixes: Nail M'pir
This nail bar is a godsend for the working crowd – it's located at Tangs, perfect for quick pop-ins on your lunch break. Its express manicures and pedicures – priced at an affordable $15 – will have your nails primped in a jiffy. Just don't forget to ask for a quick-dry topcoat. Got extra time? We recommend the angel gel and full manicure to give your gelish nails a matte, velvety finish, and "mattamins" to strengthen them.
Nail M'pir, L4, Tangs at Tang Plaza, 310 Orchard Road, Singapore 238864
Best cosy hideaway: Manicurious
You'll find relaxation effortless at Manicurious. The cosy salon on Beach Road resembles a chic living room, with pendant lights, minimalist decor and comfortable armchairs. We also adore its top-notch service – these guys are all about intimate, one-to-one therapies. And they shun hard-selling.
Manicurious, 41 Beach Road, Singapore 189680
Best organic foot spa: The Nail Status
If you prefer going all glam and classy, this snazzy nail salon's the one for you. O.P.I-approved with GellyFit experts and skilled nail technicians, The Nail Salon provides a range of nail services including express nail, full classic nail, spa and treatment, classic and express gel colour, and more. We love the Organic Orange Peel – using AHAs (Alpha Hydroxy Acids), hard and callused skin are removed, leaving your feet baby soft.
The Nail Status, multiple locations including Far East Plaza, The Seletar Mall and Wisteria Mall.
Best creative nail art: Oh Nails
Get trendy with these Insta-worthy nails. Founder Cleo Chew regularly uploads pictures of her creative and flamboyant nail art designs on Instagram, so you can take a peek to see what you like. Head to her salon, choose the nail art and type, and let your nails be the centre of attention here.
Oh Nails, #01-53, 55 Tiong Bahru Road, Singapore 160055
Best pedicure and foot spa: N20
If you prioritise baby-soft feet over carefully painted nails, check yourself in for a foot spa at N20. The treatment includes a luxurious soak in a blend of moisturisers, a clay mask to detox, a deep cleanse and scrub, and a non-greasy foot balm to wrap dehydrated feet in a silky cocoon.
N20, multiple locations including Plaza Singapura, VivoCity and Westgate Mall.
Best deluxe treatments: Nail Lodge
This quaint nail salon at Serangoon Gardens may not look the most luxurious from its exterior, but boy does it deliver! From Insta-worthy and trendy nail art to adopting new techniques, Nail Lodge hits the mark. Go for the deluxe manicure and pedicure service, which includes paraffin, cuticle treatment, massage and a good scrub.
Nail Lodge, 4A Kensington Park, Singapore 557256