Count down the days to Christmas with these advent calendars.
The best part of Christmas, apart from all the festive feasts and presents, has to be the countdown – and we like to do it with advent calendars!
The festive season is truly upon us, as we start to shop for Christmas trees and decorations. But one way to make every day count? Get an advent calendar from one of these brands in Singapore. Luxe scents, beauty finds and boozy treats… this is how you count down to Xmas!
Where to buy Christmas 2022 advent calendars in Singapore
Psst: Christmas 2022 plans in Singapore are still in the works, but here's what happened last year to give you a peek at what's to come. Check back soon for updates!
1. Thirsty Beer Shop: Jingle Beers Advent Calendar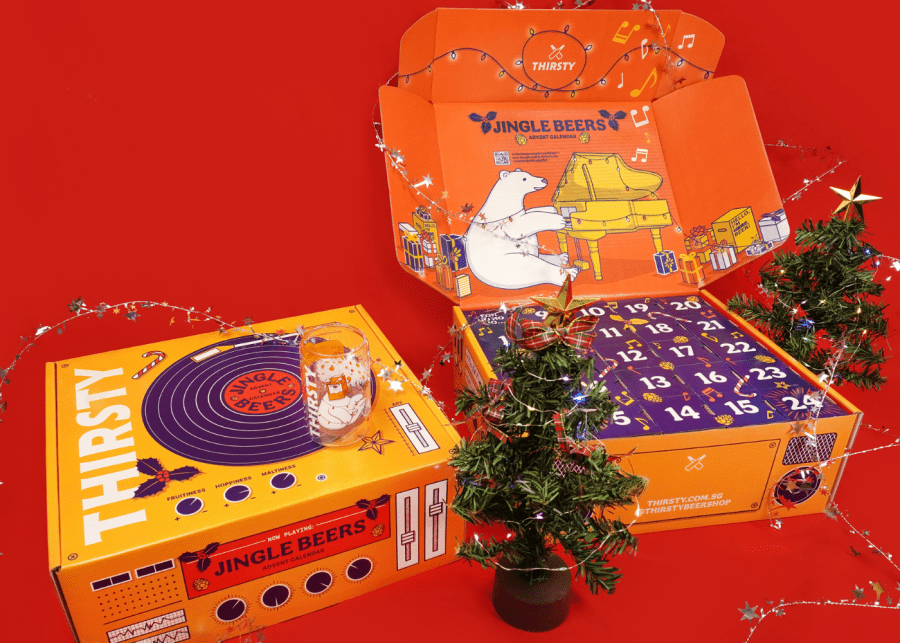 Give the gift of craft beers and music this Christmas. This year, Thirsty Beer shop has launched a music-themed advent calendar, which comes with 24 curated beers, each wrapped up in a cassette player and packaged in a box that's designed to look like a vinyl record player. Whether you plan to religiously follow the Christmas countdown from the 1st to the 24th with one beer a day, or you intend to tear open the calendar the moment it arrives, it'll definitely be one boozy adventure.
Thirsty Beer Shop, order online
2. Sephora: Holiday Vibes Advent Calendar Makeup Skincare & Bath Set
Beauty junkies, this one's for you. Housed in a cute holiday-themed box (think candy cane and sparkle motifs), these 24 beauty surprises will help you achieve stunning skin and gorgeous festive looks. We're talking about nail polish, face masks, exfoliating scrubs and more. Plus, the package is made from sustainable materials. Bonus points for being kind to the earth.
Sephora, order online
3. T2 Tea: 24 Reasons to Smile Loose Leaf Edition Advent Calendar
Count down to Christmas every day with a good cuppa. T2 Tea's teabag advent calendar has 24 loose-leaf teas, including classic and festive flavours like chai, Christmas breakfast and eggnog. There's also the tea bag variation for convenient quality brews.
T2 Tea, order online

4. Mankind: Advent Calendar
Shopping for the main man in your life? Get this thoughtful advent calendar which contains 25 essential grooming and beauty products. Here's a little sneak peek of what to expect: orange and bergamot body wash by Molton Brown, skin exfoliant by Dr Brandt, and fibre hair styling by American Crew.
Mankind, order online
5. Hook Coffee: Advent Calendar
Java junkies can do good while sipping on ethical coffee. Hook Coffee joins hands with the students from Very Special Arts Singapore – a charity organisation that empowers people with disabilities through the arts – to bring you a limited edition advent calendar. Featuring cute artworks from these students, the 24 unique blends come in convenient drip coffee bags. Plus, a portion of the proceeds will go towards supporting the various art programmes at Very Special Arts Singapore.
Hook Coffee, order online
6. Jo Malone London: Advent Calendar
We can always count on British luxury perfumer Jo Malone for a lavish gift idea, and this year is no exception. In a timeless cream-hued box, you'll find its signature colognes, miniature candles and travel-sized bath oils, and more. No judgments if you can't resist buying it for yourself! We're all about treating ourselves for Christmas.
Jo Malone London, available at multiple boutiques
7. Clarins: 24-Day Christmas Advent Calendar
Is adopting a skincare regime part of your 2022 resolution? Well, get a head start with Clarins. The 24-Day Christmas Advent Calendar contains everything you need for a top-to-toe beauty routine. Think hand and nail treatment cream, hydrating heroes, foot treatment and beyond. New to the brand? This is a great way to get acquainted with all its best products.
Clarins, order online
So, which advent calendar in Singapore are you excited to get?