Photography: Est.Lab via Facebook
Skin problems and beauty woes don't stand a chance with these wonderful Singaporean beauty brands that are helping people look and feel fab from top to toe.
We Singaporeans are known for many things: our insatiable appetite for our unique local dishes and local fashion labels making a mark, but our ingenuity in the world of beauty? Well, apparently we do have some of that too. Here, we introduce the Singapore beauty brands that are putting our little red dot on the global map, one face mask at a time. Now, how's that for local pride?
Singapore beauty brands you should know about
Est.lab
Launched under leading beauty service Estetica, Est.lab is the brainchild of renowned beauty experts and a leading R&D agency in Singapore. The result? Highly raved about skincare mainstays with active ingredients and elite beauty tools. And it caters to multiple skin concerns under the sun! Having a hard time dealing with dehydrated, acne-prone, sensitive or ageing skin? Can't get rid of dark spots and blemishes? Let the range of products do the talking.
Est.lab, available online.
Liht Organics
If a makeup brand claims that its products are safe enough to eat, you know we'd sit up and listen. One look at Liht Organics' (pronounced, "light") ingredient list and it all makes sense. Mascara made with coffee and rice powder; carrot powder and coconut oil in lipsticks – it doesn't get any more natural than this. Aside from the cruelty-free, gluten-free and nano-particles and synthetic chemicals-free tags, Liht Organics is also highly-pigmented and has a high colour pay-off. Bestsellers include the lightweight Youth Elixir Liquid Foundation rich in antioxidants and hydrating Colour-Intense Liquid Lipstick, an ultra-glossy baby in four long-lasting shades.
Liht Organics, Astique The Aesthetic Clinic, Level 8, Shaw House, 350 Orchard Road Singapore 238868; also available online.
Kew Organics
We've raved about the Sugar K Organic Peel Bar from Kew Organics. Now, founder Lily Kew is daring us to go makeup-free with her curated skincare collection. Packed with organic and active botanicals, the water-based skincare is perfect for Singapore's humidity. Whether you struggle with acne, stubborn scars or sensitive skin, the range of facial oil, treatment essence, face mist, micellar water and organic balms will give your skin much-needed TLC.
Kew Organics, available online and at multiple locations including Everton Park, OUE Downtown Gallery, Cluny Court, Clarke Quay Central.
Faux Fayc
The first thing you'll notice at Faux Fayc? Vivid colours that you can spot from miles away. Following it's popular Fauxlash Mascara Duo, the brand has since extended its range with bold, bright and highly-pigmented shades for those days when you're feeling extra AF. Our pick? The Faux Fayc x Bycaxs eyeshadow palette that comes with matte, shimmer and metallic finishes and iridescent shades in the holographic liquid lip trio set.
Faux Fayc, available online.
Rooki
Oh, look! It's our Honeycombers Beauty Awards "Best Newcomer" winner! We're here to say that trying out a new serum doesn't have to mean ditching your current favourite. With Rooki's versatile, lightweight formulas, you can simply mix the brand's superfood serums with your existing ones for an extra potent skincare treat! The brand also has superfood creations in the form of cleanser, mask and cream to add to your beauty stash. Wanna learn more about skin-enhancing ingredients? Hop over to Rooki's website for a breakdown of the good stuff on their ingredient list.
Rooki, Design Orchard, 250 Orchard Road, Singapore 238905; also available online.
BSkin
Founder Chia Su-Mae saw a gap in the market during her struggle with acne before launching a skincare line that reaps the benefits of honey. Honey has many benefits but did you know it also has antimicrobial, antioxidant-rich and allergy-calming effects too? BSkin combines the properties of bee-based actives and cutting-edge science to produce a stellar skincare collection. The skincare brand also uses a 6Core Anti-Oxidant System that features powerful antioxidants, and is enhanced by apitherapy, or "bee therapy". Bestsellers include the Vita Advanced Intense PAF Concentrate and Vita Advanced Soft Bead Cleanser.
BSkin, available online.
Oasis Skin
Homegrown brand Oasis Skin is a luxe treat for the skin. Made without parabens, sulfates and other synthetic substances, it contains 100% natural and premium ingredients sourced from botanical experts around the world. Select from a range of treatment mists, clay masks and beauty tools according to your skin concern to get your glow on. The solid shampoo bars and body bars are ones to try.
Oasis Skin, available online and various locations including The Gallery & Co., The Social Space and The Green Collective.
Caring Skin
Caring Skin was first a facial spa before moving on to plant-based "home care" products. Targeting two of Singapore's biggest skincare concerns – acne and sensitive skin – the range encompasses hydrating masks, acid-spiked cleansers and gentle milk cleansers.
Caring Skin, available online.
Re:Erth
Firstly, congrats to Re:Erth for winning 'Most Sustainable' brand for our Honeycombers Beauty Awards 2020. Re:Erth wants you to feed your skin with only the most natural ingredients and it doesn't have to come from a 10-step skincare regime. Formulated with natural skin boosters like Japanese white turmeric leaf and root extract and Japanese spring turmeric extract, Re:Erth's skincare range has a mere six products but they each speak (and show) major results. If you'd like to get started on just one product, all fingers will point to the Multi-Targeted Elixir ($108), a serum that firms skin and refines pores, reduces dark spots, evens out the skin tone to give a youthful glow. We also tried the Blemish Control serum which removed pesky bumps.
Re:Erth, Design Orchard, 250 Orchard Road, Singapore 238905, also available online.
derma-RX
This one's launched by one of Singapore's leading aesthetics group DRx Clinic, so you can already imagine how the scientifically formulated derma-RX products are going to fare. The range goes deep into the skin by introducing medically-led skincare. The comprehensive selection of products targets everything under the sun, but we're particularly interested in the Comedone Formula (it reduces the appearance of blackheads and whiteheads) and Max-C, a vitamin C serum that guards the skin against free radicals and improves collagen elastin production.
derma-RX, available online.
Pera Skincare
Skincare inspired by Peranakan beauty traditions? That's a first! Pera Skincare blends western traditions with ingredients used in Peranakan culture; say the bedak sejuk, (a powder made from rice and pandan leaf) that has cooling properties and prevents blemishes, leaving a flawless complexion, over time. Here's a nice touch: you'll also find familiar ingredients like liquorice root, ginseng extract and jojoba, along with antioxidants from celery, tomato, carrot, turnip, rice and clove flower in most products across this range.
Pera Skincare, 531A Upper Cross Street, Singapore 051531
Ania Skincare
Is your makeup stash piling up with unnecessary products? Step on the brakes and take things slow with Ania Skincare, a brand that helps declutter your regime to provide only the essentials. The line of masks, moisturisers, serums and toners are made with clean formulations of safe synthetics and botanicals, along with potent ingredients from untouched regions in Africa. A star product worth trying? The Rhassoul purifying "magic" mask that soothes and hydrates the skin in just five minutes, thanks to Moroccan rosewater and argan oil. Extra points for the informative cute illustrations on its Insta feed.
Ania Skincare, various locations including Naiise at The Cathay, Therapy Market at 112 Katong, The Salad Shop and SPRMRKT Daily.

Alcheme
Alcheme may have recently hit the beauty scene but it's already giving us some solid skincare solutions. First things first – it's got us geeking out with the state-of-the-art facial recognition technology that brings you customised skincare (with just a selfie) along with an algorithm of corrective active ingredients from past research and the finest botanical extracts. The compact range includes a serum, emulsion, eye serum and face mask and is packed with ginseng root extract, vitamin C and moringa seed extract to help stimulate collagen production and fight against premature ageing and pollution. Added bonus: all products are eco-friendly!
Alcheme, available online.
Sigi Skin
This minimalist skincare brand proves you don't need 101 things in your bathroom cabinet. Packed with powerful superfoods and antioxidants from acai, avocado, hyaluronic acid, peach kale and soy, these babies will fuel up your skin in a jiffy. Oh, and did we mention that each product is a multi-tasker? Take the Kaleanser (loving the pun, by the way!) – it doubles up as a makeup remover and face wash. The Morning Glow sunscreen can also be used as a moisturiser. Smart!
Sigi Skin, available online.
Solos Cosmetics
Good to the environment, easy on the wallet and free from animal-testing, palm oil, gluten and artificial fragrance. The more nasties ticked off the list, the more we love Solos Cosmetics. Oh, and did we mention it's vegan? Your days of having to pick between sustainability and performance are over: even the packaging is thoughtfully designed to use less plastic, and the liquid lipstick – Lipmattic – is created in a way that you get every bit of product out of the tube. We love its range of glossy lipsticks and velvety lip creams that last forever. The multi-tasking Splitstix has ultra-flattering shades that are a recipe for sultry lips and can even double-up as blush and eyeshadow. Also try the liquid liners which have a bold, water-proof formula to take you through even the most humid days. Brilliant.
Solos Cosmetics, available online.
Handmade Heroes
Vegan skincare is all the rage right now and we're loving local beauty brand, Handmade Hero's range of vegan lip and body scrubs and face masks. The butt kicking detoxing coffee scrub works mighty hard on that cellulite and smells like a good cuppa joe. Chapped lips? Pucker up to matcha latte, coconut sorbet and pina colada flavoured lip scrubs.
Handmade Heroes, available online and at multiple locations including Robinsons The Heeren, Isetan Scotts and Liliewoods Social.
Allies of Skin
We'll admit it. Taking care of our skin can be a complete chore sometimes and Allies of Skins knows just the right solution. Yes, really. It's a mix of potent antioxidants and intelligent nutrients that does all the work for you. The all-day pollution mask from the 1A series contains a powerful time-release formula, leaving your skin supple all day. For night, the 1A overnight masks work long after you've hit the bed, boosting your skin's immunity and accelerating skin cell renewal with reparative actives like Indian Ginseng.
Allies of Skin, Level 2, 3 Jalan Kledek, Singapore 199259; also available online.
Skin Inc.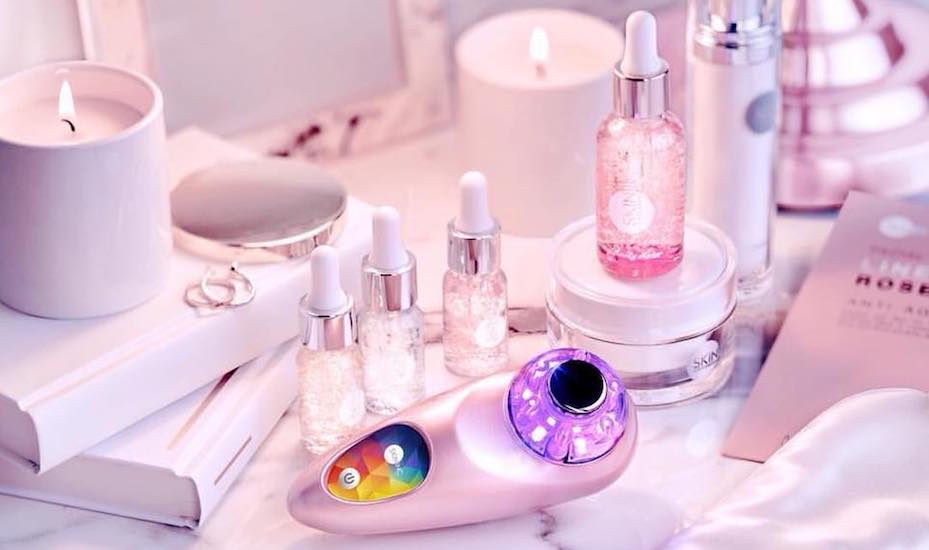 Ever since it's launch, this cult skincare label has been riding high on its successful skin supplement bar. Yes, you heard it right. You customise a serum cocktail based on your skin type, solving everything from pigmentation to sensitive skin, fine lines to uneven skin tone. Apply the serum with the highly-raved Optimizer Voyage Tri-Light device and end the regime with the multi-masking Bento Set (has up to nine combinations!). Finally, your facial is done.
Skin Inc, available online and at multiple locations including Ion Orchard.
Biconi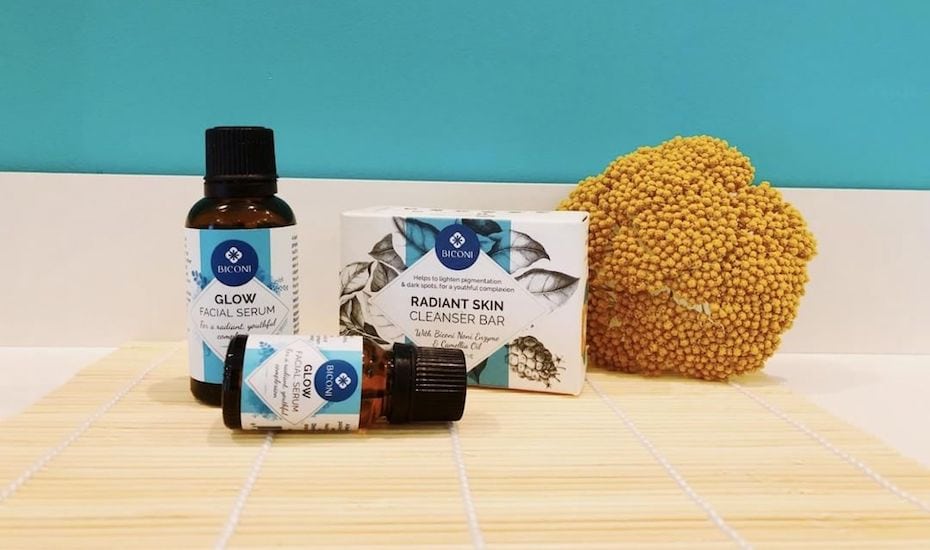 Ah, we're all for a brand that heroes natural ingredients. Biconi's heroes? Virgin coconut oil and noni fruits. The glow facial serum is packed with super ingredients like coconut, macadamia, borage seed, argan, camellia and avocado oil and fights aging, pollution and inflammation. Use this nourishing moisturiser, day and night for a dewy, fresh glow. Need more? Don't proceed to checkout until you've picked one of the facial oils. The organic sweet almond oil doubles up as body oil, massage oil or makeup remover.
Biconi, available online and at Zerrin and The Social Space.
Want Skincare
It's no surprise that this sustainable and ethically conscious brand bagged a spot on the list. Staying away from synthetic ingredient and preservatives, Want Skincare packs their multi-tasking cleansers, spritzers, scrubs and face oils with botanical oils and minerals for that 10/10 natural glow. Our go-to product is the honey cleanser that removes dirt and makeup while retaining the natural oils from your skin. Oh, and did we mention that you'll help local communities and women in cooperatives in Bali, Indonesia and Benin with every purchase? Major love.
Want Skincare, available online and at multiple including Robinsons and Zerrin.
Mmerci Encore
As the pet project of a former Harper's Bazaar beauty editor, you can bet that Mmerci Encore is the real deal. This artisanal aromatherapy atelier offers handcrafted apothecary-style essential oils, body scrubs, and soap slices, which look good but smell even better. For easy browsing, shop the online store under different mood categories (relax, uplift, detox or jetset) or simply fill in your current mood for a list of suggested products.
Mmerci Encore, available online.
Dr Yvonne Goh
We're huge fans of Dr Yvonne Goh – the aesthetic physician is our go-to for healing our skin problems. To maintain our visage post-treatment, we've stocked up on her products. We never leave the house without slapping on the Multivit Sunscreen SPF30 – it both hydrates and protects our skin from sun damage. It's always followed by the Hydra-C intense serum, which is both anti-oxidising and brightening. For the nights, the Collagen Firming Cream is a must to apply. Its repeatedly won raving reviews around our office for its firming properties and smooth finish.
Dr Yvonne Goh Aesthetics, 1 Orchard Boulevard, #09-05, Camden Medical Centre, Singapore 248649; also available online.
DrGL
Dr. Georgia Lee needs no introduction – she's arguably Singapore's leading aesthetic doctor who's better known as a fixture at high-society events. Her DrGL skincare line, which is specially formulated for Asian skin, is a hit in the local beauty market. Best sellers that have garnered many beauty awards include the Collagen Essence and Anti-Aging Moisturiser. But take note: these babies don't come cheap.
DrGL, Tangs Orchard or Robinsons Orchard; also available online.
The Skin Pharmacy
With more than 15 years of beauty experience under their belts, two pharmacists decided to set up their own boutique skin pharmacy and the rest, as they say, is history. Apart from off-the-shelf items like acne treatment creams, scents, and hair care products from their line, The Skin Pharmacy is also big on personalisation: whether it's skin analysis, custom blended serums or even modification of existing products to suit your every need. When we say this is a one-stop-shop for all your skin woes, we mean it.
The Skin Pharmacy, available online.
Mandy T
Move over The Body Shop, there's a new kid in town. There are many reasons why we love this luxury bath and body line – pretty packaging, absolutely scrummy scents, and the clincher: all natural ingredients. Up for a personal pampering sesh? No need to head to the spa – just try the Wild Orchid & Safflower body scrub, followed by a leisurely soak in the bath with the Lavender, Chamomile & Bergamot Bath Salt. Bliss.
Mandy T, available online.