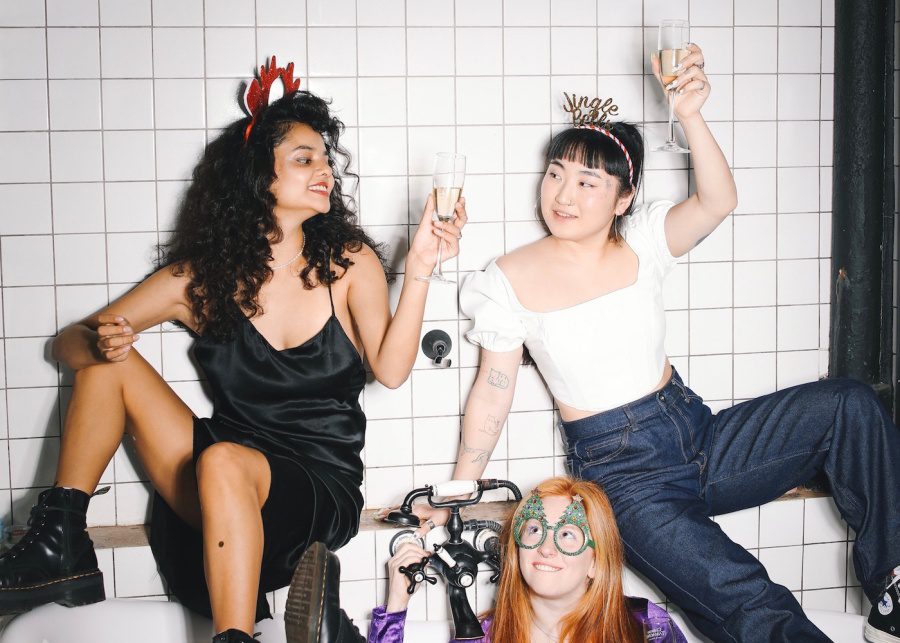 Photography: Polina Tankilevitch via Pexels
Give in to the music and you'll soon be dancing around in your ugly sweater. Scroll down for our full Christmas playlist!
It's (almost) Christmas! You've embellished your home in full Xmas decor, hit up all the Christmas markets, stocked up on gourmet meats and amazing cocktails, and got your party dress on. Now you need some entertainment to get your guests in the groove. Put on our Honeycombers playlist of Christmas music for festive songs! From classics to hip hop, we've got it in the bag (or stocking).
Best Christmas music for the festive season
1. The Christmas Song by Nat King Cole
Picture the glow of a warm fireplace, family rattling around the kitchen in preparation for a huge Christmas feast, and steaming cups of hot chocolate. That's the magical feeling this evokes when we listen to it. This tune is a must-add to set the tone for the evening.
2. Warm On A Christmas Night by Honne
Any Honne fans in the house? This English music duo puts a Christmas twist on one of its hit songs, turning it into a holiday melody we can't get enough of. You'll be feeling warm on a Christmas night with this chill track.
3. I'll Be Home For Christmas by Camila Cabello
This track is trending all over TikTok for Camila's awkward pronunciation of Christmas (or should we say, "quismois"). But if you can get over that, we say it kinda slaps. Her vocals are undoubtedly beautiful.
4. Christmas Tree Farm by Taylor Swift
If you consider yourself a Taylor Swift fan, this number paints a picture of her childhood growing up on an actual Christmas tree farm in Pennsylvania. Think sparkling lights, presents tied in ribbon, and overflowing cups of cider. This tune will make you nostalgic for young, innocent nights of Christmas past.
5. Snowman by Sia
We're loving this down-tempo love song by Sia – yet another tune that's trending all over TikTok. She confesses her love for a snowman in a metaphor for a person she loves. It's definitely a track for slow dancing under the mistletoe.
6. Christmas Isn't Canceled (Just You) by Kelly Clarkson
Fresh off a breakup? Forget sappy love songs. This festive-infused breakup jam is going to get you through the holiday season. Aptly titled Christmas Isn't Canceled (Just You), Kelly Clarkson's chirpy tongue-in-cheek anthem is the biggest F-off to your ex.
7. The Christmas Sweater by Michael Bublé
The king of Christmas hits us right in the feels with a song about… a Christmas sweater. The music video is basically a singing sweater counting down the days to the joyful occasion.
8. Christmas Calling by Norah Jones
Remember Norah Jones? She and her soothing vocals are back with her first-ever holiday album. The laidback song makes you wanna jump into your pyjamas and slow dance by the Christmas tree.
9. Oh Santa! by Mariah Carey feat. Ariana Grande and Jennifer Hudson
Start the Christmas celebration with this reimagined version of Oh Santa! that features not just one, not two, but three powerhouse divas.
10. December Baby by JoJo
JoJo is back, baby! Bob your head along with this catchy number that gives us all the festive feels along with JoJo's signature riffs.
11. How Could This Be Christmas by Mandy Moore
This breezy Christmas song by Mandy Moore makes us want to slow dance with our SO.
12. It's the Most Wonderful Time of the Year by Andy Williams
There'll be much "mistletoeing", and hearts will be glowing, when loved ones are near… yep, it's definitely the happiest season of all, hands down.
13. Wonderful Christmastime by Paul McCartney
We've spent many a year rockin' around the Christmas tree (and decorating it) with this snazzy tune in the background, just spreading the cheer.
14. Santa Tell Me by Ariana Grande
This classic Christmas song is one for the books, with the singer's signature sultry vocals giving it an injection of feel-good vibes.
15. Merry Christmas, Happy Holidays by *NSYNC
Harken back to the days of *NSYNC with this jam. Everything about it – from the track to the cheesy green screen video – is so bad, it's good. At least to have a chuckle over JT's serious 90s curls.
16. It's Beginning to Look a lot Like Christmas by Michael Bublé
You can't do Christmas music without a little Bublé. This guy never fails to emerge from his cave with tunes that leave us feeling all warm and fuzzy like a hot cuppa peppermint mocha.
17. Carol of the Bells by The Bird and the Bee
Equal parts whimsy and borderline crazy, this eccentric version takes you on a trip a la Tim Burton style.
18. White Winter Hymnal by Pentatonix
The world's most popular acapella group creates magic in this arrangement, sounding like sweet little angels. Wait for the bridge, it's almost out of this world.
19. All I Want For Christmas Is You by Mariah Carey
Sing along, of course, if you can reach the high notes just like the Queen of Christmas!
20. Last Christmas by Wham!
You may think you're too cool for Wham!, but there really is no escaping this campy tune around this time of year. But if you insist on keeping it classy, Brit indie band The xx did a minimal, sparse-sounding cover as well.
21. Christmas in Hollis by Run-DMC
Got Christmas rap? Of course we do. Get turnt at the dinner table with this one!
22. I Wish It Was Christmas Today by Julian Casablancas
Get up on your feet and dance to this Christmas song! It'll get you moving in no time…
23. Silent Night by Cee Lo Green
With the mad gold get-ups and his eccentric ways, you might forget he really is a good vocalist. Here's the man himself in a dramatic (and lovely version) of a Christmas classic.
24. Frosty The Snowman by Cocteau Twins
This 1950s Christmas classic gets a 90s treatment complete with keyboards and airy vocals. It's so sleek, you might forget it's a Christmas song.
Want more Christmas music? Listen to our three-hour Christmas playlist on Spotify.