Photography: Sophie Elvis via Unsplash
From Santa and snowflakes to fun festive colours, these Christmas nail art designs will put you in a merry mood.
So you've picked out your best Christmas outfit, had a holiday makeover at your favourite hair salon and prepped your skin with a facial. Now, it's time to do your nails! Need some inspiration? From cute nail art to contemporary designs, we've got a fine mix from local nail parlours and beyond.
Christmas nail art designs we love
1. The good kind of festive blues
The Nail Social gives us Christmas in the tropics with a glittery deep blue base and snowflake nail art.
2. Oh, look! It's Rudolph
We love the adorable nail art design by Nailz Haus with a cameo by Rudolph and gang plus Santa himself.
3. Oh Christmas tree, oh Christmas tree
This cute Christmas tree design with a nude background and white specks to mimic snow hits us right in the feels.
4. Make it abstract
Try a different take on the classic red and white colours with a touch of sparkles, of course!
5. Go green
Want a break from the usual reds? The Nail Status uses shades of green with festive wreath, snowman, reindeer and Christmas tree designs to jazz it up.
6. Silver bells
Nail Lodge amps up neutral colours like white and grey with silver sparkles and stars.
7. Connect the dots
Don't want something that screams Christmas? This clever design uses all the traditional holiday colours on top of an off-white base.
8. All wrapped up
Local nail salon, Bellus de Charme, pairs a va-va-voom red shade with a 3D pearl design for a touch of elegance.
9. Prints galore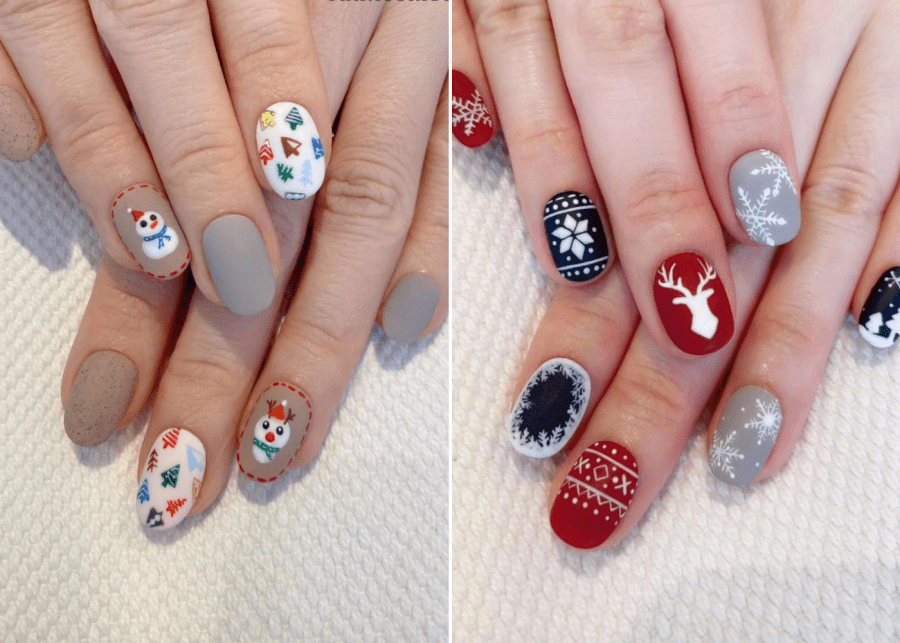 Just one look at Manicurious' clean nail art and we're sold. Go for tile-like holiday-inspired patterns or prints seen on Christmas sweaters.
10. Go bold with gold
AgnesG Nails sure knows how to do 3D art right. Here, the nail artist mixes splashes of gold, chrome and white with pearls and gold nail art designs.
Now, go forth and flaunt your Christmas nail art!