Grab your fave snack and snuggle up with flicks like Love Hard. Photography: Netflix via Facebook
Grab your favourite movie snack and snuggle up with these Christmas movies for a cosy evening full of the warm fuzzies.
It's that time of the year – Mariah Carey and Michael Bublé are awakened from their deep slumber, homes are filled with fresh (or fake) trees, festive markets are popping up, and Orchard Road is transformed into a winter wonderland sans (real) snow. To add to the joyous spirit, we've curated a list of our favourite flicks for the Yuletide season. From cult classics to comedies and cute romcoms, these Christmas movies will get you in a festive mood.
Best Christmas movies to stream
1. Love Hard
Starring Nina Dobrev of The Vampire Diaries fame and Darren Barnet aka Paxton Hall-Yoshida from Never Have I Ever, Love Hard tells the story of the former flying 3,000 miles to meet her soulmate. The plot twist? It's a completely different guy. Don't worry, it's a holiday film after all. The catfish trope doesn't take a deadly turn. Instead, you get endearing moments, as cliche as they might be – isn't that what Christmas is all about?
Watch on Netflix
2. Single All The Way
Single All The Way is the queer holiday film we've been waiting for. Tired of his family meddling with his single status, Peter convinces his best friend to pose as his boyfriend. You can tell where this is going, right? Just from the trailer, we know we've got iconic names like Kathy Najimy, Jennifer Coolidge and Michael Urie (from Ugly Betty) in the film. Just be prepared for the warm fuzzies.
Watch on Netflix
3. Bridget Jones's Diary
What's Christmas without Bridget Jones (and her baby)? We get to marvel at Hugh Grant in his prime years and it all starts with a holiday party and an ugly sweater. If that doesn't scream Christmas, we don't know what does.
Watch on HBO Go 
4. The Nightmare Before Christmas
We can't help but feel the movie title is a reference to all the Christmas planning. Jokes aside, this cult animation film is a timeless masterpiece. Meticulously created with stop-motion animation, Tim Burton brilliantly showcases gothic styles and themes to the film. Wondering whether it's a Halloween or Xmas flick? We say it's both.
Watch on Disney+
5. Office Christmas Party
Who's missing their annual office Christmas party? Watch Jennifer Aniston and T. J. Miller one-up each other as they throw the most insane office Xmas party to impress a potential client. Let's just say it's NSFW and nothing like the ones anyone would've attended in reality. But hey, at least we can relieve the pre-Covid days vicariously with this banger of a film.
Rent on iTunes
6. Midnight at the Magnolia
Cheesy? Check. Sweet? Check. OTT acting? Check. Ticking all the right boxes, this holiday film is about two radio hosts, Maggie and Jake, pretending to be a couple so they can bring in massive ratings. While the plot seems trite, our reasoning is that you can totally watch this during the festive season without any judgement.
Watch on Netflix
7. James and the Giant Peach
Based on Roald Dahl's novel of the same name, James and the Giant Peach is another stop-motion marvel. It tells the story of an orphan boy travelling to New York City on a peach alongside lovable anthropomorphic insects. We can't really put a finger on it, but the movie never fails to give us all the feels.
Watch on Disney+
8. A Bad Moms Christmas
Forget about romance and get into festive mischief with a trio of "bad" mothers. This sequel to the hilarious Bad Moms movie sees Mila Kunis, Kristen Bell and Kathryn Hahn ditching their annual Christmas preparation for a little harmless fun. To make things worse, all their mums have decided to pay them a visit. Let loose and be prepared for belly-aching laughs.
Watch on Netflix
9. Elf
Comedian Will Ferrell plays a happy-go-lucky elf, so you know you're in for a good laugh. But don't let the title fool you – turns out he's actually a human who crawled into Santa's bag when he was a baby. Upon that revelation, he travels from the North Pole to the Big Apple to find his biological dad, and all sorts of silly shenanigans ensue. It's a great family movie, if you ask us.
Rent on iTunes
10. While You Were Sleeping
Now, on the surface, the plot might seem slightly creepy – Sandra Bullock's character saves her crush, played by ex-heartthrob Peter Gallagher, from a freak accident. Then, she ends up acting as his fiance while he struggles with memory loss. Totes normal! But apart from that, you'll likely be rooting for her lovable character as she tugs at your heartstrings with her naivety and innocence. Also, spoiler alert: she ends up falling for someone else.
Rent on iTunes
11. Holidate
Single and dreading family holiday reunions? You might just be able to relate to this film. Two strangers are sick and tired of being single during the holidays so they come up with an arrangement to be each other's plus one. We say come for Emma Roberts and stay for the feel good plot.
Watch on Netflix
12. Love Actually
First of all, it's a holiday must-watch featuring an all-star cast, including the likes of Keira Knightley, Colin Firth, Hugh Grant and Liam Neeson. This British rom-com may have weathered controversy over the years, but it's still at the top of our festive list. Warning: you may or may not shed a tear as the film shows the different nuances in relationships through 10 love stories that are linked in one way or another.
Rent on iTunes
13. Home Alone
This movie is a cult classic for over two decades and with good reason. It's got slapstick humour, a little crazy action, memorable quotes ("keep the change, ya filthy animal!") and a happy ending all wrapped up in a bow. Plus, you can continue the rib-tickling marathon with its numerous sequels.
Watch on Disney+
14. The Princess Switch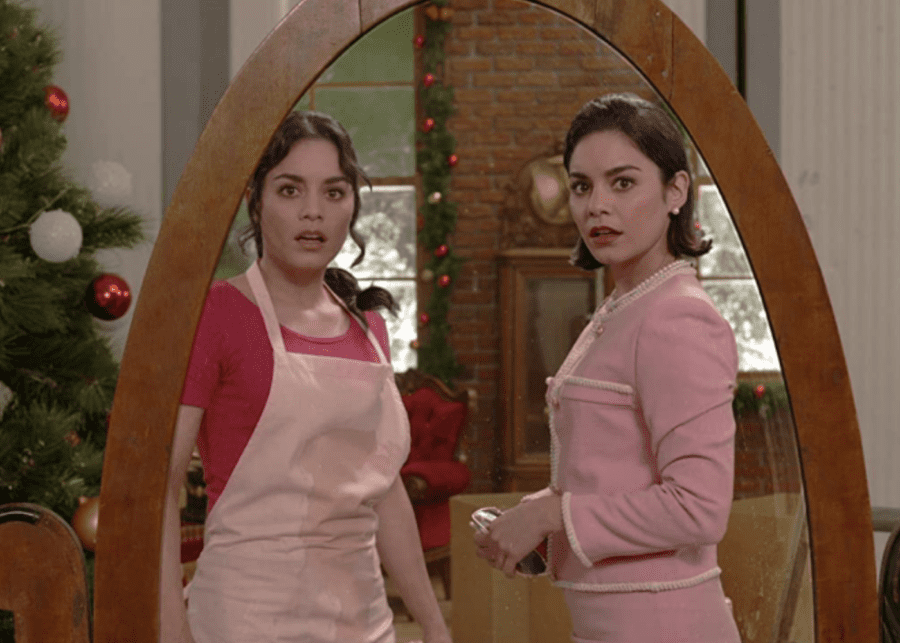 Christmas is the only time of the year when we close one eye and watch the cheesiest films. Enter The Princess Switch. Starring Vanessa Hudgens, it's about two lookalikes trading lives. What's the plot twist? One of them is a princess. We know, the plot seems trite but hey, let's give credit to the High School Musical actress for taking up a dual role. Continue the mind-boggling action with its second and third films.
Watch on Netflix
15. Harry Potter and the Philosopher's Stone
Christmas is magical. What better way to celebrate this joyous occasion than with a Harry Potter movie? We know, the other films in the franchise have wonderful Christmas scenes, but they tend to be darker than the original. Also, in the first instalment, Harry spends December at the magical Hogwarts, enthralling us all with the whimsical world of wizardry.
Available on HBO Go
16. The Holiday
Two lovelorn women, played by Kate Winslet and Cameron Diaz, escape their personal heartbreak by flying halfway across the world for a home exchange during the festive season. And Jude Law in a Christmas movie? Count us in. Apart from a cast of Hollywood heavyweights, this movie is endearingly sweet. It's bound to make even the coldest of hearts melt.
Watch on Netflix
17. Last Christmas
As the song goes, "Last Christmas, I gave you my heart; but the very next day, you gave it away…" In this holiday movie, be prepared to cry your heart out. Set in wintery London, Kate has everything working against her. She's homeless and tries to make ends meet by working at a Christmas shop as an elf – all while recovering from heart surgery. Thanks to a strange turn of fate, she meets a charming man called Tom who helps her see how blessed she truly is. Sounds like a Christmas miracle, right? Well, let's just say not everything is as it seems.
Watch on HBO Go
18. Gremlins
This one is for the horror junkies. Imagine getting a cute little critter as a Christmas present, but… there are three rules. Don't get it wet, don't expose it to light and, most importantly, don't feed it after midnight. Of course, like all good horror movies, the rules get broken and all hell breaks loose. But don't worry, it's more campy than scary.
Rent on iTunes
19. Frozen
No matter how old we are, Frozen will always have a special place in our hearts. It has sisterhood, magic and it's set in a town that's perpetually snowing. Join Elsa, Anna and Olaf on adventures like no other in the first and second movies. No one's judging if you can't let it go! Extra brownie points if you got the pun.
Watch on Disney+
20. Mean Girls
Hear us out. Mean Girls deserves to be on this list just for its iconic Winter Talent Show scene where Lindsay Lohan saves Christmas with her rendition of the classic Jingle Bell Rock song alongside a risque dance routine. Come to think of it, truth be told, this movie is for all seasons.
Watch on HBO Go
So what are you waiting for? Time to binge-watch these superb Christmas movies!