Photography: Pavel Danilyuk via Pexels
Follow these easy tips and your Christmas party will be the best thing since sliced (ginger)bread.
Unless you're the grinch on Christmas, you know there's no better way to celebrate the holidays than epic festive parties. Think get-togethers fuelled by addictive jingles, and decadent feasts serving honey-glazed ham and juicy turkeys. If you're thinking of throwing your own yuletide jamboree (and don't want it to be a flop), here's our fuss-free guide to planning a Christmas party in Singapore.
How to plan a Christmas party in Singapore
1. Choose a venue for your crowd
First, you'll want to think about how long your guest list will be. If a small and intimate gathering is on the cards, consider holding a house party in your own home. Or, you can even book a fun event space or private dining room at some of Singapore's top bars and restaurants. You'll want to make sure there's enough space for everyone to move around, catch up, and even play some Christmas games.
Don't forget to consider the practical stuff: What dates and timings are best for your guests? Do you need a sound system, and does the venue have one? What are the terms and conditions of your booking (in case of last minute cancellations)?
2. Bring on the food and drinks
If you're wondering how else to plan a Christmas party that's memorable, we can guarantee good food makes any gathering stand out. Crank out the kitchen tools and equipment and whip up a huge feast. Or, if you're feeling lazy (and still want a meal that's out-of-this-world), check out restaurants in Singapore that are offering amazing Christmas takeout menus that are bound to impress your guests. Don't forget the booze, too. We're huge fans of these cocktail and wine delivery services.
3. Make it fancy
Don't just invite guests down for a simple dinner. Jazz things up with a theme and related festive decor. Think along the lines of wreaths, fairy lights and candy canes for a more cosy, traditional look. Or, you might want to do something out of the box. We personally feel The Nightmare Before Christmas makes a fine fancy dress party idea. And don't forget the mandatory Christmas tree to lay your presents under.
4. Turn dinner into game night
Bring on the party games to keep your guests engaged. We promise this is the trick to making your Christmas party a night to remember. Go for a round of Christmas-themed trivia or charades. Or, if you're the type to go all out, why not plan a full Christmas murder mystery? You can even turn the space into your own karaoke studio. All you need is a mic and a projector screen.
5. Take part in the gift of giving
What's Christmas without a gift exchange? Once you've confirmed attendance for your party, put everyone down for a little game of Secret Santa. There are tons of online generators available to make this easy. Just input your list, and guests can draw names for other guests and purchase a small gift for them before the party begins. Alternatively, everyone can bring a gift of their own to add to a common pool and select one that's not their own to take home at the end of the night. Don't forget to set a price range so everyone leaves with a present of equal value to what they've spent.
6. Put on a Christmas movie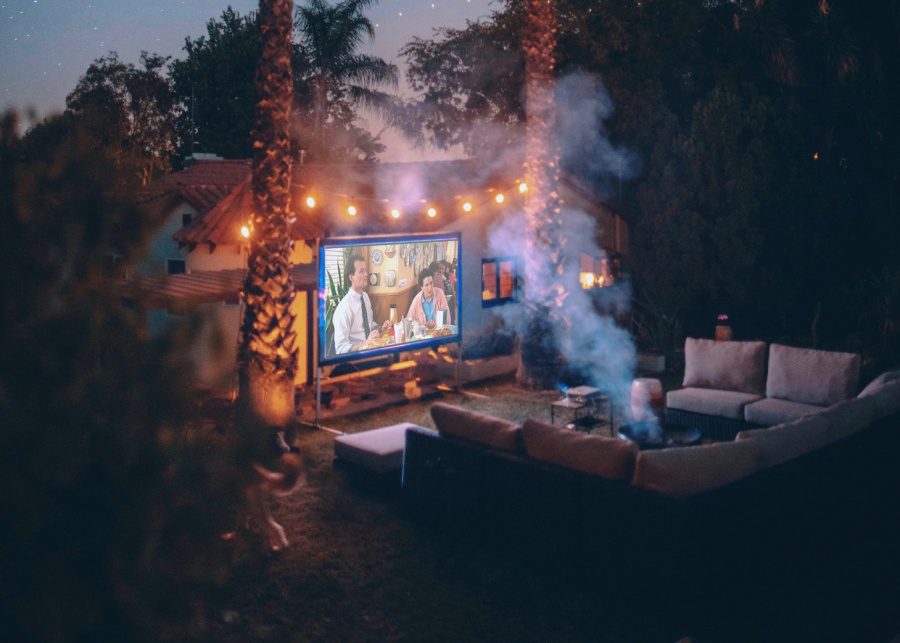 We can't imagine a better Christmas activity than putting on a festive movie. There are so many Christmas classics available. Think everything from Bridget Jones to Gremlins to Frozen. And you don't have to pop into a cinema to catch some of the latest Christmas movies either. Hop onto streaming platforms like Netflix and Disney+ for a slew of new holiday-themed films. We've got the new A Haunting in Venice movie on our watchlist.
7. Jam out to festive tunes
Now, what's a Christmas party with some jolly tunes? Stick to the tried and true by putting together a playlist of classic holiday songs and well-known carols. For a more happening party, you can never go wrong with festive songs everyone knows and loves. Mariah Carey? Definitely. Michael Buble? Of course. Don't forget to throw some Pentatonix in the mix. Be merry and sing along to the music, so long as you keep the volume down after 10.30pm.
Now that we've shared our top tips on how to plan a Christmas party, the (snow)ball's in your court!
[This article was originally published in 2022 and updated in 2023 by Sufyan Saad.]