Yes, you can totally have a snowy day in Singapore!
Alexa, play "Let It Snow", 'cos things are getting chilly in here…
Brr, it's cold in… Singapore? Don't hold off your mulled wine just yet! Enjoying the snow in our tropical city may seem as unattainable as our diet plan for Christmas, what with all the festive feasts, but it's actually possible. These spots may not have actual powdery white snow like the kind you'll find at a ski resort, but they're still frosty enough for you to whip out your thinnest winter wear and get in the Yuletide mood with Christmas music.
Where to find snow in Singapore
1. A Ride to an Enchanted Christmas at Capitol Singapore
19 Nov – 26 Dec 2021 
Capitol Singapore's Outdoor Plaza transforms into a magical Christmas market this year. Shop for festive goodies like Christmas panettone, log cake and stollen alongside tasty bites from The Capitol Kempinski Hotel Singapore. On the weekends, you can check out fun workshops like candle-making and calligraphy, and as well as masterclasses by chefs from the hotel.
The best highlight? The 8m-tall Capitol Kempinski Singing Tree. That's right, watch the tree come alive with Christmas carols. And after 7pm, expect to see a blanket of snow covering the outdoor area. Kiddos can head to the Snow Playpen for frosty fun where they get to touch and feel "snow".
A Ride to an Enchanted Christmas at Capitol Singapore, daily from 7:30 pm onwards, 11 Stamford Road, Singapore 178884
2. Festive celebration at Rainforest Lumina
10 – 26 December 2021
Go on an enchanting night walk to experience the Singapore Zoo in a different light with Rainforest Lumina. Essentially a night walk through lush grounds, the attraction comes alive with captivating lights, immersive sounds and interactive virtual animals. Just for the festive season, the experience will include a snowfall event right in the heart of the wildlife park. Seriously, who else can say they've witnessed snow in a tropical forest?
Festive celebration at Rainforest Lumina, 10- 12, 17- 19 & 24-26 Dec only, from 7.45pm to 11.15pm, Singapore Zoo, 80 Mandai Lake Road, Singapore 729826
3. Snow City Singapore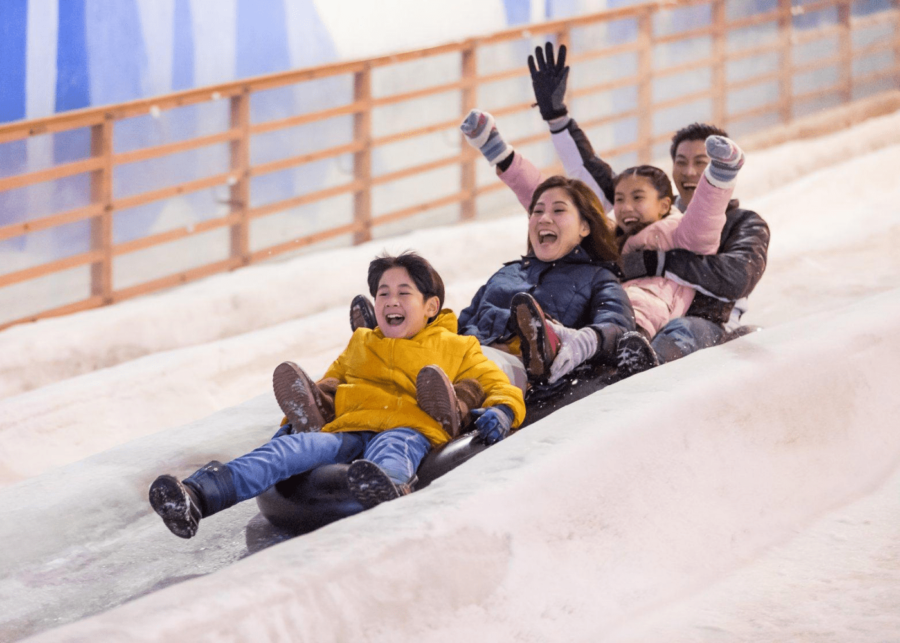 Snow City's probably the only place in Singapore where temperatures come close to wintery weather. This OG snowy spot brings us a one-of-a-kind snowfall experience every hour, every day. Learn the Inuit way of life across various zones, from the Northern Lights phenomenon to igloos and life-sized ice sculptures. Also, don't miss out on the first-ever Ice Hotel Gallery where you'll get up close and personal with furniture and sculptures carved entirely out of ice. If you're wondering, the exhibits are kept frozen at -5°C – a chill way to experience Nordic winter, if you ask us.
Snow City Singapore, 21 Jurong Town Hall Road, Singapore 609433
These snowfall events may not be the real thing, but they're the closest we have to experiencing snow in Singapore!