Photography: Olia Danilevich via Pexels
Santa Claus is coming to town… so you'd better get your game on this Christmas!
Who says home gatherings can't be fun? Now that you've got the turkey ready, loaded up on Christmas desserts and decorated the tree, it's time to start planning the entertainment. Let's put the jolly in festive parties by hosting fun and unique Christmas-themed games that'll have everyone in stitches, going ho ho ho…
Cool Christmas-themed games for any party
1. Christmas Trivia Night
Nothing gets the competitive spirit going like a good trivia night! All this takes is one Google search to find lists of fun Christmas-themed questions. Split yourselves into pairs of even groups, and your host can help facilitate. If you want to make it extra fun, create a festive slide show with all the questions. Or put everything into Kahoot for that added time-based stress.
2. The Christmas Murder Game
Gasp, Rudolph's been murdered! That means the rest of the elves have to sit in a circle and keep their eyes closed (it's the night of Christmas Eve, after all). You know how it goes: the murderer awakens to secretly "kill" someone by winking at them. After the killer has chosen the victim, it becomes Christmas morning. Now, everyone opens their eyes and tries to pinpoint the culprit. But each time someone accuses the wrong elf, the killer gets to choose another victim the next night. Get your detective cap on for a thrilling party night!
3. Santa's Hat
This one's simple but it'll get everyone in the party crackin' up in no time. Place a Santa hat on the side of your TV and play any movie you want. Every time a character's head fits into the hat, you have to down a drink. Take it from us, this game will make any scene hilarious – even if you're watching The Conjuring!
4. Jingle Bells Toss
Beer pong, but make it Christmas. All you need are reusable cups and loads of jingle bells. Split into two teams and try your best to toss all the bells in the cup within a minute. The team that loses, well, make 'em do an embarrassing forfeit!
5. Christmas Charades
This is an OG game at parties, but it can totally be turned into a Christmas-themed one. First, put together a bowl full of Christmas-related topics written down on paper. Each team picks one when it's their turn to act it out. Warning: you'll find it hard to stop laughing your way through this classic game.
6. Christmas Limbo (how low can you go?)
Tip: do a warm-up before this one. Get a large candy cane prop or a Christmas scarf, tuck a balloon under your shirt for Santa's belly, and try doing the limbo under the prop without touching anything. Caution: stumbling and funny falls expected.
7. Christmas Scavenger Hunt
Pick up your fedora and bring out your inner Indiana Jones. You'll need someone to hide all kinds of Christmas items around the house and list the missing items. Next, it's time to hunt away till the party ends. Whoever uncovers the most items wins!
8. Holiday Movies Bingo
What better way to enjoy Christmas movies than to create a Bingo game out of it? Download or print holiday movie Bingo cards, get your friends in on the action and mark the boxes that apply to the films you're watching. The first person to check off all boxes in a row wins and gets a gift. It's that simple. So grab some popcorn, a hot mug of cocoa and press play on your movie marathon!
9. How Many Ornaments?
How about getting the party started before your guests step in? Ask them to guess the number of ornaments on your Christmas tree before they enter your home. Keep them in anticipation and reveal the correct answer at the end of the party – the closest answer gets the most expensive Secret Santa gift!
10. The Christmas Laughing Game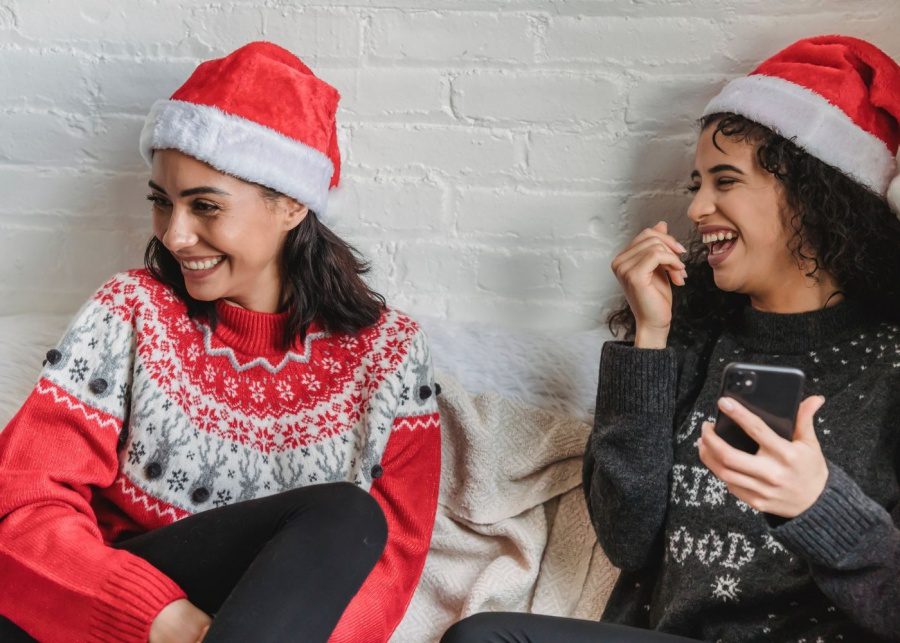 Warm up your facial muscles for the festive rendition of this popular Victorian parlour game. The goal? To get the opposite team to laugh. All you have to do is put away your pride and make any type of sounds you'd hear at Christmas. Go crazy mimicking Santa, elves, reindeer, or even Xmas music legends like Mariah Carey and Michael Buble. The first person to chuckle has to do a fun punishment.
Have a merry time with these exciting Christmas games for a holly jolly party!