From Uluwatu and Canggu to Seminyak, Sanur and Ubud, these are the very best Italian restaurants in Bali, where pizza and pasta reign supreme!
It's no secret that Bali has become one of the most popular culinary destinations in the world. Not only can you experience the culture with some authentic Indonesian food, you'll find plenty of other cuisines on the island: from Japanese and Chinese, to European and American. If you fancy yourself a food critic, then you're in luck, because Bali houses many outlets for one of the most popular cuisines in the world: Italian. You'll find plenty of Italian restaurants in Bali, serving up everyone's favourites like pizzas and pastas from nonna's kitchen, as well as contemporary inventions for the adventurous, fine-dining foodies.
To help you on your culinary journey, we've put together a list of our favourite Italian restaurants in every 'hood: from the south and west coasts, and all the way to the east coast, here's where to go for a large pizza with your mates, or a riviera-style dinner date.
Best Italian restaurants in Bali – EDITOR'S PICKS
1. Salsa Verde – Nusa Dua
Just footsteps from the beach, Salsa Verde is the indulgent Italian restaurant at Grand Hyatt Bali in Nusa Dua. This poolside venue is where it's at for grazing on classic Italian flavours with coastal twists. Think red snapper in garlic butter, charcoal-grilled king prawns, freshly-made pastas, pizzas and fine seafood with locally-sourced seasonal produce. We can't get enough of the burrata and parma ham sourdough pizza, or the linguine vongole pasta with local clams cooked to perfection. Step inside and you'll spot the open kitchen and wood-fired brick oven, or head outdoors to taste the flavours of Italy surrounded by tropical gardens and breathtaking ocean views. We say, swing by for dinner to catch the romantic evening ambiance, complete with low lighting and live music. All of this, best enjoyed with a glass or two of chilled Italian wine…
Salsa Verde at Grand Hyatt Bali, Kawasan Wisata Nusa Dua BTDC, Nusa Dua, p. +62 855 390 3658, e. [email protected]
2. AMICI – Seminyak
Paying tribute to Italian culture and cuisine, multi-Michelin-starred chef Enrico Bartolini presents AMICI – a unique Italian restaurant where time-honoured recipes are preserved and refined. Step inside and head to the lush veranda for an aperitif, before starting the evening with an appetiser of yellowfin tuna, grilled artichoke, roasted hazelnuts, and stracciatella cheese. Then, share the Pizza Tartufo Deluxe, featuring fresh black Italian
truffle, champignon mushrooms, Italian sausage and truffle sauce, or the Tuscan-style Mezze Maniche pasta with caciucco sauce and octopus bottarga. Finish off with the dark chocolate Torta Tenerina and a glass (or two!) of Italian fine wine. Top tip: round up your friends every Friday for the live DJs and specials on cocktails, or treat yourself to an exclusive brunch with live jazz every Sunday from 11am.
AMICI, Jl. Petitenget No.19x, Kerobokan Kelod; p. +62 899 6999 000; Open daily 11am – midnight.
3. Cantina Classe – Canggu
Pizza, pasta and lashings of great wine – there's nothing quite like Italian cuisine, and Cantina Classe knows just how to serve it. This rustic Pasta e Pizzeria Italiana in the heart of Canggu dishes up freshly-made pastas, hand-tossed pizzas, and flavour-rich sauces made from scratch, just like how Nonna makes them. Start your Italian feast with the mushroom and cheese arancini served with a vibrant basil pesto. Then, it's all about the restaurant's specialty: pasta and pizza. Tuck in to the indulgent spaghetti Carbonara with salty pancetta, egg and sprinkles of parmesan cheese. Or, share the chef-recommended four-cheese pizza, with ooey-gooey deliciousness that stretches for miles. Finish off with a bottle of Italian Cabernet – after all, this restaurant is designed to replicate a wine barrel, with a cellar that's just as impressive!
Cantina Classe, Jl Canggu Padang Linjong No. 8C, Canggu, p. +62 812 3733 9353, e. [email protected]; Open daily 12pm – 10pm.
Best Italian restaurants in Bali – Seminyak
4. La Lucciola – Seminyak
Seminyak's original, simplest and possibly most-loved beachfront institution, La Lucciola on the Seminyak coastline is a little bit of 'old-Bali' in the best way possible – before high-tech and high-stylin' took over. It's potentially Seminyak's only place with no Wi-Fi, just like Bali used to be, and you'll regularly spot the island's long-time expats here, tucking into the Mediterranean fare and huge selection of wine. It's impossible not to love "La Looch", with its always amazing service, legendary food and those excellent beach views.
La Lucciola, Jl Kayu Aya, Pantai Petitenget (next to Petitenget Temple), Seminyak, p. +62 361 730 838 / +62 819 0102 5999, e. [email protected]; Open daily from 9am.
5. Mauri
A sleek Seminyak icon, Mauri is a stunning and contemporary space serving up modern-Italian creations from award-winning Chef Maurizio Bombini. Top-shelf local ingredients (mostly homegrown within Mauri's own rooftop hydroponic garden) are served up in their purest form, like 24 months-aged parmigiano ravioli or tuna in carpione. Choose from the a la carte or seasonal tasting menus, or prop up at the 5-seat chef's counter for a truly intimate and private experience. Arrive early and meander up to the mezzanine bar and lounge for some small bites and pre-dinner cocktails served "Aperitivo Style".
Mauri, Jl Petitenget No. 100, Seminyak, p. +62 817 776 177, e. [email protected]; Open daily.
6. Da Maria
A taste of the Capri coast right on the island, Da Maria is the ultra hip Italian restaurant in Bali that knows just how to feed Seminyak's pizza lust. The brainchild of Aussie restaurateur Maurice Terzini, this eye-catching dinner and late night drinks spot boasts amazing pizzas and some of the coolest cocktail creations in the 'hood – not to mention some of the hottest parties around.
Da Maria, Jl Petitenget No. 170, Seminyak, p. +62 361 934 8523 / +62 811 3859 666; Open daily from 5pm.
7. Settimo Cielo
First things first, Settimo Cielo means Seventh Heaven in the language of love – so there is no going wrong here. This elegant and intimate restaurant whispers romance with moody lighting, tables for two, cocktails to die for and an authentic rustic Italian cuisine. Take charge here and order your loved one some Fritto Misto to share, followed by the uber tasty Crab Pappardelle, then finish it off with the Seventh Heaven tasting dish – a shared platter of Settimo Cielo's desserts.
Settimo Cielo Bali, Jl Pangkung Sari No. 10A, Seminyak, p. +62 813 3872 6657; Open daily 7am – 11pm.
8. Zibiru
Zibiru is a charming Italian hidden gem tucked within the hustle and bustle of Seminyak. This cute, rustic and old school Italian eatery will have you feeling like you have been whisked off to Veneto for the evening. Glimmering lights, romantic tables for two and mouth watering Italian food will have you lovebirds falling in love all over again. Head here for a romantic dinner date with a special menu that will get you in the mood for love.
Zibiru, Jl Drupadi No. 7, Seminyak, p. +62 822 3663 1302, e. [email protected]; Open daily 6pm – 11pm.
Best Italian restaurants in Bali – Canggu
9. Sa'Mesa
For one helluva foodie experience, head to Sa'Mesa – Canggu's innovative Italian dining destination that's dripping in exclusivity; the kind of place that feels like you're eating within the chef's own home. Taking inspiration from La Nonna Carmela – an Italian grandmother who used to invite the town for dinner even if she didn't know them – this theatrical dinner concept brings together a small group of diners for a scrumptious Italian feast of 15 – 20 surprise dishes, washed down with free-flow limoncello all night long. Though the menu changes each night, expect exceptional Italian-inspired plates like tuna crudo, chargrilled octopus and homemade king prawn fettuccine. And with the chef helming the open kitchen every night, no two dinner experiences are the same. You'll want to book your seat well in advance if you want to secure your spot (it's perfect for big groups or for a date night with a difference), and whatever you do, don't leave without trying the Negroni…
Sa'Mesa, Jl Tanah Barak No. 1E, Canggu, p. +62 813 5303 5411; Open daily.
10. Bottega Italiana
If you've ever wondered where the island's Italians get their fix of just-like-nonna's nosh, this is the place. Bottega Italiana is a fast-casual Italian eatery (and the sister brand to Zibiru) bringing a back-to-basics philosophy of cooking to Canggu and Seminyak. It showcases the best of what Italy has to offer with its all-homemade and premium, organic ingredients. And if that wasn't enough, it's also a boutique gourmet marketplace with take-home homemade products, like fresh pasta, sauces and herb-infused olive oils. Delizioso!
Bottega Italiana Bali, multiple locations in Canggu; Open daily 9am – 11pm.
11. Luigi's Hot Pizza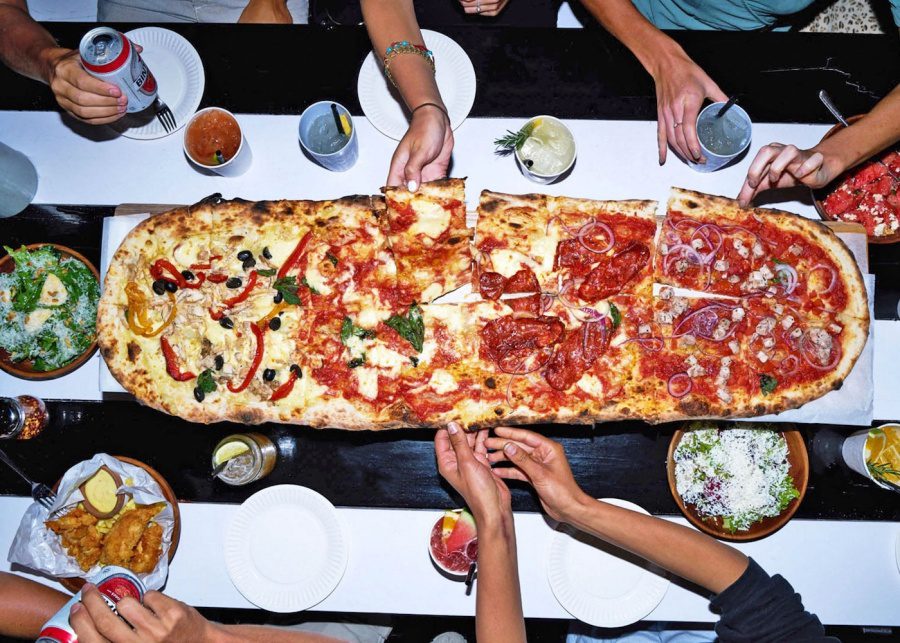 After the success of Seminyak's so-hot-right-now Da Maria, the unstoppable duo of Maurice Terzini and Adrian Reed joined forces for another hot hit: Luigi's Hot Pizza. It's Italo dining in the heart of Canggu, this time with a more affordable, low-fi and unpretentious twist. The pizzas are just as epic as they are in the Seminyak restaurant, as are the trendy cocktails and wild, wild party nights. Top tip: get the metre long pizzas, and invite your hungriest friends.
Luigi's Hot Pizza, Jl Batu Mejan, Canggu, p. +62 811 394 4450; Open daily from 4pm.
Best Italian restaurants in Bali – Uluwatu
12. Il Salotto
A brainchild of the four Italian friends who gave us La Baracca, Il Salotto brings fashionable Rome, cosmopolitan Manhattan and quaint London all the way to Bali. This cocktail bar and Italian restaurant located at the heart of Uluwatu is all about making you feel right at home, with cosy interiors and warm hospitality. As for the food, the modern Italian menu is seasonal based on the freshest locally sourced ingredients, and is designed to go well with the carefully crafted cocktails. Vegan and gluten-free options are also available… There really is something for everyone here!
Il Salotto, Jl Labuansait No. 10B, Pecatu, p. +62 859 6432 1894; Open daily from 6pm.
13. Rolling Fork
Driven by quality, innovation and tradition, Rolling Fork is a quaint, Italian-inspired restaurant that feels like home. Here you can tuck into homemade pastas, crispy pizzas, fresh grilled fish and prime imported meat, bringing food back to its simplest and most beautiful form. Everything here is made and served with love, best enjoyed on the cute colonial-style verandah. Wash it all down with a glass of red or a salt-rimmed cocktail – all for a taste of la dolce vita!
Rolling Fork, Jl Labuan Sait No. 51, Padang Padang, p. +62 821 479 51496, e. [email protected]; Open daily 8am – 11pm.
14. Il Ristorante – Luca Fantin
Push the boat out with a trip to Bulgari Resort Bali's opulent dining experience, Il Ristorante. Helmed by famed Michelin-starred executive chef Luca Fantin, Il Ristorante is an intimate 36-seat restaurant that specialises in contemporary and creative interpretations of classic Italian cuisine. You'll want to dress to impress at this suave dinner-only venue, where you can choose from five- or seven-courses of impeccably plated creations. Wine pairing is also available, as is a pre-dinner Aperitivo hour from 6pm – 7pm at Bulgari's cliff-front bar, where complimentary Italian canapés are served alongside an award-winning cocktail list and a fiery Bali sunset.
Il Ristorante at Bulgari Resort Bali, Jl Goa Lempeh, Banjar Dinas Kangin, Uluwatu, p. +62 815 1403 8549.
Best Italian restaurants in Bali – Ubud
15. Uma Cucina
If you're looking for an Italian-inspired splurge, look no further than Uma Cucina. Tasty Italian delicacies are done right here, locally-sourced and served fresh with a focus on modern, light cuisine that shows the utmost respect for local nuances. The brick oven and charcoal grill gives a distinctive smokiness to their fired up dishes (hello rustic Italian flavas) while their seasonal vegetables, ocean-fresh seafood and slow-cooked meats are colourful, easygoing and perfect for sharing. Swing by on a Sunday to catch the legendary Sunday brunch.
Uma Cucina at COMO Uma Ubud, Jl Raya Sanggingan, Banjar Lungsiakan, Ubud, p. +62 361 972 448 / +62 821 4732 4042, e. [email protected]; Open daily 12pm – 11pm.
16. L'Osteria Pizza e Cucina
Loved by the residents of Ubud, L'Osteria is a pizza joint and more. For starters, its sourdough Neapolitan pizza is rolled out thinly and baked to perfect crisp and char. You'll find classic toppings like salami and pepperoni with L'Osteria's special tomato sauce, or try the vegetarian friendly Tartufina Pizza with mozzarella, white truffle oil, egg, mushrooms and parmesan cheese. For those not craving pizzas, you can take your pick on the homemade fresh pastas, antipasti, carpacci, risotto and more. And don't worry about the kids, they'll be very much occupied with the Mickey Mouse-shaped pizzas!
L'Osteria Pizza e Cucina, Jl Monkey Forest No. 8, p. +62 812 3976 9486; Open daily 12pm – 11pm.
17. Dumbo
Three really is the magic number for Bali's most treasured vegetarian restaurant group. First came Green Ginger Noodle House in Canggu, then The Elephant in Ubud, and finally, the OGs of this conscious empire opened Dumbo – a modern wood-fired Italian food concept that's just as green, clean and organic as its predecessors. On the same driveway as The Elephant, Dumbo is all about good, honest food that's as earth friendly as possible – without compromising on flavour of course. Try the many finger foods like the Arancini alla Dumbo (pictured above): crunchy morsels of risotto balls with chilli jam and aioli, and whatever you do, don't miss the list of music albums-inspired cocktails, like the Outlandos D'Amour – apple and lemongrass margarita with premium quality tequila and triple sec.
Dumbo, Jl Raya Sanggingan, Ubud, p. +62 812 3838 9993, e. [email protected]; Open daily from 5pm.
Best Italian restaurants in Bali – Sanur
18. Pizzaria
Sitting right on Sanur's beachfront within the luscious grounds of Hyatt Regency Bali, Pizzaria is the only seaside Italian restaurant in Sanur, located right beside the coastal promenade. The restaurant's totally al fresco bar and dining area soaks up ocean views all around, making for a stunning lunch and dinner spot that's open to everyone, not just resort guests. You'll want to try Pizzaria's ocean-fresh and locally-sourced tuna carpaccio, which comes delicately topped with a sprinkling of capers, parsley, dill and rucola. Or the thin-crust, wood-fired pizzas (they're made from traditional sourdough) before finishing off with the chocolatey Italian pudding with whipped cream, seasalt and olive oil. Our top tip? Swing by on a Sunday for Pizzaria's family-friendly Sunday brunch – you won't be disappointed!
Pizzaria at Hyatt Regency Bali, Jl Danau Tamblingan No. 89, Sanur, p. +62 361 281 234; Open daily 11am – 11pm.
19. Massimo
A list of Sanur's best restaurants simply wouldn't be complete without a mention of Massimo. This is Sanur's OG Italian restaurant, where queues of hungry foodies would often be found lining the streets, waiting for a highly sought-after table or for a scoop of the famous gelato. In fact, you've probably spotted the gelato counter on Instagram feeds around the world. The flavours on offer seem truly endless, crowned with whole fresh fruits in a rainbow of colour and creamy deliciousness! After all, what better way to complete a feast of authentic Italian pizzas, pasta and homemade burrata?
Massimo Italian Restaurant, Jl Danau Tamblingan No. 228, Sanur, p. +62 811 399 9727, e. [email protected]; Open daily 9am – 11pm.
20. Forketta
Forketta serves up authentic Italian cuisine right at the heart of Sanur. Helmed by veterans in the hospitality industry, the menu pays homage to the Italian roots, using the freshest locally sourced ingredients. You'll find brick oven-baked pizzas with plenty of vegetarian toppings, homemade pastas with gluten free options, and of course, refreshing gelatos to sweeten the deal! Sit back, take a sip on a local house wine and feel right at home in this cosy al fresco Joglo…
Forketta Italian Restaurant and Bar, Jl Danau Tamblingan No. 126C, Sanur, p. +62 817 087 0344, e. [email protected]; Open daily 10am – 10.30pm.
21. Trattoria
A cosy Italian restaurant the whole family will enjoy, Trattoria brings you authentic Italian comfort food as well as the more contemporary dishes. It's a casual place, perfect to chill with family and friends. Share the chef's recommended carnivora or vegetarian friendly David, with tomato sauce, mozzarella, mushrooms, tomato confit, ricotta cheese and pesto. End the feast on a sweet note with a homemade classic tiramisu or hot lava cake! Our top tip: keep an eye on Trattoria's calendar for the Sunday Roast Buffet.
Trattoria Cucina Italiana, Jl Danau Tamblingan No. 190, Sanur, p. +62 361 285 733 / +62 858 2921 6402; Open daily from 11am.
Buon appetito, Honeys!
Love this list of Italian restaurants in Bali? Check out these family friendly restaurants for even more pizza and pasta!