Thin or thick crust, Hawaiian or pepperoni, New York or Italian... Whatever your pizza preference, we say, try them all at these pizzarias in Bali!
Oh, pizza, how we love thee. Your ooey-gooey cheesiness, your full-bodied sauciness and your perfectly proofed dough that's cooked to a slightly-charred crisp. It doesn't matter if we're getting delivery to our villa, or heading out to a fancy new Italian – our love for this spherical creation is deeper than a Chicago-style stuffed crust. Four-cheese, Hawaiian, pepperoni or vegetarian – no matter your pizza preference, there's something for every craving here in Bali. So to help you on your quest for the longest cheese-stretch of them all, we've rounded up the very best pizza places in Bali, from Italians in Ubud to pizzarias in Canggu and everything in between…
Bali's Best Pizza – Editor's Pick
1. Tony's New York Pizza – Canggu & Umalas
For a slice of damn-good NYC-style pizza, head to Tony's New York Pizza in either Canggu or Umalas. No pretension, no nonsense, no fuss – just good ol' New York-style slices of pizza from a nostalgic pizzaria, served up on the humble paper plate. This neighbourhood pizza joint is brought to us by (you guessed it) a New Yorker, and a top Italian chef behind the pans. They sling all the classics you'd expect, from pepperoni and Buffalo chicken, to the white slice and the grandma – the latter of which is loaded with Tony's signature chunky tomato sauce that's fresh, fruity and oh-so tangy. As for the base, all of the pizza dough here is proofed for 48 hours, before being baked to NYC perfection: crispy, yet floppy enough to fold (it's a New York pizza after all) topped with a blend of cheese that's all brown and bubbly. Grab a slice for yourself, share a 12-incher for two, or gobble the 18-inch pie with friends – just don't forget to drizzle on Tony's homemade chilli-infused hot honey. And psst – word on the street is, Tony's also slings the only authentic NY buffalo-style chicken wings in all of Bali!
Tony's New York Pizza, Umalas: Jl. Bumbak Dauh No.110B, p. +62 822 3661 3665 || Canggu: Jl Raya Tiyingtutul No. 25, p. +62 813 3662 7423; Open daily 11am – 11pm.
Bali's Best Pizza – Canggu
2. Luigi's Hot Pizza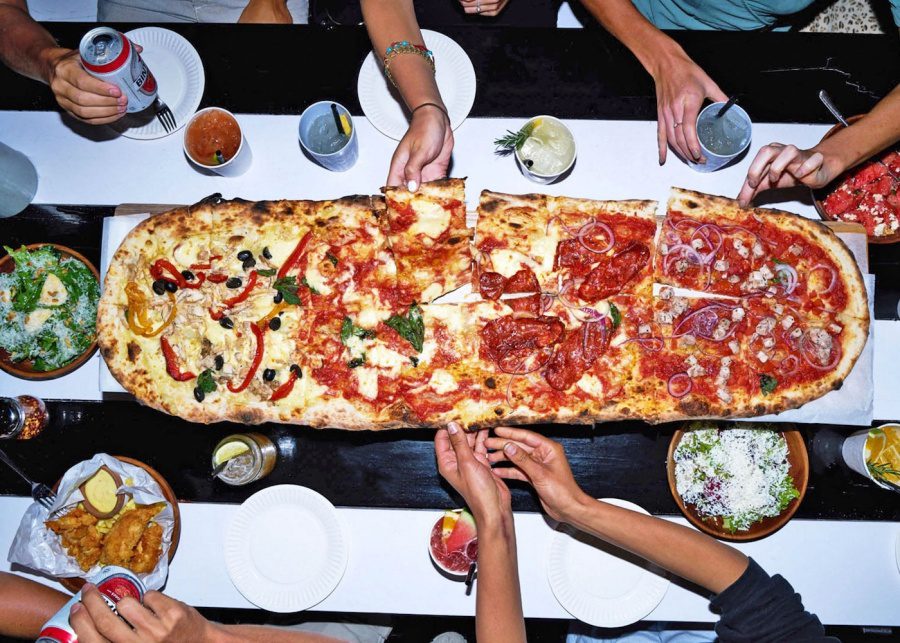 After the success of the so-hot-right-now Da Maria in Seminyak, Luigi's Hot Pizza is the sister restaurant to this boundary-pushing brand. Luigi's brings us Italo dining in the heart of Canggu, this time with a more affordable, low-fi and unpretentious twist. The pizzas are just as epic as they are in Seminyak, as are the trendy cocktails and wild, wild party nights. Top tip: gather your mates and go for the metre-long pizzas – you won't regret it!
Luigi's Hot Pizza, Jl Batu Mejan, Canggu, p. +62 811 394 4450; Open daily from 4pm.
3. Pizza Fabbrica
As hot as its traditional wood fired ovens, Fabbrica has been heating up the pizza competition in the 'Gu – and we're gunna go as far to say it's right up there with the very best in Bali. The pizzas are thin and crispy with a slight charredness, the toppings are generous and loaded with authentic Italian ingredients, and can we just take a moment to appreciate the creamy, almost-molten burrata? Try the Capricciosa loaded with mushroom, ham, black olives, salami and artichokes, or get the best of everything with a Quattro Stagioni. Just don't forget that Burrata.
Pizza Fabbrica, Jl Batu Mejan, p. +62 819 9933 0880, e. [email protected]; Open daily from 10am.
4. Rustica
If you're looking for warm, comforting Italian food, then you've come to the right place. At Rustica, you can taste authentic flavours of Italy prepared by Mamma Luigina. It goes without saying that you'll find classic, rustic pizzas like viennese, rustica, bianca and more. For a Rustica twist, try the Pizza Mamma Luigina, with focaccia bread as the base, topped with mozzarella, gorgonzola cheese, fresh arugula and Italian mortadella. Wash it all down with a house concoction, like the Rustica G&T, or the Timun & Tomat with a hint of chilli.
Rustica Bali, Jl Batu Belig No. 1, Kerobokan, Canggu, p. +62 361 473 7812 / +62 823 3995 0126; Open daily 10am – 11pm.
5. Manhattan Slice
Bigger is always better at Manhattan Slice. Dishing up NYC-style pizzas, from 12-inchers to 18-inchers, you'll want to wear your stretchy pants for this one. Grab a slice from the 18-inch pie, or share a whole pizza with your loved ones. You can choose from the classic pepperoni and cheese, the signature spicy sausage, or go wild and build your own pizza. You can even have a cinnamon pizza for dessert!
Manhattan Slice, Jl Batu Belig No. 82, Kerobokan, Canggu, p. +62 813 3878 3909, e. [email protected]; Open daily 11am – 11pm.
Bali's Best Pizza – Seminyak
6. Da Maria
A taste of the Capri coast right here in Bali, Da Maria is the ultra hip Italian restaurant on the Seminyak strip that knows just how to feed our pizza cravings. This eye-catching dinner and late-night party spot boasts amazing pizzas and some of the coolest cocktail creations in the 'hood – not to mention one of the hottest Sunday parties around.
Da Maria, Jl Petitenget No.170, Seminyak, p. +62 361 934 8523 / +62 811 3859 666; Open Tue to Sun from 5pm.
7. Wild Habit Pizza
Wild Habit slings wood-fired pizzas using authentic recipes from Naples – the kind of pizza with thin, crispy crusts that puff up around the edges. Stop by for a classic pepperoni pizza, or try the restaurant's own creation, The Wild Habit Pizza – a special creation, with prosciutto, parmigiano, fresh rocket leaves, oregano, cherry tomatoes and creamy burrata cheese. Finish it all off with their rocking cocktails…
Wild Habit Pizza, Jl Kunti I No. 6, Seminyak, p. +62 812 4162 8203, e. [email protected]; Open daily 11am – 11pm.
Bali's Best Pizza – Uluwatu
8. DiVino
Easily Uluwatu's most popular Italian joint, DiVino (previously Casa Asia) is a family-run Italian restaurant serving wood-fired pizza done right. A must-try is the vegetarian Casa Asia pizza, or for a taste of it all, try the Quattro Stagioni (pictured above), with four kinds of toppings: mozzarella and ham, mushrooms, black olives, and grilled eggplants. It's a melting pot for both expats and tourists, filling the open-air restaurant every evening with good vibes, plenty of wine and great Italian bites.
DiVino, Jl Pantai Bingin, Bingin, p. +62 821 4500 2906, e. [email protected]; Open daily 11am – 10pm.
9. Rolling Fork
Driven by quality, innovation and tradition, Rolling Fork is a quaint, Italian-inspired restaurant that feels like home. Here you can tuck into homemade Italian crispy pizzas, with local and high quality ingredients, bringing food back to its simplest and most beautiful form. Everything here is made and served with love, best enjoyed on the cute colonial-style verandah. Wash it all down with a glass of red or a salt-rimmed cocktail – all for a taste of la dolce vita!
Rolling Fork, Jl Labuansait No. 51, Padang-Padang, p. +62 821 4795 1496, e. [email protected]; Open daily 8.30am – 11.30pm.
10. La Barraca
Everyone's favourite Italian in Bali has a home in Uluwatu, meaning you can get your hands on all of your go-to La Baracca favourites in the Bukit. Sitting on the main road above Thomas Beach along Uluwatu's happening little 'eat street', try the wood-fired Pizza Burrata, the Pizza Calabrese or any of the awesome vegan and vegetarian pizzas, and pair it with a glass if Italian red. And psst – La Baracca now has addresses in Canggu, Seminyak, and Ubud too, so you're never far from La Baracca's epic and affordable pizzas!
La Baracca, Jl Labuansait No. 10A, Padang-Padang, p. +62 821 4517 5621, e. [email protected]; Open daily 12pm – 11pm.
Bali's Best Pizza – Ubud
11. Mamma Mia
Mamma Mia is a family-friendly one-stop-shop for traditional Italian cooking. Take your pick from the wood-fired pizzas with fresh ingredients on top, from the Pizza Bianca and Margherita, to the Vecchia Roma and Salsiccia. You can even request your pizza to be folded into a pocket full of flavours, AKA calzone!
Mamma Mia, Jl Raya Pengosekan, Ubud, p. +62 821 4559 1055; Open daily 11am – 10.30pm.
12. Kebun Bistro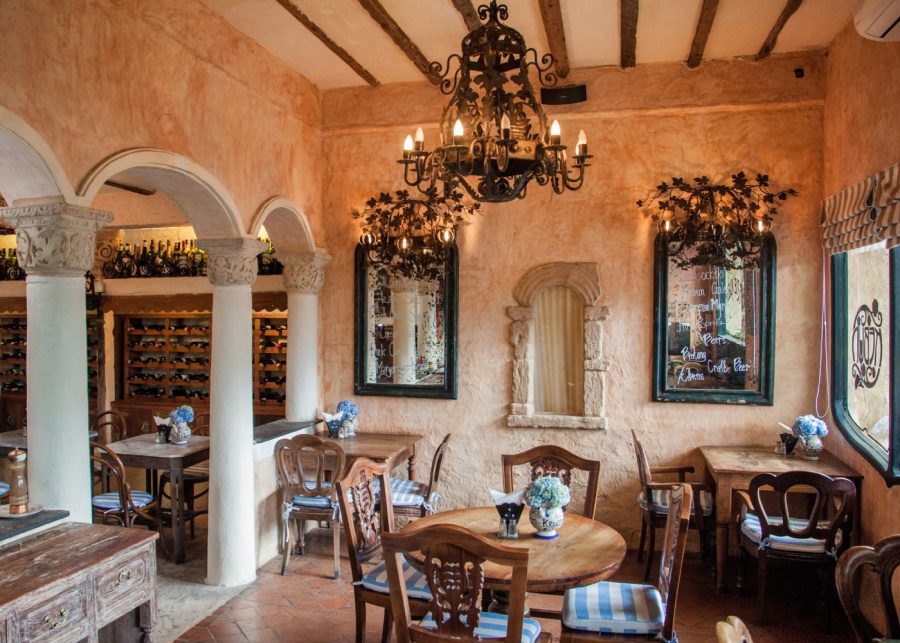 Sit back and relax, as Kebun Bistro takes you straight to an Italian vineyard. The tranquil terrace is surrounded by lush gardens, perfect catching up over a crispy pizza with a white or red sauce. You can also swap the crust with a gluten-free banana flour crust. Too hot or rainy to sit outside? Head indoors to the vintage-chic interiors reminiscent of a rustic wine cellar, which goes just right with Kebun Bistro's premium wines…
Kebun Bistro, Jl Hanoman No. 44, Ubud, p. +62 361 972 490 / +62 817 7007 7333, e. [email protected]; Open daily 11am – 11pm.
13. L'Osteria Pizza e Cucina
Loved by all, L'Osteria is a pizza joint and so much more. For starters, its sourdough Neapolitan pizza is rolled out thinly and baked to a perfect crisp and char. You'll find classic toppings like salami and pepperoni with L'Osteria's special tomato sauce, or try the vegetarian friendly Tartufina Pizza with mozzarella, white truffle oil, egg, mushrooms and parmesan cheese. You'll also find fresh homemade pastas, antipasti, carpacci, risotto and more. And bring the kids, because they'll love the Mickey Mouse-shaped pizzas!
L'Osteria Pizza e Cucina, Jl Monkey Forest No. 8, p. +62 812 3976 9486; Open daily 12pm – 11pm.
Bali's Best Pizza – Sanur
14. Massimo
Massimo is Sanur's OG Italian restaurant, where queues of hungry foodies are often found lining the streets, waiting for a highly sought-after table or for a scoop of the famous gelato. In fact, you've probably spotted the gelato counter on Instagram feeds around the world, and we can't think of a better way to finish off Massimo's Pizza Diavola, Siciliana or Napoli than with a fruit-topped scoop!
Massimo Italian Restaurant, Jl Danau Tamblingan No. 228, Sanur, p. +62 361 288 942 / +62 811 399 9727; Open daily 11am – 11pm.
15. Pizzaria
Sitting right on Sanur's beachfront within the luscious grounds of Hyatt Regency Bali, Pizzaria is the only seaside Italian restaurant in Sanur, located right beside the coastal promenade. The restaurant's totally al fresco bar and dining area soaks up ocean views all around, making for a stunning lunch and dinner spot that's open to everyone, not just resort guests. You'll want to try Pizzaria's thin-crust, wood-fired pizzas (they're made from traditional sourdough) before finishing off with an indulgent Italian dessert. Top tip: swing by on a Sunday for Pizzaria's family-friendly Sunday brunch.
Pizzaria at Hyatt Regency Bali, Jl Danau Tamblingan No. 89, Sanur, p. +62 815 8532 0969; Open daily 11am – 11pm.
16. Riviera
A cosy Italian restaurant tucked away in the quieter part of the Sanur 'hood, Riviera slings recipes straight from grandma's kitchen. Choose from an array of classic and contemporary pizzas, made from the freshest local ingredients. If you're a seafood lover, try the Fisherman Pizza, with shrimps, mahi-mahi, salmon, squid and octopus, on a classic tomato sauce. The vegetarian pizza is also not to be missed, with feta cheese and roasted pumpkin toppings. With daily specials and live entertainment every evening, it's no wonder that Riviera is a go-to for family pizza nights out in Sanur.
Riviera Restaurant and Bar, Jl Cemara No. 29, Sanur, p. +62 821 4685 4370, e. [email protected]; Open daily 7am – 10pm.
17. Trattoria
A no-fuss Italian restaurant the whole family will love, Trattoria brings you authentic Italian staples as well as contemporary twists. It's a casual place, perfect to chill with family and friends. Share the chef's recommended Carnivora or vegetarian-friendly David, with tomato sauce, mozzarella, mushrooms, tomato confit, ricotta cheese and pesto. End the feast on a sweet note with a homemade classic tiramisu or even a hot lava cake! Our top tip: keep an eye on Trattoria's calendar for their Sunday Roast Buffet.
Trattoria Cucina Italiana, Jl Danau Tamblingan No. 190, Sanur, p. +62 361 285 733 / +62 858 2921 6402; Open daily 11am – 10pm.
Love this list of pizza places in Bali? Check out these burger joints too!