Possibly our most colourful round-up yet, here are the top 19 cafes and restaurants in Bali to get your poke bowl fix...
A firm fave for Bali's healthy eating crew, poke bowls (pronounced poh-keh) are a Hawaiian speciality that are as addictive as they are delicious. A traditional poke bowl begins with a base of warm rice, later loaded with organic veggies and Japanese dressings, like ginger, scallion, soy sauce, and sesame oil. The crown jewel? Raw Ahi tuna, often lightly marinated and garnished with a sprinkling of spring onion…
But true to form, Bali's best restaurants have taken this Hawaiian staple and made it their own. Some have recreated the classic, while others have gone above and beyond with creative twists on the traditional – and the results are "ono" (that's delicious in Hawaiian, FYI). So without further adieu, here are the best spots around the island to get your poke fix on. This might just be our most colourful roundup yet….
Bali's best poke bowls: CANGGU
1. The Avocado Factory
As one of Canggu's very best cafes, it's no surprise that The Avocado Factory is also where it's at for a knockout poke bowl.  While you can probably guess that avocado makes a grand appearance in these bowls (as it should), there are a few different variations to choose from. We can't get enough of the classic poke bowl with smoked salmon. It's been given a tropical (and healthy) twist by using quinoa and red rice as the base, before being loaded with avocado, marinated tofu, edamame and chives. Or, go for a total twist: the Chicken & Avo Lassi bowl with marinated chicken, a coconut yoghurt and avo lassi as the sauce, rucola, purple
spinach, stracciatella cheese, asparagus, avocado and orange zest. YUM! All of this, served up within easy breezy interiors overlooking Canggu's most central rice field…
The Avocado Factory, Jl Tanah Barak, Canggu, p. +62 813 3738 2521, e. [email protected]; Open daily 7am – 11pm.
2. Unibowl
Sitting half-way between Canggu and Seminyak, the poke at Unibowl is worth heading slightly out of town for. Using unique and contemporary ingredients to create the perfect poke recipes (from sashimi and meat to vegetables and grains) each bowl is well-balanced and undeniably delicious. Try the Salmon Bowl with flamed-torched Aburi fillet, or the more traditional Ahi Poke with sashimi tuna, nori, avocado, sesame seeds and wasabi-ginger soy. There's even vegan and vegetarian options here (we LOVE the Tempeh Bowl!) or if you really want to think outside the poke box, then you can build-your-own-bowls too, with umami-loaded Japanese toppings like onsen eggs, furikake, miso eggplant and allll the spicy ponzu.
Unibowl, Jl Batu Belig No. 17, Canggu-Seminyak, p. +62 811 650 0828, e. [email protected]; Open daily 11am – 8.30pm.
3. Moana Fish Eatery
One for the pescetarians, Moana is an authentic little Polynesian joint at the top of Jl Batu Bolong in Canggu, decked out with tropical jungle vibes. Food-wise, you can fill ya boots with allll the Hawaiian faves, like sugarcane juice, sashimi, carpaccio, tartare, tataki and BBQ fish, not forgetting that legendary Poke Bowl. With lightly marinated raw tuna, avocado, edamame, cucumber and cabbage (dressed with sesame seeds, scallions and ginger) there's a reason there's a queue out the door every evening here…
Moana Fish Eatery, Jl Pantai Batu Bolong No.28, Canggu, p. +62 812 3815 8373; Open daily 9am – 11pm.
4. Poke Poke
A super cute little eatery right in the thick of Canggu, Poke Poke offers creative bowls and custom-made options to order (just pick out what you'd like and chow down). Mix up that butter-soft tuna with sesame crusted tempeh, quinoa, edamame beans and super delish dressings for bowls bursting with flavour. Best bit: whilst you wait for your food, you can dress up in grass skirts, hula necklaces and have a go on their swing (yes, swing) that sits right in the middle of the little resto. Good vibes all round!
Poke Poke, Jl Munduk Catu, Canggu, p. +62 821 4747 8550; Open daily 10am – 9pm.
5. Poke Theory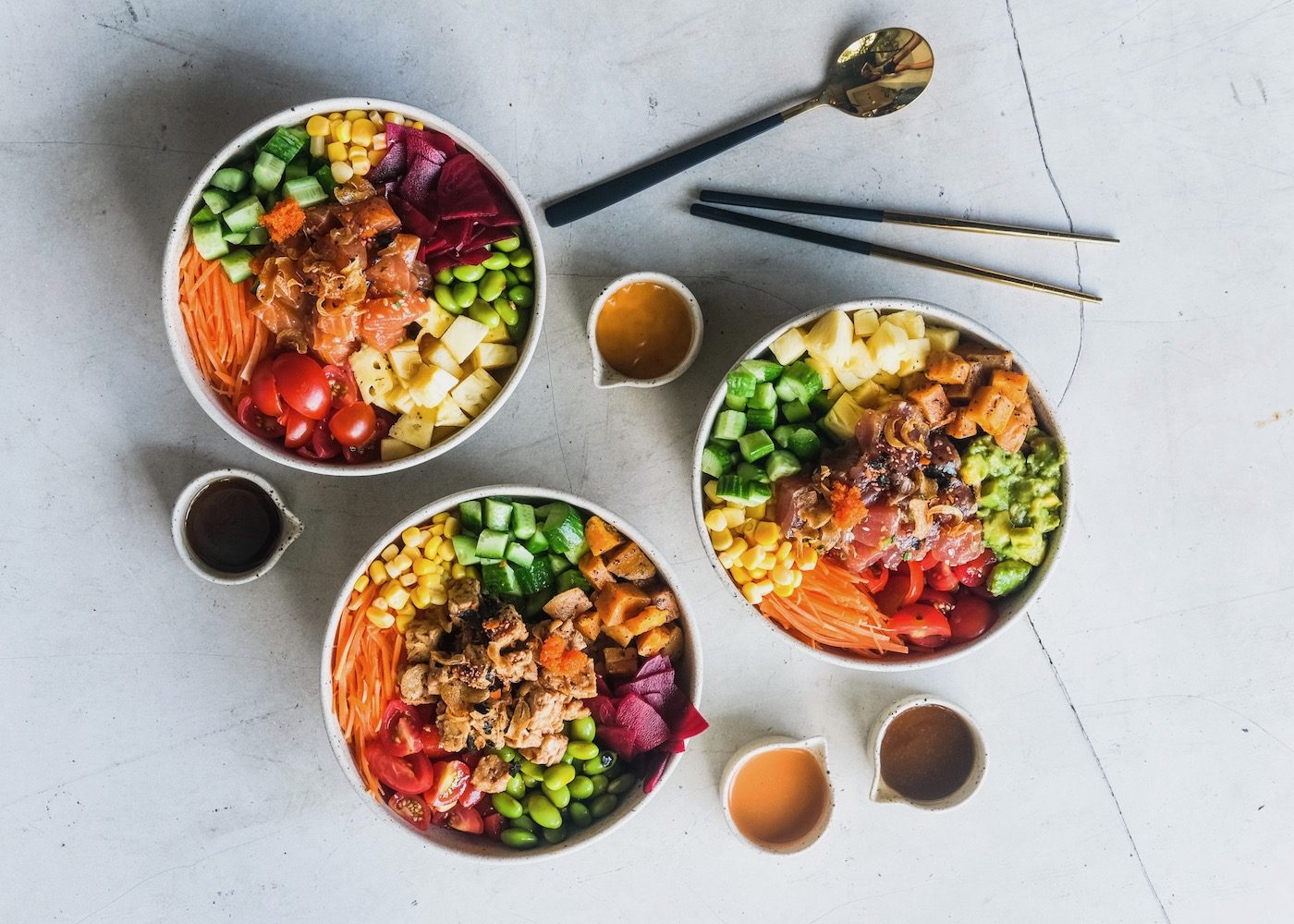 "Bangin' food gone healthy" is Poke Theory's promise, and we can't get enough. From poke bowls to acai bowls to cold-pressed juices, Poke Theory not only values fresh and sustainable produce for its poke, but is also on a journey towards being 100% plastic-free. Originating from Singapore, Poke Theory is proving that healthy food doesn't have to be boring, with its signature poke bowls or build-your-own creations. Load up on fresh tuna or salmon cubes, and if raw fish ain't your thing, add in some sous vide chicken or tempeh. As for the veggies, we say, paint the rainbow!
Poke Theory, Jl. Pantai Batu Mejan No. 82, Canggu, p. +62 813 5369 5139; Open daily 10am – 10pm. 
6. Matcha Cafe
Welcome to the first dedicated matcha café in Bali! This cosy lil' neighbourhood café serves up (no points for guessing) a menu of matcha-infused goodness, alongside some matcha-less treats too. Sitting pretty on the sensational menu is their own take on the classic Poke Bowl, served with Balinese-style sambal matah, or the classic wasabi mayo dressing. Whichever you choose, you'll love it so matcha!
Matcha Cafe, Jl Pantai Berawa No. 99, Berawa, p. +62 812 3853 6138; Open daily 8am – 5pm.
7. TYGR
Primarily a hand roll sushi bar, this epic little treasure in Canggu (and Ubud) also knows how to knock out a solid bowl'o'poke. Select from either salmon or spicy shrimp, or a veggo option of jackfruit katsu, and away you go. Even better news – the prices are super reasonable so there's no need to break the bank during date night.
TYGR Sushi, JI Pantai Berawa No. 999x, Berawa, p. +62 813 3916 3894, e. [email protected]; Open daily 11am – 11pm.
8. Nude
We love this little gem of a Canggu café, with its half-raw food half-naughty food menu just up the road from buzzy Berawa beach. The poke here is uh-mayyyyy-zing, knocked out with sashimi-grade seared tuna, turmeric rice, a mango avocado salsa and creamy chipotle aioli. You'll want to get the Insta-feed at the ready for this one too, she's a true Canggu beauty.
Nude, Jl Raya Pantai Berawa No. 33, Berawa, p. +62 852 3821 4003, e. [email protected]; Open daily 7am – 10pm.
9. Beachgarden – Organic Kitchen
A popular tropical hangout in the 'Gu, Beachgarden – Organic Kitchen rustles up a selection of healthy, wholesome raw dishes in (you guessed it) a garden by the beach. Think brekky bowls, cold pressed juices and of course, their signature vegan Bali Bowl. Tempeh with carrot, cucumber, cherry tomatoes, avocado, alfalfa sprouts on white rice, topped off with sprinkles of black sesame seeds and spring onions – this is one Bowl you don't wanna miss.
Beachgarden – Organic Kitchen, Jl Pantai Batu Bolong No. 103-107, Canggu, p. +62 813 3581 1526, e. [email protected]; Open daily 8am – 9pm.
10. Bali Bowls & Smoothies
Bowls, bowls, bowls. Smoothie bowls, breakfast bowls, Buddha bowls, salad bowls, signature bowls and our fave: Poke Bowls. Nutritious, delicious and packed to the bowly brim, try the Spicy Tuna Bowl with fresh chunks of tuna, cucumber, avocado, wakame, nori, gari, tobiko, spring onion, house mayo and kimchi. Yup, we like big bowls and we cannot lie!
Bali Bowls & Smoothies, Jl Segara Perancak, Berawa, p. +62 361 335 0062, e. [email protected]; Open daily 8am – 8pm.
Bali's best poke bowls: SEMINYAK
1. Sea Circus
Roll up, roll up, to our fave little Seminyak cafe, cocktail & coffee den. There's a whole circus of delish dishes on the menu here, but one of the total standouts is Sea Circus' Summer Poke Bowl. It's a heady, gluten-free mix of sashimi-grade tuna marinated in a citrus ponzu dressing, served with quinoa, edamame, avocado, radish & wasabi mayo. For the vegetarians out there, switch up the tuna for marinated tofu and you're all set for a vegan feast of epic proportions.
Sea Circus, Jl Kayu Aya No. 22, Seminyak, p. +62 821 4789 7995, e. [email protected]; Open daily 7.30am – 10pm.
2. Seasalt
Turn up the Poke swank at Seasalt – the super-chic beachfront restaurant at Alila Seminyak. Inspired by the sea, you can expect a whole host of fruits de mer here, including a scrummy selection of bowls. For the poke-loving purists, their Skipjack "Tuna" bowl is simply divine with wasabi mayo, cucumber, and ginger pickled gel.
Seasalt, Jl Taman Ganesha No.9, Petitenget – Seminyak, p. +62 361 302 1889 / +62 811 3867 544, e. [email protected]; Open daily 7am – 10pm.
3. Coffee Cartel
Coffee Cartel is Seminyak's boutique cafe and coffee house that means serious business. These top dogs have dominated Petitenget's feasting scene, with a mean cafe menu of fresh and healthy bowls, including the classic Poke Bowl – a generous portion of sashimi tuna chunks, edamame, avocado, cherry tomatoes, green leaves, cucumber and corn, sitting on a bed of rice and topped off with mirin dressing. Their signature pink hues and cute potted cacti can be seen on almost every Instagram feed, laid out alongside top quality cappuccinos, subtle Mexican aesthetics and adorbs golden cutlery. In fact, Coffee Cartel has become such a cult cafe, they have a second location in Legian…
Coffee Cartel, Jl Lebak Sari No. 8 Petitenget, p. +62 812 4601 0515; Open daily 7.30am – 6pm.
4. Neon Palms
Sitting directly above Bali Boat Shed (Seminyak's ever-famous technicolour beach shacks), Neon Palms is a jungly hideaway decked out in wildlife murals, hand-tiled terrazzo flooring, and of course, an exceptional menu from the same Aussie chefs who gave us Sea Circus. The all-day menu is all about brunch-style bites, as well as tacos and tapas inspired by both Asian and modern Australian cuisine. Try the Soul Bowl – a healthy mix of cinnamon maple roasted pumpkin, fresh garden greens, red rice, cherry tomatoes, beetroot hummus, tempeh and Asian cashew dressing; or the house-smoked salmon on quinoa and bulgur wheat. Sample your way through the sugar-free brunch cocktails, healthy potions and drool-worthy thickshakes, and did we mention, these guys have an epic selection of vegan creations too?
Neon Palms, Jl Kayu Aya No. 22 (above Bali Boat Shed) p. +62 817 6687 878, e. [email protected]; Open daily 8am – 10pm.
Bali's best poke bowls: UBUD
1. Mudra
An Ayurvedic café concept for conscious foodies (try and say that 5 times fast), Mudra brings enlightened lunches, vegan treats and beautiful Poke Bowls brimming with goodness to Bali's cultural capital. Using only the freshest Sulawesi seafood, you know it's gonna be good here, and the Tuna Poke Bowl with probiotic Gochukaru kim chi doesn't disappoint…
Mudra, Jl Goutama Sel. No.22, Ubud, p. +62 878 8868 8622; Open daily 9am – 10pm.
2. Milk & Madu Ubud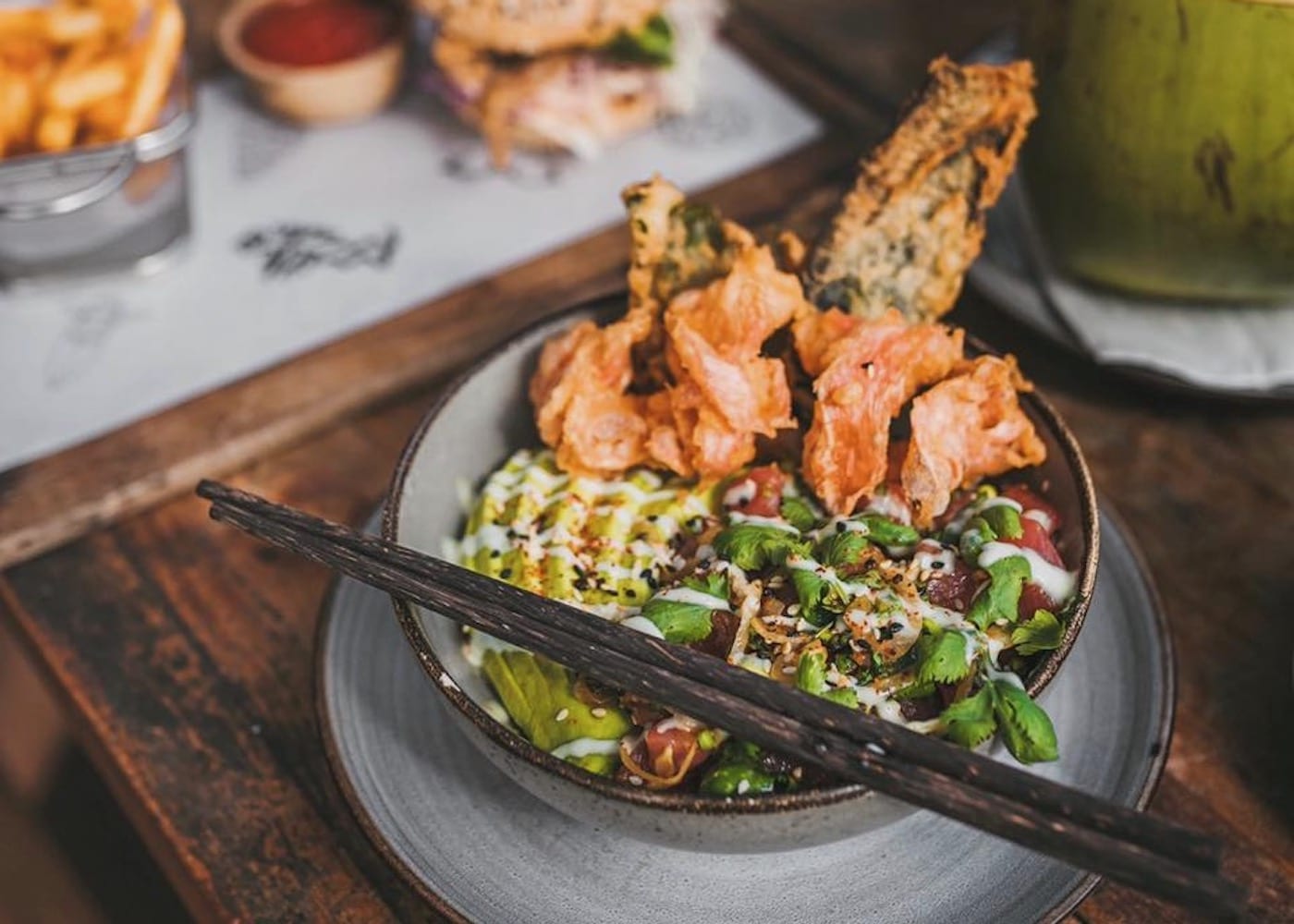 This much loved Canggu café has made a second home in Ubud, bringing with it all of our fave Milk & Madu fare. Come for the brekky bowls, stick around for the Madu Poke Bowl. It's a dreamy mix of seasonal avocado, spring onion, tempura ginger, coriander, edamame, nori, toasted sesame, with sushi rice and a choice of tuna sashimi, teriyaki chicken or golden tofu – and of course, that tasty ponzu dressing drizzled all over. Say aloha to YUM!
Milk & Madu Ubud, Jl Suweta No. 3, Ubud, p. +62 813 2975 6708, e. [email protected]; Open daily 7am – 10pm.
Bali's best poke bowls: ULUWATU
1. The Loft
The Loft had us at hello with its baby pink decor and scrumptious signature dishes imported from its original Bondi location. The Loft's much-loved Poke Bowl is one of those Bondi-born signatures, voted as the best in Sydney by Timeout Magazine. Well, this award-winner has come to Bali in all its glory, complete with chunky sashimi grade tuna, mango, wakame, arugula, tobiko, edamame and pickled red cabbage on top of white rice, drizzled in homemade wasabi mayo. And psst – you can find The Loft in Canggu too!
The Loft, Jl Labuansait No. 52, Uluwatu, p. +62 821 4594 4537, e. [email protected]; Open daily 8am – 9pm.
2. He'enalu
Full of tropical vibes and Hawaiian touches, this beaut Bukit nook serves up an all-day brekkie, brunch and lunch menu that is packed full of Polynesian treats – including their signature Poke Bowl. Meaning 'to ride waves' in Hawaiian, He'enalu is the perfect spot for some après surf grinds, not to mention super healthy drinks and ace coffee.
He'enalu, Jl Raya Uluwatu Pecatu No. 70x, Pecatu, Uluwatu, p. +62 895 2988 1815, e. [email protected]; Open Mon – Fri & Sun 12pm – 8pm.
3. Drifter
Head to the back of this vintage surf shop and you'll find a peaceful garden café area with excellent coffee and healthy dishes throughout the day. One of the menu highlights is of course the Tuna Poke Bowl – a reinvention of the classic done right. It's loaded with Mother Nature's finest creations (avocado, mango, edamame and sesame-marinated local yellowfin) on a mixed bed of brown rice, finished off with a dash of ginger miso dressing. Not to mention Aloha vibes all around. Right on!
Drifter, Jl Labuansait No. 52, Pecatu, p. +62 877 7755 0001, e. [email protected]; Open daily 7am – 10pm.
So there you have it – time to pick up a poke!