These outdoor activities are proof that Singapore is not just about concrete pavements and towering buildings.
Forget the malls! Let's appreciate the great outdoors for a moment. We've rounded up the best activities in Singapore to immerse yourself in nature.
Fresh air? Check. Golden sunshine? Check. Lush greenery? Check! While Singapore might boast mega malls, majestic museums and amazing architecture, don't look past the fantastic outdoor options our city has to offer. Whether you're looking to dip your toes in the sea or get in touch with nature, we've rounded up the best outdoor activities in Singapore. Slather on the mightiest SPF you have and wander off to the great outdoors.
Best outdoor activities in Singapore
1. Run, baby, run
There are as many parks in the city as there are skyscrapers. So lace up your running shoes and go for a jog at one of our running trails amidst gorgeous greenery and scenic sights. If running isn't up your alley, how does a power walk sound? Just remember to put on a comfy pair of walking shoes as your clock in your step count.
2. They see you rolling, they hatin'
Cycling is one of the many fun outdoor activities in Singapore. Don't have your own set of wheels? Just rent a bike or buy a snazzy cruiser from one of the city's many bicycle stores. Now, hit up scenic cycling routes for a fun two-wheeled adventure across the island!
3. Get your hike on
From forested hills to swampy wetlands to nature reserves, there are lots of hiking trails waiting to be explored. So whether you're a novice or trekking expert, there's something for everyone.
4. Chill at breezy beaches
If you're not keen on breaking a sweat, how about basking in the sun with coastline views? Enjoy Singapore's all-year summer weather by hitting up the beach with a good book in hand. Think glistening waters, fluffy sand between your toes and intoxicating sea breezes.
5. Did someone say picnic?
As much as we enjoy dining in at stellar restaurants, picnics make a fab excuse to head out and enjoy nature. We've put together the ultimate picnic checklist, from sorting out the food to picking up the best booze to finding the right locale.
6. Catch the sunrise (or sunset)
Appreciate nature in its full glory against the backdrop of iridescent skies. Whether if you're an early riser or a night owl, we've got a handy list of perfect sunrise and sunset spots that promise you dreamy skies, photo ops and breathtaking sights.
7. Go island hopping
No, we're not talking about Sentosa. Skip the party island for a change and head to offshore islands. These untouched mini islands offer a respite from the hustle and bustle of city life. Thanks to their rugged landscapes, you'll be transported to a rustic world of rich flora and fauna, crystal blue waters and very few people – a scenery we don't see often in the city.
8. Get in, we're going fishing
You know the saying, there's plenty of fish in the sea? Well, in this context that phrase holds true. Fishing and prawning in Singapore are great outdoor activities if you have the patience. We've reeled in the best fishing and prawning spots in town. Think reservoirs, nature parks and the like.
9. Hunt for street murals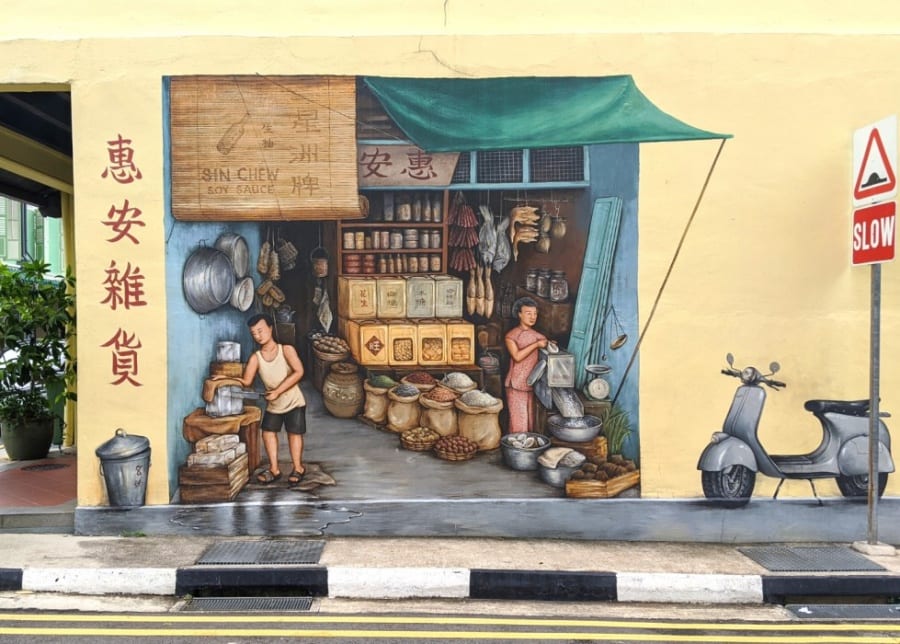 Singapore may be a clean and green city, but if you look hard enough you'll find splashes of colours in the nooks and crannies. We're talking about street art. From heritage enclaves like Little India and Kampong Glam to hip 'hoods like Telok Ayer and Tiong Bahru, keep your eyes peeled for vibrant murals that breathe life to nondescript walls.
10. Unearth hidden parks
Studies have shown that spending time in nature can boost your mental health. So if going to one of the popular nature hangouts seems like a hassle, head to hidden parks instead. Flanked by concrete buildings, these pockets of greenery act as a secret oasis of serenity and foliage.
11. Experience the country life
Anchored in the farm-to-table movement, farms in Singapore offer the freshest veggies, goat milk and more. This is one outdoor activity in Singapore that's a great rustic experience. Get up close and personal with cute goats alongside fresh produce, all while enjoying the serene countryside life.
12. Travel back in time to the kampong days
Located off Sengkang East Avenue, the rural site of Kampong Lorong Buangkok has been around since 1956 and is currently the last surviving village on Singapore's main island. At this tranquil throwback to the past, life seems to come to a standstill. Take note, though: the place still houses over 20 families, so do your best to leave it undisturbed.
Kampong Lorong Buangkok, 7 Lorong Buangkok, Singapore 547557
13. Take the road less travelled
Go off the grid right here in Singapore. We're talking about secret spots like caves, former military bases and natural spots that aren't on the map. Put on your best explorer boots and discover the hidden gems right under your nose.
14. Take the heritage route
Singapore may be a young country but it's steeped in history and rich culture. Just head out and visit historical sites like Old Hill Street Police Station and Fort Siloso for a little blast from the past. Or go on heritage trails that are scattered around neighbourhoods like Emerald Hill and Chinatown for nuggets of history. Also, fuel your mind with the history of Singapore's heartlands for cool facts.
15. Make a splash
Love the outdoors but not the heat? Cool off with a deluge of fun water sports such as windsurfing, kayaking and even sailing! There are also great public swimming pools but if you're feeling bougie, book a staycation and hit up one of the swanky hotel pools.
Time to head out and get your dose of vitamin D with these fun outdoor activities in Singapore.