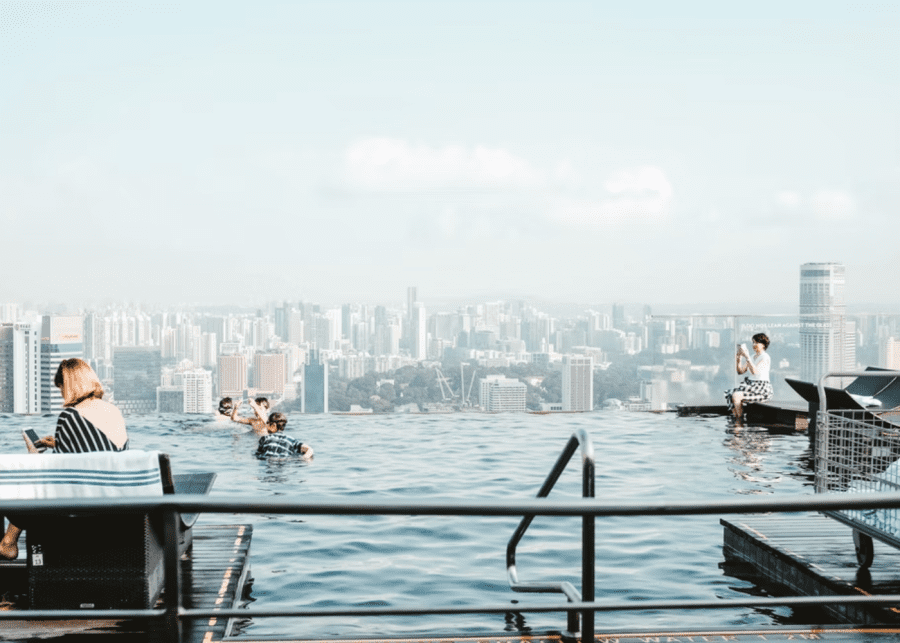 Photography: Adrien Olichon via Unsplash
Take a dip in the poshest swimming pools in Singapore, complete with killer rooftop views, private cabanas, cocktails and the works!
With a cluster of swoon-worthy pools popping up in Singapore, we can't help but bust out our best bikinis and stylish trunks for a day of relaxation in the cool waters of the city's sexiest pools. These swimming pools in Singapore are posh, stunning and perfect to frolic in during a staycation, a well-deserved day off, or a romantic escape. Go on, take the plunge!
Best hotel swimming pools in Singapore
1. Marina Bay Sands
Of course, this list wouldn't be complete without the infinity pool at Marina Bay Sands Singapore. It has seen countless celebrities including David Beckham (be still, our beating hearts!), Katy Perry and Justin Bieber frolicking in it. Perched 57 floors above the iconic ship-shaped building, it feels like you're swimming on the edge of the world. Plus, the drop beyond the pool edge adds a bit of risk to the experience.
Marina Bay Sands, 10 Bayfront Avenue, Singapore 018956
2. JW Marriott Hotel Singapore South Beach
Enter an oasis of calm at the Flow18 sky garden and swimming pool. The hotel pool may be small in size but is worth visiting thanks to its picturesque city views. There's also a table and chairs in the pool (makes a great shot for the 'gram!) and pool beds at the shallow end of the pool for a little rest and relaxation.
JW Marriott Hotel Singapore South Beach, 30 Beach Road, access via Nicoll Highway, Singapore 189763
3. Hilton Singapore Orchard
Set in the heart of the city's shopping mecca, Hilton Singapore Orchard houses a cosy outdoor pool –, a perfectly quiet place for rest and relaxation. If you're not dipping your toes in the water, stretch yourself out on one of the sun beds and work on your tan.
Hilton Singapore Orchard, 333 Orchard Road, Singapore 238867
4. Riverside Hotel Robertson Quay
The 25-metre-wide pool at Riverside Hotel offers you ample space for a much-needed stress-relieving swim! If you're not in the mood for a splash in the pool, drop by the poolside bar for a nightcap to round off an event-filled day.
Riverside Hotel Robertson Quay, 1 Unity Street, Singapore 237983
5. Hotel Jen Orchardgateway Singapore
Located conveniently within Singapore's most iconic shopping district, the swimming pool at Hotel Jen Orchardgateway is affectionately referred to as BayWatch. But, it's hardly associated with Hollywood glitz and slo-mo running lifeguards. Instead, it's a tranquil escape from the hustle and bustle of human traffic below. Its cool waters are perfect for lounging in, or simply spending a lazy afternoon poolside with a book or drink in hand.
Hotel Jen Orchardgateway Singapore, 277 Orchard Road, Singapore 238858
6. Sofitel Singapore City Centre
This one's set in the nexus of the CBD, right at Tanjong Pagar Centre. The 30-metre long infinity pool at Sofitel Singapore City Centre is the perfect refuge from our buzzing city streets. Slip and slide into an urban escape as you relish the tranquil surroundings and beautiful views of the Pinnacle@Duxton.
Sofitel Singapore City Centre, 9 Wallich Street, Singapore 078885
7. The Outpost Hotel Sentosa and Village Hotel Sentosa
These Sentosa hotels are packed with different experiences for every type of staycation-goer. But let's move straight to the pool. That Pool Deck (pictured above) on level three is what dreams are made of. Shared among the three hotels, it encompasses four fun themed pools. Dive into the Pamukkale Pool inspired by the original pools in Turkey or kick back on a donut float at the Lazy River Pool. Those with kids can enjoy fun water features, slides and even a man-made "beach" at the Children's Play Pool. Does your agenda include a whole day of soaking in the sun? Adventure Pool is the place to be. Fair warning: You'll probably have to surgically remove yourself from the deck.
Pool Deck, Level 3, enter via Village Hotel Sentosa or The Outpost Hotel Sentosa
8. Singapore Marriott Tang Plaza Hotel
Here's another one located in the heart of Singapore's Orchard district! The swimming pool on the hotel's fifth level beckons you to kick off your heels, throw on your bikini and bliss out. Take a dip in this chic resort-style pool after a day of shopping. Or, enjoy an evening dip amongst the reflection of lights cast by the nearby Ion Orchard mall.
Singapore Marriott Tang Plaza, 320 Orchard Road, Singapore 238865
9. Hard Rock Hotel
Love the beach, but hate the salty seawater? This swimming pool is for you. Located at Sentosa's Hard Rock Hotel, the man-made beach provides all the joys of a natural beach, and it's even got its own volleyball court. Feeling thirsty but don't want to get out of the water? Head over to the poolside bar for a refreshing cocktail quencher!
Hard Rock Hotel, 8 Sentosa Gateway, Resorts World Sentosa, Singapore 098269
10. Sofitel Singapore Sentosa Resort and Spa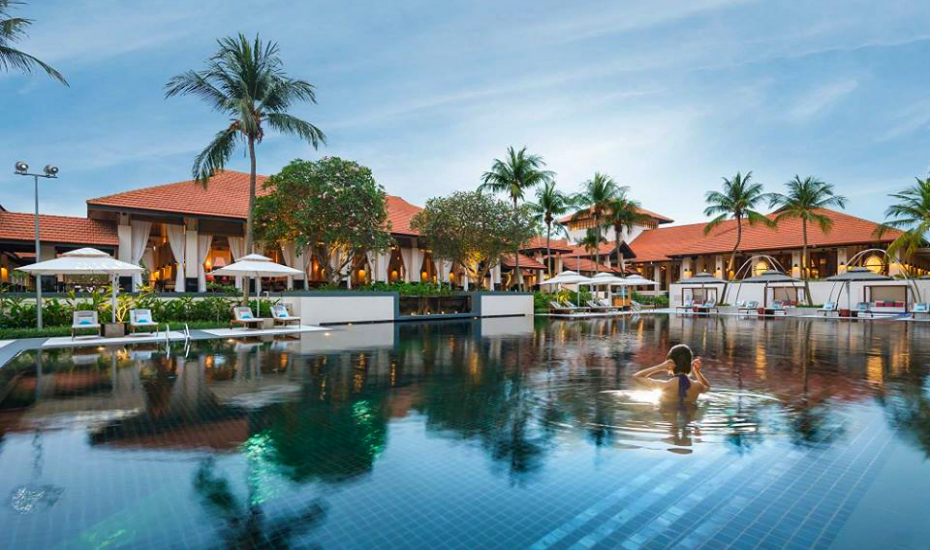 A 33-metre pool surrounded by free-roaming peacocks and lily ponds? Classy. Take an evening dip in the pool and swim amongst the gentle caress of the pool lights. Alternatively, enjoy a peaceful swim alone (or a romantic one with your hun) at one of the many private pools assigned to each villa.
Sofitel Singapore Sentosa Resort and Spa, 2 Bukit Manis Road, Sentosa, Singapore 099891
11. W Singapore – Sentosa Cove
Skivvy down to your bikini and bid all your worries goodbye as you sip on a cocktail from the WET Bar without having to step out of the pool. It features an underwater speaker system and each private cabana comes with its own iPad, iPod and mist fan. You can even make that cheeky cabana boy fantasy come true – there will always be someone to answer your every beck and call. Private cabanas are complimentary and available in two-hour sessions on a first-come, first-serve basis.
W Singapore – Sentosa Cove, 21 Ocean Way, Sentosa, Singapore 098374
12. Park Hotel Alexandra
Fancy taking a refreshing swim with sweeping views of the Southern Ridges? Head seven floors up to the stunning 25-metre infinity pool at Park Hotel Alexandra in Queenstown. Located far from the hustle and bustle of the city, this rooftop oasis couldn't be more perfect. Just swim up to Aqua Luna, the adjoining pool bar, if you fancy a sundowner after an invigorating dip.
Park Hotel Alexandra, 323 Alexandra Road, Singapore 159972
13. So/ Singapore
There's something incredibly seductive about bathing in the warm radiance of this pool, which is outfitted in gold tiles. Never mind the fact you're within the CBD! The glittering lights of skyscrapers look like stars in the night sky when you're having a divine soak in the waters.
So/ Singapore, 35 Robinson Road, Singapore 068876
14. Mandarin Oriental, Singapore
Lie in one of the water sunbeds and meditate to the sound of poolside fountains after finishing your sun salutations in the Mandarin's outdoor yoga pavilion. Even though you can trace the outline of the cityscape with your fingertip, the world couldn't feel farther away as the tranquil pool helps you enter a quiet state of mind.
Mandarin Oriental, Singapore, 5 Raffles Avenue, Marina Square, Singapore 039797
15. Capella Singapore
It's almost as if you're amidst the tiered hillsides of Ubud when you're taking a dip at Capella's three-levelled swimming pool. The greenish tinge of the pool's tropical surroundings and the vast South China Sea before your eyes act as the perfect romantic backdrop.
Capella Singapore, 1 The Knolls, Sentosa, Singapore 098297
16. Parkroyal Collection Pickering
Hide in one of the cocoon-like cabanas by the swimming pool if you'd like some privacy in Singapore. The minimal decor, warm lighting and spectacular views of the city also make for infinite romantic possibilities.
Parkroyal Collection Pickering, 3 Upper Pickering Street, Singapore 058289
17. Crowne Plaza Changi Airport
Head to Changi Airport for Crowne Plaza's hidden tropical resort pool to feel like you're on a holiday without actually leaving the country. The beautifully landscaped greenery is reminiscent of our neighbouring islands. And part from the engine roar of planes overhead, the peaceful surroundings provide some divine alone time.
Crowne Plaza Changi Aiport, 75 Airport Boulevard, Singapore 819664
18. Naumi Hotel Singapore
Sleek, Balinese-inspired decor, coupled with colourful city lights as a backdrop, makes this stunning swimming pool in Singapore the perfect spot for a mini-moon. Plus, the round, cushioned beds on the sun deck are just perfect for two to get cosy after your dip.
Naumi Hotel Singapore, 41 Seah Street, Singapore 188396
19. Ascott Raffles Place Singapore
Swimming can be an intimate affair, especially when it's at the Ascott Raffles Place pool. Its glass walls leave virtually nothing to the imagination, but who cares? Bikini-ready or not, the inviting waters of this upscale serviced residence are calling your name.
Ascott Raffles Place Singapore, 2 Finlayson Green, Singapore 049247
20. The Fullerton Bay Hotel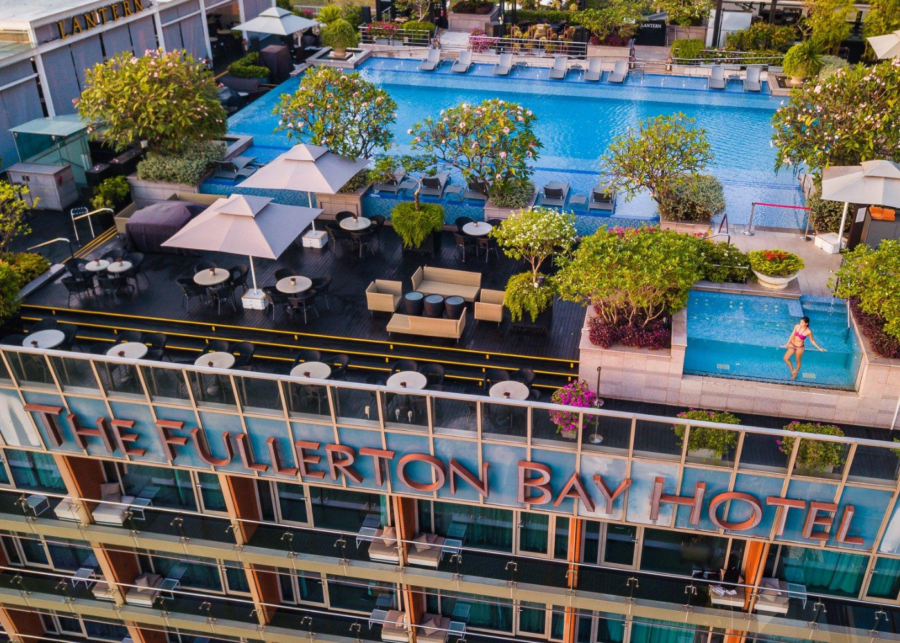 A serene escape from the chaos of the city down below, this pool is surrounded by a gorgeous tropical landscape. Think of it as an oasis amidst the concrete jungle. Treat yourself to one of the hotel's signature cocktails after a light lap or two, then watch the sun set amidst the backdrop of the CBD. Ahh… life!
The Fullerton Bay Hotel, 80 Collyer Quay, Singapore 049326
21. Oasia Hotel Downtown, Singapore
If the Maldives is your favourite holiday haunt for sun and crystal blue waters, we'd recommend this hotel located in the heart of our Central Business District. A definite go-to staycation spot, this hotel houses three different swimming pools under one roof. Take in breathtaking views of Singapore's skyline at the infinity pool (exclusive to club guests only) or have an evening dip under the stars at the rooftop pool.
Oasia Hotel Downtown, Singapore, 100 Peck Seah Street, Singapore 079333
22. Conrad Centennial Singapore
Owned by Hilton, Conrad Centennial has a 20-metre outdoor pool on its premises. And it's a sure-fire sweet spot for a night swim. Bask in the surrounding cityscapes and twinkling lights from the Singapore Flyer with your beau for a romantic date. What better place for a lovely night out?
Conrad Centennial Singapore, 2 Temasek Boulevard, Singapore 038982
23. Paradox Singapore Merchant Court at Clarke Quay
Just a walk away from Clarke Quay's buzzing nightlife, this hotel features a huge outdoor pool with water slides (for the kids) and a relaxing jacuzzi. Boasting rejuvenating spa packages and a two-storey, 24-hour fitness centre, it's an ideal destination for a weekend retreat to get rid of life's stresses.
Paradox Singapore Merchant Court at Clarke Quay, 20 Merchant Road, Singapore 058281
24. Fairmont Singapore
Just like its unique architecture, the pools at Fairmont are circular. They're spot-on for a romantic sunset swim with your other half. Back from a fancy dinner and dressed too swanky to get your toes wet? Sit back and unwind with a cocktail in hand by the pool as you relish the cool nighttime breeze.
Fairmont Singapore, 80 Bras Basah Road, Singapore 189560
25. Andaz Singapore
The two-tower building with a futuristic honeycomb design (it's hard not to miss) already wins our hearts, but there's more inside. You can never go hungry at Andaz as it houses six dining concepts, including rooftop bar Mr Stork. After your feast, it's only apt that you head to the infinity pool to nurse your food coma and lounge the day away.
Andaz Singapore, 5 Fraser Street, Singapore 189354
26. Courtyard by Marriott Singapore Novena
Perched on the 33rd floor of the hotel, right next to the highest bar in Novena, lies a rooftop infinity pool. What's the highlight here? You get a bird's eye view of Singapore's majestic skyline. Take a dip in the evening and watch the city light up against the iridescent orange sky.
Courtyard by Marriott Singapore Novena, 99 Irrawaddy Road, Singapore 329568
27. Grand Hyatt Singapore
Soak up the sun or hide in a private cabana for a sluggish afternoon siesta after you're done with retail therapy on Orchard Road. Famished after laps in the pool? Head over to the nearby Oasis restaurant for satisfying nosh!
For the time being, Grand Hyatt Singapore will be giving its whole hotel a facelift. The hotel and several facilities, including the pool, will be closed for renovation works from 19 September 2022. We'll see it again in Q1 2023 with a new and improved Oasis for your after-swim dining and relaxation.
Grand Hyatt Singapore, 10 Scotts Road, Singapore 228211
28. Village Hotel Changi
(Currently not accepting hotel bookings.) This one's a trip to the East, but for a little privacy? So worth it! With an infinity pool located eight floors up, it provides a spectacular view of Changi Beach with the calming sea breeze rustling through your hair. With its location far removed from the city centre and palm trees swaying in the distance, it's the epitome of an idyllic retreat.
Village Hotel Changi, 1 Netheravon Road, Singapore 508502
Ready to beat the heat? Go forth and take a dip in one of the best swimming pools in Singapore!