Photography: Playpoint Singapore via Facebook
Who says playgrounds are only for kids? Here are the coolest ones in Singapore where everyone – including adults – can let loose.
We love that Singapore offers many fun things to do, including larks at night and free activities when we're running low on the dough. One of our perennial favourites is hitting up the many playgrounds dotted around our island. There are plenty of thrills and spills, and not a single cent is spent. And who says only children are allowed on the swings and slides? Adults can totally let loose and relive their childhood too! Here are the coolest playgrounds in Singapore where you can have fun and even take pics for the 'gram.
Live, laugh, and let loose at the coolest playgrounds in Singapore
1. Admiralty Park Playground
There's just something about slides that we really love. Is it the adrenaline rush when we're going down? Whatever the reason, the slide is the first thing we race towards whenever we're at the playground. Admiralty Park Playground boasts not one or two, but 26 slides! Imagine your butt after going through all of them… anyway, two roller slides, aka the most fun slides to us, are located in the adventure play section. You can also show off your scaling prowess at the waterfall climber, or spin around the oval zipline circuit. After a day of zipping and sliding, wind down at the nature area north of the playground.
Admiralty Park Playground, 6A Admiralty Road, Singapore 732006
2. Como Adventure Grove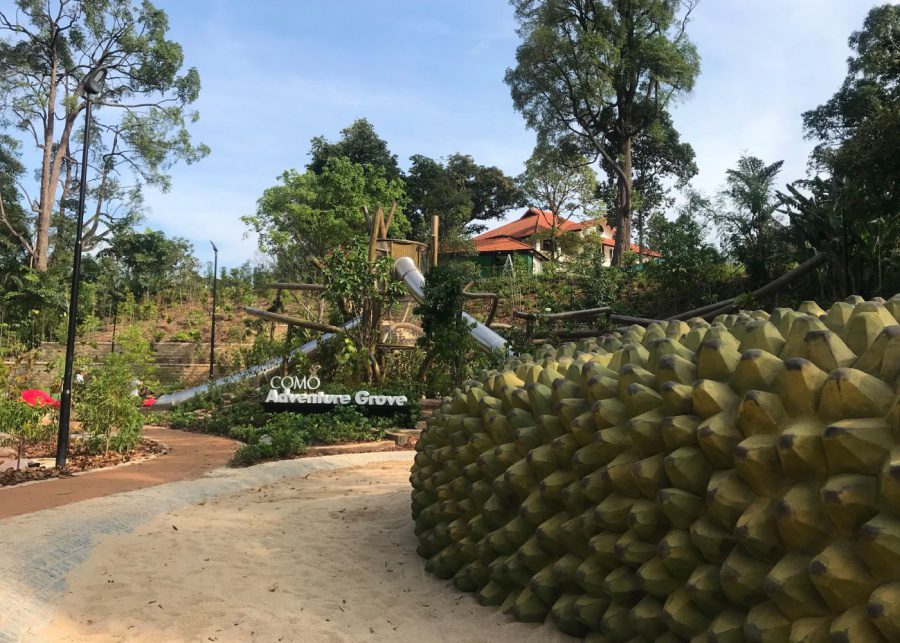 Singapore Botanic Gardens is already a national treasure in our eyes; with the addition of the nature-inspired playground, it's a cool place to unleash your inner child too. There are so many things to take in here, from the towering Banyan tree structure with sprawling textured branches to the exhilarating tube slides. Have a go climbing the giant jackfruit (we understand if you think it looks more like a durian), or spend some quiet time in the sun playing in the sand pit. Spot the gigantic saga seeds? Count how many there are around the area. Pop over to the nearby Bee's Knees Petite for nourishment after you're done.
Como Adventure Grove, Gallop Extension, Singapore Botanic Gardens, 5 Gallop Road, Singapore 258960
3. West Coast Park
When it comes to outdoor playgrounds in Singapore, West Coast Park packs a punch. There are eight different play areas here, which means there's more than enough space for everyone to have fun. Make like Spider-Man and conquer the pyramid rope climb, or imagine you're a Ninja Warrior and try to take on the obstacle course. Of course, the flying fox will be a hit with anyone who wants to challenge their agility. Those with furry friends can let them loose here too.
West Coast Park, West Coast Ferry Road, Singapore 126978
4. Toa Payoh Crest
Toa Payoh is home to the iconic dragon playground at Lorong 6 and one featuring two dinosaurs at Kim Keat. This particular play area is inspired by the neighbourhood's swampland history, which is why it's built along a slope. There are climbing ropes attached to rubber mounds, so you can ascend the hilly terrain before going down the colourful tube slides. We particularly like the stepping stones, where you can skip and hop, or just sit for a brief respite before taking on the climbing structures and obstacle courses. Reward yourself with Creamier's delicious ice cream and call it a day.
Toa Payoh Crest, Block 131 Toa Payoh Lorong 1, Singapore 310131
5. Tampines Green Forest Park
Who says there are no fun playgrounds in the eastern part of Singapore? Tampines Green Forest Park is an outdoor utopia for the young and the young at heart, with two playgrounds where everyone can run, jump, and slide to their heart's content. If you're feeling brave, we dare you to scale up the cargo nets and navigate the hexagonal spaces (they're sturdy, don't worry). We've tried it once, and let's just say, it'll be some time before we'll climb it again!
Tampines Green Forest Park, 879A Tampines Avenue 8, Singapore 521879
6. Marine Cove Playground
Let's have some fun at one of the largest playgrounds in the country! Spanning 3,500 square metres, Marine Cove Playground will keep everyone entertained with its range of play equipment. Explore the eight-metre tower, which is modelled after a lighthouse and stands in the centre. Go down the three metal slides before conquering a climbing dome and going on the swings. There are a couple of crazy mirrors where you can laugh at your distorted reflection and even take photos for the 'gram.
Marine Cove Playground, 1000 East Coast Parkway, Singapore 449876
7. The Arena @ Keat Hong
You should be familiar with the phrase "go big or go home". The Arena @ Keat Hong took it to heart by developing three mega playgrounds in this 'hood. The treehouse playground features a cool spiral tube slide and a wire tunnel that leads to another tower. We're loving the second one, which is acorn-themed and resembles a high elements course. When you're done, head over to the third playground, which is designed like a pirate ship. You can pretend to be Jack Sparrow and sail across the Caribbean Sea. If the weather's getting to you, take a break and seek shelter at the nearby shaded pavilion.
The Arena @ Keat Hong, 428 Choa Chu Kang Avenue 4, Singapore 680428
8. Forest Ramble
You may be wondering about this. Well, it's playground heaven, to put it simply. This nature-inspired play garden boasts 13 adventure stations in which you can explore and have fun. First, let's talk about the massive slides – you'll want to go on them again and again, we reckon! Don't miss the opportunity to jump on the sunken trampolines. The squirrel play zone features multiple balance beams where you can test your dexterity. Take a breather at the ant play area by building interesting structures from blue foam blocks. Afterwards, cool down at the nearby Clusia Cove. No bikinis or swimwear needed – just remove your shoes, pull up your pants, and dip your feet in. Ahhhh…
Forest Ramble, Jurong Lake Gardens, 104 Yuan Ching Road, Singapore 618661
9. The New Wonderland Playground
Here's a themed outdoor wonderland where you don't have to drink a magical potion to have fun! If you've read the Lewis Carroll classic, you know what we're talking about. This whimsical heartland playground in Queenstown prominently features characters and elements from the book, such as Tweedledum and Cheshire Cat, a magical tree, and a clock trampoline inspired by White Rabbit's pocket watch. Curiouser and curiouser!
The New Wonderland Playground, Dawson Vista, 78 Dawson Road, Singapore 141078
10. Tiong Bahru Park Playground
This Tiong Bahru playground may be smaller than the rest on this list, but that doesn't make it any less cool. It's designed like a train, with an engine, three carriages, and a caboose… except they're all derailed. Good luck navigating this tilted convoy! You can also play catch along the colourful mini-maze, climb the cacti, or sit your butt down on the horse-shaped rides. Be careful not to break anything!
Tiong Bahru Park Playground, 1 Henderson Road, Singapore 159561
Forget adulting and be a child again at the coolest playgrounds in Singapore!