Photography: Jonny Kennaugh via Unsplash
Commute in style with chic two-wheelers from bicycle shops in Singapore that are wheelie good.
Believe it or not, Singapore is a great city for cyclists. We boast a comprehensive network of cycling routes that link the entire city through park connectors and cycling paths. Getting from point A to point B is an easy feat! It also helps that cycling is a good way to sneak in some exercise while lowering your carbon footprint (it definitely helps save the environment). Switch your four wheels for two and get yourself a spiffy bicycle, say a fixie or a pretty cruiser, at these awesome bicycle shops in Singapore.
Best bicycle shops in Singapore
1. Ascent Bikes
Bike aficionados will know all about Ascent Bikes. This local company owned by a passionate cyclist adds personal touches to your entire experience. Check out the brand's Mini Velo. The team specially designed this bicycle to best suit the urban environment here in Singapore. The builds are light and nimble and give you a great ride experience. Pick between the Bolt or Intrepid versions depending on what kind of rider you are.
Ascent Bikes, #08-20, Win5, 15 Yishun Industrial Street 1, Singapore 768091
2. Cannasia
If you're looking to get an Orbea bike in Singapore, you've come to the right place. Cannasia is the sole distributor for Orbea plus the only authorised Lefty Service Centre. For anyone looking to put their own bike together, get (almost) everything you need here! Cannasia has framesets, unique grips, and all kinds of hardware available. The team is small, so expect some waiting time in between if you drop by. It even offers a bike fitting service and can make tweaks to bikes to ensure that you get a comfortable ride every time.
Cannasia, 83 Frankel Avenue, Singapore 458211
3. 808 Cycles
For the urbanite looking to get around the city with ease, consider the Brompton. It folds up into a nice and compact size, so you can carry it around with you when you're done. It's incredibly easy to use, and you can tune it up to your style. 808 Cycles carries not only the full bicycles but also any spare parts and accessories you might need. It even supplies VanFactory pet carriers! This means you can take your furkids out with you on your next adventure around the city.
808 Cycles, #02-01, KAP Residences, 9 King Albert Park, Singapore 598332
4. Happy Owl Cycle
Make Happy Owl Cycle your one-stop shop for everything bicycle-related. Happy Owl Cycle carries a wide range of brands with different products. Once you get your Brompton or Vello folding bicycle, pimp it out with tons of accessories. Get Bespoke Chainrings, stylish bells from Spurcycle, and for night riders, a powerful bike light from Magicshine. If you're keeping to a smaller budget, Happy Owl Cycle also has pre-owned bikes available that go for a discounted price.
Happy Owl Cycle, 482 Changi Road, Singapore 419895
5. BYX
If you're looking for a shop that's as dedicated to the sustainability movement as you are, check out BYX. It not only promotes cycling as a way to adopt healthy lifestyle habits but as a planet-friendly solution. The shop also runs on energy-saving lights and contributes a portion of profits to environmental causes. The catalogue includes brands like Bianchi, Shimano, and Joe's No-Flats.
BYX, 403 River Valley Road, Singapore 248301
6. Treknology 3
One of Singapore's most established bicycle shops – with over 25 years in the bike biz – Treknology 3 can hook you up with a ride for all your needs. Road bikes, mountain bikes, triathlon bikes and even bikes for young 'uns: Treknology 3 has you covered with several brands like Bontrager and Thule in stock. The cycling buff in you will be like a kid in a candy store.
Treknology 3, multiple locations including Siglap Shopping Centre and Cuscaden Road
7. Mighty Velo
If long-distance commutes on two-wheelers seem unbearable to you, try riding with a neat foldable bicycle from Mighty Velo. That way, you can take your trusty bike along with you on the train. The foldable bike specialist also offers checks and tunings for all customers pro bono!
Mighty Velo, #02-14, BreadTalk IHQ, 30 Tai Seng Street, Singapore 534013
8. Mr Bicycles
If you're on the hunt for compact and durable bikes, Mr Bicycles is the place to go. Offering everything related to two-wheelers at affordable rates, this one's strong on quality. Expect to find well-known brands like Weapon, Java, Pizz and more in the selection. Make this your one-stop spot for all your bike needs!
Mr Bicycles, #06-06, Link@AMK, 3 Ang Mo Kio Street 62, Singapore 569139
9. Bikemart SG
What started out as a hobby has now turned into a passion shared with the Singapore bicycle community. Bikemart SG is now a reputable premium road bike shop. There's a knowledgeable crew behind this brand, taking the time to understand what you need from a bike. The team makes thoughtful recommendations with any bike purchase. Plus, for anyone looking to get their first road bike, the team provides a crash course on how to handle road bikes!
Bikemart SG, 140 Sims Avenue, Singapore 387462
10. Attitude Bikes
Set up by a group of bike enthusiasts in 1997, this is one of the best bicycle shops in Singapore to get a customised ride. Everything is built according to your needs and preferences, so no two bikes emerge alike. Serious mountain bikers will be pleased to know the establishment also stocks coveted brands such as DMR Bikes and Monty.
Attitude Bikes, 118 Telok Kurau Road, Singapore 423803
11. Brompton Junction
Hailing from London, Brompton Junction makes you want to be a true-blue cyclist. Apart from the stylish aesthetic, the bikes are a practical choice for our busy city lifestyle. Each one is sturdy, compact and, most importantly, foldable – making it a top choice for any biker. Swing by its flagship store in Funan and test drive your pick on the mall's in-house cycling path before making the commitment.
Brompton Junction, #01-26, Funan Mall, 109 North Bridge Road, Singapore 179097
12. Decathlon Singapore
New to biking? Head over to French mega sports retailer Decathlon to kickstart your cycling adventure. Take your pick from city bikes, road bikes, mountain bikes and hybrid bikes. Plus, you don't have to run from pillar to post as Decathlon Singapore Lab at Kallang has a wide selection of cyclist paraphernalia such as helmets and bike lights.
Decathlon Singapore, multiple locations including Holland Village and City Square Mall
13. Hello, Bicycle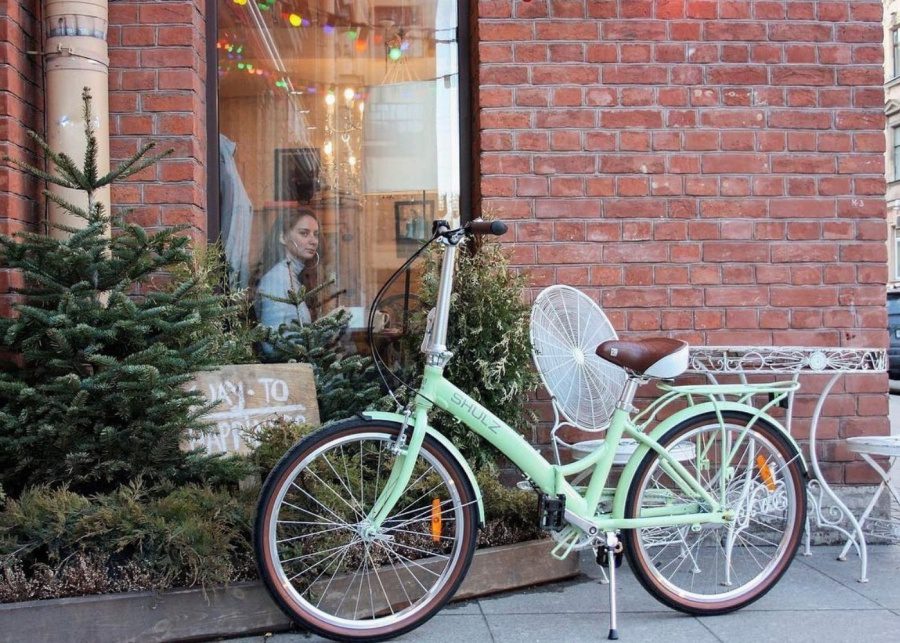 Ride in style with a range of good-looking two-wheelers from renowned brands including Linus, Lekker, Shulz, Cruzee and Tokyobike. The modish store also sells fashionable cycling tees and cool bike accessories. The team is also ready to go above and beyond to help you solve any issues you might have. Need a new klickfix mount installed? You'll get thoughtful service, down to sourcing accurate screw lengths to fit your bike.
Hello, Bicycle, multiple locations including Joo Chiat and Bugis
14. Hup Leong Co.
Attending to bikers' needs since 1968, Hup Leong Co. needs no introduction. Carrying internationally recognised brands like Cannondale, Merida and Colnago, prices can be pretty steep. But if you're looking to #treatyourself and don't know where to start, these friendly folks offer bike consultations. For old and rusty bicycles that need a little sprucing, give them the bike spa treatment, which entails cleaning, polishing and the full works.
Hup Leong Co., #01-107, Block 51, Chin Swee Road, Singapore 160051
15. My Bike Shop
If you've never owned a bike, My Bike Shop should be your go-to option. The store has a large selection of foldable bikes to choose from and the friendly staff, who are avid cyclists, will guide you in your journey to find the perfect ride. Psst: we'd suggest reading up on the bike buying guide on its site before heading to the store.
My Bike Shop, multiple locations including Henderson Road and Thomson Hill
16. Wheeler's Yard
Lucky for us, Wheeler's Yard turned into more than a simple bicycle warehouse like it was initially planned to be. The kick-ass bike atelier-slash-hipster cafe is where you'll get your coffee and brunch fix while you wait for your darling two-wheeler to be repaired. No wheels? Come for the grub and caffeine, and feast your eyes on the stunning rides on display.
Wheeler's Yard, 28 Lorong Ampas, Singapore 328781
17. Rodalink
Housing some of the best bike brands – including Polygon, Topeak, Kore and Marin – under one roof, Rodalink is a mecca for seasoned cyclists. While we all love online shopping, do hop on over to the actual store as it stocks a splendid selection of bike accessories, frames and wheels for that complete customisation.
Rodalink, multiple locations including Upper East Coast Road and Jurong East
Say hello to your next gorgeous two-wheeler at these bicycle shops in Singapore!