Photography: Carissa Gan via Unsplash
Munch your way through amazing brunch grub and coffee at these excellent restos nestled within the tranquility of Dempsey.
Always on the hunt for a great brunch in Singapore? It's easy to find, thanks to our variety of top-notch cafes in neighbourhoods all across the island. But there are days when we just want to escape the crowds and find somewhere serene between the precious hours of sunrise and early afternoon. One of our go-to places? Dempsey Hill. This centrally-located gourmet haven is a glorious place to start your day with brunch. Just imagine yourself luxuriating in tropical greenery and peaceful surroundings on your Dempsey brunch date. What a relaxing way to kickstart the day!
Best Dempsey brunch spots in Singapore
PS.Cafe
PS.Cafe needs no introduction, but that's not stopping us from raving about its fabulous brunch! When we think about this popular hangout, truffle shoestring fries and indulgent chocolate cakes come to mind. But the croque madame is a classic with smoked ham, montreux gruyere and fried egg on rustic bread. You can't go wrong with fluffy pancakes, chorizo hash or eggs benny either. To clink glasses with your brunch buddies, peruse the drinks menu for everything from freshly pressed juices and ice cream shakes to spritz cocktails, wines and sangrias.
PS.Cafe, 28B Harding Road, Singapore 249549
Da Paolo Dempsey
Leaning towards Italian cuisine? Da Paolo should be the first on your list for fresh pastas, wood-fired pizzas and yes, the classic tiramisu. The bright and beautiful space is great for brunch dates filled with good food. You've got the usual suspects like eggs benny and avo toast, but we say go for the delish pastas and pizzas that'll totally hit the spot. If you feel a food coma coming on, just take your pick from espressos, cappuccinos and lattes. Oh, and did we mention the free flow booze option? Yup, your weekend just got bubblier.
Da Paolo Dempsey, #01-13, 8 Dempsey Road, Singapore 247696
Sprmrkt
For a delightful brunch, pop by Sprmrkt's space at Dempsey. Decked out with high ceilings, square columns and natural light from large windows, the resto is an idyllic place to spend a weekend morning. On the menu, you'll find classics like buttermilk pancakes, house-made granola and avo toast. But if you're thinking healthy, try the smoothie bowls laden with berries, nuts, seeds, oats and all that wholesome goodness. Hungry or hungover? Head straight for the breakfast platter to chow down on eggs, mushrooms, sausages, bacon, tomato and toast. Then get a little pep in your step with coffees and cold brews – or try juices, slushies and milkshakes.
Sprmrkt, #01-15A, 8 Dempsey Road, Singapore 247696
Baker & Cook
With Dean Brettschneider as the name behind Baker & Cook, you know you're getting top-notch artisanal baked goods. We love the Dempsey location for its serene surroundings that'll have you feeling all relaxed as you escape from the busyness of the city. Psst: The space has outdoor seating and a play area for little ones, too. Brunch is all about the eggs, but wholesome treats are available as well – think chia seed bowls and granola with yogurt. Oh, and you'll also find classic late morning plates like pancakes and bagels on the menu. Score!
Baker & Cook, 30C Loewen Road, Singapore 248839
The White Rabbit
One of the city's most romantic restaurants, this stunning establishment housed in a restored colonial chapel exudes an elegant old world charm with modern touches. Weekend brunches are a decadent affair with a selection of small plates, mains and the ultimate breakfast essential – eggs! There's plenty to stuff yourself silly with, including oysters, duck rillettes, lobster croque monsieur, king crab linguine, eggs benny and the White Rabbit fry up, a plate of cage-free eggs done to your preference and served with Iberico shoulder ham and pork bratwurst.
The White Rabbit, 39C Harding Road, Singapore 249541
Tiong Bahru Bakery Safari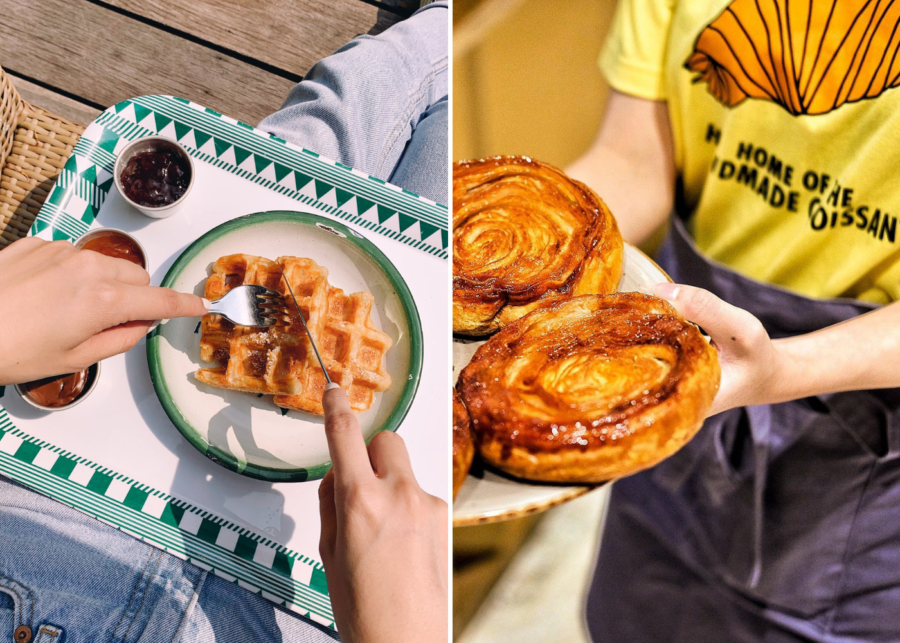 So you love your Tiong Bahru Bakery croissant, kouign amann and pain au chocolat? Go wild and live the glamping life for an afternoon at its safari locale. Tucked away under a massive tent in the midst of abundant greenery, the space is rustic and romantic. Perfect for an outdoorsy yet stylish Dempsey brunch date, if you ask us!
Tiong Bahru Bakery Safari, 130E Minden Road, Singapore 248819
Siri House
Immerse yourself in nature at Siri House, which welcomes you into its alfresco terrace and open kitchen space. It's a quiet setting outdoors where foliage abounds. Meanwhile, the dining experience indoors is casual, but the decor is tweaked up a notch with elements of velvet, floral prints and jewelled hues. If you're looking for Sunday brunch starring modern Asian plates, you've come to the right place. Think Korean braised short rib pasta, baos stuffed with soft shell crab, duck noodles and unagi risotto. Oh, and for dessert, the jam and toast creation gives you something unexpected with kaya cremeux, brown butter crumbs, cured egg yolk and toasted milk ice cream. Simply divine!
Siri House, #01-02, 8D Dempsey Road, Singapore 249672
Open Farm Community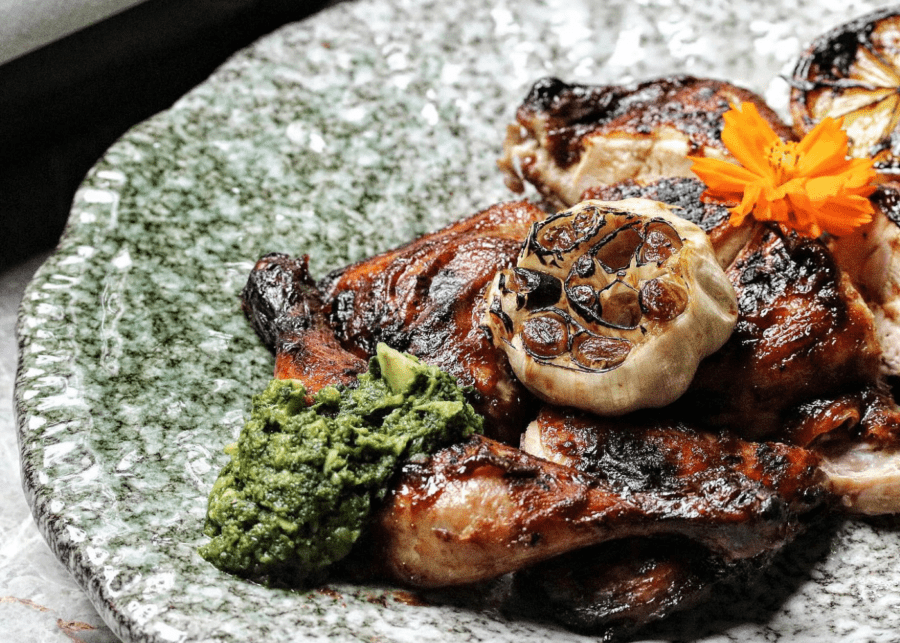 What's better than feasting for a good cause? This bistro is big on the farm-to-table movement, aiming to keep things sustainable. Besides supporting local and regional organic growers, Open Farm Community also grows its own greens and strives to use ingredients to their fullest potential to limit waste. The open concept kitchen dishes out fresh plates of house-made duck rillette, cauliflower wings, pesto pasta and roasted spring chicken. All that can be washed down with fruity smoothies, coffees and fab cocktails.
Open Farm Community, 130E Minden Road, Singapore 248819
Chopsuey Cafe
Brought to you by the folks from PS.Cafe, Chopsuey is the group's venture into Asian cuisine with a modern twist. The weekend brunch menu takes you through dishes like sweet and sour fish and chips, spaghetti pork bolognese and crab laksa with prawns. If you're gunning for the eggs, try the potato rosti benedict with poached eggs. Or, make a beeline for the hearty brekkie plate with two eggs (poached, scrambled or fried), sausage, crispy bacon, sesame soy mushrooms, baked beans and potato rosti.
Chopsuey Cafe, #01-23, 10 Dempsey Road, Singapore 247700
Huber's Butchery and Bistro
Huber's is a butchery first and foremost, but it serves reasonably priced Swiss and German dishes at its cosy bistro area as well. Tuck into a modest selection of breakfast plates that include freshly baked croissants with ham and raclette cheese, meatloaf sandwiches and scrambled or fried eggs served alongside pork chipolatas, bacon and grilled tomato. Don't hesitate to grab some freshly marinated cuts before you head home!
Huber's Butchery and Bistro, 22 Dempsey Road, Singapore 249679
Morsels
Up for an adventure? This rustic, barnyard-style house has a charming ambience to complement its creative fusion dishes. Head over for Sunday brunch (or lunch) to eat your way through oysters, mussels and Hokkaido scallops. The selection of mains features pork belly and toriyama wagyu, but don't forget to save space for desserts such as lemon balm panna cotta and 'tiramiso'.
Morsels, #01-04, 25 Dempsey Road, Singapore 249670
Now it's time to brunch your way through the beautiful Dempsey!