Photography: Krista Mangulsone via Unsplash
While you're off on vacation, your furkids can enjoy a getaway at these purrfect pet hotels in Singapore.
Animal lovers, unite! We understand the attachment you have to your pets, and leaving your furbaby home alone can be pretty stressful. Going on a staycay? Try a pet-friendly hotel for the entire fam. But if a vacation is calling your name, consider sending your furry friend to a boarding house. Check in to our 10 fave pet hotels in Singapore to keep your dogs and cats happy.
Best pet hotels in Singapore
1. Nekoya Cat Hotel
While most pet hotels on the list cater to both cats and dogs, Nekoya Cat Hotel is a specialised feline daycare and boarding hotel run by cat lovers. The minimalist Japanese-inspired interior, 24/7 air-conditioning and piped-in ambient music are perfect for even the most pampered cat. Menu-wise, Nekoya serves only the best. Your kitty will be busy with playtime and engagement so you won't have to worry about them being lonely. If you're swinging by its Jalan Kayu or Kampong Bahru Road outlets, you'll also be able to head right next door to the Nekomori Cat Salon (its affiliated grooming salon) to get your kitties groomed before taking them home with you.
Nekoya Cat Hotel, multiple locations including King Albert Park, Jalan Kayu and Kampong Bahru Road 
2. Petopia
As the name suggests, Petopia aims to be a utopian sanctuary for dogs. A typical day here will see your dog socialising in the play area and going for walks around the Seletar Hills Estate. If your furbaby is spending the night, it'll be snoozing in air-conditioned comfort in the standard or premium boarding rooms. So they deserve a treat? Sign them up for a Pure Blyss spa sesh. Yup, you heard that right – it's a spa for dogs.
Petopia, Seletar Hills Estate, 26 Jalan Kelulut, Singapore 809043
3. Pets Eden
Besides being a grooming salon for pets, this place also doubles up as a cat boarding space for all the cool kitties who need a vacation. The hip and cosy suites come with expansive floor-to-ceiling vertical spaces, cushioned alcoves and peaceful music to keep your cat calm at all times.
Pets Eden, 29 Everitt Road, Singapore 428576
4. Mutts & Mittens
Being homesick won't be an issue for your pups and kitties at this boarding house in Singapore. The cat boarding rooms are equipped with climbing shelves, scratching posts and tofu cat litter. For the canines, rest assured they'll be brought out for walks to keep them engaged. Plus, your four-legged buddy will be treated with anti-tick and anti-flea prevention upon check-in. Other services include vets and nurses on hand.
Mutts & Mittens, multiple locations including Sungei Tengah Road and Guillemard Road
5. Wanderlodge
Afraid your lil' buddy will suffer separation anxiety away from home? Fear not. Wanderlodge ensures your dogs and cats are comfortable and well taken of. We're talking 24-hour vet support, professional groomers and pet sitters with great experience, pet-friendly facilities, and a homely environment. It's also great for pet owners on vacation during public holidays 'cos it's open all year round!
Wanderlodge, Stratton Drive, Singapore 805946

6. Dear Mutt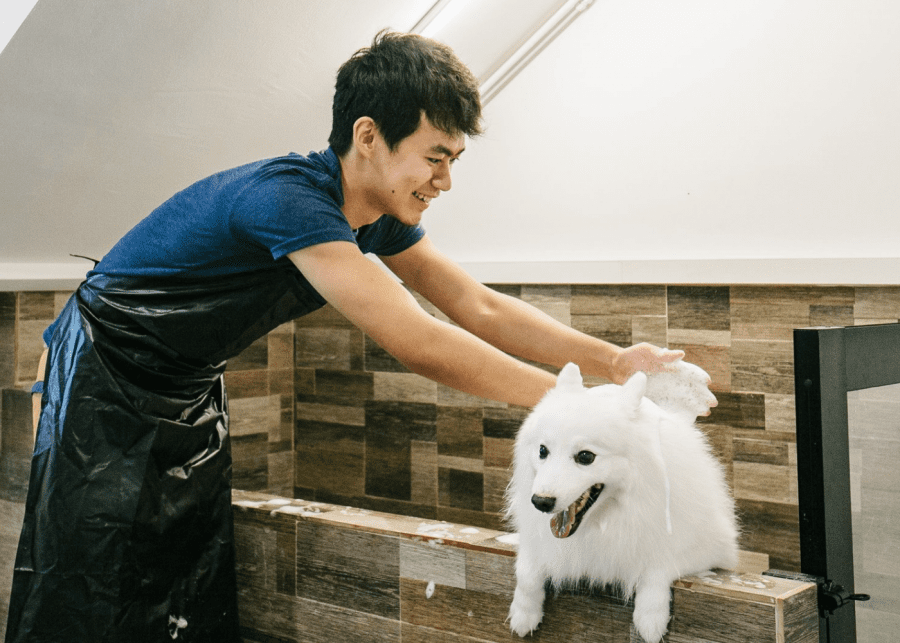 A doggy paradise, this pet accommodation has 'em all: shop, salon and hotel. With such spacious rooms, aromatherapy and ambient music 'round the clock, your pooch will feel right at home. Plus, pups get playtime with other dogs and walks twice a day. Feel the need to check up on them once in a while? Say no more. You can monitor them via 24-hour live CCTV access on a mobile app.
Dear Mutt, 17 Venus Drive, Singapore 574304
7. Ginny and Friends
Under the watchful eye of trained dog carers, your furry friend will be in safe hands at Ginny and Friends. To make your dogs feel at home, personalised care and attention are provided – that includes meals and a bed to sleep in. Your furbaby will also have plenty of opportunities to walk around and play with other canines and toys.
Ginny and Friends, 9 Thong Soon Avenue, Singapore 787436
8. Sunny Heights
Dogs are extremely social creatures by nature, but if you've only got one, it might not be completely comfortable hanging out with new playmates. Sunny Heights, like daycare centres for children, looks after dogs and aims to foster socialisation through games and activities – there are even pool parties for canines! Don't be alarmed if your pooch wants to continue the party after you pick it up.
Sunny Heights, 110 Turf Club Road, Singapore 288000
9. The Wagington
It doesn't get any classier than this. If you've got a pampered pooch or a coddled cat you want to spoil, The Wagington offers five-star treatment. Doggy daycare includes a host of activities for your dog to exercise and socialise. The outdoor garden area even utilises a high-speed air-cooler system to make sure your furry friend doesn't get hot under the collar. Plus, the hotel includes a bone-shaped pool for your pets to frolic in. The best part? Its boarding rooms. The Royale Suite includes a queen-sized bed, a 32-inch LED TV and gourmet dining options. But if you're wondering, no, you can't book a room for yourself.
The Wagington, 27B Loewen Road, Singapore 248850
10. Kitty Care Haven
How about sending your cats to stay in the countryside? This tranquil facility is the largest cattery in Singapore, providing premium and budget cat boarding, as well as ad-hoc cat-sitting services. There's loads of space so you don't have to worry about your cats not having enough exercise. If you're moving out of Singapore and can't bear to part with your feline friend, these folks will offer relocation assistance, no fuss at all.
Kitty Care Haven, 80 Lim Chu Kang Lane 1, Singapore 718911
The next time you head off on a holiday, send your furkids to one of these top-notch pet hotels in Singapore.