Juicy crab meat in a spicy and savoury sauce? Yes, please.
Succulent crab doused in a sweet, spicy and tangy sauce – no one can resist one of Singapore's national dishes: The chilli crab.
Singapore's number one culinary export to the world is none other than chilli crab. It's practically cemented its status as one of our unofficial national dishes. It's said to be invented by Madam Cher Yam Tian in the 1950s. The original chilli crab was stir-fried with bottled chilli and tomato sauce, then sold from a pushcart. Today, the version of chilli crab we know consists of sambal, vinegar, tomato paste, and egg. An "improved" recipe by chef Hooi Kok Wah, one of the four "heavenly kings" of Chinese cuisine in the 1960s. Wondering where to eat chilli crab in Singapore? Patronise these seafood and zi char restaurants for the best renditions of the ever-popular dish. Be prepared to get your hands dirty!
Best chilli crab in Singapore
1. Keng Eng Kee
With over 50 years in the industry, family comes first at this humble establishment. It's been so successful that we now see a third generation of owners taking the helm. It's always a good sign when a place is crowded and teeming with customers! Have no fear, the kitchen is more than well equipped to handle the load of orders, so you'll fill your tummies in no time. Chef's specialities include roast chicken, coffee pork ribs, and Chinese spinach with eggs done three ways. But we'll never forget about the chilli crab.
Keng Eng Kee, multiple locations including Bukit Merah and Tampines
2. Red House Seafood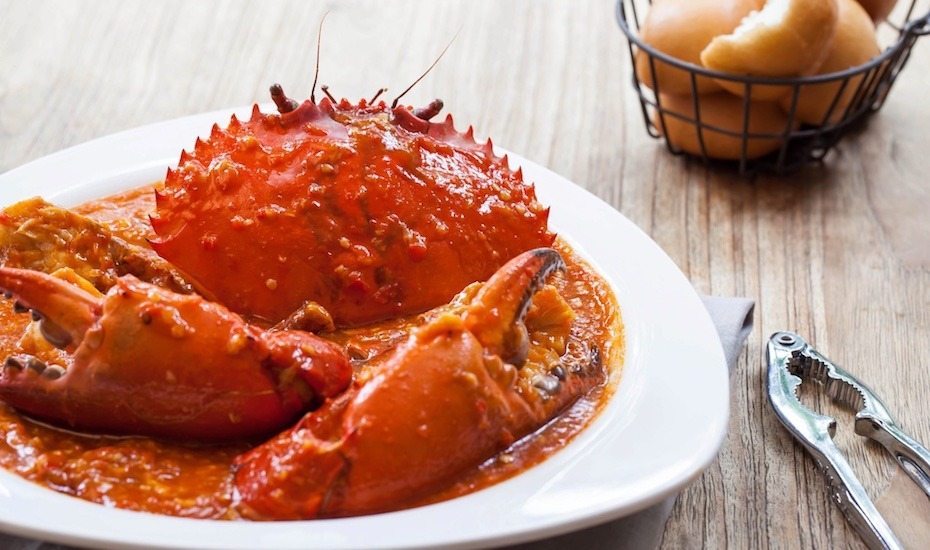 Red House has been serving this chilli-drenched crustacean since 1976 and has justifiably garnered a loyal following. The juicy crab at this stalwart is on the sweeter end of the spectrum. Plus, a touch of vinegar that smoothens the texture of the gravy.
Red House Seafood, multiple locations including Clarke Quay and Grand Copthorne Waterfront Hotel
3. Palm Beach Seafood
After selling the dish from a pushcart for a number of years, Madam Cher Ya and her husband opened Palm Beach Seafood in 1962 along Upper East Coast Road. Sadly, the couple sold off some of their shares in the restaurant and migrated to New Zealand. But Palm Beach's chilli crab today is still tender and sweet, with the sauce done just right!
Palm Beach Seafood Restaurant, #01-09, One Fullerton, 1 Fullerton Road, Singapore 049213
4. Jumbo Seafood
Jumbo Seafood has always been the place to go for the iconic dish since it opened in 1987. Its ever-popular East Coast Seafood Centre is a crowd fave. The gravy accompanying the flavoursome crab at Jumbo has a slightly stronger tomato tinge than elsewhere and is richly layered with egg. Still a classic!
Jumbo Seafood Restaurant, multiple locations including Jewel, East Coast, and Riverside Point
5. No Signboard Seafood
This seafood restaurant has gone from a humble Aljunied hawker stall with no signboard (hence the name) to a culinary treasure in its storied 40-year history for good reason. It has consistently managed to serve up quality chilli crab over the years. The spiciness of the sauce and the plump, meaty crabs make this one a prime contender on our list.
No Signboard Seafood, multiple locations including Geylang, Orchard Gateway, and Northpoint City

6. Long Beach Seafood
Prefer your chilli crab with more spice? Head to Long Beach Seafood. You'll mop up every bit of the thick, vermillion gravy with your choice of steamed or fried mantou. The kitchen also does excellent black pepper crabs, FYI. Just in case someone at your dinner party doesn't like chilli crab (though we would find that hard to believe).
Long Beach Seafood Restaurant, multiple locations including Dempsey, Robertson Quay, and East Coast Park
7. Master Crab Seafood Restaurant
This brand has a couple of outlets around town. It's known for a dizzying array of crab creations like crab bee hoon and salted egg crab. But the decadent chilli crab takes the cake with its fleshy, sweet crabs, doused in thick sauce.
Master Crab Seafood Restaurant, multiple locations within Punggol
8. Holycrab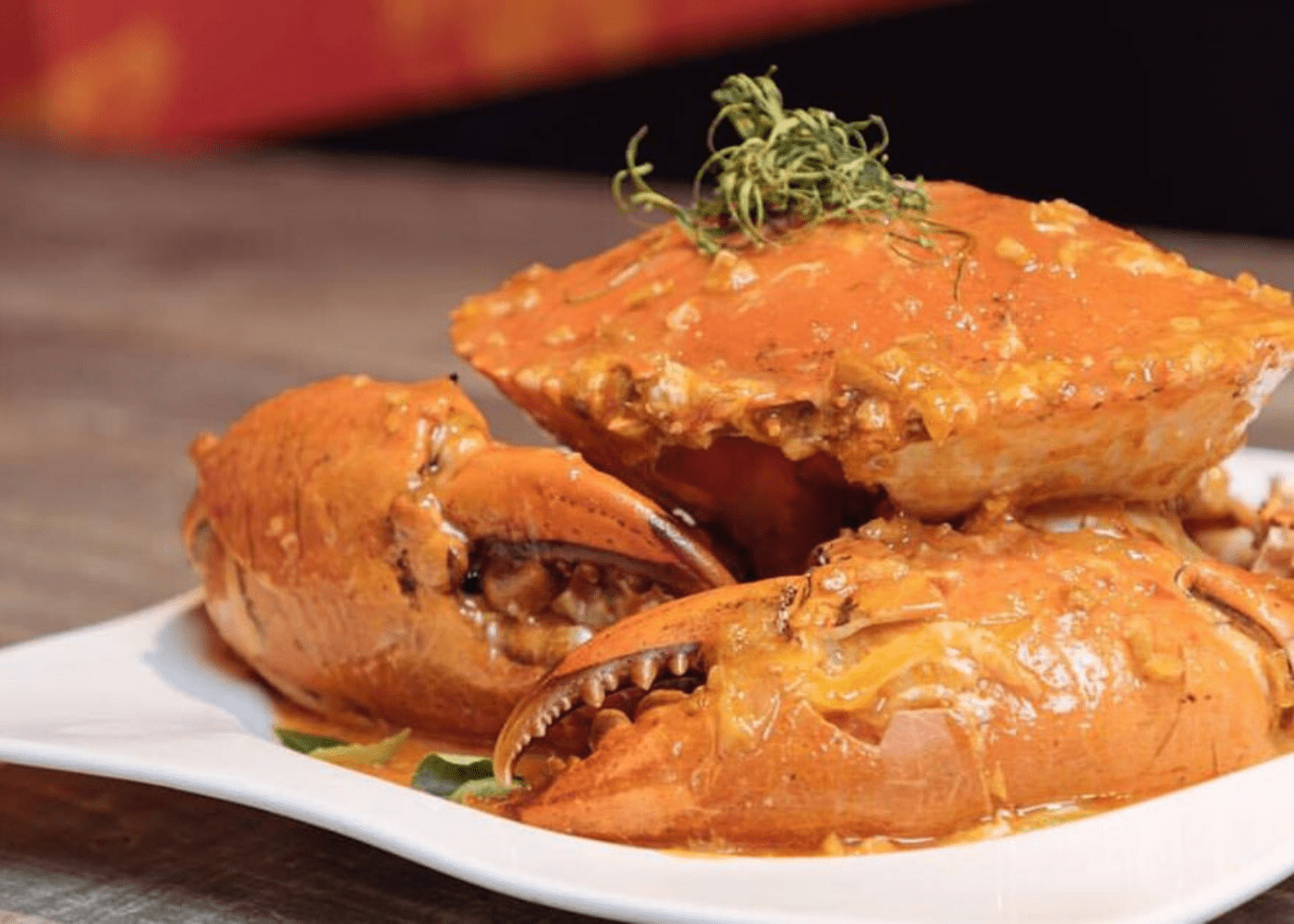 With a moniker like that, you're definitely in for a crabby treat. Holycrab aims to take the treasure chilli crab dish to the next level – quite literally. There are up to five spice levels to choose from. It's not a one-trick pony either. Salted egg yolk, green curry, and black pepper versions are available if you're craving for more. If you happen to wear white that day or you're just too lazy to dig into the shell, we hear you. Order the Naked Red shell-less chilli crab dish for fuss-free dining. Holy crab indeed!
Holycrab, #01-03, 2 Tan Quee Lan Street, Singapore 188092
9. Home of Seafood
For a bang on halal option, head to Home of Seafood for your chilli crab fix. Even though the pepper crab is the crowning glory, the chilli crab is just as fantastic. Plus, with other dishes featuring prawns, clams, abalone, and more, it's truly a seafood feast here.
Home of Seafood, 1 Joo Chiat Place, Singapore 427739
10. Roland Restaurant
Eating at Roland Restaurant is definitely a blast from the past because the eponymous Roland is the son of Madam Cher (the creator of chilli crab). The eatery serves up the original version of chilli crab, which is lighter and not as rich. Plus, it's also putting out dishes the original Palm Beach Seafood was renowned for, like crispy baby squid.
Roland Restaurant, #06-750, 89 Marine Parade Central, Singapore 440089
11. Uncle Leong Seafood
Uncle Leong Seafood whips up one of the meanest chilli crab in Singapore that'll turn any bad day into a good one. The crab is bathed in a deep red chilli sauce that's packed with flavour. If there's one other dish to try, it's the Shimmering Sand Crab Delight. It's a signature that's drizzled with a special sauce and topped with oats.
Uncle Leong Seafood, multiple locations including Punggol and Toa Payoh
12. Mellben Seafood
Mellben Seafood is definitely your go-to when your crab craving demands to be satisfied. The chilli crab is pretty good. But we think the crab claypot bee hoon is the clear winner at this restaurant. Come here for big family gatherings and special occasions – everyone's bound to have a great time.
Mellben Seafood, multiple locations including Ang Mo Kio and Toa Payoh
13. Hua Yu Wee
Hua Yu Wee is housed in a grand mansion along Upper East Coast Road. It's the only 1970s seafood restaurant that stayed along the stretch and did not relocate to East Coast Park like the others. Snag a table at the open-air backyard and be transported back to yesteryear. Must-tries include the piquant chilli crab and crispy fried squid.
Hua Yu Wee, 462 Upper East Coast Road, Singapore 466508
14. Kelly Jie Seafood
Kelly Jie is the prodigy of the famous Mellben Seafood at Toa Payoh, so you can expect stellar standards. Aside from the chilli crab dishes, you oughta try the claypot crab vermicelli soup that's perfect for a rainy day.
Kelly Jie, #01-11/15, 211 Lorong 8 Toa Payoh, Singapore 310211
15. Majestic Bay
While more famous for its unconventional signature coffee sauce crab, Majestic Bay's dish is also a stellar example of the classic done right. As an added bonus, the restaurant's location right under the Flower Dome at Marina Gardens makes for quite the luxe experience. If you're after chilli crab without getting your hands dirty, try the signature chilli crab meat buns packed with rich gravy and shreds of crab.
Majestic Bay, #01-10, Flower Dome, 18 Marina Gardens Drive, Singapore 018953
And now you know where to get the juiciest chilli crab in Singapore. Remember not to wear white!
[This article was originally published in 2016 and updated in 2023 by Ashe Liao]