Photography: Meritt Thomas via Unsplash
Love craft beer and want to #SupportLocal? Hit up these breweries for absolutely unique brews.
Singapore sure has a rich nightlife scene. We'd like to think there's something for everyone, from cocktail bars and beach clubs to rooftop bars and whisky joints, you're treated to endless options for a night of revelry. But if your poison of choice is beer, we're here for you.
Gone are the days where you have to search every nook and cranny to get your hands on a unique brew. Now, you can get one-of-a-kind beers delivered right to your doorstep. While most of these are American and British craft beers, Singaporean breweries have been crafting some particularly interesting brews of their own. Want to get a taste of crafty local lagers and stunning saisons? Here are our favourite craft beer breweries.
That Singapore Beer Project
Available for delivery at Good Luck Beerhouse and Temple Cellars.
Go off the beaten track with this brewery that brews unique yet familiar flavours. Take Kiam Sng Di and Kopi O Nanyang Stout as examples – the former is a refreshing plum gose imbued with guava notes, a nod to the local way of eating sliced guava with sour plum powder, and the latter is an ode to Singaporean coffee. Plus, we can't get over the brilliant use of Singaporean motifs as cover art.
That Singapore Beer Project, visit the website for stockists.
Rye & Pint
Available for delivery.
If you're a barfly, we're pretty sure you would have come across beer bottles plastered with an alluring Maneki-neko. But did you know they're locally made here? The brainchild of three brothers, Luther, Rufus and Ross, Rye & Pint has several flagship beers, ranging from pilsner and pale ale to session IPA and wheat ale; all of which can be delivered right your doorstep.
Rye & Pint, visit the website for stockists
Trouble Brewing
Available for delivery.
Having made its debut in the craft beer scene in 2017, the brand has a great range of beers under its belt, including Brick Head Pilsner, Dodgy Tip Pale Ale and Road Hog Session. You can try the fresh brews in bars and restaurants or have them delivered right to your home.
Trouble Brewing, visit the website for stockists.
Tuas Brewing Co.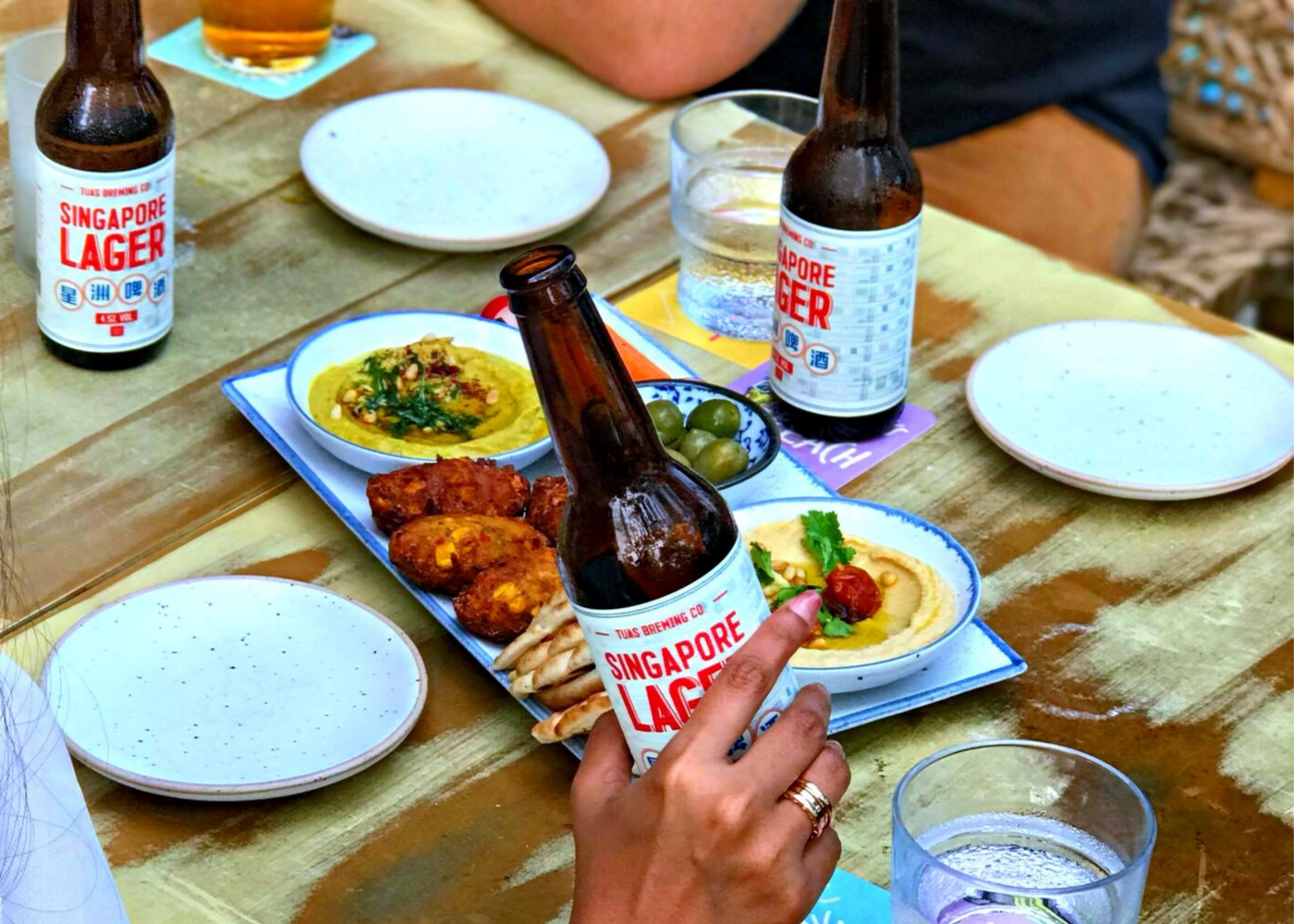 As the moniker suggests, all the magic happens right in Tuas. A concept by Trouble Brewing, this brand debuted with a lager that pays homage to our nation. Aptly named Singapore Lager, the light, sessionable beer pairs nicely with local classics. It's stocked at several bars around town but you can also have it delivered to your home. Hanging around in Boat Quay? After a hearty meal at BK Eating House, head down to BQ Bar or Molly Malone's Irish Bar and grab a bottle or two.
Tuas Brewing Co., visit the website for stockists.
Brewerkz Microbrewery
Available for delivery.
Founded way back in 1997, Brewerkz is a pioneer of the microbrew movement in Singapore. The bar-restaurant concept offers seven unique beers referencing British, European and American styles. Our personal favourite? The dark, creamy oatmeal stout that offers notes of chocolate, coffee and a bold roasted malt flavour.
Brewerkz, multiple locations.
Archipelago Brewery
Available for delivery via GrabFood.
Archipelago Brewery has quite a storied history. The brewery first opened its doors in 1933 under the German brewery, Becks, before being seized by the British in WWII. Decades later in 2006, it reopened under Singaporean owners and began brewing small batches of craft beers. Regular offerings include the Irish ale, summer IPA (perfect for our weather), the Bohemian lager, and the Belgian wit. The most exciting offering? Its Singapore Blonde ale, brewed with crushed calamansi and pandan leaves for a crisp, refreshing taste that's unique.
Archipelago Brewery, visit the website for stockists.
RedDot BrewHouse
Available for delivery and self-pickup. WhatsApp +65 9028 0998 to place your orders.
These guys get loads of attention (especially on Saint Patrick's Day) for their brightly coloured Green Monster Lager. While green beer might seem like a gimmick, the folks behind RedDot BrewHouse are serious about their craft. In addition to the Green Monster, the brewhouse offers eight other options, including RedDot Lime Wheat. The mastermind behind these beers and ales is brewmaster Ernest Ng, who brings over a decade of homebrewing experience to the taps.
RedDot BrewHouse, locations at Dempsey Hill and Boat Quay.
Lion City Meadery
Co-founder Sanjay Jegatheesan's love for mead first started in 2013 when he tried it on his trip to London, and the rest is history. It started out as a quest to find quality mead in Singapore but he, along with his friend Justin Herson, decided to brew their own. Specialising in mead beers, they have incorporated flavours close to home such as the Spiced Mead, which has hints of cinnamon, cloves and star anise. For something sweet and nostalgic, go for the Chrysanthemum Mead.
Lion City Meadery, visit the website for stockists.
Level33
Available for takeaway and delivery.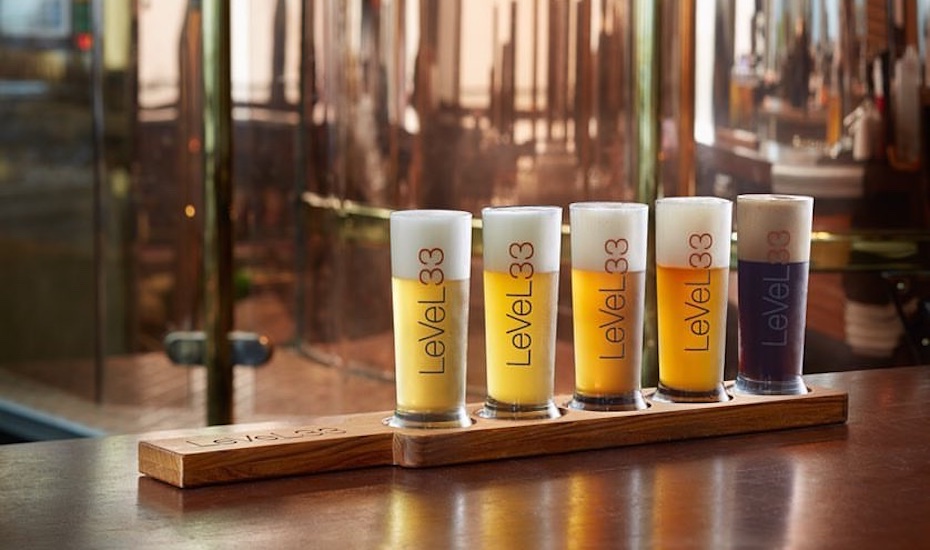 Perched 33 floors above the city, in the penthouse of the Marina Bay Financial Centre, is the world's highest craft microbrewery. While taking in the view, you'll get to savour the bar's selection of beers including blond lager, Indian pale ale, stout, house porter and wheat beer – all brewed based on time-tested recipes.
Level33, 8 Marina Boulevard, #33-01, Marina Bay Financial Centre Tower 1, Singapore 018981
The 1925 Microbrewery & Restaurant
Available for delivery.
Boasting charmingly rundown digs and a cosy dive bar setting, this unpretentious brewery serves up stellar brews with some really stylish bottle designs. Dive right into the Blk 622 – a bold beer featuring double malted barley with a hint of caramel brewed at a very sessionable 5.25%, or go for something a little more exotic and try the sharp, ginger-flavoured General.
The 1925 Microbrewery & Restaurant, 261 Joo Chiat Road, Singapore 427515
Little Island Brewing Co.
Available for delivery and takeaway.
While its location is hardly convenient (if you don't live near Changi), a trip to Little Island Brewing Company is more than worthwhile if you like adventurous craft brews. On tap, you'll find brews like the heady 7.8% ABV Oaked Stock Ale and a light European style golden ale with floral notes. Want something truly Singaporean? Pour a pint of the Singapore Pale Ale, an oak matured IPA with a mild flowery and woody aroma that lingers with a bitter and dry finish. All beers at Little Island are also unpasteurised and unfiltered.
Little Island Brewing Co., #01-01/02, 6 Changi Village, Singapore 509907
Hospoda
Available for takeaway. WhatsApp +65 9755 8929 to place your order.
While Hospoda may be a Singaporean brewery, the speciality here is Czech Pilsen. Sure, you can always grab a bottle of Pilsner Urquel, but having freshly brewed Czech lager is quite an experience. This crisp, dry style is perfect for cooling off in our weather.
Hospoda, #01-19, 180 Albert Street, Singapore 189971
Brewlander & Co
Available for delivery.
Brewlander & Co is Singapore's first gypsy brewery (a brewery that 'borrows' the facilities of another brewery to brew their beers), and it's working towards setting up its own space in late 2020. Brewlander offers a slew of bottled beers, including Joy Session IPA, Love Wild IPA, Hope Summer ale, and Peace Hazy pale ale. While it might not have its own bar, its beers are available at various craft beer bars and distributers like Freehouse and Thirsty.
Brewlander & Co, see the website for stockists.
Lion Brewery Co
It all began in 1836 when Lion Brewery Co was founded on the banks of the River Thames in London and its ales were shipped all across the globe, including Southeast Asia. However, its heyday came to an end in 1949 when the brewery was demolished. But in 2018, the lion (the iconic symbol of the brewery) was brought back to life in the Lion City by two blokes, Harry Renshaw and Ben Hendy-Prior. Get a swig of its crisp crown jewels – Straits Pale Ale and Island Lager – at bars including Atlas and OverEasy. Fun fact: Two of the lion statues can be spotted in London today!
Lion Brewery Co, visit the website for stockists.