Photography: Tatiana Rodriguez via Unsplash
Love craft beer and want to #SupportLocal? Hit up these breweries in Singapore for absolutely unique brews.
Singapore sure has a rich nightlife scene. We like to think there's something for everyone, from cocktail bars and beach clubs to rooftop bars and whisky joints. But if your poison of choice is beer, we're here for you. Gone are the days where you have to search every nook and cranny to get your hands on a unique brew. Now, you can get one-of-a-kind beers delivered right to your doorstep. Want a taste of local lagers and stunning saisons? Here are our favourite craft beer breweries in Singapore.
Best locally brewed craft beers in Singapore
1. Sunbird Brewing Company
Launched during the 2020 circuit breaker, Sunbird Brewing Company has already won many accolades. Conceptualised by Clive Tan, who has bragging rights as the youngest professional brewer during his stint at Archipelago, the local brewery injects creative local flavours into its brews. The result? Versatile craft beer styles like pale ale 'Fly in Light', white IPA 'Birds of Paradise', Scottish ale 'Eclipse of the Sun', Belgian witbier 'Fluff Up' and tropical stout 'Galactic'. We can't look past the cool and sustainable packaging, too! It makes a great gift for beer fanatics.
Sunbird Brewing Company, available online
2. Alive Brewing Co.
What happens when a financial analyst fascinated with craft beer and home brewing, and a chemical engineer inspired by art and design come together? Delectable beer styles. Also a product of the circuit breaker, Alive Brewing Co. offers myriad options for different palates – all brewed right here in Singapore. Sense of Symmetry's got a 50/50 blend of New England IPA with deep tropical flavours, while Little Xtra has extra pale ale layered with tropical and citrus fruit tones.
Alive Brewing Co., available online
3. Pink Blossoms Brewing
One thing that excites us about Pink Blossoms Brewing is the idea behind each collection. Equally whimsy and intriguing, there's something for everyone. Let It Be is a seasonal IPA with a rotating range depending on the ingredients available at the brewery (check the website for current brews). Don't Stop Believing is an intense New English IPA with tropical flavours and a slightly bitter finish. Or, go for the refreshing Lean on Me New England pale ale with citrus and stonefruit hop aromas.
Pink Blossoms Brewing, brewery, tasting and taprooms at multiple locations including Ubi and Tampines; also available online
4. Off Day Beer Company
Having an off day? Turn it around by cracking open a cold one with Off Day Beer Company. Using select premium malts from the UK and hops from the US and Oceania, the brewery uses modern techniques to craft creations. Try the Off Day Pale for a blend of toasty maltiness and citrusy hop. Off Day Haze is great for the adventurous with Hazy Session IPA, while Off Day Double has a heavy-bodied double IPA with a bittersweet flavour.
Off Day Beer Company, available online
5. Rye & Pint
If you're a barfly, we're pretty sure you've come across beer bottles plastered with an alluring Maneki-neko. But did you know they're locally made? The brainchild of three brothers – Luther, Rufus and Ross – Rye & Pint has several flagship beers ranging from pilsner and pale ale to session IPA and wheat ale. All of them can be delivered right to your doorstep.
Rye & Pint, available online 
6. That Singapore Beer Project
Go off the beaten track with unique yet familiar flavours. Take Kiam Sng Di and Kopi O Nanyang Stout as examples. The former is a refreshing plum gose imbued with guava notes, a nod to the local way of eating sliced guava with sour plum powder, and the latter is an ode to Singaporean coffee. Plus, we can't get over the brilliant use of Singaporean motifs as cover art.
That Singapore Beer Project, visit the Facebook page for stockists
7. Trouble Brewing
Having made its debut in the craft beer scene in 2017, the brand has a great range of beers under its belt, including Brick Head Pilsner, Dodgy Tip Pale Ale and Road Hog Session. You can try the fresh brews in bars and restaurants or have them delivered right to your home.
Trouble Brewing, available online 
8. Tuas Brewing Co.
As the moniker suggests, all the magic happens right in Tuas. A concept by Trouble Brewing, this brand debuted with a lager that pays homage to our nation. Aptly named Singapore Lager, the light, sessionable beer pairs nicely with local classics. It's stocked at several bars around town but you can also have it delivered to your home. Hanging around in Boat Quay? Head down to BQ Bar or Molly Malone's Irish Bar and grab a bottle or two.
Tuas Brewing Co., visit the website for stockists
9. Brewerkz Microbrewery
Founded way back in 1997, Brewerkz is a pioneer of the microbrew movement in Singapore. The bar-restaurant concept offers seven unique beers referencing British, European and American styles. Our personal favourite? The dark, creamy oatmeal stout that has notes of chocolate, coffee and a bold roasted malt flavour.
Brewerkz, visit the website for stockists
10. Archipelago Brewery
Archipelago Brewery has quite a storied history. It first opened its doors in 1933 under the German brewery, Becks, before being seized by the British in WWII. Decades later in 2006, it reopened under Singaporean owners and began brewing small batches of craft beers. Regular offerings include the Irish ale, summer IPA (perfect for our weather), the Bohemian lager, and the Belgian wit. The most exciting offering? Its Singapore Blonde ale, brewed with crushed calamansi and pandan leaves for a crisp, refreshing taste that's unique.
Archipelago Brewery, visit the website for stockists
11. RedDot BrewHouse
This brand gets loads of attention (especially on Saint Patrick's Day) for its brightly coloured Green Monster lager. While green beer might seem like a gimmick, these folks are serious about their craft. The brewhouse offers other options including RedDot Lime Wheat – all made by brewmaster Ernest Ng, who brings over a decade of homebrewing experience to the taps.
RedDot BrewHouse, #01-01, 25A Dempsey Road, Singapore 247691; also available online 
12. Lion City Meadery
Co-founder Sanjay Jegatheesan's love for mead first started in 2013 when he tried it on his trip to London, and the rest is history. It started out as a quest to find quality mead in Singapore but he, along with his friend Justin Herson, decided to brew their own. Specialising in mead beers, they've incorporated flavours close to home such as spiced mead, which has hints of cinnamon, cloves and star anise. For something sweet and nostalgic, go for the chrysanthemum mead.
Lion City Meadery, visit the website for stockists
13. Level33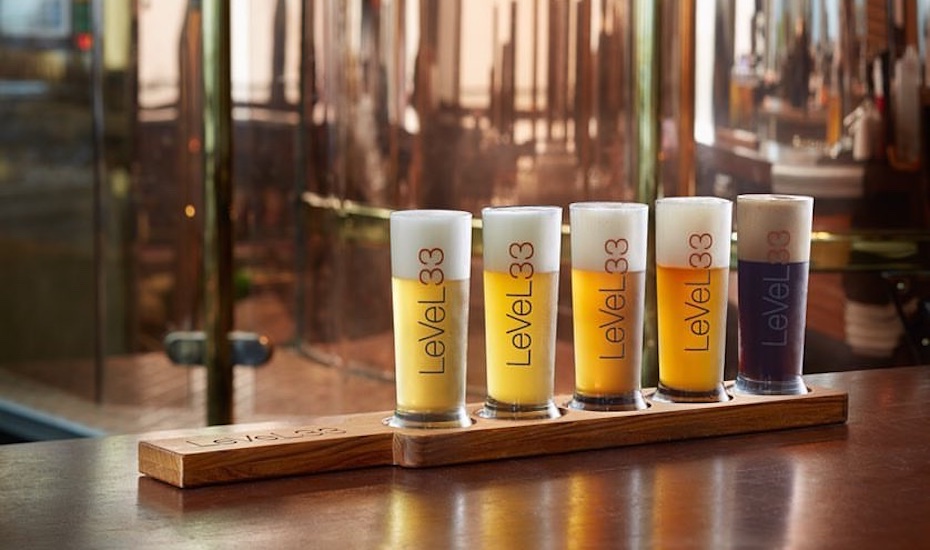 Perched 33 floors above the city, in the penthouse of the Marina Bay Financial Centre, is the world's highest craft microbrewery. While taking in the view, you'll get to savour the bar's selection of beers including blond lager, Indian pale ale, stout, house porter and wheat beer – all brewed based on time-tested recipes.
Level33, #33-01, Marina Bay Financial Centre Tower 1, 8 Marina Boulevard, Singapore 018981
14. The 1925 Microbrewery
Boasting charmingly rundown digs and a cosy dive bar setting, the new Blue Smoke contemporary Asian smokehouse serves up stellar brews with some really stylish bottle designs. Dive right into the Blk 622: a bold beer featuring double malted barley with a hint of caramel brewed at a very sessionable 5.25%. Or go for something a little more exotic and try the sharp, ginger-flavoured General.
The 1925 Microbrewery, Blue Smoke, 261 Joo Chiat Road Singapore, Singapore 427515; also available online
15. Little Island Brewing Co.
A trip to Little Island Brewing Company is more than worthwhile if you like adventurous craft brews. On tap, you'll find brews like the heady 7.8% ABV Oaked Stock ale and a light European style golden ale with floral notes. Want something truly Singaporean? Pour a pint of the Singapore pale ale, an oak matured IPA with a mild flowery and woody aroma that lingers with a bitter and dry finish. All beers at Little Island are also unpasteurised and unfiltered.
Little Island Brewing Co., #01-01/02, 6 Changi Village, Singapore 509907
16. Lion Brewery Co
It all began in 1836 when Lion Brewery Co was founded on the banks of the River Thames in London and its ales were shipped all across the globe, including Southeast Asia. However, its heyday came to an end in 1949 when the brewery was demolished. But in 2018, the lion (the iconic symbol of the brewery) was brought back to life in the Lion City by two blokes, Harry Renshaw and Ben Hendy-Prior. Get a swig of its crisp crown jewels – Straits pale ale and Island lager – at bars including Atlas and OverEasy. Fun fact: two of the lion statues can be spotted in London today!
Lion Brewery Co, multiple locations including Good Luck Beerhouse and Smith Street Taps; also available online
17. Brewlander & Co
Brewlander & Co offers a slew of bottled beers, including Joy Session IPA, Love Wild IPA, Hope Summer ale, and Peace Hazy pale ale. While it might not have its own bar, its beers are available at various craft beer bars and distributers like Freehouse and Well Played Cafe. These folks recently welcomed their new brewery where visitors can get a first-hand look at the brewing process (currently suspended due to Covid restrictions). Look out for cool collabs with other local breweries, too.
Brewlander & Co, multiple locations including Freehouse and Well Played Cafe; also available online
18. Hospoda
While Hospoda may be a Singaporean brewery, the speciality here is Czech Pilsner. Sure, you can always grab a bottle of Pilsner Urquell, but having freshly brewed Czech lager is quite an experience. This crisp, dry style is perfect for cooling off in our weather.
Hospoda, #01-19, 180 Albert Street, Singapore 189971
We're not kidding when we say the craft beer scene in Singapore is thriving!