Photography: Tanglin Cookhouse
Exploring the brown line? We found the best food places where you can take a break and refuel.
Our public transport system has grown by leaps and bounds; nowadays, each neighbourhood can be easily reached by MRT. With the introduction of the Thomson-East Coast Line, it's easier than ever to visit hidden food spots that would've taken us a longer time previously. From the heartlands to the heart of the city, here are the best eateries you should visit on the brown line.
Top food spots along the Thomson-East Coast Line in Singapore
1. The Lowe'f Shack
Nearest MRT station: Springleaf
We're all for hidden cafes in Singapore, and this one near the entrance of Springleaf Nature Park gets our top vote. Here's where you can get half and whole sourdough and brioche loaves, grazing platters filled with smoked salmon, three types of cheese and bread, and a good cuppa. There's limited seating here, so we recommend having everything to go and enjoying them on a picnic mat nearby.
The Lowe'f Shack, Springleaf Nature Park, 1230 Upper Thomson Road, Singapore 787129
2. Desert Dessert
Nearest MRT station: Mayflower
Try saying this name out loud a few times, just for fun. This sweet spot satisfies your late-night dessert cravings – it opens till 1am on Fridays and Saturdays. You can find Korean bingsu, croffles, sliced cakes, and of course, handcrafted ice cream here. Choose from flavours such as honeycomb, pistachio, and sea salt, and pair them with buttermilk waffles.
Desert Dessert, #01-424, Mayflower Shopping & Food Centre, 163 Ang Mo Kio Avenue 4, Singapore 560163
3. Yi Jia Bakery House Cafe
Nearest MRT station: Upper Thomson
Upper Thomson is known as a food haven, with cool cafes, recommended restaurants, and supper spots dotting this enclave. If you have a soft spot for traditional bakeries, be sure to hit up this gem for a nostalgic blast from the past. Get your hands on an assortment of freshly baked buns, pastries, and no-frills coffee and tea. Oh, and don't forget to order the pandan waffles. This cosy space can only accommodate a number of customers, so it's best to drop by after peak hours.
Yi Jia Bakery House Cafe, 229 Upper Thomson Road, Singapore 574361
4. Al Borgo
Nearest MRT station: Stevens
There's no lack of Italian restaurants in Singapore. But if you're looking for authentic, home-style food, this establishment along the Thomson-East Coast Line hits the spot. Indulge in its signature Al Borgo pizza or fettuccine with slices of Kobe tenderloin and porcini mushrooms. The carefully curated wine list goes perfectly with your meal.
Al Borgo, #01-02, Alocassia Apartments, 383 Bukit Timah Road, Singapore 259727
5. Lad & Co
Nearest MRT station: Napier
On the hunt for a comforting plate of crispy fish and chips? Look no further than Lad & Co, a family-run casual joint taking up space at Singapore Post's Tanglin branch. Its signature dish features Atlantic haddock in beer batter with your choice of side and chips. If you prefer to sink your teeth into something else, there are bangers and mash, Scotch eggs, and pigs in blankets on the menu. Happy hour runs from 12pm to 9pm, which sounds like a sweet deal if you ask us.
Lad & Co, #B1-02, Singapore Post – Tanglin Branch, 56 Tanglin Road, Singapore 247964
6. Tanglin Cookhouse
Nearest MRT station: Orchard Boulevard
Step back in time to Tanglin Cookhouse, where you can savour locally-inspired British cuisine. Head down for weekend brunch and feast on a full English fry-up containing locally-farmed mushrooms, toasted sourdough and streaky bacon, fruit and granola acai bowls, or good ol' steak and eggs. Its beverage menu runs the gamut from wellness and herbal teas to classic cocktails. Psst: if you're planning to dine in on weekdays, be sure to check out the lunch and dinner set promotions.
Tanglin Cookhouse, #01-106, Tanglin Mall, 163 Tanglin Road, Singapore 247933
7. Èlan
Nearest MRT station: Orchard
You don't have to fly to France for French food – not when you can get it at this chic modern restaurant in Orchard. The menu boasts delish, generously-sized dishes made with the best seasonal ingredients and served "without the pomp and pretence". Diners can expect the usual suspects here, such as foie gras, wagyu tartare, madeleines, and creme brulee. We totally adore Bruno, the French bulldog mascot inspired by its director.
Èlan, #01-13, Shaw Centre, 1 Scotts Road, Singapore 228208
8. IndoChili
Nearest MRT station: Great World
If you're in the mood for homely Indonesian food, this is the place to be. The chicken satay has earned rave reviews from foodies for its nicely grilled, substantial meat portions. Other recommended dishes include the oxtail soup, which has a robust flavour profile and tender meat that falls off the tailbone, and rendang sapi (beef rendang), which is slow-cooked and marinated to perfection. Came with an empty stomach? Order the tumpeng mini. The yellow rice, ayam bumbu rujak, and perkedel will fill you up.
IndoChili, 54 Zion Road, Singapore 247779
9. Wildcard
Nearest MRT station: Havelock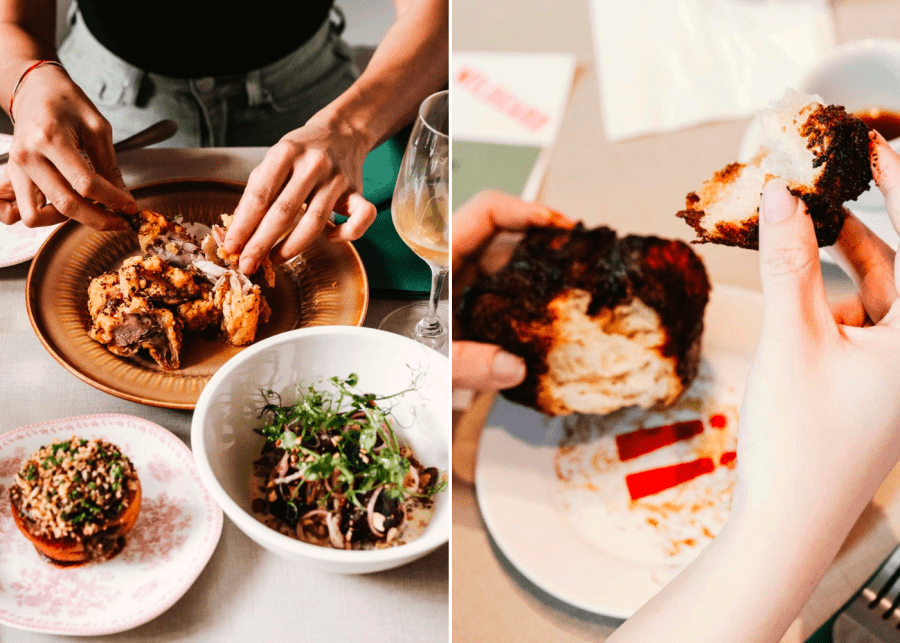 The good folks behind Maxi Coffee Bar have done it again by establishing this dual-concept eatery. By day, Wildcard is a coffee bar serving the famous iced cereal milk latte and other innovative offerings such as oxtail doughnut, which is said to resemble pork steamed buns in dim sum restaurants. The space switches things up when the sun sets by serving tipples like sakes, wines, and negronis.
Wildcard, #01-03, Furama RiverFront, 405 Havelock Road, Singapore 169633
10. Folks & Stories
Nearest MRT station: Outram Park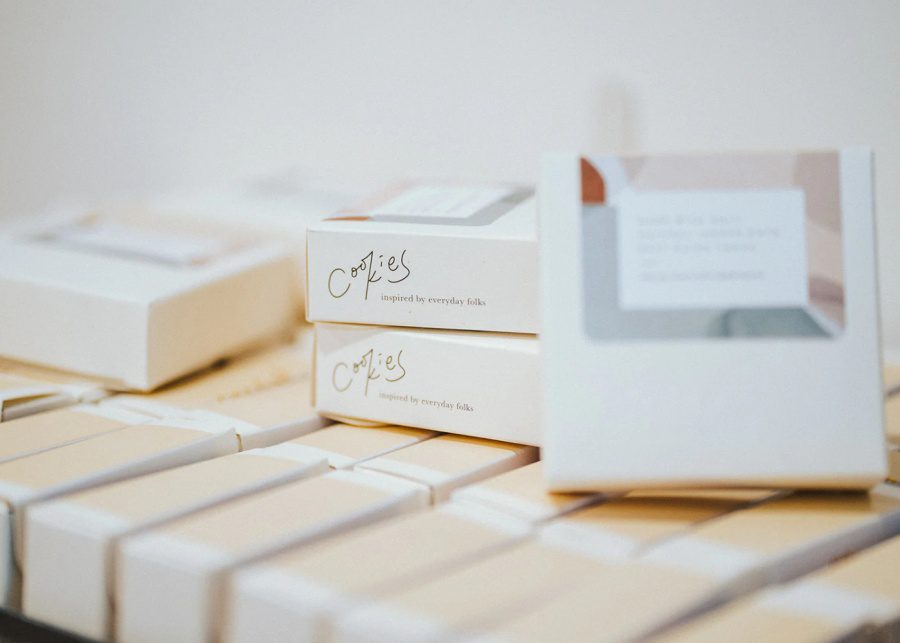 Cookie monsters in Singapore should be familiar with this iconic Everton Park stalwart. This humble bakery uses only natural ingredients, which means no traces of nasties such as artificial colouring and flavouring in its cookies. We love the creative names the team comes up with for its creations. Care for a bag of Curious Merrymaker (cheesecake and dark chocolate soft baked cookie)? Or perhaps you'd prefer the savoury Funky Maker, which deftly combines miso and chopped pecan. If you're undecided, go for the curated boxes. You can also get them as gifts for your loved ones.
Folks & Stories, #01-63, 3 Everton Park, Singapore 080003
11. September Coffee
Nearest MRT station: Maxwell
It doesn't matter which month we're in – everyone is welcome at September Coffee, a stone's throw away from Maxwell MRT station. Named after the founder's birth month, this buzzy eatery is perpetually filled with cafe-hoppers, and we don't blame them. This aesthetically pleasing space serves specialty udon, all-day brunch dishes, and small bites. Get the iced black sesame latte or burnt chocolate if you're not peckish.
September Coffee, #01-01, 258 South Bridge Road, Singapore 058807
12. Annalakshmi
Nearest MRT station: Shenton Way
Did you know there's a vegetarian Indian restaurant in Shenton Way? Well, now you do. Annalakshmi operates as an altruistic model – diners can eat as much as they want, and when it comes to payment, they decide the amount. Proceeds will be channelled towards helping rural regions in India. A unique way to rack up good karma points, we say. You can get North and South Indian cuisine like fluffy basmati rice and crispy thosai here. Wash everything down with refreshing drinks such as juices and lassi.
Annalakshmi, #01-03, Downtown Gallery, 6A Shenton Way, Singapore 068815
13. Mylo's
Nearest MRT station: Gardens by the Bay
This food spot is a little further away from the Thomson-East Coast Line, but we'd be remiss not to include it in our list. Mylo's, an alfresco glasshouse terrace, sits in a prime location that offers sweeping views of the Waterfront Promenade. Bask in the sun and dig into the selection of fresh bakes, sarnies, and seasonal gelatos. Bring along your furry friends and watch them lap up pawsome pup-friendly treats.
Mylo's, #01-01, Gardens by the Bay, 18 Marina Gardens Drive, Singapore 018953
Go ahead and relish all the good food you can find along the Thomson-East Coast Line in Singapore.