Photography: Sam Moghadam Khamseh via Unsplash
Good things come to those who weight! Ready to get fit and fab? Check out our list of the best gyms in Singapore.
So you've decided to up your fitness game? Good for you! You're on your way to a healthier lifestyle. Once you've got your eating habits right, the next step may not be as simple: finding the right gym that suits all your needs. Fear not, we've sussed out everything from martial arts and spin classes to pilates and yoga studios. Ready to be transformed? Go #beastmode at these top gyms in Singapore.
Best gyms in Singapore
1. Evolve MMA
We can't leave out crowd-favourite Evolve MMA on our list of best gyms in Singapore! One of the largest and most well-known gyms in Asia for martial arts, it features state-of-the-art facilities (think airdyne bikes, rowing machines, treadmills, power racks and more) and over 800 classes per week.
Classes are led by experienced and even renowned names like WBA Boxing World Champion Drian Francisco, homegrown fighter Amir Khan and fan favourite Angela Lee. With a full-sized boxing ring and an official MMA octagon cage, Evolve MMA invites you for realistic boxing and martial arts training sessions. Browse the extensive list of classes to find something for your fitness level and get moving!
Evolve MMA, multiple locations including Far East Square, Orchard Central, Clarke Quay Central and Kinex
2. Platinum Fitness
Want a gym that offers a premium workout experience at an affordable rate? Look no further than Platinum Fitness. Its top-tier, professional-grade equipment caters to all workout routines. Those wanting a quick workout can hit the cardio machines, while fitness fanatics can break a sweat by taking on the free weights. Platinum Fitness is open 24/7, meaning you can squeeze in a gym sesh at any time of the day. If you need help with your form or just want some IRL motivation, the gym has a roster of dedicated personal trainers who'll work with you to get your techniques right.
Platinum Fitness, multiple locations including Robertson Walk, OUE Downtown Gallery, and Tanglin Mall
3. Neue Fit
When you're ready to tone up, head over to Neue Fit. Taking up over 4,000 square feet, this gym offers combat and cardio-based classes, HIIT, yoga, callisthenics, and regen flow. You'll be able to reach your fitness goals and pick up some self-defence techniques at the same time. It's time to step into this studio and discover a brand "neue" you!
Neue Fit, #02-07, Kallang Wave Mall, 1 Stadium Place, Singapore 397628
4. Freedom Gym
We're lovin' this fitness playground. What makes it truly accessible? Its freelance personal trainers, who are paid by the hour or via a package (from $20 to $30 per hour) with no commission to the gym. You can frame your fitness goals within a budget and access the gym even without a membership – just pay your trainer directly for their services. Freedom Gym also claims to be the only one in the city with a range of 40 arsenal strength machines, each aimed at targeting different muscle groups. Swing by to gain your freedom from your couch potato lifestyle.
Freedom Gym, Level 2, UIC Building, 5 Shenton Way, Singapore 068808
5. REVL Training
Gym buffs, rejoice! This Australian boutique fitness concept has landed on our shores. It doesn't matter if you're a gym veteran or a newbie – you can accomplish your goal with three unique programs: Move, Sweat and Perform. With a dynamic blend of high-performance training styles, there's something for everyone. Whether you're strict on your workout or gunning for flexibility to fit your schedule, the sweat sesh you seek is right here.
REVL Training, multiple locations including City Hall and Raffles Place
6. Tribody Fitness
If you're one of those fitness geeks who require solid scientific backup for any exercise, this is the gym for you. Based on anatomy and physiology, these workouts are led by experienced trainers who modify routines according to each individual. Tribody prides itself on having an inclusive community that welcomes all body types and goals. It's easy to fall in love with fitness here! For a holistic experience, the gym collaborates with The Osteopathic Centre for seasonal packages that include sports massages and group workout sessions.
Tribody Fitness, 50 Joo Chiat Place, Singapore 427774
7. The Pit
We're off with some serious #fitspo at The Pit. With a no-nonsense approach when it comes to an intense workout regimen, this gym is as gritty as it gets in Singapore. It's for hardcore fitness buffs who aren't afraid to push themselves to the limit (and then some) to achieve their fitness goals. One-on-one training and group classes like Metcon (metabolic conditioning) and Muay Thai are available. Don't expect to get off easy during cheat day either – you'll be assigned 'homework' (i.e. deadlifts) that must be completed every week. Enter The Pit if you dare.
The Pit, 123 Devonshire Road, Singapore 239883
8. F45
Want to work all the muscles in your body? F45 will make sure you do just that with its circuit training sessions, which are no longer than, well, 45 minutes (hence the name). If you're a newbie, you'll get to meet your trainer prior to the class. That's when they run through the workouts with you, so you're not like a deer caught in the headlights during the actual session.
F45, multiple locations including Novena and Holland Village
9. Sparkd Brain & Fitness Hub
Ever heard of brain fitness? Enter Sparkd Brain & Fitness Hub, a cool new concept gym that spotlights brain health fitness training and cognitive motor training for adults and kids alike. One of the firsts in Singapore, this gym offers workouts for your brain to optimise its health and performance. Blending physical and cognitive exercises, each session trains the brain's core functions. You'll be working on your executive function (aids in organising, planning and prioritising thoughts), peripheral vision, visual info processing and working memory.
What's more, these interactive and fun sessions are great for kids aged three and up, as well as adults, corporates, the elderly, athletes and those with cognitive decline. Kids' summer camps, corporate training sessions, and team-building events are also organised so everyone can join in the fun and reap benefits from the workouts. Looking for an in-depth analysis and workout? Sign up for the private one-on-one sessions to receive an online cognitive assessment and a curated program in line with your cognitive and physical goals. Classes also vary from online to outdoor, adhering to Covid-19 restrictions. So, are you ready to improve your brain health?
Sparkd Brain & Fitness Hub, #05-02, 61 Robinson Road, Singapore 068893
10. Ultimate Performance (UP Fitness)
Need a helping hand to get you on track? This world-renowned fitness studio is here to save your gym bod. Touted as the world's leading personal training gym, this place will knock your gym socks off your feet with personal training, group training and online training services. There are also various plans suited to your needs – like the 12-week muscle-building program or fat-burning programs. It's real hardcore stuff.
UP Fitness, #01-01, Manulife Tower, 8 Cross Street, Singapore 048424
11. Gravity
Probably one of the more exclusive gyms in Singapore, Gravity by Fitness First is livin' it up. Think state-of-the-art facilities (how does a temperature-controlled infinity pool sound?), private workspaces, shirt-pressing services, and – wait for it – an in-house spa. Of course, membership at this swanky gym doesn't come cheap. Plans start from $345 each month with personal coaching packages suited to your fitness routine.
Gravity, #38-01, CapitaGreen, 138 Market Street, Singapore 048946
12. Core Collective
Mingle, have a tête-à-tête and get fit with like-minded individuals at Core Collective's first co-working, fitness and wellness space. Bump up your bpm with group fitness classes, pilates, MMA or yoga. After a fruitful workout, educate yourself with body talk, chiropractic, meditation and physiotherapy sessions. This one's definitely more than just your average gym.
Core Collective, multiple locations including Anson Road and Dempsey
13. 24x Fitness
The aim is simple – to provide a fully-equipped gym for both trainers and fitness enthusiasts in Singapore. Beyond effective circuit, high-intensity, core and resistance training, and tailored PT courses for injuries, all members will experience a full-body assessment for maximum progress. Sweet.
24x Fitness, multiple locations including Paya Lebar and Bugis
14. Gold's Gym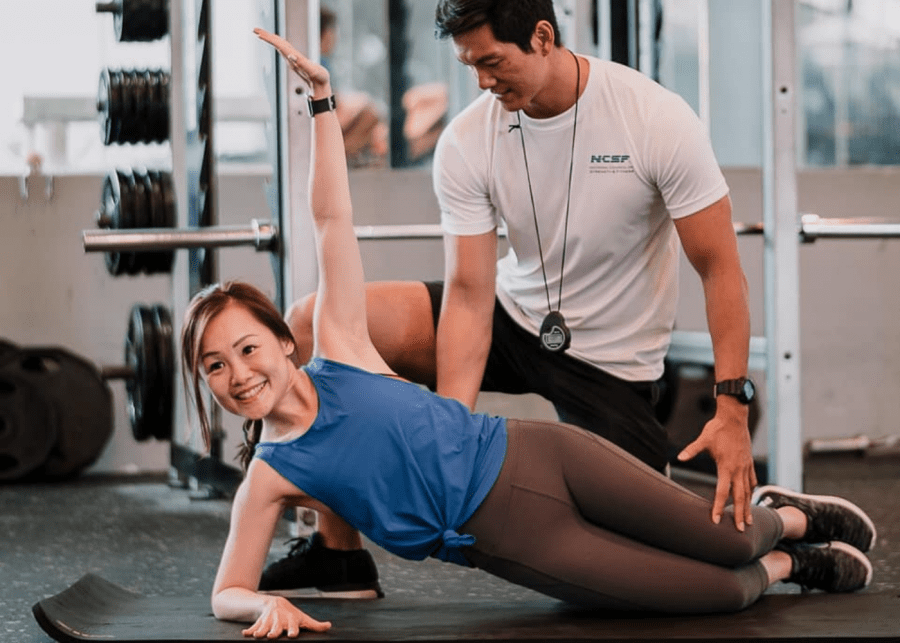 Pump up that muscle at one of the many outlets across the island. The programs include a three-month fat loss program for ladies and gents, bulking for men, pre- and post-natal PT, and a pre-wedding weight loss programme. Yup, it's clear that Gold's Gym caters to the niche crowd with training sessions specific to your needs. Just read a couple of success stories on the site (there are many) to get you started.
Gold's Gym, multiple locations including Buona Vista, River Valley and Tanjong Pagar 
15. Genesis Gym
We all know that working out is no walk in the park (it's more of a sprint). And without a proper plan or nutritional guidance, your efforts may go to waste. So pay a visit to Genesis Gym for PT programmes that utilise science-based methods and a holistic approach. Want a total body makeover? The Body Transformation Programme will not only push you to the limit, but you'll also receive support to make better lifestyle choices. Trust us, the proof is in the washboard abs (which you'll eventually get post-training).
Genesis Gym, multiple locations including Katong Shopping Centre and Newton
16. UFit
With several gyms around Singapore, UFit offers an extensive array of fitness services catering to different levels. For the outdoorsy types, it organises multiple sessions at various locations every day, so no excuses! Expect a great workout in a fun atmosphere with a trustworthy mix of acclaimed trainers. They also take special care of beginners (like giving newbies longer recovery times), so you won't be eating the dust of the more seasoned gym buffs.
UFit, multiple locations including Club Street and Orchard
17. Field Assembly
Providing personal training sessions at a fraction of its cost is tempting enough to book a trial. But Field Assembly also has a varied mix of HIIT and strength training classes, yoga, and combat sports like Brazilian jiu-jitsu and Muay Thai to take your body's threshold to greater heights.
Field Assembly, multiple locations including Holland Village and Clarke Quay
18. Level Gym
Level is reserved for personal training and classes only. The gym keeps it interesting with a huge variety of original, high-end equipment that's used to create a different, dynamic and fresh routine every time you visit. The trainers are personable and specialise in different fitness techniques, whether you're looking for boxing, weight-lifting, toning, cardio, or a bit of everything.
Level Gym, multiple locations including Telok Ayer and Robinson Road
19. Amore Fitness & Define
Looking for a ladies-only gym in Singapore? This is the place for you. If you need a helping hand with your workouts, the personal trainers specialise in exercise routines and techniques designed specifically for women. And they have a firm background in nutrition and weight management. Once you're done sweating it out, head to the spa for a little R&R.
Amore Fitness & Define, multiple locations including Plaza Singapura and Bugis Junction
20. Ritual Gym
Hailed as the '30-minute gym', this fitness sanctuary is perfect for exercise noobs with packed schedules and zero gym equipment. You don't even need to strap on a pair of sneakers to work out, thanks to the gym's shock-absorbent floor. With nary a treadmill in sight, Ritual relies on HIIT to whip your body into shape with a quick but effective 20-minute session. The best part? You're burning way more fat that way than an hour spent sweating it out on the treadmill. Score!
Ritual Gym, multiple locations including Tiong Bahru and Holland Village
21. Fitness First
Ask any veteran gym-goer and they'll most likely refer you to Fitness First. Aside from its first-rate, state-of-the-art gym equipment, Fitness First also offers an extensive array of small classes, from hot yoga sessions to freestyle HIIT classes. Engage PTs who aim to make every workout count by using fitness science to plan the most effective routine. Plus, members are granted access to its outlets around the globe – so no excuses to skip your workout even when you're travelling!
Fitness First, multiple locations including Paragon Shopping Centre and Market Street
22. Virgin Active
At Virgin Active, be prepared to lose your breath. The Altitude Room at its Tanjong Pagar branch recreates conditions of up to 3,000 metres above sea level. But don't worry – after that, you can catch your breath at the Himalayan salt inhalation rooms. Want to clock in a power nap? The sleep pods have you covered.
Virgin Active, multiple locations including Tanjong Pagar and Paya Lebar
23. True Fitness
This gym is all decked out with modern strength and resistance training equipment, plus the latest cardio machines with integrated televisions and iPod links. It also offers an array of workout classes such as Zumba, piloxing and aerial yoga. Plus, if you're gearing up for an upcoming running marathon or a sporting event, the personal trainers are there to help you prep!
True Fitness, multiple locations including Great World and HarbourFront Centre
24. The Strength Yard
Got a passion for lifting heavy weights? This is an open gym in Singapore that trains beginner weightlifters over a course of six weeks in its Beginner Olympic Weightlifting program. Conditioning classes are also available for those who want to work on strength, conditioning and endurance.
The Strength Yard, 369 Joo Chiat Road, Singapore 427614
25. Pure Fitness
With a prime location in Marina Bay, Pure Fitness at Asia Square is the go-to gym for many in the CBD. Just imagine working out to the scenic view of the Singapore skyline! Here, you'll meet with some of the most highly qualified and dedicated personal trainers. The 20,500 square feet space at Ocean Financial Centre is no runner-up either. It's fully equipped with free weights and resistance training zones, as well as group fitness classes.
Pure Fitness, multiple locations including Asia Square Tower 1 and Suntec City Mall
26. Gymmboxx
You can find Gymmboxx outlets at several suburban estates like Bedok, Bishan, Ang Mo Kio, Tampines and Jurong. These heartland gyms are equipped with premium fitness machines and shower facilities at selected branches. On top of offering inexpensive membership rates for a good duration, Gymmboxx also has one of the city's more affordable PT sessions with its varying packages.
Gymmboxx, multiple locations including Vista Point and Century Square
27. Actualize Crossfit
If you don't like lifting weights or using complex machines, Crossfit could be your thing. In this specialised gym, you'll work on different body parts to build strength and stamina. Try its fundamentals class, where trainers will ensure your safety by assessing your abilities before introducing you to different movements and skills.
Actualize Crossfit, 251 Jalan Besar, Singapore 208924
28. ActiveSG Gyms
Organised by the Singapore Sports Council, this no-frills workout spot offers affordable per-entry options. Fitting for those on a tight budget or anyone not ready to commit to a long-term gym membership just yet. Situated at most sporting halls islandwide, ActiveSG gyms provide basic equipment for weight and cardio training, including everyone's all-time fave: the treadmill. One downside? It can get crowded during peak periods. Also, they don't provide any towels, so remember to bring your own or you might be denied entry – you've been warned!
ActiveSG Gyms, multiple locations including Hougang and Bishan
29. The Ring
If you've always been a fan of Muhammad Ali, step into The Ring. With a state-of-the-art boxing gym, pristine equipment and exciting classes, you'll always look forward to working out. Warm-ups include throwing jabs, cross-hooks and uppercuts. What better way to release all that stress from work?
The Ring, multiple locations including Claymore Drive and Chinatown Point
30. Grapplemax Pro Wrestling
If you don't already know, professional wrestling is a highly physical performance that mesmerises and connects with a live audience – think the likes of Hulk Hogan and The Rock. At Grapplemax Pro Wrestling, you'll learn basic pro wrestling techniques and execute them in a short sparring session at the end of each class. Love a good cardio workout whilst "telling a story"? This gym could be for you.
Grapplemax Pro Wrestling, 6 Tampines Street 92, Singapore 528893
31. FaMA (Fitness and Martial Arts)
If you're looking to get fit in a different way, try your hand at Brazilian jiu-jitsu or Muay Thai at FaMa (Fitness and Martial Arts). Fret not if you're a newbie, as both classes feature teaching sequences designed to help you learn quickly and smoothly. Prefer erring on the side of caution? Try FaMA Fit Fundamentals, which teaches bodyweight drills and coordination exercises, or FaMA Fit for circuit training with strength conditioning. Both include martial arts moves like hip escapes, technical stand-ups, punching and kicking.
FaMA, #03-01, 30 Prinsep Street, Singapore 188647
32. HomeTeamNS Fitness Workz
Now, here's an affordable option we're letting you in on. HomeTeamNS clubhouses were created for NS servicemen and their families, but did you know the fitness facilities are open to all, with guest memberships and walk-in rates? Some clubhouses are decked out with pools, steam rooms and an impressive range of cardio and training equipment. Want some expert advice to help you ace your goals? There are highly qualified gym instructors and trainers on board, too!
Fitness Workz, multiple locations including Bukit Batok and Balestier
33. Aileron Wellness
If working out sounds like a complete drag, we've got just the cure for your gym allergy. This spot is located in Singapore's premier yacht club, with a team of committed and friendly trainers to show you the ropes. There's absolutely no reason not to feel pumped for a super effective training session. You can also find state-of-the-art equipment here to amp up your fitness game.
Aileron Wellness, Republic Of Singapore Yacht Club, 52 West Coast Ferry Road, Singapore 126887
34. Anytime Fitness
This is one of the few gyms in Singapore that operates around the clock. Perfect for night owls! Apart from staying open 24/7, there's a branch at every corner of the island. Don't expect fancy-schmancy facilities, though. Just your standard free weights, stationary bikes, treadmills and resistance machines. Plus, fun fitness classes at selected outlets where you can break a sweat and mingle with fellow gym bunnies in the 'hood.
Anytime Fitness, multiple locations including Marine Parade and Jurong Point
Go #beastmode at the best gyms in Singapore!