Just look at that feast! Photography: Hylman Suwandi
From BBQ spreads to spectacular platters to high tea, be the hostess with the mostest with some help from the best catering gods in Singapore.
Ramp it up at your next soiree party and let the experts handle the cooking. All you have to do is find the perfect party spot and traipse around looking like the hostess with mostest in a luxe dress, of course. Just so you don't have to break into a sweat, we've sussed out Singapore's best catering services and private chefs that'll cater to every whim.
Kiss my Pans
Jeanne Chai founded Kiss My Pans to fuel her love of cooking and hosting. With a creative eye and a discerning palate for good food, there's no stopping her beautiful cheese platters and grazing tables (we'll let the image above from one of our Honeycombers events do the talking). With an endless spread of delicious cheese, charcuterie, fresh fruit, wholesome dips, gourmet crackers, spiced nuts and sweets, guests will be camping around the dinner table all day. Hey, that's the idea anyway. When not putting together works of cheese art, Kiss My Pans hosts home dining experiences, bringing diners around the world with each course tastefully curated and prepared with regional spices, herbs and flavours. Expect Peruvian, Middle Eastern, Mediterranean, Canadian, Singaporean, Thai, Indonesian and Malaysian cuisines all within a meal.
Kiss my Pans, make an order online
The Halia (Halal certified)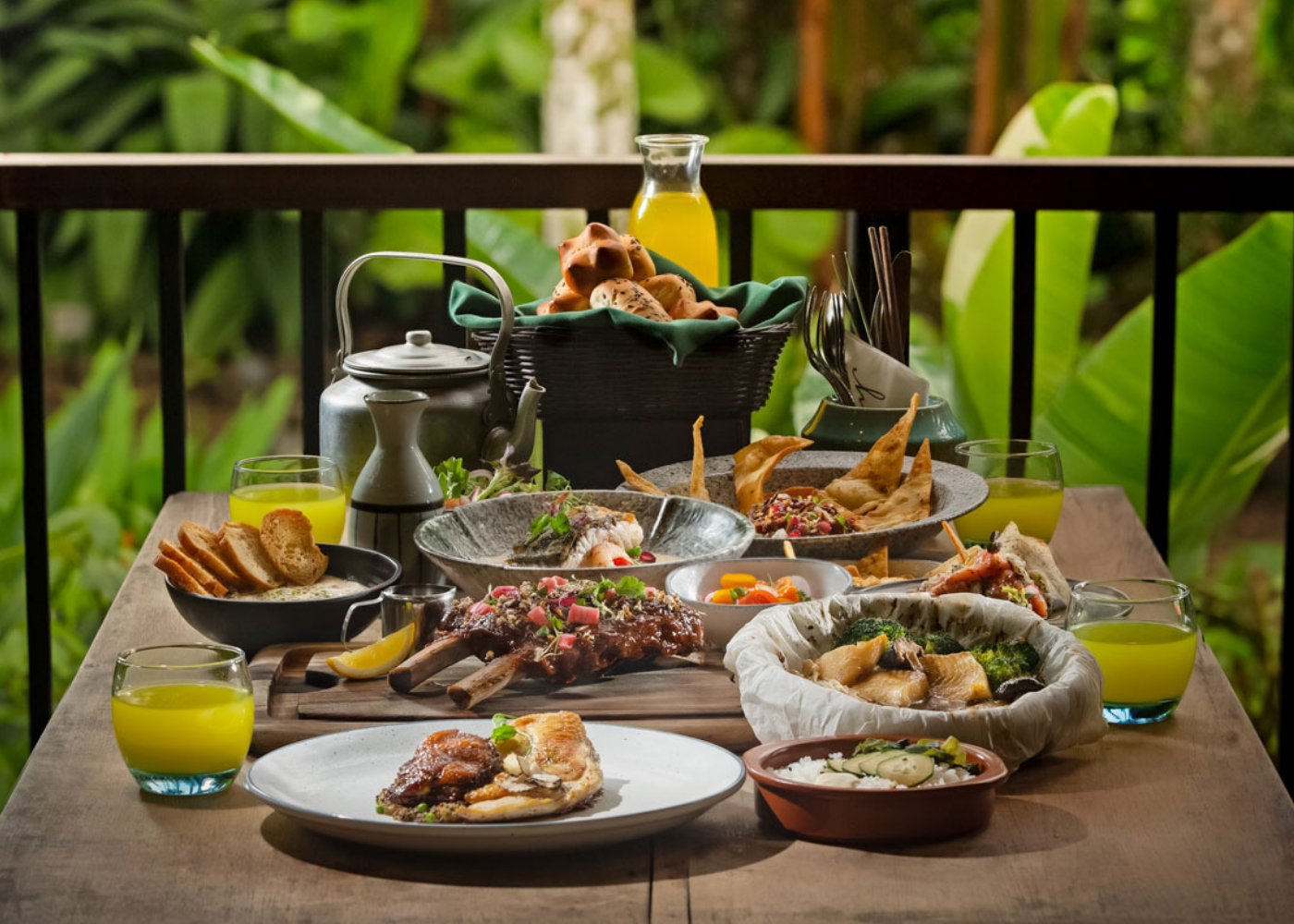 The Halia in the Botanic Gardens is one gorgeous place to brunch – yes, a tropical garden setting makes us swoon. But we aren't just about good looks around here. The modern-European-meets-Asian menu, is, simply put, amazing, and we're more than a little bit excited about having Halia cater some special 'dos we're hosting here at Honeycombers. Buffet menus start from $28++ per person, or you can choose from Communal Feast menus or order À La Carte if you want to cherry pick from Halia's signature dishes. So yes, if you're in love with the lemongrass and ginger prawn salad at the restaurant, you can dish it out at your next party. Don't forget to invite us, okay?
The Halia, order online.
Lush Platters
If you're all about the aesthetics, bringing the Australian 'grazing' sensation to Singapore is Lush Platters (pictured top). These folks can turn any occasion into a gastronomic adventure with their luxury platters, styled boxes and lavish grazing tables. Founder Wynona Leach has a history in planning and styling perfect parties and seriously knows her stuff. You won't find no average cheeseboard here! Instead, Lush Platters sources premium fresh produce, artisanal cheese, charcuterie and other tidbits you can graze on for far too long…
Lush Platters, make an order online or kitchen for collection is located at 338 Changi Road, Shop #01-08, Mera East Condo, Telok Kurau Singapore 419977.
Kitchen Language Catering
Want an award-winning, restaurant-style spread for that memorable bash you're throwing? Bring in the big guns: Kitchen Language Catering caters from a stable of 13 restaurants, including The Marmalade Pantry, Straits Cafe, Bedrock Bar & Grill, Katong Kitchen and Fat Cow, so you know this team can sail through a special event, no matter what the vibe is. International buffet, wedding catering, sit-down feasts… they've nailed it. Browse through the gallery of dessert tables to cool canapes and epic Asian buffets and you'll get a glimpse of just how diverse this team's expertise is (and yes, there are Halal options, and vegetarians are well covered too). You can personalise your catering package for any occasion from a wedding to a work party, but frankly, we're now obsessed with the idea of having a live station at one of our next events. Straits Cafe Laksa, Nonya Mee Siam or Chef's Special Seven Spiced Roast Chicken served up on the spot? Now we're talking…
Kitchen Language Catering, 336 River Valley Road, #02-01, Singapore 238366
Summer Hill
This little French bistro in Clementi is a charmer and definitely one to check out if you were a fan of Cocotte (you'll recognise chefs Anthony Yeoh and Christopher Soh in their new digs). You'll remember from our review of Summer Hill that we're kinda in love with this joint, and we're totally going to cheat at our next shindig at home with a takeaway kit. They do the heavy work of putting together the meals and packing it up, while you just have to collect the goodies and add some finishing touches at home to impress the guests.
Summer Hill, Block 106 Clementi Street 12, #01-62, Singapore 120106 (Sunset Way)
Lynnette's Kitchen
While not a restaurant, this is one Peranakan private dining experience that you should scribble onto your must-eat list. An idea cooked up by Cultural Medallion winner and long-time leader of the Singapore Symphony Orchestra, Lynnette Seah, keen diners either adjourn to her abode or invite her specially to prepare a private feast of dishes like buah keluak rice, bakwan kepiting and sayur lodeh. You can only taste her cooking via referrals, so check her out online to learn more and pray for a connection!
Lynnette's Kitchen, available by special request only but you may register your interest online.
Violet Oon's Kitchen
Trust the queen of Peranakan cuisine (also known as Singapore's food ambassador!) to put out the best Nyonya creations for your guests. Her "live" station themes include classics like kueh pie tee and laksa, alongside other non-Peranakan choices like tacos and pasta.
Violet Oon's Kitchen, make an enquiry online.
Jai Siam (Halal certified)
Spice up the party with some Thai cuisine. Serving up authentic Thai food since 1999, this Halal caterer offers affordable meal deals for any sort of party. We particularly like that we can pick from five sauces for the fried fish fillet, and the type of tom yum we want to be served – this is one team that knows how to keep everyone at a party happy!
Jai Siam, make an enquiry online.
Clubvivre
Get ready for a gourmet dining experience with Clubvivre. By partnering with the best chefs to provide fully customised menus and services, this is one company that can do it all. The chefs here know their way around many different kinds of cuisines, be it Indian, Lebanese, modern Australian, or fusion. You don't have to worry about breaking the bank either; they'll work with your budget to meet all your needs.
Clubvivre, make an enquiry online.
CaterSpot
Online catering platform CaterSpot.sg brings top catering options for your next office party or gathering. From Cedele and Swissbake to Copper Chimney and House of Dim Sum, find hundreds of options for food your office will actually love from party platters, mini catering, and finger food to cocktails stations with CaterSpot.
CaterSpot, order online.
Sakura Forte
If expense is no object and it's an absolutely lavish feast you want for a party or corporate event, Sakura Forte's 'Grandeur' menu is one that'll please. The buffet offers gourmet selections like seafood on ice, sushi, Hokkaido scallop in garlic sauce, and even a carving station with roast sirloin beef. For an additional charge, you can add on a charcoal grill, teppanyaki, or tempura station to your buffet.
Sakura Forte, order online.
My Private Chef
Being specialists in events like cocktail parties and dinners, My Private Chef focuses not only on a customised menu but also on the finer details that go along with it. You'll be able to spend time with your guests and enjoy the party without lifting a finger! With a stable of 14 chefs, each proficient in a different cuisine, like French, Peranakan, Italian, and Chinese, you'll definitely be spoilt for choice.
My Private Chef, make an enquiry online.
Fine Palate
This is your go-to caterer if you're after chi-chi canapés. Whether you have a buffet-style party in mind or a corporate event to organise, trust Fine Palate to put out the premium stuff (think couscous salad, smoked salmon, and chocolate lava cake).
Fine Palate, 37 Mactaggart Rd #02-01 The Lirea Industrial, Singapore 368083 or make an enquiry online.
Tung Lok Events Catering
Our pick for traditional Chinese delights, Tung Lok Events Catering has everything you can think of, from oatmeal prawns and braised homemade beancurd to sweet and sour pork. If you like (and we highly recommend it), choose the "live" station add-on – particularly the Peking duck with crepe option
Tung Lok Events Catering, #02-01, 26 Tai Seng Street, Singapore 534057 or make an enquiry online.
Personal Chef Singapore
Treat yourself to international cuisine or classic and modern French dishes with Personal Chef Singapore. They do private functions, birthday parties, romantic dinners, casual BBQs – heck, they'll do it all! But to ensure quality food and an exquisite dining experience, keep your headcount below 20.
Personal Chef Singapore, make an enquiry online.
Coriander Leaf
Bring the complex Asian flavours from Chef Samia Ahad's kitchen at CHIJMES back to your home. From fresh rich noodle salad to soft shell crab with salted egg yolk sauce, the dishes from this award-winning restaurant will impress
Coriander Leaf, #02-01 CHIJMES, 30 Victoria Street Singapore 187996 or make an enquiry online.
Orange Clove
Now, this we like the sound of this: Orange Clove offers a lighter 'cocktail butler' reception with impeccably plated canapés and the addition of a butler service. If it's a sit-down affair you prefer, Orange Clove does a luxe sit-down, a four-course menu that'll be a treat for your most esteemed guests.
Orange Clove, make an enquiry or get a quote online.
Shiok! Kitchen Catering (Halal certified)
This Halal-catered service has come a long way in the last 12 years, starting out specialising in Thai cuisine but has since expanded to dish out Western fare and a number of other Asian favourites. Their value buffet menus even go as low as $8 per head (minimum 80 pax)!
Shiok! Kitchen Catering, #05-03, 211 Henderson Road, Singapore 159552 or make an enquiry online.
Kazbar
Get your kebab and mezzeh (from hummus to falafel platters) sorted with Middle Eastern restaurant, Kazbar. Party platters range from $55 to $150, while lunch boxes (for smaller gatherings) cost $20.50. Got a crowd of 50 or more? Go all out with the shawarma live station!
Kazbar, #01-03 Capital Square 3, 25 Church Street, Singapore 049482 or order line.
Purple Sage
You get a bit of everything with Purple Sage's colour-themed buffets menus – for instance, their Lavender Menu dishes out meat platters, Japanese chicken katsu, 72-hour Angus beef cheek, Chinese dishes, Italian pasta and more. Purple Sage even assist in creative set-ups and food presentation, great if you're hoping to play up the "eye candy" aspect a little more!
Purple Sage, 157 Pandan Loop Singapore 128355 or order online.
Neo Garden Catering
Love traditional, local dishes? Neo Garden's got the goods. Mee goreng, fried bee hoon, youtiao – these are all available on the different buffet menus. Don't forget their signature 'curry bomb' (a fluffy bun packed with their special curry chicken), so don't leave that out.
Neo Garden Catering, 1 Enterprise Road, Singapore 629813 or order online.
Deli Hub Catering (Halal certified)
Did Neo Garden make you hungry? Muslim friends can also enjoy similar offerings with its Halal-certified sister branch, Deli Hub. Also serving mouthwatering, authentic local cuisine, their live stations will feed your famished guests with faves like a piping-hot bowl of laksa.
Deli Hub Catering, order online.
Garibaldi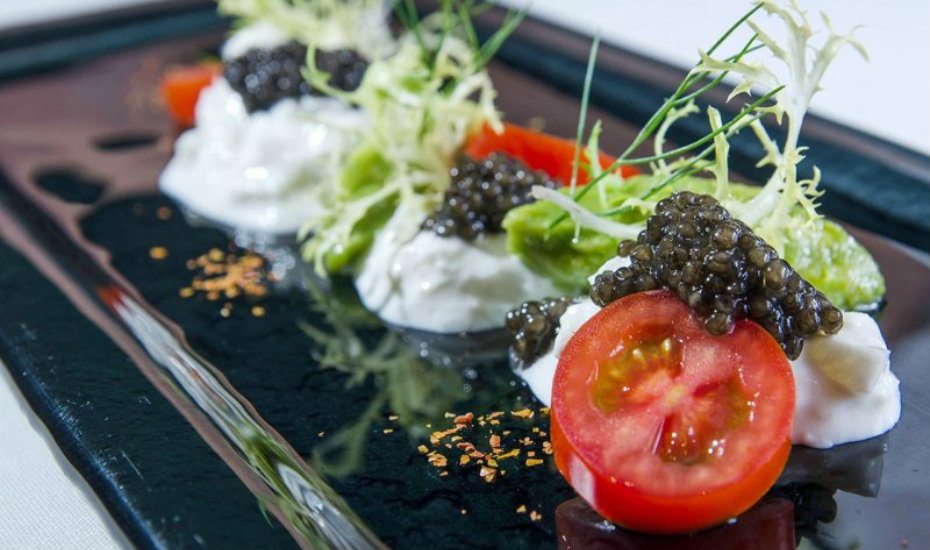 Fancy an Italian spread? Garibaldi restaurant gets the job done. They do catering for sit-down dinners and lunches, but we can't help but salivate over the canapes, which include Sicilian tuna tartare, salmon carpaccio with orange, zucchini and smoked caviar, and pizza with tomato mushrooms and turkey ham.
Garibaldi, #01-02, 36 Purvis Street, Singapore 188613 or make an enquiry online.